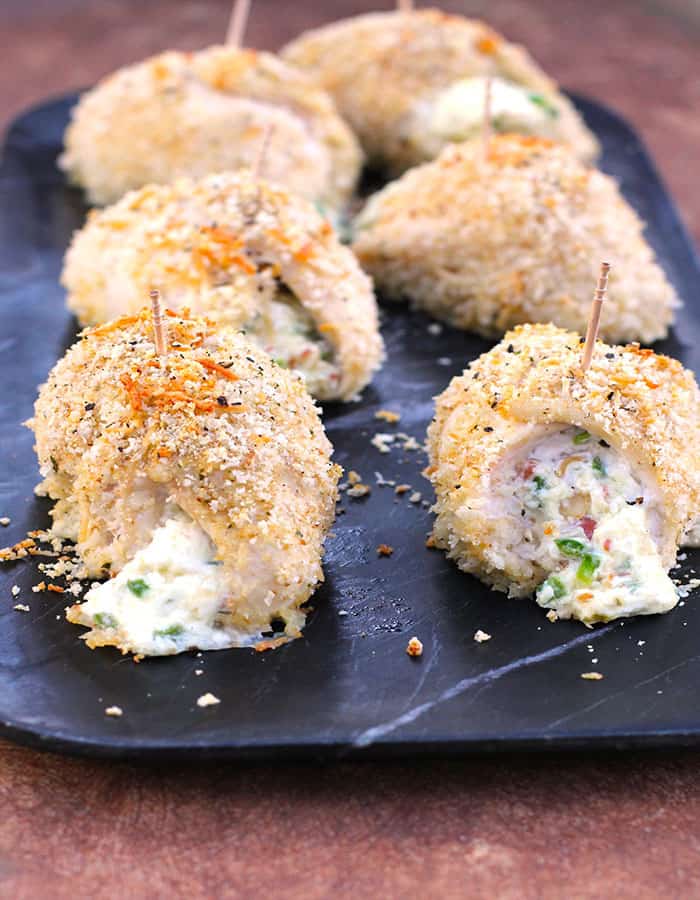 Chicken Breasts are a very common main course at our home. I'm guessing they are at yours too. Whenever I get on a health kick (like now!), I make them even more. They are a super healthy and low-calorie choice for times when we want to cut back. And they won't break the bank.
The most common way that I prepare chicken is to toss them in a quick marinade and throw them on a grill. Boom. Done.
When I was in high school, the "fancy place" in town used to serve Chicken Kiev. We didn't dine there often – only on special occasions – but when we did, Chicken Kiev was my first choice. If you've never had this dish, it is a chicken breast, pounded out flat, rolled around some herbed butter, coated in egg and bread crumbs, and deep fried. So good.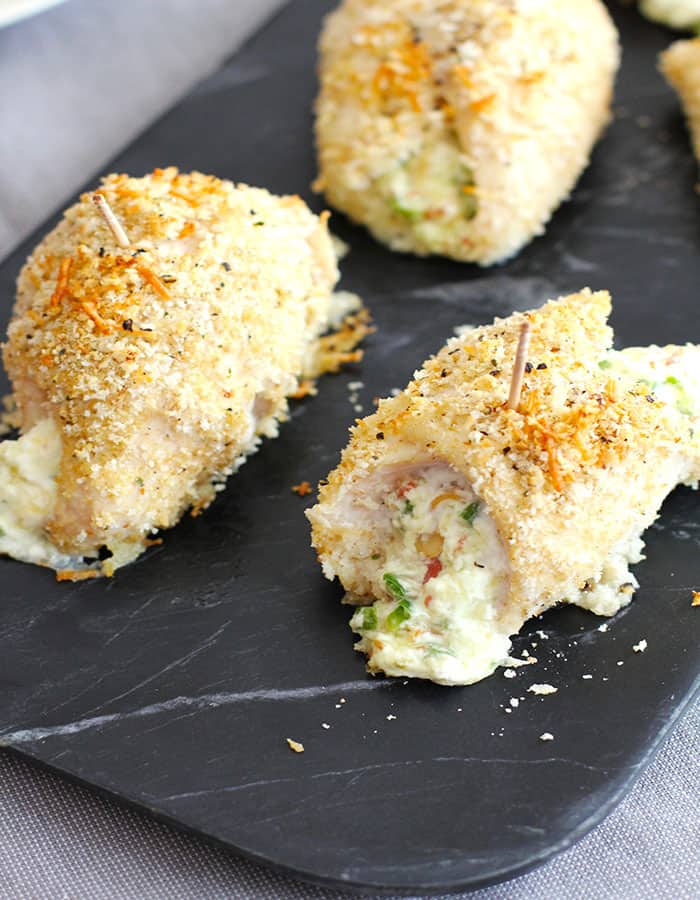 This Creamy Jalapeño Stuffed Chicken reminds me of Chicken Kiev, only it's a lot healthier. I use light cream cheese, and a moderate amount of bacon and shredded cheese, and then I bake it instead of frying. It is a bit more time consuming than the easy "toss it in marinade, throw it on the grill" method. But it's perfect for a special occasion.
The pictures below are 1) the butterflying method to cut chicken breasts (be careful!), and 2) pounding the chicken (I use Press N Seal on either side of the breast).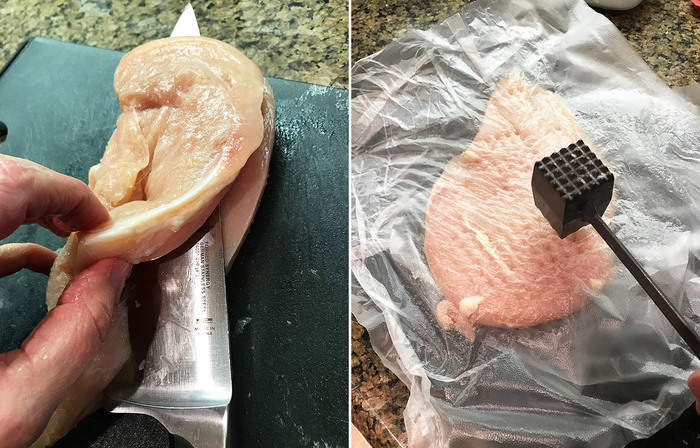 In the pictures below, you can see that I left the seeds in one half of a jalapeño. I often leave more seeds in so that we can really clean out our sinuses. Just kidding. But really, I like to leave more in for extra kick. The second image below shows the four ingredients that are combined and stuffed inside the chicken. It gets nice and creamy, and gives this dish a really wonderful flavor.
After you combine the filling mixture, separate it out into eight sections so that you can have an even amount for each stuffed chicken breast.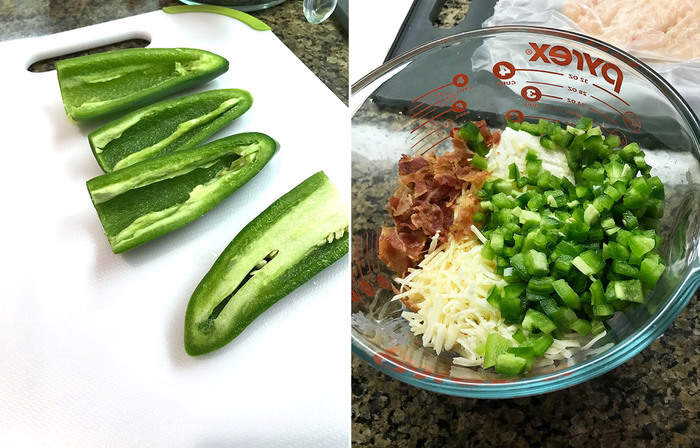 If you are looking for another way to prepare chicken, my Grilled Chicken Burrito Bowls is another healthy and delicious dish that you will love.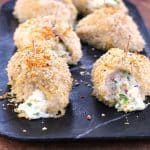 Creamy Jalapeño Stuffed Chicken
creamy stuffed chicken breasts with a jalapeño kick
Servings
:
8
chicken pieces
Ingredients
4

large

boneless chicken breasts

butterflied and sliced in half

8

oz.

light cream cheese

1/3

cup

bacon pieces

I use pre-cooked

1/3

cup

shredded cheddar cheese

2

large

jalapenos

leave seeds in 1/2 of one jalapeño

1

large

lime

squeezed

2

Tablespoon

olive oil

1/2

cup

Panko bread crumbs

1/2

cup

seasoned bread crumbs

1/4

cups

shredded parmesan cheese

salt and pepper

to taste
Instructions
Prep the chicken breasts by trimming all visible fat and cutting in half (via butterfly method). You want the breast to be thin but have a large surface area. You will end up with eight, flat, thin chicken breasts. Lightly season the breasts with salt and pepper.

Prepare the filling. Microwave the pre-cooked bacon for a minute or so. Dice and add to medium sized mixing bowl. Add cream cheese and cheddar cheese. Slice the jalapeños in half, seeding (use gloves!) all but one half of one pepper. Dice the jalapeños into small chunks and add to mixing bowl. Combine all ingredients. Since there are 8 (halves) chicken breasts, divide the cream cheese mixture into 8 sections.

Prepare the prep bowls. In one, you will have the olive oil and freshly squeezed lime. In the other bowl, combine the Panko bread crumbs, the seasoned bread crumbs, and the parmesan cheese.

Assemble the stuffed chicken: Take each chicken breast (half) and place one section of the cheese/pepper mixture on top, and roll chicken breast. Then dip it in the oil and lime juice mixture, and then in the bread crumb/parm cheese mixture. Lay on baking sheet and secure it with a toothpick (so it doesn't un-roll).

Repeat this process for all 8 chicken breast halves. Bake on 375 degrees for approximately 25 - 30 minutes, depending on the size of your chicken breasts.
SHARE THIS POST TO YOUR FRIENDS: