These super delicious Strawberry Rhubarb Wheat Muffins are a spin on my momma's Rhubarb Nut Bread. Using white whole-wheat flour and a cup of both fresh strawberries and rhubarb, these jumbo muffins are incredibly moist with a sweet-but-tart flavor.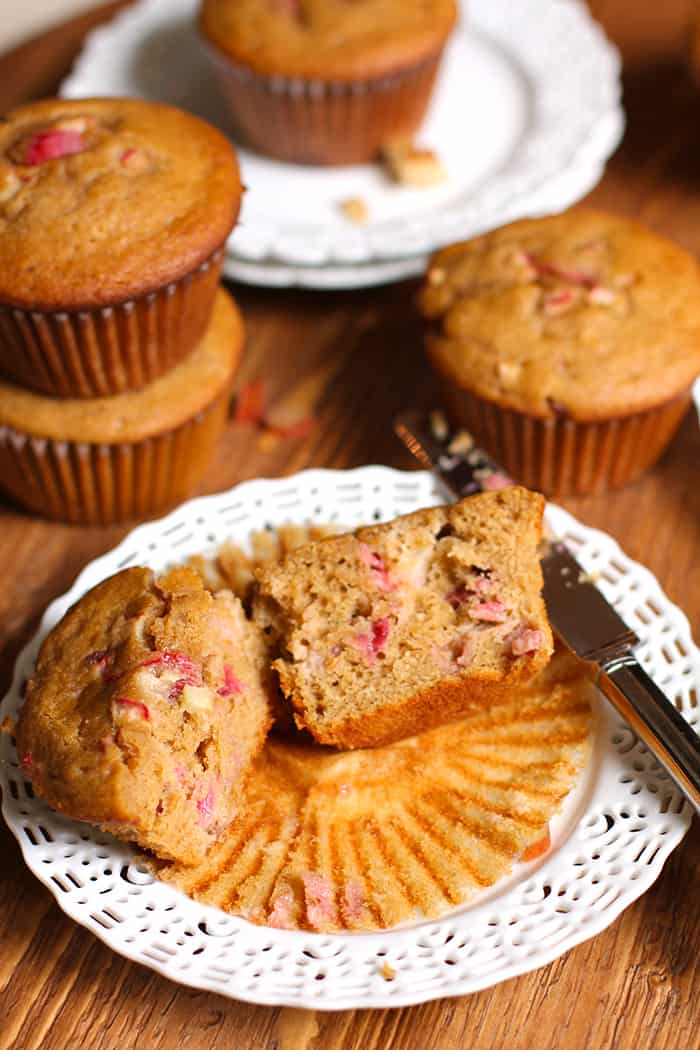 You can make SO many wonderful things with rhubarb.
This is my second rhubarb recipe this month because rhubarb has very special meaning to me. It makes me think of my childhood in Iowa and my mom's delicious rhubarb concoctions. My favorite was most definitely her Strawberry Rhubarb Jam, but that will have to wait awhile because I've never actually made jam. Thankfully, my Aunt Jane (Mom's baby sister) texted me the recipe so I have it when I get up the courage to make it.
When I went shopping for rhubarb today, the clerk didn't know what it was. Just like every time I buy it! It makes me think that few people cook with it. But trust me. It makes the best tasting quick breads, muffins, pies, and jam.
For all you rhubarb novices, the picture on the left below is what it looks like. I just cleaned it and diced it into small pieces. The outer layer can be tricky to cut so just use a little muscle. One of these stalks equaled about one cup that was needed for this recipe. You need a bit more for Rhubarb Nut Bread.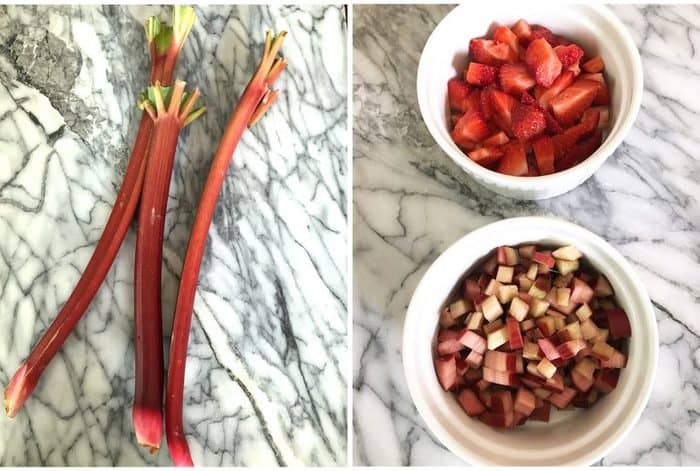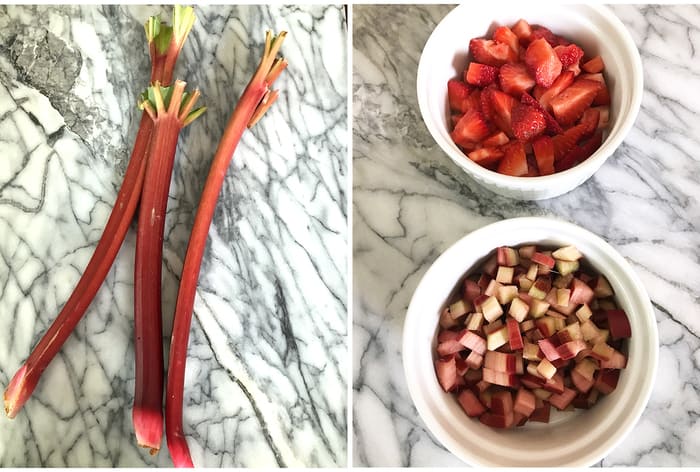 Let's talk about that pretty brown color to these Strawberry Rhubarb Wheat Muffins. The brown sugar and the white whole-wheat flour are the culprits here. And the pop of the reds and greens are pretty fabulous too. And because they are so pretty (not to mention – delicious) without it, I skipped any kind of icing or streusel topping. They simply don't need it.
We've been on the go a lot here lately, and I swore I wouldn't bake for a couple of weeks. But I needed to test this recipe again because I forgot to write down the baking time. These are JUMBO muffins – because that's pretty much all I make – and so they take a little longer than others.
I've had a lot of folks ask me if we actually eat ALL the food I blog about. Two answers.
Yes. We eat all of the savory dishes I make. So you know what's for dinner at the Ringsdorf house now. And I always incorporate something green to every meal.
No. We eat only a fraction of all the sweets I bake. If we ate everything, we'd be growing out of our clothes every month! My freezer is full right now so I'm sending a bunch with Mike to work next week. I also occasionally give some to neighbors, friends, and teachers, and took a bunch with me when we went to Iowa last. I've even sent a box to Josh at TTU.
So there you go. Now you know. 🙂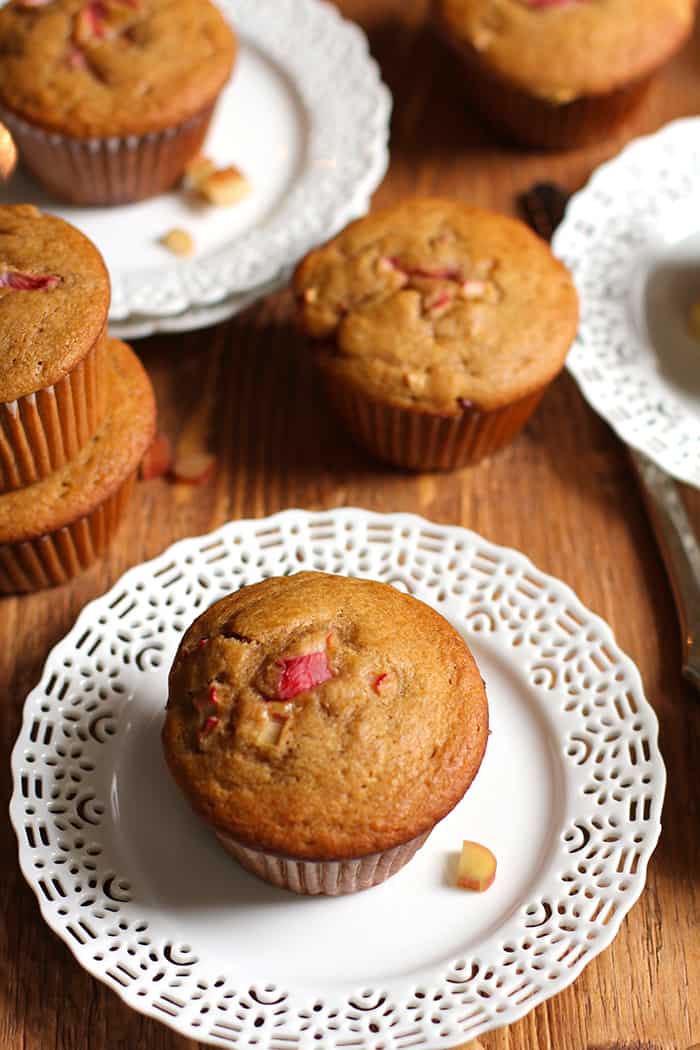 Bake these muffins next: Yogurt Glazed Blueberry Muffins
You can stay up-to-date with SueBee Homemaker by:
signing up for post updates (top right-hand corner of my blog)
liking my Facebook Page
and following me on Pinterest
I'm also sharing tidbits of my life on Instagram.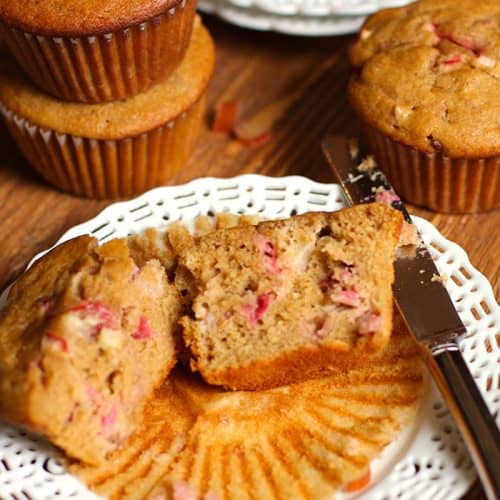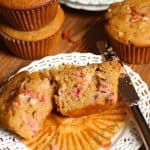 Strawberry Rhubarb Wheat Muffins
Servings
:
8
jumbo muffins
Ingredients
2

large

eggs

2/3

cup

canola oil

1

cup

buttermilk

1/2

cup

plain yogurt

1

teaspoon

vanilla

1

cup

brown sugar

2 1/4

cups

white whole-wheat flour

1

teaspoon

cinnamon

1

teaspoon

salt

1

teaspoon

baking soda

1

cup

rhubarb

diced

1

cup

strawberries

diced
Instructions
Preheat oven to 350 degrees.

Using a medium bowl, whip the eggs. Add the canola oil, buttermilk, yogurt, and vanilla.

Using another medium bowl, combine the white whole-wheat flour, cinnamon, salt, and baking soda. Add to wet ingredients and mix until just combined.

Chop rhubarb and strawberries and stir into the batter.

Using two jumbo muffin tins, line 8 cups with jumbo liners, and add batter. Fill to almost the top of liners.

Bake for approximately 22-25 minutes, or until a toothpick comes out clean when inserted into the middle.

Remove muffins to cooling racks.
Recipe Notes
These muffins stay fresh in airtight containers for up to four days. They also freeze well.
Did you make this recipe?
Tag @suebeehomemaker on Instagram and hashtag it #suebeehomemaker