Jalapeño Poppers are something I never would have eaten before we moved to Texas. In fact, I'm certain that I'd never eaten a morsel of a jalapeño, pre-Texas, or anything even remotely spicy. Maybe I can attribute it to being young and naive (in a spicy kind of world), or maybe because I'd just never eaten great Tex-Mex. Regardless, now I know that jalapeños are king of spice. And that's a very good thing.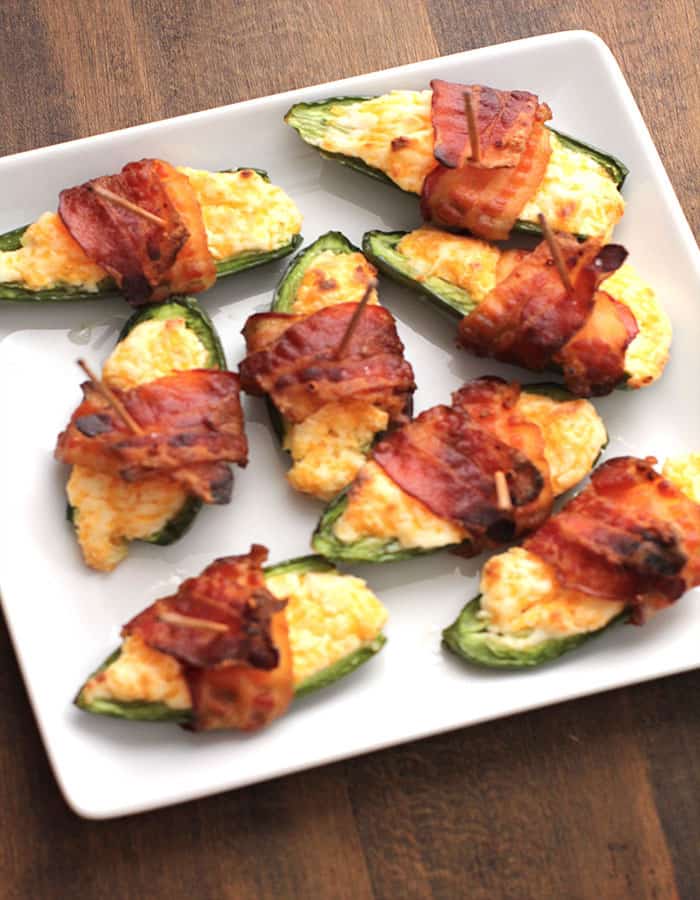 The really great part about eating jalapeños (in my opinion) is that if you eat them with seeds, you start sweating. And if you start sweating, you are burning calories. I'm not kidding. 🙂 There are several health benefits of eating spicy foods, including 1) weight loss, 2) cancer prevention, 3) heart health, and 4) anti-inflammatory. Please do your research regarding this because I'm NOT a medical expert (even though I pretend to be, at times). 🙂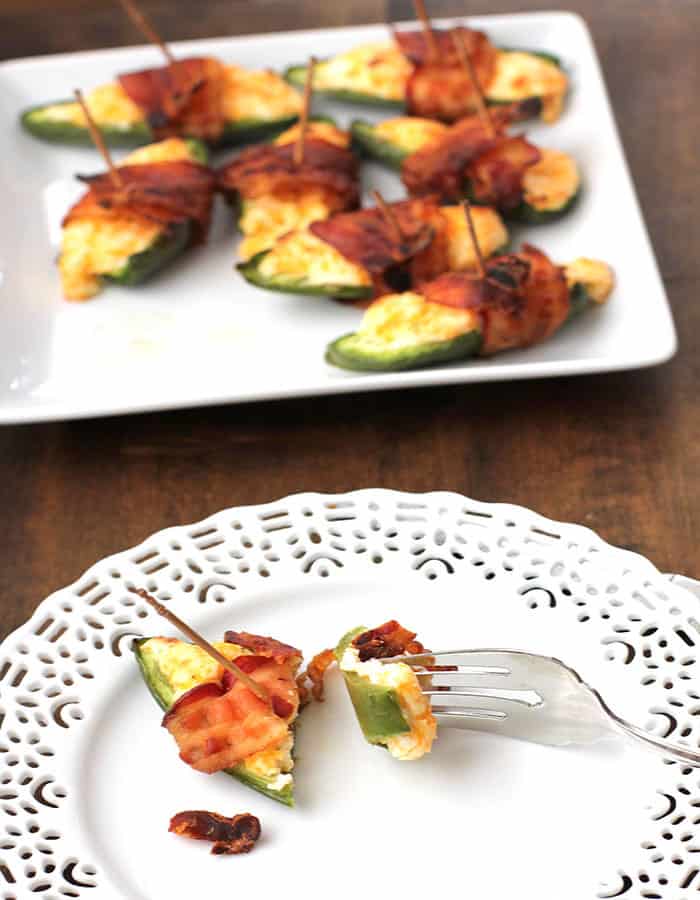 There have been several occasions that I've gotten myself into a bit of trouble with my heavy hand (picture a few too many shakes of hot sauce or too many seeds of a jalapeño ) in the spice category. Josh loves it, but my other two – Mike and Zach – are more moderate spice lovers. I tend to "guess-timate" a little too often, and that doesn't always bode well when it involves red pepper flakes, the seeds of the jalapeño, or cayenne pepper.
hot…HOT…HOTTER!
These Bacon-Wrapped Jalapeño Poppers are a great party appetizer. They are quick and easy, and you can make them up a day in advance and keep them in the refrigerator until you are ready to bake. Pre-cooked bacon is a short-cut and it works great, because the bacon crisps up super fast (as opposed to using raw bacon). I de-seeded these jalapeños, but if you love spice, and your family does too, then leave a few seeds in the jalapeños. But beware. They will be HOT.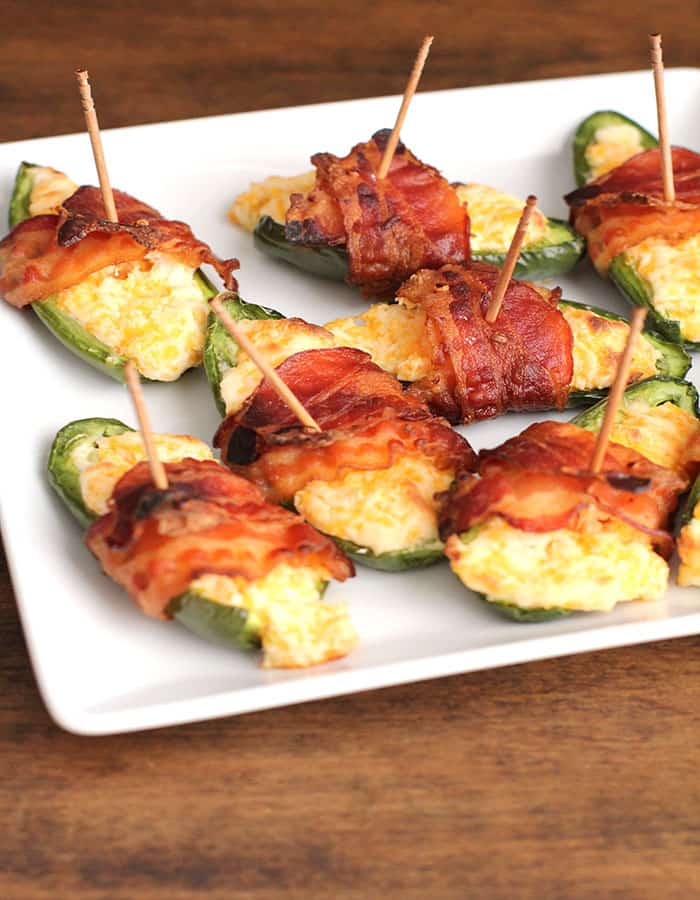 If you want to try a few other slightly spicy recipes, try my Easy Homemade Salsa, my Chex Party Mix, or my Spanish Rice with Beans.
Disclaimer: When de-seeding jalapeños, use gloves. If you touch your eye after touching the seeds, they will burn and you will cry. Please…do as I say, not as I do. 🙁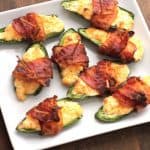 Bacon-Wrapped Jalapeño Poppers
a cheesy, cream cheese filled jalapeño wrapped in bacon
Ingredients
10

fresh

jalapenos

sliced in half and de-seeded

8

ounces

light cream cheese

softened

3/4

cup

shredded cheddar cheese

1/2

teaspoon

red pepper flakes

1/4

teaspoon

garlic powder

20

slices

pre-cooked bacon

20

toothpicks

for assembling
Instructions
Preheat oven to 375 degrees. Prepare a baking sheet with parchment paper.

Slice the jalapeños in half, length-wise, and remove seeds. Set aside.

Combine cream cheese, cheddar cheese, red pepper flakes, and garlic powder in medium bowl. Use hand-held mixer to cream ingredients together.

Use a spoon to fill jalapeño halves with cream cheese mixture. Wrap bacon slice around each half and insert toothpick to keep it in place.

Place jalapeno poppers on baking sheet and bake for 20 minutes or until the bacon crisps. You may broil for a minute or two, as well. Serve immediately.

You can prepare these the day before your event, and store (covered) in the refrigerator.
SHARE THIS POST TO YOUR FRIENDS: