This post may contain affiliate links which won't change your price but will share a commission.
Petite Lemon Scones combine super COLD butter with flour, sugar, baking powder, and salt – and then tossed with heavy cream, egg, vanilla, and freshly squeezed lemon juice and zest! The perfect treat to accompany your morning cup of joe!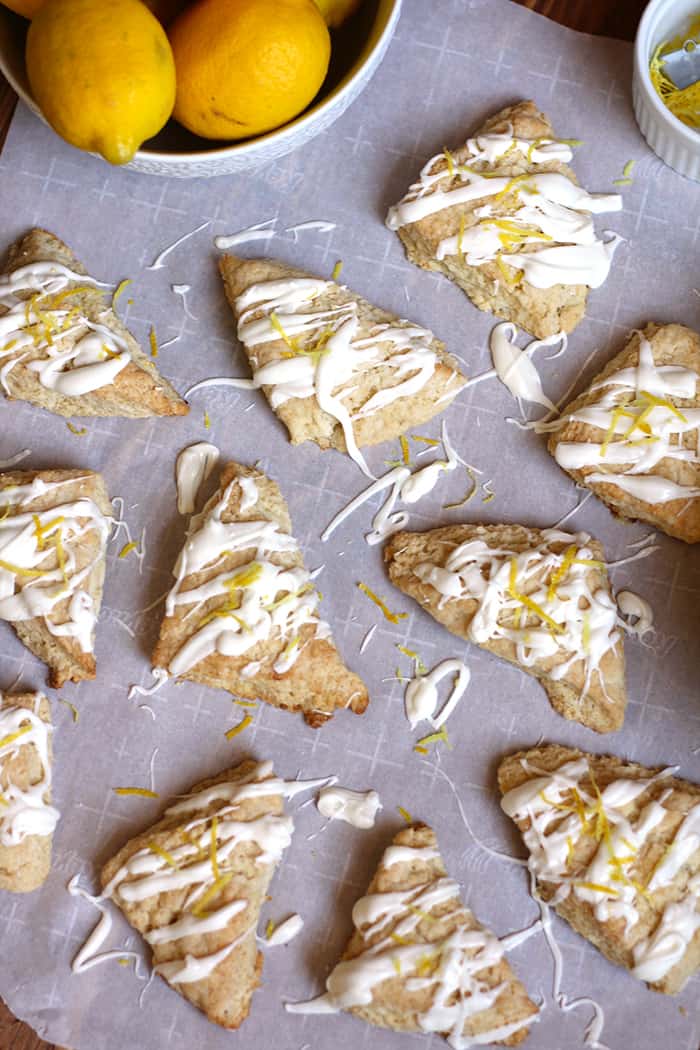 I originally made these scones for Mother's Day. To treat myself. 🙂 And then I stuck the majority of them in the freezer because we certainly don't need sweets sitting on our counters these days.
If you haven't noticed, I have a slight lemon obsession as of late. I've been buying the large bag at Sam's Club, and since I despise waste, I have to figure out how to use them before they shrivel up and die. Thus my recent lemon recipes..
I've also been loading up my iced tea and ice water with chunks of lemon. Because lemons make everything taste better. Oh, and I'm trying to drink MORE water and LESS diet coke.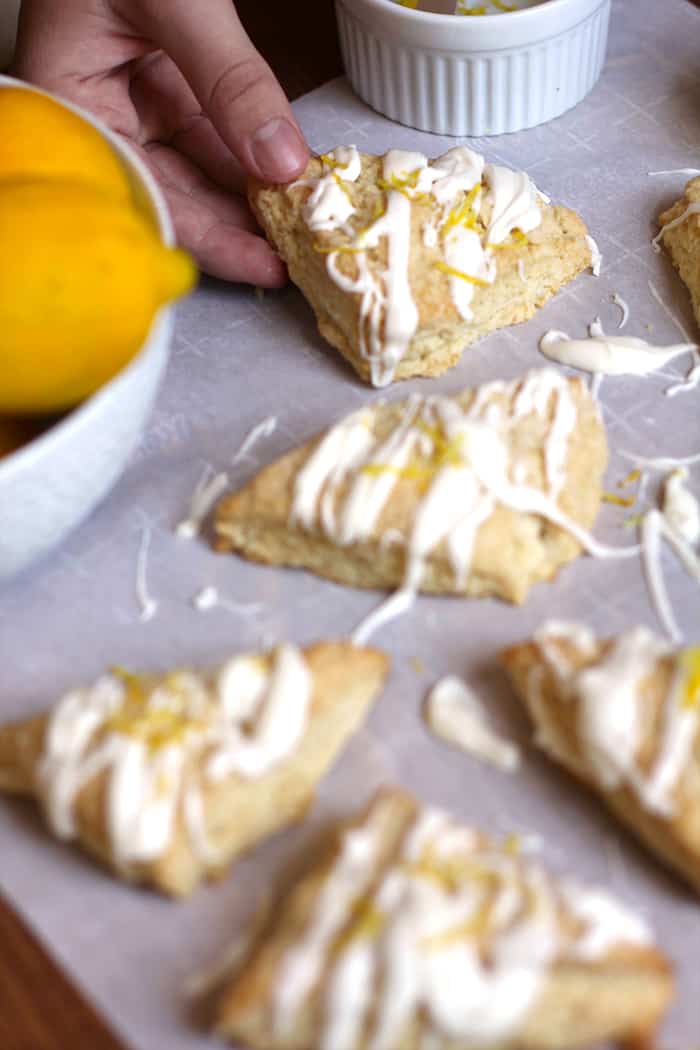 I didn't become a scone lover until I became a coffee lover. For me, they go hand in hand. The taste of the buttery, crumbly scone along with a cup of coffee is really and truly…a match made in heaven. If you haven't tried it, you really REALLY should.
There are several tricks that I've learned over the years to make great scones.
Get your dry mixture and wet mixture ready, in separate bowls.
Dice the butter up ahead of time and then put in freezer for approximately 30 minutes prior to using.
Use a pastry cutter to cut the butter into the flour mixture. The small bits of butter will form a delicious buttery pocket in each bite of the lemon scones.
Use a juicer (see My Kitchen Tools, and then click on FOOD PREP to find the one I use) to squeeze the lemons. You want about 1/4 cup of lemon juice for this recipe.
After adding the wet ingredients, the dough should be somewhat crumbly. You may have to use a bit more cream to make everything stick together. There is a "just right" amount to produce a crumbly scone. Using too much liquid will not produce a good scone. You want the mixture to be a bit on the dry side.
Use plenty of flour on your work surface so the dough doesn't stick to the baking mat.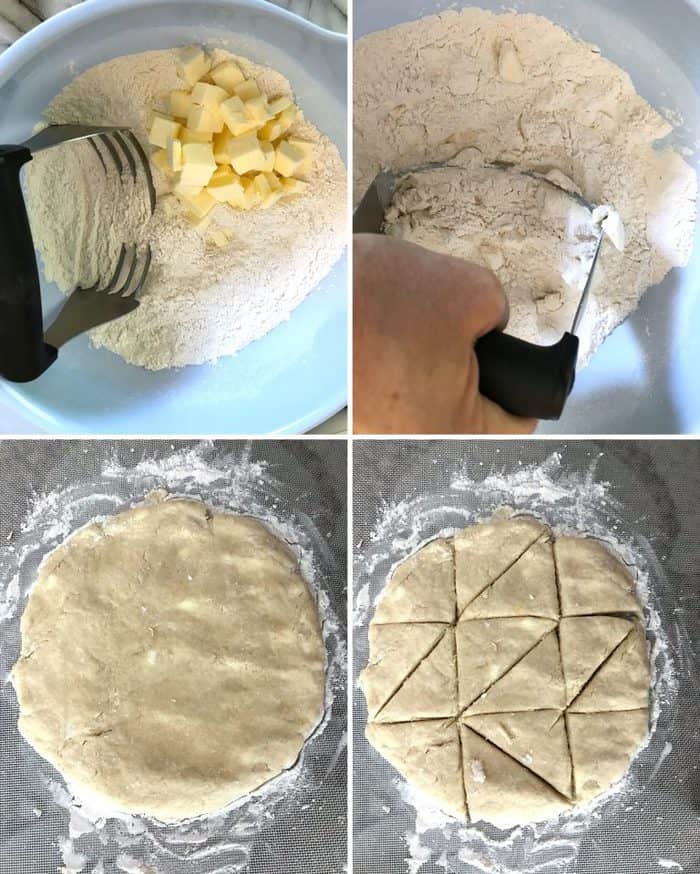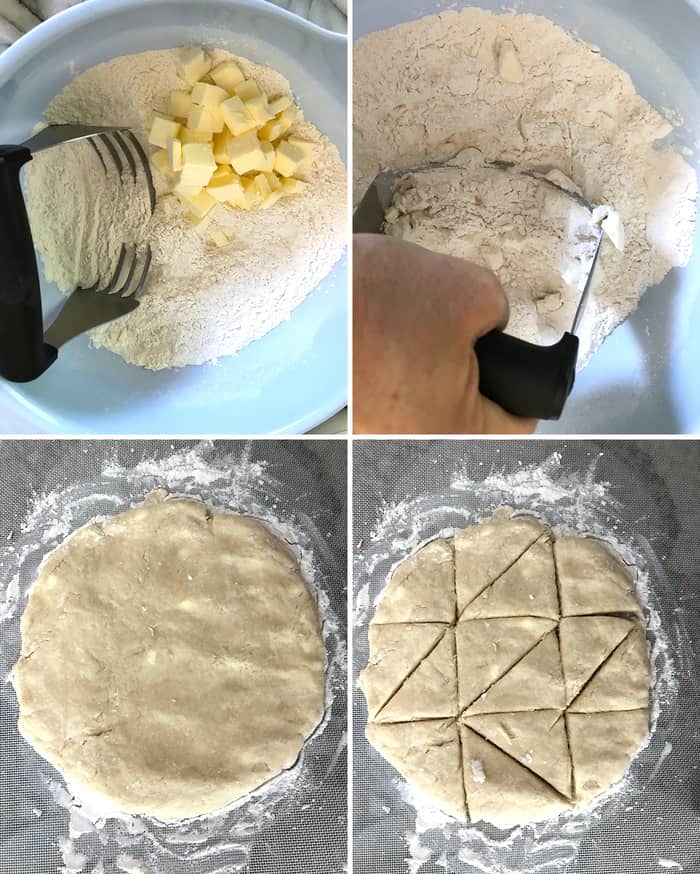 See above for the way I shaped the scones. I wanted these scones to be petite, unlike my usual habit of making everything jumbo. Like here, here, and here!
I know I know. Swimsuit season is almost here. And I'm not ready!! But who ever really is? 🙂
Since these scones are petite, they took less time to bake – just 14-15 minutes in the oven. And yes…small scones –> less guilt. 🙂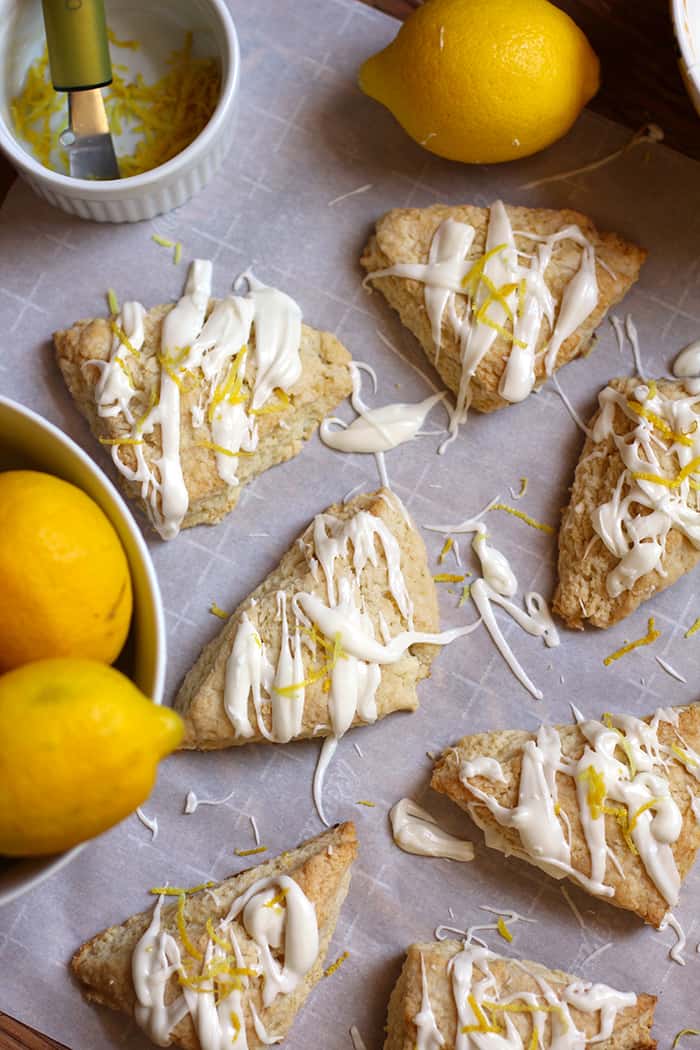 Besides the obvious bloggers and chefs on Food Network, I don't know many people who make scones. So if you haven't, I really do encourage you to try it. If you follow my tips, especially using COLD butter, and adding just the right amount of wet ingredients so that the dough isn't too wet – but on the dry side, you will have fantastic results. They are simple. Trust me.
After we all had just ONE of these Petite Lemon Scones on Mother's Day, I stuck the remaining scones in the freezer. Good thing, because I just included some of them on a tray for Mike's work breakfast at MK today. I also sent some homemade caramel rolls (recipe coming), some Jumbo Chocolate Banana Muffins, and my Cinnamon Nut Granola (to go with yogurt).
I absolutely love trying new SWEETS recipes. It's a good thing MK doesn't mind being my guinea pigs.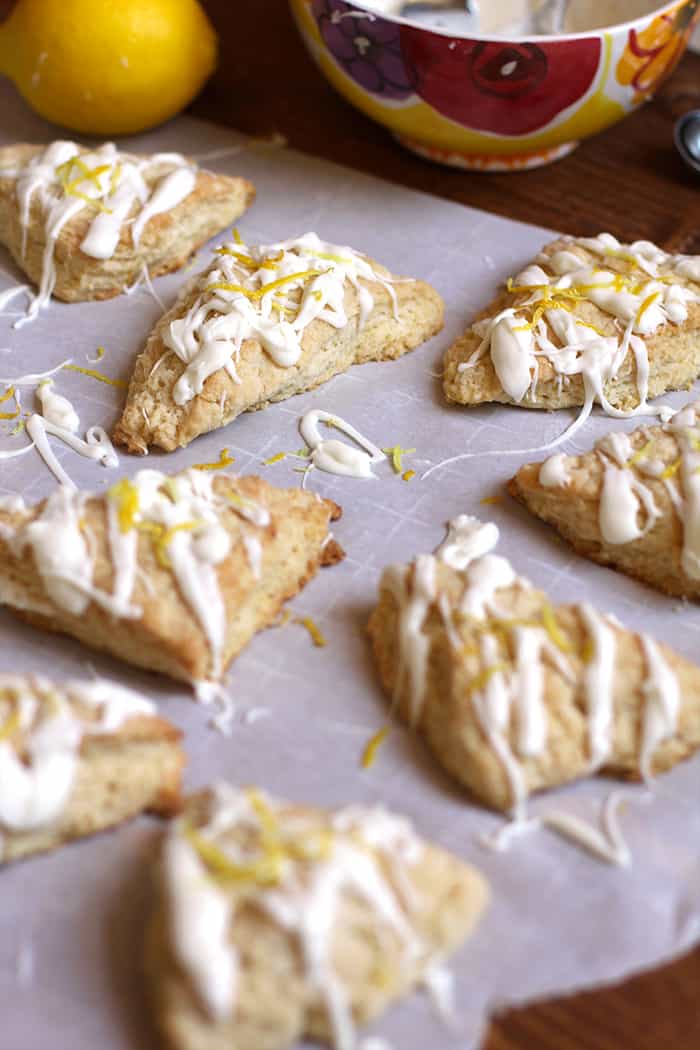 Please let me know if you try these Petite Lemon Scones, and how you like them (or not)! You can stay up to date with SueBee Homemaker by signing up for post updates (top right-hand corner of my blog) or liking my Facebook Page. I'm also sharing tidbits of my life on Instagram.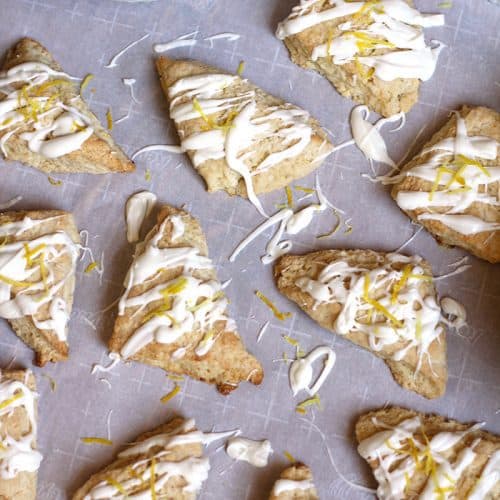 Petite Lemon Scones
Petite Lemon Scones combine super COLD butter with flour, sugar, baking powder, and salt – and then tossed with heavy cream, egg, vanilla, and freshly squeezed lemon juice and zest! The perfect treat to accompany your morning cup of joe!
Print
Pin
Rate
Ingredients
For the scones:
2 1/2

cups

all-purpose flour

1/3

cup

sugar

2

Tablespoons

baking powder

1/2

teaspoon

salt

3/4

cup

unsalted butter

– COLD

1

large

egg

1/2

cup

heavy cream

– plus more if needed

1/4

cup

freshly squeezed lemon juice

1

teaspoon

lemon zest

1

teaspoon

vanilla
For the icing:
1

Tablespoon

butter

– softened

3

Tablespoons

heavy cream

2

cups

powdered sugar

2

teaspoons

zest
Instructions
For the scones:
Preheat oven to 400 degrees. Line two baking sheets with parchment paper.

In a medium bowl, combine the flour, sugar, baking powder, and salt.

Take cold butter out of refrigerator and chop. Place in freezer for 30 minutes. Using pastry cutter, add the butter to the dry ingredients until it resembles course crumbs.

In a small mixing bowl, whip the egg, and add buttermilk, freshly squeezed lemon juice, lemon zest, and vanilla.

Add wet ingredients to the the bowl and stir until just combined. Don't over-mix or the scones will be tough. You may need to add additional cream if the dough is too dry. But it should be on the dryer side verses too wet.

Turn dough onto a floured surface. Use hand to form into a large circle and press down to about 1/2 to 3/4 inch thickness. Cut into 14 equal wedges – or any shape you like.

Transfer wedges to prepared baking sheets. Bake until just barely browned on top, about 18 – 20 minutes. Cool on baking racks.
For the icing:
Combine softened butter and heavy cream. Then add powdered sugar and adjust according to your desired consistency.

Drizzle icing over the baked and cooled scones. Add a touch of zest to the top of each scone.

Allow icing to set up before storing in containers. You can also freeze these scones for up to three months.
Nutrition
Calories:
310
kcal
|
Carbohydrates:
40
g
|
Protein:
3
g
|
Fat:
16
g
|
Saturated Fat:
10
g
|
Cholesterol:
58
mg
|
Sodium:
104
mg
|
Potassium:
216
mg
|
Fiber:
1
g
|
Sugar:
22
g
|
Vitamin A:
520
IU
|
Vitamin C:
2
mg
|
Calcium:
90
mg
|
Iron:
1
mg