Best Bread Recipes for Thanksgiving Day
This post may contain affiliate links which won't change your price but will share a commission.
Today I'm sharing eight of the BEST Bread Recipes for Thanksgiving Day! From French bread to dinner rolls to cornbread, you'll find just what you need in this roundup of delicious recipes. Just in time for the most popular meal of the year!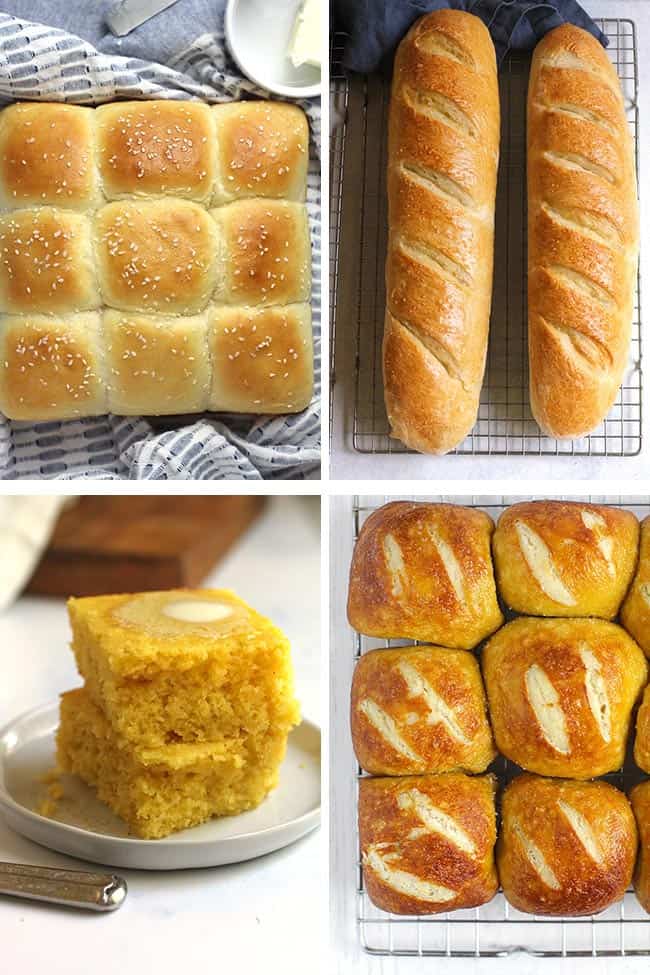 Bread is such a key food group to a great Thanksgiving Day meal. You definitely need a soft roll to make mini sandwiches with the turkey or ham you're serving, but it's fun to get creative and serve another delicious type of bread/roll too.
Traditional soft bread – In addition to the brioche buns and my mom's dinner rolls, you could make my whole wheat honey recipe into rolls instead of bread.
Chewy bread – My mom's French bread is THE most popular bread recipe on the blog. The pretzel rolls are one of MY faves, and can easily be warmed up in the microwave.
Sweet rolls – You can definitely serve up some sweet rolls (like the two linked below), but they also make a great morning or mid-day snack. Wanna make just ONE pan? Try my Giant Cinnamon Raisin Twist Roll!
Something different – There is nothing better than a buttery biscuit or a good sweet cornbread as an addition to your holiday table.
---
Chewy French Bread is an easy five ingredient bread. My mom perfected it, and its great for dipping in soup, as a sandwich, or just eating with a pat of butter!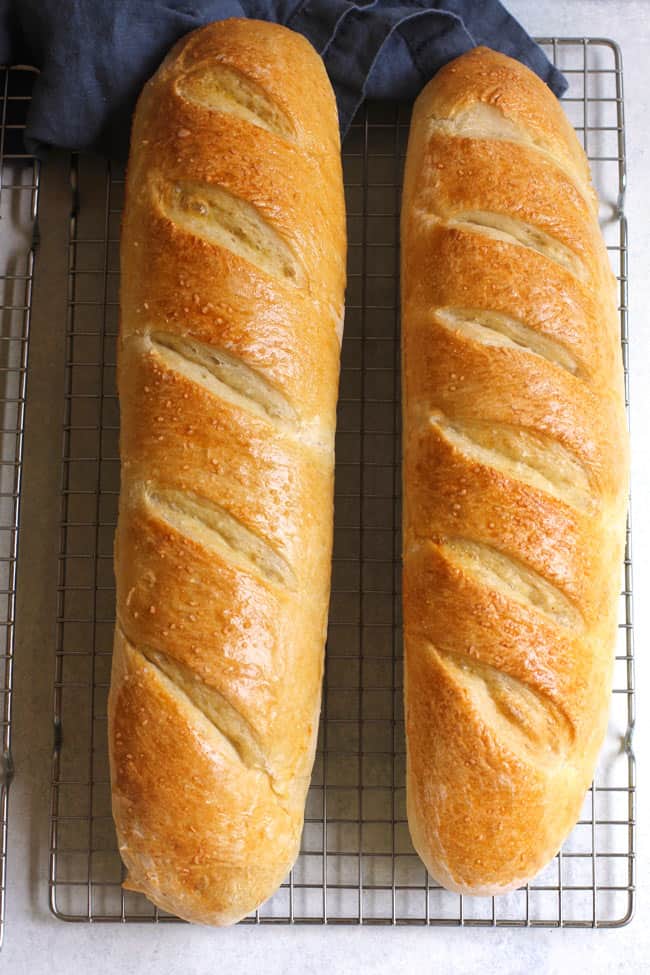 ---
BEST Homemade Pretzel Rolls make the best sandwiches and are also great with just a pat of butter. Soft on the inside and chewy on the outside, these rolls will have you making them again and again!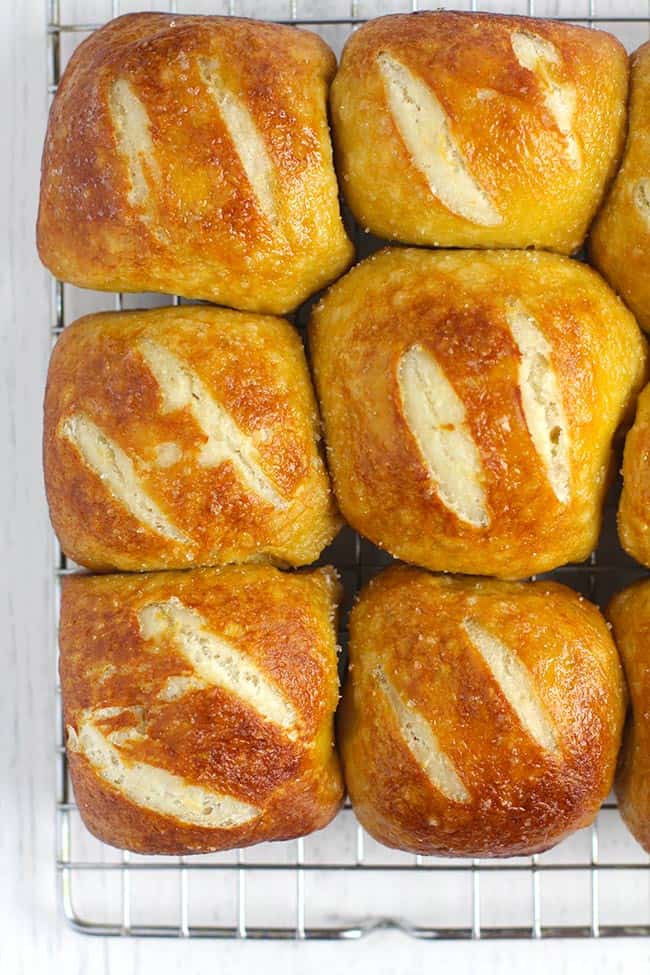 ---
Mom's Dinner Rolls should definitely be on your holiday table this year. Unbelievably soft and melt-in-your-mouth goodness, perfect for a small sandwich or just an accompaniment to the main course. Only six ingredients are in these rolls, plus a pat of butter and a sprinkling of kosher salt to give them that beautiful shine!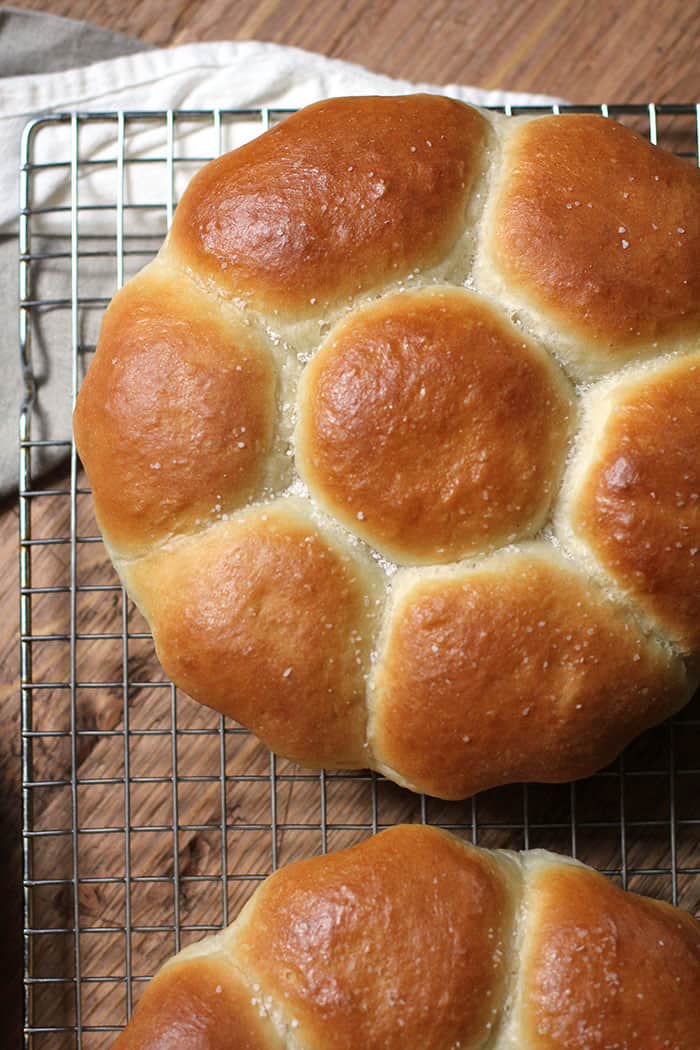 ---
Soft Brioche Dinner Rolls are the softest bread, perfect for holiday entertaining or just any day of the week. Buttery and slightly sweetened, these are best served with a generous pat of butter or make delicious mini sandwiches!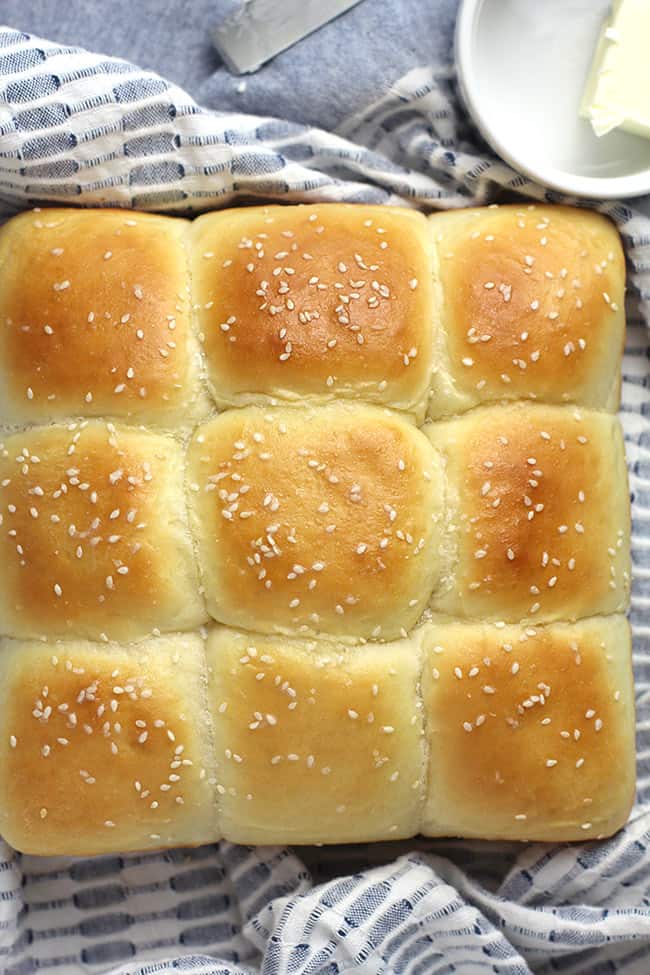 ---
Let me introduce to you the best Sweet Buttermilk Cornbread recipe! This super simple recipe comes together in minutes, and pairs well with soups, chili, and all the winter casseroles. Try it today!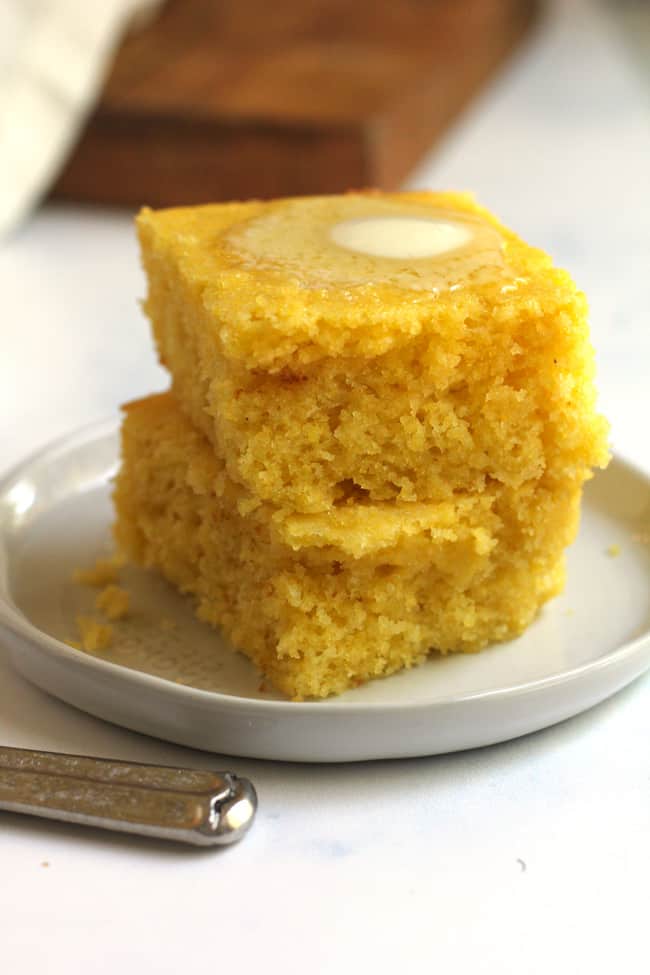 ---
The Best Homemade Buttermilk Biscuits are perfectly flaky on the outside, and soft and fluffy in the inside. These make the BEST snack or side, with a few pats of butter and a drizzle of honey!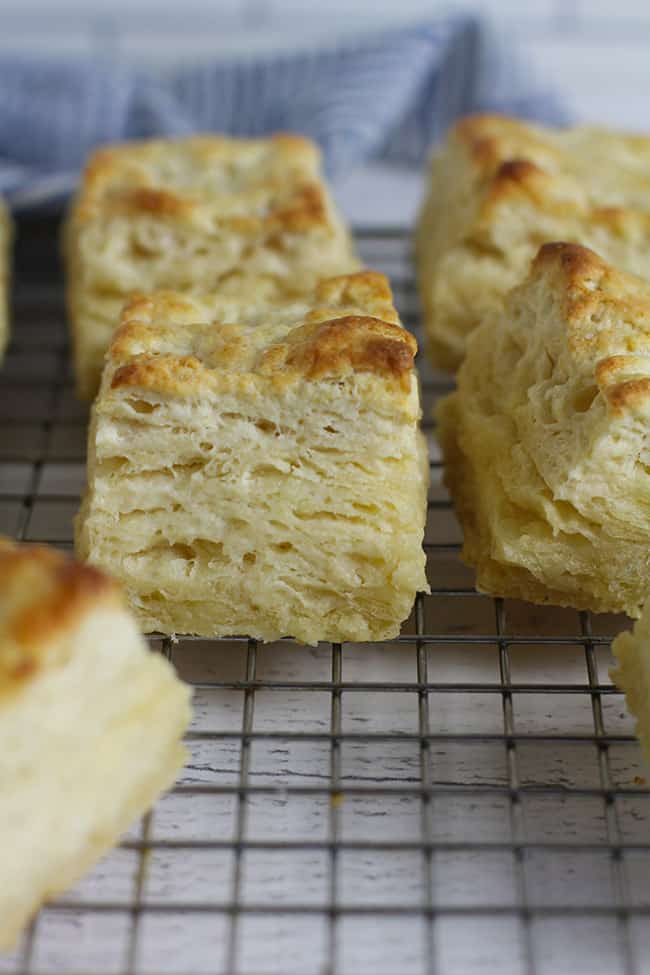 ---
The BEST Cinnamon Rolls bring back all the memories of childhood. The dough is unbelievably soft, and the sugar and cinnamon mixture takes them to the next level! Treat your family to a batch of these soon!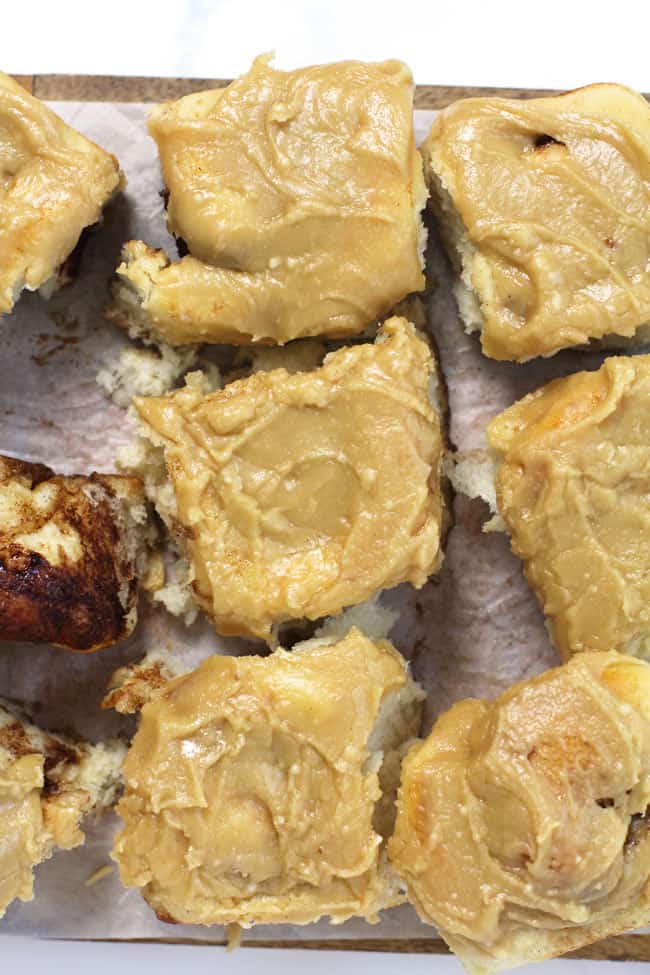 ---
If you like my Mom's Homemade Cinnamon Rolls recipe, then you will LOVE this one for Sticky Caramel Cinnamon Rolls, aka Caramel Rolls! It's another Norma Jean recipe, and hers were the best. The dough is super soft, filled with a sweet cinnamon sugar mixture, and then baked on top of a caramel "goo" – as my mom called it. 🙂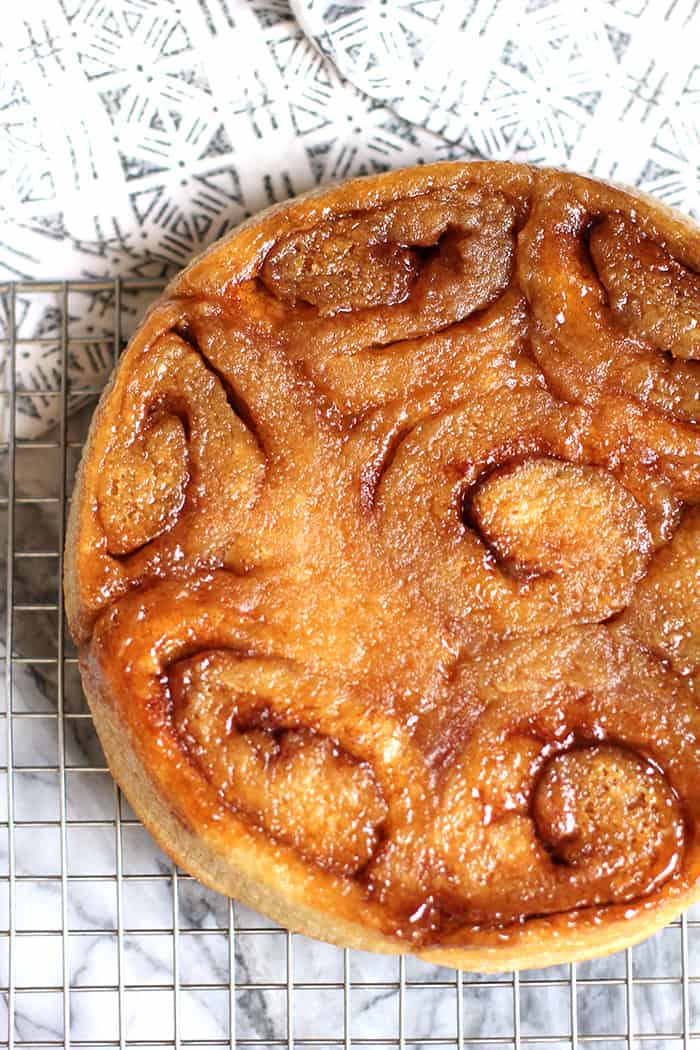 ---
Kitchen Tools used for these recipes:

(Affiliate Links)

Please let know if you try any of these recipes. Be sure to comment and leave a review on the blog so I can see what you think. You can also like my Facebook Page, follow me on Pinterest, and catch me on Instagram.