My mom was an excellent baker, and her Homemade Cinnamon Rolls with Caramel Frosting were THE BEST. The dough is unbelievably soft, and the sugar and cinnamon mixture takes them to the next level!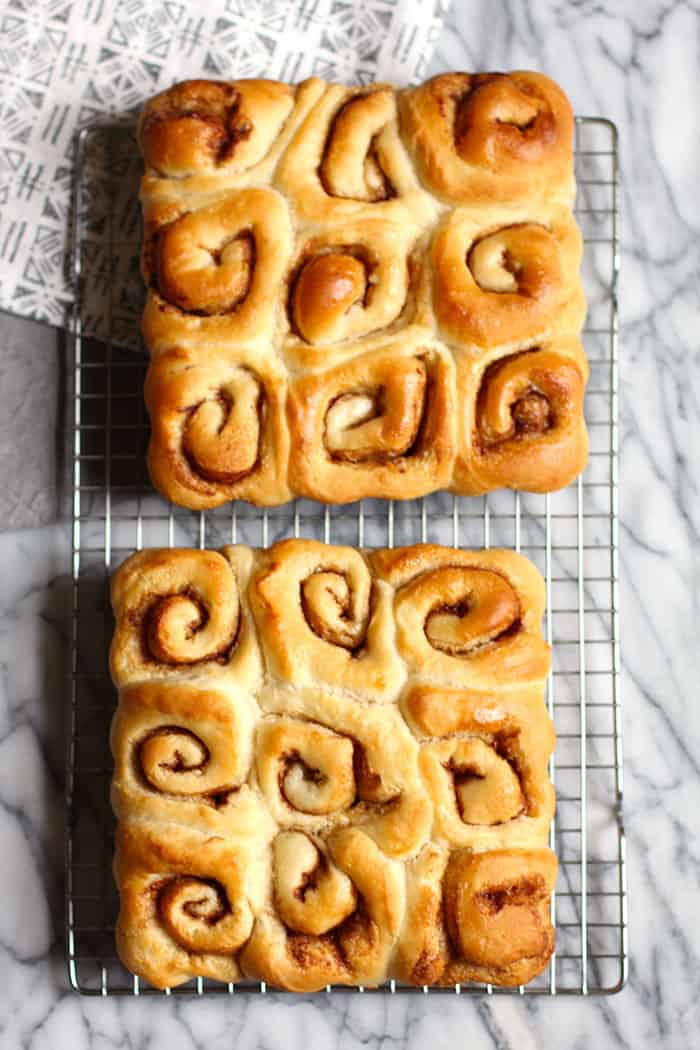 This recipe is one I've made fifty times, while my mom probably made it one thousand times – or more. She loved making cinnamon rolls, and made them for numerous church activities as well as for family gatherings. At any given time, there was probably 3-4 pans of rolls in her freezer. She went through periods of freezing them already baked, like the photo above, and then there were times when she froze them pre-cooked so they could be SUPER fresh on any day of the week.
I have a funny story to tell you, and I hope I don't offend any of her church friends from back in the day. Mom was often times in charge of our parish "coffee and rolls" after Sunday morning mass. And these cinnamon rolls were almost always a featured breakfast item, and were the first to get snatched. I remember vividly going through the line to get eggs, sausage, rolls, and juice – and ALWAYS asking for one of mom's cinnamon rolls. On one occasion, one of the other church ladies frowned at me and said I should try something else once, because I could have one of my mom's rolls any time. HA! I think I argued my way into getting one of Mom's. Because why would I choose a store bought donut when I could have a homemade, freshly baked cinnamon roll? Made by Norma Jean herself.
So you see, Mom was the "supreme baker" back then. Her rolls were the very first to go. And her children always snatched at least six of them (one for each of us). I smile whenever I think about it. 🙂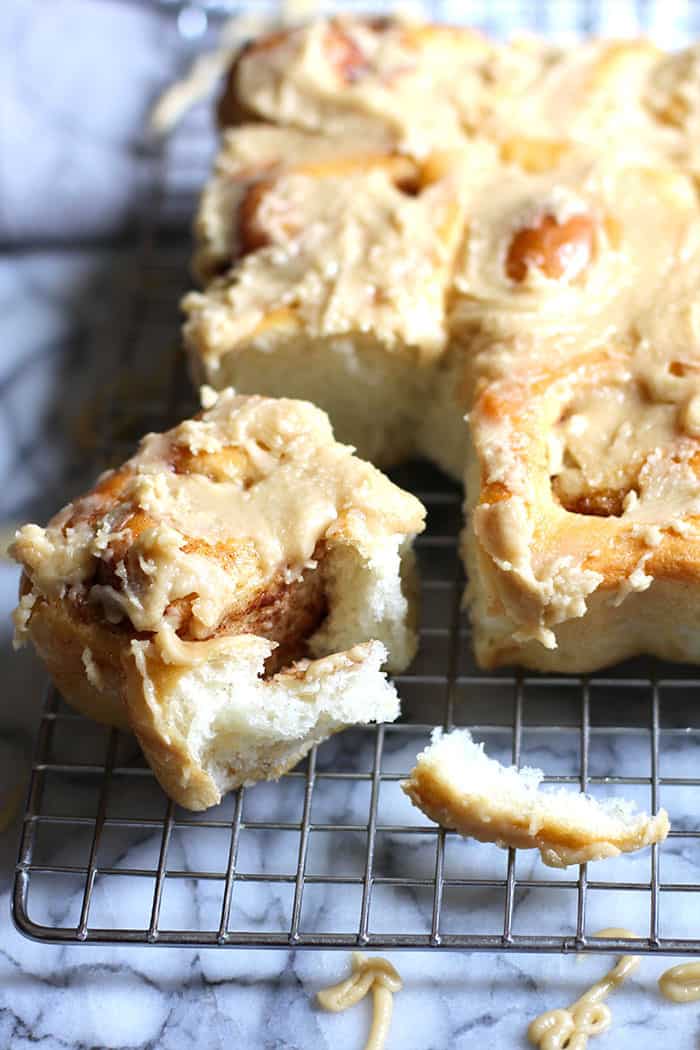 I'm going to tell you a secret. Making cinnamon rolls is NOT hard. They seem to intimidate a lot of folks, but if you know how to make bread, then you can make rolls. There are just a few extra steps.
Pat a section of dough into a rectangle.
Spread some butter on the dough.
Sprinkle with brown sugar and cinnamon.
Roll up into a log.
Slice into one inch sections.
Arrange in pans.
That's it! And you can do it too!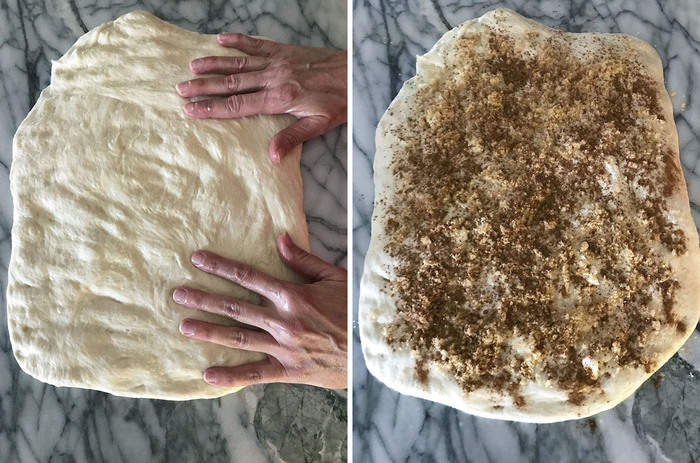 If you are wondering, the hands above are mine and the hands below are my friend, Julie's. She baked with me recently, and I think she agreed that it's not that difficult. Baking just takes time, but a lot of that time is letting the dough rise, which allows you to do a bunch of other things WHILE you are baking. Win win.
As you can see, I like to use disposable square pans for cinnamon rolls. They bake so perfectly in them, and they are cheap to buy in any grocery store.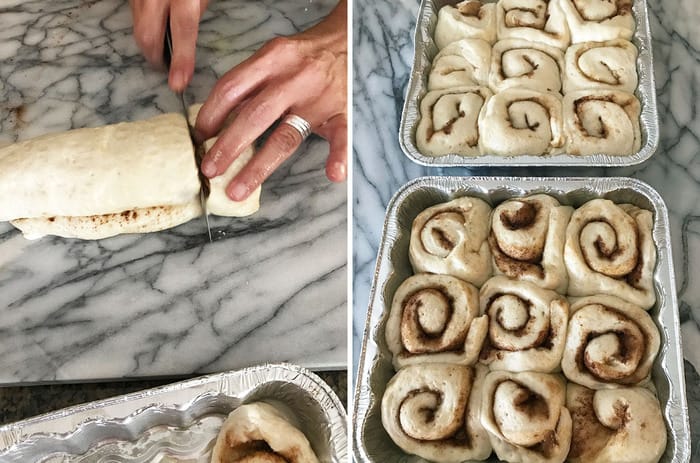 One of my mom's expressions when baking rolls was "This dough is as soft as a baby's butt"! And it's true. This dough is SO unbelievably soft and it raises so UNBELIEVABLY FAST. Don't get too involved in any other project, because you don't want the dough to be falling out of the bowl as it's rising.
You might notice that this recipe calls for powdered milk. This is important. Don't be tempted to use regular milk. The powdered milk is what makes this dough so soft. And you want soft dough for rolls, as opposed to french bread – where you want the dough to be firm and crusty.
The caramel frosting I used for these rolls is a basic one, the one that I also use on brownies, banana cake, and so many other sweets. It's awesome, but you could also use a basic white powdered sugar frosting or whatever frosting you like best.
Oh, and P.S….I cut Mom's recipe in HALF! She made tons at a time, and I'm guessing that most people don't bake for the large groups of people that my mom did. You can always double it…if you want. 🙂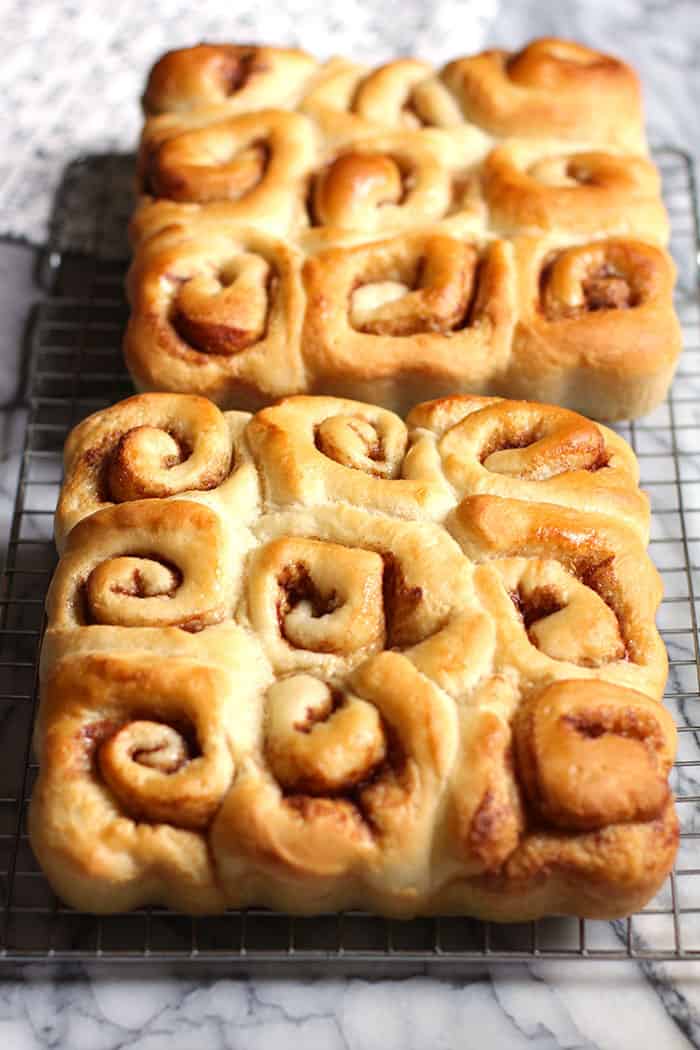 Zach has been begging me to make "grandma's rolls" for awhile now. He kept asking me if I was gonna "blog it", so I decided to oblige and post it on his birthday. Yup, today is Zach's 18th birthday. My baby is an adult, and I couldn't be more sad. 🙁 How does life move so fast? It seems like I was picking him up from elementary school yesterday. I mean, really. I think you all know what I'm talking about.
I've been asking Zach what he wants for his birthday, and since the computer he wants has to wait until he goes to college (next year), he's asked to go to see the Eclipse. My little science nerd (in a good way!) wants to go to Kansas City this August to see the Eclipse. Luckily, he has an uncle who lives there, so we're going to fly him up there for a few days. I guess I better check to see if Uncle Matt is ok with that. 🙂
And for his birthday dinner, Zach wants my Beef and Bean Nachos and Norma Jean's French Silk Pie. Done!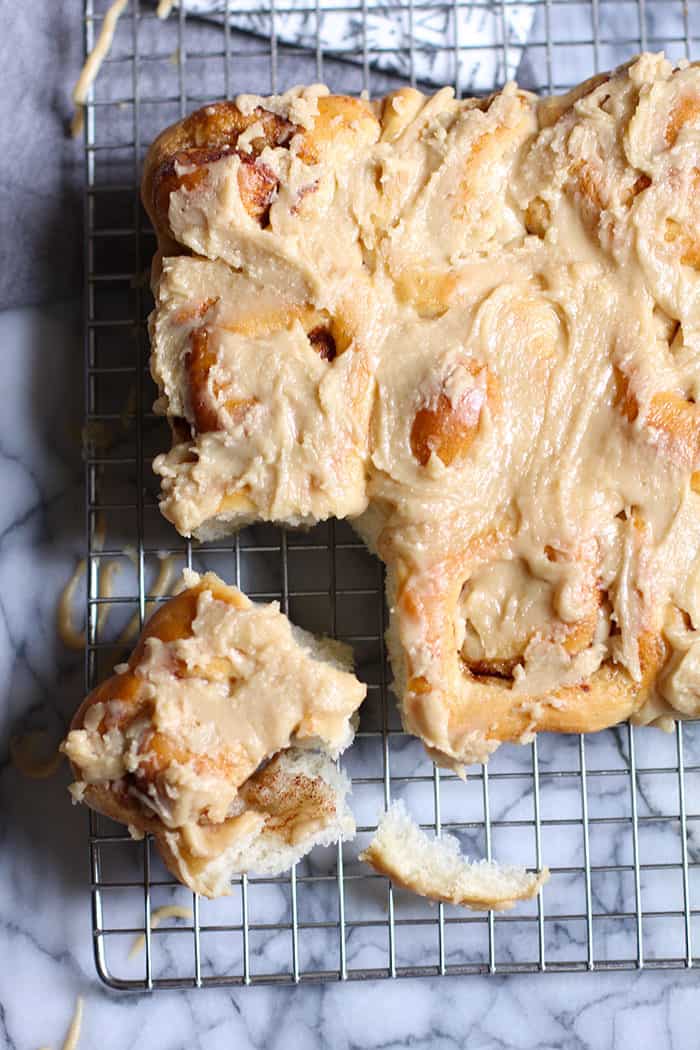 Please let me know in the comment section below if you make these Homemade Cinnamon Rolls with Caramel Frosting, or any of my recipes! I love to hear from my readers. You can also tag me on social media! I'm on Facebook, Twitter, Instagram, Pinterest, Bloglovin', and Yummly. 🙂 Thanks for reading along!
AND…if you want to receive an email to notify you when I post, please sign up in the top right corner of my site! 🙂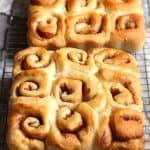 Homemade Cinnamon Rolls with Caramel Frosting
My mom's delicious cinnamon rolls are super soft and full of cinnamon and sugar goodness!
Servings
:
3
pans of rolls
Ingredients
For the dough:
2

Tablespoons

yeast

- I use Red Star

1/3

cup

sugar

2

cups

warm water

- not hot, not cold

1/3

cup

canola oil

2

teaspoons

salt

3

Tablespoons

powdered milk

5-6

cups

all-purpose flour
For the sugar and cinnamon mixture:
6

Tablespoons

unsalted butter

slightly softened

1

cup

brown sugar

3

Tablespoons

cinnamon

- more or less, depending on your preference
Instructions
For the dough:
In a large standing mixer, combine yeast, sugar, and warm water. Be careful to use WARM water, not hot. If the water is too hot, the yeast will disappear and you can't make bread without yeast. Mix and let sit for about 15 minutes to get the yeast working. You should see little bubbles in the water.

Add the oil, salt, and powdered milk. Stir with a spatula. Attach dough hook to mixer and add about half of the flour. Start the mixer and let the flour absorb.

Gradually add more flour, a little bit at a time until the dough is less sticky and pulls away from the sides of the mixer. You want the bread dough to be slightly sticky, but not too much. When you touch the dough, it should bounce back slightly. Be sure to leave the mixer on for several minutes after you get the right consistency.


Grease a large bowl with canola oil. Add dough to the bowl, making sure you smooth it into a ball, by punching it down - starting in the center of the dough. Place dough with smooth side up and cover with a clean towel. Let the dough double (approximately) in size.

Once doubled, punch down the dough again - by pushing down with your fists in the middle of the dough, pulling the outer edges in towards the middle. Re-grease the bowl with oil and place the dough with smooth side up. Let rise until doubled in size again.
Adding the sugar and cinnamon mixture:
Take about 1/3 of the dough, and press it on a well-greased surface, into a rectangle. (See pictures above.) Using your hands, spread two tablespoons of butter on the dough. Then sprinkle 1/3 cup of brown sugar and one tablespoons of cinnamon all over the dough.

Gently roll the dough up into a long log. (See pictures above.) Using a serrated edge knife, cut dough log into about 1 inch sections. Place sections into greased pans, and press down slightly, so that the cinnamon sugar is visible on top.

Continue with the other 2/3 of the dough. This recipe should make about three pans of rolls, depending on how big you make them.

Cover the pans with a clean dishtowel, and let rise again until dough is almost doubled. This dough rises fast in Texas, and only takes about 20-30 minutes to be ready to bake.

Bake rolls in 350 oven, for about 22 minutes, or until rolls are nice and golden on the top, and slightly golden on the bottom. Remove rolls to cooling racks.

Frost rolls with your favorite frosting. See caramel frosting recipe below.
Recipe Notes
These rolls freeze well, unfrosted, using freezer bags.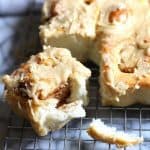 Caramel Frosting
A rich and delicious frosting, made with brown sugar, butter, milk, and powdered sugar.
Ingredients
1/2

cup

un-salted butter

1

cup

brown sugar

- firmly packed

1/4

cup

milk

2

cups

powdered sugar
Instructions
Melt butter on stove top over medium heat. Add brown sugar and cook for about 2 minutes, stirring constantly. Add milk and continue stirring until mixture comes to a boil.

Remove from heat and cool slightly. Add powdered sugar until smooth consistency to spread. If it gets too stiff, add a few drops of milk to smooth.

SHARE THIS POST TO YOUR FRIENDS: