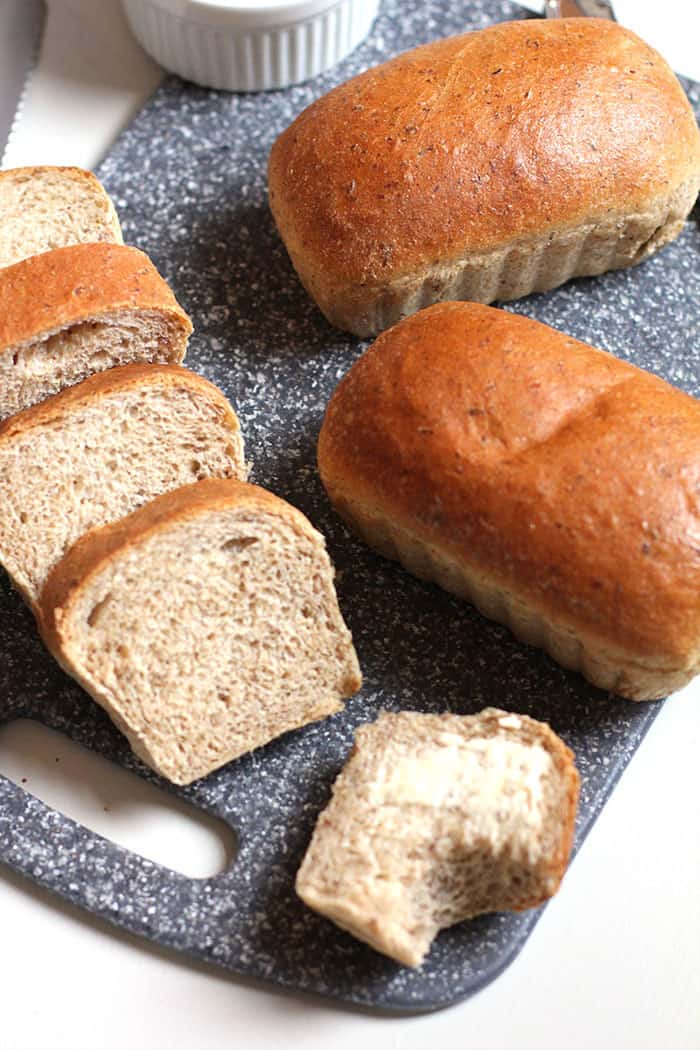 Today's recipe is brought to you via an experiment – a replicate of Norma Jean's Kitchen. You see, my mom was known to start her bread making early in the morning. I think her mission was to wake her children up to the smell of fresh bread. But instead, we were usually woken to the sound of her Bosch
mixing away.
The house that my five siblings and I grew up in, was relatively small. It never felt that way growing up, and we never thought twice about having our own bedroom. Each one of us shared a bed with a sibling, and it worked out perfectly because there were four girls and two boys (and three bedrooms for us to share). The kitchen was not far from our bedrooms and if you were in the downstairs bedroom, you were directly under the kitchen (aka Norma Jean's Kitchen). I do believe that was the noisiest spot to sleep, because you could hear EVERY step and EVERY chair being pushed around. And I swear that my family has rocks in their socks.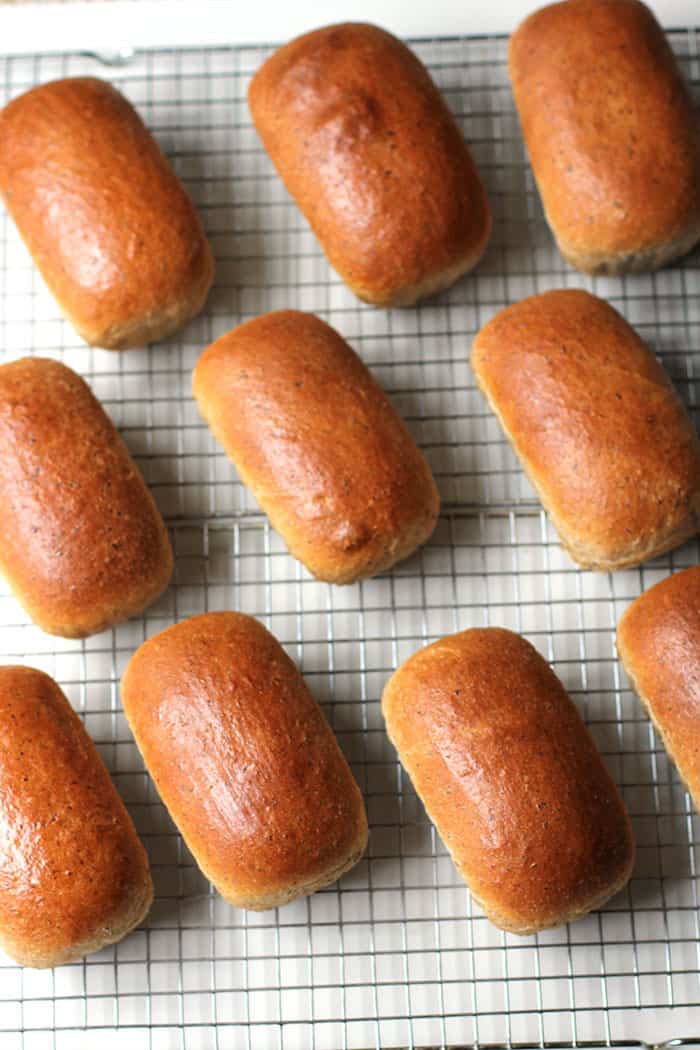 So this experiment is me starting up my Bosch while the boys are sleeping. Actually, Zach is already at school but Josh is still in bed during his college break (at the time of this writing). I'm waiting for him to get up and tell me that he "loved the sound of the mixer" 🙂 this morning. Just like we did when we heard my mom rattling around the kitchen. My kids like to imitate my handling of the dishes when they are sleeping – by slamming their hand on the counter. It's pretty funny. And I love the memories of hearing Norma Jean in her kitchen, seemingly unaware of the loud noises she was making in her happy place.
Seriously, how does one go about baking and unstacking the dishwasher QUIETLY? It's really not possible. Having my little kitchen TV on is also a necessity. Just like Mom, I'm watching the Today Show  while I'm baking. And to hear the TV over my Bosch Mixer, I have to turn the volume UP. 🙂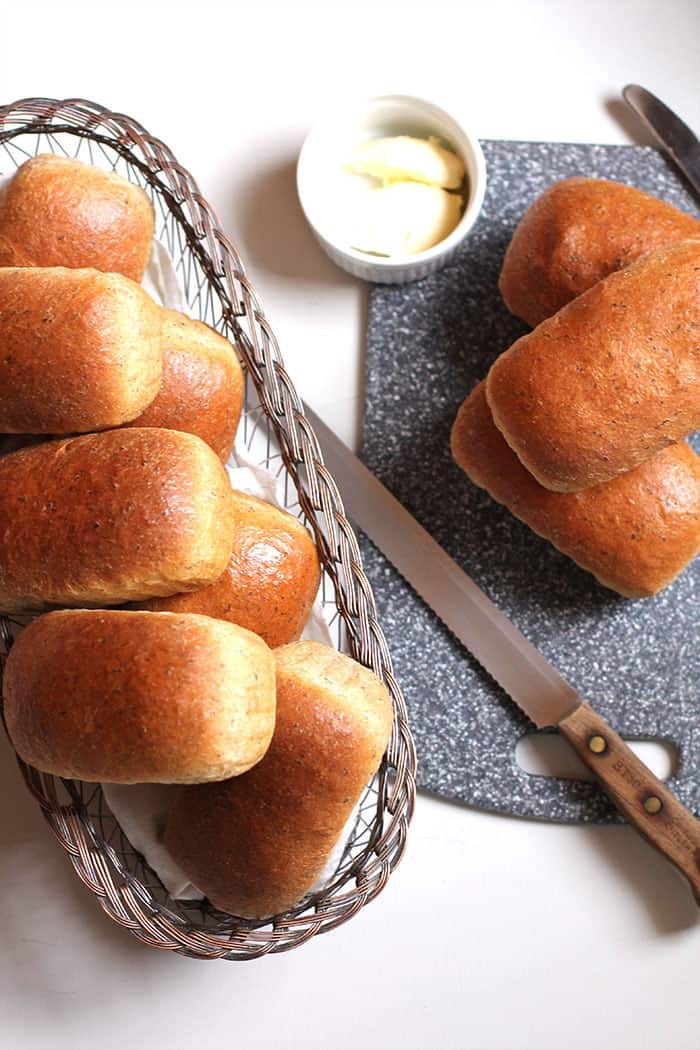 Whole Wheat Honey Bread is an adaptation of Mom's Cracked Wheat Bread. Every once in a while she'd leave the cracked wheat out and replace with extra whole wheat flour. I did that and also replaced the quick oats with flaxseed meal. I'm also making mini loafs. You can buy the mini disposable pans in any grocery store and I like to use them occasionally, especially if I'm trying to decrease my bread consumption. These freeze great, so taking one mini loaf out at a time is a good way to have fresh bread anytime you want it, without wasting any, and without eating too much. 🙂
The first photo below is what the bread looks like when it is ready to pull out of the mixer. Do you see the way it has pulled away from the sides of my Bosch? That means there is enough flour. The picture on the right is what the bread looks like after it has risen – in this case, it took about an hour to rise.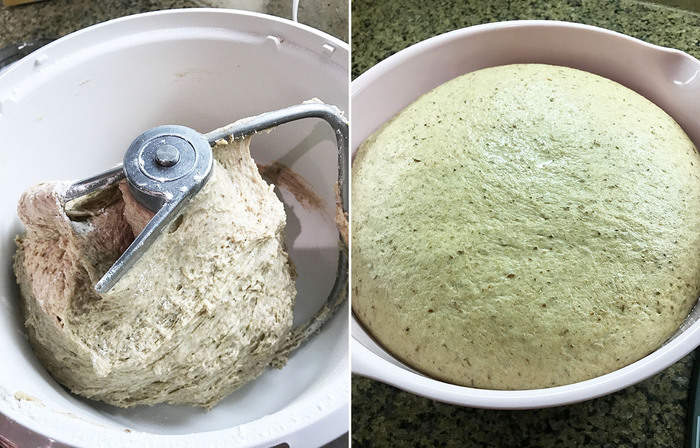 I bet ya'll are wondering if I woke Josh up this morning. Drum roll please….
The answer is NO! Dang it. I was actually trying to be extra loud. Even had the TV up just a notch higher than necessary. Oh well. I'll keep trying to recreate Norma's (loud) kitchen. She's a hard lady to imitate. I miss the way she was – something fierce – and writing about her always makes me appreciate her even more than I thought I could.
If you love bread like I do, you will love Norma Jean's other bread recipes, especially her Chewy French Bread, her Cracked Wheat Bread, and her Dinner Rolls.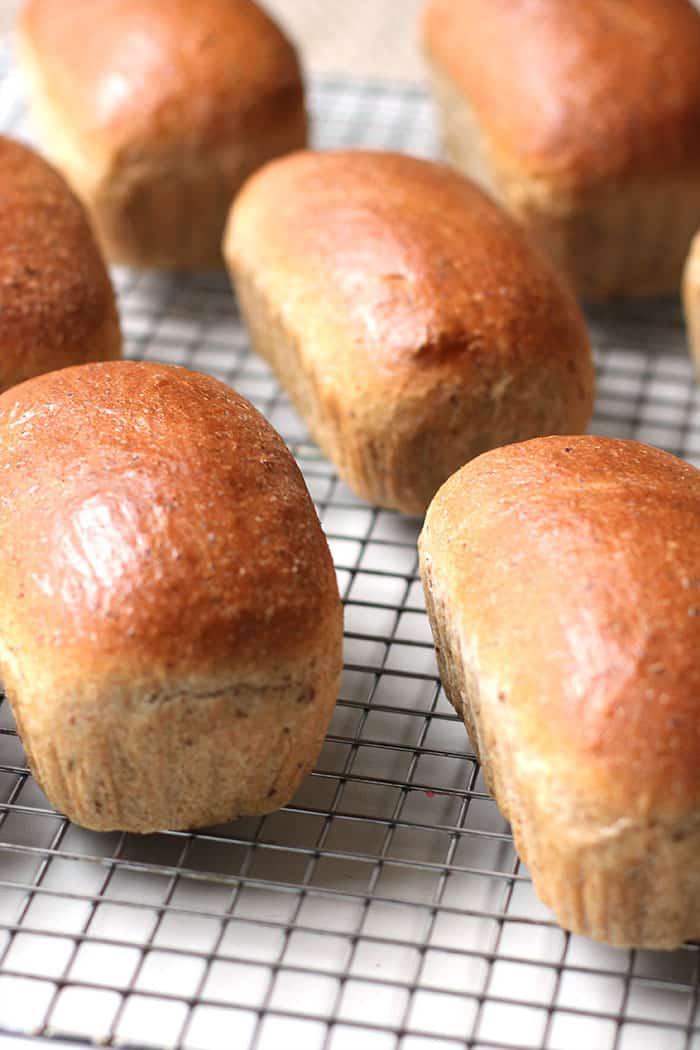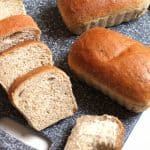 Whole Wheat Honey Bread
a healthy, nutty tasting bread, perfect for toasting
Ingredients
2

Tablespoons

yeast

I use Red Star

1

teaspoon

sugar

2

cups

warm water

not hot, not cold

1/2

cup

honey

1/2

cup

canola oil

1

Tablespoon

salt

1

cup

cold water

1/2

cup

flaxseed meal

I use Bob's Red Mill

5

cups

whole wheat flour

4

cups

all-purpose flour

or to right consistency

few pats of butter

to brush on top after baking
Instructions
Prepare the yeast mixture. Combine the yeast, sugar, and the warm water in a large mixer. Be careful to use WARM water, not hot. If the water is too hot, the yeast will disappear and you can't make bread without yeast. Mix and let sit for about 15 minutes to get the yeast working.

Add the honey, oil, salt, and cold water. Stir with a spatula. Attach dough hook to mixer and add the flaxseed meal and the whole wheat flour. Start the mixer and mix until fully combined.

Then add approximately 4 more cups (this is not an exact measurement) of all-purpose flour to desired consistency. You want the bread dough to be slightly sticky but not too much. When you touch the dough, it should bounce back slightly. Be sure to leave the mixer on for several minutes after you get the right consistency.

Grease a large bowl with canola oil. Add dough to the bowl, making sure you smooth it into a ball. Cover the dough with a clean dish towel and set it in a warm corner of your kitchen. Let the dough rise until doubled in size.

Punch down the dough - by pushing down with your fists in the middle of the dough, pulling the outer edges in towards the middle. Re-grease the bowl with oil and place the dough with smooth side up. Let rise until doubled in size again.

Form dough into 12 mini shapes (for mini loafs) or 4-5 larger loafs. Use same punch down method for each loaf, making sure smooth side is facing up. Let loaves rise again until doubled in size.

Bake loafs on 350 degrees for approximately 25 minutes or until bottom is browned nicely. Remove from pans to wire racks and brush tops with butter.

Cool completely before storing in storage/freezer bags. This bread freezes well.
SHARE THIS POST TO YOUR FRIENDS: