If you like my Mom's Homemade Cinnamon Rolls recipe, then you will LOVE this one for Sticky Caramel Cinnamon Rolls, aka Caramel Rolls! It's another Norma Jean recipe, and hers were the best. The dough is super soft, filled with a sweet cinnamon sugar mixture, and then baked on top of a caramel "goo" – as my mom called it. 🙂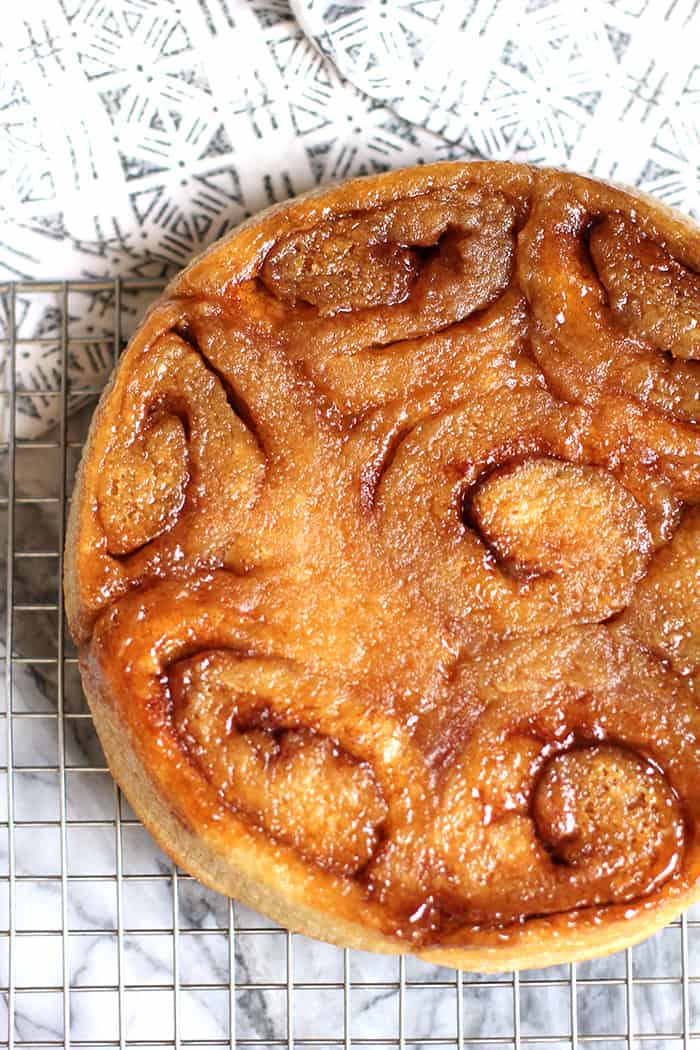 Can you believe that my mom had a recipe for something called "goo" (rhymes with chew)? I smile when I think of it, but I actually have it written on a recipe card. Mom's GOO recipe. The only time she made goo, was when she made her caramel rolls. The goo is the sticky caramel part, that is just a mixture of…
butter
brown sugar
and white syrup
Pretty easy, and now you know while it's called goo. It's gooey, sticky, and delicious.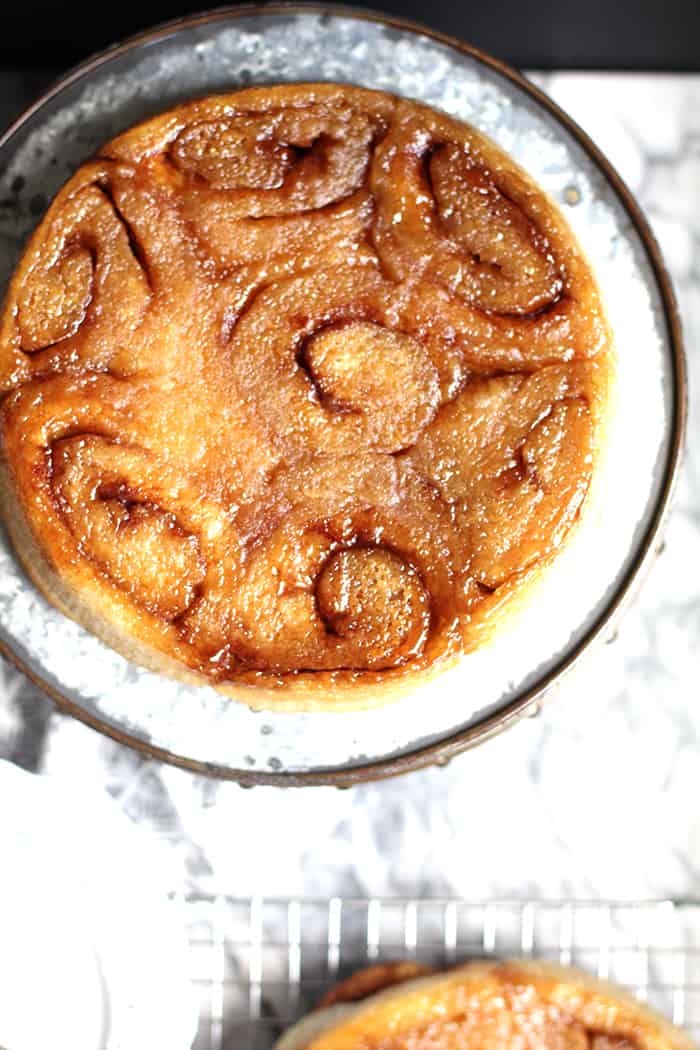 This recipe is the EXACT same recipe as Mom's Cinnamon Roll recipe, except for the additional step for goo.
A few tips for making this recipe.
When you add the warm water to the yeast, sugar, and salt – be careful to use WARM water, not hot. If the water is too hot, the yeast will disappear and you can't make bread without yeast. Also, do not use cool water because it won't activate the yeast.
The yeast will bubble up when it's activated. See the first picture below. (The second picture shows what the dough looks like after it has doubled in size.)
Don't add all the flour at once because every baking day is different. Some days you will need a bit more flour and some days, you will need less.
The dough should be slightly sticky when ready. Over time, you will learn exactly how much flour is needed to make the ultimate cinnamon rolls.
When the dough is ready, you take a section and pat it into a rectangle, and add the butter, cinnamon, and sugar mixture. Roll it up, and then slice into one inch sections. (See a better demonstration here.)
The second group of pictures below show what the goo looks like. You spread a thin layer on each pan. (I use disposable pans most of the time.)
These caramel rolls only take about 20 – 22 minutes to bake. Be careful to not over-bake.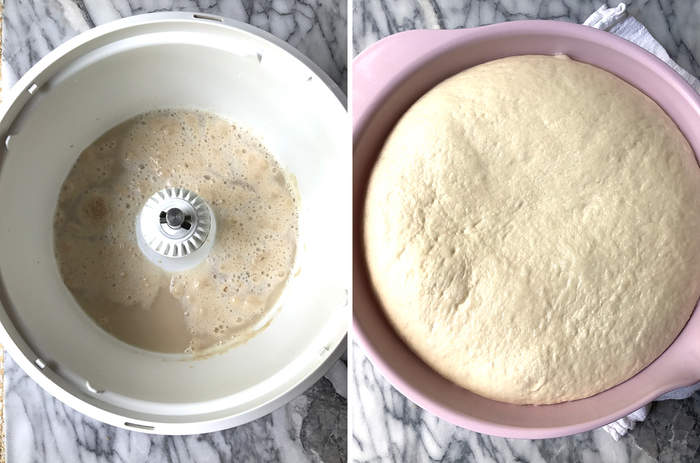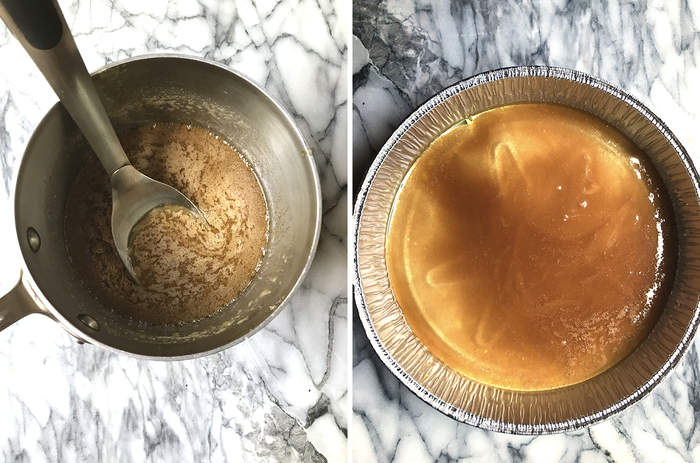 The photo below is what the dough looks like when it's ready to bake, after almost doubling in size. It should be puffing up slightly above the pan.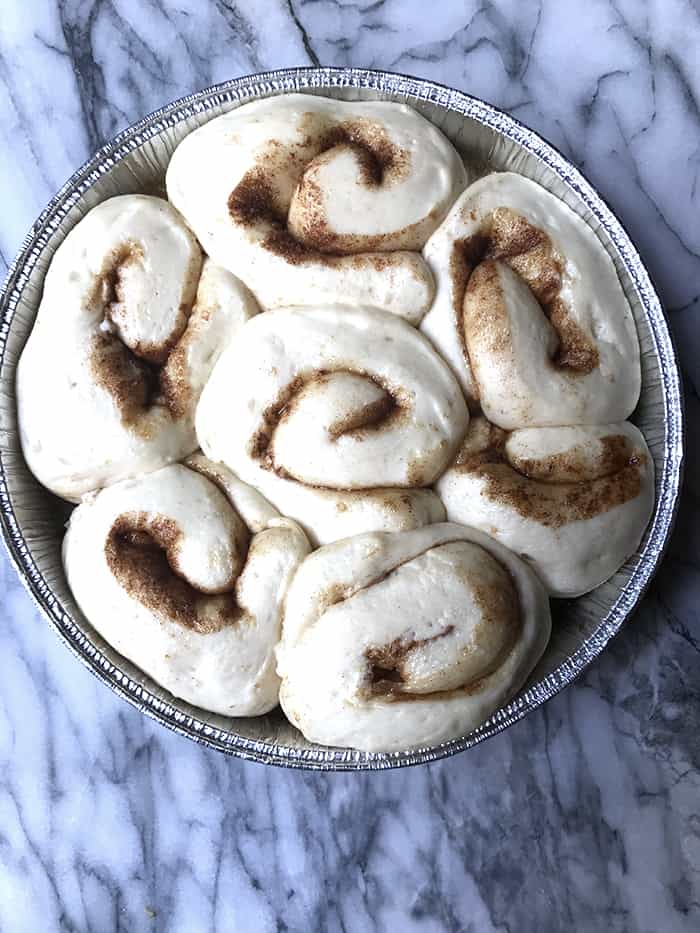 Like I said in a previous post, some of you have asked if we eat all the food I make. And again, the answer is two-fold.
Yes. We eat MOST of the savory dishes I make. So you know what's for dinner at the Ringsdorf house now. And I always incorporate something green to every meal.
No. We eat only a fraction of all the sweets I bake. If we ate everything, we'd be growing out of our clothes every month! When my freezer gets full, I just send a bunch with Mike to work at Mary Kay, or run some to the neighbors.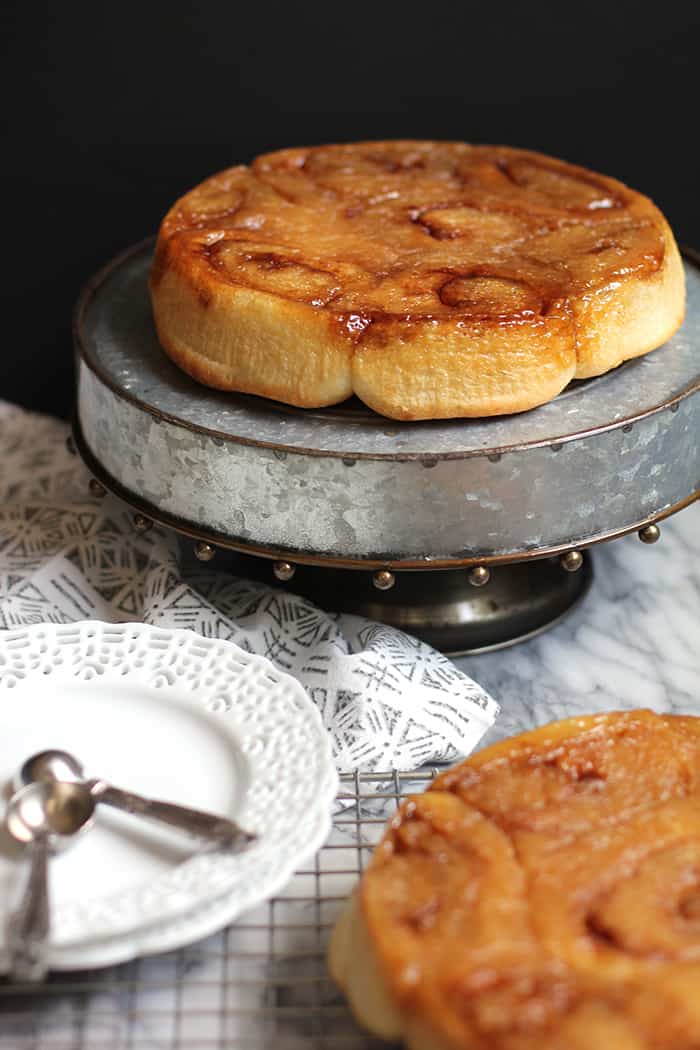 Make these rolls next: Homemade Cinnamon Rolls with Caramel Frosting
You can stay up-to-date with SueBee Homemaker by:
signing up for post updates (top right-hand corner of my blog)
liking my Facebook Page
and following me on Pinterest
I'm also sharing tidbits of my life on Instagram.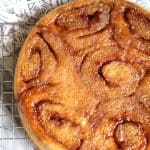 Sticky Caramel Cinnamon Rolls
Servings
:
3
pans of rolls
Ingredients
For the dough:
2

Tablespoons

yeast

- I use Red Star

1/3

cup

sugar

2

cups

warm water

- not hot, not cold

1/3

cup

canola oil

2

teaspoons

salt

3

Tablespoons

powdered milk

5-6

cups

all-purpose flour

- or enough to get the right consistency
For the sugar and cinnamon mixture:
6

Tablespoons

unsalted butter

-softened

1

cup

brown sugar

3

Tablespoons

cinnamon

- more or less, depending on your preference
For the caramel "goo"
1.5

cups

brown sugar

1/2

cup

unsalted butter

1/4

cup

white syrup

pecans

- optional
Instructions
For the dough:
In a large standing mixer, combine yeast, sugar, and warm water. Be careful to use WARM water, not hot. If the water is too hot, the yeast will disappear and you can't make bread without yeast. Mix and let sit for about 15 minutes to get the yeast working. You should see little bubbles in the water.


Add the oil, salt, and powdered milk. Stir with a spatula. Attach dough hook to mixer and add about half of the flour. Start the mixer and let the flour absorb.


Gradually add more flour, a little bit at a time until the dough is less sticky and pulls away from the sides of the mixer. You want the bread dough to be slightly sticky, but not too much. When you touch the dough, it should bounce back slightly. Be sure to leave the mixer on for several minutes after you get the right consistency.


Grease a large bowl with canola oil. Add dough to the bowl, making sure you smooth it into a ball, by punching it down - starting in the center of the dough. Place dough with smooth side up and cover with a clean towel. Let the dough double (approximately) in size.


Once doubled, punch down the dough again - by pushing down with your fists in the middle of the dough, pulling the outer edges in towards the middle. Re-grease the bowl with oil and place the dough with smooth side up. Let rise until doubled in size again.
Prepare pans with caramel "goo"
In a small sauce pan, combine the brown sugar, butter, and syrup. Bring to a boil and remove from heat. Pour a thin layer of goo in the bottom of three greased pans. Add pecans if you wish.
Add the sugar and cinnamon mixture:
Take about 1/3 of the dough, and press it on a well-greased surface, into a rectangle. Using your hands, spread two tablespoons of butter on the dough. Then sprinkle 1/3 cup of brown sugar and one tablespoons of cinnamon all over the dough.


Gently roll the dough up into a long log. Using a serrated edge knife, cut dough log into about 1 inch sections. Place sections into pans with goo, and press down slightly, so that the cinnamon sugar is visible on top.


Continue with the other 2/3 of the dough. This recipe should make about three pans of rolls, depending on how big you make them.


Cover the pans with a clean dishtowel, and let rise again until dough is almost doubled. This dough rises fast in Texas, and only takes about 20-30 minutes to be ready to bake.


Bake rolls in 350 oven, for about 22 minutes, or until rolls are nice and golden on the top.


Place pans on counter and set timer for 5 minutes. This allows the goo to set up. If you remove rolls to early, the caramel goo will ooze off on to your counter.

After 5 minutes, flip pans over onto cooling racks. Then gently massage pan to make sure goo is attached to rolls. Remove rolls and let cool.
Recipe Notes
Refer to my Cinnamon Roll Recipe for more pictures of this process.
These rolls freeze well in freezer bags, up to about three months.
Did you make this recipe?
Tag @suebeehomemaker on Instagram and hashtag it #suebeehomemaker