Witch Hat Peanut Butter Cookies will put a spell on your tricksters this Halloween! A simple peanut butter cookie all tricked up with a chocolate covered bugle for the hat and a quick buttercream sash. Simple and so delightful!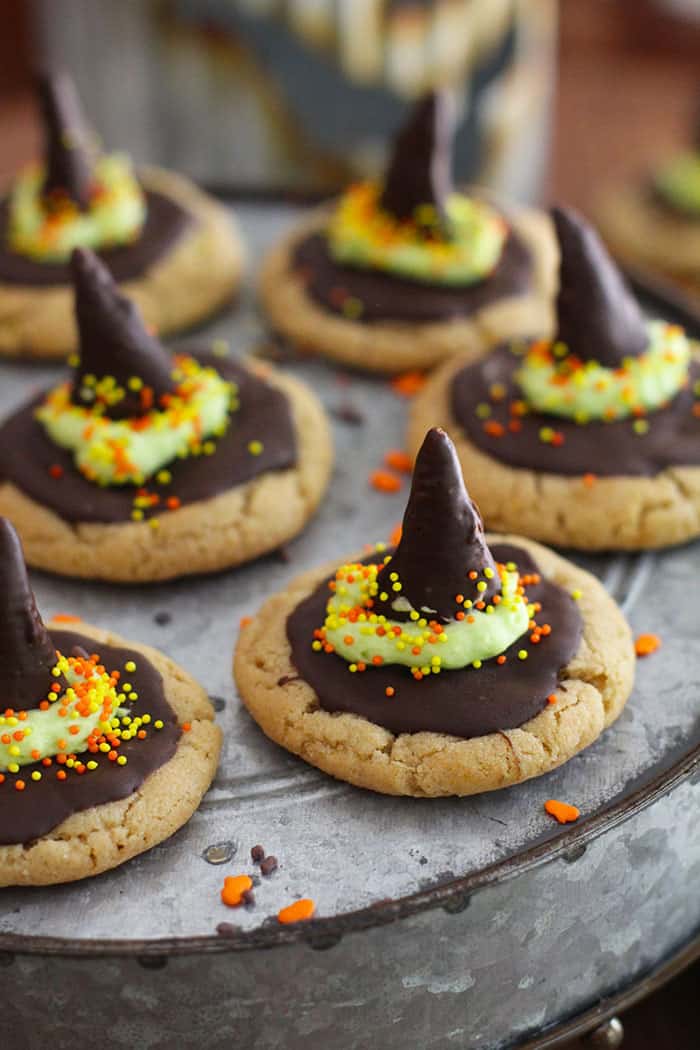 Not every witch lives in Salem, friends. Welcome to my home, where brooms are plentiful and cleaning is not!
Truth be told, we are not much of a Halloween family. We are actually the type that refuses to watch scary movies, and have never been to a haunted house. We decorate the house with pumpkins and happy scarecrows, instead of tombstones and zombies. Clowns and Scream masks…no thank you. Peter Pan and Star Wars heroes…yes please.
Scary movies have scarred me for life. Silence of the Lambs and Seven still give me the eebie jeebies. Would I ever re-watch them? Nope. Do I plan to ever watch a scary movie? Nope. I know what you are thinking. "Those aren't scary movies!" Yes they are.
So these Witch Hat Peanut Butter Cookies are actually pretty daring for me. ScArY, right? 🙂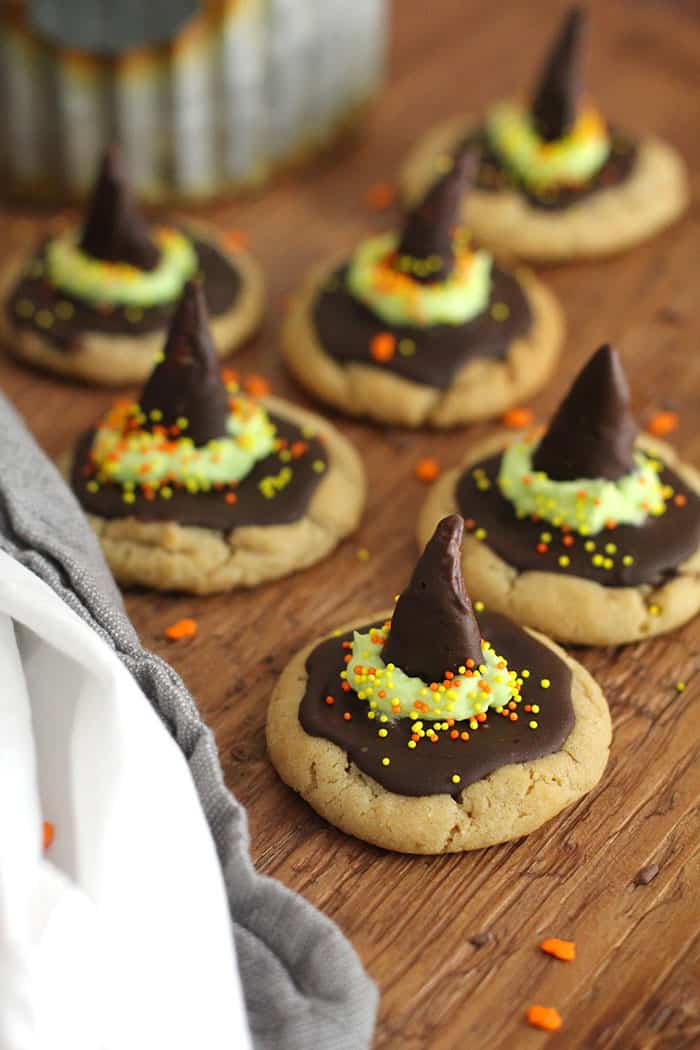 Josh, our oldest son, was especially scared of EVERYTHING when he was little. He used to constantly yell out my name to check to see if I was in the house, at any given moment. To get him to go to sleep at night? That was a whole THING. Lights on in the hallway, bedroom door open, and then several, "Will you check on me before you go to bed, Mom and Dad?" Yes, Josh. Go to sleep.
Oh the memories. It was frustrating at times, but I love remembering those days.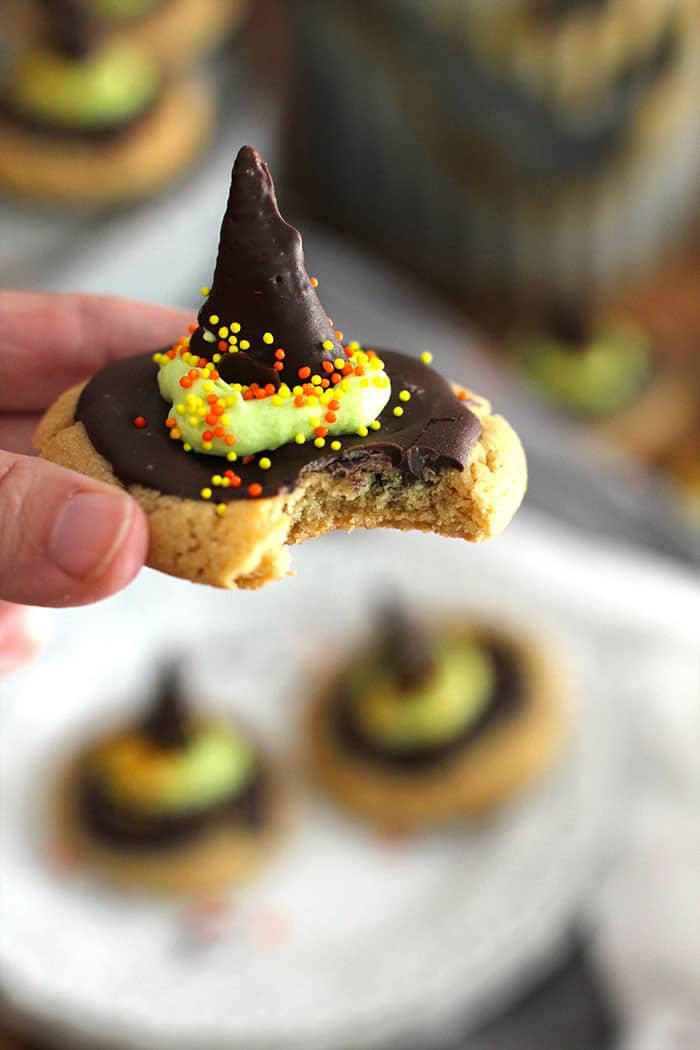 So let's talk about my Witch Hat Peanut Butter Cookies real quick. I woke up one day recently on a mission to create something for Halloween. My mom's peanut butter cookies are the perfect base for witch hat cookies. Really simple to make, and they are sturdy for decorating and won't break apart very easily. This is important if you are involving your kiddos to help make them.
To make the hat, here's what I did.
Melt about 1/2 cup of melting wafers in a microwave bowl.
Dip bugles in the chocolate and coat completely. Using a dipping tool, gently remove bugle and stand up on a small pan lined with parchment paper. Freeze for 30 minutes to set the chocolate.
Melt additional melting wafers, and spread some on each cookie, forming a circle for the brim of the hat.
Immediately place the finished bugles on top of the the hat base, so that the bugles stick.
Refrigerate again, to make sure chocolate is completely set.
Prepare buttercream frosting (small batch) to use for the sash of the hat. (Or use any type of frosting.)
Pipe the frosting around the base of the bugle, and add sprinkles.
Refrigerate for best results, and remove for an hour or so before eating.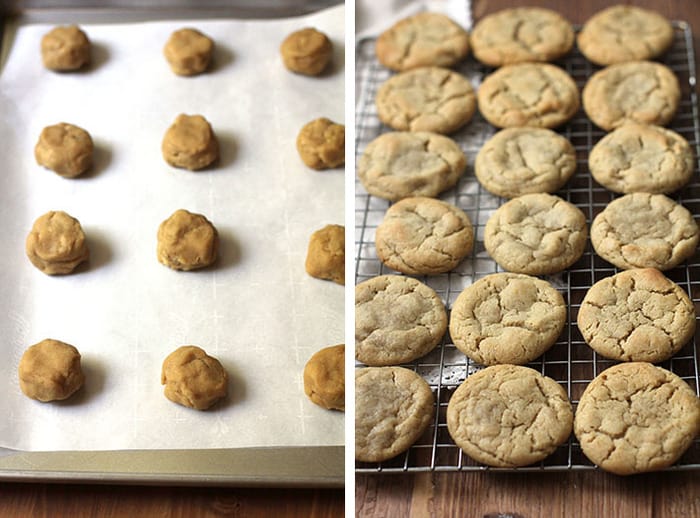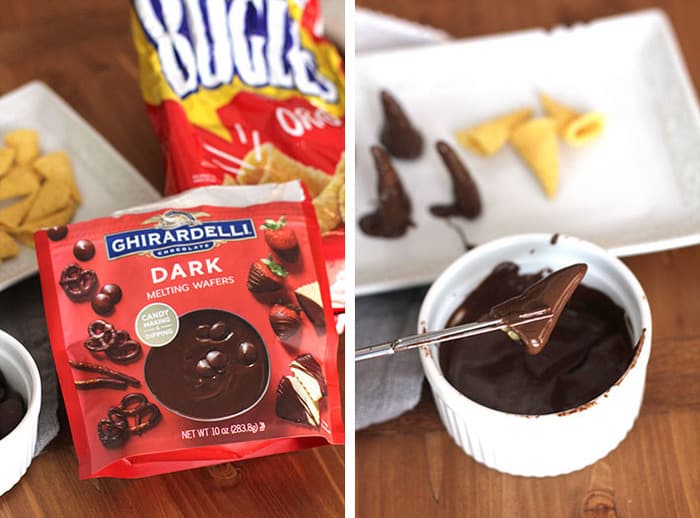 Decorating cookies and cake are definitely NOT my forte. I've always concentrated on the taste of what I'm baking, instead of the "making it pretty" part. But now? I'm actually really trying my hand at this decorating thing. These cookies took three batches before I decided to be happy with them. There is a learning curve, and I'm definitely a SLOW learner when it comes to decorating.
If I can do it, then you can do it too.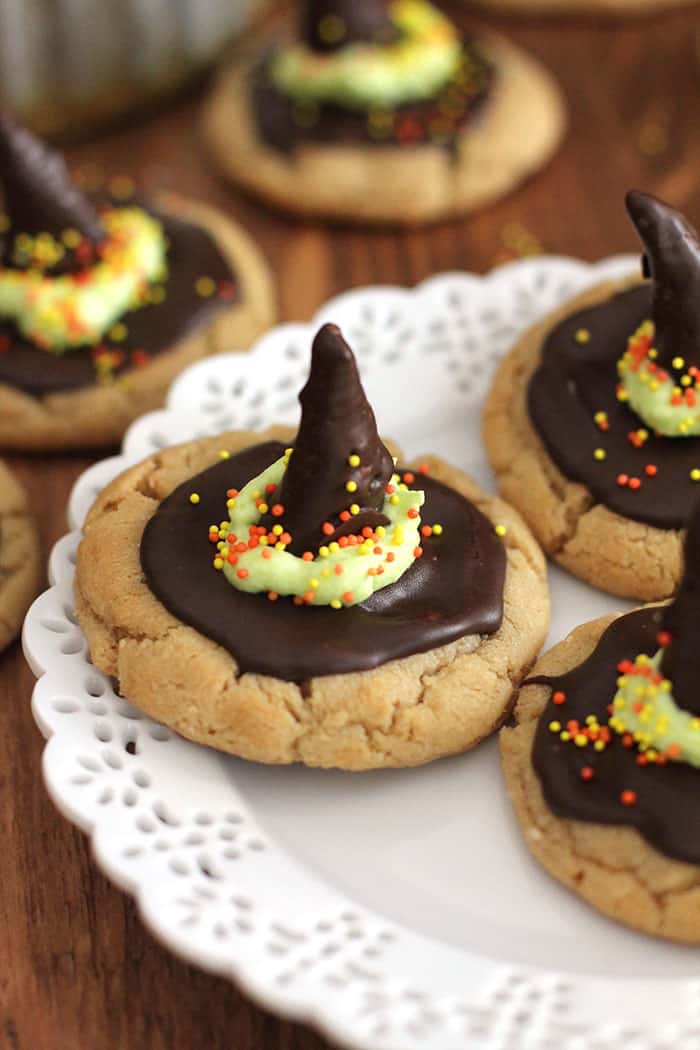 Peanut butter and chocolate are the perfect combination for these sCaRy cookies. They not only look WiTcH-y, they are delicious. You will definitely have a difficult time deciding WITCH cookie to eat. 🙂
Hocus Pocus, all you witches
Better behave, cuz I'll put you in stitches
If you love to bake, on an eerie night
Make these cookies, and then take a bite.
BOO! 🙂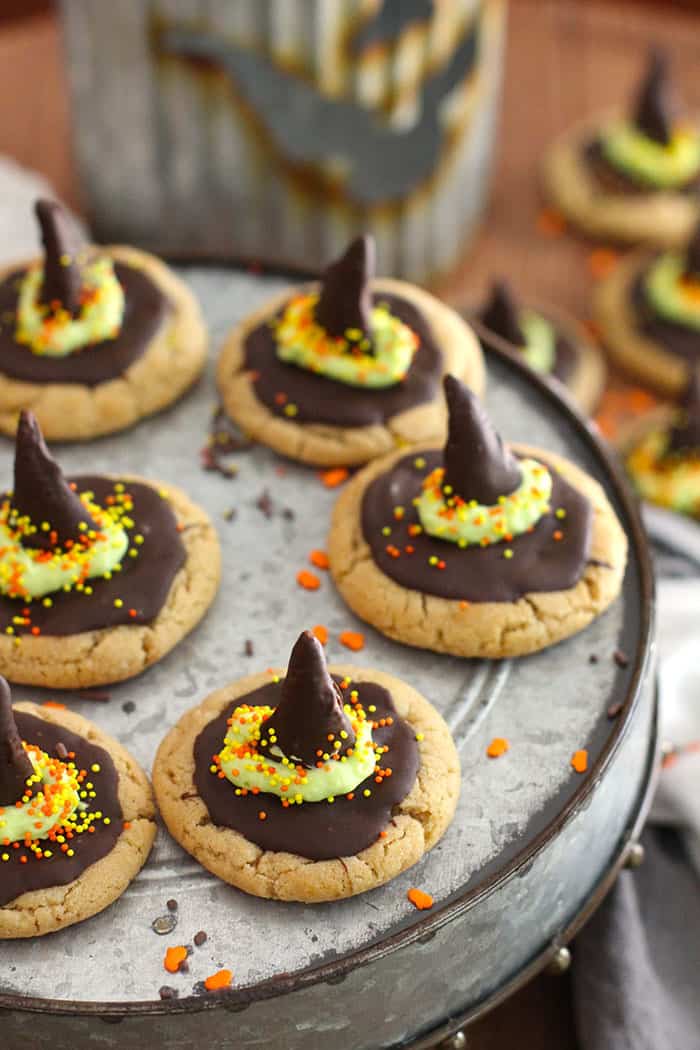 Please let me know if you try these Witch Hat Peanut Butter Cookies, and how you like them!
You can stay up-to-date with SueBee Homemaker by:
signing up for post updates (top right-hand corner of my blog)
liking my Facebook Page
and following me on Pinterest
I'm also sharing tidbits of my life on Instagram. ????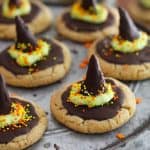 Witch Hat Peanut Butter Cookies
Ingredients
For the peanut butter cookies:
1/2

cup

unsalted butter

- softened to room temperature

1/2

cup

brown sugar

1/2

cup

granulated sugar

1/2

cup

creamy peanut butter

1

large

egg

- at room temp

1

teaspoon

vanilla

1 1/2

cups

all-purpose flour

- plus 2-3 Tablespoons more

1/2

teaspoon

salt

1/2

teaspoon

baking soda

1/2

teaspoon

baking powder
For the decorating:
20

bugles

10

ounce

Ghirardelli dark chocolate melting wafers

- you may only need part of the bag

1

Tablespoons

unsalted butter

- at room temp

2

teaspoons

half and half

1/2

teaspoon

vanilla

1/2

cup

powdered sugar

- adjust according to how stiff you want frosting

food coloring

- any color
Instructions
For the cookies:
Using a standing mixer, cream butter and sugars together until creamy. Add eggs and mix well. Then add vanilla and peanut butter and mix until well combined.


Mix dry ingredients (flour, salt, baking soda, baking powder) together. Add to wet ingredients and mix until just combined. Cover dough and store in refrigerator for at least two hours prior to baking.


Roll dough into small 1 inch balls and press slightly to flatten. Arrange 12 on a baking sheet lined with parchment paper.

Bake in 350 degree oven for 10 - 13 minutes, depending on how dark you like your cookies.

Place cookies on baking racks to cool.
To decorate:
Melt a small amount of dark chocolate melting wafers. Coat 20 bugles with chocolate and refrigerate to harden.

Melt more wafers and add a spoonful of chocolate on top of each cookie, spreading around carefully to make a circle (the brim of the hat). Place hardened bugles on top of chocolate (to make the top of the hat).

Place cookies in refrigerate to harden.

Make buttercream frosting by mixing the butter, half and half, vanilla, and powdered sugar. Use hand mixer to cream, and then add food coloring. You may need more powdered sugar if frosting is too runny. Or more half and half if it is too stiff. Adjust accordingly.

Using a decorating kit, pipe frosting on cookies to form the sash of the hat. Add sprinkles.
Recipe Notes
These cookies are best if stored in the refrigerator (especially when it's humid outside). Set them out an hour or so before serving. They also freeze well for up to two months.

SHARE THIS POST TO YOUR FRIENDS: