LOVE Story: Our boy is 12!
This post may contain affiliate links which won't change your price but will share a commission.
We've been spoiling our boy since 2010. Theo is a special little guy and we've enjoyed his funny personality in our home. We love him so much!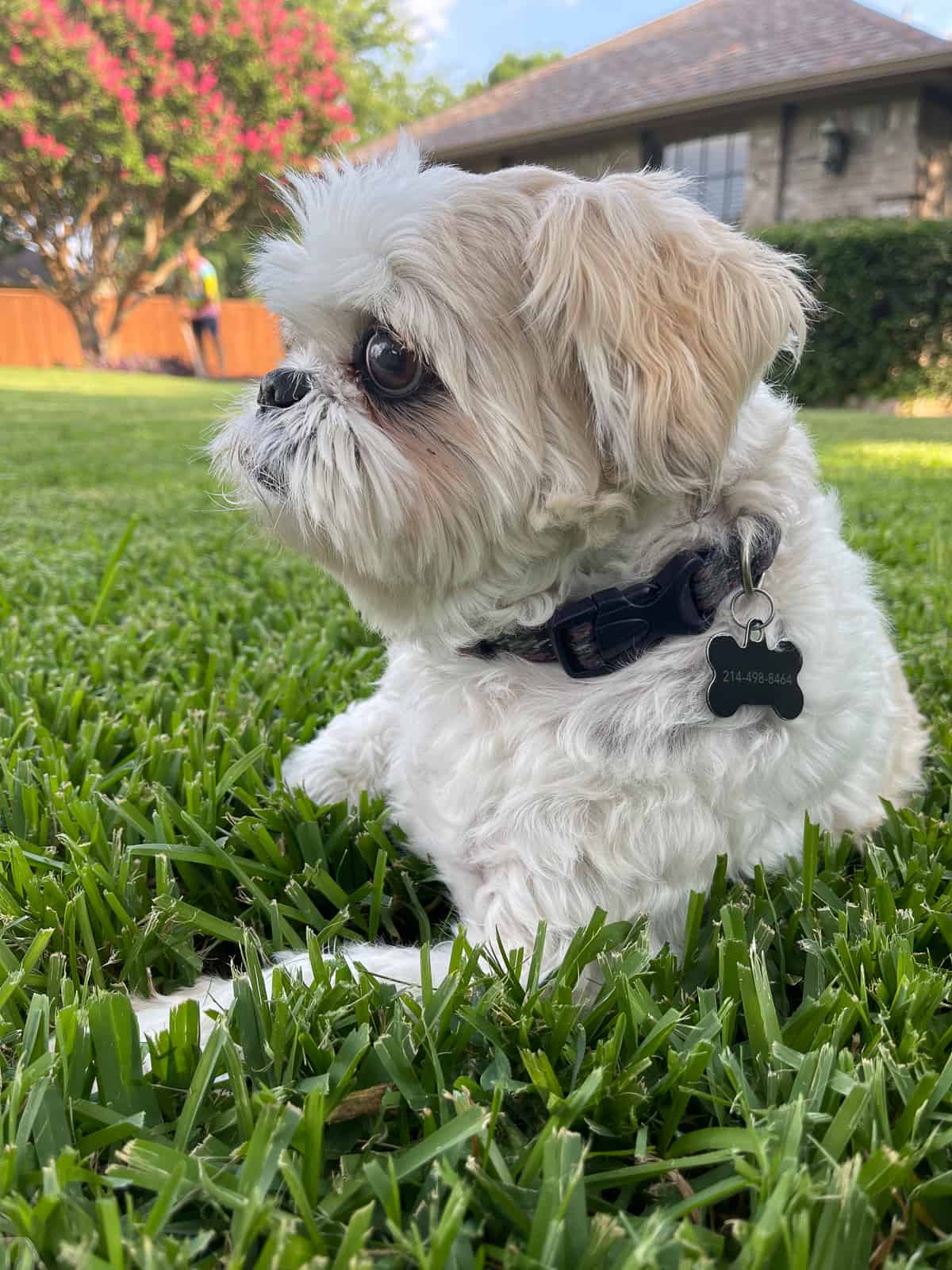 Prince Theo Alexander Ringsdorf
Our little guy was adopted in November of 2010 as a surprise for our boys. While he was originally named Prince, he became Theo after the boys did some internet research and found a name that we could all agree on. It suits him just perfectly!
Theo was the last pick of the litter and we think he's exceptional, of course. He's got us trained to give him treats after coming home, bringing HIM home, after his eye drops, when friends come over, after Mike works out, when Instacart delivers, or just because. (Yup, LOTS of treats!) His special little noise is all it takes for us to say, "Do you want a treat?"
BTW, he gets teenie greenies – not human treats!
Getting Older
As sweet as he is, he's had some health challenges. Those buggy eyes have always been a problem and he's had several ulcers over the years – one requiring eye surgery (and the dreaded cone of shame).
After one two many jumps off the couch, he required an ACL replacement back in June of 2020. That one was a doozy and he hopped around on three legs for quite some time. Now we try to lift him off the couch whenever we can to prevent him from leaping in his old man way.
And finally, after a REALLY bad haircut in 2021 where his tail was sliced, the vet had to do a partial amputation of his tail. The good news is that he still has a tail and it still wags whenever he's happy!
Now our guy has a cataract on his right eye and a partial one growing on his left eye. While he's losing vision, he continues to make every day a great one. Long naps, plenty of treats, and loads of belly rubs.
Unconditional Love
I grew up being deathly afraid of dogs. We had cousins with Doberman Pinschers that scared me beyond reason. I remember sitting on my dad's shoulders to enter their house when we visited.
Dogs continued to make me fearful even into my adulthood and friends would put their dogs in a bedroom so that I could be comfortable. Now after having Theo, I realize what I was missing. Unconditional LOVE.
"A dog is the only thing on earth that loves you more than he loves himself." ~Josh Billings