Kauai – Our Hawaiian Vacation, Part One
This post may contain affiliate links which won't change your price but will share a commission.
Our Hawaiian vacation in January 2017 was a 50th birthday celebration for both Mike and I. In my Chicago post, I mentioned that we were celebrating my big 50, and so I told Mike I wanted to take him to Hawaii to celebrate his 50th. Hawaii was actually a huge bucket list item of mine so it's pretty sweet that he agreed to my idea. Win/win for me. And him.
We booked our trip in August of last year and decided to spend five nights on the island of Kauai and five nights on the island of Maui (see part two). Two very different but amazing destinations.
In the months leading up to our trip, we did a lot of research and decided to book several things ahead of time. We wanted to do it all, but we're going to need another trip or two (or three) to get everything checked off our list. 🙂
We stayed at the Ko'a Kea Resort at Poipu Beach in Kauai. It was a perfect place to stay on this laid back island, and offered everything we needed – including good coffee in the mornings. The room was spacious and quiet, and we were lucky to be close to the front of the resort. Not ocean front, but partial – which was awesome. The area in front of the hotel was mostly rock, but Poipu Beach was just a short walk away.
Poipu Beach is one of the top 10 beaches in the America and is a series of golden sand crescents, strung together where beach-goers will find snorkeling, swimming, a natural ocean wading pool, boogie-boarding and surfing. Knowing what we do now, we would have spent more time on the beach, but frankly, we just needed a couple more days in Kauai.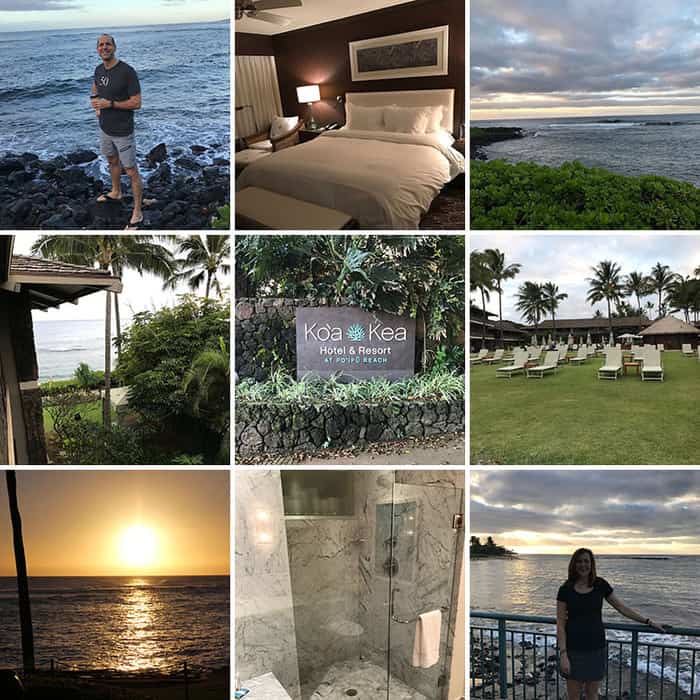 A helicopter tour has always been on my bucket list and we decided that Kauai was the perfect place to give it a whirl. The Blue Hawaiian tour was an hour long with a very knowledgeable pilot and four other tourists.
The following is taken directly from the Blue Hawaiian website. "Sculpted by nature for six million years, Kauai's legendary beauty is epitomized by the Na Pali Coast – 14 miles of sea cliffs ascending 3,000 feet above untamed shoreline, with sheer-walled valleys and cascading waterfalls—and sensational Waimea Canyon, the "Grand Canyon of the Pacific." Most of Kauai's awe-inspiring sights are inaccessible from the ground and can only be seen by helicopter, yet not all helicopters are equal. To truly appreciate Kauai's epic beauty, you have to experience it aboard a Blue Hawaiian Eco-Star."
Mike was a little bit nervous about motion sickness in a helicopter, so he took a Dramamine (or two). I elected not to take anything and was ok, except for a couple of tummy flips when we went up and down a little too quickly. The tour was great and since we took it early in our stay, we were able to get a good feel for the island geography. The Na Pali Coast was simply amazing to see from the air.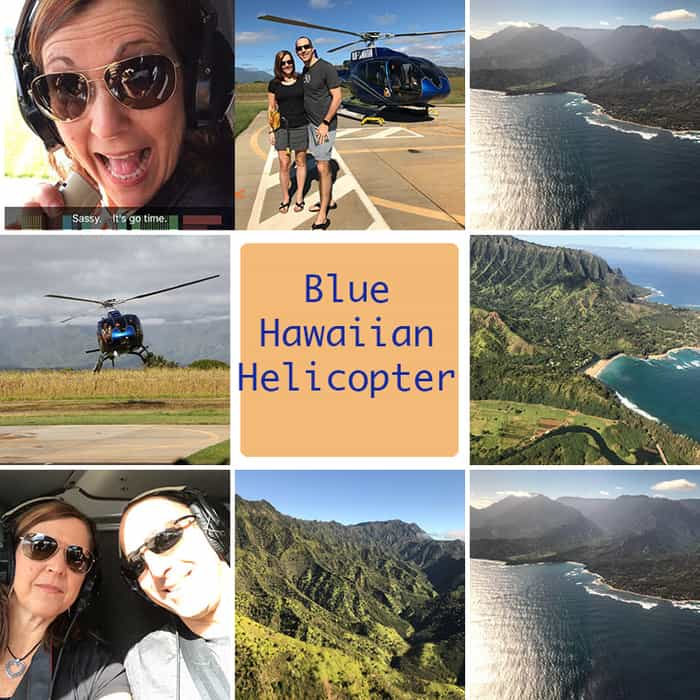 Since we are HUGE foodies (obviously!), we couldn't wait to go out and enjoy the island seafood.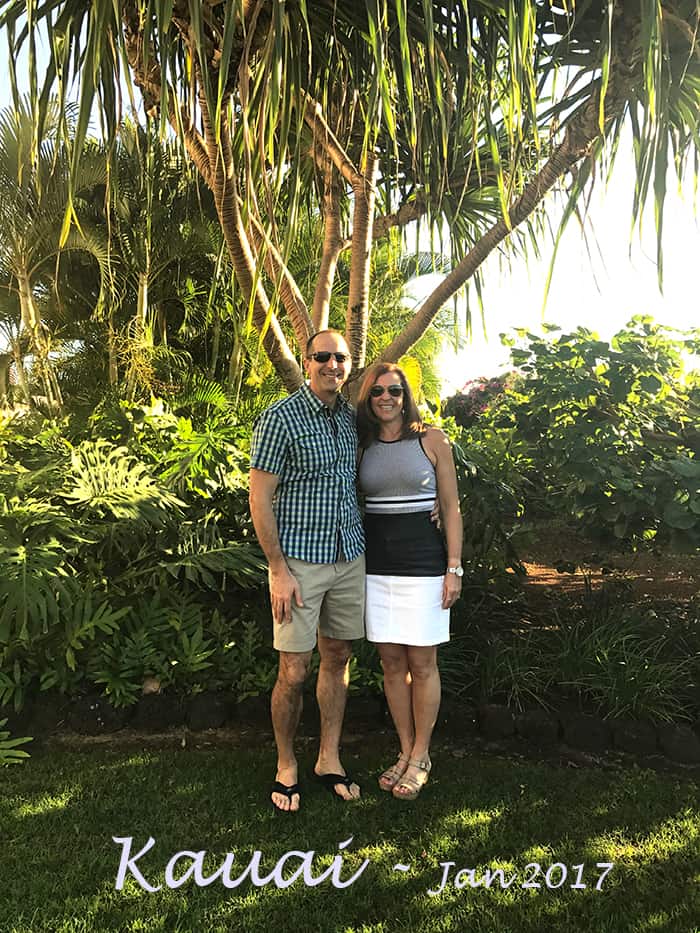 Hawaii is an expensive place to travel. So we were careful to choose a few special dining options, while also choosing places that weren't so expensive. We went to the Beach House Restaurant, with views of the ocean from our table, on the first night and it was OMG amazing. Super yummy Mai Tais, delicious seafood and pasta, and dessert, of course. Merriman's was also recommended to us, but we were pretty disappointed with the very tiny servings and the very gigantic prices – and the food was just ok. The Mai Tais almost saved the day, but we won't be back.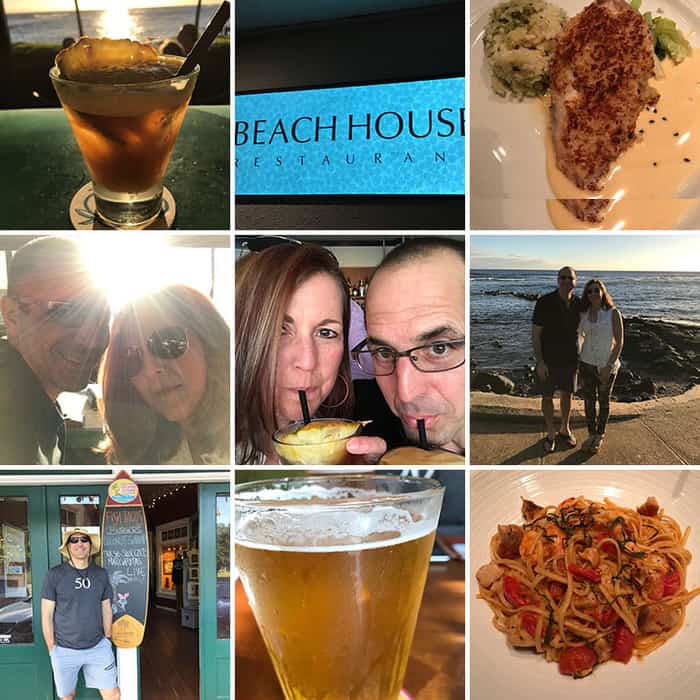 Our hands-down FAVorite day in Kauai was spending it out on the water with Captain Andy's. We rode the Southern Star, which is a 65′ luxury sailing catamaran, and did the Na Pali Snorkel and Barbecue Tour. In other words, we sailed for almost six hours around to the Na Pali Coast and back. We also stopped to snorkel at a popular reef, and had a barbecue lunch and cocktails.
We were lucky in that the day we toured was a perfectly calm day at sea, and were able to sail to the most northern point that is allowed on the tour. The staff was unbelievably helpful, and did a lot of educating as well. We saw whales in the distance and raced against pods of dolphins that were seemingly everywhere.
Knowing that seasickness is a very real and cruel thing, we both took some Dramamine before the trip. We were lucky and felt great, as opposed to a honeymooner on board who filled numerous barf bags. We felt so bad for her. 🙁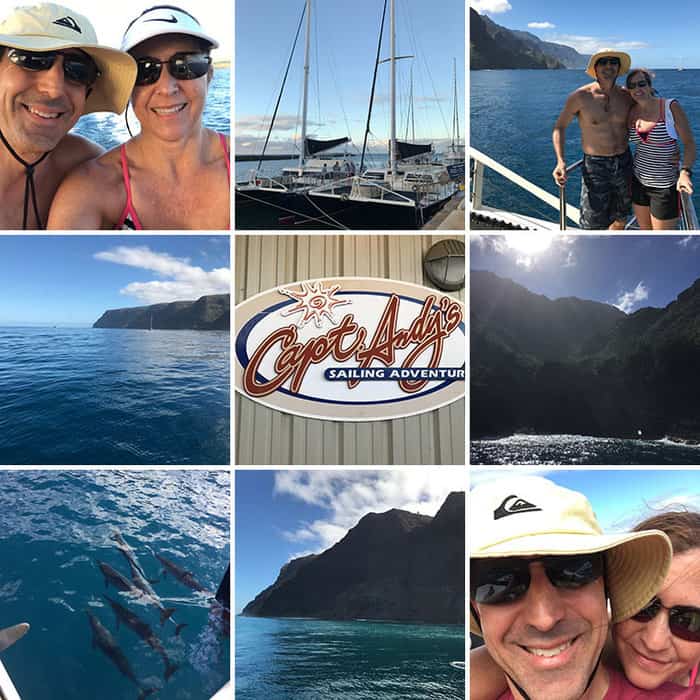 We were lucky enough to stumble upon a market one evening as we went to dinner in one of the shopping/touristy areas of Kauai. We enjoyed some rambutan (upper left corner pic below) – aka hairy eyeballs – and decided that they taste like big seeded grapes. They were sweet, so we took a pound to go and ate them with our breakfasts the next couple of mornings. Another local drink we enjoyed was coconut water (which is a clear liquid in the fruit's center that is tapped from young, green coconuts) and it was almost as fun to drink it as it was to look at it.
We ate with the locals at Pono Market after we biked Kapa'a one day. It was a very interesting supermarket type of place and family owned. We ordered the rice bowls with pork and chicken. We weren't sure what the sea-weed-y stuff on top was, but we ate it and it was shockingly good.
Other Kauai restaurants we ate at and would highly recommend are:
Puka Dog – for Hawaiian style hot dogs. The sandwiches were made with Hawaiian sweet bread which is impaled on a heated rod, forming a perfect space for a hot dog and toppings. I was pretty interested in the process and thought I should try to make them at home sometime.
Da Crack – for Mexican food, including burritos, tacos, and sides. The burrito was the largest I've EVER seen and was incredibly delicious.
Bangkok Happy Bowl – for Thai food. We needed take-out for a lazy dinner watching the sun set, and this was convenient and yummy.
Keoki's Paradise – for a touristy, tropical experience. We were starving and ordered a huge plate of pork nachos, fish tacos, and coconut shrimp. The food was delish and it was a fun atmosphere with live music.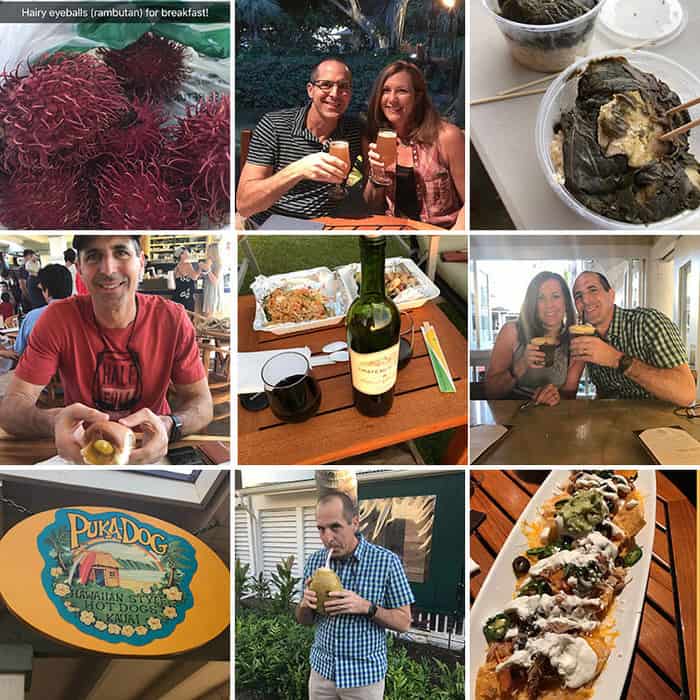 Zip-lining was on my list of things to do, for sure (but probably not on Mike's). We'd done it once before, but I heard that the Hawaiian experience is the best. We went with Koloa Zip-line and it consisted of eight lines, one of which is a 1/2 mile long. It was a fun experience but definitely not as adventurous as I'd hoped, as I was wishing for all eight lines to be as long as the last one. We wished we had gone on a tubing adventure instead, but just simply ran out of time. We must go back!
We did have a scary experience for sure, as you can see from the pictures. Sure am glad we slapped that dinosaur up, because I am sure that's why we only saw him once. 🙂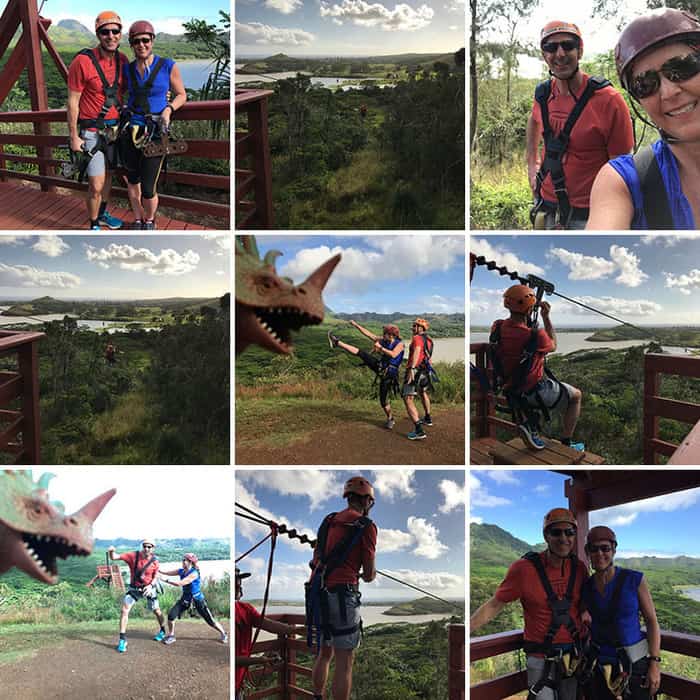 We couldn't leave Kauai without a bike ride, something we try to do on ALL of our vacations. So we rented two bikes from Hele On Bike Rentals in Kapa'a, which was only a $20 adventure. The amazing views of the coast made our nine mile ride go by in the blink of an eye. We made several stops along the way to take in the views and to take pictures.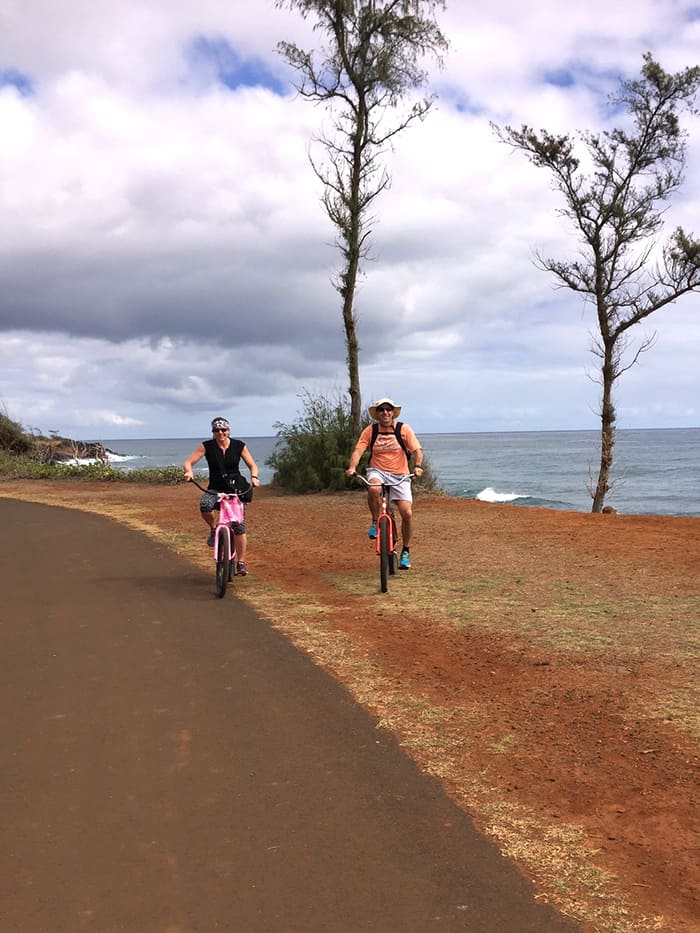 Since the bike ride was shorter than we had planned for, we decided to drive up to Waimea Canyon, which was several hours of steep and windy driving – but well worth it. It is known as the Mini Grand Canyon and was simply breathtaking. The ocean on one side and the canyon on the other.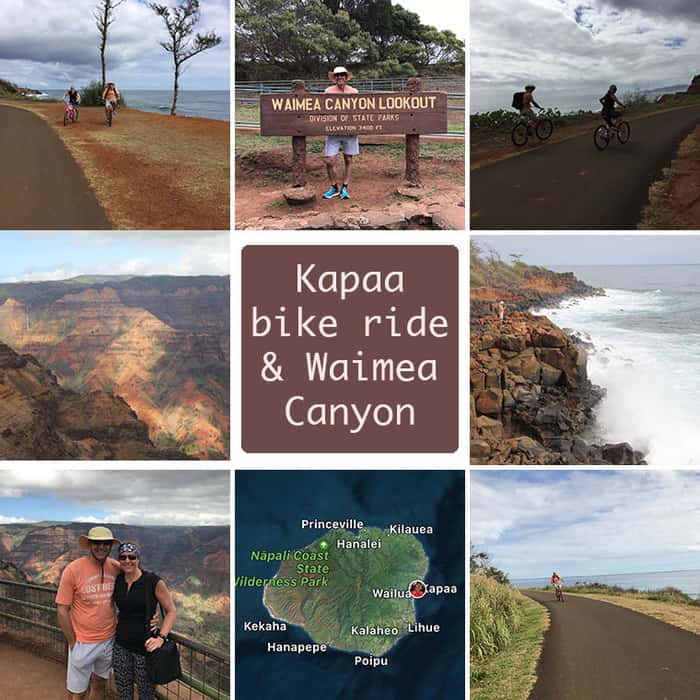 We saw lots of wild life on the island, and thankfully, no sharks. 🙂 There were several monk seals lying on the beach during the day. These monk seals eat all night long in the sea, and then roll up on the beach to sleep and sun during the day. We also saw sea turtles that were taking a break from swimming. Volunteers rope off these areas of the beach so nosy tourists don't get too close.
You can't go to Kauai without taking a picture of a wild chicken. We took several! Every morning, we were awakened to the sound of their crows and we heard them everywhere we went. Because they were EVERYWHERE we went. 🙂
When we were enjoying our lunch at Pono Market, we were amused by a local fisherman who was selling to one of the local merchants. We got curious and asked to see what he had in his over-sized coolers in the back of his truck. So he reaches his hand inside, and pulls out a HUGE red snapper followed by a HUGE sea bass. Pretty amazing.
The pictures of the the colorful fish and underwater sea turtle below are not mine. I DID take some with an underwater camera when we went snorkeling, only they didn't turn out. But this is what we saw. We did more snorkeling on Maui then Kauai, but we still wished we could have done more of it.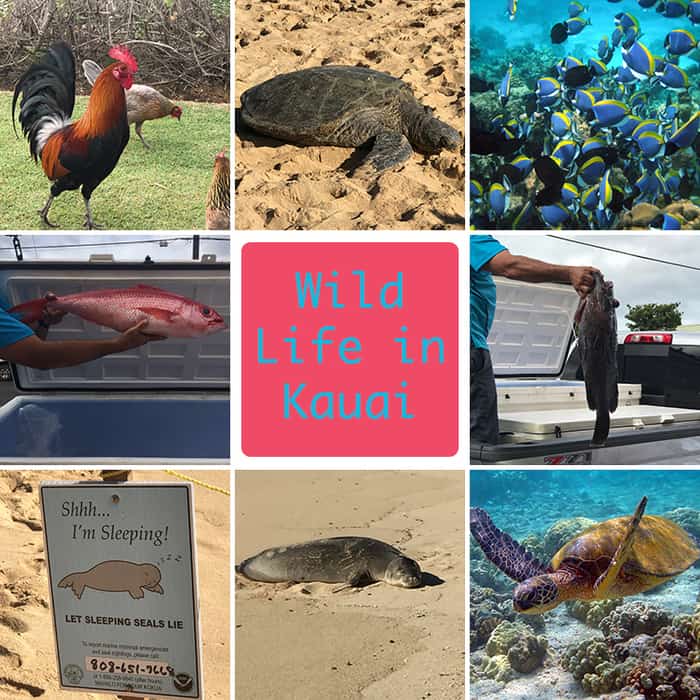 After five glorious days and nights in Kauai, we were off to Maui for Part Two of our Hawaiian Vacation.