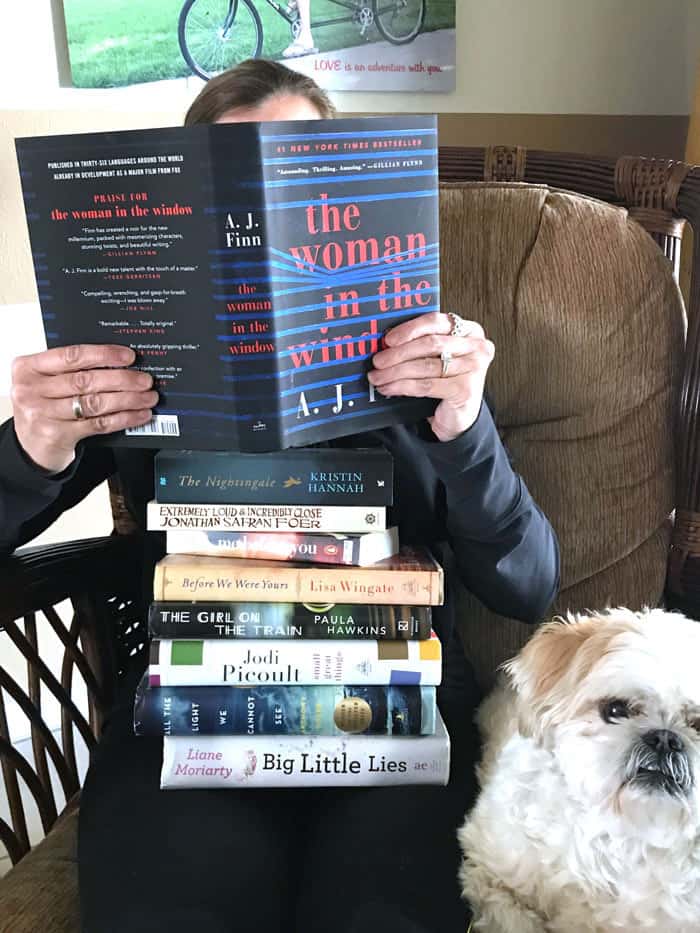 I am by no means a literary expert. In fact, I often times go months without reading a single book, not counting cookbooks. Creating recipes for my blog, social media, and TV shows can fill the available time I might have for reading. But since my latest injury, I've made time for books (the paper kind that I prefer!), rekindling my love for reading and making me wonder what took me so long.
The following list of books are ones that I've read over the last couple of years, including eight that I've read in this year alone. There are others, but these are books that I'd recommend. I've tried to list them in order of light to heavy, without a ton of analysis. Apparently, I have a thing for WWII novels, because the last five took place then.
The Orphan Train and The Poisonwood Bible are two of my favorite deep reads on this list, while the first three listed (by Fredrik Backman) are some of my most current easy reads. A Man Called Ove is what started my latest book obsession. It's the perfect book for anyone, and I've passed it on to a handful of friends already.
Extremely Loud and Incredibly Close was probably the hardest book for me to follow at times. It details a little boy's struggle with losing his father in the 9/11 Attacks in NYC. I enjoyed it, and it gave me a lot of perspective, but it took me longer to read.
I've read all of Jodi Picoult's novels, not just the two I've listed. I enjoy her style of writing, and the stories often end in a twist. They are easy summer reading.
The Girl on The Train, Gone Girl, The Martian, and Me Before You are books I've seen in movies too. Why is it that I ALWAYS enjoy the books so much more than the movies? These are all quick reads, perfect for rainy days or summer vacays on the beach.
The Woman in the Window: A Novel
just arrived at my door via Amazon. It seems like more of a mystery, and I'm anxious to read it. I'll give ya'll an update on it soon.
After some recommendations from my sister and Oprah's Book Club, I've shopped for a slew of other books that are in my Amazon cart, making it easy for me to hit "pay with one click" when I need a new read! Don't you just love (some) technology?
I'd love to hear what YOU are currently reading, or what you could recommend to me. Please?
Let's get back to reading, peeps!! 🙂
(These books are Amazon Affiliate links.)
A Man Called Ove: A Novel
by Fredrik Backman
Britt-Marie Was Here: A Novel
by Fredrik Backman
Beartown: A Novel
by Fredrik Backman
Little Fires Everywhere
by Celeste Ng
Big Little Lies
by Liane Moriarty
The Husband's Secret
by Liane Moriarty
The Girl on the Train
by Liane Moriarty
Broken Harbor: A Novel (Dublin Murder Squad)
by Tana French
Gone Girl
by Gillian Flynn
The Martian
by Andy Weir
Me Before You
by Jodi Moyes
Before We Were Yours: A Novel
by Lisa Wingate
Extremely Loud and Incredibly Close
by Jonathan Safran Foer
The Storyteller
by Jodi Picoult
Small Great Things: A Novel
by Jodi Picoult
Room
by Emma Donoghue
The Life We Bury
by Allen Askens
Orphan Train
by Christina Baker Kline
The Poisonwood Bible: A Novel
by Barbara Kingsolver
The Nightingale: A Novel
by Kristin Hannah
All the Light We Cannot See: A Novel
by Anthony Doerr
The Boys in the Boat: Nine Americans and Their Epic Quest for Gold at the 1936 Berlin Olympics
by Daniel Brown
Unbroken: A World War II Story of Survival, Resilience, and Redemption
by Laura Hillenbrand
Sarah's Key
by Tatiana De Rosnay