Norma Jean's Creamy Potato Salad really is the BEST ever! It combines boiled russet potatoes and egg white slices with a creamy dressing. SO good and it reminds me of summers in Iowa!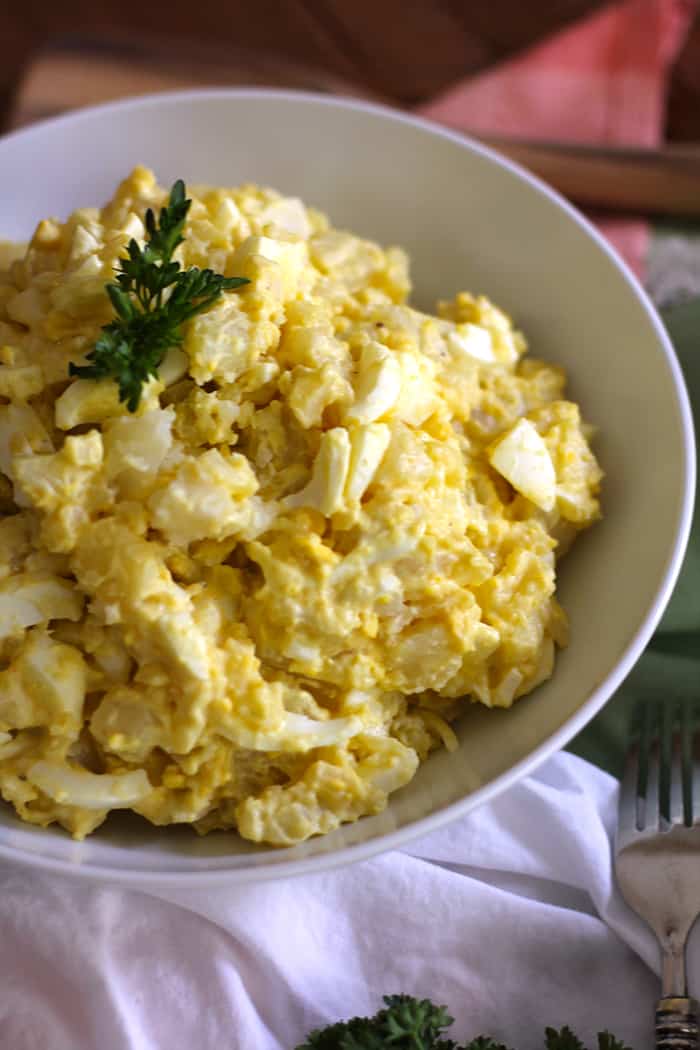 My mom turns 80 today. If you asked her how old she is, she would have absolutely no idea. And the thought of that makes me sad. I always thought my mother would still be coming to visit us in Texas, calling me to ask about the boys, bopping around her own kitchen making rolls and bread, or trying another new recipe that one of her sisters shared with her.
I didn't imagine that the subtle forgetfulness or her repetitive questions that we all giggled about ten years ago, would lead to this – her living in a Memory Care Unit in a nursing home. She exists in a space where most of her things are locked up in a closet in her room with people she doesn't know or will never get to know. She is not permitted to walk down the hall to see her sister, or upstairs to see her husband (my dad) without supervision, due to a locked door in the unit. Just so you know, all of this is for her safety and she doesn't understand why. She IS happy, for the most part.
Mom knows her children, but no longer knows our husbands and kids. She doesn't remember where we live, and now thinks her own mother is alive. But she is happy when we visit her, and loves to talk about how short she is (compared to us) and about going "home". She asks a million questions about us – not remembering our answers from one second to the next. I rarely talk to her on the phone because of her confusion, so going to visit her and Dad every few months is my new pattern.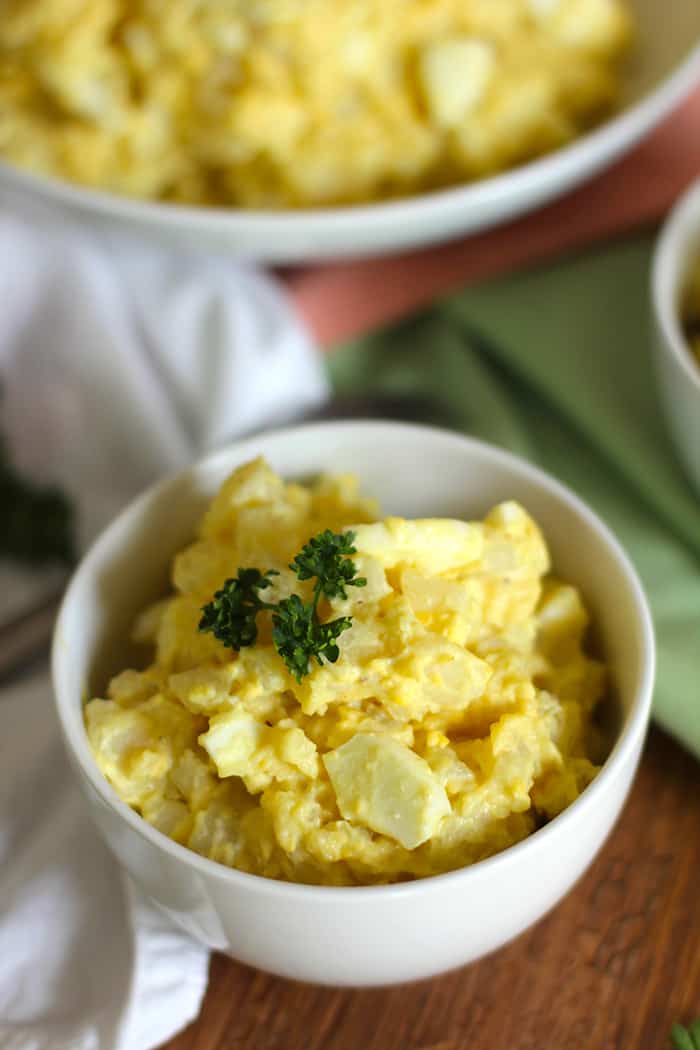 I made Mom's Creamy Potato Salad in honor of her birthday. This was her specialty. She'd whip up a five or ten pound batch for summer barbecues and parties, and we'd look so forward to it. She made it the BEST!
While this recipe makes me think of my mom, it also makes me think of Dad. Mom's routine was to make a batch, spoon a bit into a bowl for Dad so he could "test" it, and then adjust seasonings accordingly. And let me just say that it was rarely ever "just right" for Dad. His response was usually…
"Needs more onions, Norma!"
or "It needs more vinegar!" 🙂
The six of us kids were NEVER a fan of the (white, strong) onions, so Mom usually made two separate bowls. Dad just could NOT understand why we didn't love onions like he did, and would say that to us over and over again. To this day, I don't add onion to potato salad. Sorry Dad! But if I ever get a chance to make it for him, I'll load him up. 🙂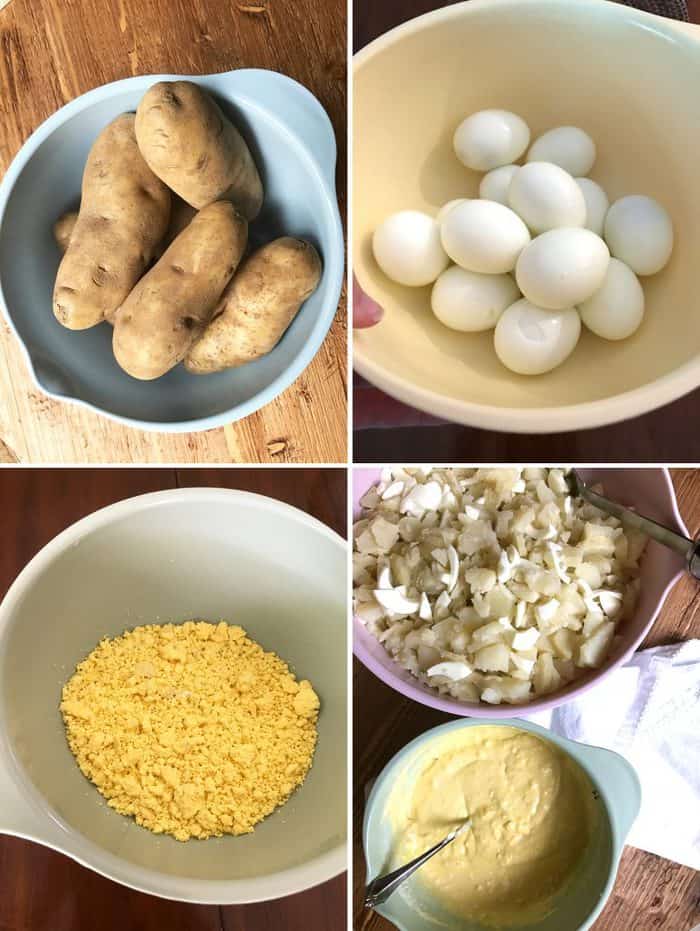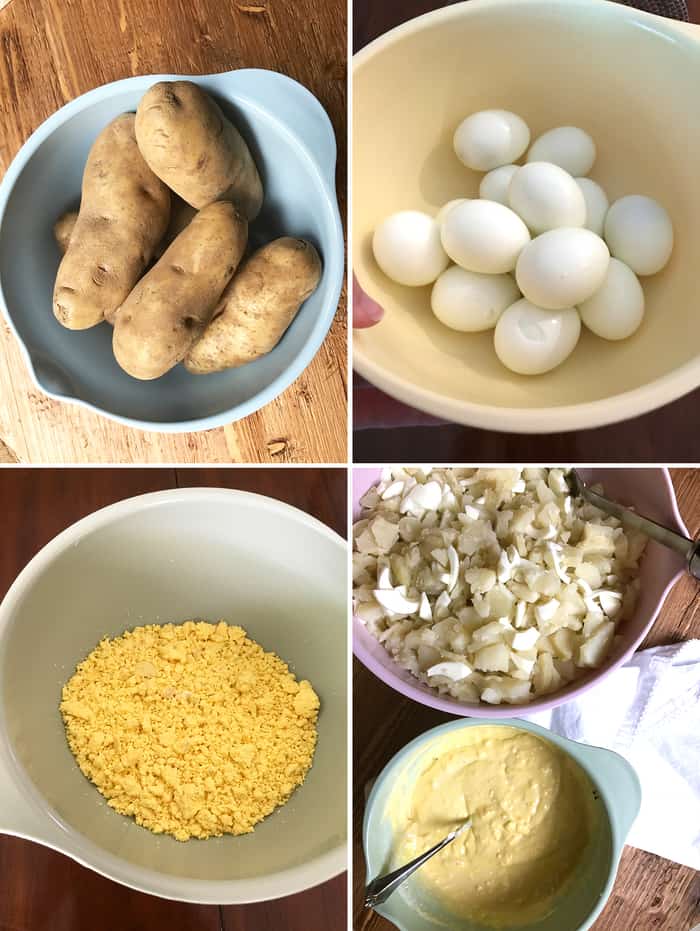 A few notes about this recipe.
I had some difficulty figuring out Mom's exact recipe. I have a couple of different copies, and they were both different. One had sour cream in it, and one had half and half. I went with the half and half version.
Her recipe said to use "vinegar", but not which kind. I used Apple Cider because that's what I prefer, and my sister Lauri concurred.
You must use Miracle Whip. No light versions, and no mayo! Miracle Whip is sweet, but when combined with the potatoes, it's just plain creamy.
I cut back on the sugar a little bit. Mom used 1/2 cup, and I was fine with only using 1/4 cup.
Please note. Onions are optional!
Mom's sisters all make this recipe, in maybe slightly altered versions. The Becker sisters are great cooks, and I bet my cousins already have this Creamy Potato Salad recipe. 🙂
Happy Birthday to the best mom in the world, my mother (aka Norma Jean).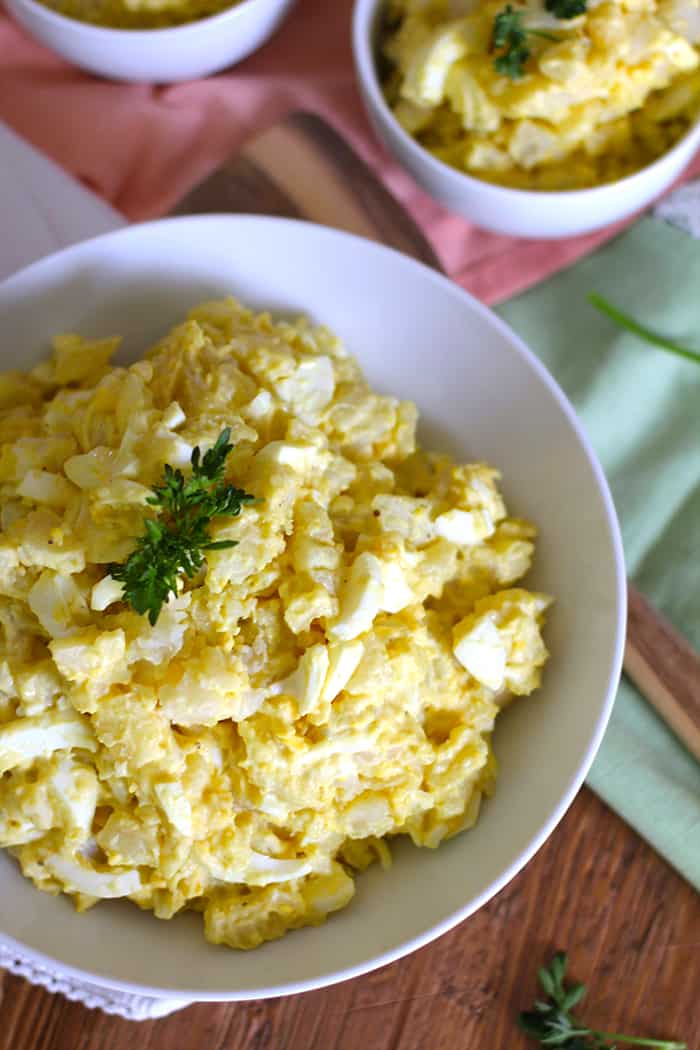 Make this salad next: Crunchy Curry Chicken Salad
You can stay up-to-date with SueBee Homemaker by:
signing up for post updates (top right-hand corner of my blog)
liking my Facebook Page
and following me on Pinterest
I'm also sharing tidbits of my life on Instagram.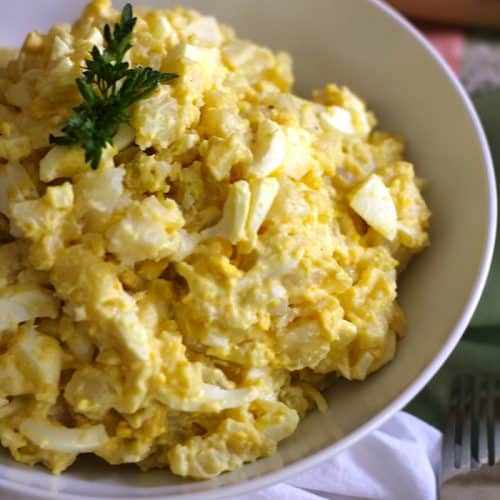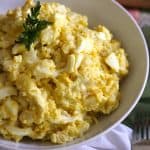 Creamy Potato Salad
My momma's potato salad really is the BEST ever! When I come up with different versions for my family, they always wonder why I didn't make my mom's. Try it and you will see!
Total Time
1
hour
15
minutes
Ingredients
5

pounds

russet potatoes

14

large

eggs

2

cups

Miracle Whip

1/2

cup

sugar

1

Tablespoon

yellow mustard

- heaping

1/4

cup

Apple Cider vinegar

1/4

cup

half and half

salt and pepper

- to taste

onions

- optional
Instructions
Clean potatoes (leave peeling on) and place in large stock pot. Cover with water, season liberally with salt, and bring to a boil. Reduce heat and simmer until fork tender, approximately 45 minutes. Remove potatoes from pan to cool.

Place eggs in medium sauce pan, cover with water, season liberally with salt, and bring to a boil with lid on tightly. Turn burner off, leave pan on stove with lid on tightly (don't peek!), and set timer for 15 minutes. When timer goes off, remove pan, drain off water, and run eggs under cool water. Set aside.

When potatoes are cool, peel and slice in small bite-sized slices into a large mixing bowl.

Likewise, when eggs are cool, separate yolks from whites. Slice the whites into the mixing bowl with the potatoes. Season with salt and pepper according to your taste.

Place yolks in a separate mixing bowl, and mash. Add the other dressing ingredients - the Miracle Whip, sugar, yellow mustard, vinegar, and half and half. Season with salt and pepper according to your taste.

Pour the dressing over the potatoes and egg white slices. Mix well, test for seasonings, and adjust accordingly.
Nutrition Facts
Creamy Potato Salad
Amount Per Serving
Calories 309
Calories from Fat 63
% Daily Value*
Fat 7g11%
Cholesterol 222mg74%
Sodium 443mg19%
Potassium 899mg26%
Carbohydrates 49g16%
Protein 11g22%
Vitamin A 360IU7%
Vitamin C 10.8mg13%
Calcium 65mg7%
Iron 2.7mg15%
* Percent Daily Values are based on a 2000 calorie diet.