Happy National Ice Cream Day! 🙂 My Double Chocolate Ice Cream is so unbelievably creamy! Use a four-quart ice cream maker and have a party, or enjoy ice cream for days.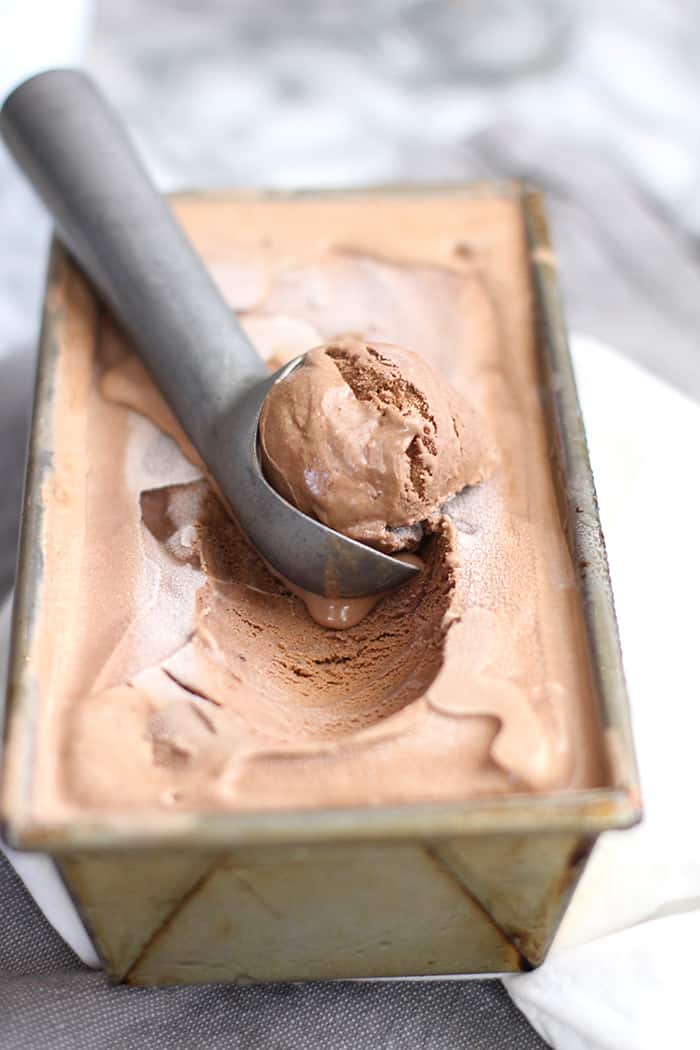 I've always preferred vanilla ice cream to chocolate. Well, that was BEFORE I made this creamy and delicious Double Chocolate Ice Cream. I must say – I think this recipe may have converted me, and I don't say that lightly. 🙂
Ice Cream is serious business in our home. Mike and I both come from huge ice-cream-lovin-families. Both of our dads top ice cream with ice cream, and we both grew up making it homemade.
To make this recipe, you will need this 4-Quart Electric Ice Cream Maker
, or a similar one in size.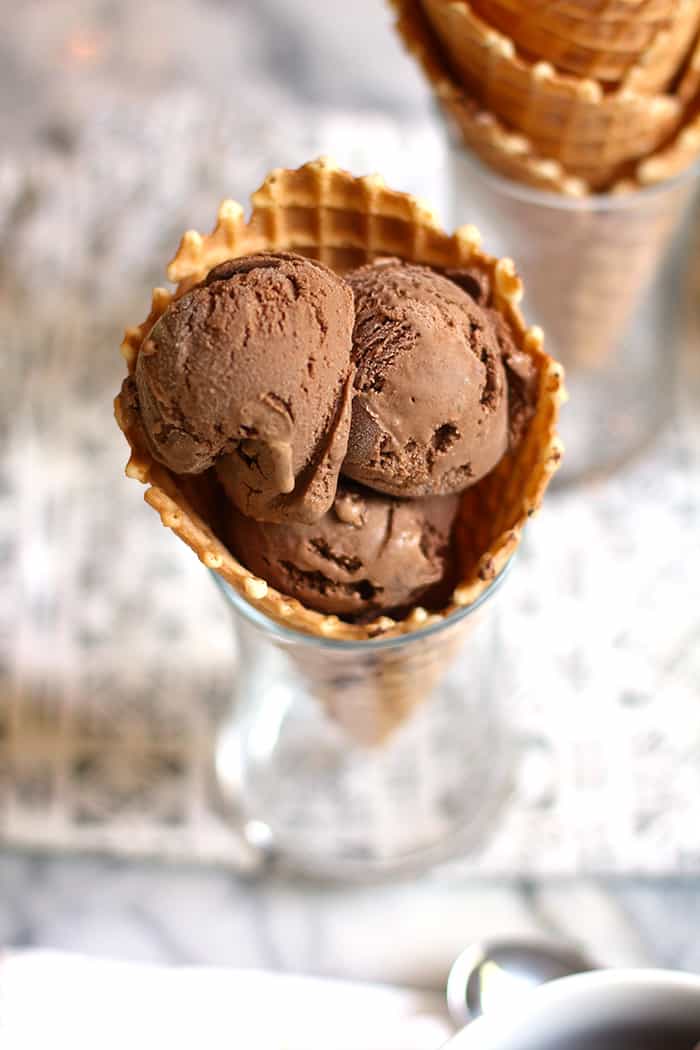 So much has changed in our 50 plus years of life. But one thing hasn't…and that's our love of ice cream. 🙂 When we were dating in high school, Mike and I would ride bikes to Maggie's Ice Cream Parlor in our little hometown. Our friend, Suzy, worked there, and she'd make our cones twice as big as they were supposed to be. Hello calories! 🙂
We have tons of ice cream options here in the burbs of Dallas. Baskin Robbins, DQ, Nestle Toll House, Marble Slab, and the list goes on. But honestly, there is nothing better than making it homemade. We love vanilla, but I also love making other FUN flavors.
Chocolate Ice Cream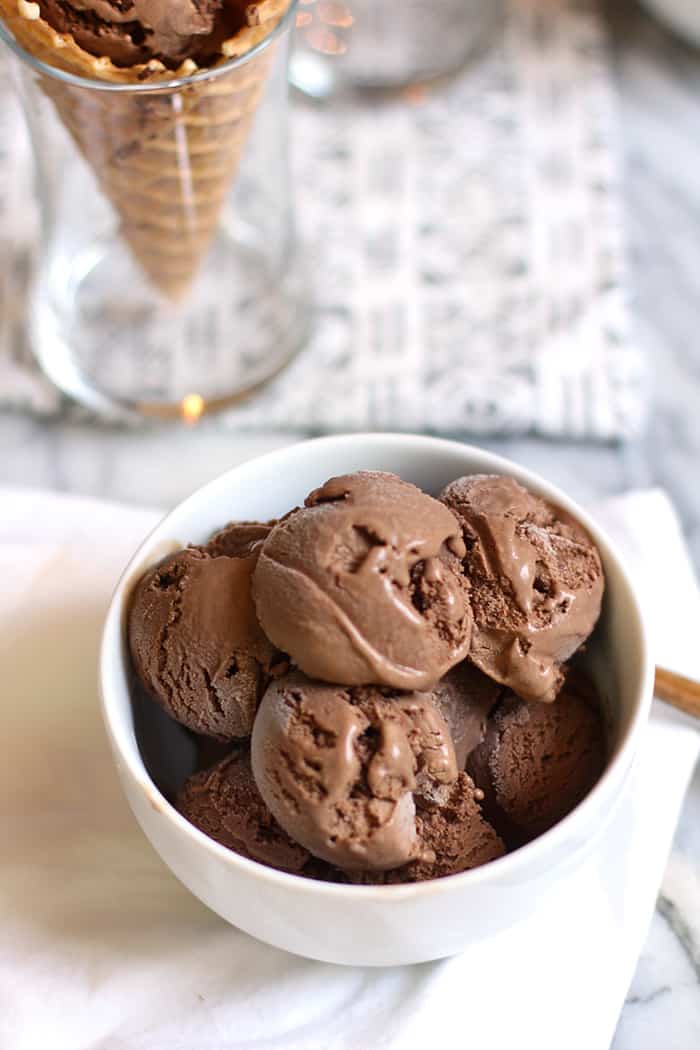 Making chocolate ice cream involves a very important process that should be done the day BEFORE you freeze it (or at least four hours). Here's the steps to making the chocolate mixture.
Using a double boiler (or use a pan with a bowl inside of it), heat the unsweetened chocolate pieces over low heat, stirring often.
Gradually add cocoa powder, stirring constantly. The cocoa will clump up some, but the milk will dissolve it.
Gradually add milk to pan and stir to cream the chocolate. This process may take 20 – 30 minutes. Be patient because it takes a while to get the chocolate to be completely creamy.
After the mixture is creamy with no lumps, remove from heat and cool.
Place chocolate in airtight container with lid, and cool in refrigerator overnight.
Again, making the chocolate mixture takes patience, but the end result is worth it!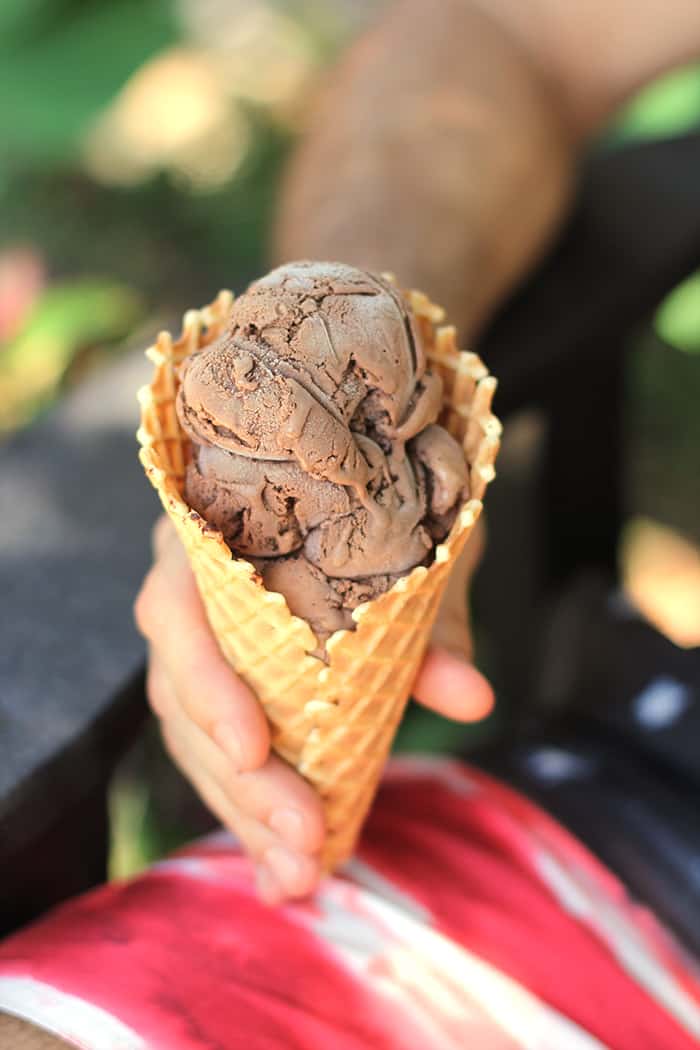 Mike (my hand model, above) recently had an Ice Cream Party at MK, and I made this chocolate recipe along with my Cookies and Cream. He loves treating his team, and I'm happy to help. Because to be honest, they are pretty amazing people and they really appreciate the treats I send. 🙂 And they also save my family tons of calories that we don't need.
Thank you Mary Kay peeps!! 🙂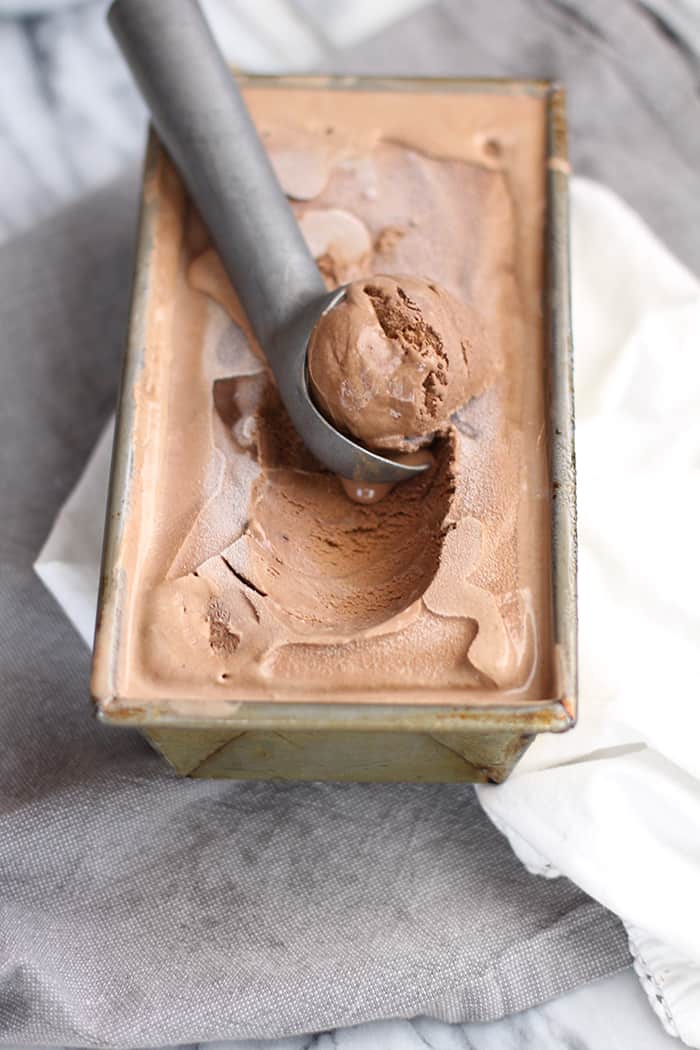 Please let me know if you try this Double Chocolate Ice Cream, and how you like it!
You can stay up-to-date with SueBee Homemaker by:
signing up for post updates (top right-hand corner of my blog)
liking my Facebook Page
and following me on Pinterest
I'm also sharing tidbits of my life on Instagram. 🙂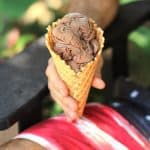 Double Chocolate Ice Cream
Ingredients
6

oz.

unsweetened chocolate baking bar (Baker's)

- chop into small pieces

1

cup

unsweetened cocoa powder (Hershey's)

4

cups

milk

- I use 1%

6

large

eggs

2 1/2

cups

sugar

3

Tablespoons

Watkins Vanilla

4

cups

heavy whipping cream
Instructions
In a double boiler over low heat, melt chocolate bar (pieces), stirring until creamy.

Gradually add cocoa powder, stirring constantly. Slowly add milk and stir until mixture is creamy. This step is tricky because the cocoa powder will clump up. You just have to keep stirring. It may take up to 30 minutes to get all the lumps out.

Pour chocolate mixture into separate bowl and cool. Place in refrigerator to chill, overnight or at least 4 hours.

In separate bowl, whip eggs. Add sugar and vanilla and whip vigorously. Add in chocolate mixture and whip again until fully combined.

Pour into 4-quart canister of ice cream maker. This should fill to about 2/3 - 3/4 full. DON'T OVERFILL or ice cream can't expand, and you will be left with only a sweet cream.

Place canister into ice cream maker, and layer ice and rock salt all around canister. Fill all the way to the top of barrel and start.

As ice melts, continue adding more ice and rock salt. When you see ice cream rising to the top of the canister, and ice cream maker starts to slow down, the ice cream should be done. This process may take anywhere from one to two hours. If ice cream is still too soft, continue to churn.


When ice cream is done, pour it into a tupperware container with a lid. Store in freezer.

SHARE THIS POST TO YOUR FRIENDS: