Vanilla Unicorn Cupcakes are modeled after the currently-trending Starbucks Unicorn Frappuccino. A perfect vanilla cupcake with a the star of the show topper – a colorful buttercream frosting!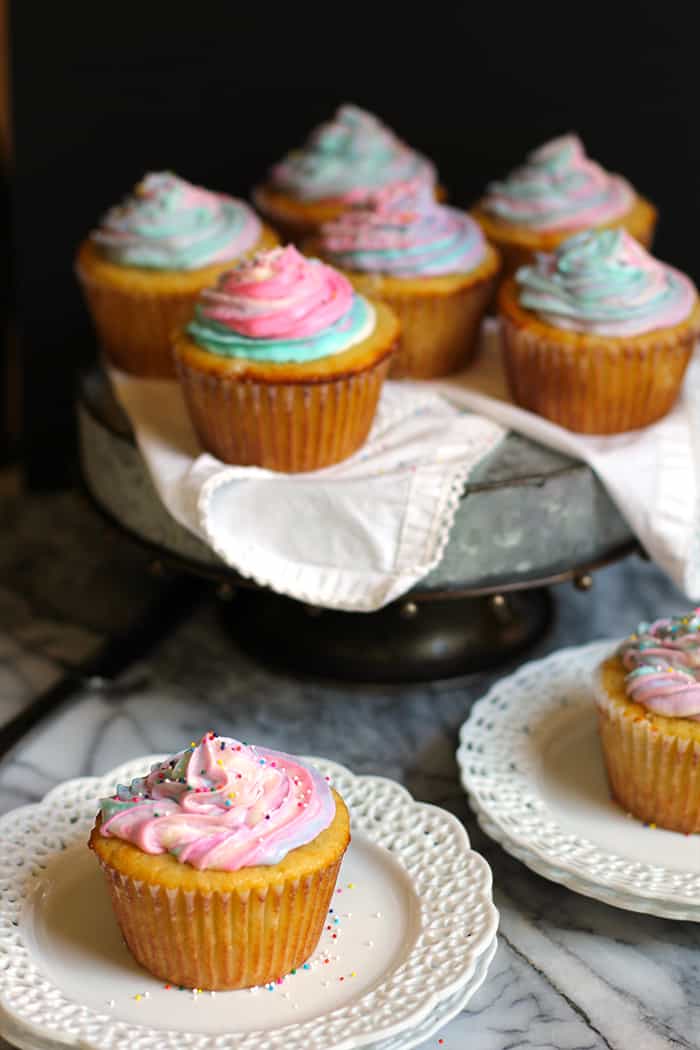 Raise your hand if you've tried the Starbuck's Unicorn Frap! My hand is down. But hey, I'm whipping up my own version of the sugar over-dose. And it's spelled C U P C A K E. This little dream is worth every gram of guilt. It's big on taste, with a big dash of vanilla – and topped with the swirliest of all unicorn toppers. PERFECT for all the little (and big) girls (and boys) in your life. Because when it comes to cupcakes, presentation is everything.
Trust me. These are not only pretty to eat. But they are PRETTY delicious as well.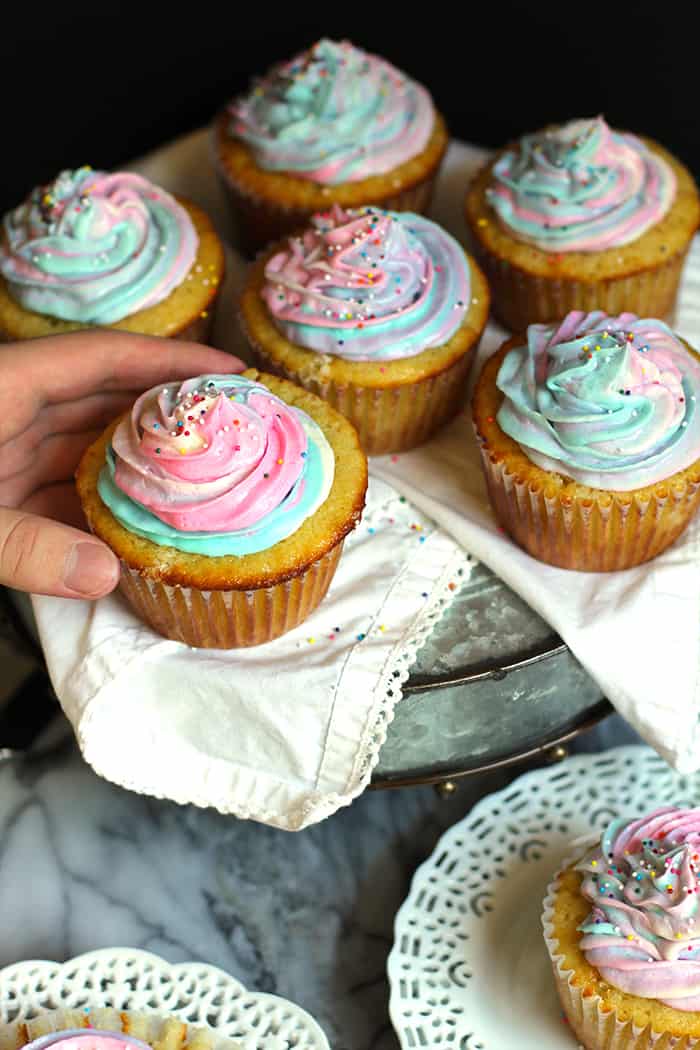 Three times a charm and I guess that's why it took me three times to get this recipe right. The first time the cupcakes weren't right, the second time the buttercream frosting wasn't right, and the third time, my Vanilla Unicorn Cupcakes were – yup, you guessed it – just right.
I've been thinking a lot about making a pretty swirly cupcake. You know. Just because I have all boys doesn't mean I don't dream of pink and blue and sprinkles and cute little unicorns. Sometimes you just gotta put some extra PRETTY in your life. Not that my boys aren't pretty or anything. Because they DO like to wear pink. 🙂
Enter…Vanilla Unicorn Cupcakes.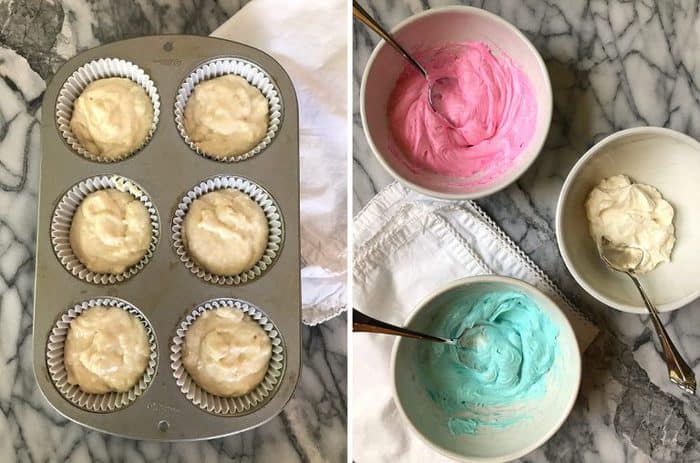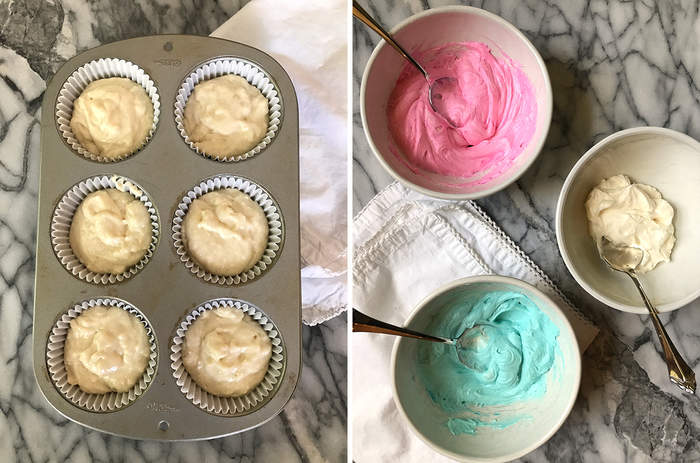 This vanilla cupcake is pretty simple to whip together. You just combine the wet ingredients with the dry ingredients, and I promise there is no squeezing of lemons or zesting. BUT the frosting, on the other hand, takes a bit of finesse. I made my usual buttercream frosting with plenty of Watkins Vanilla (THE best vanilla!) and oh yes, there is BUTTER. Obvi. To get the unicorn swirl, you just:
separate frosting into three small bowls
add a few drops of your desired food coloring to each bowl – I used pink and blue (and left one plain)
stir well
fill decorating kit by spooning a tablespoon of each color into kit, and repeat till full
pipe the frosting on top of cooled cupcakes
I'm going to admit, I made a GIANT mess in my kitchen while concocting these Vanilla Unicorn Cupcakes. Lots of bowls with lots of frosting about. But thankfully, my super sweet husband cleaned it all up on one of the three occasions. It's funny how he lingers in the kitchen when there are SWEETS nearby. I think I'll keep him. 🙂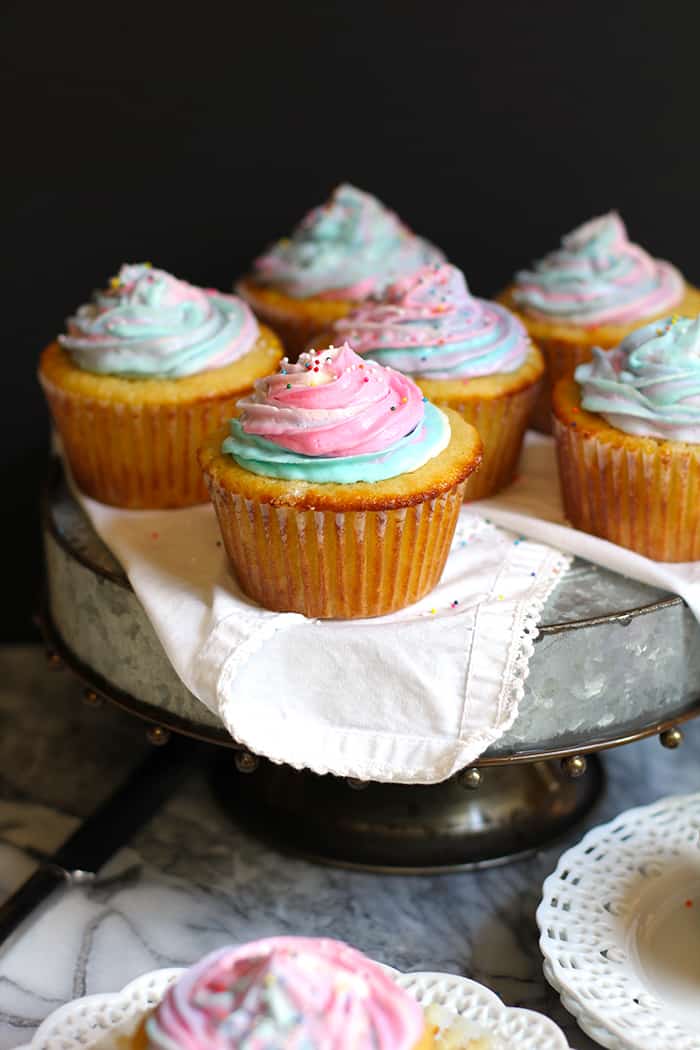 I had a dream the other night…about using these cupcakes for a baby reveal. Like for a baby puppy. Or something. You know. I'm WAY too young to be a grandma. And I'm WAY too old to have another babe of my own. 🙂
For really really really real.
But anyway, if ya'll are looking for an idea for a baby reveal for your babe or a grand babe or even a pup (or a kitty or a hamster), you could make these and add one extra step! Just cut a cone sized wedge out of the center of these cupcakes like I did for my Chocolate Sweetheart Cupcakes, fill the center with either pink or blue frosting or sprinkles, place the top of the cone back, and pipe the frosting over the top!
Wa-la! A baby reveal cupcake. 🙂
Just something to think about.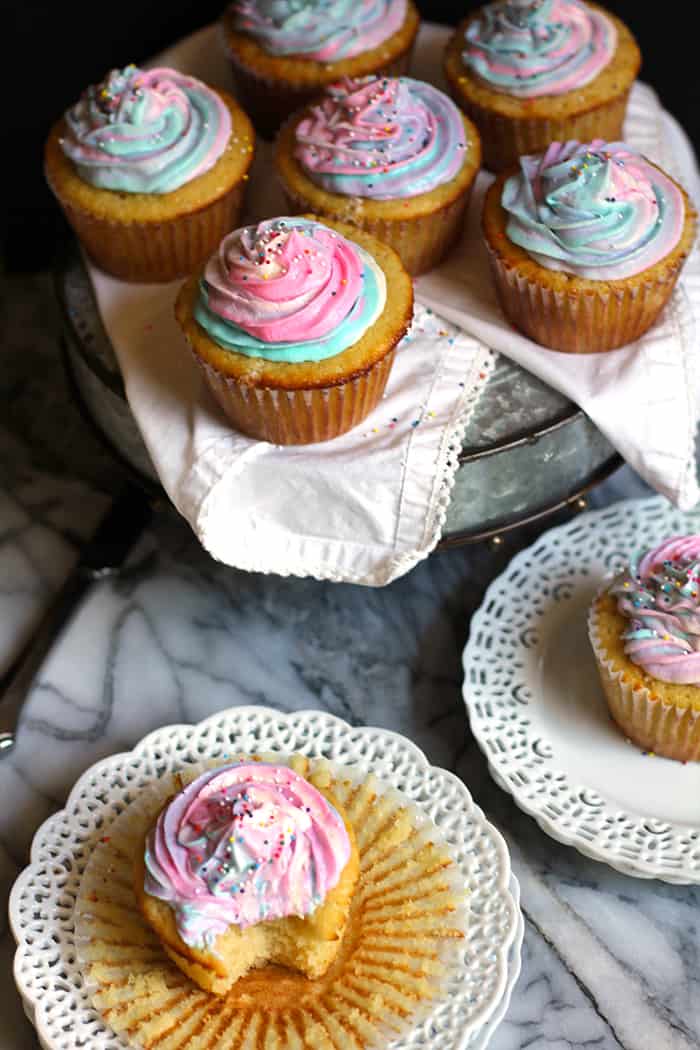 Just a few more things.
Could you let me know if you make this recipe? Or any others? I'd LOVE for you to rate my recipes and leave a comment!
Would you like to be on my blog post email distribution (at the top of my home page)? You will get notified of my posts, and never miss a post update. 🙂
I'd love for you to follow me on social media. You can like my Facebook page from the home page on my site. I'm also on Instagram and Twitter. Oh…and Yummly and Bloglovin'.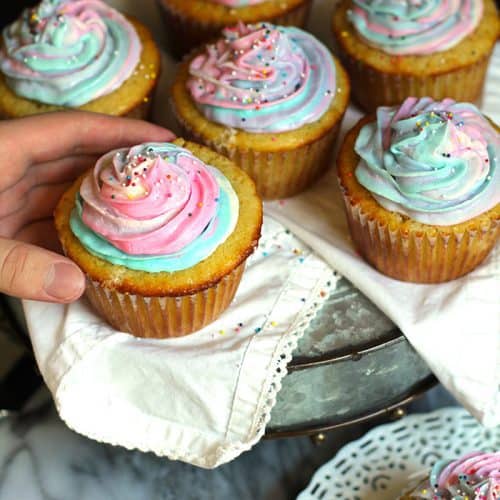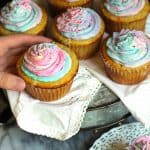 Vanilla Unicorn Cupcakes
Ingredients
For the cupcakes:
1/2

cup

unsalted butter

- softened to room temperature

1

large

egg

1

large

egg white

1

cup

buttermilk

1/2

cup

plain greek yogurt

1

Tablespoon

vanilla

- I use Watkins

1 3/4

cups

all-purpose flour

1

cup

sugar

1

teaspoon

baking soda

1

teaspoon

baking powder

1/2

teaspoon

salt
For the buttercream frosting:
3/4

cup

unsalted butter (1.5 sticks)

- softened to room temp

2

teaspoons

vanilla

- Watkins Vanilla

3

Tablespoons

half and half

3

cups

powdered sugar

food coloring

- I used pink and blue colors
Instructions
For the cupcakes:
Preheat oven to 350 degrees. Line a 6-cup jumbo cupcake pan plus two more cups - with jumbo cupcake liners (four will be empty).

Mix the dry ingredients (flour, baking soda, baking powder, and salt) in a medium bowl. Set aside.

In a standing mixer, mix the softened butter and sugar together until creamy. Add the egg plus egg white, buttermilk, yogurt, and vanilla - and mix.

Add the dry ingredients to the mixer, and mix together until just combined. There will be a few lumps remaining.

Fill cupcake liners with mixture, filling 2/3 full. Do NOT over-fill!

Bake for 18 - 22 minutes, or until toothpick comes out clean when inserted. Remove cupcakes to cooling racks.
For the buttercream frosting:
Using a handheld mixer, beat the butter until creamy, about two minutes, Add vanilla, half and half, and powdered sugar, and mix on high speed for two more minutes, until nice and fluffy.

Separate frosting into three different bowls. Take food coloring and add different colors to each bowl, mixing in well.

Using a decorating kit, spoon a tablespoon of frosting in at a time, rotating between the three different colors. Pipe frosting onto cooled cupcakes, Top with sprinkles.
Recipe Notes
If you make regular sized cupcakes, this recipe will make approximately 10-12 cupcakes. Baking time should be decreased, however.
These cupcakes should be stored, covered - in the refrigerator. To serve, let sit on countertop to come to room temperature. They will stay fresh up to three - four days.