Cookies and Cream Ice Cream is one of my all-time favorite ice cream flavors! The Oreo cookies give the perfect crunch to an already sweet vanilla cream base. A very dangerous concoction for ice cream addicts, like my family of four! 🙂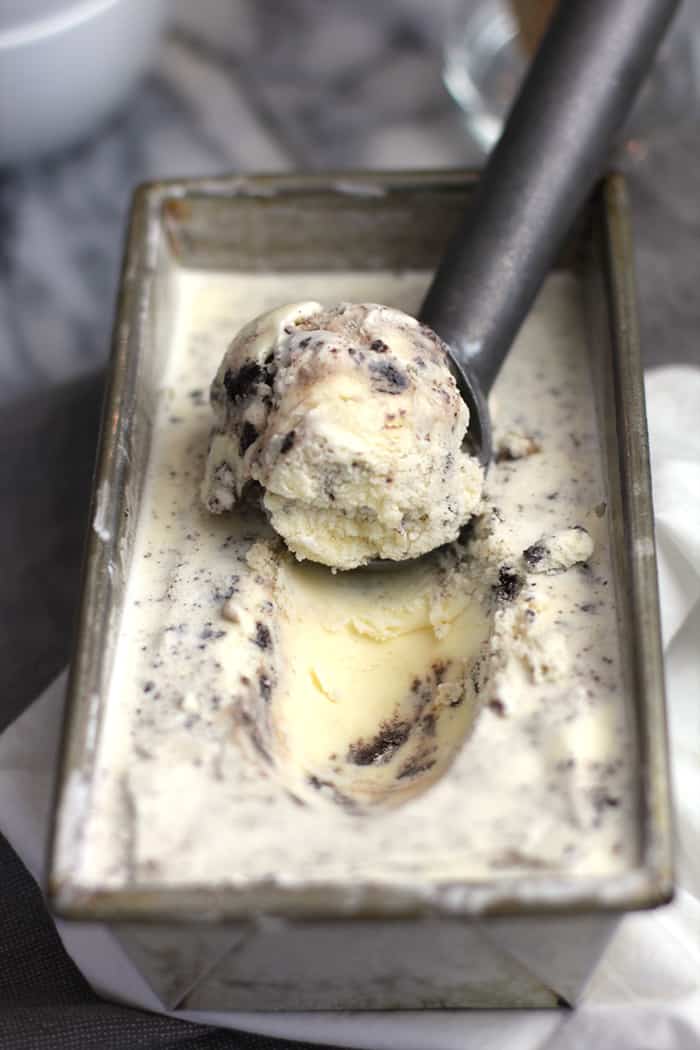 One of my favorite childhood memories is that of ice cream making. My mom mixed it and my dad cranked it. Since we lived in Iowa, Dad usually used fresh snow along with rock salt to help churn the ice cream. My job was to keep Dad company in the basement, and then of course, to EAT it. (<— FAV job of all time!)
We rotated between vanilla and chocolate ice cream when we were kids. I love trying new flavors, and am currently dreaming up all kinds of new recipes to share with you.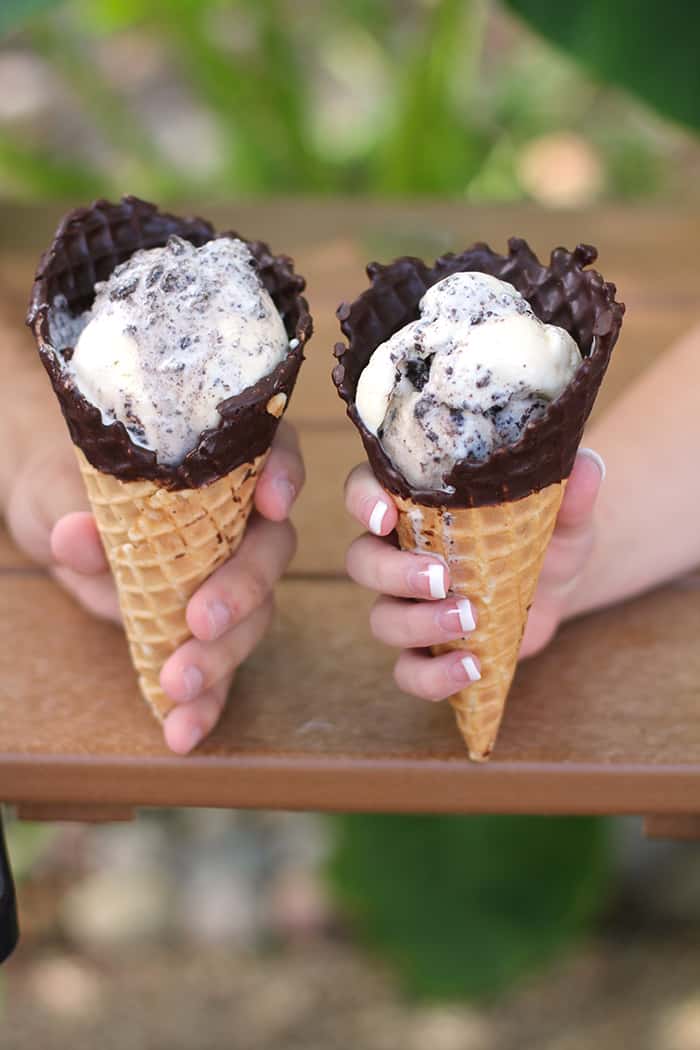 To make this recipe, you will need a 4-Quart Electric Ice Cream Maker
, or one similar. You want to make sure that you don't over-fill the canister. The sweet cream mixture needs room to expand as it freezes, and you will know the ice cream is close when you can see it rise to the top. If you fill it too full, you will be churning forever, and the end result will be a cold creamy liquid, instead of ice cream.
Remember —> DON'T over-fill!!
The actual crumbled cookies get added at the very end, when the ice cream is finished. Just stir the cookies into the ice cream, and freeze. It's so easy, it's ridiculous!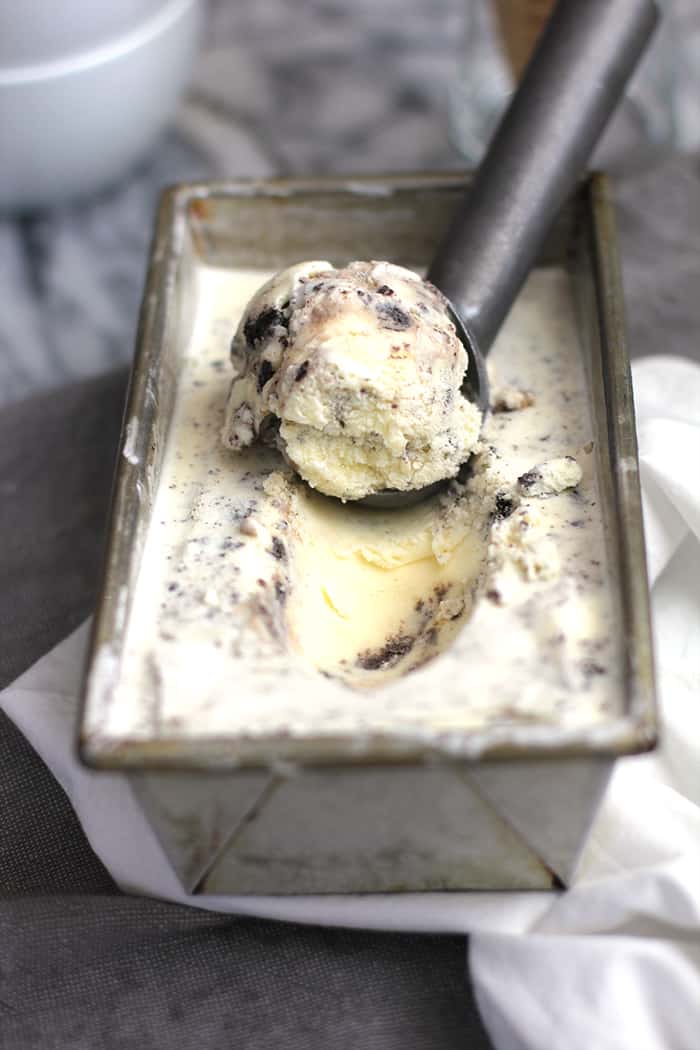 July is National Ice Cream Month, and believe me, I'm going to celebrate this month as often as possible. So if you see me out biking double time, you know why.
Because I'm celebrating July to infinity.
Double Chocolate Ice Cream (recipe coming soon)
Cookies and Cream Ice Cream
Let's all be friends and eat ice cream together. 🙂
Kudos to my hand models – my son Josh and his best girl, Tiffany. I paid them in ice cream for this shoot. 🙂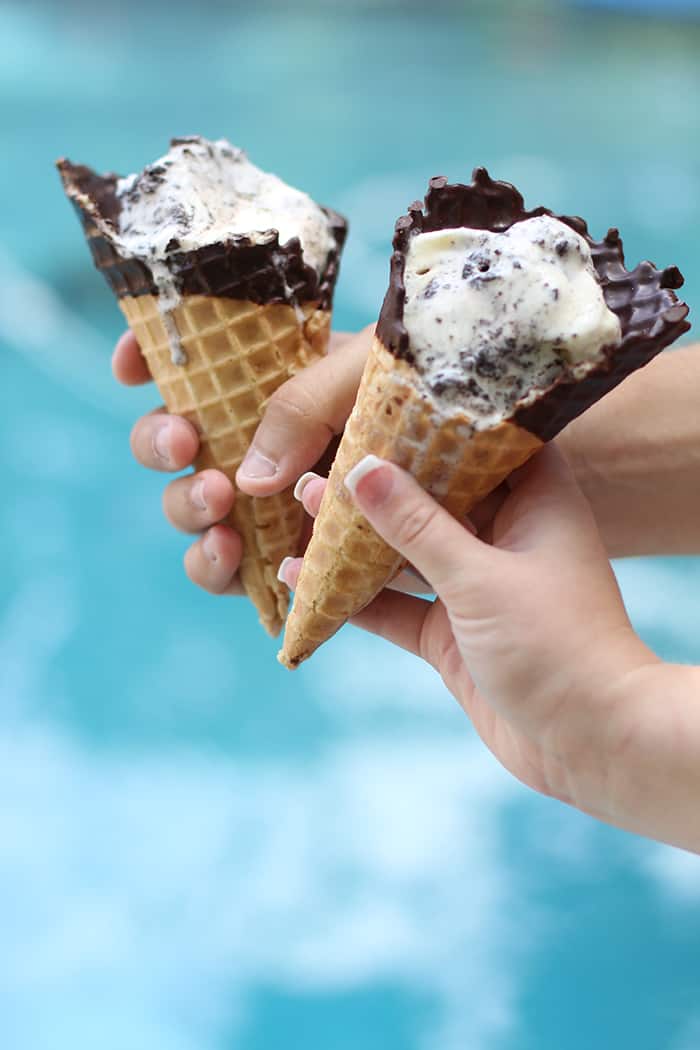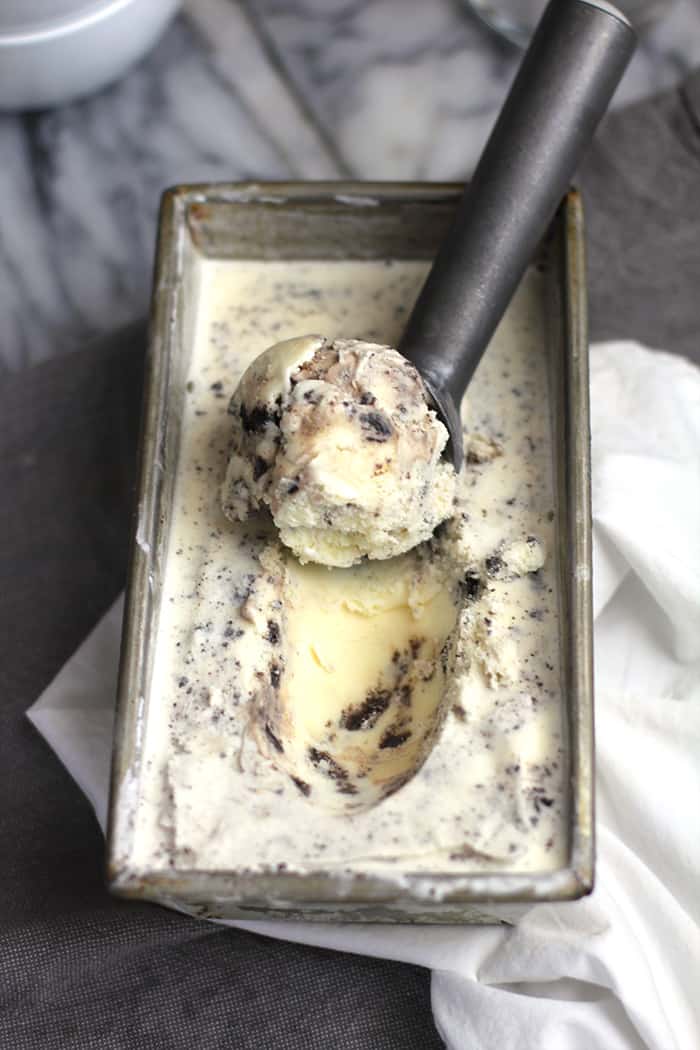 Please let me know if you try this Cookies and Cream Ice Cream, and how you like it!
You can stay up-to-date with SueBee Homemaker by:
signing up for post updates (top right-hand corner of my blog)
liking my Facebook Page
and following me on Pinterest
I'm also sharing tidbits of my life on Instagram. 🙂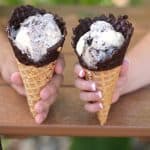 Cookies and Cream Ice Cream
Ingredients
6

large

eggs

- pasteurized is safest

2 1/2

cups

sugar

3

Tablespoons

Watkins Vanilla

4

cups

milk

- I use 1 %

4

cups

heavy whipping cream

14.3

oz.

package Oreo Cookies

- not double stuffed
Instructions
Using food processor, pulse Oreo Cookies until crushed, leaving some bigger chunks. Don't over-pulse. Set aside.

In a large mixing bowl, whip eggs. Add sugar and vanilla, and whip again.

Add milk and heavy whipping cream, and mix well.

Pour into 4-quart canister of ice cream maker. This should fill to about 2/3 - 3/4 full. DON'T OVERFILL or ice cream can't expand, and you will be left with only a sweet cream.


Place canister into ice cream maker, and layer ice and rock salt all around canister. Fill all the way to the top of barrel and start.


As ice melts, continue adding more ice and rock salt. When you see ice cream rising to the top of the canister, and ice cream maker starts to slow down, the ice cream should be done. This process may take anywhere from one to two hours. If ice cream is still too soft, continue to churn.


When ice cream is done, pour it into a large bowl and add crushed cookies. Then pour it into a tupperware container with a lid. Store in freezer.


SHARE THIS POST TO YOUR FRIENDS: