Potato Soup is definitely a December recipe (NOT a January one). In other words, it is not light, healthy, or figure friendly. Even my description of "chunky loaded" tells you exactly what to expect. No blurred lines here, friends.
Please keep reading! Do not be afraid.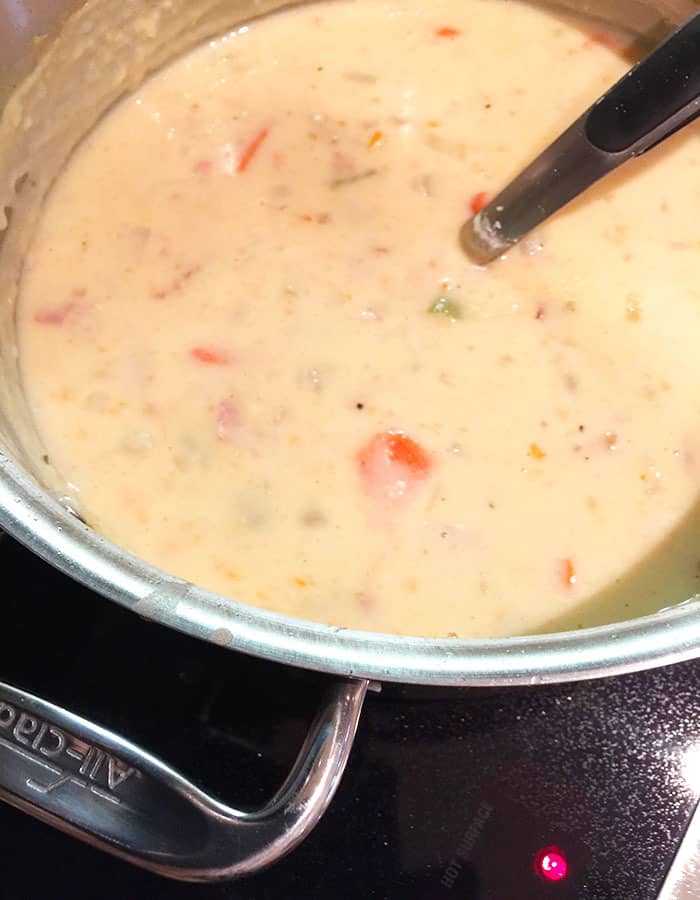 There are many ways to indulge in potato soup without sacrificing your figure. Eat it as a side dish, not a main course. Have a cup of soup along with a sandwich or a large salad. IF you can stop at just a cup. I'm making a large batch of roasted broccoli and cauliflower tonight, to go with this soup. So the veggies should help me fill up and not eat more than one serving.
OR, ignore the paragraph above and just have a big ole' bowl. It's winter and you can wear an oversized shirt. Swimsuit season is months away. ha.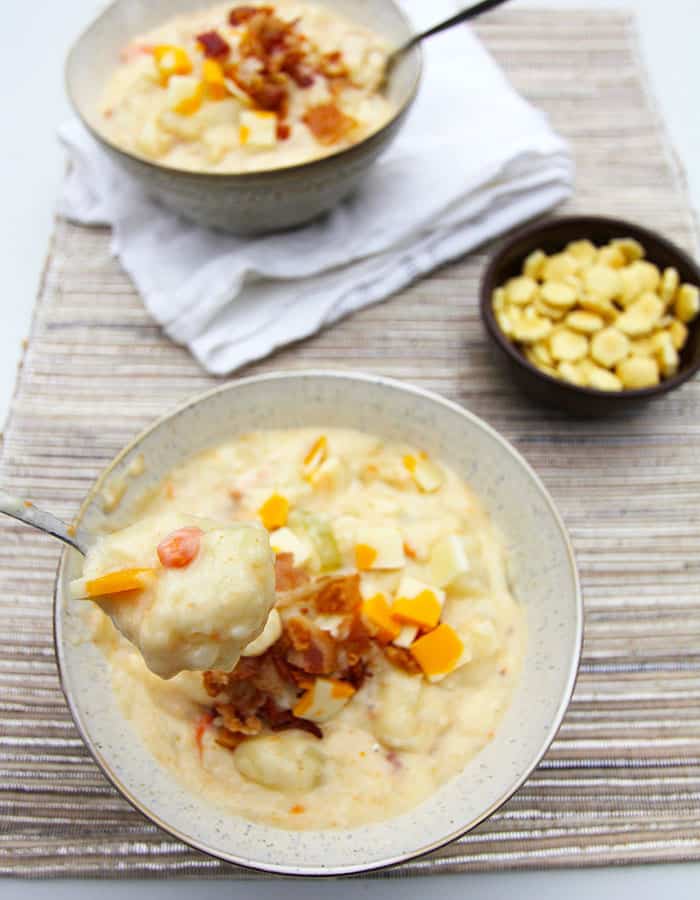 I've adapted a Norma Jean (my mom's!) recipe again. She used Cream of Chicken soup in her version, but I rarely buy that anymore. I made a roux instead. It's simple – but you can use any method you prefer.
Be sure to be generous with the seasonings for this soup. Potatoes need salt, in my opinion. If you don't use enough, it will be bland. My method is to season in layers. I add a little with the veggies, then a little more when I add the potatoes, and then test it again after adding the milk and cheese. The key is tasting it as you go along, so that you can get just the right amount.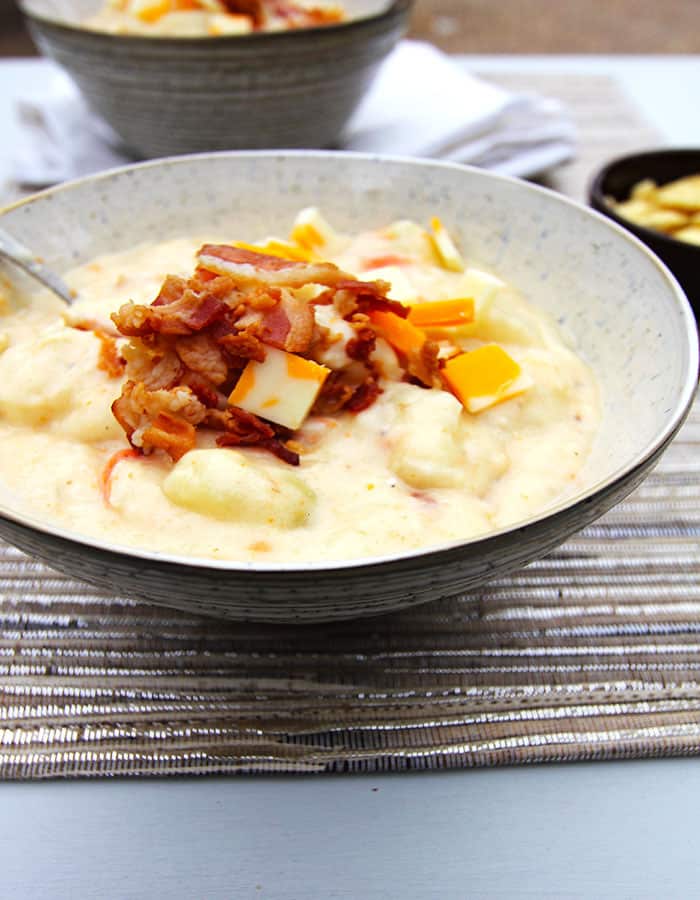 My sister, Lauri, makes this soup with about four times the amount of bacon as I do. I guess it helps that her husband raises hogs. Plenty of bacon in HER freezer. She makes wonderful soups, just like Mom did.
I like the big chunks in this soup. But if you like your potato soup smooth, then you can puree it with an immersion blender
or a regular blender.
If you are looking for some lighter, healthier soups, please check out my Vegetable Beef Soup, my Butternut Squash Soup with Bacon, or my Italian Wedding Soup.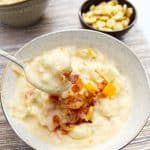 Chunky Loaded Potato Soup
a creamy potato soup loaded with potatoes, carrots, celery, onion, and bacon
Ingredients
6

strips

bacon

chopped

3-4

Tablespoons

bacon grease or butter

2

large

carrots

peeled and chopped

2

large

celery stalks

chopped

1

large

onion

diced

4

large

russet potatoes

peeled and chopped

1/4

cup

all-purpose flour

5

cups

chicken broth

2

cups

milk

8

oz.

cream cheese light

1

cup

shredded cheddar cheese

salt and pepper

to taste (use plenty!)

shredded cheddar cheese

to serve

saltine crackers

to serve
Instructions
Heat a large saucepan to medium-high temp. Dice bacon and add it to the pan. Cook until bacon is crisp and well browned. Remove bacon and set aside on paper towel.

Reserve about 3-4 Tablespoons of bacon grease or you can substitute butter here, if preferred. Add onion, carrots, celery, salt and pepper to fats (bacon grease or butter), and cook until softened, approximately 7-8 minutes.

Add flour and stir for a couple of minutes, until flour clumps are absorbed. Add chicken broth and heat to boiling. Simmer for about five minutes, stirring frequently.

Add chopped potatoes, cooked bacon (save a few for the topping), more salt and pepper (to taste!) and simmer until potatoes are tender.

Add milk, cream cheese, and shredded cheddar cheese. and turn to low. Cook until soup is nice and creamy, stirring constantly.

Serve soup with shredded cheddar cheese, extra bacon bits, and saltine crackers.
SHARE THIS POST TO YOUR FRIENDS: