Mom's Best Cucumber Salad
This post may contain affiliate links which won't change your price but will share a commission.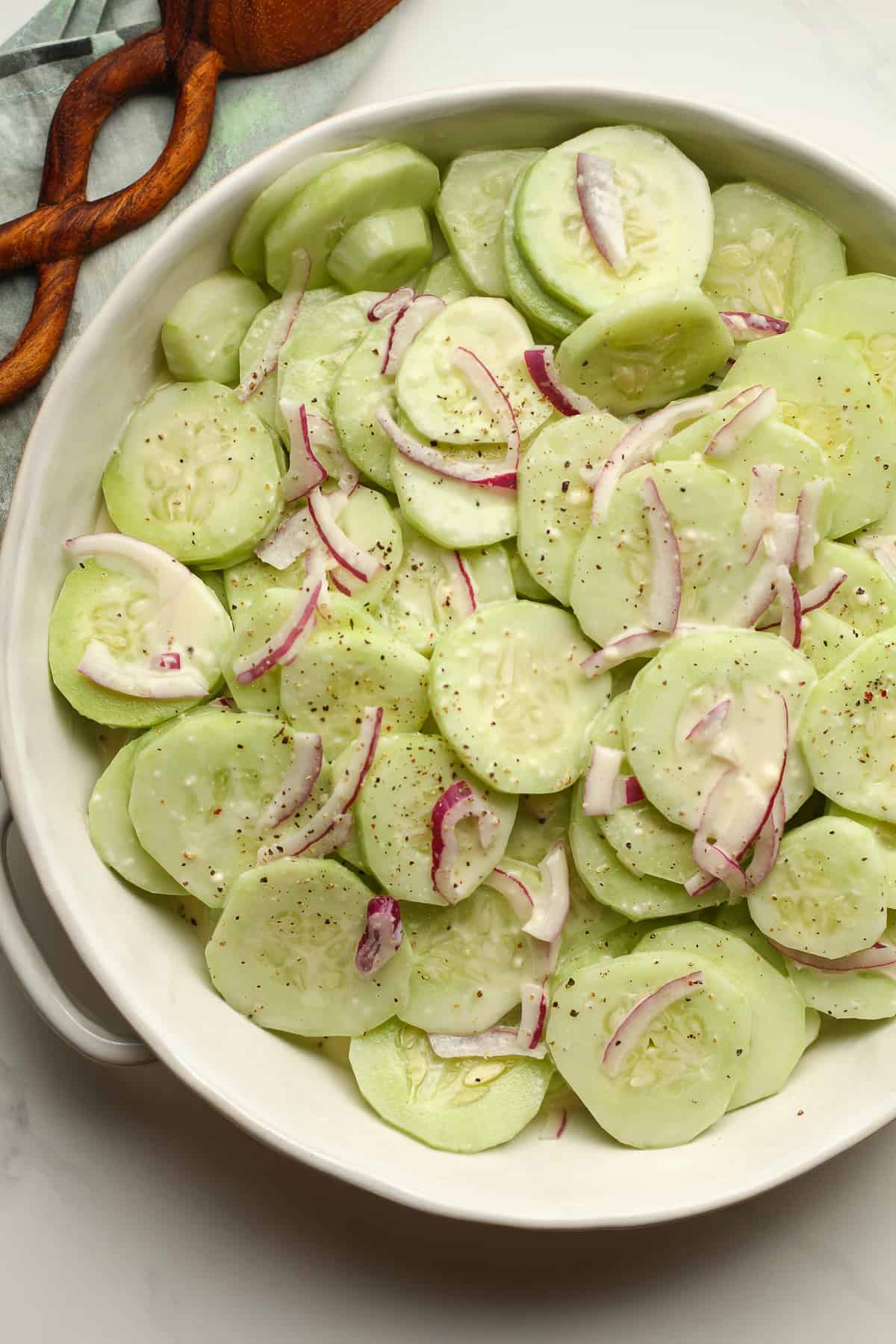 Get ready for all the feels today with my Mom's cucumber recipe. In case you are new here, my mother passed away in April of this year, and I wrote a tribute in her honor. My mom is one of the reasons I started this blog, and I'm sharing her recipes in Norma Jean's Kitchen.
Norma Jean had the greenest of thumbs. She loved tending both her beautiful flower garden and vegetable garden. Summertime was an exceptional time of year, and she shared her bounty of fresh garden produce with her friends and neighbors. Fresh lettuce, onions, radishes, beets, carrots, green beans, rhubarb, potatoes, cucumbers, and tomatoes GALORE! Dad got his fair share and then-some, and Mom made sure his lettuce and cucumber salads had an excessive amount of vinegar and onions, just like he wanted. 🙂 I can picture her now, bent over in the garden getting every ripe veggie, bringing them into her kitchen, and then working her magic. Gosh, what I would give for another glimpse.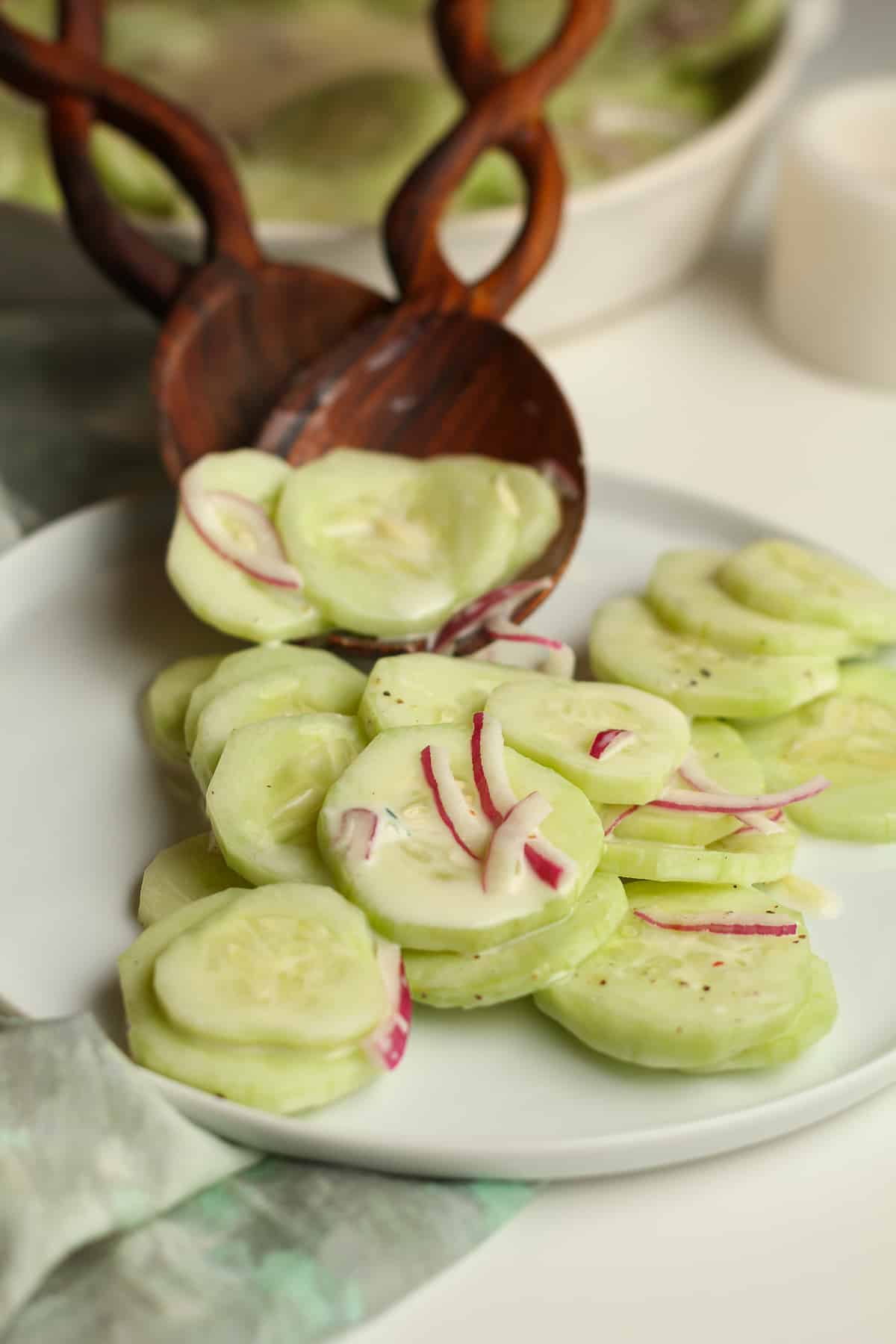 Creamy Cucumbers
There are so many spins on cucumbers these days, but I love how these make me feel. (Oh, the nostalgia!) Here is how I describe them.
Crunchy – Cucumbers are naturally crunchy if you are using fresh ones. I love the mouth-feel!
Creamy – That dressing gives them a nice creamy coating.
Zesty – The vinegar gives that little bit of tang which is so necessary for great cucumbers.
Sweet – I used way less sugar than my mom did, but I feel like they are sweet enough.
Salty – Confession. I usually add a little extra pinch of salt to my serving. So good!
From the moment Mom could pick them from the garden, her delicious cucumbers were made on repeat. Dad loved his with lots of STRONG white onions (instead of the milder red I used here) and plenty of vinegar. It was rare that he told Mom they were perfectly made. I think he just liked to tease her that they needed "more vinegar and onions, Norma". 😀
Ingredients Needed for Creamy Cucumbers
Fresh Cucumbers – If you don't grow your own or have access to a Farmer's Market, grocery store cucumbers work fine. I don't have a garden, but I wish I did! Also, Mom used regular cucumbers, but I think English cucumbers would be good too.
Onions – Mom used strong white onions, but I prefer red. Not as strong and really delicious in this salad.
Mayonnaise – I rarely buy Miracle Whip anymore (which is what Mom used all the time), and prefer the mayo with olive oil. Just use whatever you like best.
Sugar – The sugar is needed for this version of cucumbers. You could try using less than the recommended 1/4 cup in this recipe.
Vinegar – Use Apple Cider or even white vinegar.
Salt – I love kosher salt and that's all I use anymore. But you could use regular table salt as well (but use less).
Pepper – While I normally use freshly ground black pepper, I recommend using regular black pepper for this recipe.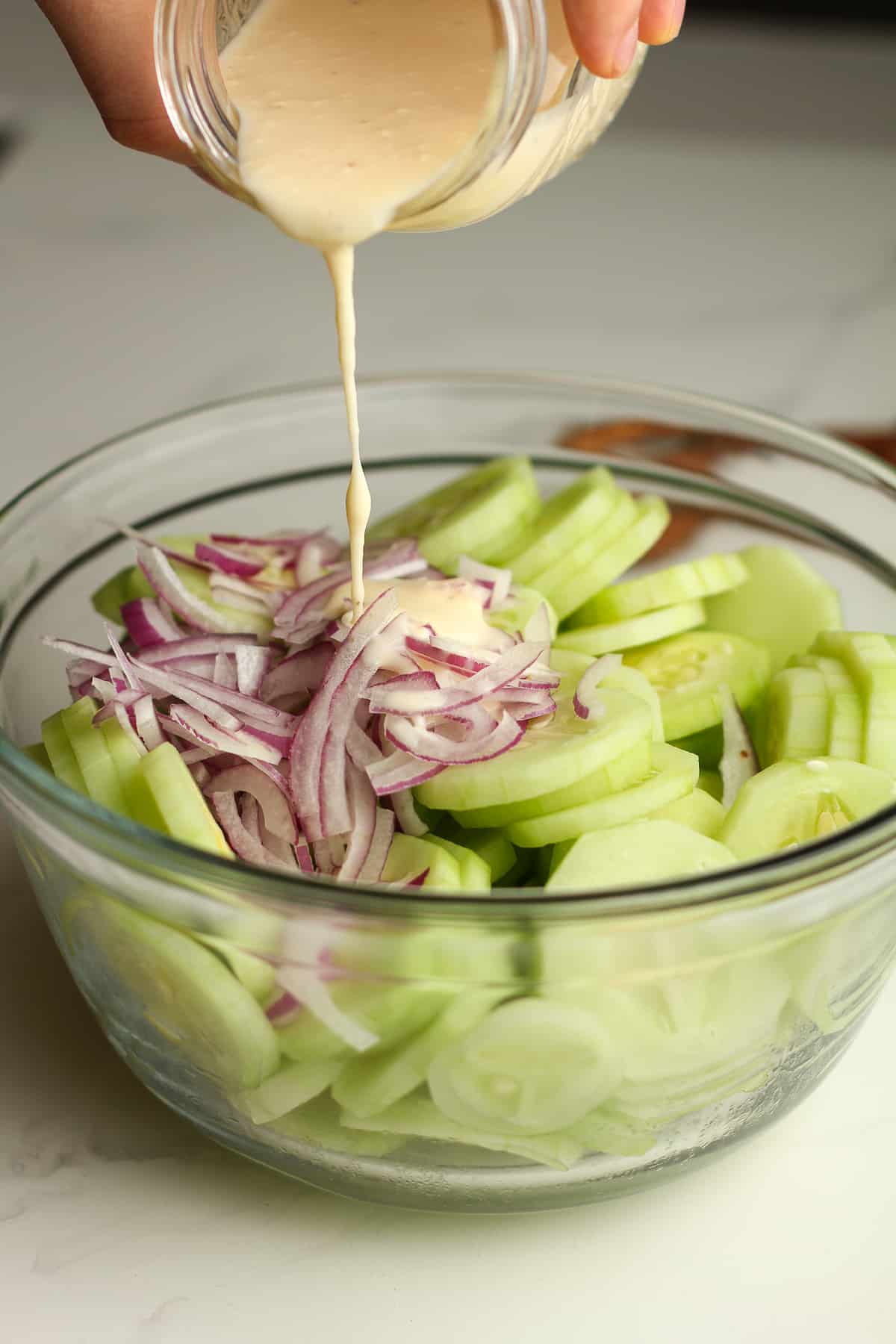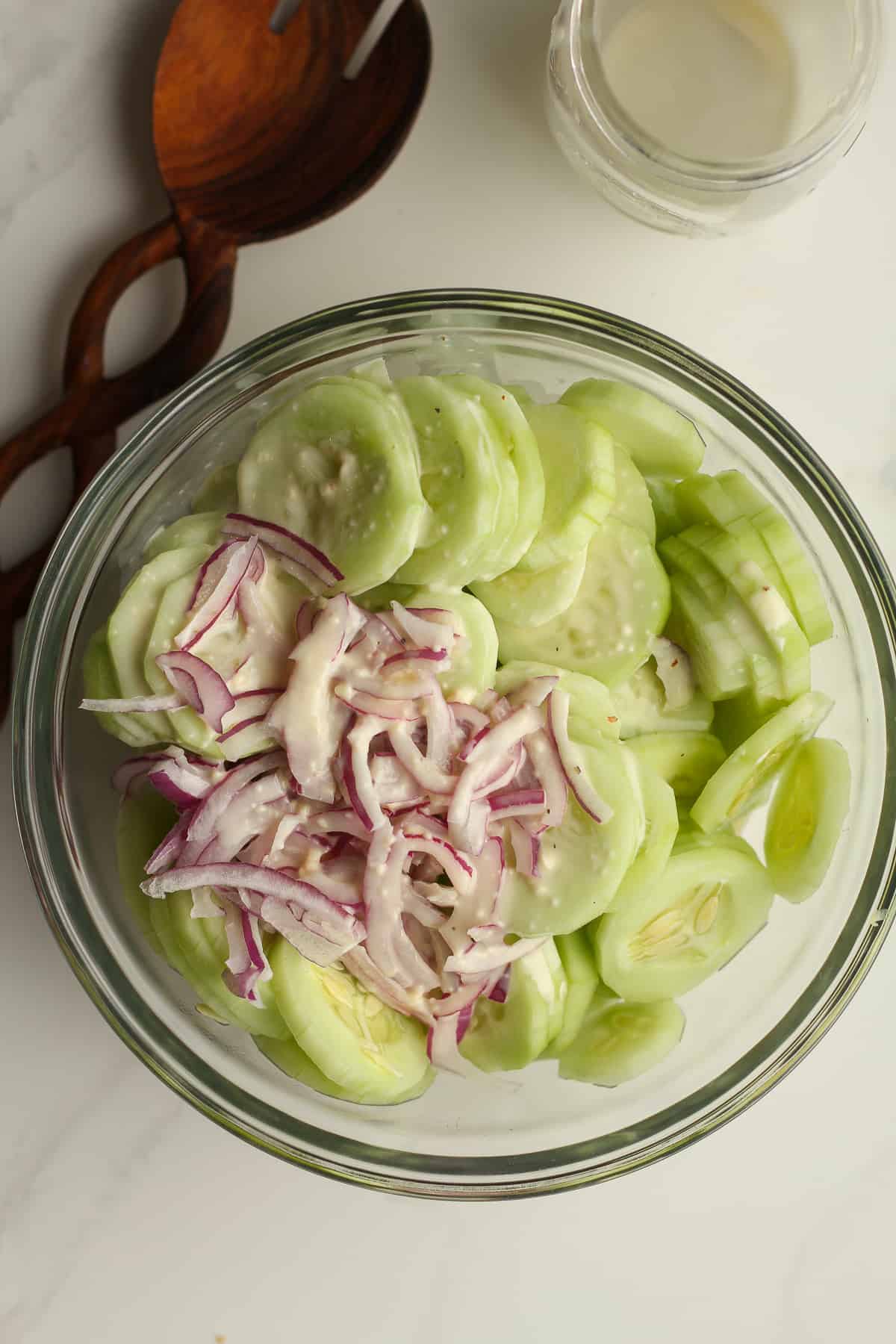 How to make the Best Creamy Cucumber Salad:
This delicious salad, my friends, can be made in only 20 minutes. But it's best to make it ahead of time for those flavors to meld together!
Peel and thinly slice the cucumbers. If you have a mandolin slicer, feel free to use that for slicing. Otherwise, a knife works just fine.
Thinly slice some red onion. You could use white onion if you prefer a stronger onion flavor.
Combine. Add the cucumbers and onions in a large bowl and toss.
Make the dressing. Combine the mayonnaise, sugar, vinegar, and salt. Whisk, and pour over the cucumbers and onions. Mix well.
Let the flavors meld. Place the cucumbers in the refrigerator for a couple of hours to let the flavors come together.
Serve. To serve, add some black pepper and additional salt if needed. Enjoy!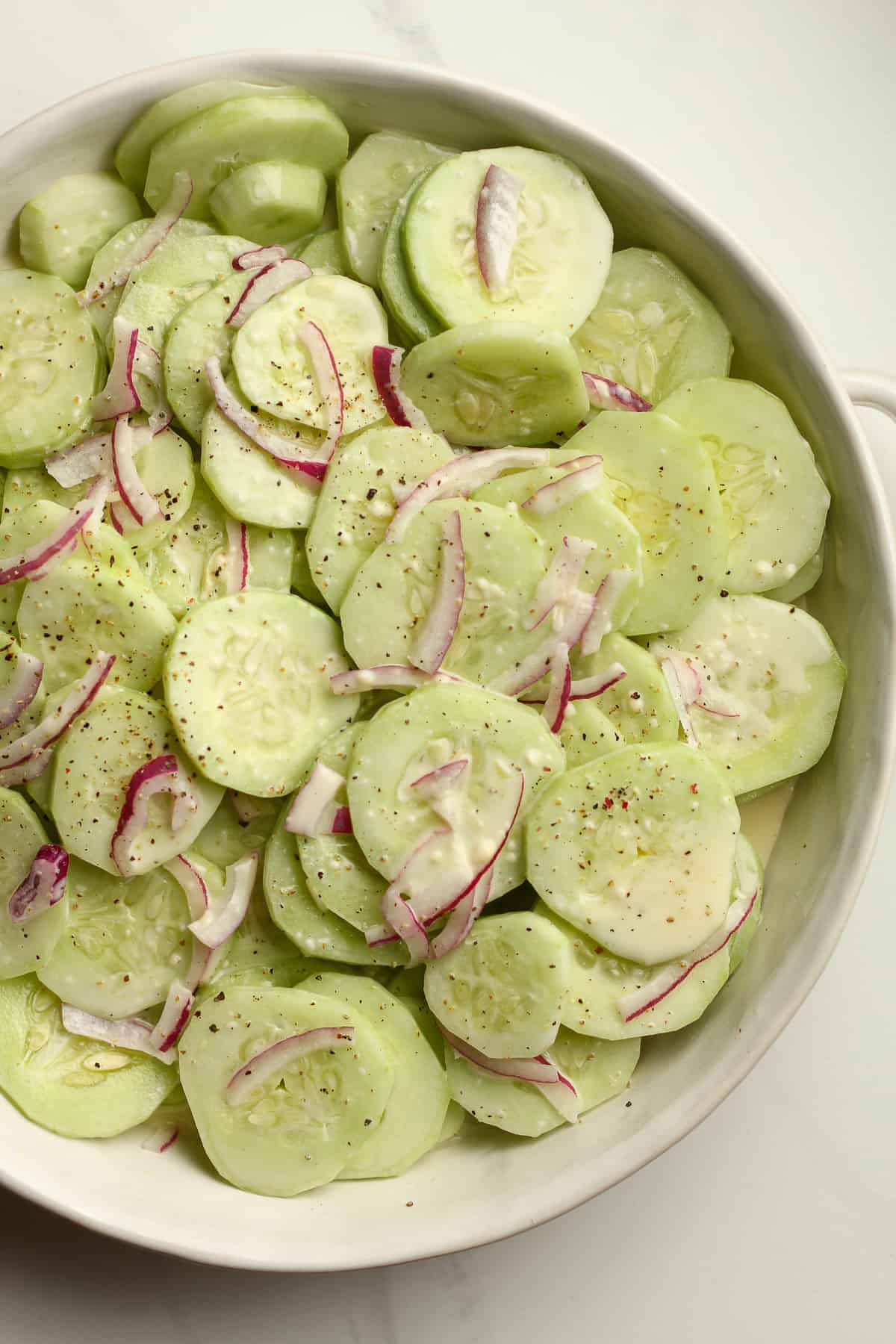 Frequently Asked Questions
Can you make the dressing with other ingredients? Yes, you could try making the dressing with combinations of plain Greek yogurt, sour cream, half and half, and milk. I have a lighter version on the blog, called Fresh Cucumber Salad. Confession…I prefer Mom's version!
Do I need to sweat the cucumbers? When sweating a vegetable, salt is used to draw out excess moisture. My mom used to sweat the cucumbers by soaking them in salt water overnight, and then rinsing and straining them the next day. She eventually stopped doing this before making her cucumber salad, and I never noticed a difference. I don't see the need to sweat the cucumbers either.
How long do these cucumbers keep? You can store this creamy cucumber salad in the refrigerator, in an airtight container, for 2-3 days. I've found them to stay crunchy for several days. You could also halve the recipe, and just make it more often. It's simple!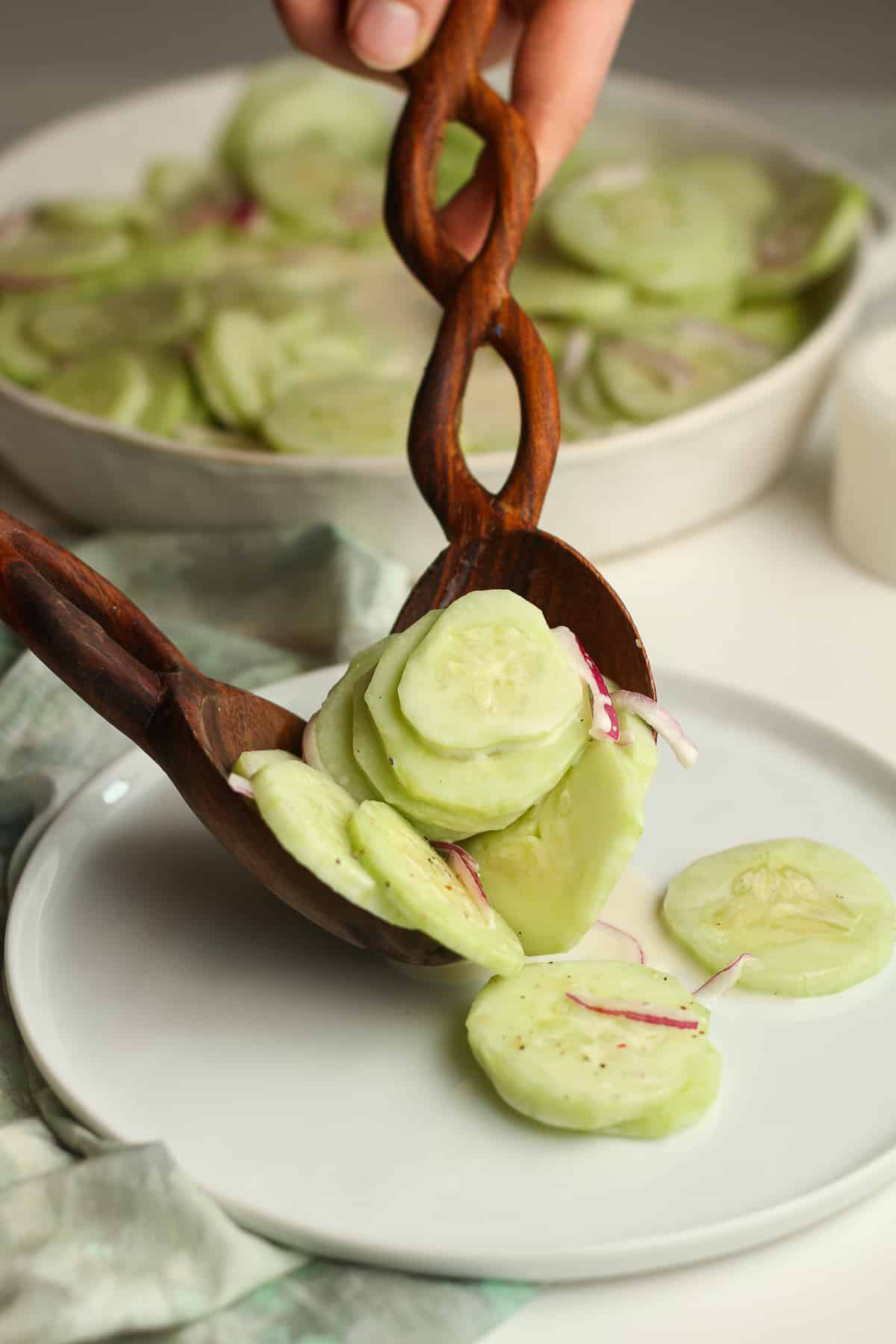 Kitchen Tools Used: (affiliate links)
Make this "Norma Jean" salad next: Creamy Potato Salad
Please let know if you try this recipe. Be sure to comment and leave a review on the blog so I can see what you think. You can also like my Facebook Page, follow me on Pinterest, and catch me on Instagram.
xoxo ~Sue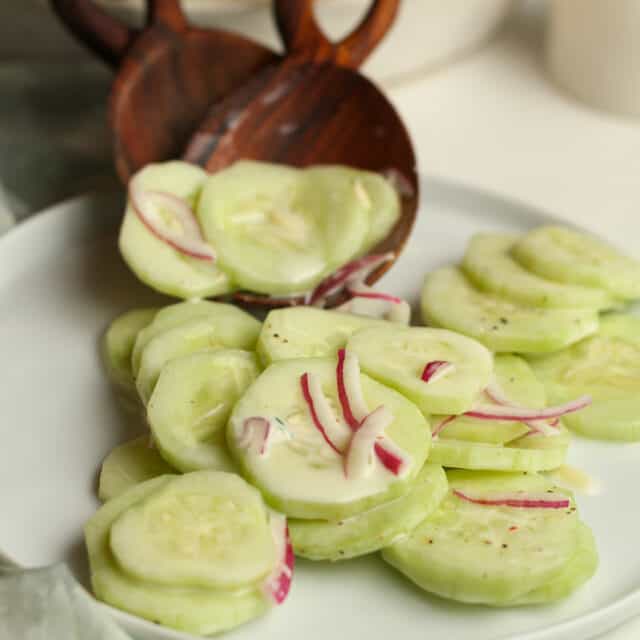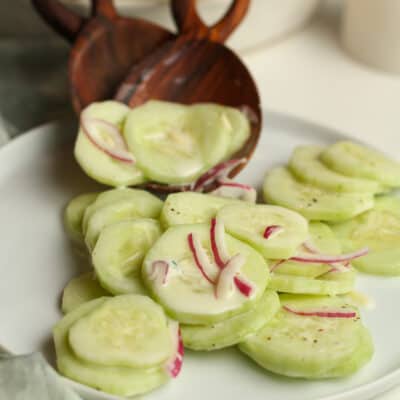 Best Cucumber Salad
Best Cucumber Salad combines thinly sliced cucumbers and onions with a delicious creamy dressing.  The perfect combination of crunchy, creamy, sweet, and savory all at once. This salad brings back so many wonderful memories of childhood!
Ingredients
5-6

medium

cucumbers

– peeled and thinly sliced

1/3

cup

red onion

– you could also use white

1/2

cup

mayonnaise

– or Miracle Whip

1/4

cup

sugar

– more or less to taste

1/4

cup

apple cider vinegar

– can also use white vinegar

1

teaspoon

salt

– I use Kosher salt (add more or less to taste)

black pepper

– to taste
Instructions
Peel cucumbers, and slice thin. You can also use a mandolin to slice. Slice onion thinly as well. Combine cucumbers and red onion in a large mixing bowl.

Mix up the dressing by combining the mayonnaise, sugar, apple cider vinegar, and salt. Pour over the cucumbers, and combine well.

For best results, place cucumber salad in your refrigerator for a couple of hours to help meld the flavors together. Check flavors before serving.

To serve, add black pepper and more salt if desired.
Notes
You can store this creamy cucumber salad in the refrigerator, in an airtight container, for 2-3 days. I've found them to stay crunchy for several days.
Nutrition
Calories:
185
kcal
Carbohydrates:
13
g
Protein:
1
g
Fat:
14
g
Saturated Fat:
2
g
Cholesterol:
8
mg
Sodium:
510
mg
Potassium:
248
mg
Fiber:
1
g
Sugar:
11
g
Vitamin A:
135
IU
Vitamin C:
6
mg
Calcium:
26
mg
Iron:
0.4
mg