This post may contain affiliate links which won't change your price but will share a commission.
Honoring the life of Norma Jean Reding.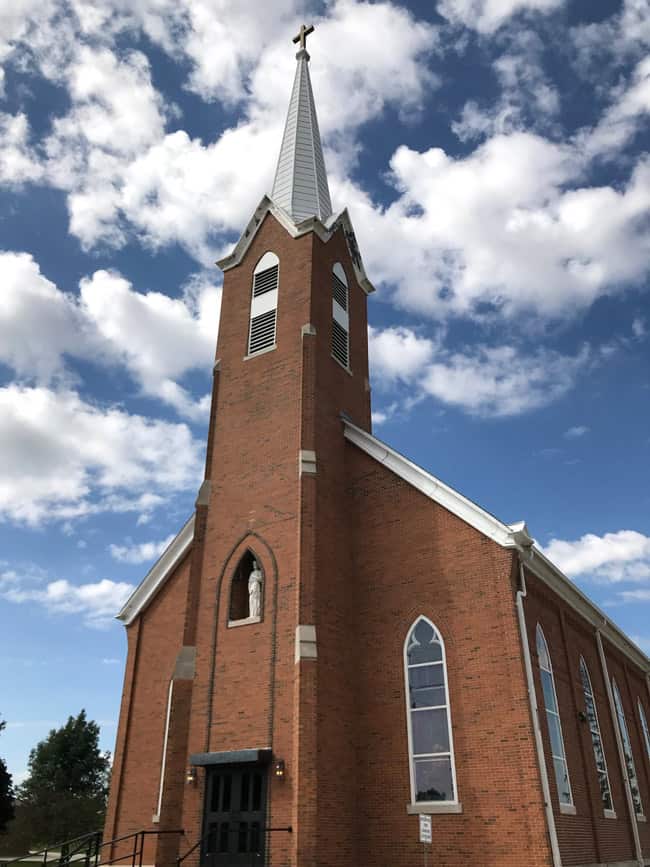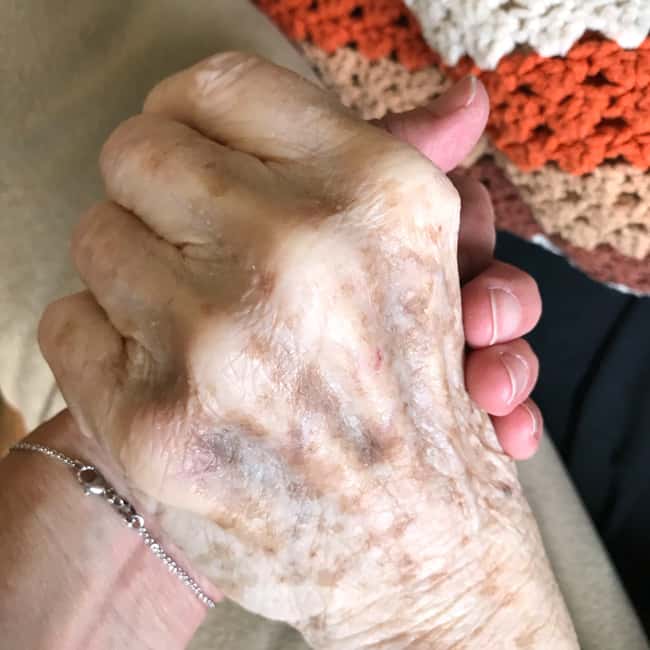 After a week of mourning the loss and celebrating the life of my dear mother, I'm sitting here looking at all of the photos of her, and smiling through tears at the wonderful flood of emotions I'm feeling. What a beautiful life she lived.
Mom passed away on Holy Thursday, April 18, 2019, from complications of Alzheimers, a cruel disease that slowly took her away from us. We are sad, but we know that she is now fully restored, and free of pain and confusion.
__________
Family was Mom's #1 priority.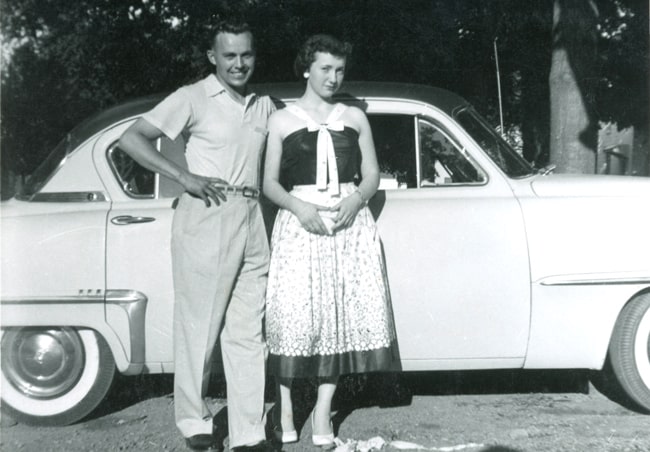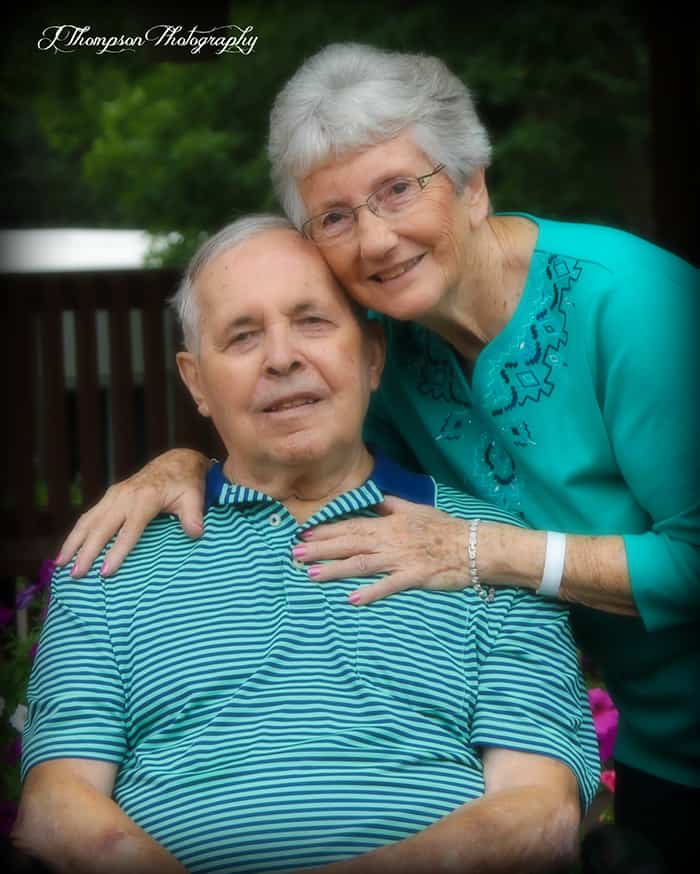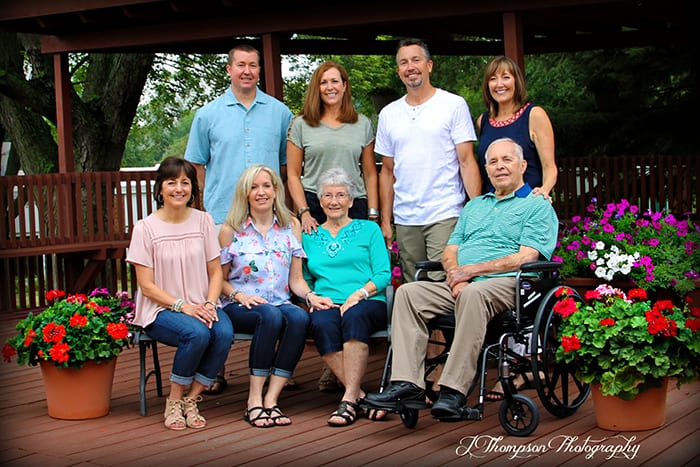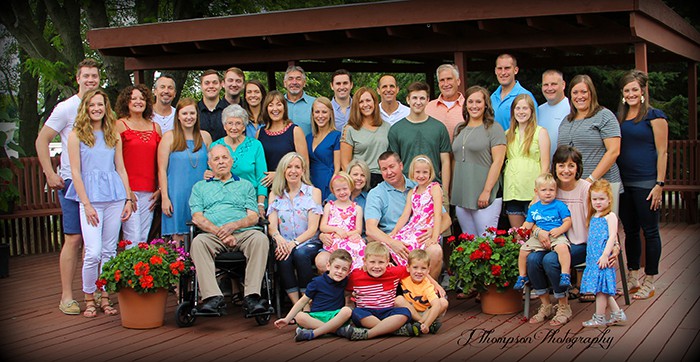 Norma Jean (Becker) Reding was born on June 15, 1937, the 9th of 14 children. She met Dad at a local dance, and the rest is history. They married in May of 1957, settled in St. Joe, Iowa, and proceeded to have six children – Lauri, Jackie, Dave, Shari, Sue (me), and Rob. Mom was a SAHM (stay-at-home-mom), and was the ultimate housewife and mother. I have vivid memories of her hanging the bedding outside on the clothesline, ironing everything we wore (even Dad's "hankies"), cleaning our home twice weekly, making homemade casseroles to feed eight, mending our clothes, planning picnic lunches/family barbecues with relatives and friends, and making sure we were properly dressed and on-time for church.
Mom and Dad were married for almost 62 years. They were a traditional couple – Dad was self-employed and Mom took care of the house and kids. They loved each other up until the end, with Dad holding Mom's hand as she took her final breath.
__________
Swaddled in Love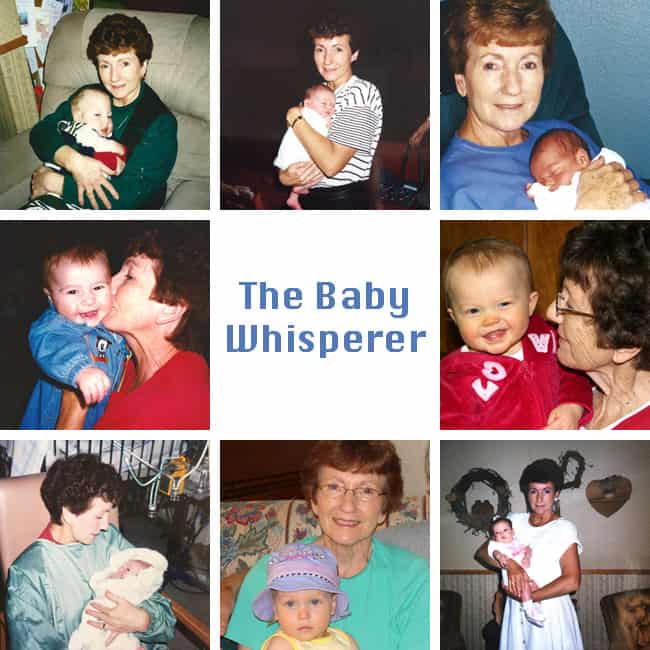 Over the years, Mom and Dad gained four son-in-laws and two daughter-in-laws, and then 15 grandchildren and eight great-grandchildren (with one on the way). Grandchildren were so special to Mom, and even though her children moved far and wide, she and Dad were present to welcome each one of them to the world. Mom was a "baby whisperer'. She knew just how to rock them to sleep, and taught us new parents how to bathe, swaddle, and feed. I'll never forget the trips to Dallas to meet their grandsons.
Family was everything to Mom. She gave all of herself to us, and she and Dad rushed to the side of their children whenever we needed them. There were sick babies, surgeries and illness, the death of their grandson, Ben, and other emergencies. They traveled for fun too – new houses to settle into, grandchildren's birthdays, ballgames, and activities, and just because. Mom and Dad loved coming to visit us in Texas, and when I was still working, I'd come home to a kitchen full of homemade breads, rolls, and cookies. Let's just say the boys were over the moon! Josh told me recently, "I'll always remember her little quirks, like always making sure I was full." 🙂
__________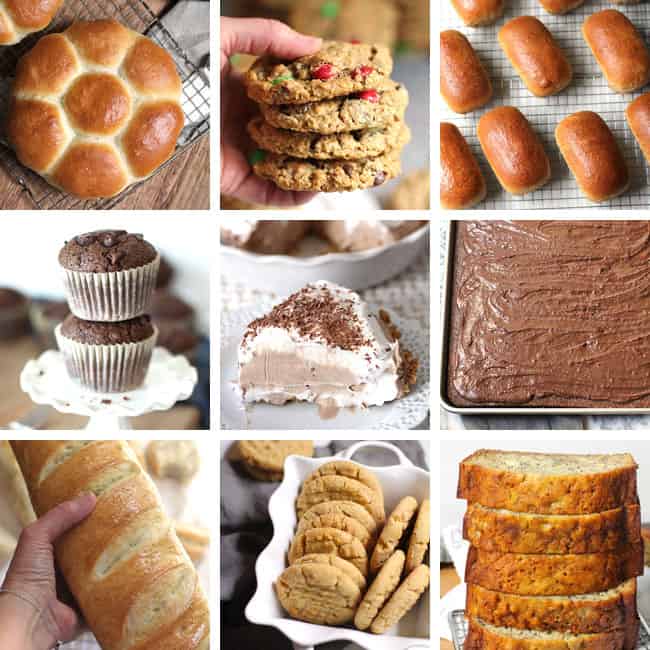 This blog is dedicated to Mom, aka Norma Jean's Kitchen. The kitchen was indeed her happy place, and we spent countless hours with her, scouring cookbooks for certain recipes, baking bread and cookies (along with full meals), and just having coffee at her kitchen bar. I've shared many of her recipes on here, most of them being her wonderful baked goods. I have so many favorites, but the collage above is pretty representative of Mom's baking.
Mom's love language was definitely food, and she gave away more than she kept at home to consume. When she baked bread and rolls, she made double batches so that we could deliver to the neighbors and the priests that lived across the street. Her freezer was always stocked with extras for when her grown children came home for a visit, or for the many drop-in friends and family. When people dropped in, a pot of coffee was brewed, and a few cookie balls were taken from the freezer and baked fresh. She was known for her hospitality, and she did it so well.
For the 56 years that Mom and Dad lived in St. Joe (in our childhood home), they played an active part in their parish community. Mom was often the head of her church group, parish dinner, or the monthly coffee and rolls after Sunday mass. She sang in the choir, distributed communion, and was a lector for weekend services. When volunteers were needed, Norma Jean was usually first in line.
__________
A "green thumb"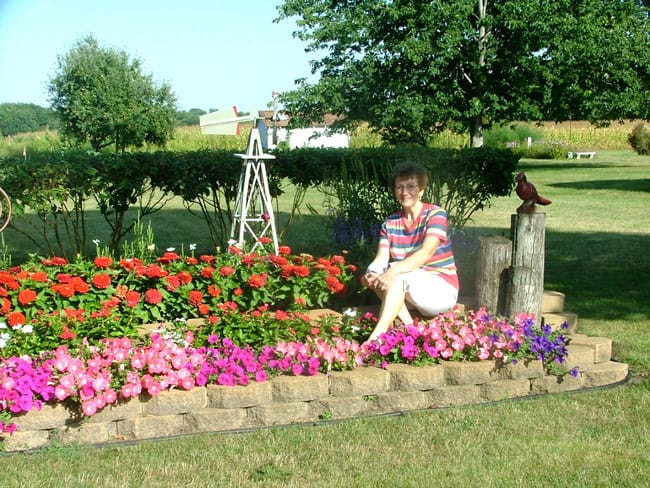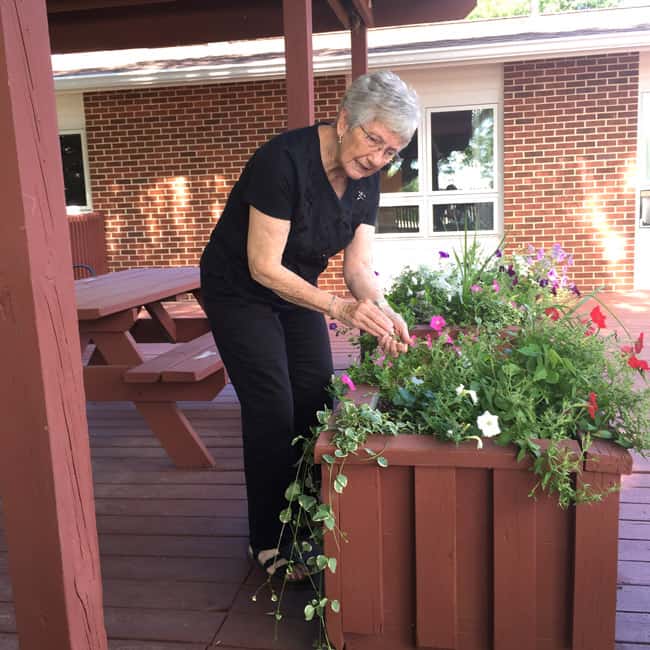 Norma Jean had the greenest of thumbs! She loved tending both her beautiful flower garden and vegetable gardens. Summertime was an exceptional time of year, and she shared her bounty of fresh garden produce with her friends and neighbors. Fresh lettuce, onions, radishes, beets, carrots, green beans, rhubarb, potatoes, cucumbers, and tomatoes GALORE! Dad got his fair share and then some, and Mom made sure his lettuce and cucumber salads had an excessive amount of vinegar and onions, just like he wanted. 🙂 I can picture her now, bent over in the garden getting every ripe veggie, bringing them into her kitchen, and then working her magic. Gosh, what I would give for another glimpse.
In the early years at the nursing home, Mom tended to the flowers on the deck, deadheading to the nth degree (and occasionally removing flowers instead of brown leaves). Eventually, that faded along with so many other things.
__________
Homemade Quilts and Potholders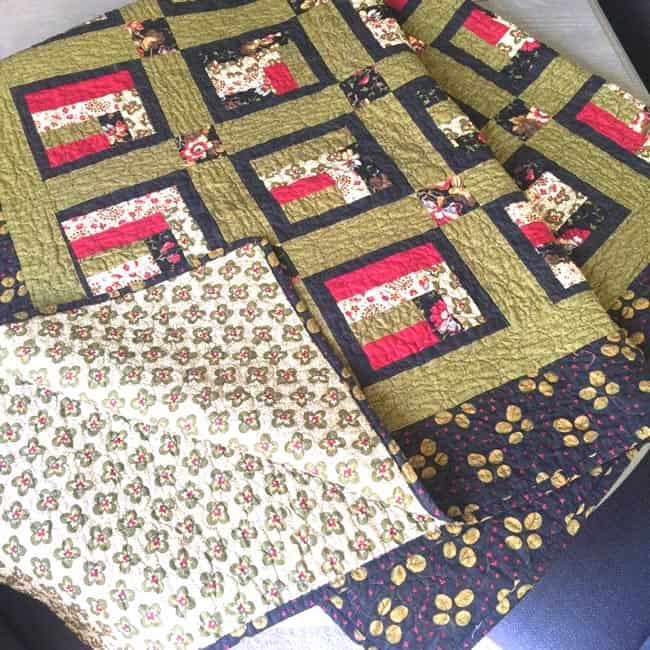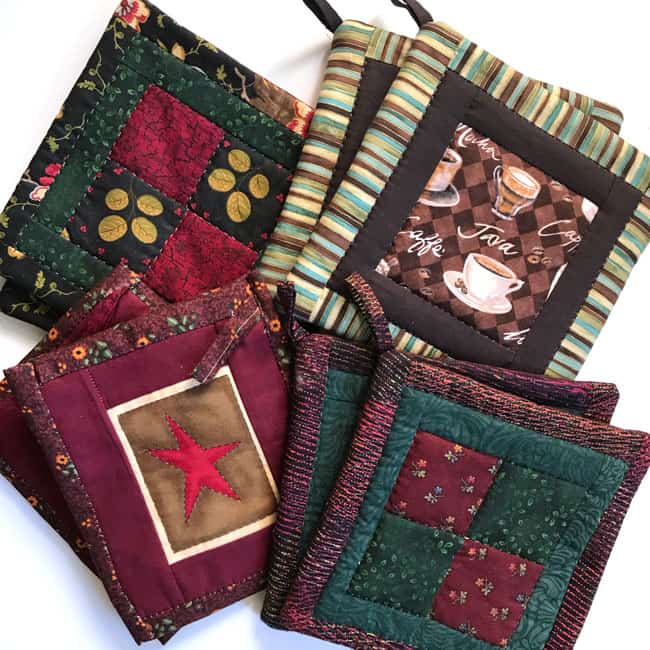 Mom was lucky to be near to so many of her siblings. She loved her "sister time" (and sister-in-law time) – playing cards, sewing quilts, and cooking and baking together. All of us kids have a couple of her homemade quilts, and she made each of her grandchildren a special baby quilt at birth and a larger one for their high school graduation. Potholders were her specialty, and she gave many of those to her kids, grandkids, and other friends and family who happened to stop by.
When Mom started needing care her family showed up often, and we are beyond grateful for them.
__________
Home Sweet Home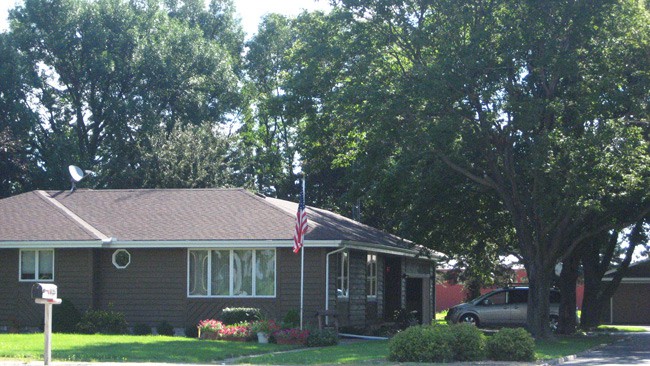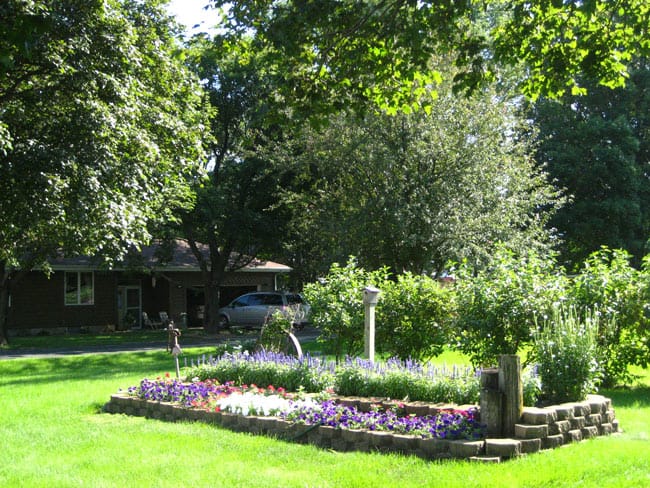 Mom and Dad took pristine care of their home and yard, and it was evident each time we visited. We made so many great memories there, and while the house was small, we continued to congregate there as our family grew in size. "I'll be home for Christmas" took on new meaning each year, and I'm so happy that my boys experienced this joy along with their grandparents, aunts, uncles, and cousins.
Moving Mom and Dad out of their forever home started a difficult journey. Dad was failing physically, while Mom was becoming more and more confused. They eventually needed full-time care, and we reluctantly moved them into Good Sam's Nursing Home, where our older sister works. Lauri has been our saving grace, being there for Mom and Dad whenever needed and then some. Our family is so spread out, and navigating the waters of time and distance has been tricky, and far from perfect. During Mom's final moments and over the past week, Lauri's diligent attention to the details of the Visitation and Funeral services, and her compassionate consideration of our dad and all of us, have left us extremely thankful.
__________
Deeply loved. May she rest in peace.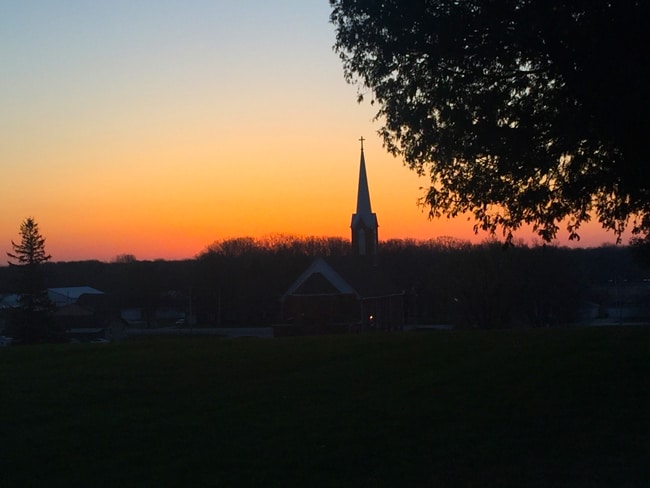 Our childhood home stands across from the beautiful St. Joe church; the place we were baptized, where we attended weekly (and sometimes daily) mass, where some of us were married, and the building that grounds us still today. Mom's funeral took place here, and she was laid to rest in the cemetery behind the church (where my sister recently took this photo). It's the same place we played as kids – flashlight tag and sledding down the hill – and also, the same place our family circled on countless walks for exercise or just to stroll and view our small village from the hillside.
I feel peace when I look at this beautiful sunrise, with that church steeple that we know and love. Our mother is finally at peace, and so deeply loved.