Almond Butter Energy Bites coming 'atcha. Old fashioned oats, nuts, dates, chia seeds, and dark chocolate chips – all held together with some raw honey and homemade almond butter. Time to get our healthy on!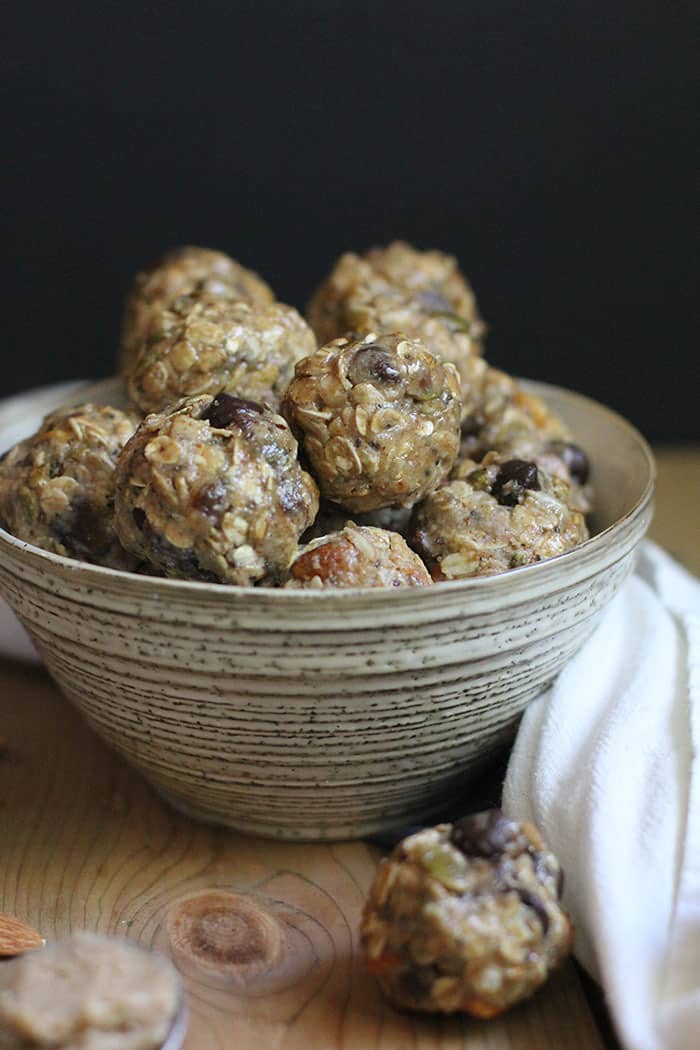 When my health-crazed husband mentioned almond butter, I immediately thought that I'd make a new version of my original power balls. Mike is always reading about the best foods for running and just healthy foods in general, so he has lots of ideas for me. 🙂 Actually, I can't keep up with his ideas. HELP! 🙂
Just kidding. Kind of.
Mike is in training for a marathon. There. I said it.
He's running Grandma's Marathon (providing he stays healthy!) in Duluth, MN, the same marathon he ran 20 YEARS AGO. Back when Josh was a toddler and Zach wasn't here yet. So this is pretty monumental. One would think that in 20 years, the body would be far slower. We're comparing a 31 year old with a 51 year old. But hey, my guy is a superhero of sorts and is in BETTER shape than he was 20 years ago.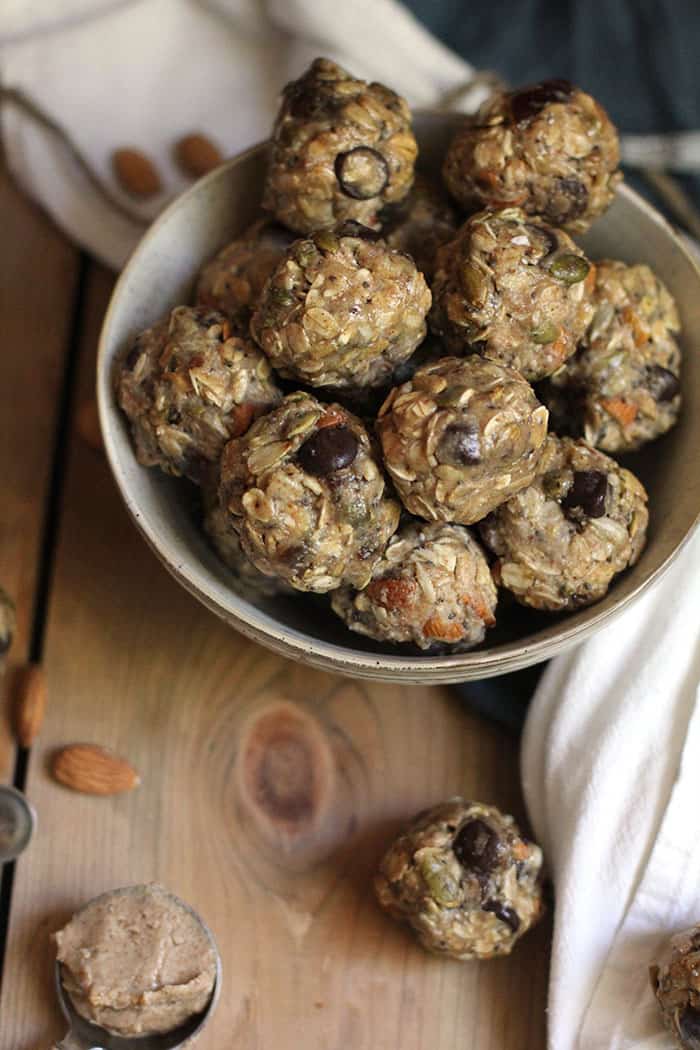 In the next several months, I'll be posting some extra healthy recipes that I'm creating for Mike, my superhero. He's already on a training schedule he found on-line, and spends evenings stretching and using a muscle roller to ease his aching muscles.
The food he eats needs to compliment his training, and I'm trying to do my part in the kitchen.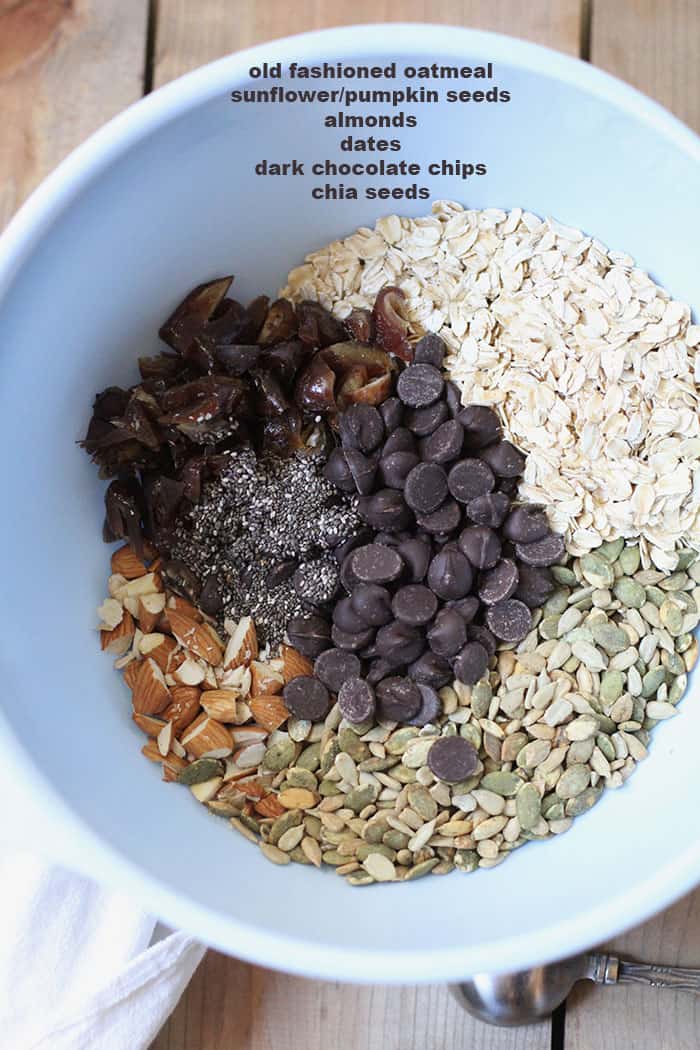 You can see above that these Almond Butter Energy Bites have just six ingredients + honey + almond butter. I used my homemade almond butter, but you COULD buy almond butter at the store. If you have some time and a good food processor
, try my homemade version. It's not like peanut butter, so prepared for the taste to be different. There is no sugar and salt added, so it's just pure almonds that have been creamed.
Here are some other substitutions you could make to this recipe.
Use quick oats instead of old fashioned
Use raisins instead of chopped dates
Use any other kind of nuts, instead of almonds, pumpkin seeds, and sunflower seeds.
Use any other kind of chocolate…or none at all.
Enjoy, and I'd love to know if you make these energy bites! 🙂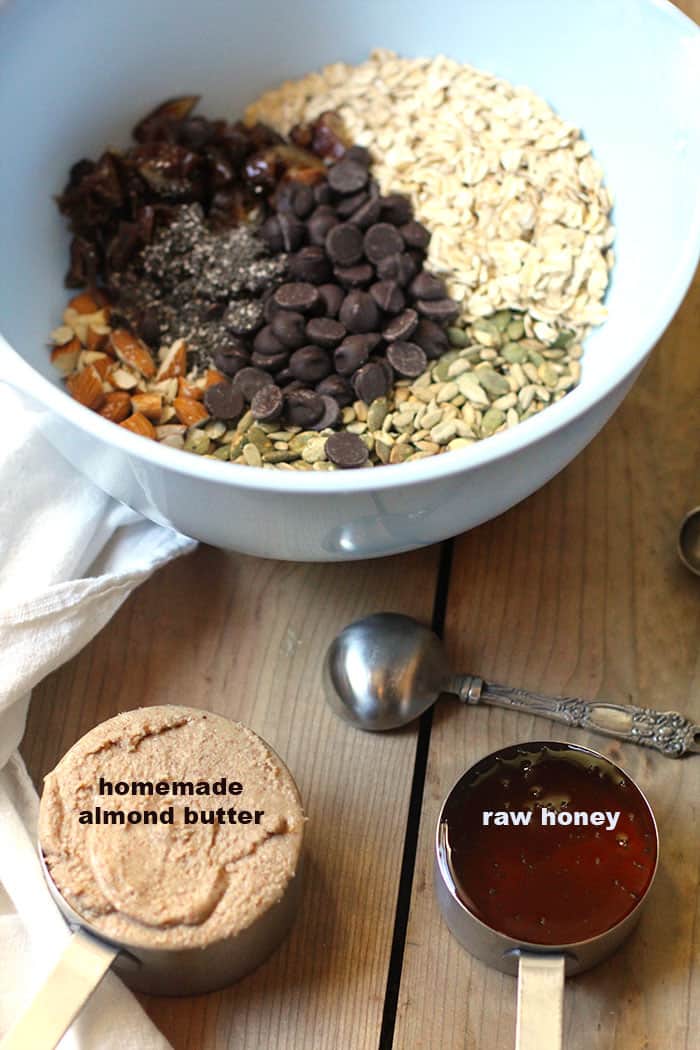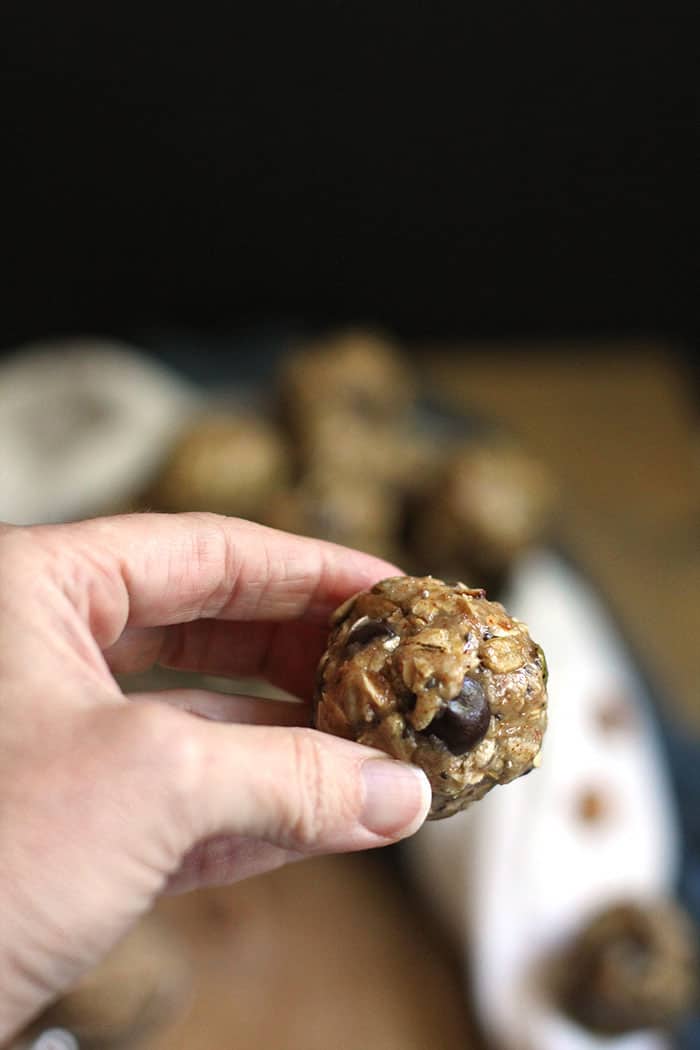 Please let me know if you try these Almond Butter Energy Bites, and how you like them!
You can stay up-to-date with SueBee Homemaker by:
signing up for post updates (top right-hand corner of my blog)
liking my Facebook Page
and following me on Pinterest
I'm also sharing tidbits of my life on Instagram.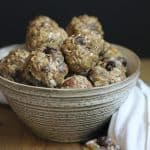 Almond Butter Energy Bites
Ingredients
1

cup

old fashioned oats

1/2

cup

sunflower seeds

1/2

cup

pumpkin seeds

1/2

cup

chopped almonds (unsalted)

1/2

cup

chopped dates

1/2

cup

dark chocolate chips

1

Tablespoon

chia seeds

1

cup

almond butter

- homemade recipe

1/2

cup

raw honey
Instructions
Make my homemade almond butter recipe or you can use store bought.

Mix all ingredients together in large mixing bowl. Store in refrigerator for 30 minutes for easier handling.

Form into balls and place on baking sheet. Freeze for 30 minutes.

Place balls in airtight container or freezer bag. Keep in refrigerator or freezer.
Nutrition Facts
Almond Butter Energy Bites
Amount Per Serving
Calories 159
Calories from Fat 72
% Daily Value*
Total Fat 8g 12%
Sodium 5mg 0%
Potassium 135mg 4%
Total Carbohydrates 18g 6%
Protein 4g 8%
* Percent Daily Values are based on a 2000 calorie diet.
Did you make this recipe?
Tag @suebeehomemaker on Instagram and hashtag it #suebeehomemaker