This post may contain affiliate links which won't change your price but will share a commission.
Apple Cinnamon Cobbler is a classic recipe and will soon be your new favorite fall dessert. Use your favorite apples combined with the best cake-like cobbler topping! We like this warm with ice cream!
Fall desserts are the best, and we enjoy apple season to its fullest. Make sure you try my Apple Pie Banana Bundt Cake or my Apple Spice Cake (with caramel sauce) next!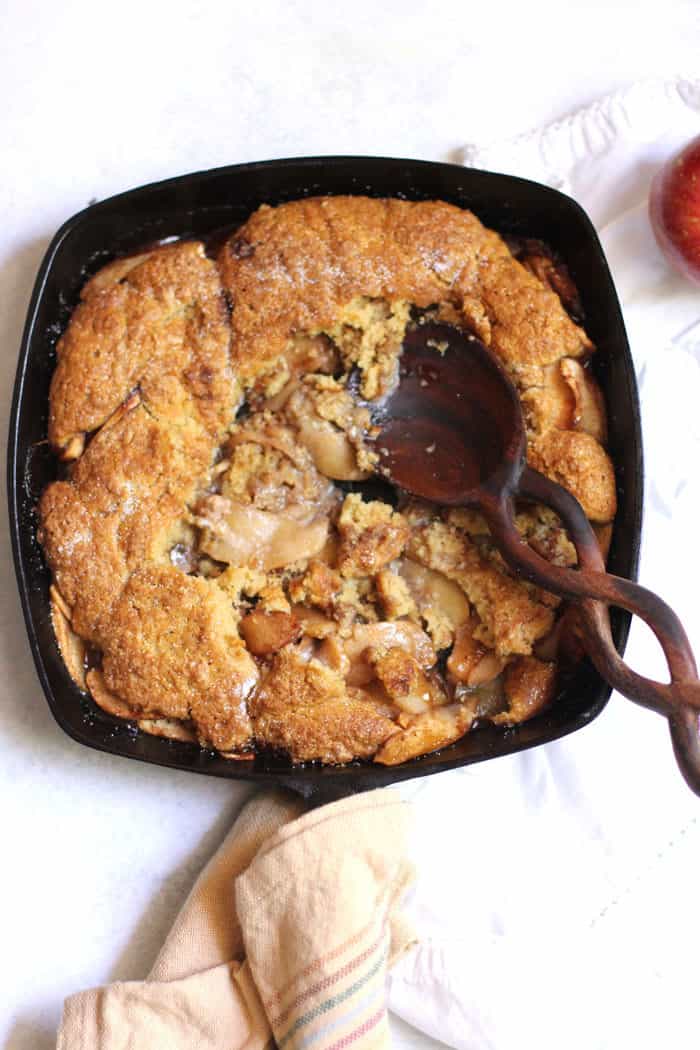 Best Apple Cobbler
Fall is almost here, and that means it's all about them apples. Apple crisp, apple pie, applesauce, apple cider, and just plain APPLES.
Since I grew up in Iowa and lived in the Minneapolis/St. Paul area for a couple of years, I spent many fall days at the apple orchards. Picking apples is such a sweet memory for me, and I almost ALWAYS 1) ate too many apples as I picked them, and 2) put too many apples in my basket. I vividly recall bringing a BUSHEL of them back to our apartment one day, and Mike just rolling his eyes. Just like a kid in a candy store, I couldn't contain myself.
So what was I to do with so many apples for just two of us?
B A K E !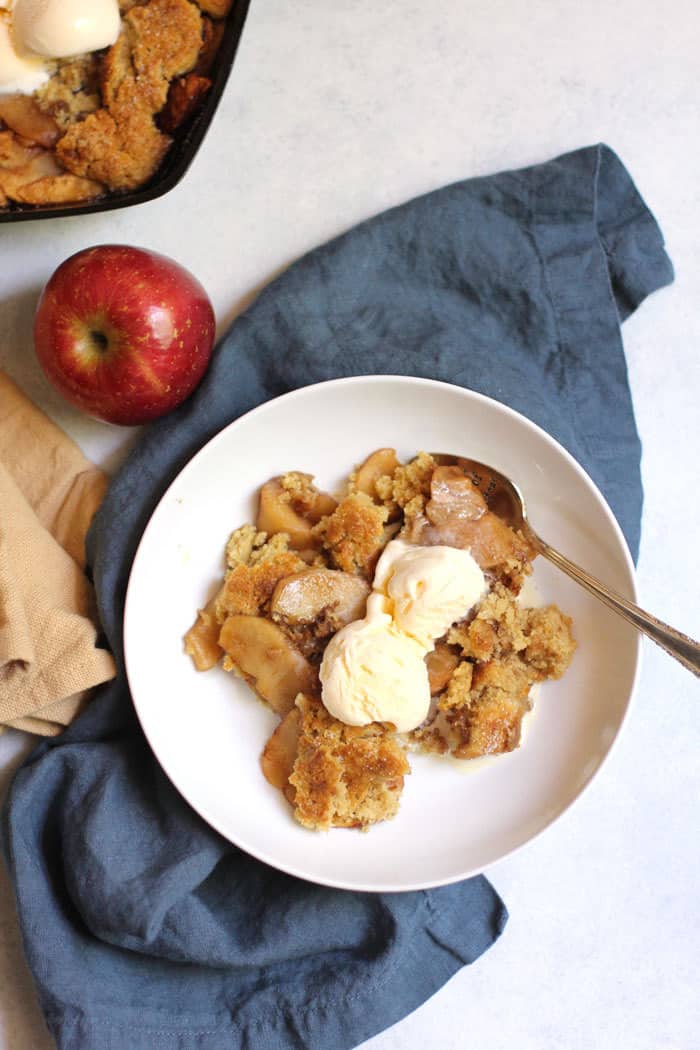 As you may recall, I have a peach cobbler recipe on my blog too. It's very similar to this one, except for quantities and of course, that one has peaches instead of apples. Both are delish, and I think the peach is naturally a juicier final product. But both are equally amazing.
There are four steps to making this Easy Apple Cobbler
Prepare the apples. Peel and slice the apples, and add to a mixing bowl. Then add the fresh lemon juice, vanilla, brown sugar, cinnamon, and corn starch – and mix well. Pour into a cast iron skillet (see below) or use any 8×8 baking dish.
Bake the apples. Bake the apples for about 20 minutes on 400 degrees. This will ensure that the apples are soft.
Prepare the topping. In a mixing bowl, combine the topping ingredients – the flour, sugars, baking soda, and salt. Use a pastry cutter (or your hands) to cut in the cold butter. Then heat up the water in the microwave and add it to the mixture. Use a spoon (or your hands) to add dollops of the topping to the partially cooked apples.
Bake. Finish the cobbler by baking for another 20-25 minutes.
To Serve. Serve this delicious apple cobbler with scoops of vanilla ice cream! Best eaten warm out of the oven!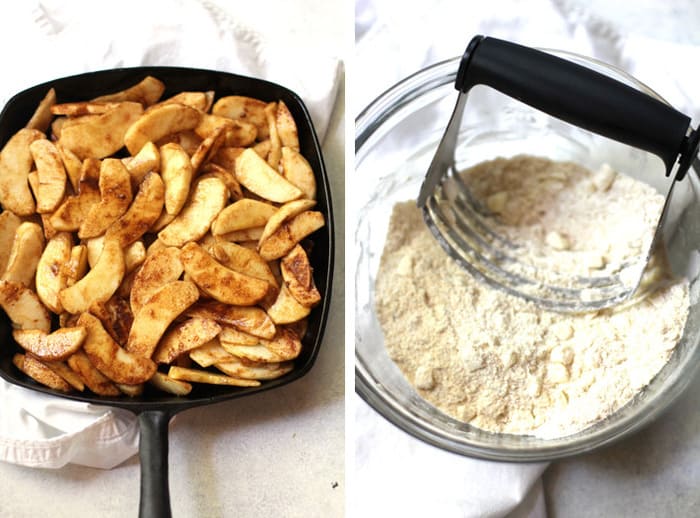 What kind of apples should I use for cobbler?
I normally use a variety of apples for my cobbler. In this instance, I used all Fuji, but I've also made it with one Granny Smith, one Fuji, and one Gala. Since I'm a Texan now, I go with whatever looks good at the grocery store and change it up almost every time.
My Favorite Baking Apples:
Braeburn
Fuji
Gala
Granny Smith
Honeycrisp
Jonathan
Pink Lady
What are your favorite apples to bake with?
How is apple cobbler different from apple crisp?
There is a difference between apple crisp and apple cobbler. Apple crisp (like its name) has a crispy crumble topping made with oatmeal. The topping for apple cobbler is generally a smooth batter that is poured on top of the apple filling and bakes more cake-like.
Can You Freeze Apple Cobbler?
This recipe doesn't do especially well when frozen. The cobbler topping can get quite mushy, and the apple texture isn't the best after freezing. Since this is such a quick dessert to make, I always recommend making it fresh!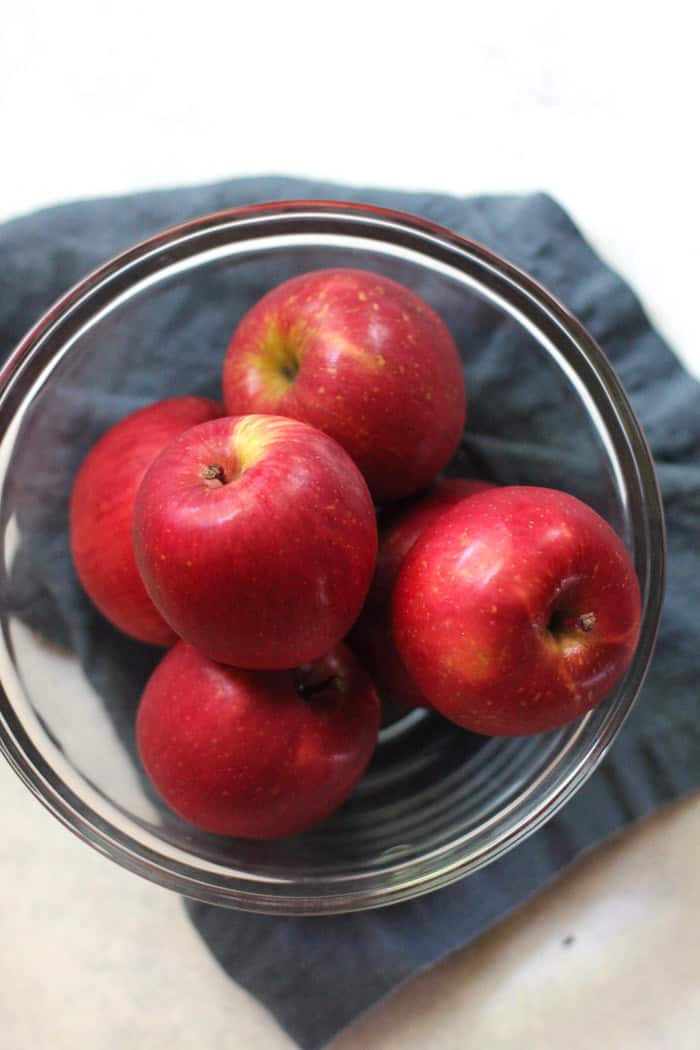 "An apple a day keeps the doctor away." – I'm not sure who came up with that, but I've used it several times with the boys over the years. Apples have powerful healthy benefits, and it's best to eat the whole thing – both flesh and skin. I think I've even eaten a seed or two in my day. 🙂
Some healthy benefits of apples:
Apples aid in weight loss. With an average calorie count of only 80 each, you can afford to eat two.
Apples are heart healthy. High in soluble fiber, they help lower cholesterol.
They are good for your gut health, as the pectin feeds the good bacteria.
Apple juice may benefit our brain in old age, by preventing the decline of neurotransmitters that are involved in memory.
Off to eat my apple!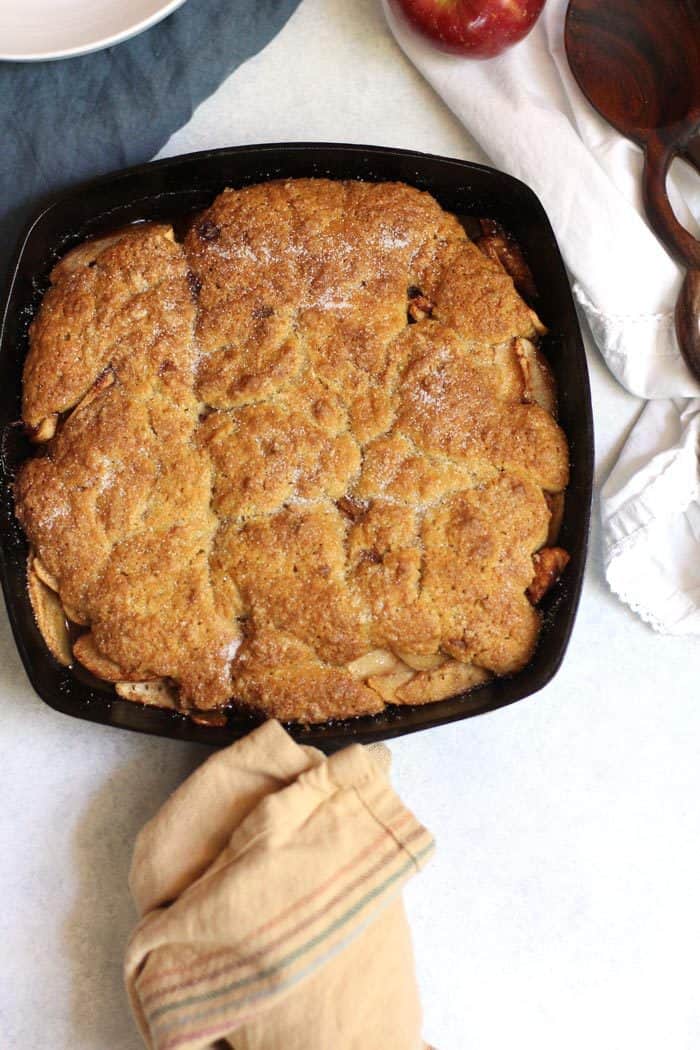 Make this apple dessert next: Apple Pie Banana Bundt Cake
Please let know if you try this recipe. Be sure to comment and leave a review on the blog so I can see what you think. You can also like my Facebook Page, follow me on Pinterest, and catch me on Instagram.
xoxo ~Sue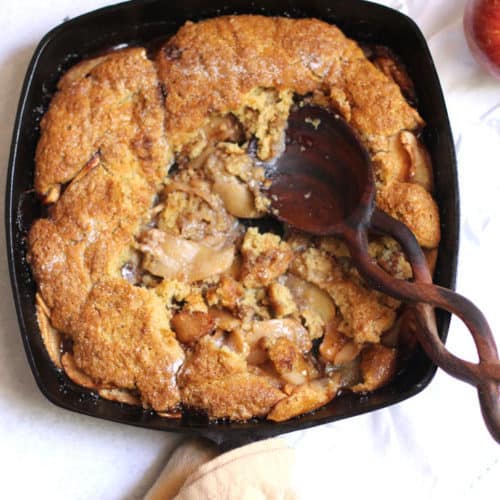 Apple Cinnamon Cobbler
Apple Cinnamon Cobbler is gonna be your new favorite fall dessert. Use your favorite apples combined with the best cobbler topping in the universe!

Print
Pin
Rate
Ingredients
For the apples:
5

large

apples (fuji, honey crisp, granny smith, pink lady)

– peeled and sliced

1/2

fresh

lemon

– freshly squeezed

2

teaspoons

vanilla

1/4

cup

brown sugar

2

teaspoons

cinnamon

2

teaspoons

cornstarch
For the topping:
1

cup

all-purpose flour

3

Tablespoons

granulated sugar

1/3

cup

brown sugar

1

teaspoon

baking soda

1/2

teaspoon

salt

5

Tablespoons

COLD unsalted butter

– cubed

1/3

cup

boiling water

a sprinkle of sugar
Instructions
Preheat oven to 400 degrees.

Peel and slice the apples, and add to a mixing bowl. Add the fresh lemon juice, vanilla, brown sugar, cinnamon, and cornstarch. Mix well, and pour into a greased cast iron skillet (or other oven friendly dish/pan).

Place skillet in oven and bake for 20 minutes.

Meanwhile, prepare the topping. In a mixing bowl, combine the flour, sugar, brown sugar, baking soda, and salt. Using a pastry cutter (or your hands), cut the COLD butter into the ingredients, until the topping resembles course crumbs.

Place 1/3 cup water in microwave, and heat until boiling. Pour over the topping ingredients, stir well, and add to top of skillet with apples. Top with a dusting of sugar.

Bake for 20-25 minutes, or until golden brown.

Serve warm, fresh from the oven, with scoops of vanilla ice cream!
Notes
Instead of using one kind of apple, feel free to mix a few different kinds!
You can use a food processor or your hands (instead of a pastry cutter) to cut the butter into the topping mixture.
Any oven friendly baking dish will work just fine for this cobbler. 
You could also double this recipe and use a 9×13 baking dish.
Nutrition
Calories:
368
kcal
|
Carbohydrates:
69
g
|
Protein:
2
g
|
Fat:
9
g
|
Saturated Fat:
6
g
|
Cholesterol:
25
mg
|
Sodium:
386
mg
|
Potassium:
249
mg
|
Fiber:
5
g
|
Sugar:
46
g
|
Vitamin A:
390
IU
|
Vitamin C:
8.6
mg
|
Calcium:
42
mg
|
Iron:
1.4
mg