This post may contain affiliate links which won't change your price but will share a commission.
Skillet Peach Cobbler is a slightly sweet, but not-too-sweet, fall dessert that is amazing with a couple of scoops of vanilla ice cream. So delicious served warm!
I love using fresh peaches in desserts because they are naturally sweet. For more peachy options, try my Easy Peach Galette or my Puff Pastry Peach Tartlets! For another cobbler recipe, give my Apple Cinnamon Cobbler a go!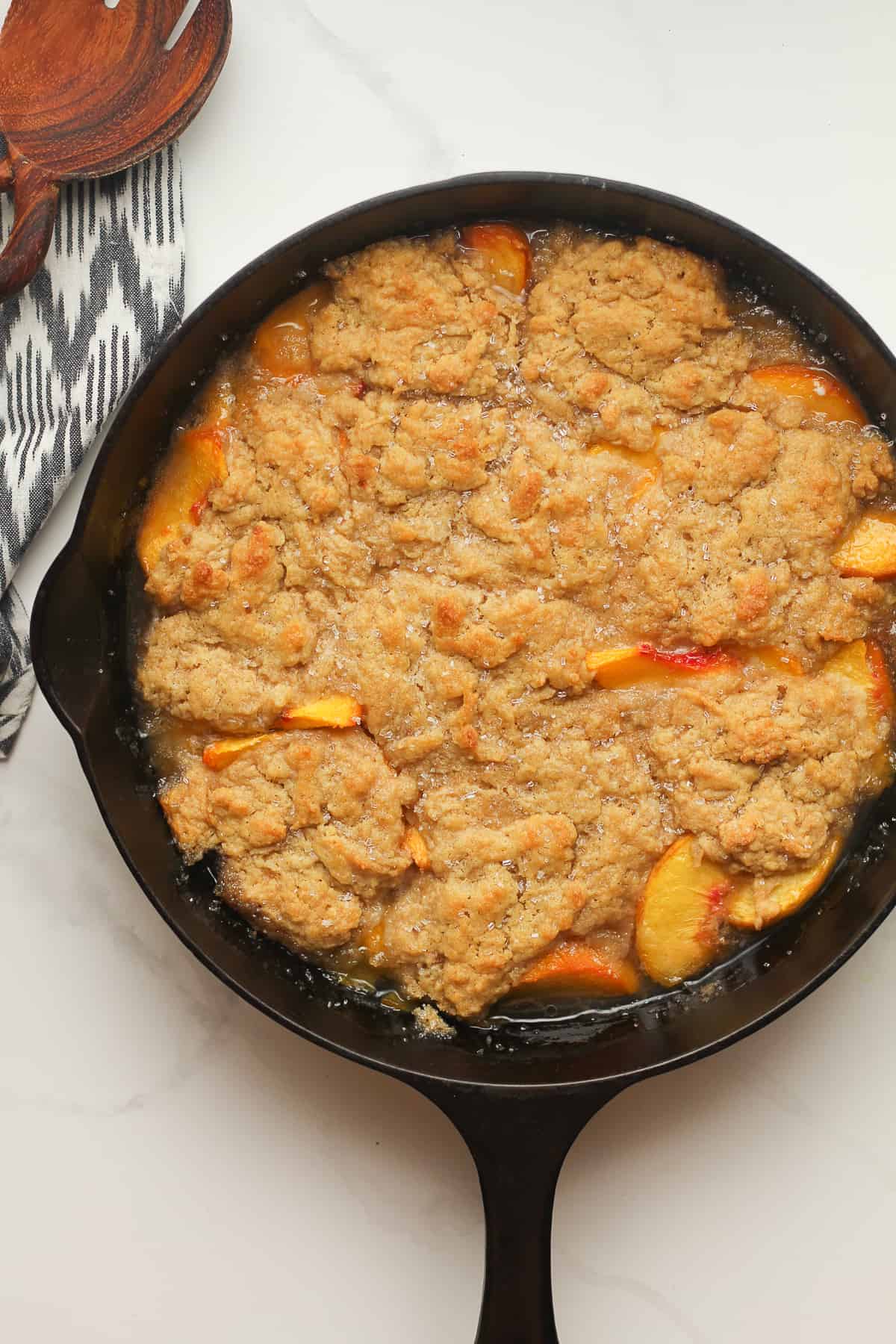 Best Peach Cobbler
We are huge fruit lovers, and when I over-buy (ummm yea, frequently) I tend to either make smoothies or turn the fruit into something sweet. Lately, I've been buying peaches EVERY time I go to the store. We love them, especially in season. The best ones are those that literally drip down your face after each bite. JUICYYYY! 🙂
THIS cobbler, y'all. It's impossible to describe how good it is! But I'll give it a try.
Juicy – The peach layer is soft, juicy, and slightly syrupy from the combination of ingredients.
Crumbly – The cobbler topping literally melts in your mouth as you're eating, especially if it's served warm.
Melt-in-your-mouth delicious – A perfect description for this cobbler. Give it a try while peaches are in season!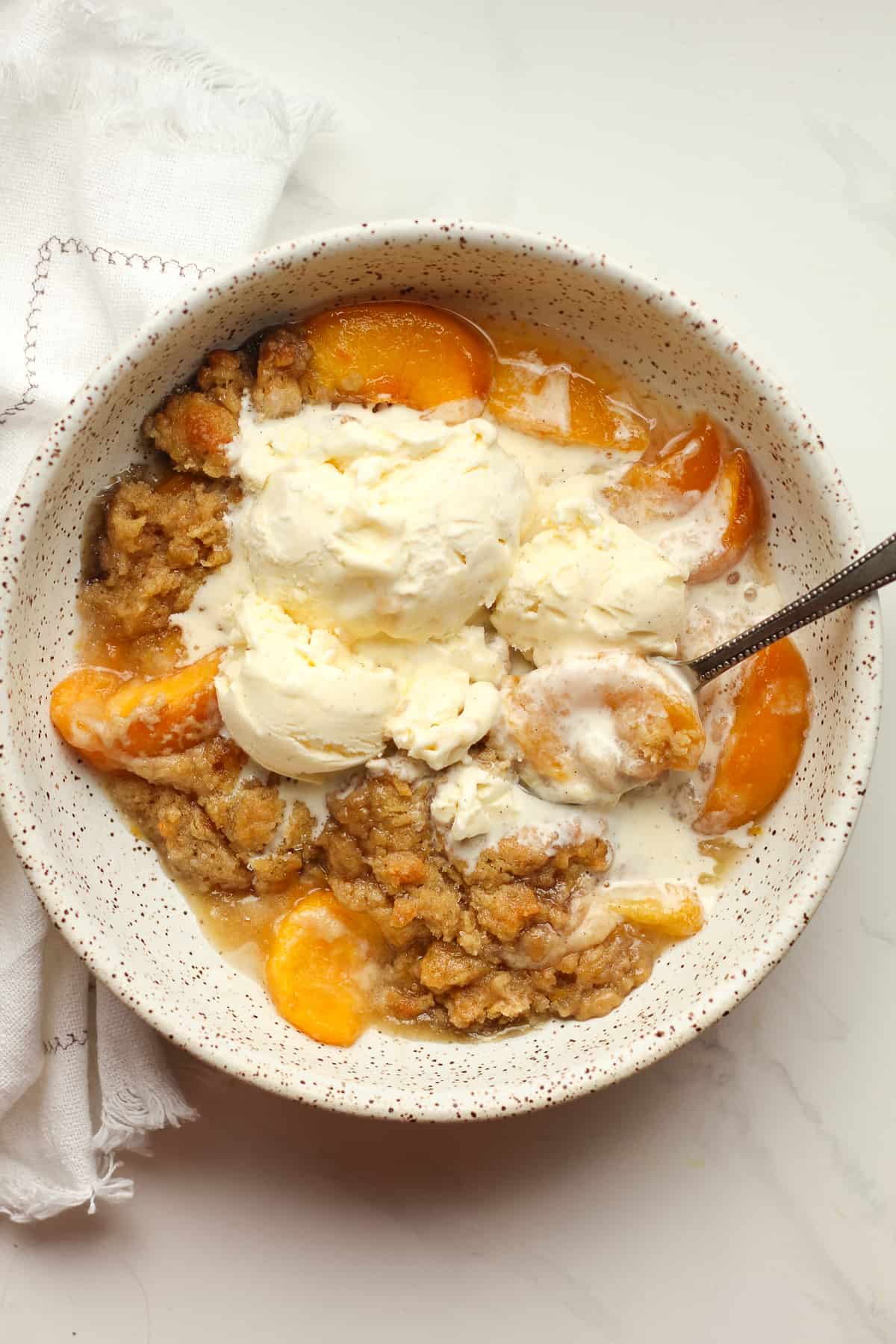 Choosing fresh peaches
Peach season is from June to September each year. This is the time period when you'll find the best, juiciest peaches so indulge! For this recipe, I used yellow peaches which have been so delicious. You can also use white peaches too.
When choosing your peaches, look for ones that are without blemishes on the skin. Use your thumb to press into the peaches. You want them to feel firm but a little bit soft too. If you purchase peaches that are very firm, let them sit on your countertop to ripen slightly. If you want to keep them from ripening too fast, place them in the refrigerator until you're ready to eat.
How to Easily Peel Peaches (Blanching)
Do you want to make the process of peeling peaches easier? This will do it. Just a quick boil allows for no waste and no knife necessary!
Boil. Bring a saucepan of water to a boil over medium-high heat. Submerge peaches, three at a time, for 30 seconds.
Do a quick ice bath. Remove peaches immediately to an ice bath until cool.
Peel. Use your fingers to pull the skin off the peaches. This should be very simple to do after this process.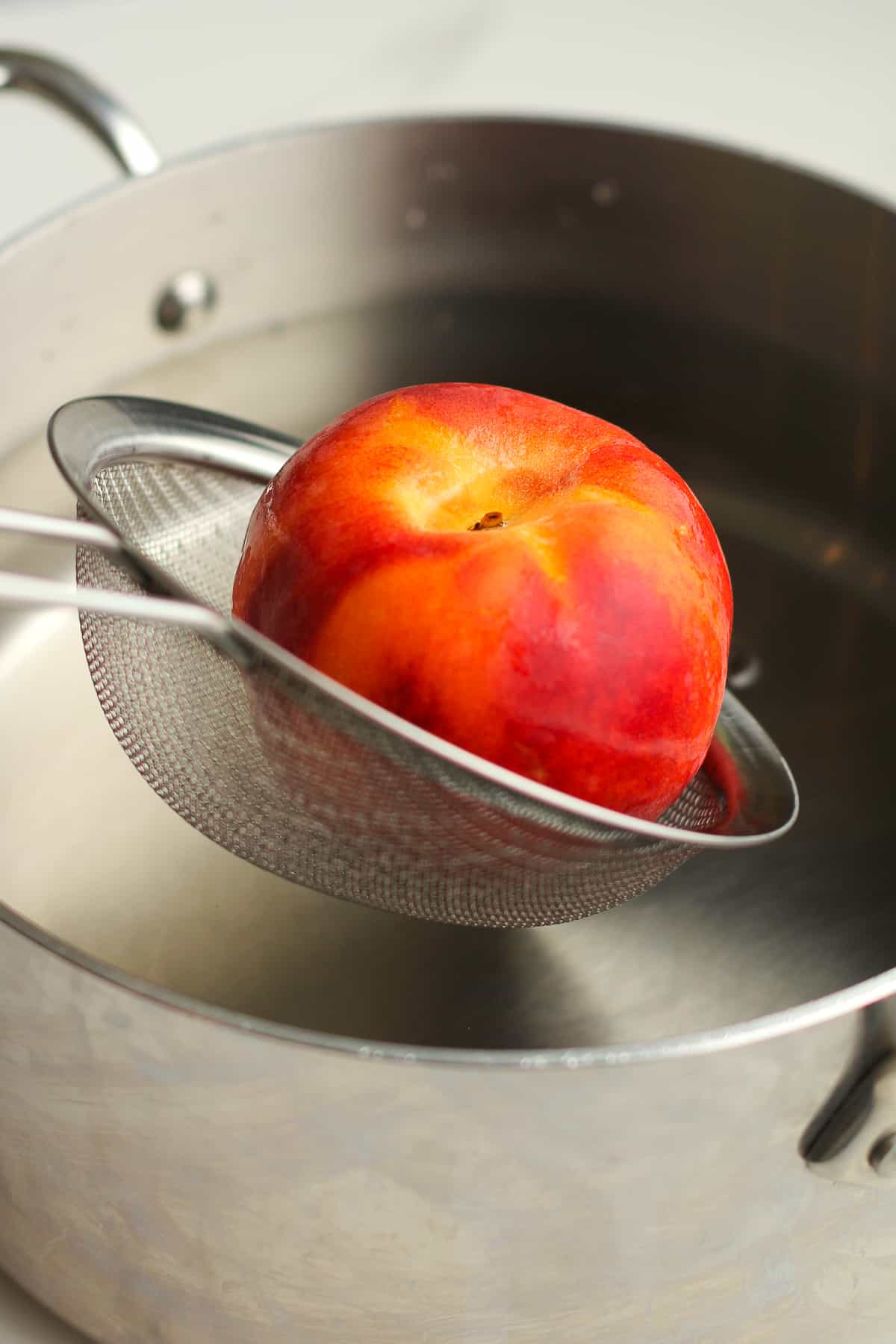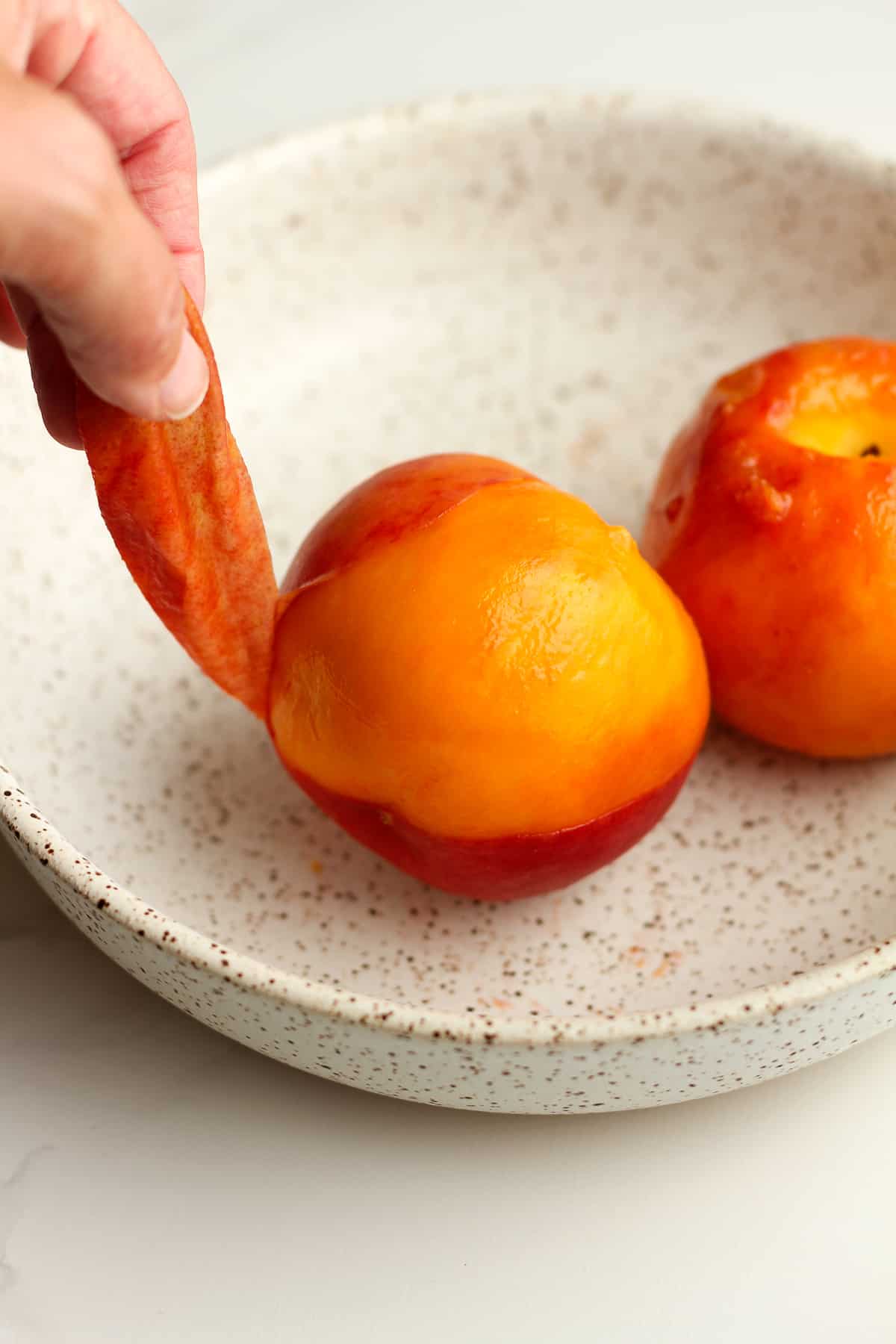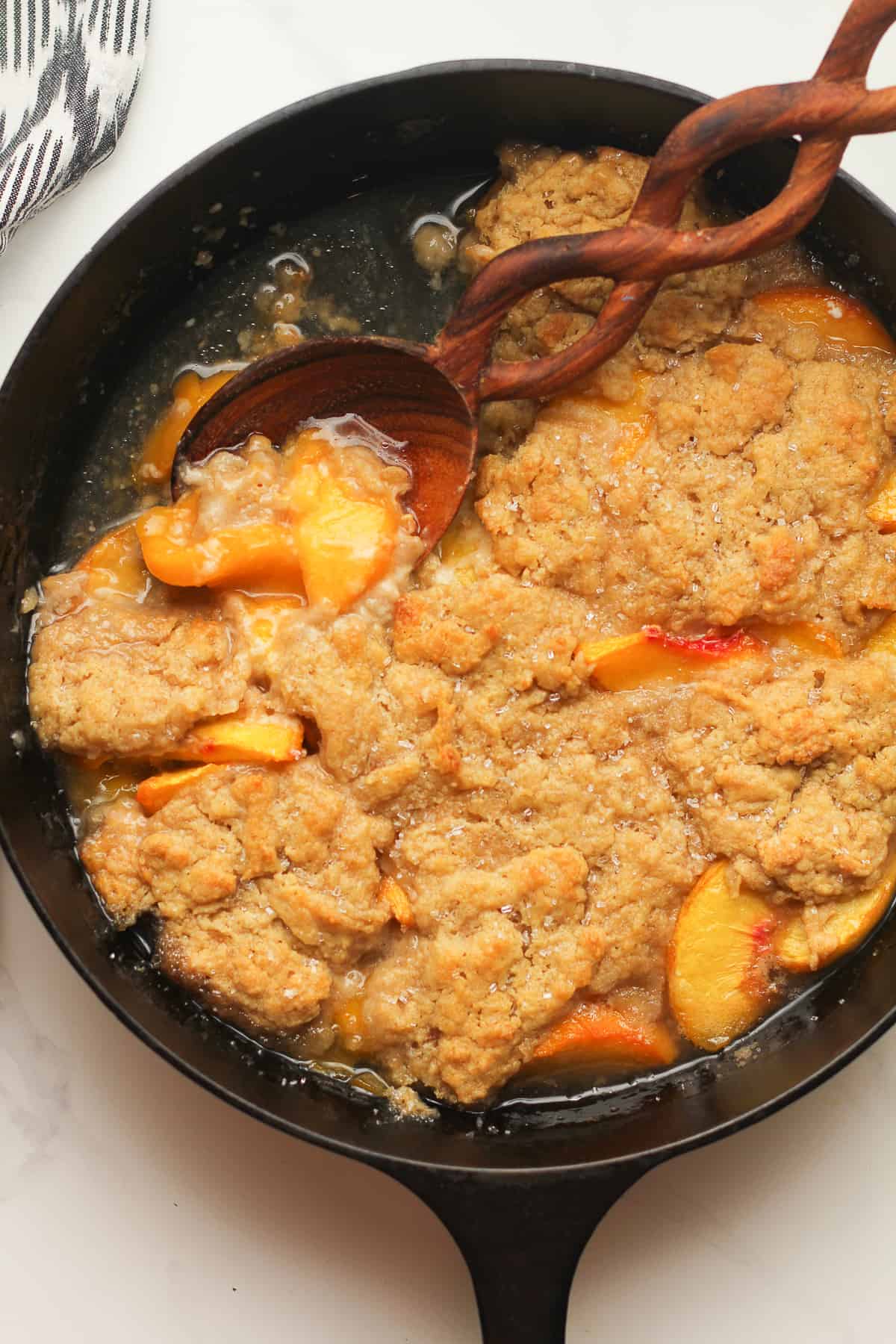 How to make peach cobbler
This Skillet Peach Cobbler is really easy. I used one bowl (and wiped it out between layers) and one skillet.
Prepare the peaches: Peel and slice the peaches, and add to a mixing bowl. Add remaining ingredients – fresh lemon juice, vanilla, sugar, and cornstarch. Stir well and pour into a cast iron skillet.
Bake the peaches for 15 minutes at 350 degrees.
Prepare the topping: Wipe out the mixing bowl and use it again for the topping. Mix the topping ingredients – flour, brown sugar, baking soda, and salt. Use a pastry cutter (or use your hands) to cut in the cold butter. Add the hot water, stir, and use a spoon or your hands (if it's not too hot!) to add dollops over the partially baked peaches.
Bake. Bake the cobbler for another 15 minutes.
See? Easy as pie. Or cobbler.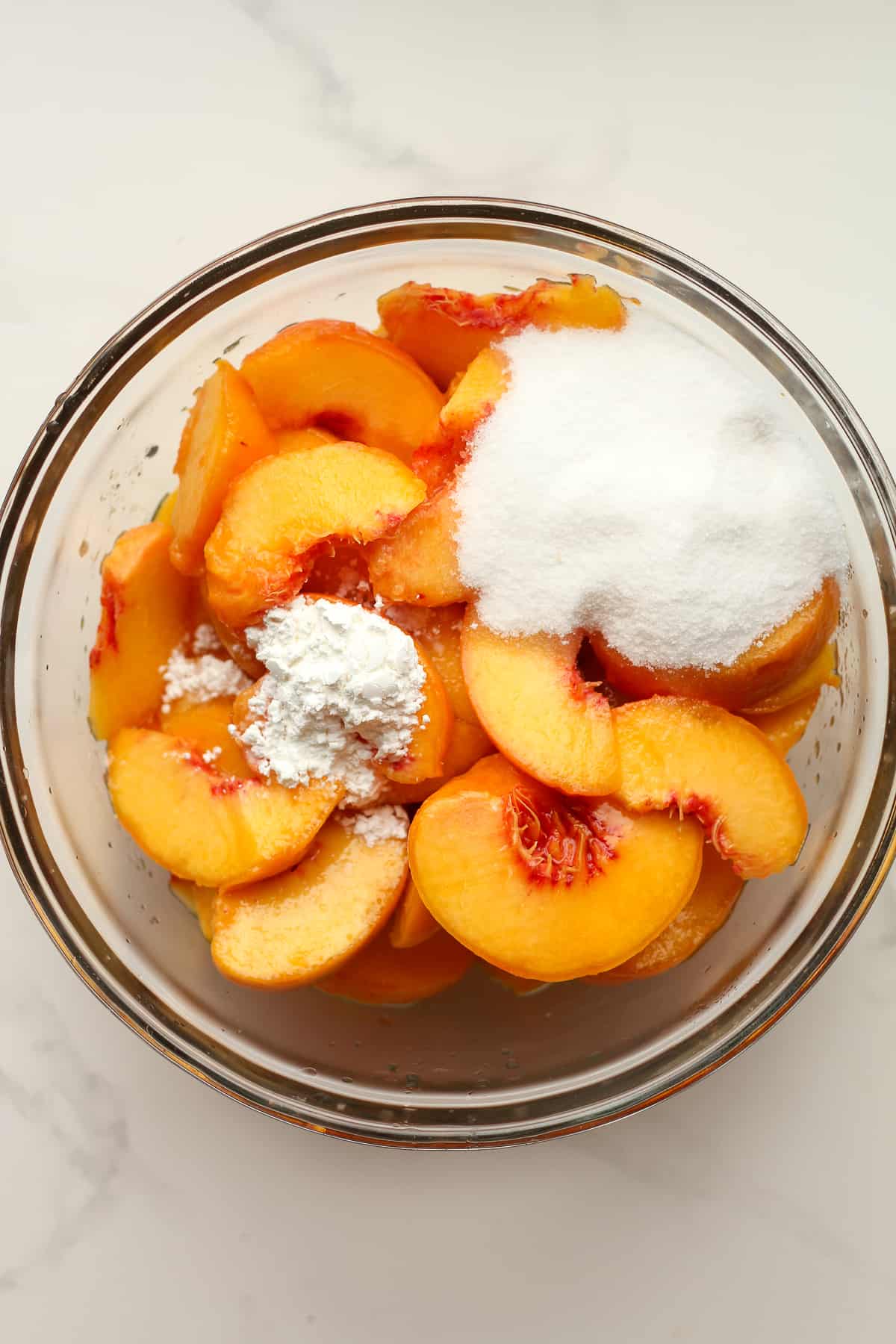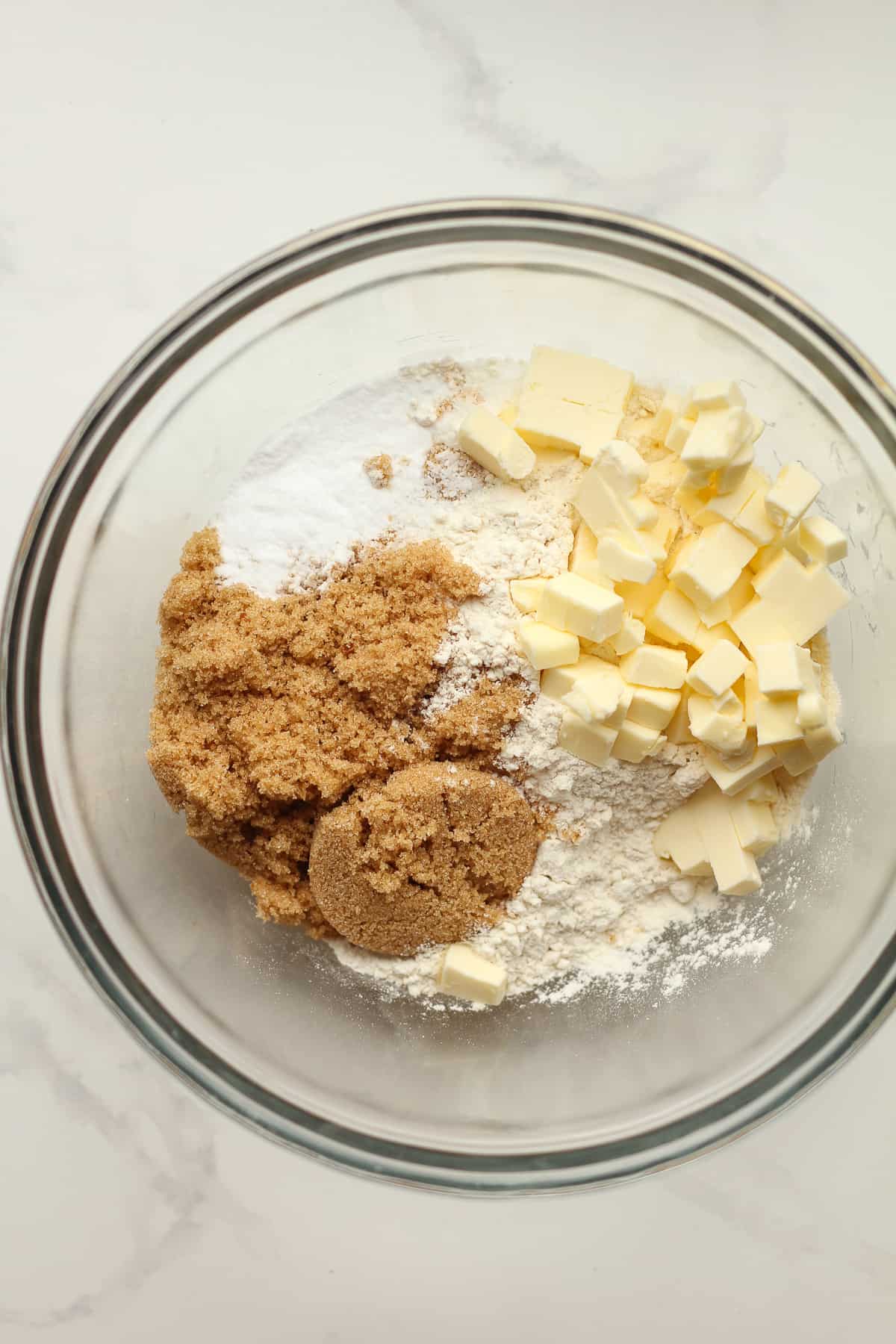 Let the cobbler rest
I recommend letting the baked cobbler sit on your countertop for about 30 minutes (or more) before digging in. Fresh peaches have a high percentage of moisture. As they cook, water is released and the sugar and cornstarch helps to thicken and create a syrupy consistency. Be patient and let it rest. (I know, it's difficult to wait!)
To serve. Serve with a few scoops of vanilla ice cream and let it get all melty and creamy! If the cobbler is completely cooled off, you can place individual servings in the microwave and warm it up before adding the ice cream. SO good!
Since I tested this recipe a few times, the remainder of this cobbler went to our neighbors. I ran it over while it was still warm, explaining the missing spoonfuls that I used to photograph the recipe (and then someone ate it)! I hope you enjoyed it, Dan and Debbie! 🙂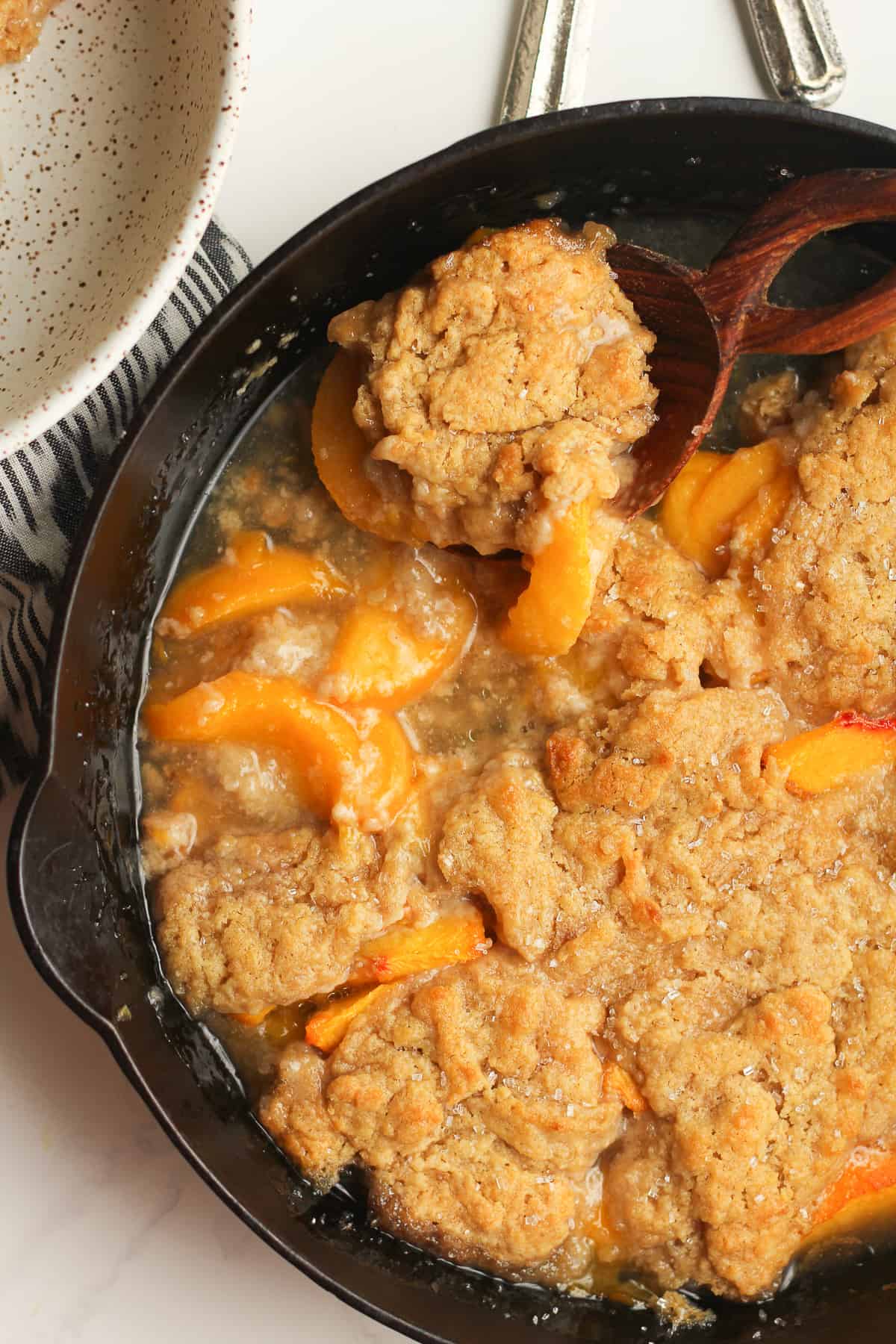 Frequently Asked Questions
How do you know when your peaches are ripe enough for cobbler? When your peaches are just slightly soft when you press your thumb into them, they are perfect for cobbler-making and should be ripe enough to use. You should be able to easily slice them.
Can I use frozen peaches? Yes, you can use frozen peaches. Make sure you let the peaches sit out to completely thaw out before using them. They may not be as sweet as fresh so you may also want to add extra sugar.
Can I use canned peaches? Hmmm, I would not recommend canned. Some do it, but fresh or frozen is best! Using canned would most likely yield a mushy cobbler, which is no bueno.
How about the skin? Can I leave it on? You can. But I like to remove it for an extra creamy texture. I eat the skins when enjoying a fresh peach as a snack but like to remove it for most recipes.
What's the difference between a cobbler and a crisp? While the peach filling is similar with both a cobbler and a crisp, the toppings are different. A cobbler has a smoother topping, and mine is more of a cake batter topping. A crisp has a crunchier topping, which often contains oatmeal and/or nuts. Both are delicious and are great to serve to your family and friends!
How long are leftovers good? Leftovers should be good to eat for 3-4 days. I normally keep them in an airtight container in the refrigerator, but some people keep it on the counter for a couple of days.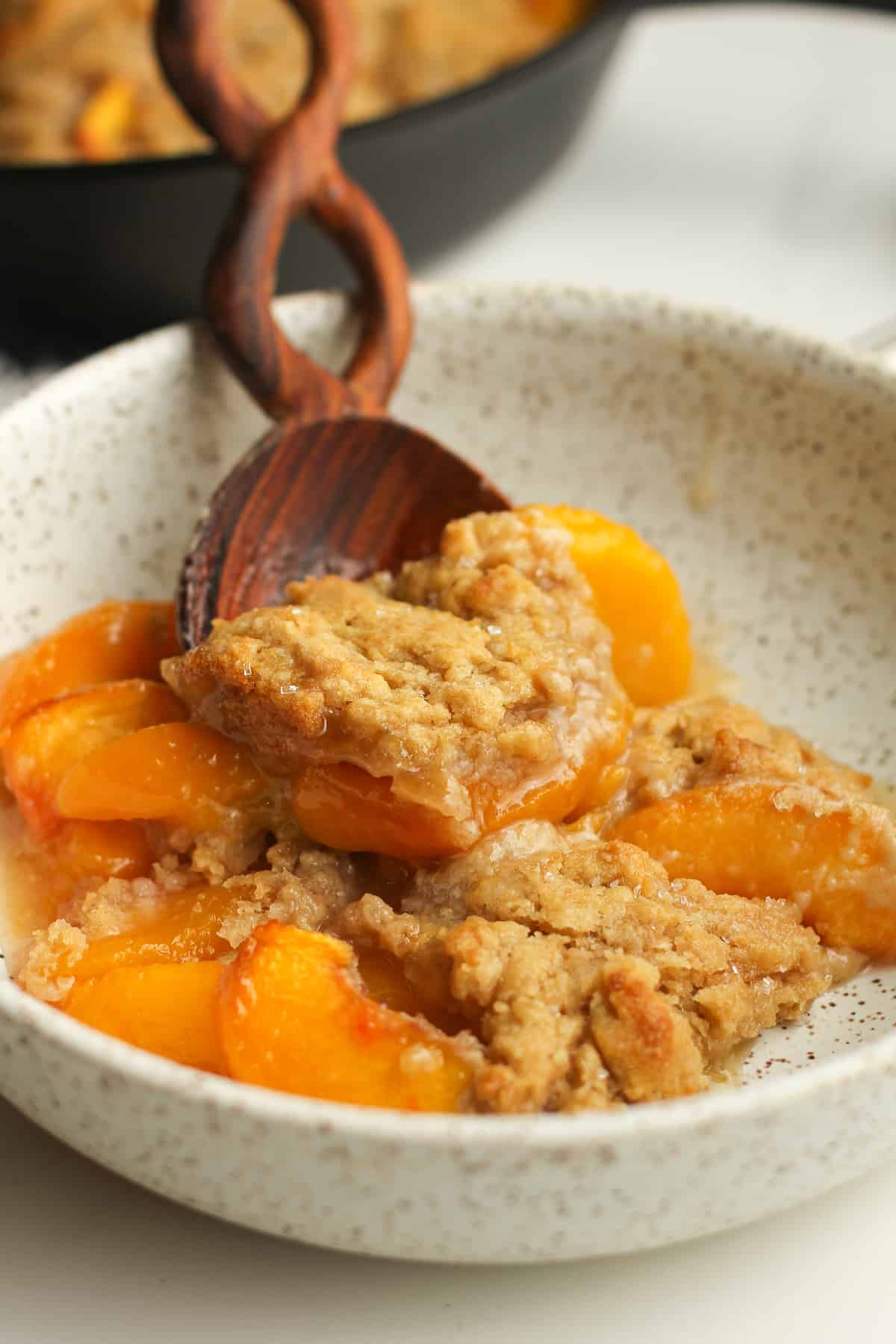 Kitchen Tools Used: (affiliate links)
Make this dessert next: Apple Pie Banana Bundt Cake
xoxo ~Sue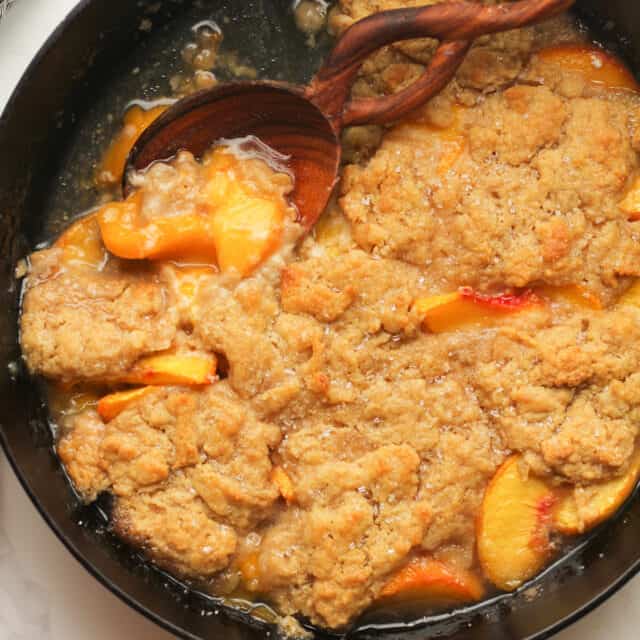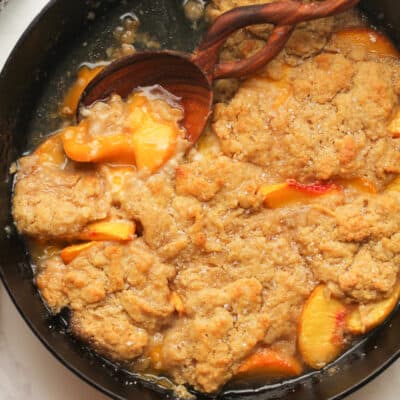 Skillet Peach Cobbler
Skillet Peach Cobbler is a slightly sweet, but not-too-sweet fall dessert that is amazing with a couple scoops of vanilla ice cream. So good served warm!
Print
Pin
Rate
Ingredients
For the peaches:
6

large

fresh peaches

– peeled and sliced

½

fresh

lemon

– freshly squeezed

2

teaspoons

vanilla

1/2

cup

sugar

2

teaspoons

cornstarch
For the topping:
1 ¼

cup

flour

½

cup

brown sugar

2

teaspoon

baking soda

1

teaspoon

kosher salt

6

Tablespoons

COLD unsalted butter

– cut into small cubes

⅓

cup

boiling water

a sprinkle of sparkling sugar

– to top
Instructions
Preheat oven to 350 degrees.

Blanch the peaches. In a saucepan, boil water (enough to cover the peaches). Add the peaches, about 2-3 at a time, and boil for 30 seconds. Remove immediately to an ice bath.

Peel and slice the peaches, and add to a mixing bowl. Add the fresh lemon juice, vanilla, sugar, and cornstarch. Mix well, and pour into a medium greased cast iron skillet.

Place skillet in oven and bake for 15 minutes.

Meanwhile, prepare the topping. In a mixing bowl, combine the flour, brown sugar, baking soda, and salt. Using a pastry cutter, cut the COLD butter into the ingredients, until the topping resembled course crumbs.

Place 1/3 cup water in microwave, and heat until boiling. Pour over the the topping ingredients, stir well, and add (with fingers or a spoon) to top of skillet ingredients. Top with a dusting of sugar.

Bake for 15 additional minutes, or until golden brown.

Let the cobbler sit for about 30 minutes to let the peaches thicken a bit. Then serve warm with ice cream.
Notes
For best results, eat this warm with scoops of vanilla ice cream
How to easily peel peaches? The method I often use is to place whole peaches into a pot of boiling water. Leave them in the water for about 30 seconds or so, and then gently remove them to an ice-water bath. The ice water bath will shock them and keep the peach flesh from cooking, meanwhile allowing the peach skin to peel super easily. You should be able to pull the skin off with your fingers!
Nutrition
Calories:
404
kcal
|
Carbohydrates:
72
g
|
Protein:
4
g
|
Fat:
12
g
|
Saturated Fat:
7
g
|
Polyunsaturated Fat:
1
g
|
Monounsaturated Fat:
3
g
|
Trans Fat:
1
g
|
Cholesterol:
30
mg
|
Sodium:
760
mg
|
Potassium:
391
mg
|
Fiber:
3
g
|
Sugar:
49
g
|
Vitamin A:
920
IU
|
Vitamin C:
12
mg
|
Calcium:
34
mg
|
Iron:
2
mg