Skillet Peach Cobbler is a slightly sweet, but not-too-sweet Fall dessert that is AAAHHH-mazing with a couple scoops of vanilla ice cream. We like to eat it fresh (and warm!) straight from the oven!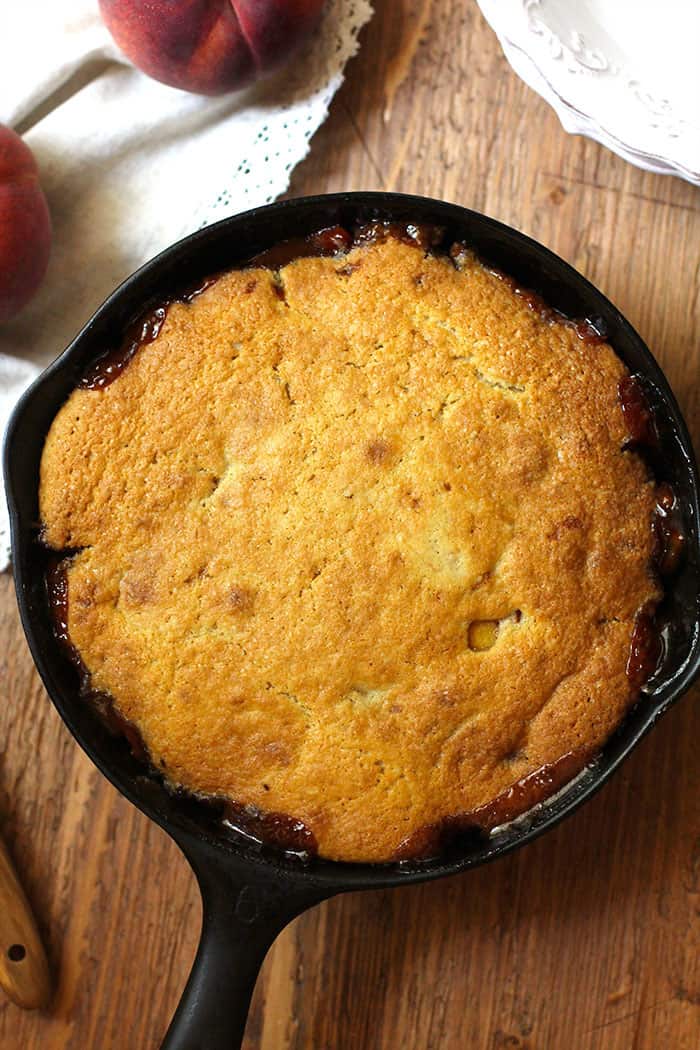 We are huge fruit lovers, and when I over-buy (ummm yea, frequently) I tend to either make smoothies or turn the fruit into something sweet. Lately, I've been buying peaches EVERY time I go to the store. We love them, especially in season. The best ones are those that literally drip down your face after each bite. JUICYYYY! 🙂
If I had to name my favorite fruit, I'd say blueberries, raspberries, apples, peaches….ok I give! I can't name a favorite fruit. I love them ALL!!
Watermelon! That's it!! 🙂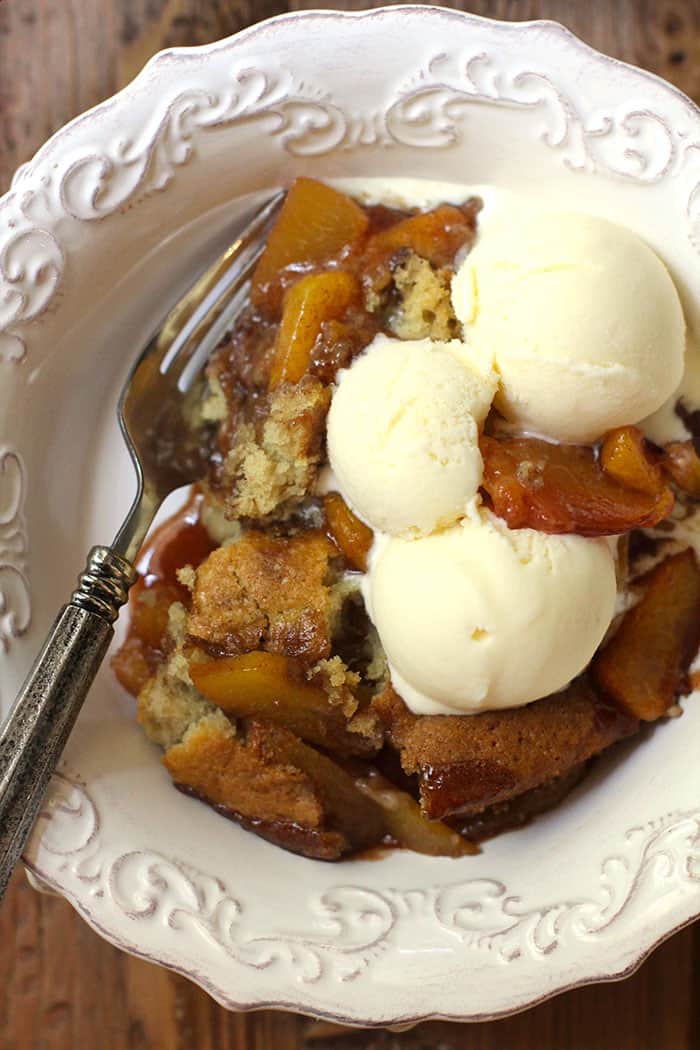 This Skillet Peach Cobbler is really easy. I used one bowl (and wiped it out between layers) and one skillet.
For the peaches: Peel and slice the peaches, and add remaining ingredients. Bake for 15 minutes at 400 degrees.
For the topping: Mix all ingredients, making sure you use cold butter. Add the hot water, stir, and pour over baked peaches. Bake for another 15-20 minutes.
See? Easy as pie. Or cobbler.
I recommend letting the cobbler sit on your countertop for about 15 minutes before digging in. Serve with a few scoops of vanilla ice cream and let it get all melty and creamy!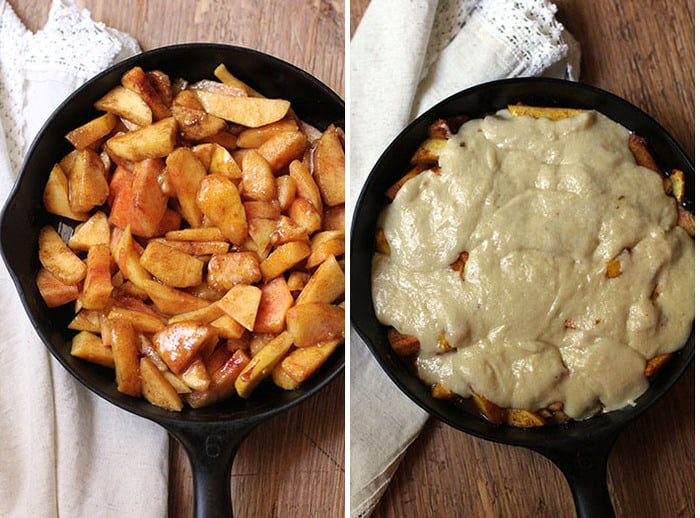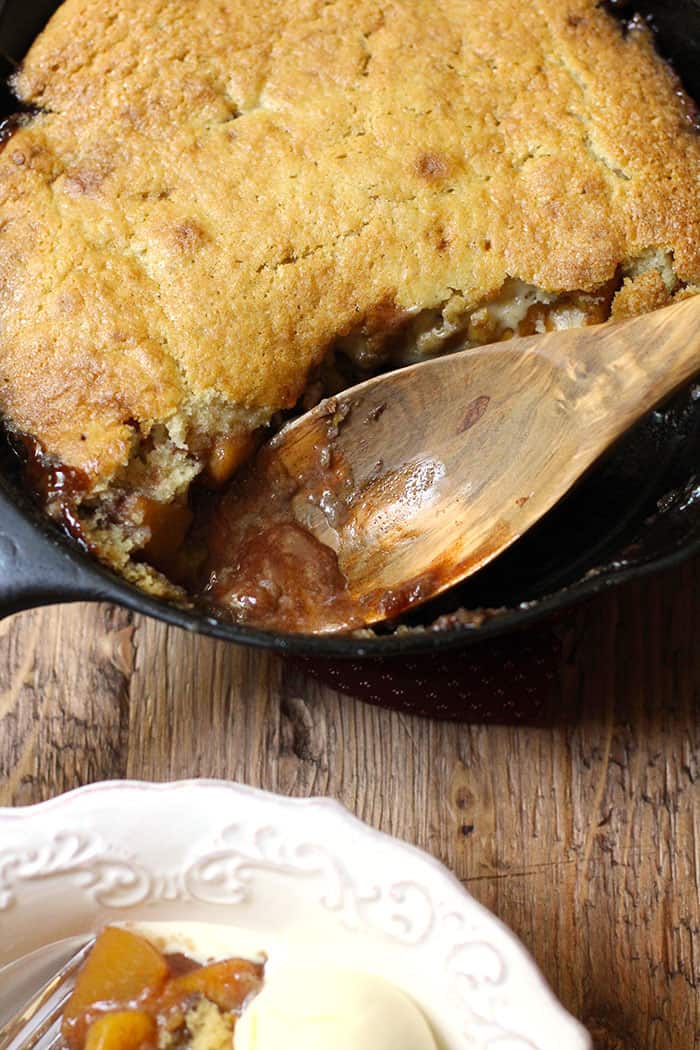 Please note that this recipe serves only FOUR! I have a variety of cast iron skillets and I used my smaller #6, as you can see below. My family loves sweets, but one serving is enough if you live with a food blogger. BTW, THIS large cast iron skillet
on Amazon looks like a good one, if you are in the market for one.
Since I tested this recipe a few times, the remainder of this cobbler went to our neighbors. I ran it over while it was still warm, explaining the missing spoonfuls that I used to photograph the recipe (and then someone ate it)! I hope you enjoyed it, Dan and Debbie! 🙂
If you are making this Skillet Peach Cobbler for a larger group, just double it (do you know that you can adjust the quantities below for any of my recipes?) and use a larger skillet. This is definitely going on the rotation for company.
Warm cobbler fresh out of the oven —> Ooooohhhh YES! 🙂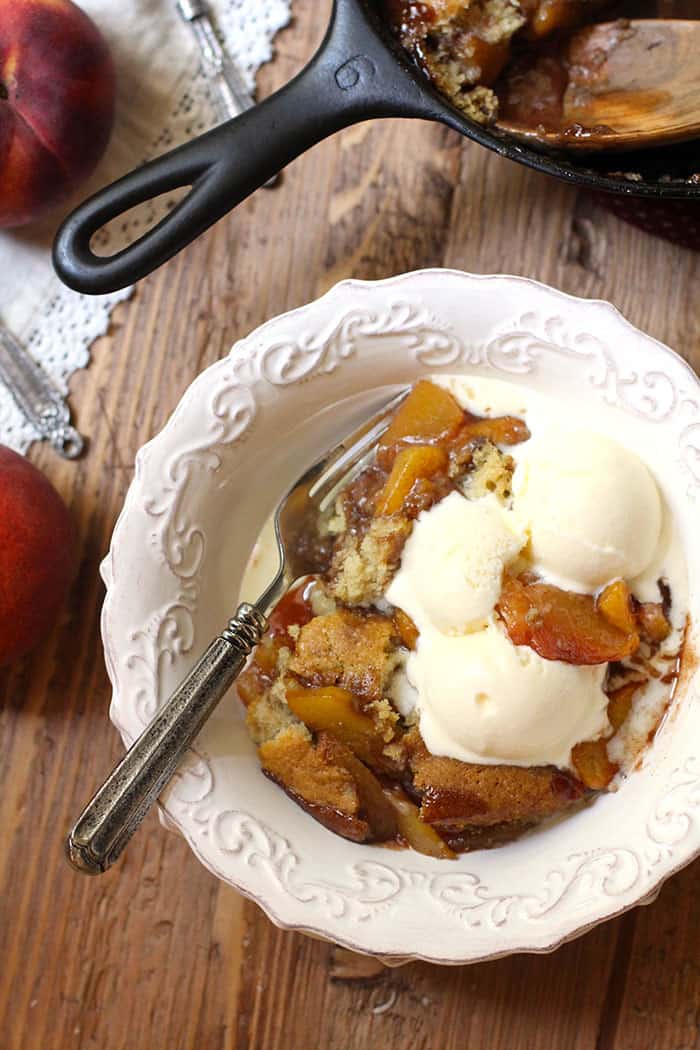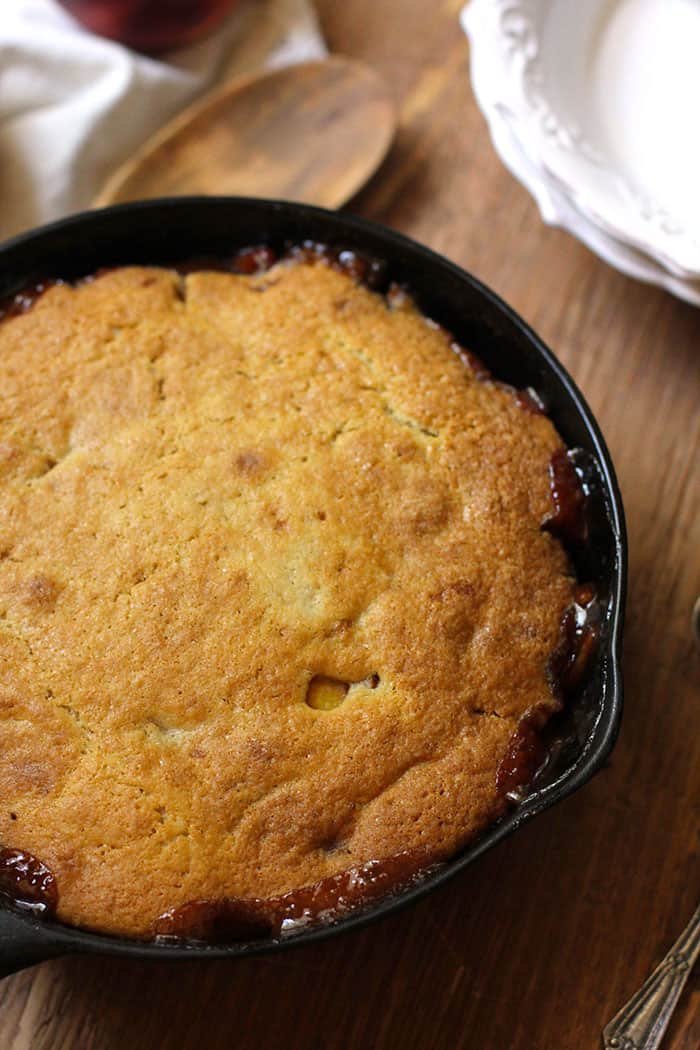 Please let me know if you try this Skillet Peach Cobbler, and how you like it!
You can stay up-to-date with SueBee Homemaker by:
signing up for post updates (top right-hand corner of my blog)
liking my Facebook Page
and following me on Pinterest
I'm also sharing tidbits of my life on Instagram. ????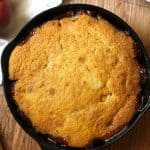 Skillet Peach Cobbler
Ingredients
For the peaches:
4

large

fresh peaches

- peeled and sliced

1/2

fresh

lemon

- freshly squeezed

2

teaspoons

vanilla

1

Tablespoon

sugar

1/4

cup

brown sugar

2

teaspoons

cinnamon

2

teaspoons

cornstarch
For the topping:
3/4

cup

flour

2

Tablespoons

sugar

1/4

cup

brown sugar

1

teaspoons

baking soda

1/2

teaspoon

salt

1/4

cup

COLD unsalted butter

- cubed

1/4

cup

boiling water

a sprinkle of sugar

- to top
Instructions
Preheat oven to 400 degrees.

Peel and slice the peaches, and add to a mixing bowl. Add the fresh lemon juice, vanilla, sugar, brown sugar, cinnamon, and cornstarch. Mix well, and pour into a greased cast iron skillet.

Place skillet in oven and bake for 15 minutes.

Meanwhile, prepare the topping. In a mixing bowl, combine the flour, sugar, brown sugar, baking soda, and salt. Using a pastry cutter, cut in the COLD butter into the ingredients, until the topping resembled course crumbs.

Place 1/3 cup water in microwave, and heat until boiling. Pour over the the topping ingredients, stir well, and add to top of pie plate ingredients. Top with a dusting of sugar.

Bake for 15-20 additional minutes, or until golden brown.
Recipe Notes
For best results, eat this warm, fresh from the oven, with scoops of vanilla ice cream!

SHARE THIS POST TO YOUR FRIENDS: