These Jumbo Chocolate Birthday Cupcakes are the best celebration cupcakes. Unbelievable decadent, and perfect for birthdays, or any other special occasion.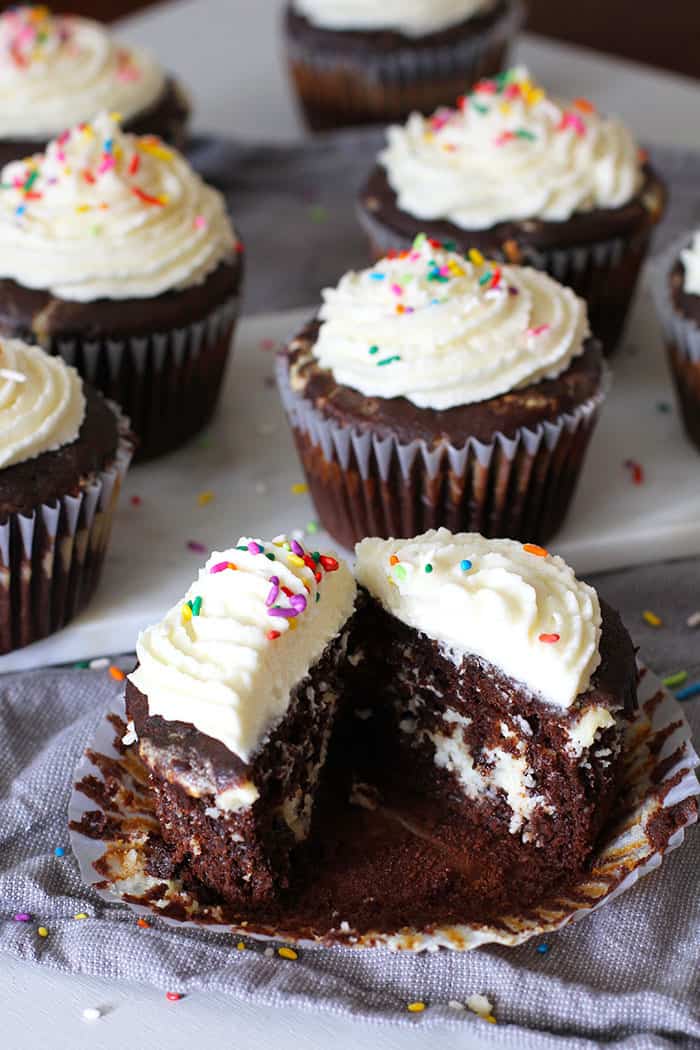 Happy 2017!! It's the new year and while everyone is trying to figure out their resolutions (i.e. diet/exercise plans), I'm thinking about ways to celebrate more. Ok, I get it. I'm cutting back too. But I think it's possible to reduce my caloric intake AND celebrate more. In the meantime, I'm going to eat ONE more cupcake.
The only thing better than birthday cake is Jumbo Chocolate Birthday Cupcakes! This is my go-to recipe for birthdays or special celebrations. I love these because everyone basically gets there very own cake, in a miniature form. But jumbo size. And there is a delicious cream cheese and chocolate chip filling inside the cupcake, topped with an amazing buttercream frosting.
So decadent. So delicious.
I made these cupcakes for Mike's big 50th birthday celebration. If you want to read more about Mike turning 50, take a look at my Dec. 30th happy birthday post. I actually had to make these cupcakes twice because I had a recipe FAIL the first go-around.
Tips for making the BEST cupcakes!
Make sure you do not overfill the jumbo cupcake liners (like I did the first time). If you do, the tops will look like mushroom caps and will stick to the pan. For best results, don't fill more than 2/3 full. Start with the cupcake batter, then add a couple of tablespoons of the cream cheese filling, and then top with more cupcake batter.
Use full fat cream cheese. The low-fat version just sinks into the batter and you don't get to see that beautiful layer.
For this recipe, I used jumbo muffin liners that I found on Amazon to bake in the jumbo muffin tins that I already had. I also ordered these pretty rainbow sprinkles.
This recipe makes 9 jumbo cupcakes, or approximately 12 regular sized cupcakes. Make sure you reduce the baking time if you make smaller cupcakes.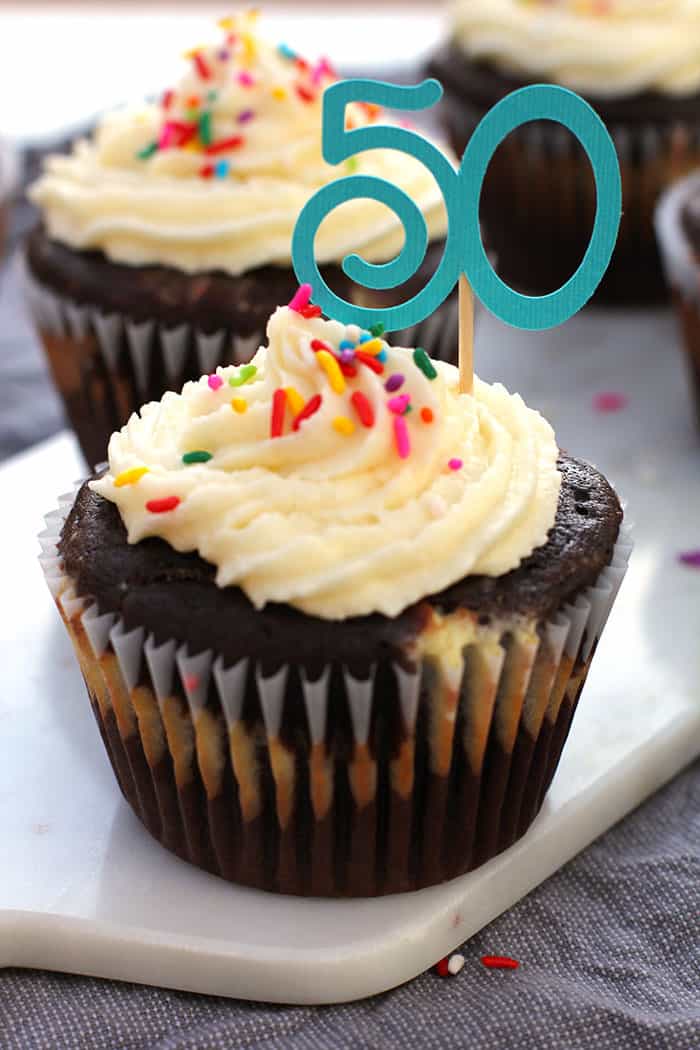 Make these cupcakes next: Perfect Lemon Cupcakes
You can stay up-to-date with SueBee Homemaker by:
signing up for post updates (top right-hand corner of my blog)
liking my Facebook Page
and following me on Pinterest
I'm also sharing tidbits of my life on Instagram.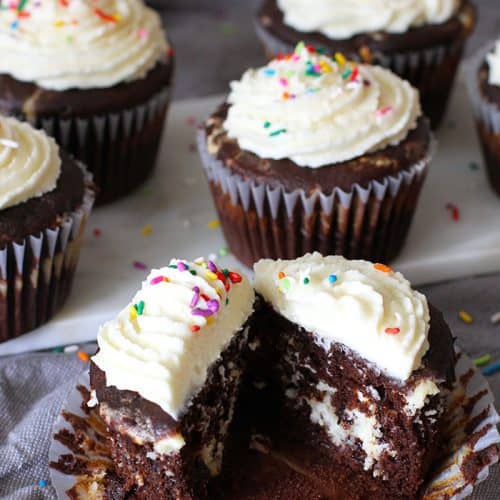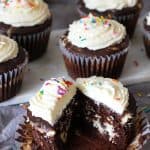 Jumbo Chocolate Birthday Cupcakes
A decadent chocolate cupcake, with a cream cheese and chocolate chip filling and buttercream frosting. The perfect birthday cupcake!
Keyword:
birthday cake, buttercream frosting, chocolate cupcakes, dessert, jumbo size
Ingredients
For the cupcake mix:
1 1/2

cups

all-purpose flour

1

teaspoon

baking soda

1/2

teaspoons

salt

1/2

cup

unsweetened cocoa

powdered form

3/4

cup

sugar

1

large

egg

at room temperature

1/2

cup

buttermilk

at room temperature

1

teaspoon

vanilla

1/2

cup

unsalted butter

melted

1/2

cup

HOT water
For the filling:
8

oz.

cream cheese

softened to room temperature

1/8

teaspoon

salt

1/3

cup

sugar

1

large

egg

at room temperature

1

cup

chocolate chips
For the buttercream frosting:
3/4

cup

unsalted butter

at room temperature

3

cups

powered sugar

3

Tablespoons

half and half

1

teaspoon

vanilla
Instructions
For the cupcakes:
Preheat oven to 350 degrees. Line a 6-cup jumbo cupcake pan plus three more with jumbo cupcake liners (three will be empty).

Mix the dry ingredients (flour, baking soda, salt, cocoa, sugar) in a medium bowl. Set aside.

In a separate small bowl, mix together the buttermilk, egg, and vanilla. Add to dry ingredients. Melt butter and add to mixture, along with the hot water. Stir until just combined.

For the filling, combine the sugar, egg, salt, and cream cheese in a medium sized bowl. Add chocolate chips and combine.

Fill cupcake liners with mixture, filling 1/3 full. Drop at least 2 tablespoon of the cream cheese filling into cupcakes. Then top with additional cupcake mix, filling to two-thirds full. Do NOT overfill!

Bake for 22-25 minutes or until toothpick comes out clean when inserted. Remove cupcakes to baking racks to cool.
For the buttercream frosting:
Using a handheld mixer, beat the butter until creamy, about two minutes. Add powdered sugar, half and half, and vanilla, and mix on high speed for two more minutes, until nice and fluffy.

Using a decorating kit, pipe frosting onto cooled cupcakes. Top with sprinkles.
Recipe Notes
If you make regular sized cupcakes, this recipe will make approximately 12 cupcakes. Baking time should be decreased as well.
These cupcakes should be stored, covered, in the refrigerator. They will stay fresh up to three days.
Did you make this recipe?
Tag @suebeehomemaker on Instagram and hashtag it #suebeehomemaker