Turkey Bacon Wrapped Chicken Breasts
This post may contain affiliate links which won't change your price but will share a commission.
Lean eating is definitely not boring with the addition of my Turkey Bacon Wrapped Chicken Breasts. These are also STUFFED with cheese and spinach and then topped with cherry tomatoes. A perfect mix of proteins and veggies that will fill you up, no problem!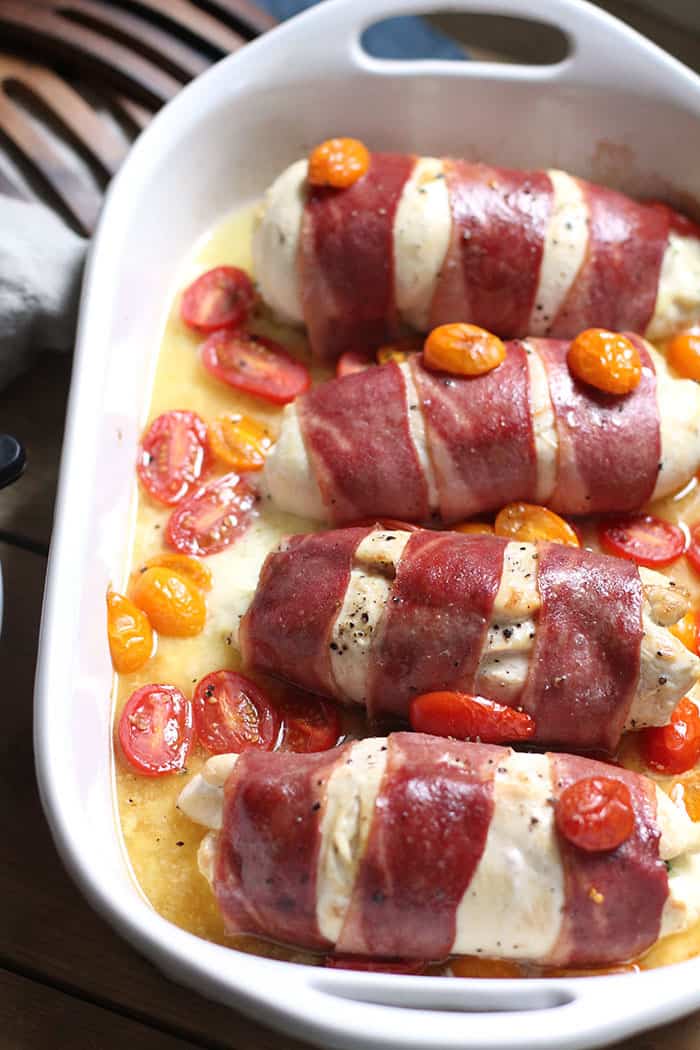 Feeling good is 80% diet and 20% exercise. While I've always had SOME sort of exercise program, I've often times relied on it too much to keep the pounds off. What I often forget is that what I put in my mouth is even more important. Over-eating or eating too many processed foods and then trying to "exercise it off" just plain doesn't work. We must start eating more whole foods.
Hence, the creation of THIS dish – Turkey Bacon Wrapped Chicken Breasts. This recipe is so many things.
Filling – Lean protein, like chicken breasts and turkey bacon, fills you up. You won't need that late night snack.
Tender – The chicken is tender if baked to the appropriate temp. Use a digital thermometer to test for doneness.
Seasoned just right – The turkey bacon lends a slight salty flavor, which is needed for chicken and most meats. I also recommend using plenty of salt and pepper (red pepper flakes are optional) to season before cooking.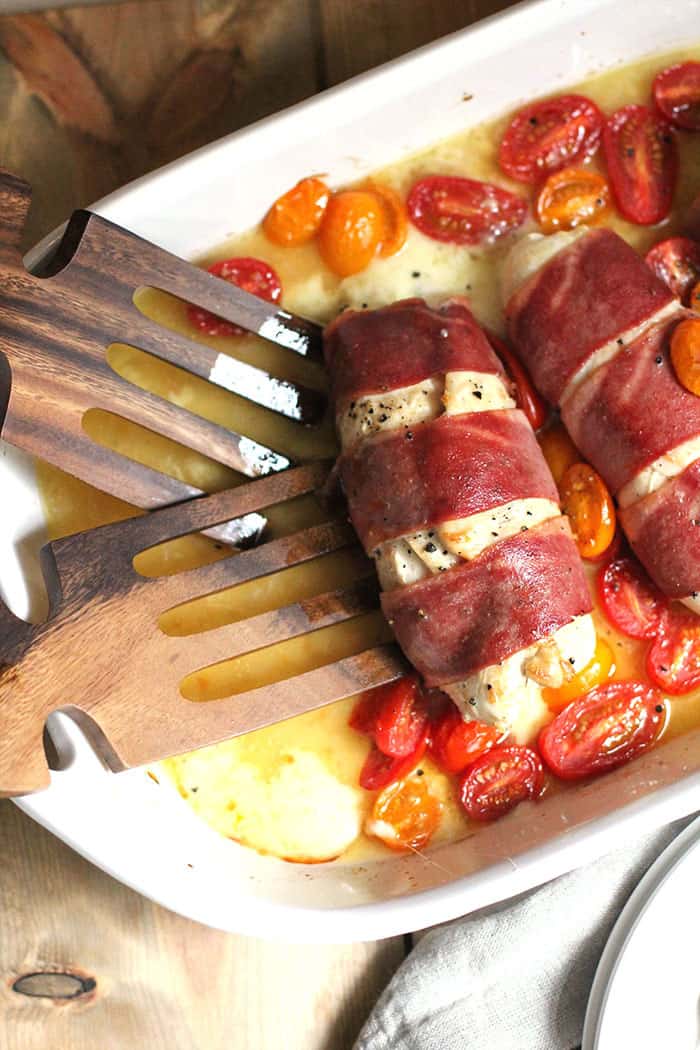 How to make Turkey Bacon Wrapped Chicken Breasts:
This recipe requires some butterflying and pounding. If you can get the butcher to do this for you, then do it. But if you can't, then get yourself a mallet and pound! You want to make the breast thinner so that there is more surface area to stuff it.
Here are the steps:
Pound the chicken breast (using press-n-seal on both sides) – carefully to avoid tears.
Season both sides with kosher salt, freshly ground black pepper, and red pepper flakes (optional).
Cook the spinach mixture, and then stuff them with the cheese and the spinach sauté.
Roll them up.
Lay turkey bacon on cutting board.
Set rolled chicken breast on top, and wrap bacon around it.
Sear in olive oil.
Bake in oven.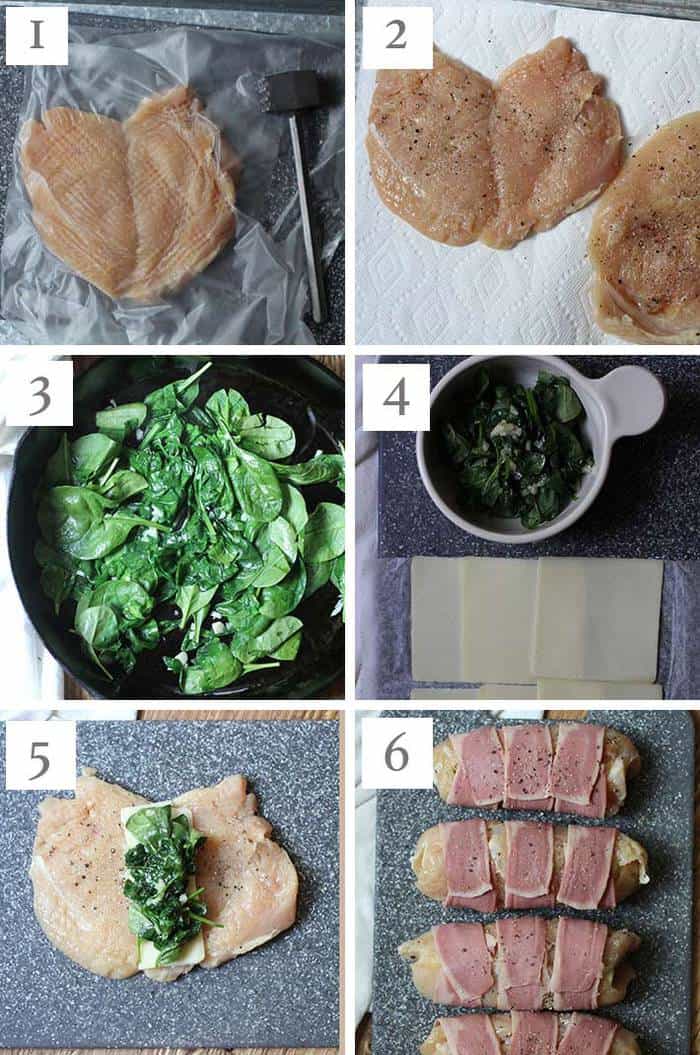 Ways you could adapt this recipe.
You could use regular bacon instead of turkey bacon. Make sure you partially cook the bacon first or you'll end up with a greasy mess. (Trust me. This happened in a test run.)
You could stuff the chicken with different veggies (like zucchini, onion, artichokes, etc.) and/or cheese (like goat cheese, cream cheese, havarti, fontina, or fresh mozzarella). We decided that we prefer goat cheese!
This recipe for Turkey Bacon Wrapped Chicken Breasts was inspired by a recent outing to a local pub. It was served over mashed potatoes and asparagus.
May I suggest a few lean sides from my site?
I hope you enjoy!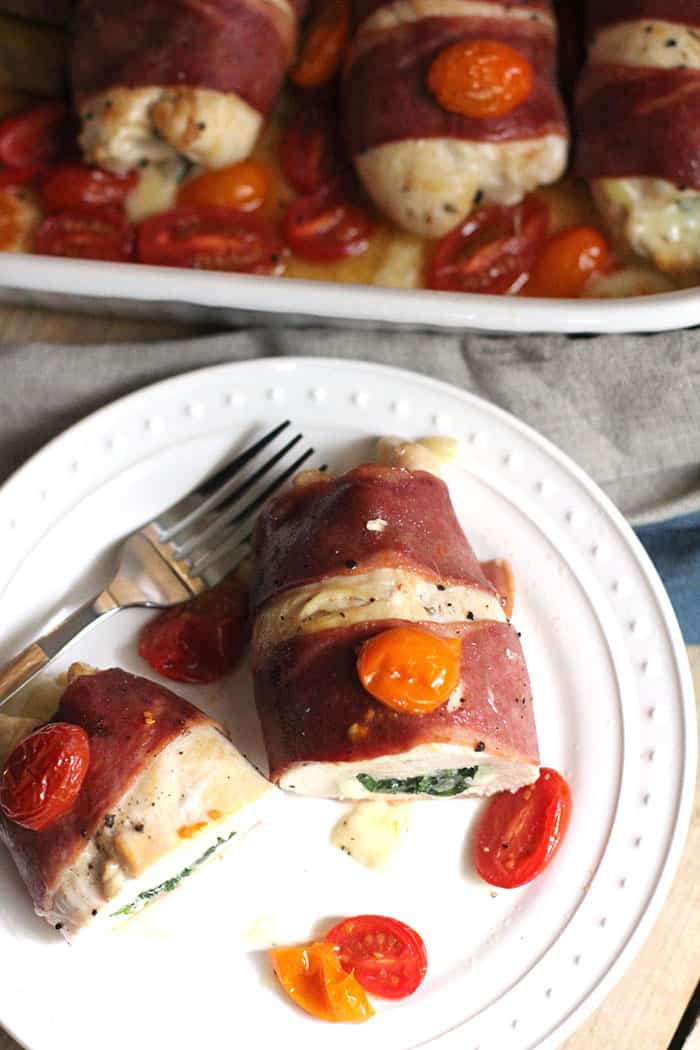 Make this lighter recipe next: Baked Spaghetti Squash and Cheese
Please let know if you try this recipe. Be sure to comment and leave a review on the blog so I can see what you think. You can also like my Facebook Page, follow me on Pinterest, and catch me on Instagram.
xoxo ~Sue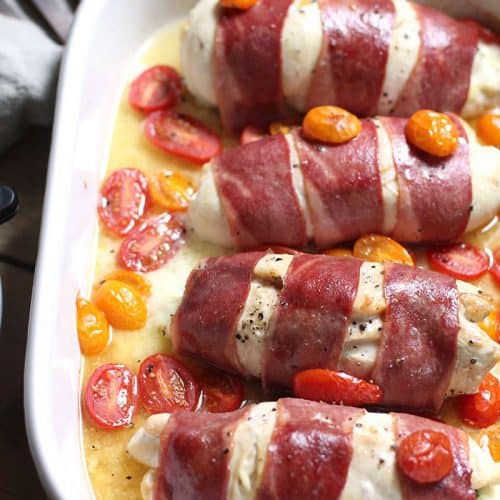 Turkey Bacon Wrapped Chicken Breasts
Lean eating is definitely not boring with the addition of my Turkey Bacon Wrapped Chicken Breasts. These are also STUFFED with cheese and spinach and topped with cherry tomatoes.

Print
Pin
Rate
Servings:
4
large servings
Ingredients
4

medium

boneless, skinless, chicken breasts

- or about 3 pounds total

12

slices

turkey bacon

8

oz.

cheese

- gruyere, goat cheese, havarti, cream cheese, etc. (your choice!)

4

Tablespoons

olive oil

- divided

1/3

medium

onion

- diced

4

cloves

garlic

- minced

6

cups

spinach

kosher salt and freshly ground black pepper

- to taste

red pepper flakes

- to taste (optional)

2

cups

cherry tomatoes

- halved
Instructions
Preheat oven to 375 degrees.

In a medium saucepan, heat one tablespoon olive oil to medium heat. Add onion and cook for a few minutes. Then add garlic and sauté for 30 seconds or so. Add spinach and stir for about a minute. Remove from heat.

Take the chicken breasts and remove visible fat and pat dry. Butterfly them open so that there is more surface area.

Place one breast at a time on cling wrap (saran wrap works fine too) and place another piece on top. Pound the breasts on both sides (flipping it while in the wrap) to make them thinner. Season with salt and pepper.

Place two slices (or two oz.) of gruyere cheese (or another kind of cheese) down the middle of each breast. Spoon 1/4 of the spinach mixture over the cheese. Carefully wrap each breast so that the mixture stays in the middle.

Lay three pieces of turkey bacon on a cutting board. Place one breast on the middle of the bacon and wrap the bacon around the rolled breast. Repeat for each of the four breasts.

Using the same sauce pan over medium high heat, add two tablespoons of olive oil. Place two of the wrapped chicken breasts in pan and cook on each side for a minute or so (rotating it on all four sides), searing the bacon and giving it a nice dark color. Repeat with the remaining two breasts.

Place the turkey bacon wrapped chicken breasts in a sprayed casserole dish.

Slice the cherry tomatoes and place on top and around the wrapped chicken breasts. Season with salt and pepper.

Bake for 25 - 30 minutes, or until a meat thermometer reads 165 degrees.
Notes
If you can, ask the butcher to butterfly and pound out the breasts.
You can substitute regular bacon for the turkey bacon, but par-cook it first to get some of the grease out. Then wrap it around the chicken.
You can also substitute the filling ingredients for other veggies and cheese.
Chicken is done when the insides read 165 degrees on a thermometer.
Nutrition
Calories:
620
kcal
|
Carbohydrates:
8
g
|
Protein:
56
g
|
Fat:
47
g
|
Saturated Fat:
17
g
|
Cholesterol:
176
mg
|
Sodium:
1326
mg
|
Potassium:
1069
mg
|
Fiber:
2
g
|
Sugar:
3
g
|
Vitamin A:
5155
IU
|
Vitamin C:
33
mg
|
Calcium:
641
mg
|
Iron:
3
mg