Loaded Twice Baked Potatoes are the perfect side dish for special occasions. Say yes to all the cheese and bacon, and make them up a day or two in advance.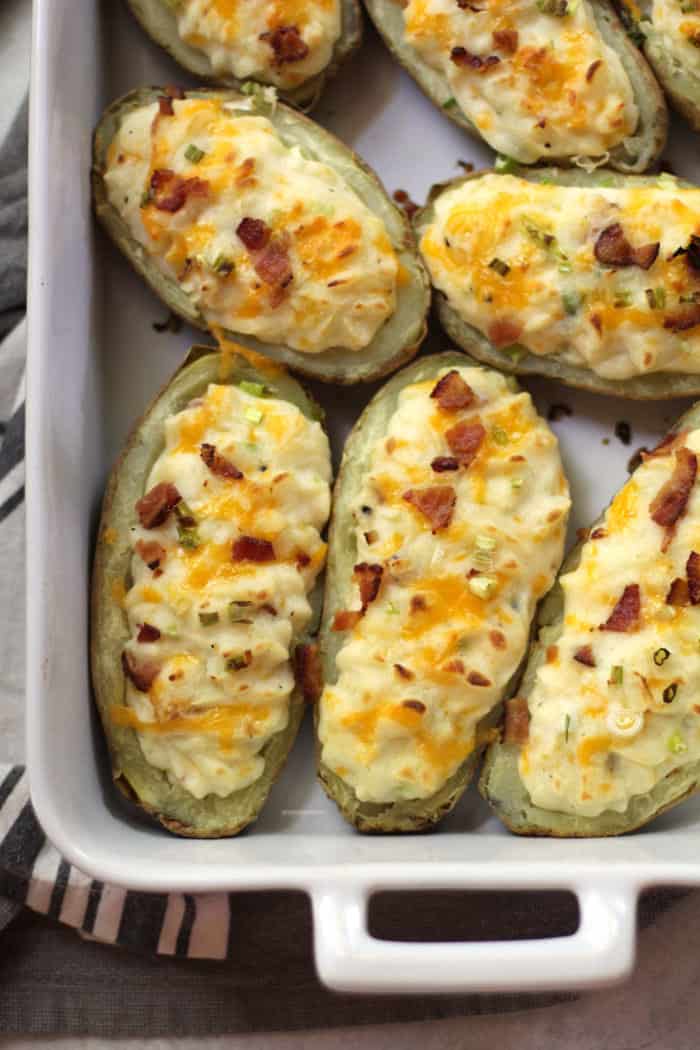 We grew up in the Midwest, and so we ate our share of meat and potatoes. Feeding a family of eight was no small feat, but Mom made it look easy.
Our little family of four also enjoys meat and potatoes, although Mike and I are consuming less of that and more of all the green stuff. But we DO enjoy our potatoes too.
Special occasions call for special potatoes. That's why I whipped up this dish for all of you. Because you're special. 🙂
Steps to making epic Twice Baked Potatoes:
Bake or microwave potatoes until fork tender.
Cut each potato in half length-wise, and scoop out the flesh, leaving about 1/4 of it.
Cream together the flesh, with the remaining ingredients, reserving a little bit of cheese, bacon, and green onions.
Scoop the mixture into the potatoes, topping with the reserved ingredients.
Bake.
If you make these ahead of time, prep to step 4 and refrigerate (covered) until your meal.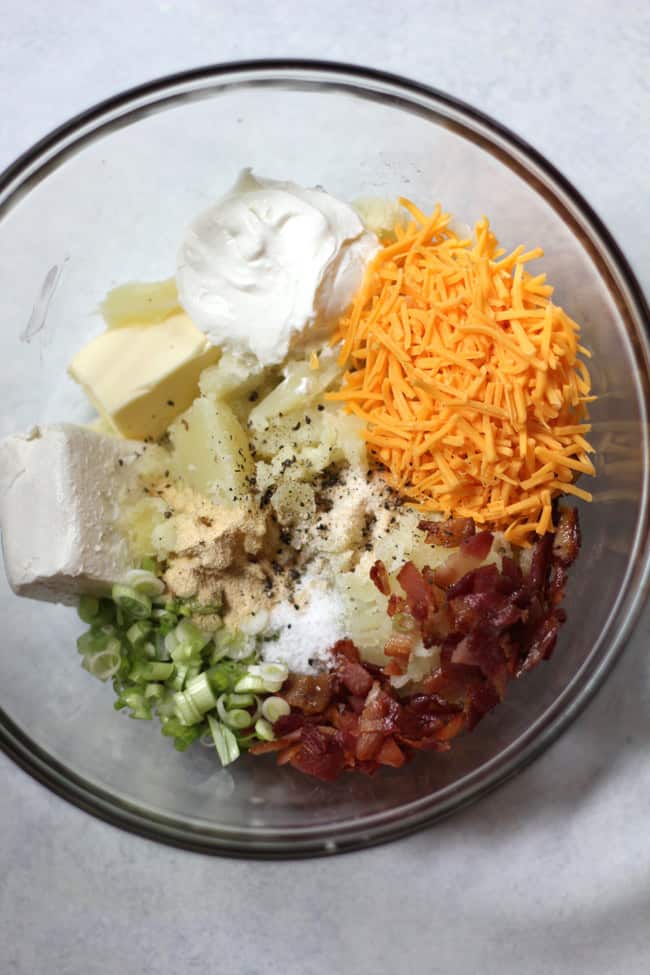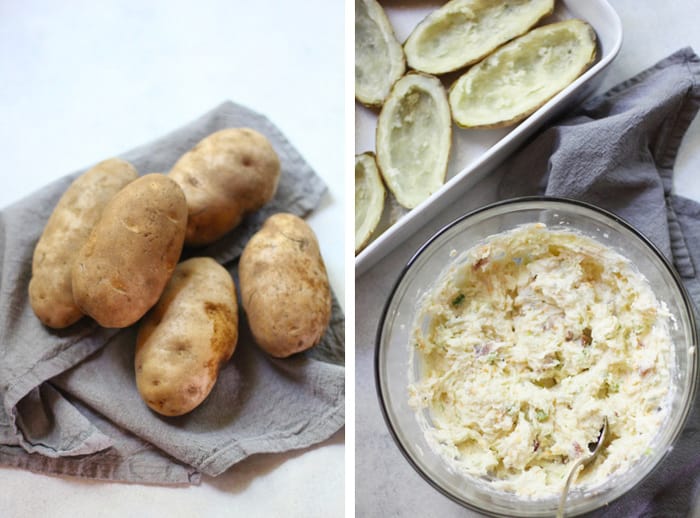 Since I had to test this recipe a few times, let's just say we've had potatoes growing out of our ears. But that's gross. 😀
However, THESE. They're FABulous. 
fluffy
creamy
cheesy
bacon-y
OMG! Go make some.
I spend a lot of time in the kitchen, so when I'm prepping for a special occasion, I always like to have a few recipes I can make in advance. Potatoes are a no brainer, and I have a couple others that I also like to prep ahead.
Enjoy ALL the potatoes!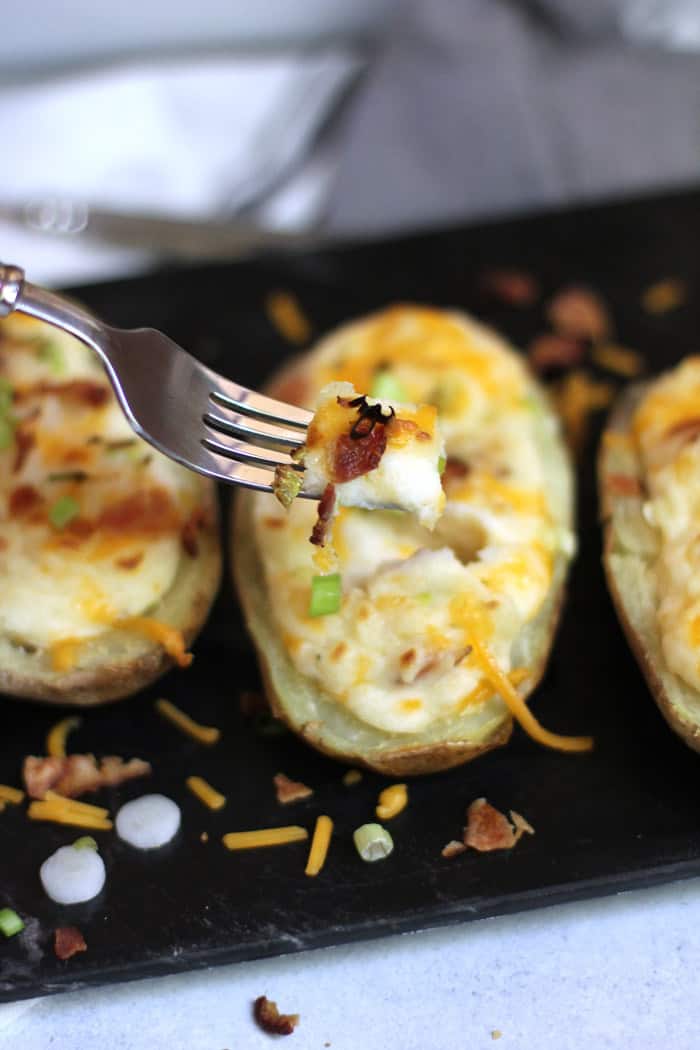 Make this potato recipe next: Make Ahead Creamy Mashed Potatoes
Please let know if you try this recipe. Be sure to comment and leave a review on the blog so I can see what you think. You can also like my Facebook Page, follow me on Pinterest, and catch me on Instagram.
xoxo ~Sue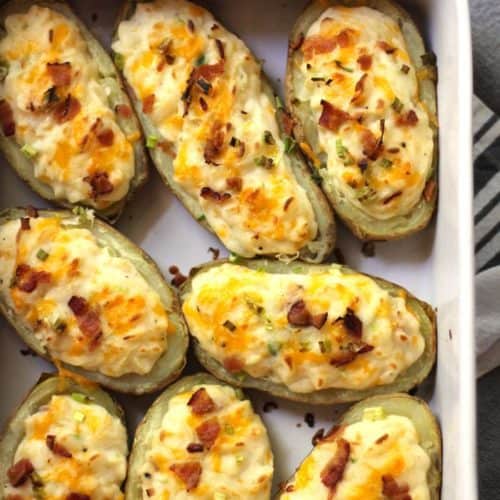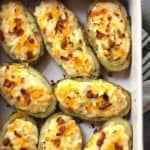 Loaded Twice Baked Potatoes
Loaded Twice Baked Potatoes are the perfect side dish for special occasions. Say yes to all the cheese and bacon, and make them up a day or two in advance.

Ingredients
4

large

russet potatoes

- or five medium

1/4

cup

unsalted butter

1/3

cup

sour cream light

4

oz.

cream cheese light

- softened

3/4

cup

half and half

- plus more if needed for consistency

1

teaspoon

onion salt

1

teaspoon

garlic powder

1

teaspoon

kosher salt

1

teaspoon

freshly ground black pepper

5

slices

bacon, divided

1

cup

shredded cheddar cheese, divided

1/2

cup

green onions

- diced
Instructions
Preheat oven to 350 degrees.

Wash potatoes and prick with a knife. Microwave 2-3 potatoes at a time, flipping about half way through, until fork tender. Set aside to cool.

Meanwhile, dice up the bacon slices, and sauté on medium high heat, or until cooked through. Set aside on a paper towel to drain and cool.

Slice potatoes in half lengthwise, and scoop out the flesh into a large mixing bowl, leaving about 1/4 inch of flesh to maintain shape. Spray a large casserole dish with baking spray, and arrange potato skins.

Add butter, sour cream, cream cheese, half and half, and seasonings to potato flesh. Mix with a hand mixer until creamy and well combined. You may need to add extra half and half, depending on how creamy you like your potatoes. Be careful to not add too much, however, as they will be runny.

Add crumbled bacon, cheddar cheese, and green onions. Reserve a small bit of each to top potatoes. Mix well.

Spoon potato mixture back into the potato skins, dividing it evenly among the skins. Top with additional cheese, bacon bits, and green onions.

Bake for 30 minutes on 350 degrees.
Recipe Notes
You can prep these in advance (one or two days early), cover tightly, and store in the refrigerator until ready to bake. Increase the baking time by 10-15 minutes.
You can also freeze these, by covering tightly, for up to three months. 
Nutrition Facts
Loaded Twice Baked Potatoes
Amount Per Serving
Calories 353
Calories from Fat 162
% Daily Value*
Fat 18g28%
Cholesterol 46mg15%
Sodium 852mg37%
Potassium 912mg26%
Carbohydrates 37g12%
Protein 11g22%
Vitamin A 460IU9%
Vitamin C 11.9mg14%
Calcium 147mg15%
Iron 1.8mg10%
* Percent Daily Values are based on a 2000 calorie diet.