Homemade Brioche Hamburger Buns
This post may contain affiliate links which won't change your price but will share a commission.
Homemade Brioche Hamburger Buns are the perfect soft, slightly sweet bread recipe for burgers, hot dogs, or even made into loafs for sandwiches. These are buttery and delicious, and even YOU can make them!
Fresh bread is the best. For some other delicious recipes, try my Everything Bagel Rolls, blog-fav Chewy French Bread, or some Whole Wheat Honey Bread!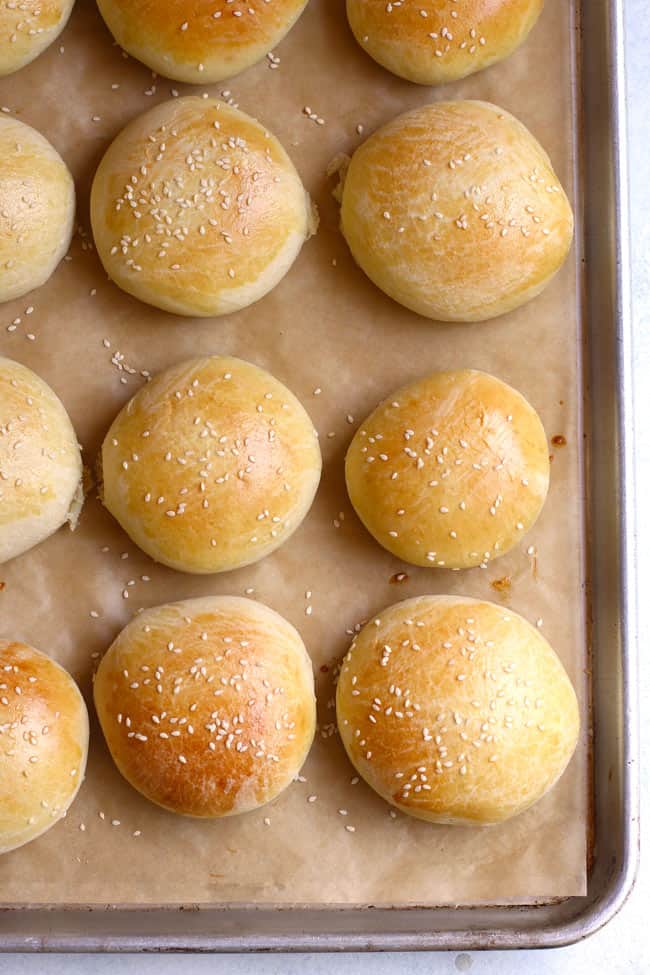 Brioche Bread
Making homemade breads, buns, and rolls is probably one of my favorite things to do. I find it extremely relaxing, and I love the smells and seeing the finished product. It's a bit like art for me. There is the brainstorming, the actual act of baking, and then the finished product. When I have success, there is also celebration that involves butter, olive oil, and maybe even some wine!
I believe my mother gave me this baking gene. She loved putzing around in her kitchen baking all the things and then sharing it with her neighbors, friends, and family. There was actually no possible way that her and Dad could consume everything she baked, because like me, it was her therapy. It was more about the art of baking, and less about eating the goods.
Let's call this BAKING THERAPY.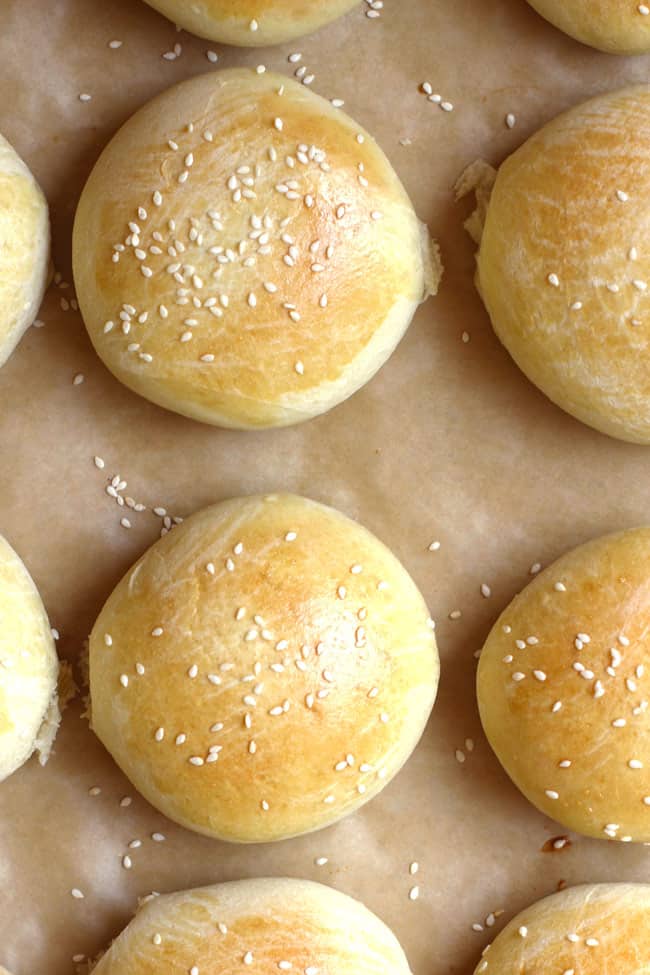 Ingredients Needed for Homemade Brioche Hamburger Buns:
There is a good chance that you have all of these baking staples, except maybe the yeast. If you are at all afraid of using yeast, DON'T BE! You can do it. Just follow my steps and don't be afraid to experiment a little.
Yeast – I use Red Star Active Dry Yeast. (This is a very large amount. I keep a bunch in the freezer, and it lasts a long time.) We have perfect bread-making weather here in Texas, and my bread always rises pretty quickly. You may need a Quick Rise Yeast, depending on where you live.
Sugar – The sugar is needed to help activate the yeast and gives this bread a little sweetness.
Milk – It's very important to use warm milk. I test it with my finger, and make sure it's not too hot, and not cold either.
Eggs – The eggs are very important to this recipe.
Salt – I like kosher salt, but you can use regular salt as well.
Flour – For best results, use just 1/4 cup of all-purpose flour and then bread flour for the remainder.
Butter – I use unsalted butter so we can control the salt.
Egg Wash and Sesame Seeds – Add this right before the buns go into the oven.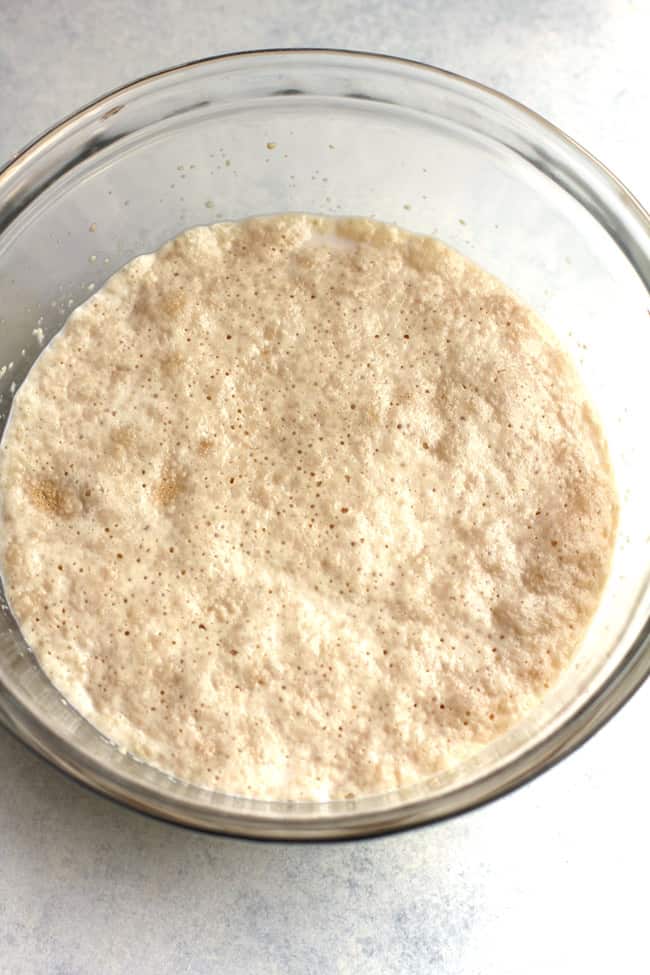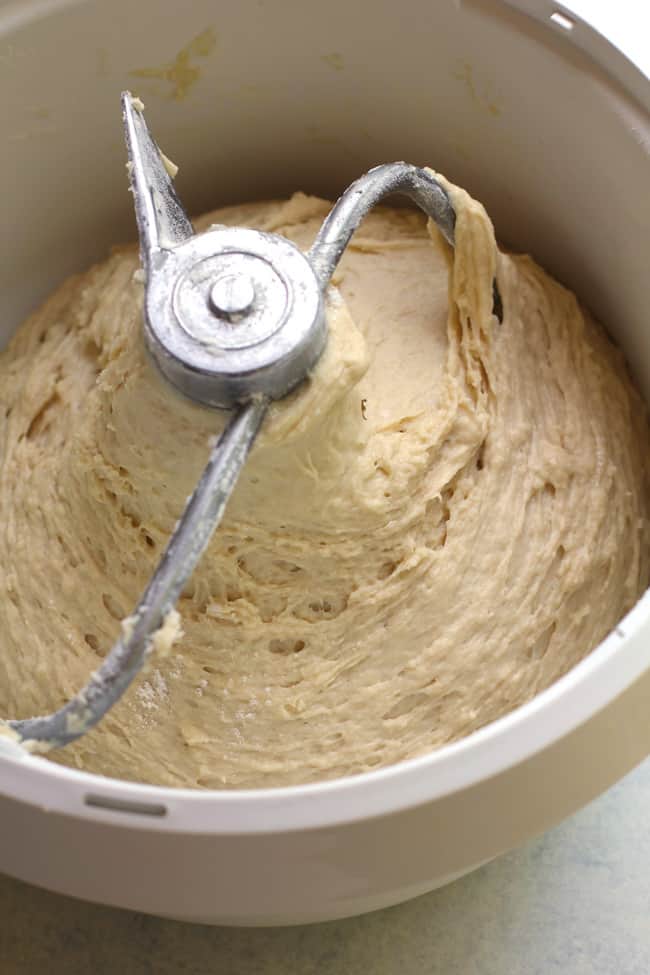 How to make Homemade Brioche Hamburger Buns:
Activate the yeast. Using a large standing mixer, combine the yeast, sugar, and warm milk. Take a spatula, and stir it around a couple of times. Then let it sit for about 15 minutes so that the yeast activates. You should see a bubbly mixture when it's ready. See above.
Add the eggs and salt. After the yeast is activated, add the whisked eggs and salt. Stir again to combine.
Add flours and the softened butter. Add the all-purpose flour, three cups of the bread flour, and then the cubed and softened butter. Start the mixer, and occasionally scrape down the sides of the bowl with a spatula. Gradually add more flour until you get a nice dough consistency. It should be slightly sticky, but easy to handle.
Let the dough rise. Grease a large bowl with canola or olive oil. Remove the dough from the mixer, and form it into a ball. Then place it in the bowl, and cover it with a clean dishtowel. Place the bowl in a quiet corner of your kitchen and let rise until approximately doubled in size. The rise may be different each time, and will vary depending on where you live.
Form loafs of bread (or buns). Once the dough rises, it's time to form it into desired shapes. Prepare bread pans or jelly roll pans with baking spray. (See below for my favorite pans.) Add a little oil to a pastry mat or a large flat surface (a cutting board works too), and form sections of dough into smaller shapes for buns or larger oblong shapes for loafs. Place dough on baking sheets for buns, or loaf pans for bread.
Let rise again. Cover dough with clean dish towels, and let it rise again, until almost doubled in size.
Prepare for baking. Beat one large egg with a splash of water, and using a pastry brush, spread a thin layer over the tops of bread/rolls. Add a sprinkle of sesame seeds.
Bake. Bake bread in a preheated 350 degree oven, until done, approximately 20 minutes. The bottoms should be slightly browned, and the tops a nice golden brown. Remove buns to a cooling rack.
Storing Tip: These buns are best fresh the first day! They can be stored in airtight bags on counter for 2-3 days.
Freezing Tip: You can freeze these buns in freezer bags for up to three months.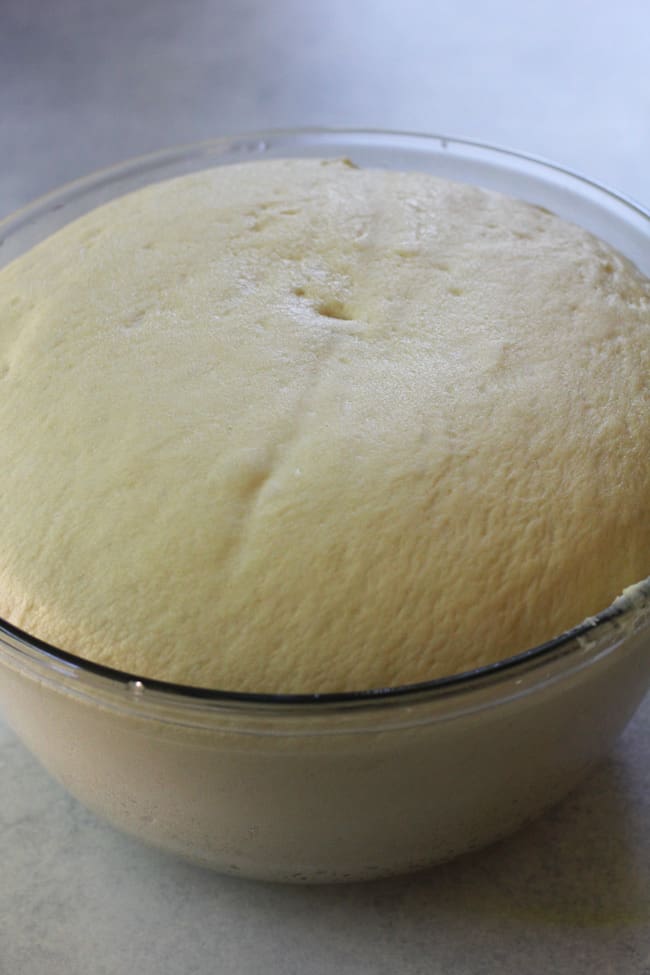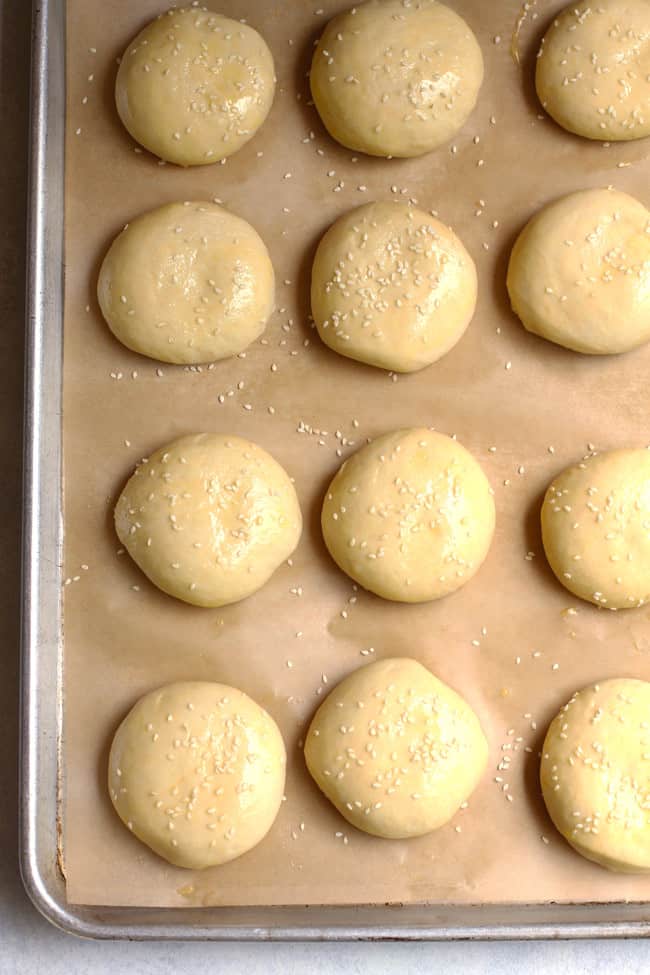 Some tips for making epic Brioche Buns.
When you add the warm liquids to the yeast and sugar – be careful to use WARM liquid, not hot. If the liquid is too hot, the yeast will disappear and you can't make bread without yeast. Also, do not use cool liquid because it won't activate the yeast.
Don't add all the flour at once because every baking day is different. Some days you will need a bit more flour and some days, you will need less.
The dough shouldn't be overly sticky when ready. It should bounce back slightly to the touch. Over time, you will learn exactly how much flour is needed to make the ultimate brioche buns.
Be sure to use an egg wash before baking. This is what gives the buns a nice golden color.
When done, the bottom of the buns should be slightly brown and crunchy, and the top, a nice golden brown.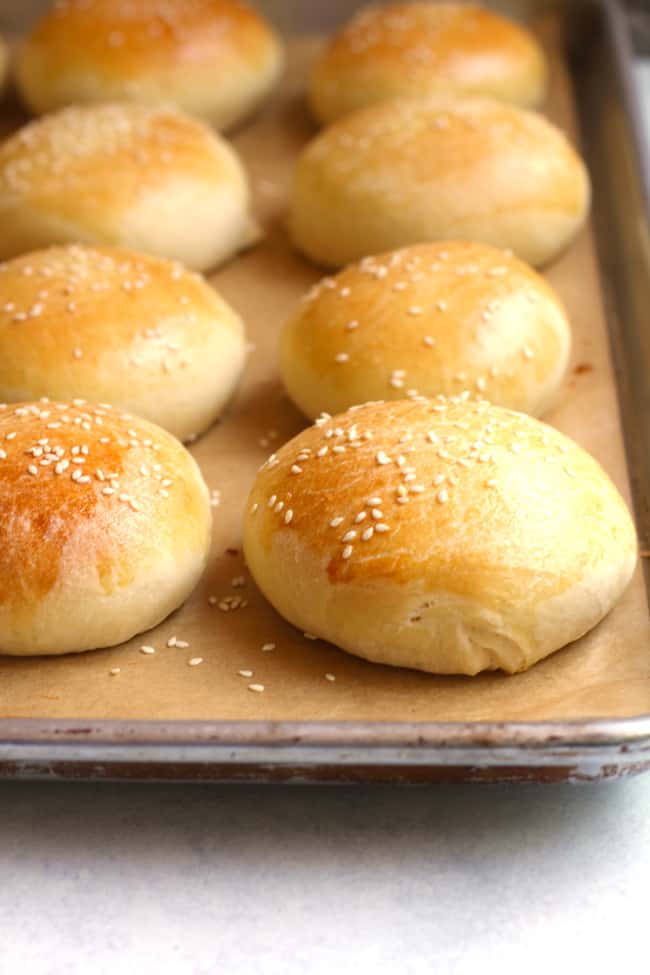 This Bosch Universal Mixer
is the bomb of bread mixers! My Mom had one sitting on her counter for as long as I can remember. She used it so often that she literally wore the first one out and bought a second one after she and Dad moved into an apartment. Mike bought me one for Mother's Day several years ago and I love it. It doesn't do the work FOR you, but it can handle a lot of bread making (speaking from experience!) and the lid prevents the dough from falling out of the mixer when making large batches of bread.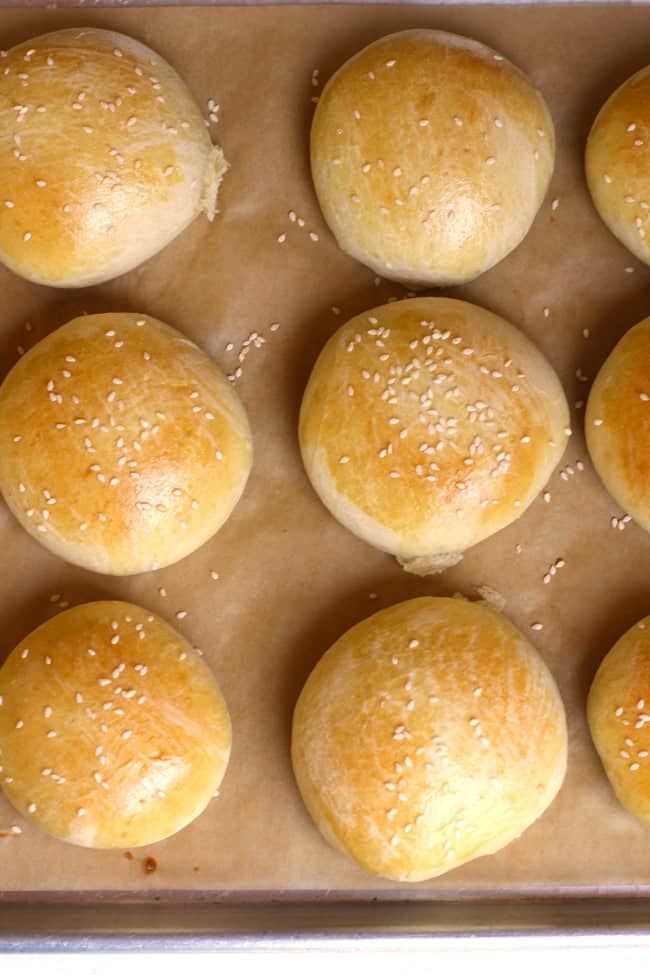 Kitchen Tools used for this recipe:

(Affiliate Links)

Make these amazing bread recipes next!

xoxo ~Sue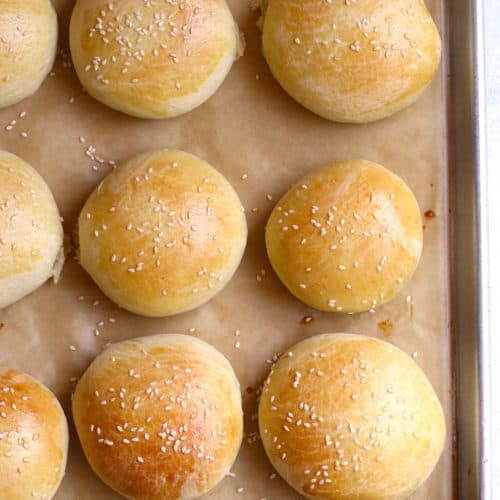 Homemade Brioche Hamburger Buns
Homemade Brioche Hamburger Buns are the perfect soft, slightly sweet bread recipe for burgers, hot dogs, or even made into loafs for sandwiches. These are buttery and delicious, and even YOU can make them!
Print
Pin
Rate
Servings:
12
medium hamburger buns
Ingredients
3

teaspoons

yeast

2

Tablespoons

sugar

1 1/4

cups

1% milk

– warmed

2

large

eggs

– beaten

1

Tablespoon

kosher salt

3 – 3.5

cups

bread flour

– or to right consistency

1/4

cup

all-purpose flour

4

Tablespoons

unsalted butter

– cut into cubes and softened to room temperature

egg wash and sesame seeds

– add before baking
Instructions
In a mixing bowl, combine yeast, sugar, and warm milk. Stir and let the mixture sit for about 15 minutes. Once the yeast is activated, you will see lots of bubbles.

Crack the eggs into a small bowl, and whisk. Pour into yeast mixture and combine.

In your standing mixer, combine the all-purpose flour, 3 cups of the bread flour, and salt. Add in softened butter, and start mixer to combine.

Add in the yeast mixture, and using dough hook, start mixer. Gradually add in more flour, until the dough starts to pull away from the sides of the mixer. The dough should be easy to handle but yet slightly sticky.

Grease a large bowl with canola oil, and add the dough. Punch the dough down into a nice smooth ball. Cover with a clean dishtowel and set it in a warm corner of your kitchen.

Let the dough rise until doubled in size. The time it takes for the rise will depend on where you live and the temperature of your home.

Using a baking mat or cutting board, spread a bit of oil to use to form buns. Slice off small sections of dough, and using your hands and the oiled surface, form them into small balls and place them on prepared baking sheets. Cover with a towel and let rise again, about 20-30 minutes.

Preheat oven to 350 degrees. Brush the egg wash on the top of the buns, and then sprinkle with sesame seeds.

Bake for approximately 15-18 minutes, or until the bottoms and tops are slightly browned. Remove and let cool on wire cooling racks.
Notes
This dough will make about 12 medium hamburger buns, or 18 slider buns. I usually do a combination of both, and freeze a bunch.
Using warm milk will activate the yeast mixture. This will take about 10-15 minutes, or until you see the foam and bubbles on top.
Add flour until you get the right consistency. It should be slightly sticky, but easy to handle.
The dough will rise at different rates each time you make it, depending on the temperature/humidity inside and outside your home.
Different climates also affect how fast your dough rises. In Texas, my dough rises pretty quickly due to more heat and humidity.
The egg wash makes these rolls nice and shiny on top.
Nutrition
Calories:
197
kcal
|
Carbohydrates:
29
g
|
Protein:
7
g
|
Fat:
6
g
|
Saturated Fat:
3
g
|
Cholesterol:
46
mg
|
Sodium:
608
mg
|
Potassium:
110
mg
|
Fiber:
2
g
|
Sugar:
3
g
|
Vitamin A:
216
IU
|
Calcium:
43
mg
|
Iron:
1
mg