I'm currently trying to decide whether Frozen Grasshoppers are a cocktail or a dessert. There are both liquor AND ice cream in this concoction, so I think I'll call it a close tie – cocktail first, dessert second.
Let me ask you a question. If someone gives up sweets for lent, they could have a frozen cocktail, right? 🙂
Yup. That's right. I gave up sweets for lent. ARGHH! And I LOVE ice cream. It was really really really hard to not lick the spoon while making these Frozen Grasshoppers. Because I love ice cream. Oh, I already said that.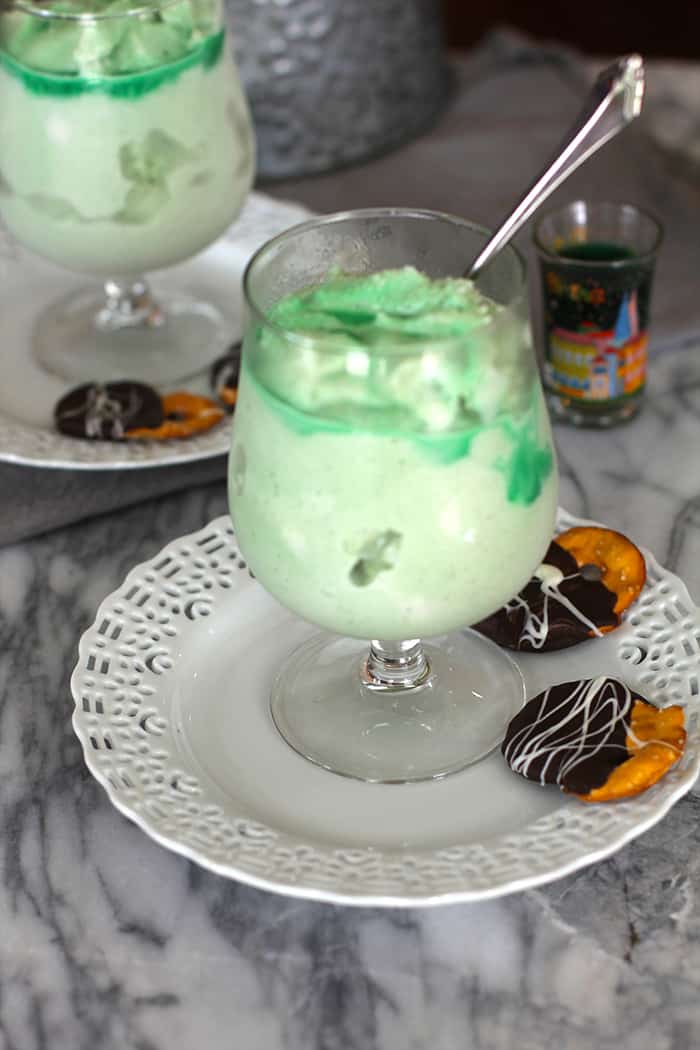 Just in case you are wondering, I made most of the sweets that I'll be posting during the Lenten Season – BEFORE Ash Wednesday. I normally want to taste the recipes I make so I know if they are "blogable". (FYI…this is a word in the dictionary.) But THIS one. Well, I've only tasted it about a million times or so.
Norma Jean made this recipe for family gatherings, especially at Christmas time. Since my Dad was, and still is, a huge ice cream lover, she liked to have something with ice cream at almost every occasion. Now you know where I got the ice cream gene.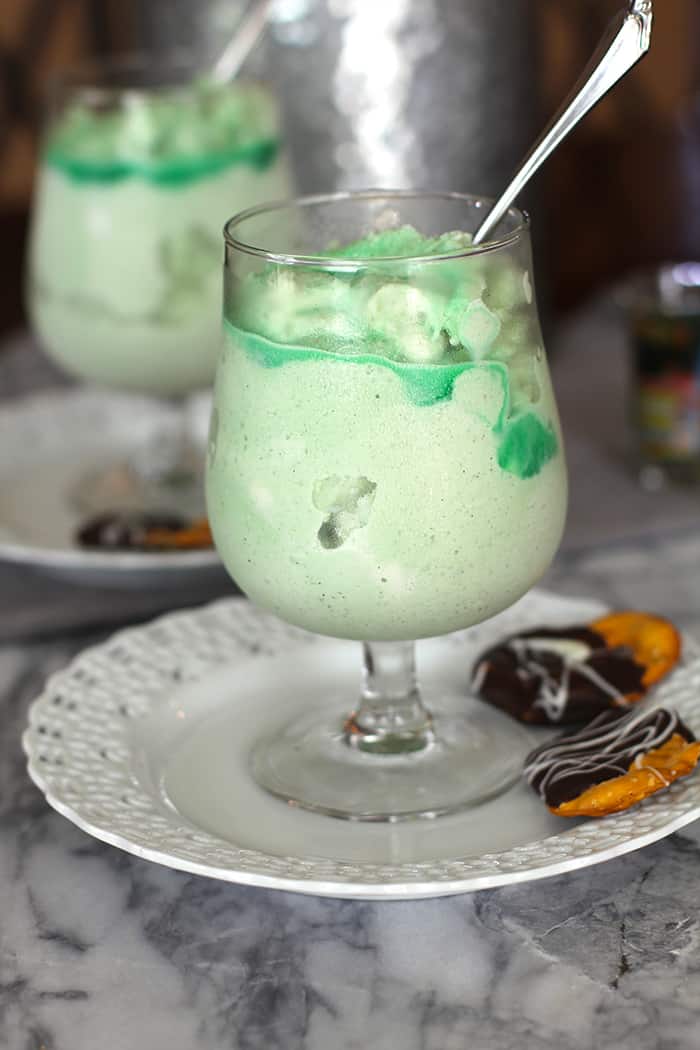 I just checked the most recent St. Joe (the small town in Iowa where I was raised) cookbook, and this recipe is listed on page 39 (for all you St. Joe friends) with my Dad's name on it. Mom was one of the creators of the parish cookbooks back in the day, and she liked to add a recipe for each one of us in the cookbooks. So this one is Dad's and I see one of my baby brother's – Rob's Bloody Mary Mix. (Hey Rob, can I get your recipe?) I have to chuckle because we often times didn't know what recipe she would choose for us. But I was a recipe developer even back in the old days…I guess. 🙂
Do you remember my bucket-of-slush description? Well, we also had bucket-of-grasshoppers at Mom and Dad's house. And here's another interesting fact. The "buckets" were actually empty ice cream containers with a handle on them. I think they were Blue Bunny pails. And we went through TONS of them. Because we ate too much ice cream. Maybe.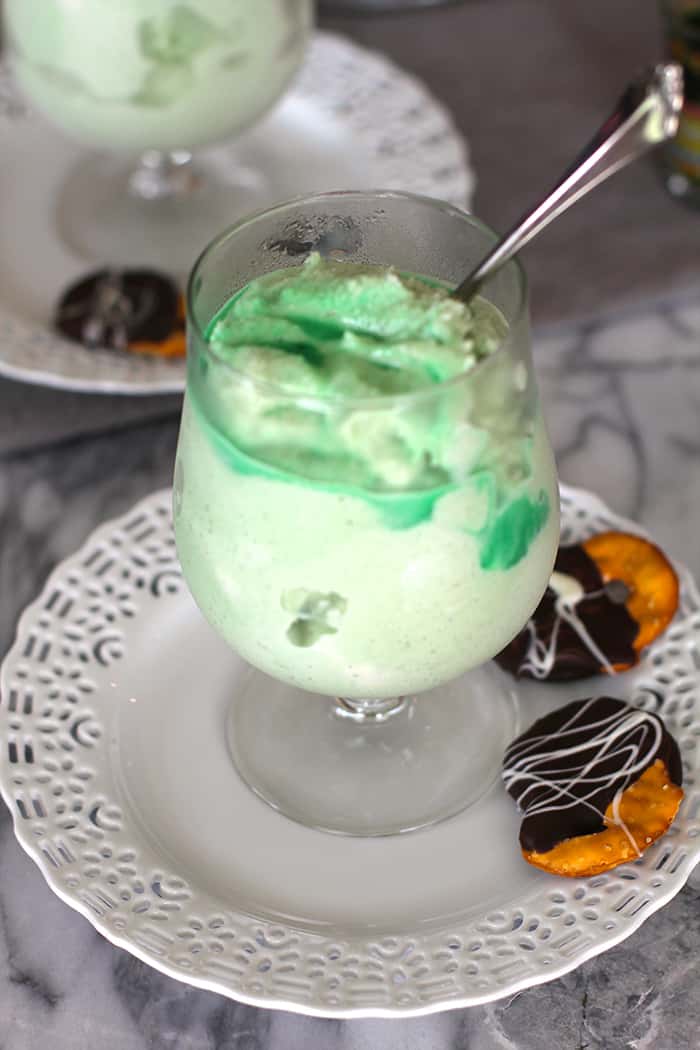 To make these, I used ONE HALF of a half-gallon of Blue Bell Vanilla Bean ice cream for each blender full. (Just use any vanilla ice cream you like.) I made two batches and went through the entire half-gallon. Since I didn't have an empty bucket handy, I used a tupperware container and stored them in the freezer. They should be fine in the freezer for several months, or at least until Easter (when I can have some one). And I better go hide them from my hubby so he doesn't drink them beforehand!
The blender
I use is actually an attachment for my Bosch
, one of my most used and favorite appliances in my kitchen. The blender is super powerful and I love using it for frozen cocktails and smoothies.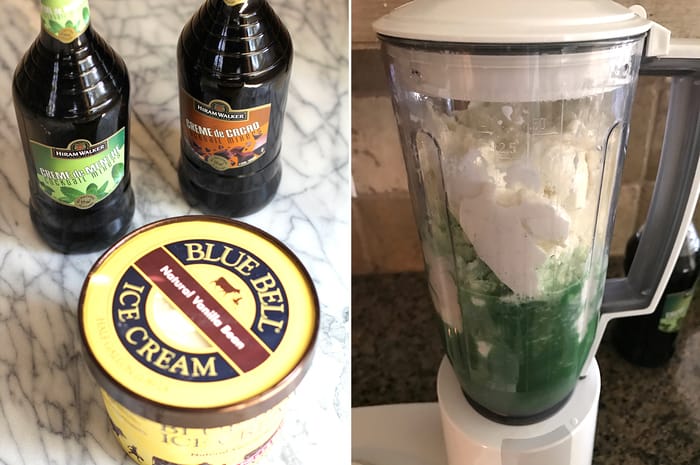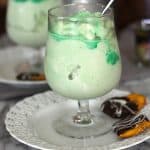 Frozen Grasshoppers
A creamy dessert cocktail, made with ice cream, ice cubes, creme de menthe and creme de cocoa! A family favorite!
Ingredients
1/3

cup

creme de menthe

1/3

cup

creme de cocoa

10

ice cubes

4

cups

vanilla ice cream

two pints

extra dash of creme de menthe

to serve
Instructions
Put liquors, ice cubes, and ice cream in blender. Pulse until ice is pureed and mixture is well combined.

Pour into four glasses and top with another small dash of creme de menthe.
Recipe Notes
You can make several batches and store in a large container in the freezer until ready to serve. This makes a perfect dessert cocktail.
Feel free to adjust the alcohol levels as you see fit.

SHARE THIS POST TO YOUR FRIENDS: