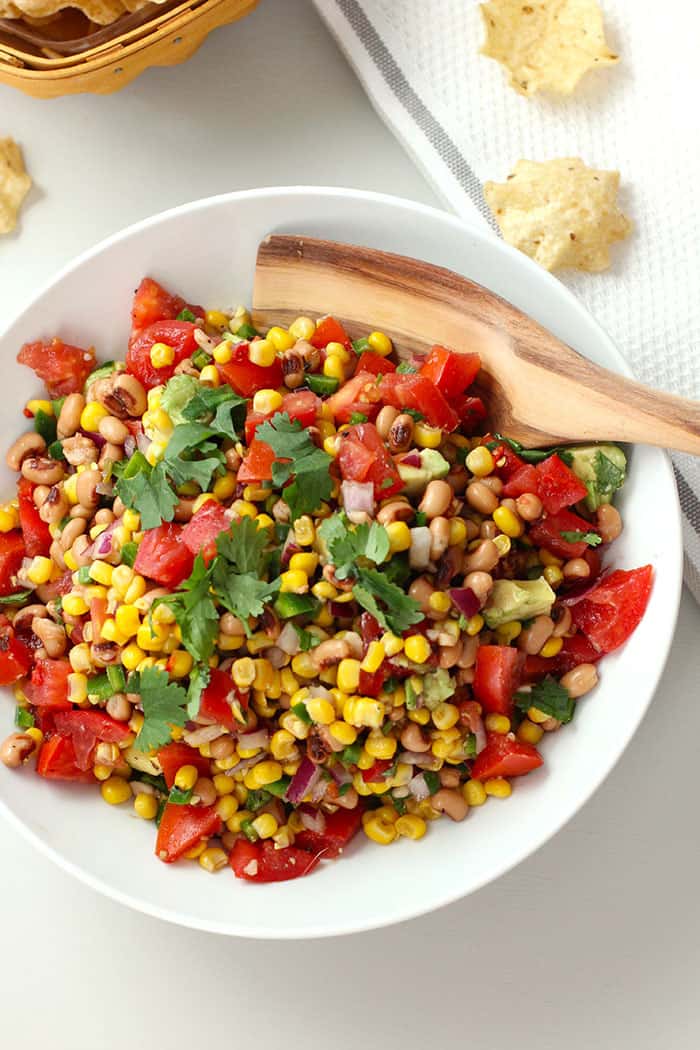 We've lived in Texas for over 23 years now. After the first couple of years of getting used to hearing "ya'll" and "bless your heart", we learned a new and very important tradition. Eating black-eyed peas on New Years Day brings good luck. I remember talking to friends at work and them being utterly shocked that I wasn't whipping up a batch of black-eyed peas for the new year. But it's a southern tradition so I had no clue. Now that Mike and I have lived here for almost half of our lives, I'm a believer. We eat black-eyed peas EVERY new year.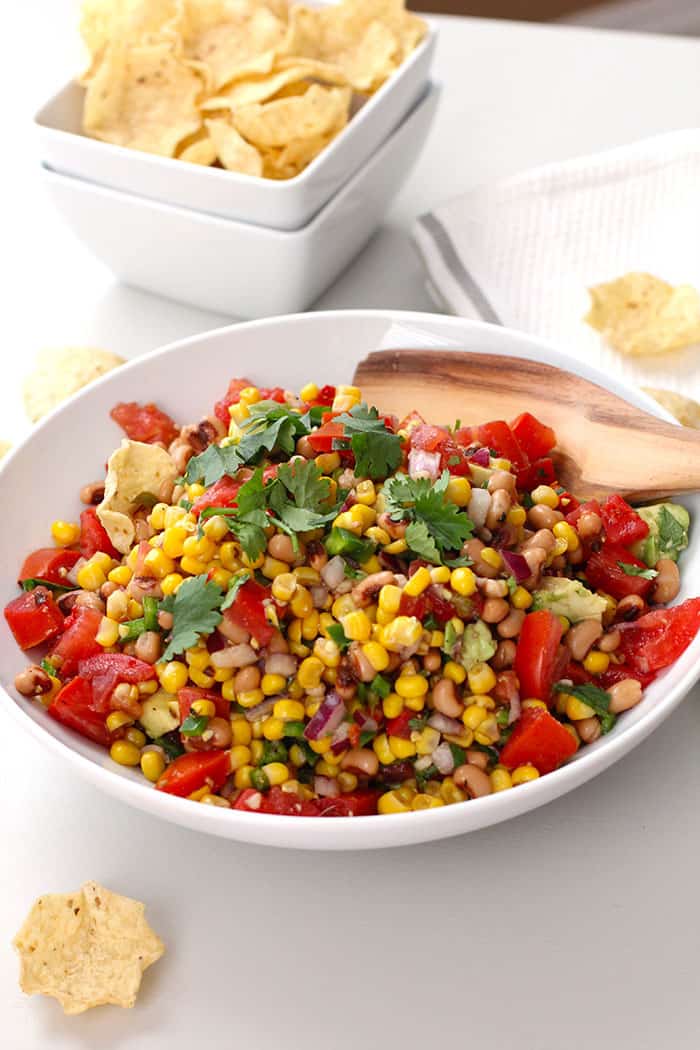 2016 was a pretty great year in many ways. And on 1/1/2016, we had Black-Eyed Pea Dip. Do you see the relationship? black-eyed peas –> good year!
So this year, I had to whip up a batch one day early, in order to show ya'll 🙂 how to make it. If you haven't bought the ingredients, get your wallet and high tail it to the store. This dip is vital for 2017. And it gets better…it's super tasty and very healthy.
The only problem I'm having is that the bowl you see pictured here is already gone. I was hoping we'd have a little left, so that I'd only have to make it once. But nope. I'll be making it twice this year. I'm thinking….if once is great, twice is even greater.
Here's the type of black-eyed peas 
I use.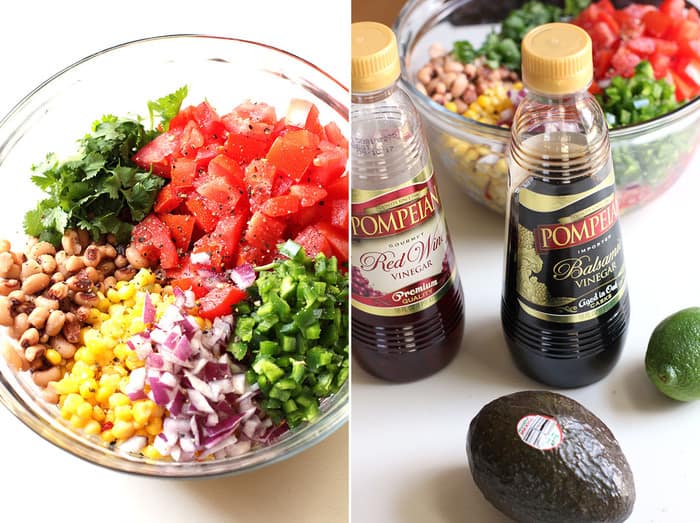 I've done a bit of reading on foods that bring luck in the new year. So it might be wise to add these ingredients to your grocery list as well.
12 grapes – eat them at midnight
Ring-Shaped Foods – like donuts
Pork – which is on our grill right now, btw!
Pomegranate – smashed on the floor
Cooked Greens – like collard greens, cabbage, or kale
Lentils – because they resemble money
Cake – baked with a coin inside
Fish/Seafood – on the menu for tomorrow at our house
Are you superstitious? Bless your heart. I am too.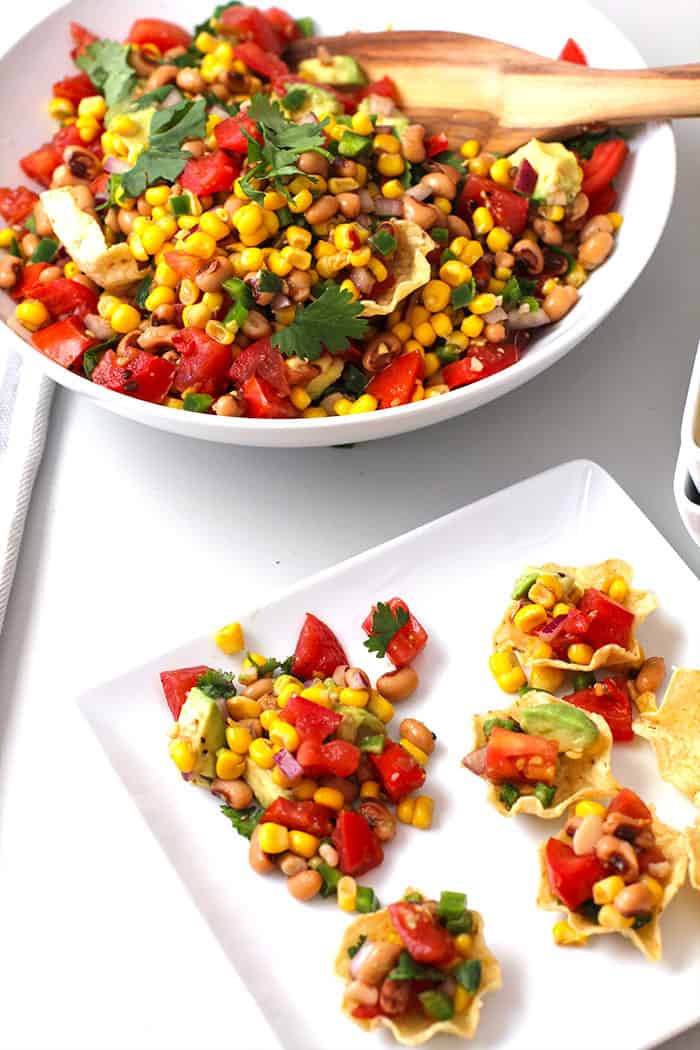 Let's toast to a happy and blessed 2017!!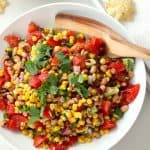 Black-eyed Pea Dip
a fresh tasting black-eyed pea dip, loaded with veggies and a light vinegar dressing
Ingredients
1

can

Black-Eyed Peas

rinsed and drained

1

can

Mexicorn

drained

4

fresh

roma tomatoes

diced without seeds

2

fresh

jalapenos

diced and de-seeded (leave a few seeds for spice)

1/4

cup

red onion

diced finely

1/4

cup

cilantro

finely chopped

salt and pepper

to taste

1

large

avocado

diced

1/2

fresh

lime

squeezed over avocado

few

shakes

red wine vinegar

few

shakes

Balsamic vinegar

1

bag

Tostitos (scoops)
Instructions
Drain and rinse black-eyed peas. Drain Mexicorn. Combine both in medium bowl.

Slice the roma tomatoes in half and squeeze out the seeds and liquid, then dice. Slice the jalapeños in half, remove seeds (with gloves), and dice. Slice the onion and chop finely. Chop the cilantro. Add these ingredients to bowl.

Season with salt and pepper to taste. Add a few shakes of red wine vinegar and balsamic vinegar. Taste and determine if you need more. Cover and refrigerate for at least one hour.

When ready to serve, chop avocado and add a squeeze of lime. Add to bean and veggie mixture and serve with Tostitos Scoops.

This dip lasts up to two days in the refrigerator. It's best on the first day.
SHARE THIS POST TO YOUR FRIENDS: