Handcrafted Farmhouse Table
This post may contain affiliate links which won't change your price but will share a commission.
Rustic + Modern handcrafted the perfect farmhouse table for our newly remodeled space. The table was customized for our kitchen nook, and the service was top-notch!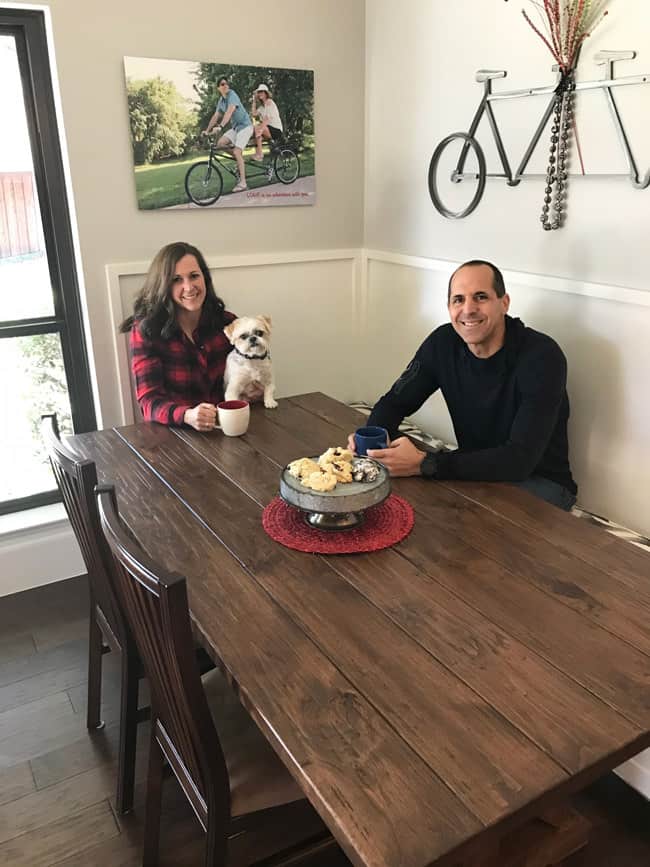 Some of you know that we recently completed a large kitchen and family room remodel. Our home was originally built in 1984, and we've been slowly updating it, and did a "mini-kitchen-update" back in 2002. After living here for 16 years, the kitchen needed new cabinets and we wanted a more open layout. Those pictures will be coming to the blog in January.
Mike and I have always talked about wanting a booth in our kitchen, and our designer and contractor made that happen. However, our kitchen table wasn't going to work with the booth, and let's be real. New kitchen…new furniture needed! So we began the hunt for the ideal table for our space, running all over looking, until we found Rustic + Modern Handcrafted Furniture.
R+M impressed us in so many ways.
Completely customizable. Since this table will be part of our booth, we needed to have the right legs, so that we could put OUR LEGS around the table without bumping into it. That's why we went with the Farmhouse Trestle Table. The table top was completely personal, and we wanted a rustic top. Our table top has farmhouse-style grooves that are hand scraped distressed.
High quality. R+M uses 100% solid wood species with all of their one-of-a-kind character and beauty.
Professional service. The owners have a design center for a private consultations, as well as an easy-to-use website where all orders can be personalized and processed. If you have questions, please see their FAQs or send them a message.
Family-owned. Ken and Emily Williams started out in a garage workshop but soon set up their own shop, based on humble roots, sound principles, and excellent workmanship. They have a small team of talented artisans and are continuing to grow, earning the Houzz Customer Service Award for multiple years.
Local. Located in North Texas, R+M serves both residential and commercial customers in the DFW area. They offer white-glove delivery service to the Dallas/Fort Worth area and are working on a plan to ship anywhere in the U.S.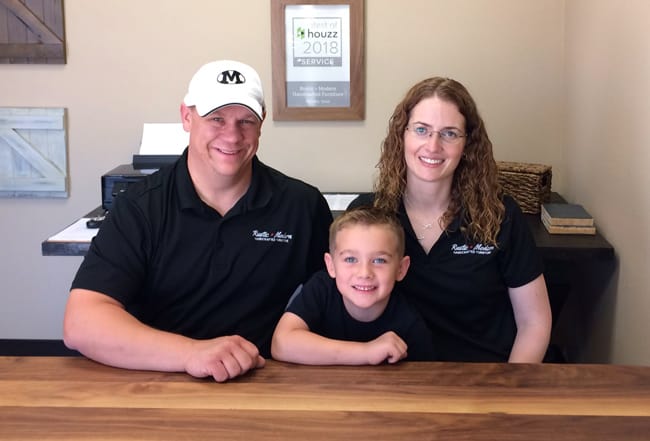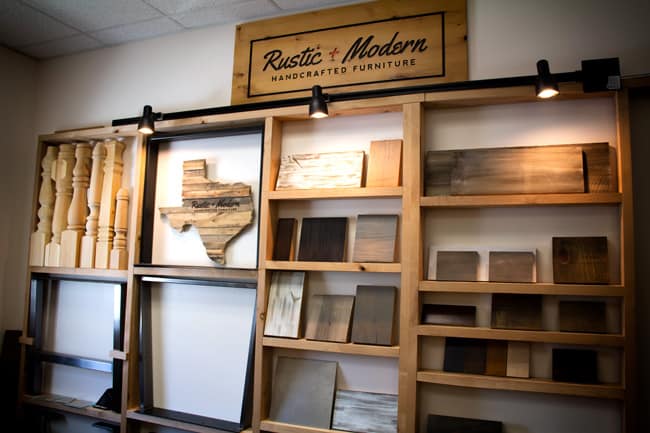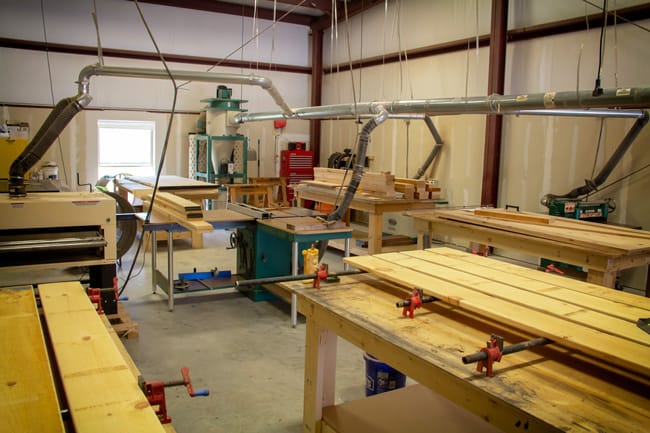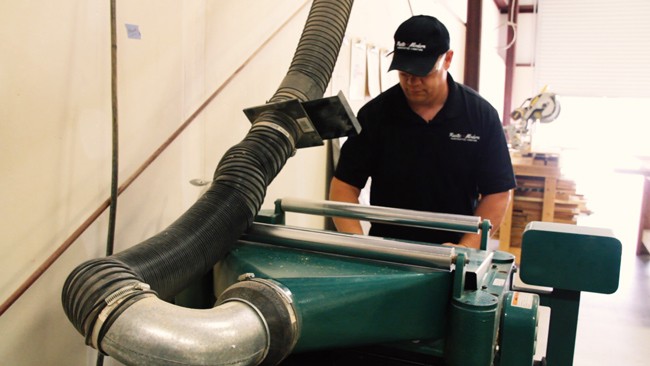 To purchase your own table, you simply head to SHOP and choose:
style
wood species
table length
table width
table height
thickness
stain color
farmhouse style grooves – yes or no
hand scraped distressed – yes or no, tabletop or the entire table
corners/edges
Speaking of customer service, Emily sent me these three pictures (see below) during the construction process. I was pretty excited to see the tabletop one day, the legs the next, and the finished product soon after.
In addition to custom tables, R+M makes barn doors, coffee tables, and other custom furniture. Take a look at their online showroom!
If you decide to go with Rustic + Modern, please tell them SueBee Homemaker sent you!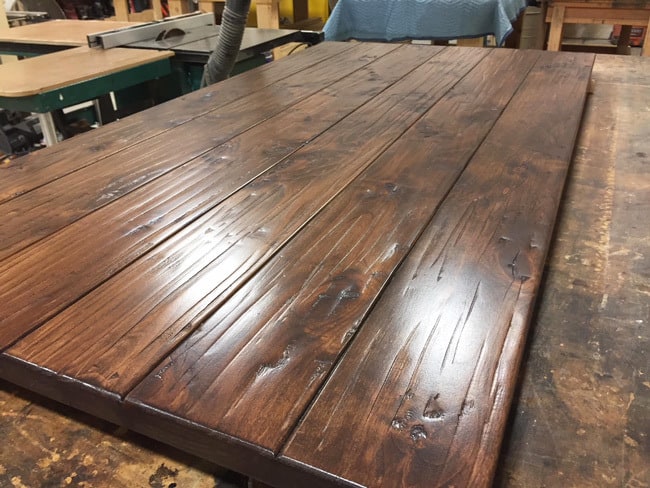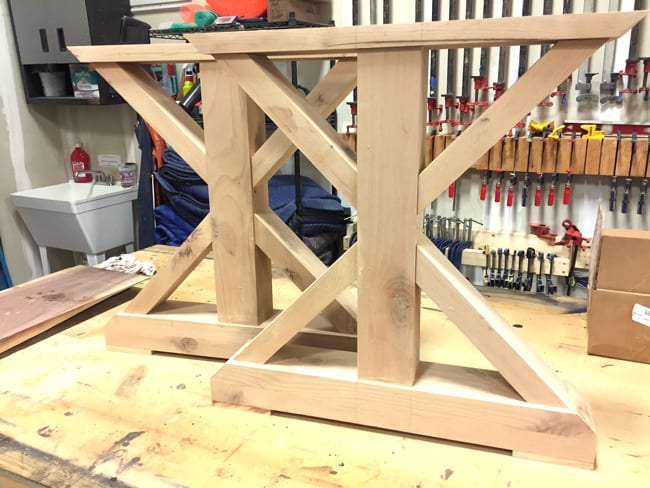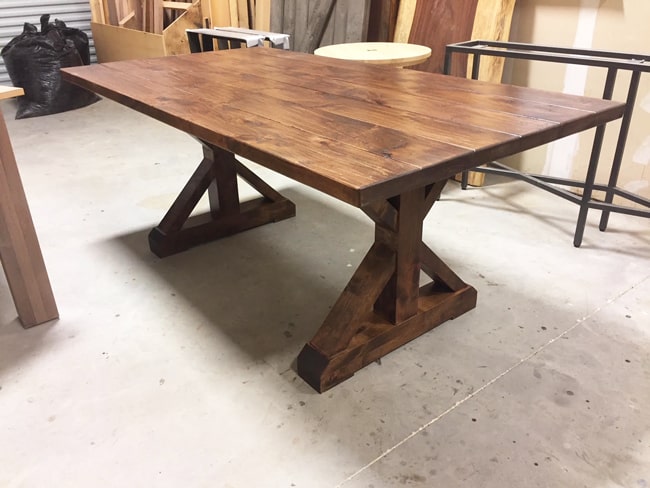 There are so many table styles to choose from, but we needed legs that were easy to scoot around to get to the bench. Our space is also slightly shorter now after the remodel, so we needed a 72-inch table. The table is PERFECT, and we couldn't be happier!
Y'all know how much I love food, and the table is representative of this love. It's a place to gather our family and friends and celebrate the love we have for one another. Dinnertime has always been special to us, and that's where our family has shared so much, including tears of happiness and tears of sadness. It ALL happens at the table, starting with a prayer of blessing, and continuing with anything under the sun.