Oh, I'm SO excited for ya'll to try these Cinnamon Sugar Candied Pecans!! They are so so so good. (My hubby says I say SO a lot – so I thought I'd just keep going with that. EEK.) And this is coming from a girl that only started liking nuts a few years ago. Now, I'm NUTS over nuts. SO…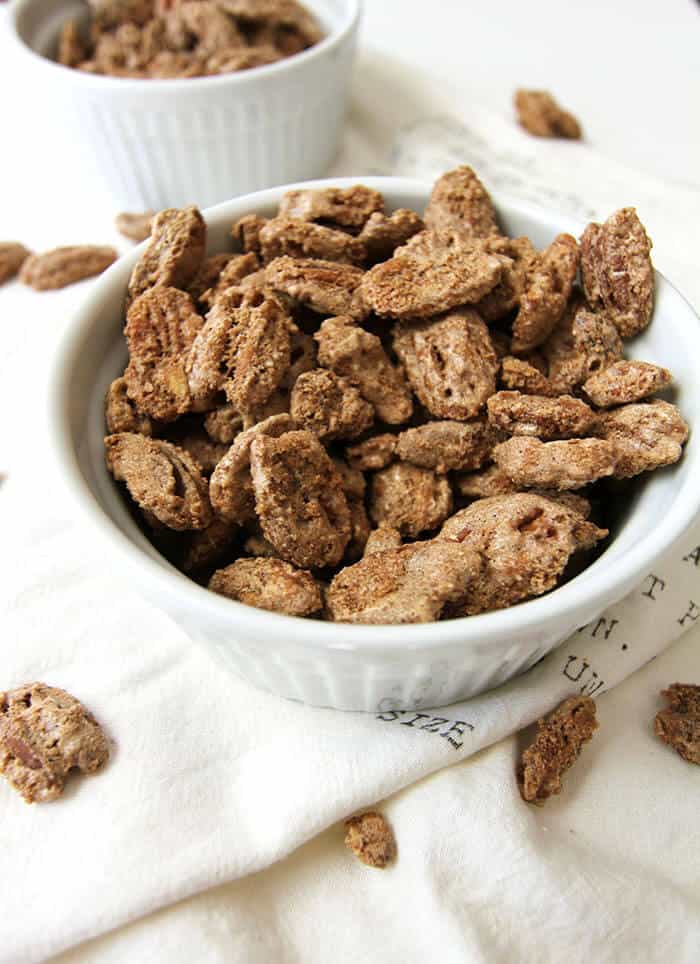 Mike asked me to make him something for his MK Department Thanksgiving Lunch, and I immediately suggested a green salad with candied pecans. Stay tuned for the salad part.
This nut recipe is super easy. It literally takes 10 minutes to whip together plus one hour in the oven. You can just sit back and watch your favorite show, while enjoying the wonderful smells coming from the oven. Just don't fall asleep and forget to stir the pecans every 15 minutes. Burnt nuts are a no no. Kinda like burnt popcorn.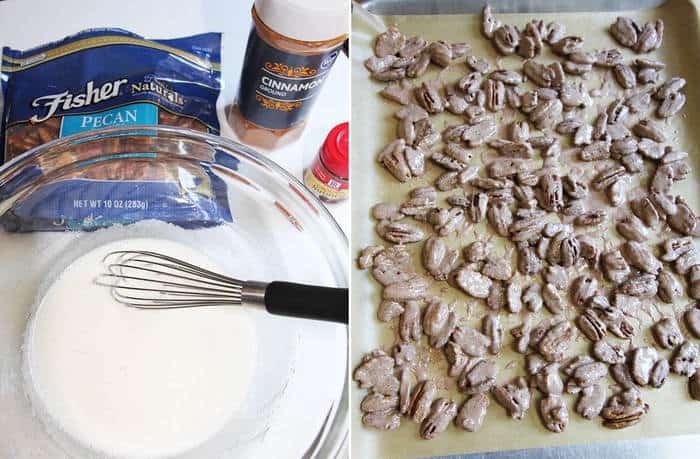 Candied Pecans make eating salads over the holidays something special. The nuts are also great by themselves as a snack. A dangerous snack at that! The other cool thing you can do is give them as a hostess gift, or any kind of gift, in a pretty mason jar. The possibilities are endless, friends.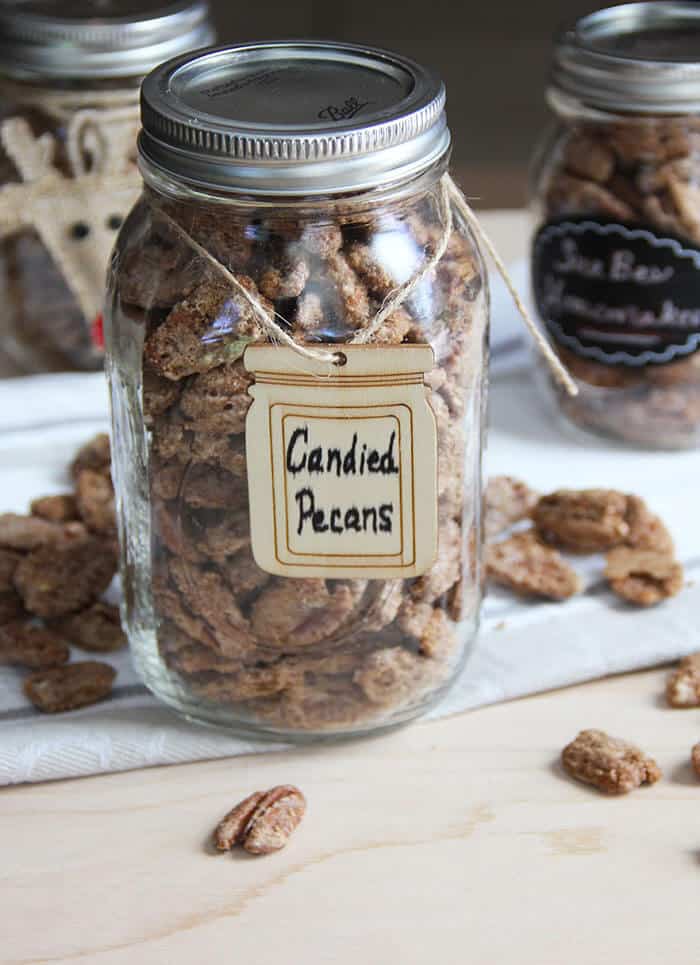 This is what the pecans look like after baking. They are crunchy and sweet. AAH-mazing.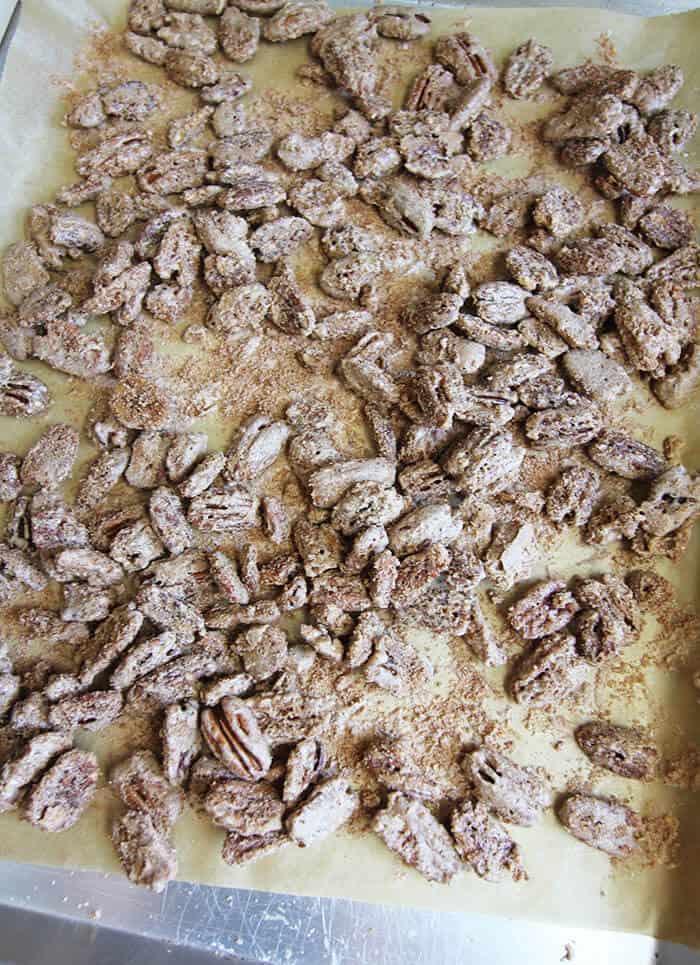 You don't have to look far to find pecans in the grocery stores right now. I'm sure you've noticed special Thanksgiving displays in the stores, with tons of baking items and other ingredients for the biggest meal of the year. There is no nut shortage in Texas. Thank goodness for that. I really can't believe Thanksgiving is upon us. And then Christmas. SO much to do and SO little time. SO – what are you waiting for?! 🙂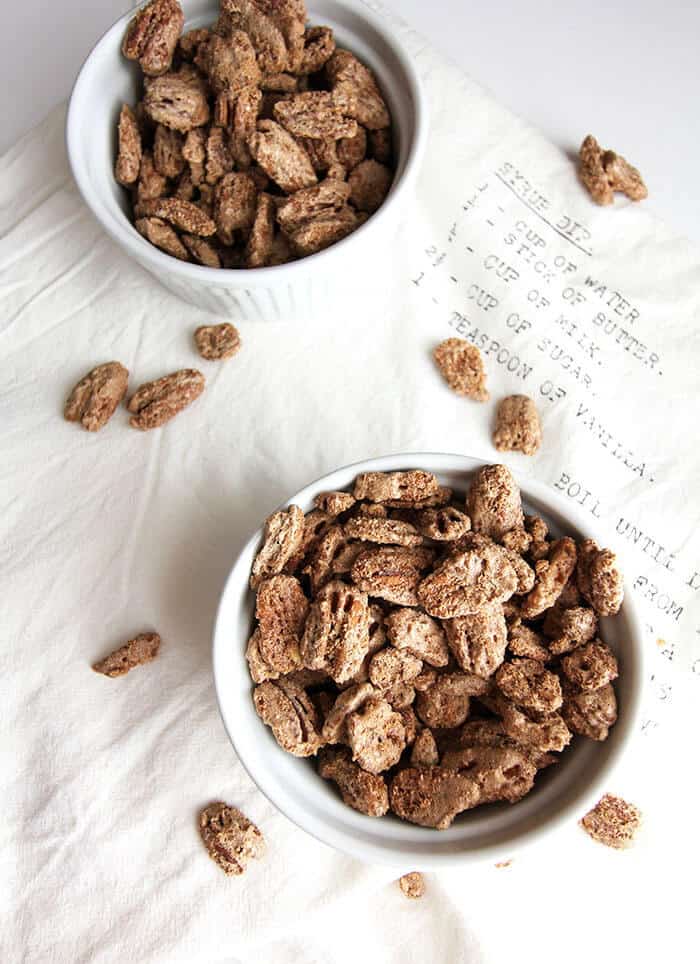 If you need another great holiday snack, make my Chex Party Mix. It's a perfect snack to have on hand when you have lots of people around. And it freezes really well so you can make it ahead of time.
As you've probably noticed by now, I believe in keeping meals fairly easy and preparing as much as you can ahead of time. The freezer is my best friend. 🙂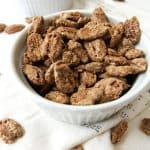 Cinnamon Sugar Candied Pecans
pecans with a delicious candy coating, giving the nuts extra crunch and flavor
Ingredients
10

oz

pecan halves

1

large

egg white

1/2

teaspoon

salt

1/2

teaspoon

pure vanilla

2/3

cup

white sugar

2

teaspoons

cinnamon

1/2

teaspoon

nutmeg
Instructions
Preheat the oven to 250 degrees.

Whip the egg white and salt until frothy. Add the vanilla and sugar and beat until whites start to form a stiff peak.

Add cinnamon and nutmeg and mix. Fold in the pecans and stir to coat.

Line a baking sheet with parchment paper. Add the pecans to the pan and spread out evenly.

Bake for one hour, stirring them every 15 minutes.

Remove from oven and let cool. Store in airtight container or ziplock bags.