Loaded with fresh vegetables, chickpeas, olives, artichoke hearts, feta cheese, and Jennie-O Smoked Sun-Dried Tomato Turkey Breast, this Traditional Greek Salad is a complete and satisfying meal. The Greek Vinaigrette puts the final touches on an already delicious salad, and you'll be making it again and again!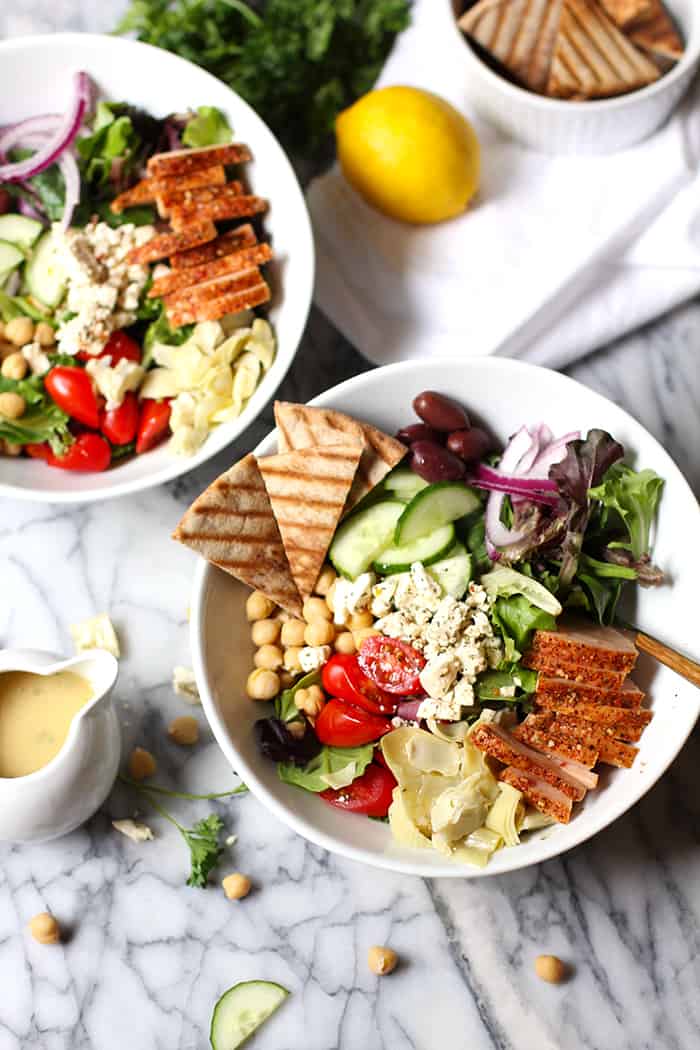 Have you ever bought the salad bowls that are shorter on one side? The ones that you see in the store and think, "Oh, those would be perfect for my blog?!" You know. If you are a fellow blogger, that is.
Well, I was at World Market the other day and saw these perfect lopsided bowls in WHITE (because we all know food looks prettier surrounded by white, right?) and knew I had to have them. Because I wanted to make PRETTY Greek Salads so ya'll would want to take a bite out of them – right from your screens. Do you? 🙂
And the story goes like this.
I buy the bowls at World Market.
I make the salads.
I photograph them for 30 minutes or so.
I wrap them up tightly for dinner that night.
Mike and I sit down to eat together. (Zach was working.)
Mike starts eating and a bunch of salad falls out of his bowl.
He complains about the bowl and I laugh. It was funny! 🙂
I eat my salad and amazingly, none of my salad falls out of my bowl.
I determine that either the bowls are faulty (but PRETTY) or men just have balance problems.
And yes, I still have the bowls and am still using them for pretty pictures. I'll eat out of them – but will make sure my boys have regular bowls.
I'm still giggling. 🙂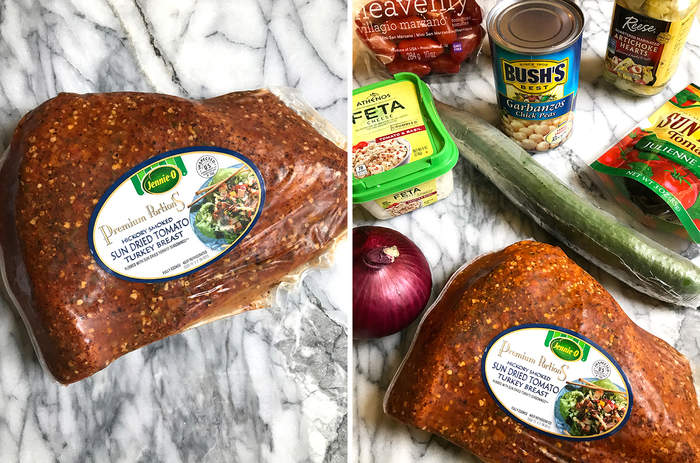 This is my third Jennie-O sponsored post, following my Sweet Potato Turkey Chili that I posted in January, and my Sausage Potato Breakfast Frittata that I posted in March. Jennie-O sends me free product in exchange for my recipes, and I was pretty excited to open the last box that included three different flavors of deli turkey breast. I decided that the Hickory-Smoked Sun Dried Tomato Turkey Breast would be perfect for these Traditional Greek Salads.
After Mike scooped his salad back into his bowl, he said that the salad was delicious. 🙂
By the way, this recipe is for two LARGE main dish salads. You could also make four smaller ones if you prefer. The dressing is a larger recipe and can be used for a repeat of this meal or for another type of salad.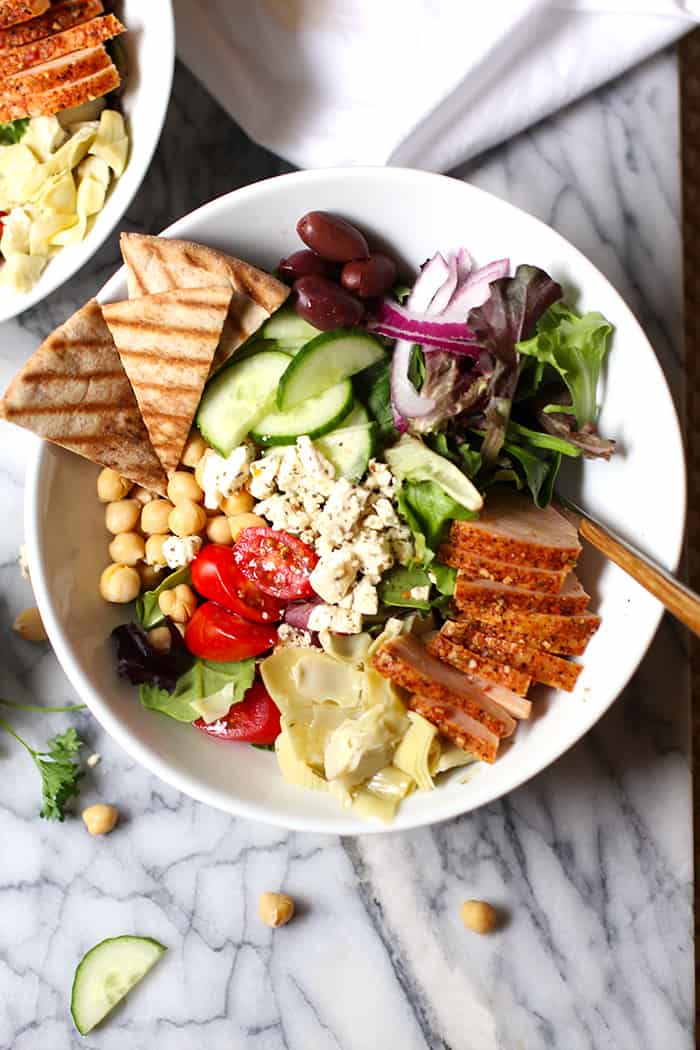 One thing I've learned from all of this food blogging, is to buy fresh parsley, cilantro, basil, and lemons almost weekly. I've been using these ingredients in so many of my recipes. Fresh ingredients always make everything taste better.
I used both fresh lemons and parsley in the Greek Vinaigrette. I must say, it MADE the salad. So good and so fresh. Making homemade dressings are VERY important to amazing salads, and the great thing is that you know exactly what's in them. I'm pretty amazed that only one teaspoon of sugar was needed to make this dressing. Back in the day, I used an embarrassingly large quantity of sugar in my salad dressings.
Now, I save my sugar fixes for things like Perfect Lemon Cupcakes or French Silk Pie!
But I digress.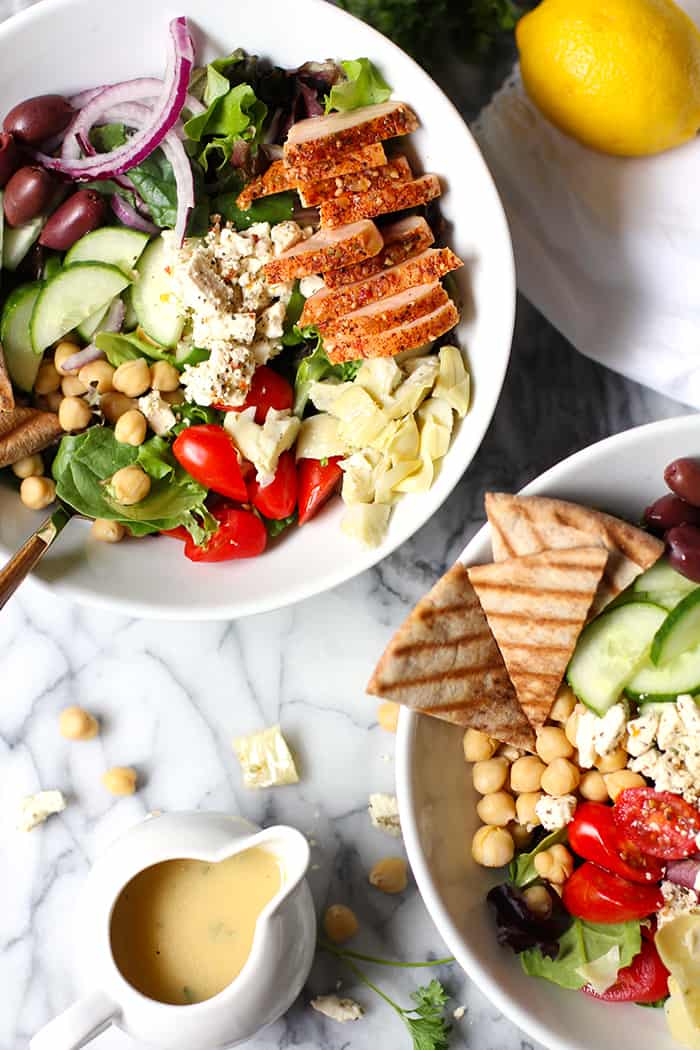 If you'd like to stay up-to-date with the happenings at SueBee Homemaker (hey – that's me!), you can sign up for post updates (in the top corner of my site) or like my Facebook Page!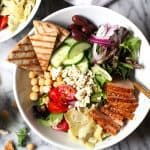 Traditional Greek Salad with Smoked Turkey
Ingredients
For the salad:
8

cups

fresh lettuce greens

- I used the spinach/spring mix combo

1/2

cup

English cucumber

- sliced

1/2

cup

cherry tomatoes

- sliced in half

1/4

cup

red onion

- sliced thin

1/4

cup

kalamata olives

1/2

cup

garbanzo beans

- rinsed and drained

1/2

cup

marinated artichoke hearts

- drained

1/2

cup

feta cheese

6

oz.

Jennie-O Smoked Turkey

- Sun-Dried Tomato

pita chips

- optional
For the Greek Vinaigrette:
3

Tablespoons

apple cider vinegar

6

Tablespoons

olive oil

1

Tablespoon

honey dijon mustard

1

teaspoon

sugar

1/2

teaspoon

garlic powder

1

teaspoon

fresh parsley

- finely diced

1/2

large

lemon - juiced

- freshly squeezed

salt and pepper

- to taste
Instructions
Arrange all salad ingredients in two large salad bowls. These are main dish salads, so you could also arrange in four smaller bowls for side dish salads.

For the vinaigrette, combine all ingredients in salad shaker. Make sure you use fresh lemon and fresh parsley

Pour salad dressing over salad right before serving.

SHARE THIS POST TO YOUR FRIENDS: