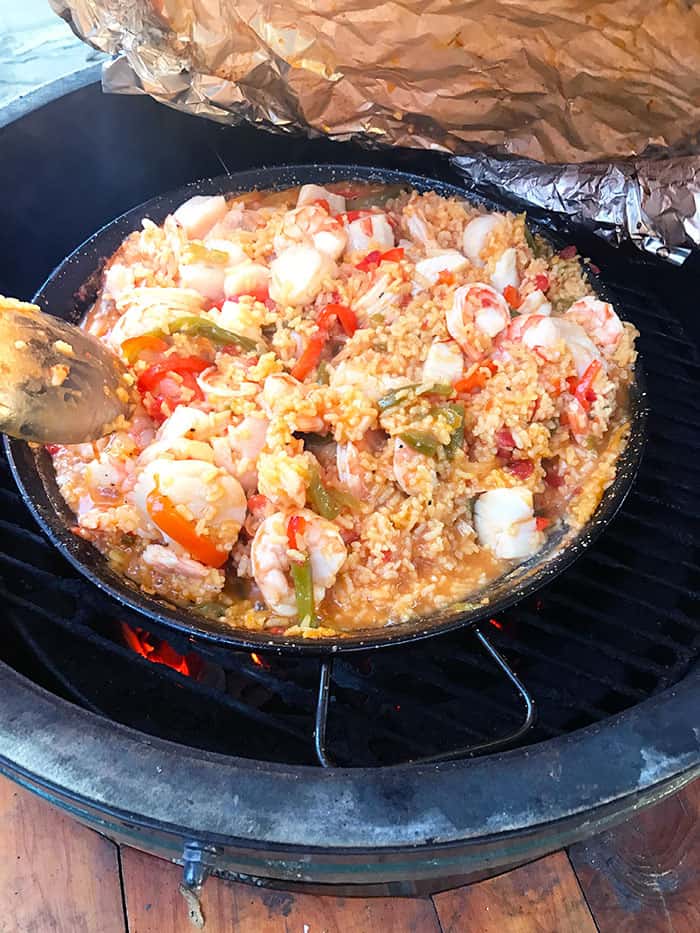 If you've checked out my travel posts, specifically the Madrid, Lisbon, and Barcelona trips, you will see that we ate a good share of paella while in Europe last year. Especially Mike. We fell madly in love with it, and decided to try our hand at Shrimp and Scallops Paella when we returned home. Paella is now one of our favorites meals and I've made it several times for friends as well.
Paella is pronounced "puh-yay-a". I think. One of the fun parts of making paella is saying it. Over and over again. Mike and I love to really emphasize the YAY part. In turn, our boys love to roll their eyes at us. Which makes it even more fun to say. Over and over again.
You get the picture. 🙂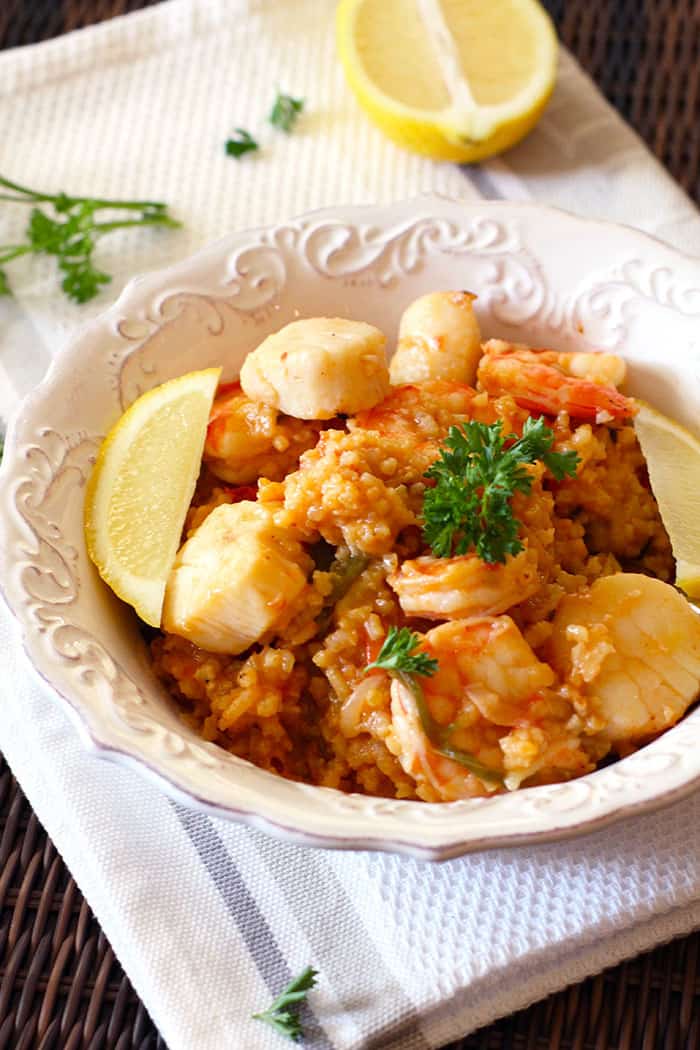 Shrimp and Scallops Paella is one dish that I usually prepare on our outdoor grill, mostly because of the size of the pan. I purchased two of these paella pans
 on amazon, so I could make two batches at once for a larger group. Our Texas weather also allows for us to grill outside almost all year long. But you can totally make paella on your stove top, even using a regular saucepan.
There a couple of must-have ingredients for this recipe. One is the paella rice
 that I usually order on amazon, but you can find it at World Market or other specialty stores. The other is saffron
, which I order as well. Saffron is a spice used often in Spanish dishes and is especially good in cooking seafood. And lastly, the paella pan makes the dish all the better because of the large cooking surface. If made correctly, the paella should have a brown, crisp layer at the bottom.
When we cook paella on our outside grill, I put everything in a pan to take it outside. The photo on the right is the saffron. You need only a teaspoon for this recipe.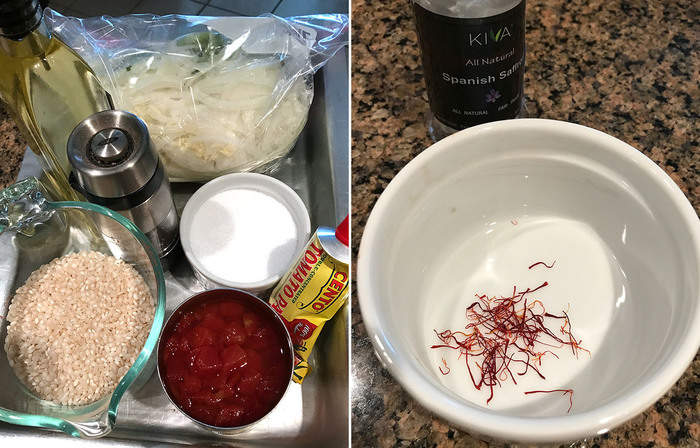 I also order this tomato paste
 (see below) on Amazon. I seem to waste so much of the canned tomato paste, and since this recipe only calls for three tablespoons, the tubes of paste are a great option to have on hand.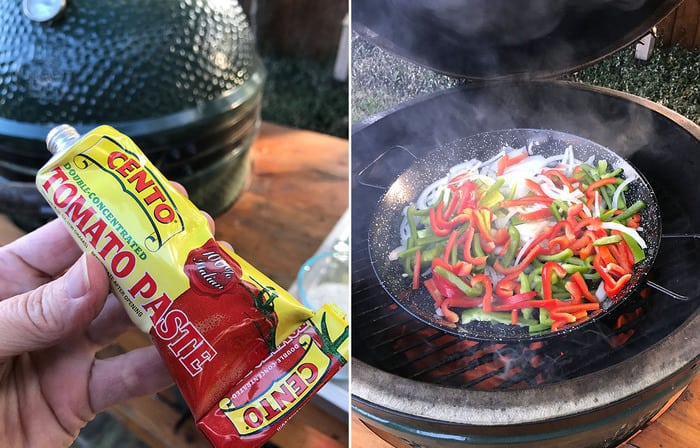 The first photo below was taken right after the chicken broth was poured into the paella. We covered it with foil and let it simmer for about 25 minutes before adding the seafood (photo on the right). Then we covered it back up with foil and let it cook for about 5-7 minutes. Four pounds of seafood is a lot so the pan was heaping over.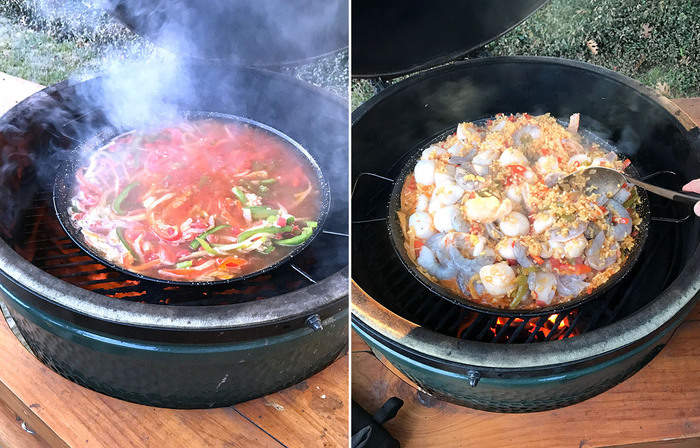 It should also be noted that if you don't like spicy foods, use mild Rotel instead of the HOT Rotel that this recipe calls for. But the HOT stuff is really the best (in my opinion). 🙂
All this paella talk is really making me miss our trip to Spain and Portugal. We had the best time. And the food was…well, exceptional.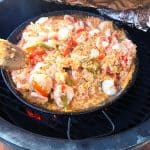 Shrimp and Scallops Paella
a Spanish inspired rice dish made with tomatoes, peppers, onions, and plenty of shrimp and scallops
Ingredients
4

Tablespoons

olive oil

separated

1

medium

yellow onion

chopped

3

cloves

garlic

finely diced

1

whole

red pepper

sliced thin

1

whole

green pepper

sliced

1

teaspoon

Spanish saffron

1.5

cups

paella rice

or white rice

10

oz.

can Hot Rotel

can use mild or medium if preferred

3

Tablespoons

tomato paste

6

cups

chicken broth

warmed up in microwave

2

pounds

scallops

cut into bite sized pieces

2

pounds

large, raw shrimp

peeled and deveined

salt and pepper

to taste
Instructions
Prep vegetables by thinly slicing the peppers and onion and mincing the garlic. Heat up paella pan on your outdoor grill (or make it on your stovetop). Add olive oil and then add vegetables, saffron, and salt and pepper to taste.

When vegetables start to soften (after 6-7 minutes), add paella rice, Rotel, and tomato paste. Cook for about 6-7 more minutes.

Add chicken broth (make sure it is hot), stir, and cover pan with foil. Let simmer for 20-25 minutes until liquid is almost fully absorbed and the bottom of the paella is starting to develop a dark crust.

Add shrimp and scallops (and a little more salt and pepper) and stir. Cover again with foil, and continue cooking until seafood is just cooked through, approximately 5-7 minutes. Be careful to NOT over-cook the shrimp and scallops.

Serve immediately, with slices of lemon.
SHARE THIS POST TO YOUR FRIENDS: