Three Days in Madrid – Part One
This post may contain affiliate links which won't change your price but will share a commission.
Mike and I took our first European trip together in February 2016. Mary Kay – Mike's employer – sent him to Spain for business so I met him in Madrid towards the end of his work commitment. We decided that we had time for about three days in three different cities, and we chose the following destinations.
Part One – Madrid, Spain
Part Two – Lisbon, Portugal
Part Three – Barcelona, Spain
My fit and super competitive husband decided to run a half marathon in Madrid before I arrived. Here's a couple of pics of him post-race. He ran his half in 1 hour and 40 minutes. Not too bad coming off jet lag!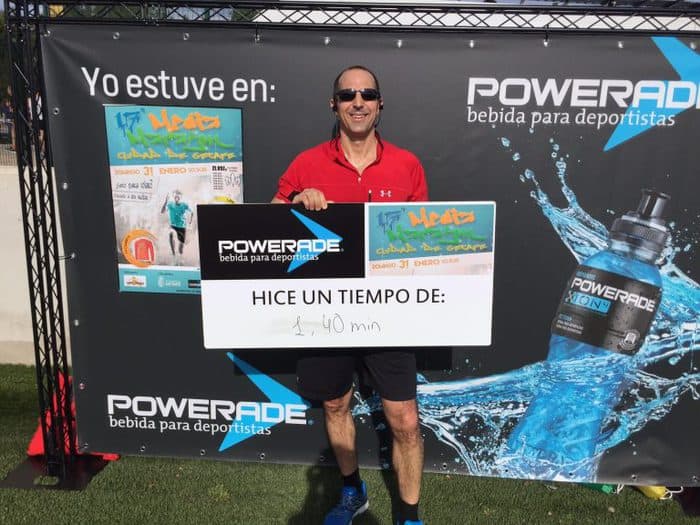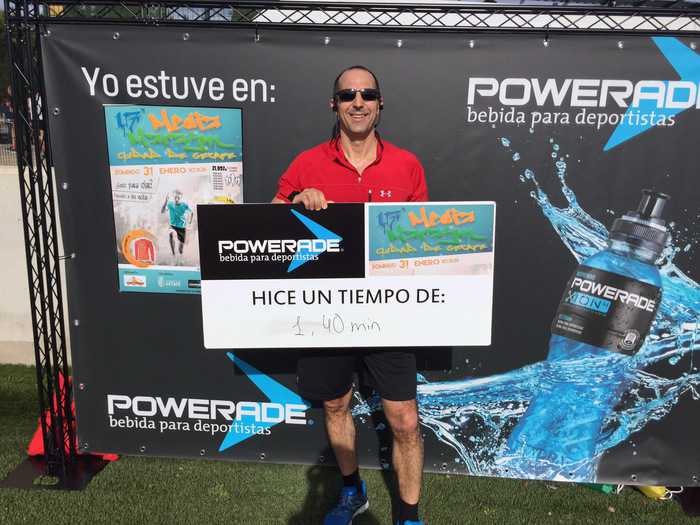 He enjoyed a celebratory glass of wine and tapas at La Castela.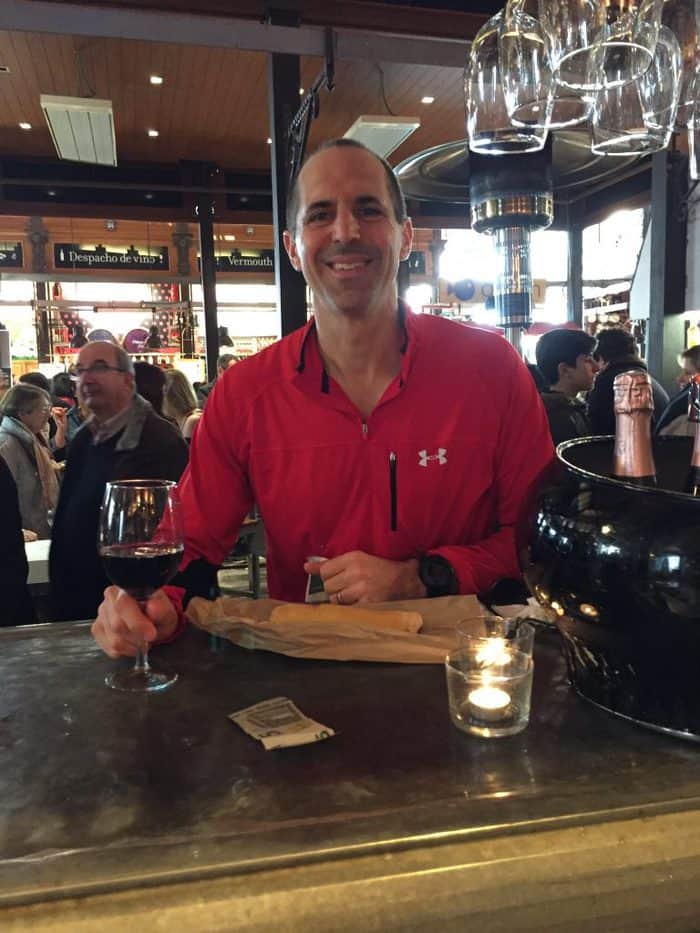 We stayed at the Hilton Madrid (the hotel Mike was staying at for work) and it was very modern European with a sleek, clean design.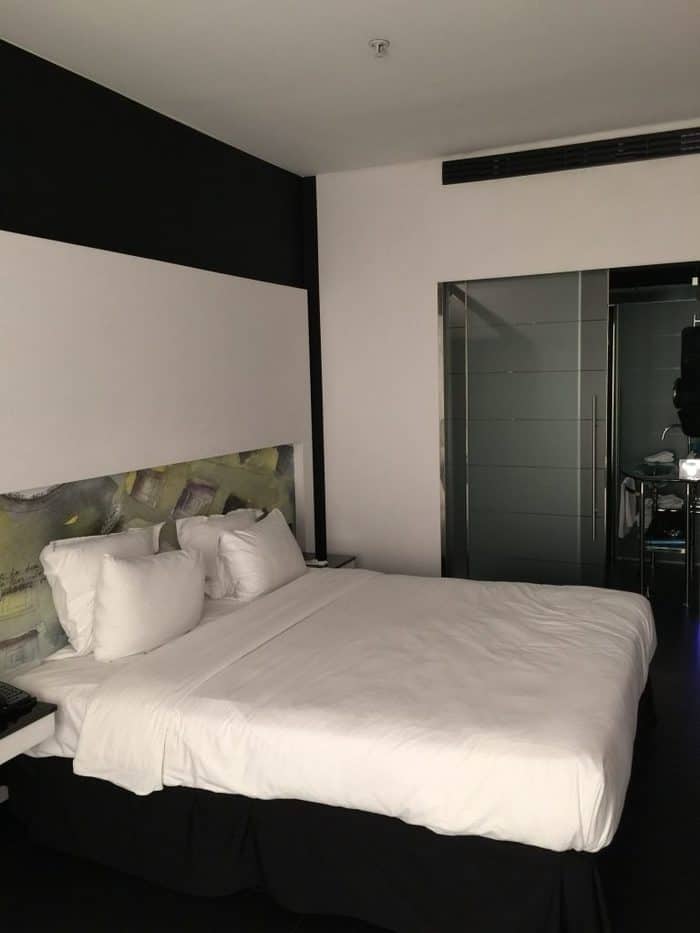 Our first night out in Madrid included drinks at the bar at Terraza de Cibeles, located on the 6th floor of the Cibeles Palace (which now serves as Madrid City Hall), overlooking the Cibeles Fountain and Paseo del Prado. The night was chilly so we didn't last long on the rooftop even though the views were amazing. We had dinner following with the MK Spain girls at the hotel restaurant overlooking the Palacio Real.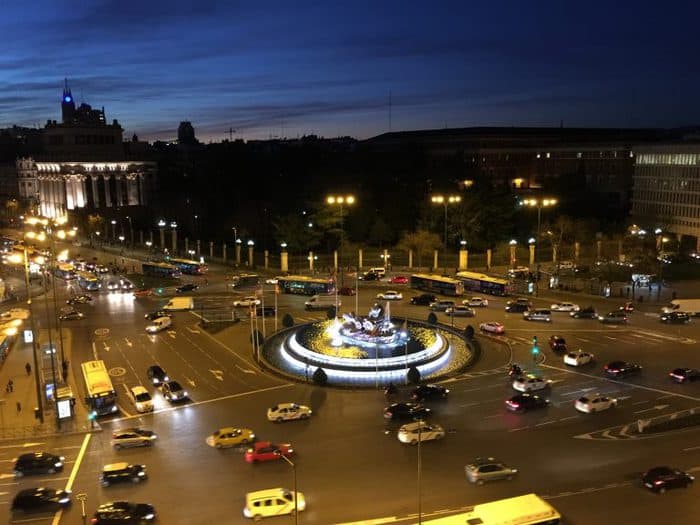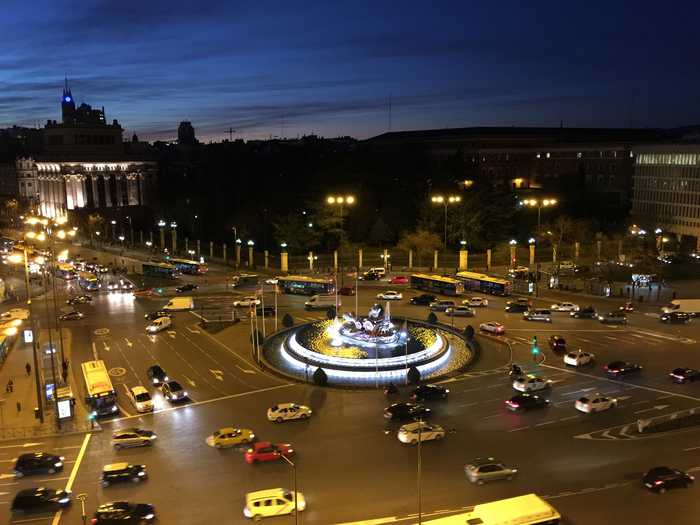 Day Two involved an all day outing in Madrid. We went to El Cortez Ingles in Callao Square for lunch of wine and pizza, and an excellent view of the city on the top floor of the Banesto Building.
We then headed to Puerta del Sol (Gate of the Sun), one of the best known and busiest places in Madrid and the centre of the radial network of Spanish Roads. The Plaza Mayor, or Main Square, was our next stop and is a central rectangular plaza in the city. The Plaza had been the scene of markets, bullfights, football games, and public executions.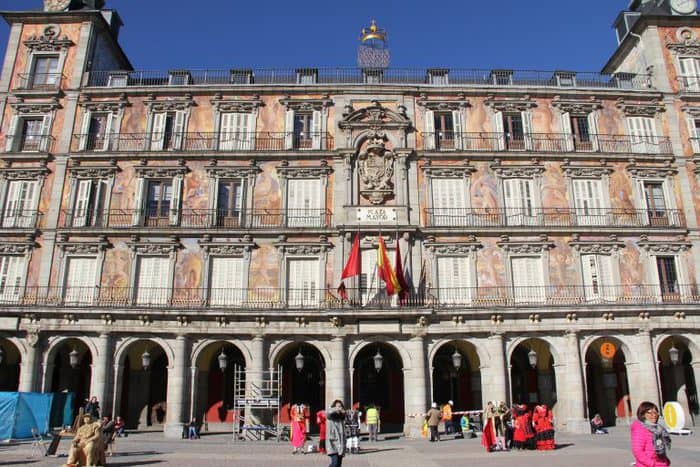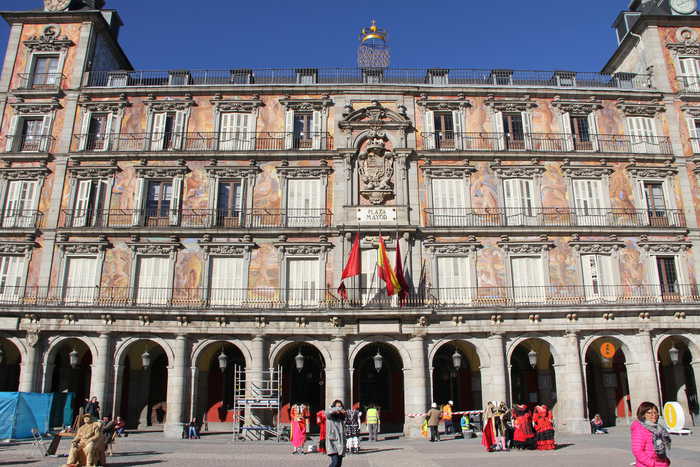 Our day involved a lot of walking so we were happy to find the Chocolateria San Gines, a cafe at Pasadizo de San Gines, in central Madrid. We ordered chocolate con churros – hot chocolate and churros – and OMG…it was delicious. The hot chocolate is served in Spanish style – thick, dark, and strong – and oh so good. The Churros were deep fried, but light and crispy, and served hot and freshly cooked, ready for dunking in the chocolate.
We were in heaven.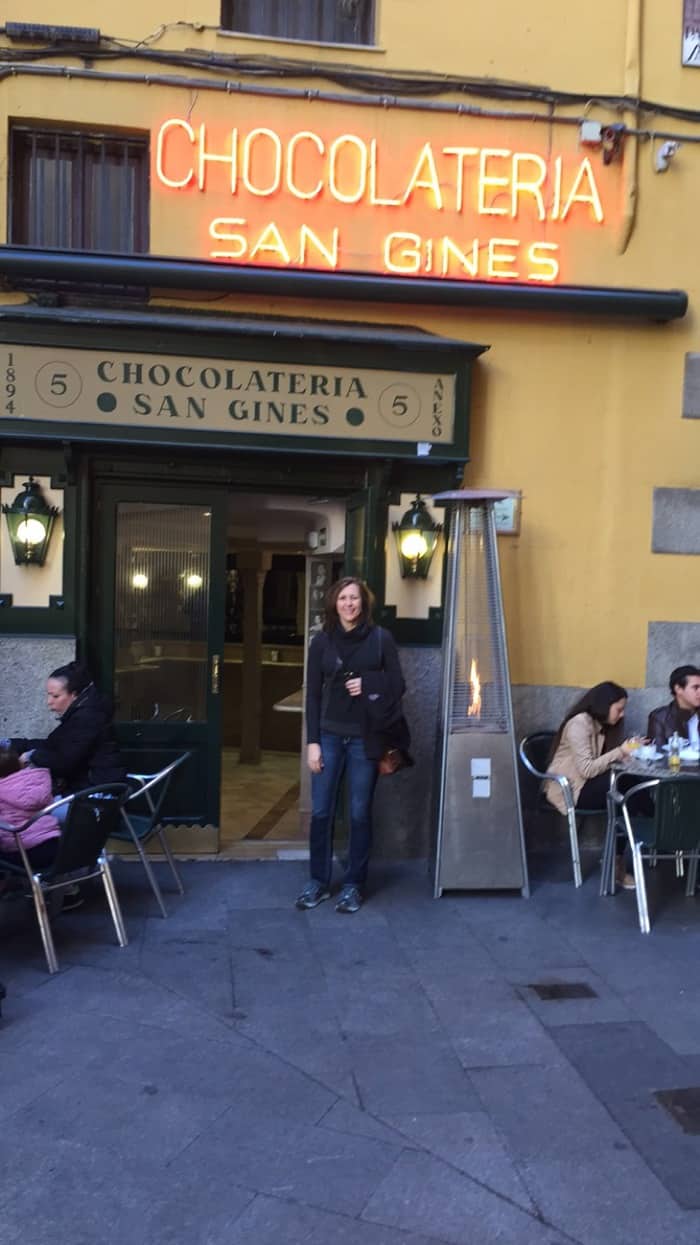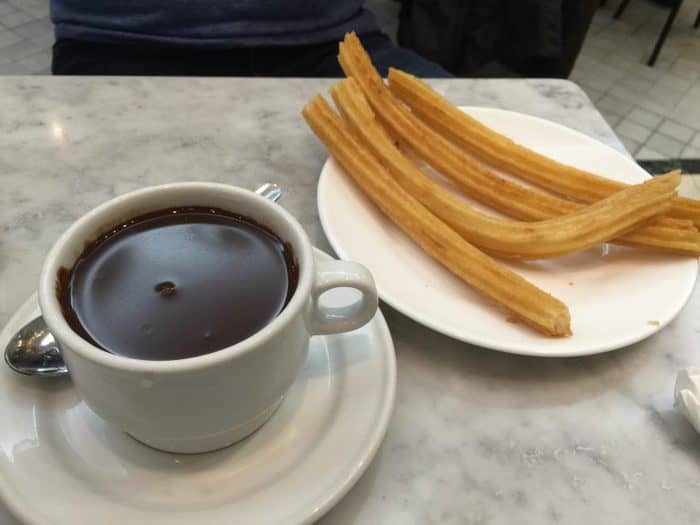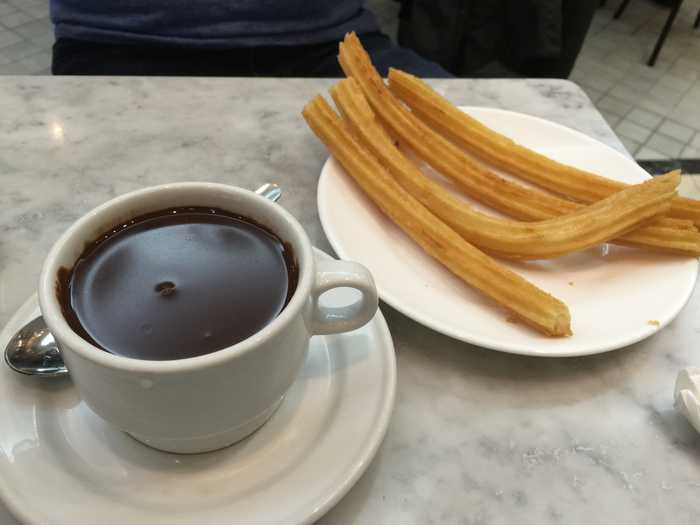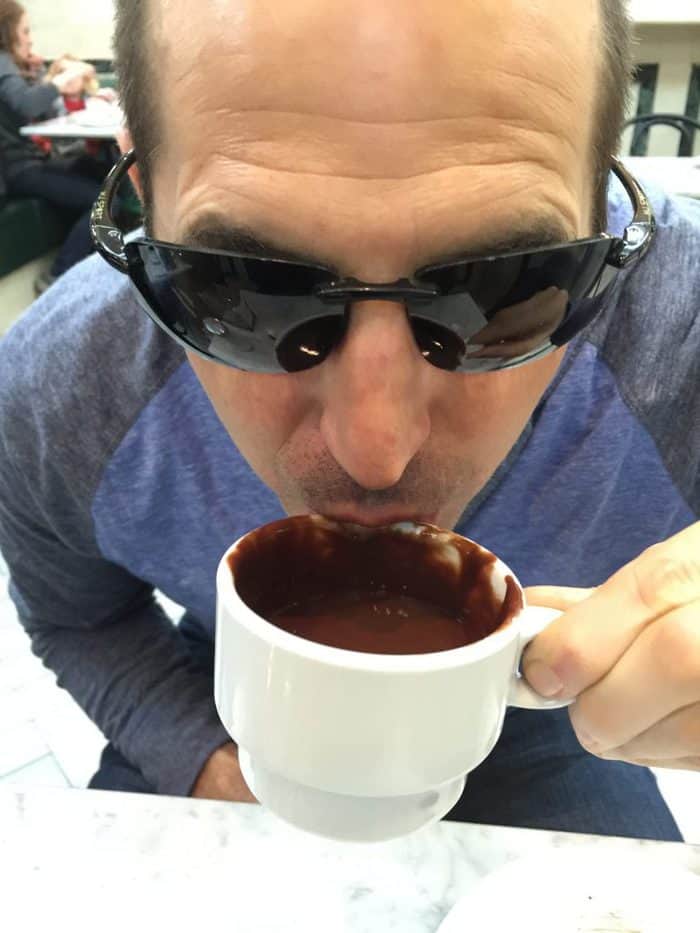 We stopped at the San Miguel Market, a gourmet tapas market, and the most popular market in Madrid among tourists, with over 30 different vendors selling a wide variety of freshly prepared tapas, hams, olives, baked good etc. We of course, had to eat again and shared several things, including paella, crepes, and yogurt.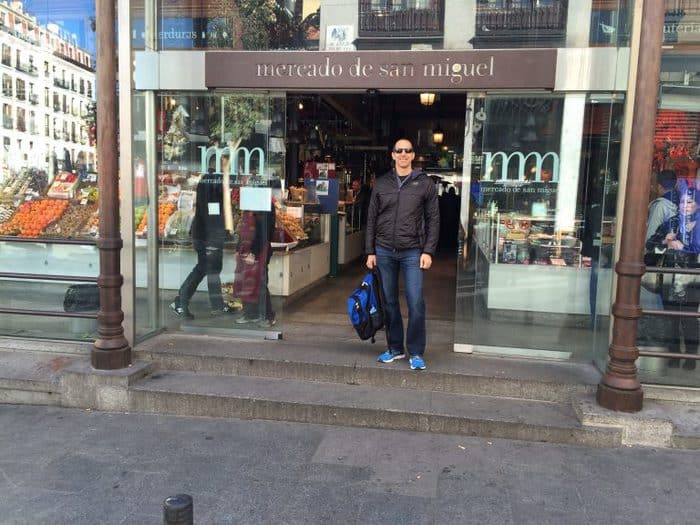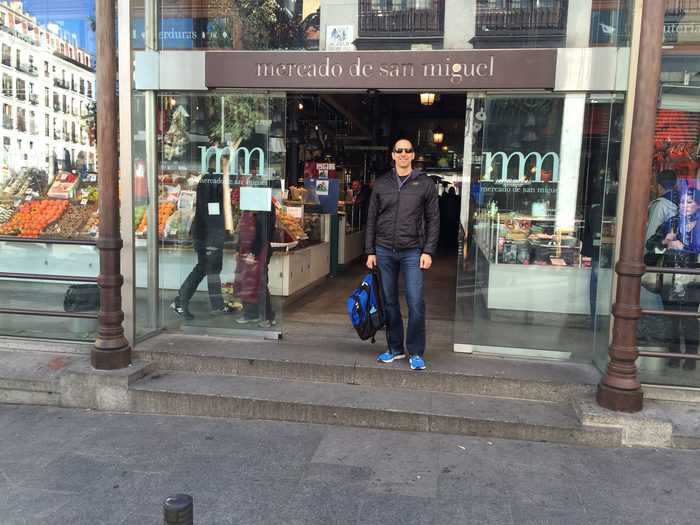 The next several hours involved bar hopping. Since Europeans eat lunch at 2pm and dinner at around 8pm, we had several hours to kill. We had "canas and tapas" (small beers and a few bites of food) at the International Brewery Bringas, Gran de Comidas, and La Revaelta.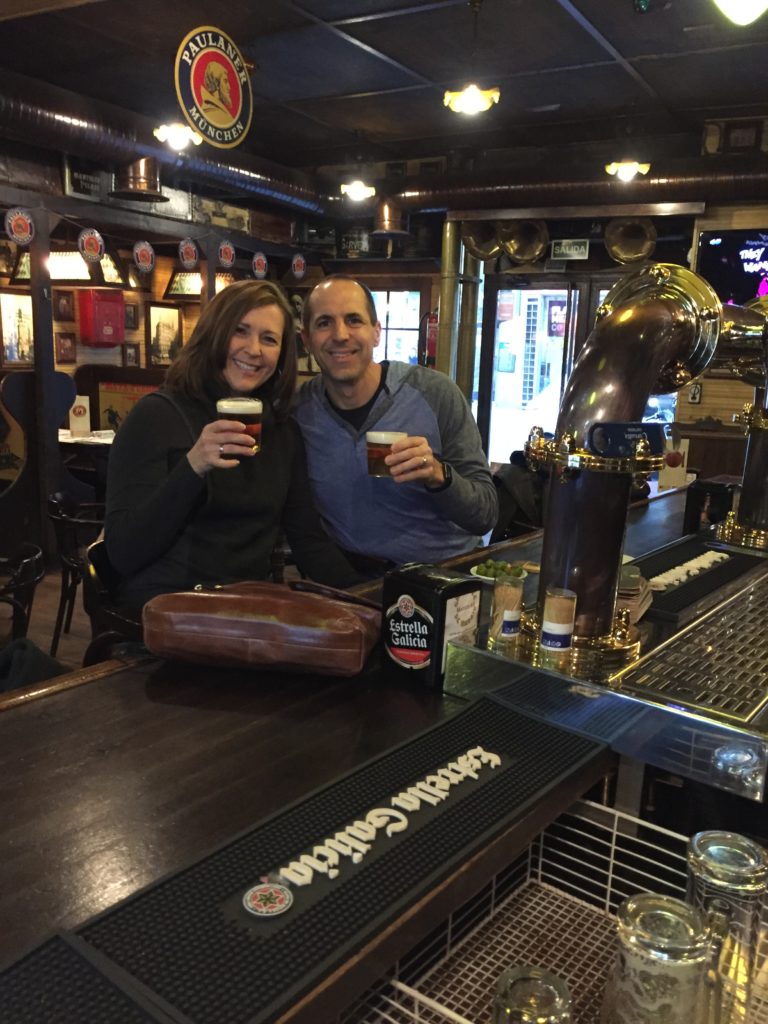 Oh, and we had a Bailey's coffee. Yum.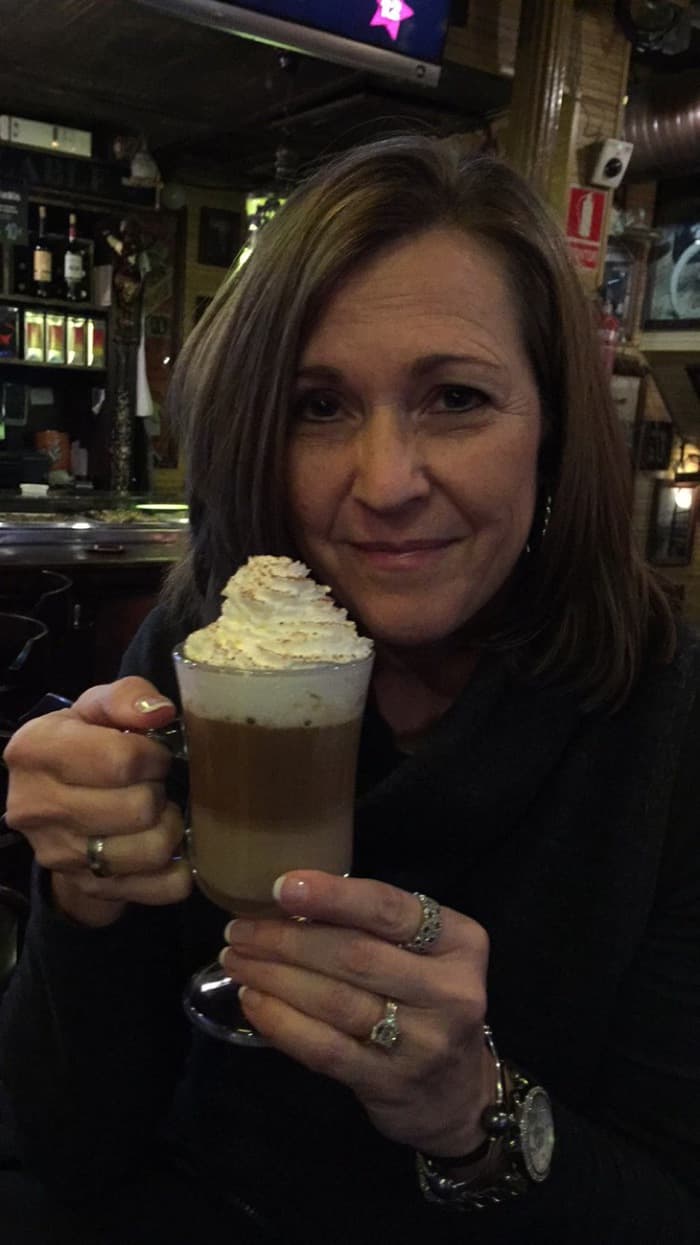 We had dinner reservations at The Botin, known to be the most ancient restaurant in the world. The building is four stories and we ate in the basement, or "the cave", as Mike called it.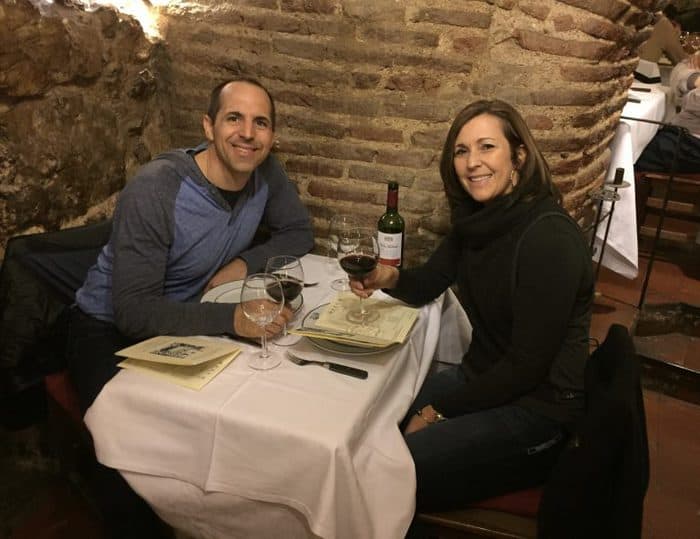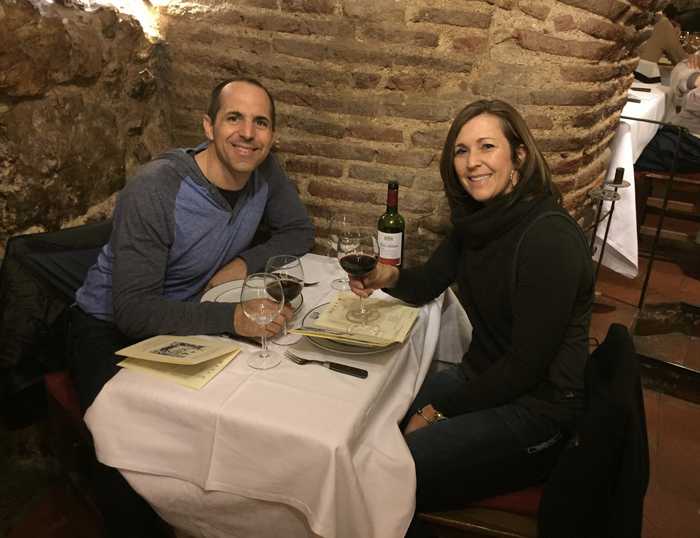 The stairs that led to the basement.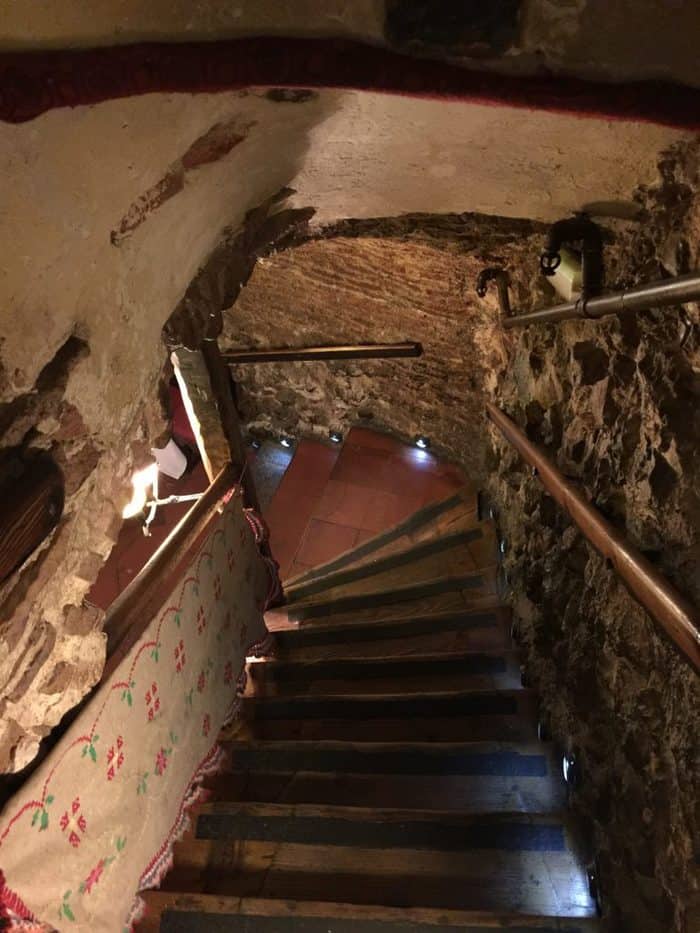 After our meal of Avila Suckling Pig and Aranda Lamb Joint (two dishes The Botin is most famous for), we headed back to the hotel. Day Two was a very full day of eating, drinking, walking, eating, drinking, walking…and we were exhausted.
Mike had to work a partial day on Day Three but afterward, we headed to Buen Retiro Park, or "Park of the Pleasant Retreat". Retiro Park is one of the cities largest parks and once belonged to the Spanish monarchy. It was beautiful and packed with people exercising, strolling, rowing in the lake, children roller blading, dogs playing, and various other activities.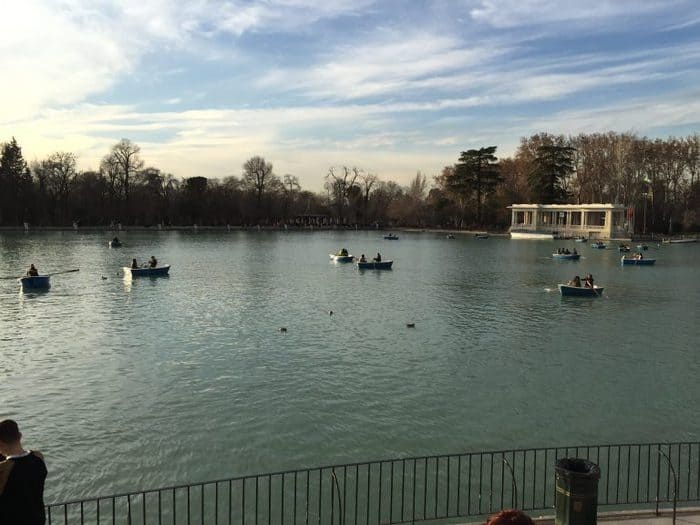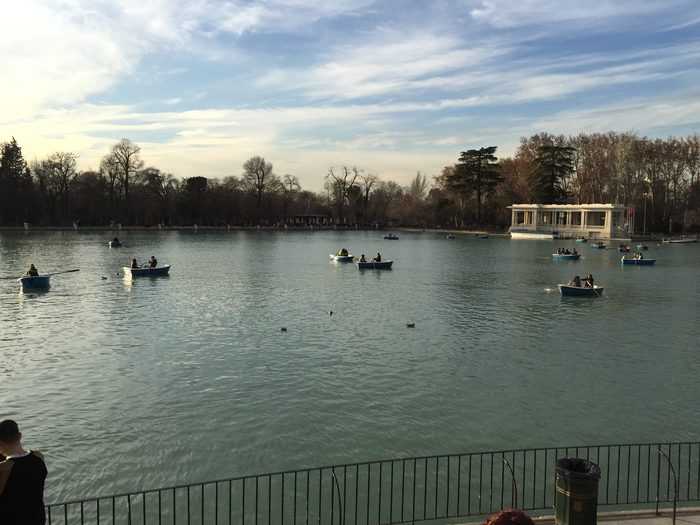 The rest of the day was spent enjoying canas and tapas and eating at the Platea Goya in Colon Square, another market type of restaurant, where we had the BEST EVER Spanish omelettes and croquettes.
Our time in Madrid was up. Next stop…Lisbon – Part Two.