Homemade Hummus and Pita Chips makes a perfect party appetizer, or game day snack. Taking the skin off the chick peas takes some time, but so worth it because CREAMY. Skip the store bought and make a giant bowl of this STAT!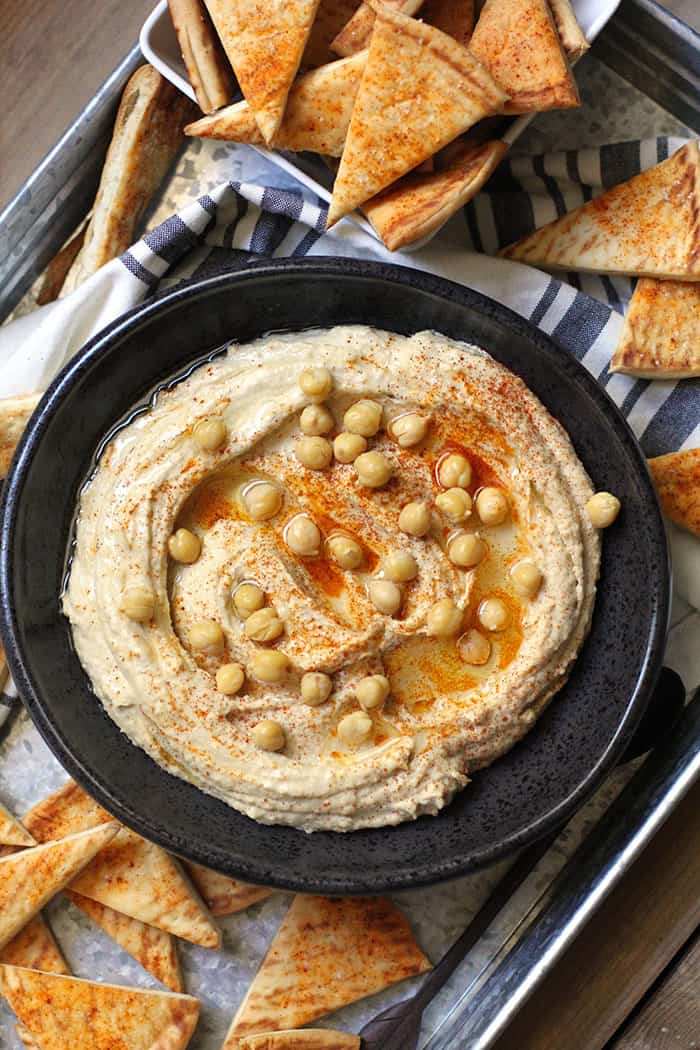 Homemade Hummus and Pita Chips = LIFE changing. Like go straight to the refrigerator and dump the packaged stuff right now.
I've made hummus before, but have never thought to take the skins off the chick peas. **Lightbulb moment.** Taking the skins off is the magic that makes this stuff so good. Instead of clumpy and gritty, it becomes creamy and light.
WORTH IT.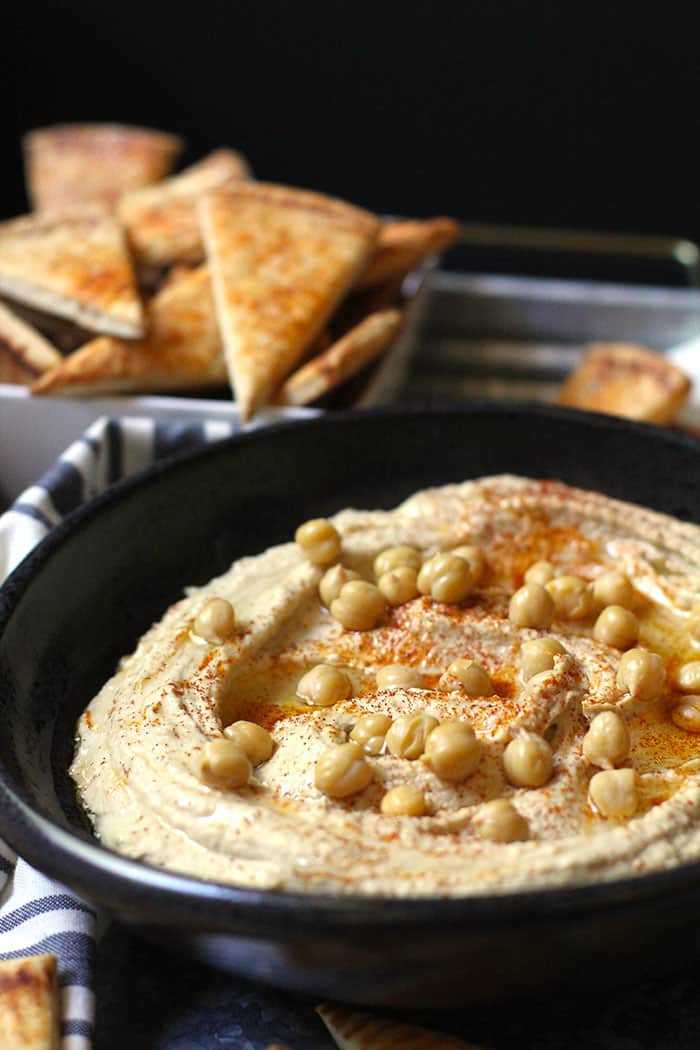 So besides removing the skins (just look at ALL of that skin below!), this Homemade Hummus is easy. Just throw everything in a food processor and wa-la. Done.
The ingredients.
chick peas (skins removed)
tahini – you can make your own but naaaah
fresh garlic
fresh lemon juice
salt and cumin
olive oil
water
paprika to seve
The pita chips are even simpler. Take some pita bread, brush lightly with olive oil, sprinkle with your choice of seasonings (I used salt, onion powder, and paprika), and bake for 10 minutes. WAY better than store-bought pita chips.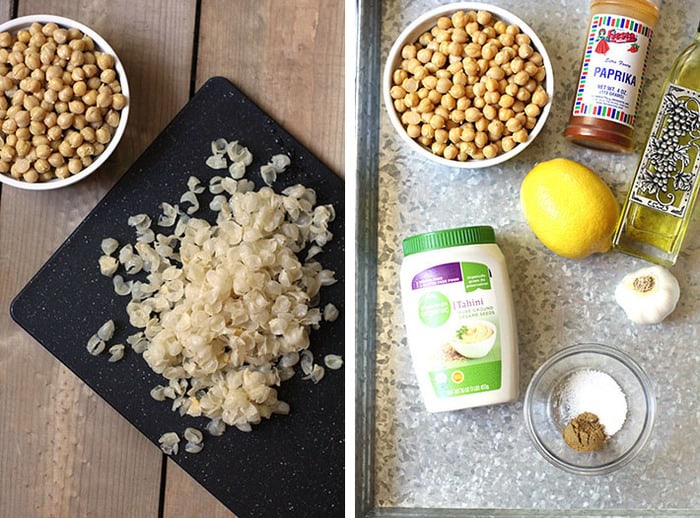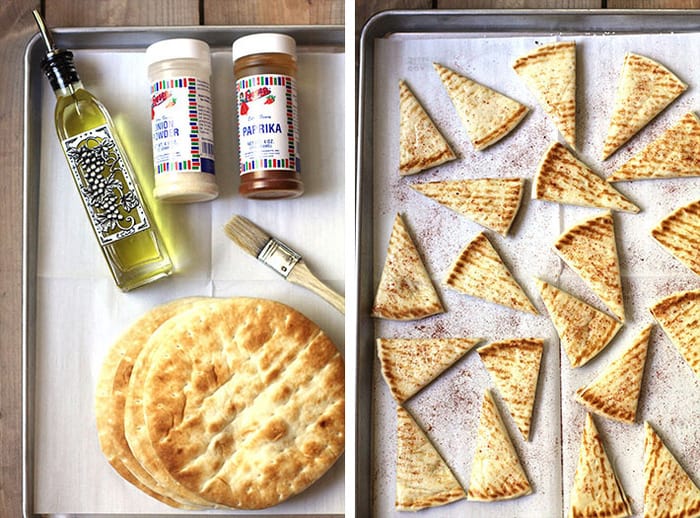 This batch? We ate more than half of it for lunch. I threw some carrot and celery sticks in for good measure – gotta get the veggies in too.
So when you think about it, we ate a well balanced meal.
hummus – protein and good fats
pita chips – carbs
carrots & celery – veggies
Mike ate a big bowl of fruit, yogurt, and granola too (because he has to eat that EVERY DAY). I ate a couple of Cinnamon Fire jolly ranchers (because I have to ya know…eat candy).
There are so many types of hummus out there. I love the Roasted Red Pepper and the Roasted Pine Nut the best. But there is also Jalapeño, Spinach and Artichoke, Roasted Garlic, Olive Tapenade, and so on.
My version is a very classic version with nothing too fancy thrown in. I'm definitely anxious to try some new varieties – maybe something with a kick.
What's YOUR favorite hummus flavor? Do tell! 🙂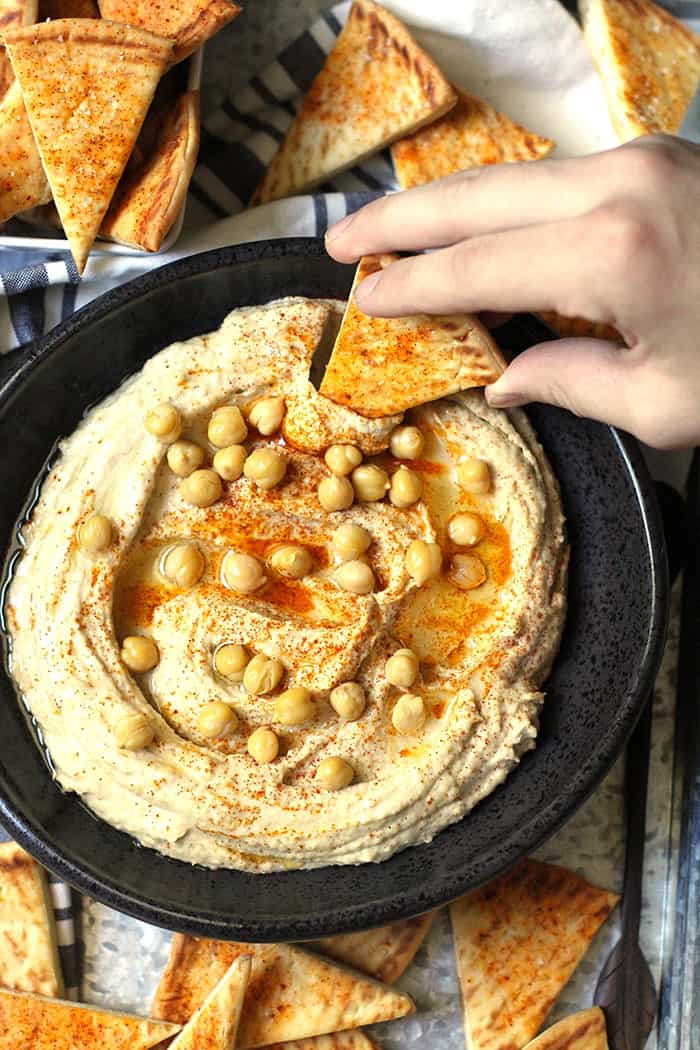 Make this dip recipe next: Baked Artichoke Dip
You can stay up-to-date with SueBee Homemaker by:
signing up for post updates (top right-hand corner of my blog)
liking my Facebook Page
and following me on Pinterest
I'm also sharing tidbits of my life on Instagram.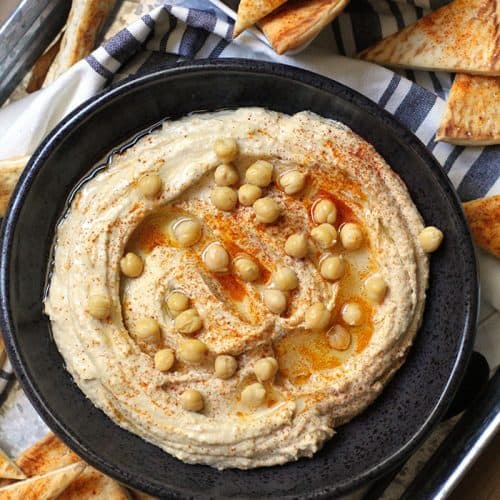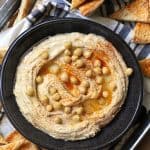 Homemade Hummus and Pita Chips
Ingredients
For pita chips:
4

(7 inch)

pita bread

- sliced into wedges

2

Tablespoons

olive oil

salt, pepper, onion powder, paprika

- to taste
For hummus:
2

15 oz. cans

garbanzo beans

- drained and peeled

2/3

cup

tahini

1

large

lemon - freshly squeezed

2

cloves

garlic

2

teaspoons

kosher salt

1

teaspoon

cumin

2

Tablespoons

olive oil

1/2

cup

water to thin (or more)

- add a little at a time to determine how creamy you want it

extra olive oil

- to serve

paprika

- to serve

reserved garbanzo beans

- to serve
Other:
carrots, celery, cucumber, or other veg

- for dipping
Instructions
For the pita chips:
Preheat oven to 375 degrees. Prepare two baking sheets with parchment paper.

Brush pita bread with olive oil on both sides. Slice into wedges.

Arrange pita wedges in single layer on baking sheets. Sprinkle with salt, pepper, onion powder, and paprika.

Bake for 7-10 minutes on 375, or until pita chips are browned and slightly crunchy. Remove to cool.
For the hummus:
While the pita chips are baking, drain the garbanzo beans. Peel the skin off one at a time (using your thumb and first two fingers), and add beans to food processor.

Add tahini, freshly squeezed lemon juice, garlic, salt, cumin, olive oil, and some of the water. Pulse until smooth.

Add water as needed to thin. I ended up using more water than I thought I would need, because I like it really smooth.

Spoon hummus into a bowl to serve. Give the top a couple swirls of olive oil, a sprinkle of paprika, and some coated garbanzo beans.
Nutrition Facts
Homemade Hummus and Pita Chips
Amount Per Serving
Calories 477
Calories from Fat 243
% Daily Value*
Fat 27g42%
Sodium 798mg35%
Potassium 540mg15%
Carbohydrates 45g15%
Protein 17g34%
Vitamin A 55IU1%
Vitamin C 3.3mg4%
Calcium 112mg11%
Iron 5.5mg31%
* Percent Daily Values are based on a 2000 calorie diet.