Oh it's beginning to look a lot like Christmas. Everywhere we go…
If only we could feel as relaxed as this song makes us feel. But here we are in the midst of the Christmas season, where so many of us begin to freak out, as we hurry hurry hurry, to shop, decorate, plan parties, travel, shop shop shop.
Shop.
Well, this chili is just one of the ways you can put a GREAT meal on the table, while continuing to do all of your busy busy busy things. You can actually brown the meat and veggies up in advance (store in refrigerator or freezer), and then just throw all the ingredients in the crock pot before work. Or before you go on a shopping spree.
So easy.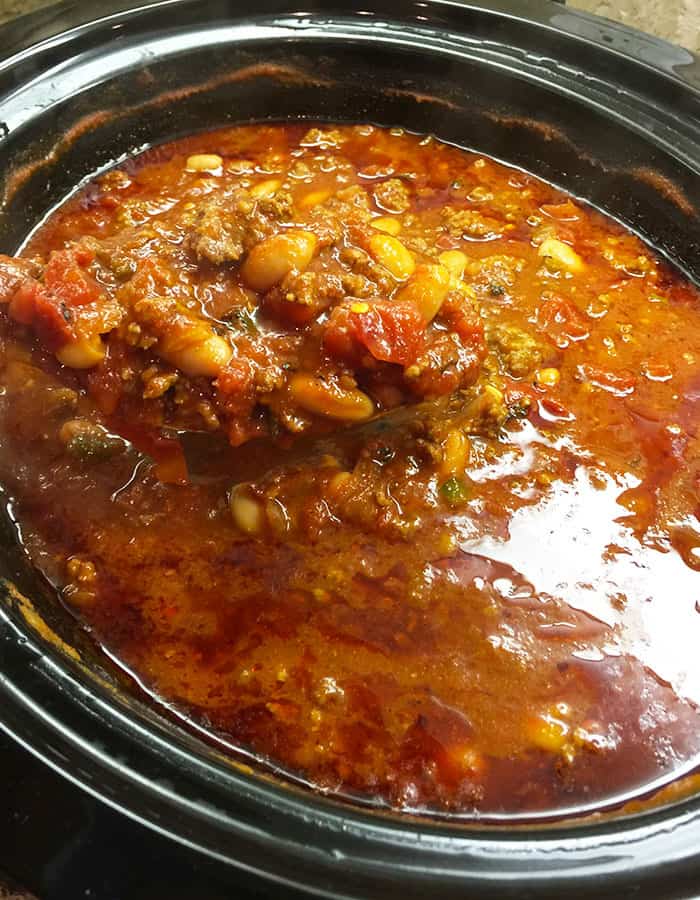 This recipe is Norma Jean's plus a little adapting by ME. I asked my siblings if they remembered her recipe and my smart-alecky brother, Dave, texted, "Recipe?? I don't think so. It goes something like 3 quarts homemade stewed tomatoes, ground beef, a bunch of beans, and lots of onion and chili powder to get Don off my back." Ha! As you can see, Dad LOVED onions and chili powder in his chili. Lots of it.
Can we talk about beans real quick? Ok.
I love any type of beans…pinto, black, garbanzo, cannelloni…really any kind. BUT in chili, beans don't always like me. 🙁 For some reason, the mixture of tomatoes and dark beans in chili, well you know. BUT I've found that white beans are fine. And if you, well, find yourself in the same predicament, I suggest you try white beans in your chili. 🙂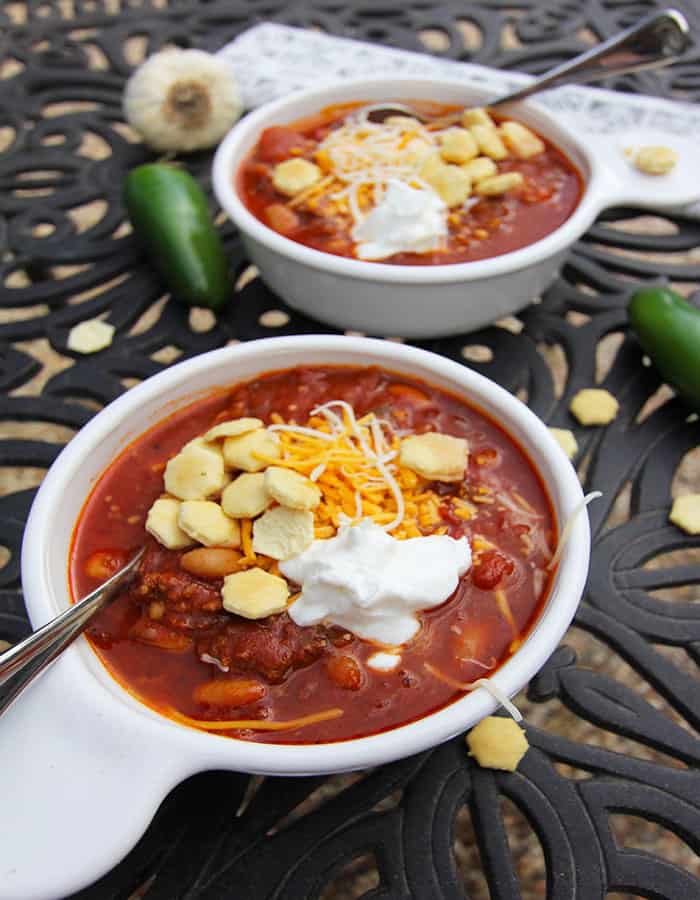 Since I didn't have an ACTUAL recipe from Mom, I added a few ingredients to her base, like cumin, jalapeños, and diced tomatoes, instead of her homemade stewed tomatoes (because I don't have any homemade stewed tomatoes!). Mom and Dad had a huge  garden with lots of tomatoes, peppers, and onions. And Mom spent a lot of time canning in August, when tomatoes were coming out of her ears. Dad couldn't eat them fast enough. They were SO good.
The next three pictures are not great quality photos, but they are of the highest quality in my mind (and that of my family's). You can see my Mom and Dad's beautiful tomato plants on the first one. It looks like they are still green here.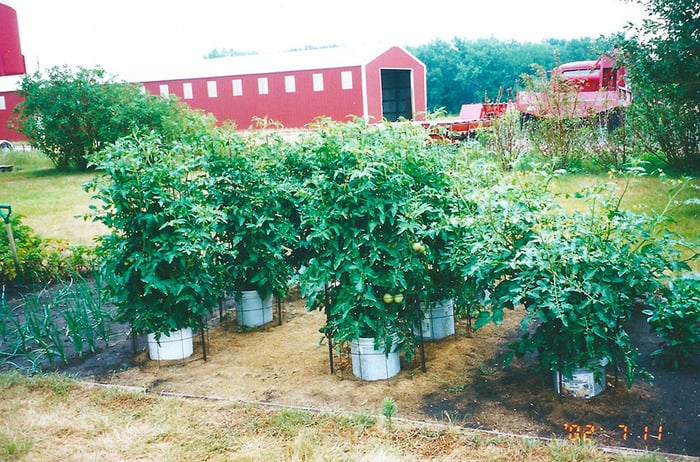 And here is Dad showing off some of those juicy tomatoes he just picked from the garden. The photo is dated in August, which is when they were normally in full bloom. I love this picture.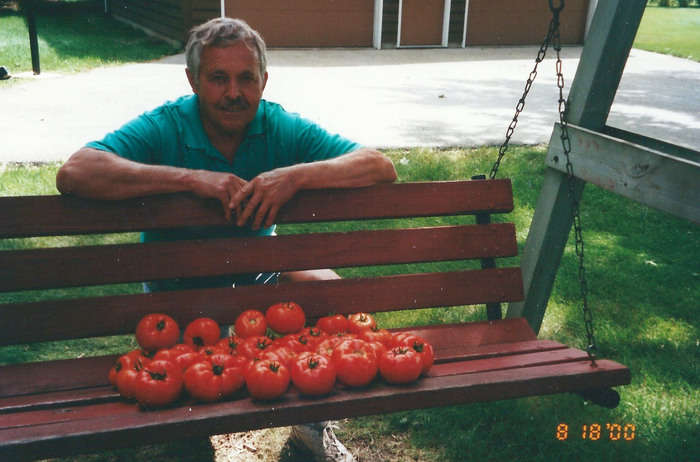 And lastly, I had to include a picture of Mom's beautiful flower garden. She always had a green thumb and took great pride in her flower garden.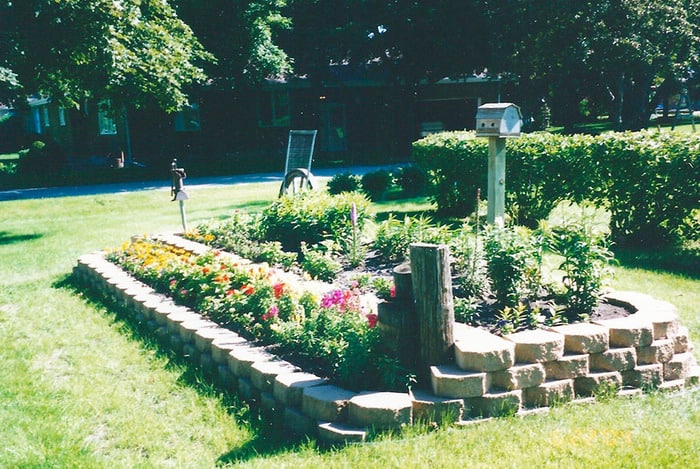 Oh how I miss my childhood home. Great memories there.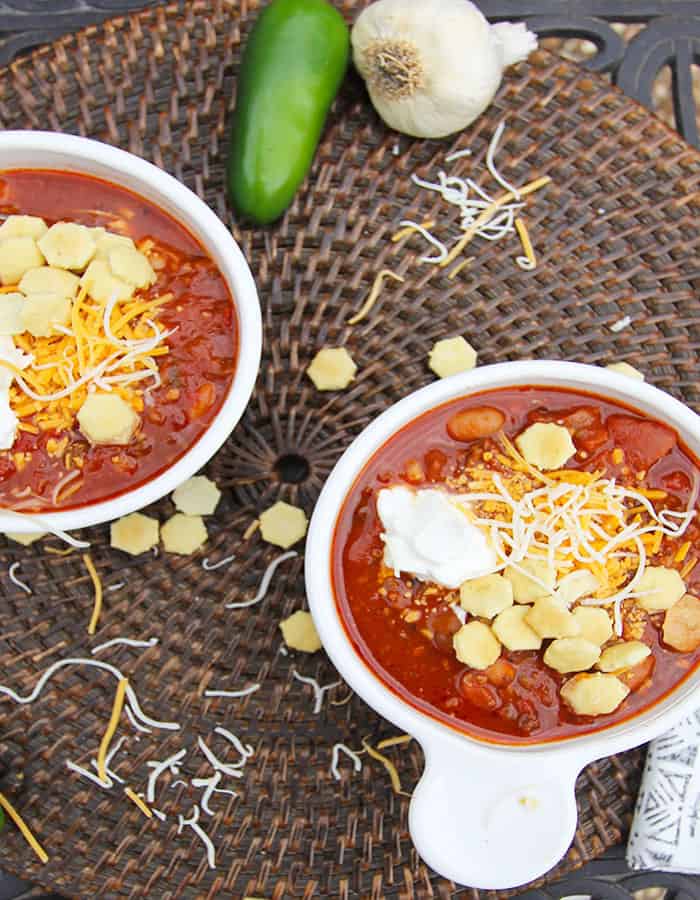 You will notice that this chili recipe has a couple of teaspoons of sugar in it. Mom always added a little bit of sugar to her chili and I do too. Sugar cuts the acidity of the tomatoes so the chili doesn't taste bitter. I also add a bit of sugar to my spaghetti sauce or anything with a lot of tomatoes in it. You don't need much. Just a teaspoon or two.
Make sure you whip up a batch of Norma Jean's french bread or cracked wheat bread to go with this chili.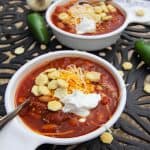 Easy Slow Cooker Chili
a hearty spicy soup with lean proteins, beans, and tomatoes, and slow cooked to perfection
Ingredients
2

pounds

lean ground beef

1

large

onion

chopped

4

cloves

garlic

diced

2

large

jalapenos

diced (with or without seeds)

4

Tablespoons

chili powder

2

Tablespoons

cumin

2

teaspoons

sugar

salt and pepper

to taste

46

oz

tomato juice

2

15 oz.

cans fire roasted dice tomatoes

4

Tablespoons

tomato paste

2

15 oz.

cannelloni beans

drained (use any beans you like)

shredded cheddar cheese

for serving

sour cream

for serving

saltine crackers

for serving
Instructions
In large sauce pan, begin to brown ground beef. After about 10 minutes, add onion, garlic, jalapenos, chili powder, cumin, salt and pepper. Continue cooking until meat is cooked and vegetables are soft. Add to crock pot.

Add tomato juice, diced tomatoes, tomato paste, cannelloni beans, and sugar. Cover and cook on low up to eight hours.

Serve chili with shredded cheese, sour cream, and saltines.
SHARE THIS POST TO YOUR FRIENDS: