Easy Caramel Popcorn is straight from Norma Jean's Kitchen. My mom made this when we were kids on a lazy football-watching weekend. Baking it in the oven makes it nice and crunchy, and leaves the house smelling like heaven!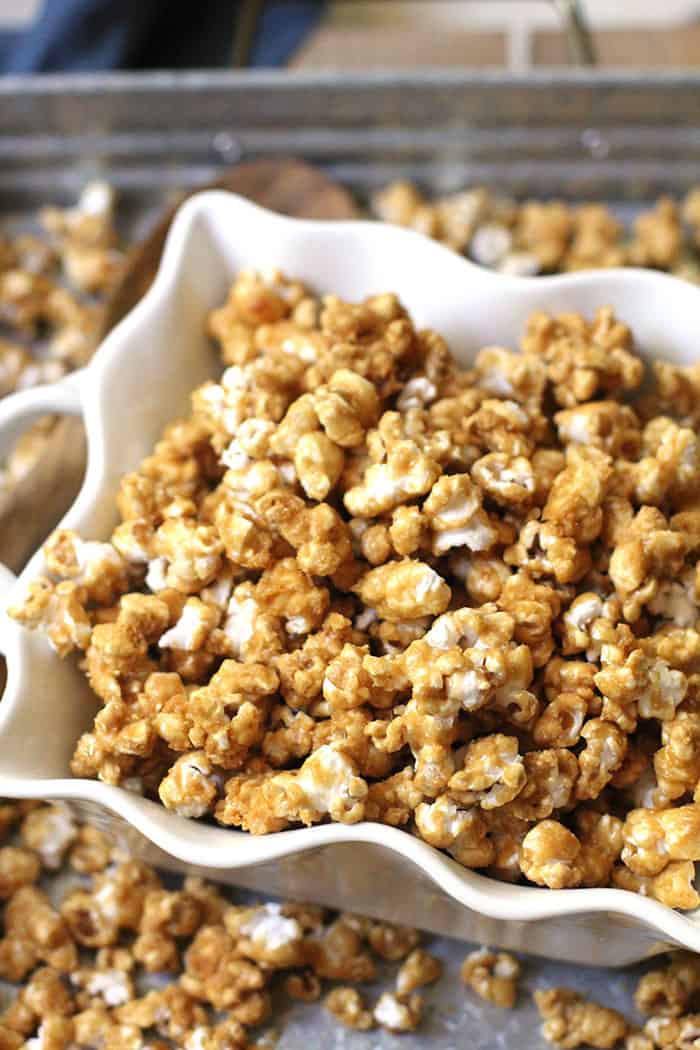 Popcorn is a main staple at our home. It always has been, and I attribute that to my childhood and the years of traveling to Iowa to see my parents.
For some of my siblings (including me), popcorn sometimes equals dinner. I love choosing a night to curl up in my comfy chair with a large jumbo bowl of popcorn, a caffeine-free diet coke (because caffeine doesn't like me in the evenings), and the remote control. Grey's Anatomy, This is Us, or Modern Family are my favorite shows (along with The Food Network) and I always turn up the volume slightly (ok, a lot) to hear the TV over my crunching. Ahhh, maybe my age is showing after all. 🙁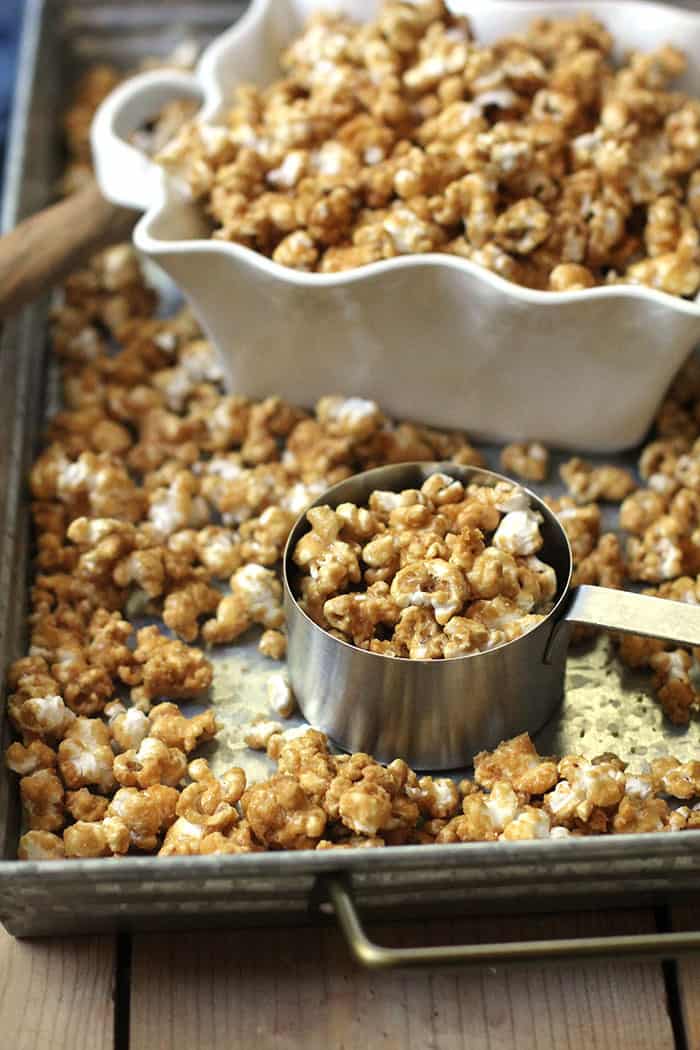 I remember making this Easy Caramel Popcorn with Mom. She'd make several batches of this, and whoever was around would just hang in the kitchen for hours – munching and crunching and chatting and laughing. The good ole days in the kitchen with Mom. Memories of "home" that I'll always treasure most.
I must mention that I was known to eat WAY TOO MUCH of this caramel corn. Like "I have a stomach ache and want to throw up" pain. It's addicting I tell you. But every now and then, it's worth it. Throw calorie counting out the window and just indulge.
Another thing. It's EASY. The ingredient list is short, and I love everything about short ingredient lists.
popcorn
butter
brown sugar
syrup
vanilla
salt
baking soda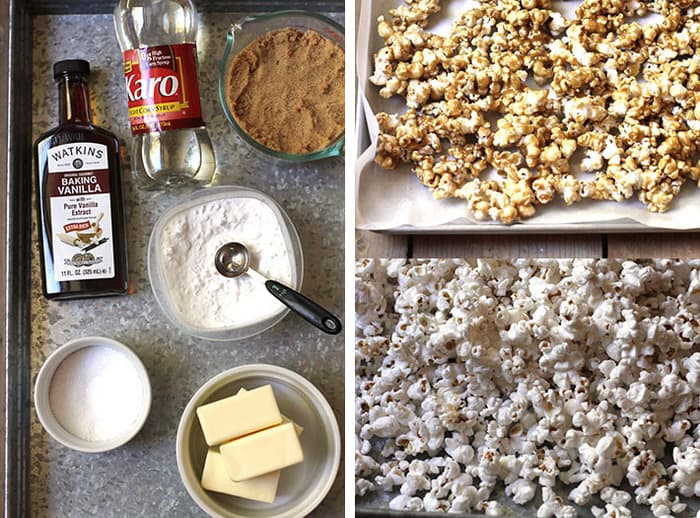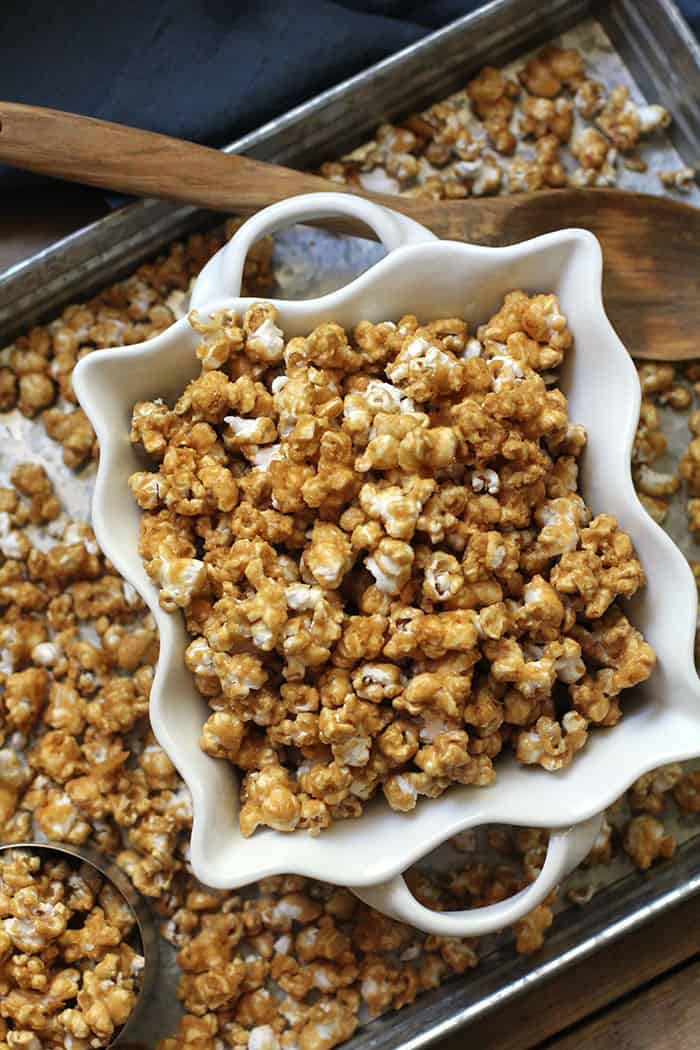 So first off. Get this Stir Crazy Popcorn Popper
 STAT. It's the BEST popper, in my opinion. All of my siblings own one (or two) and I made sure Josh had one at college. I've gone through a few of them, and I'm pretty sure the one I had in college wore out, because it was dinner or snack almost daily. And I think I washed it 2-3 times in 4 years. GASP!
I used my Stir Crazy to make this caramel corn. You need two tablespoons of oil and about 3/4 cup of popcorn kernels to make 6 quarts (needed for this recipe).
The caramel topping is super quick to make. Just make sure you stay close to the stove so it doesn't cook over. The baking soda makes the mixture start to grow – which is when you know that's it done.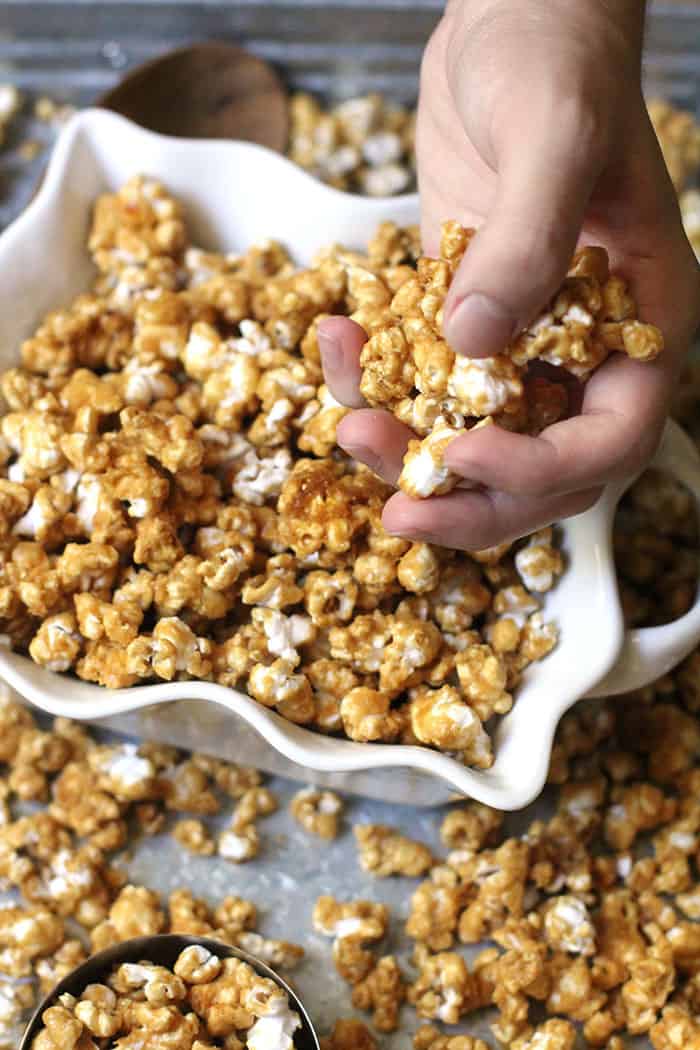 Last word of advice.
Beware.
BEWARE – because it's addicting. Your family will gobble it up. You will eat more than you wanted to. Your kid who works at the local popcorn store will tell you it's better than the caramel corn they sell. Even the dog will go crazy begging for some. My solution was to throw some of it in a freezer bag and run it to the laundry room freezer as fast as I could.
Enjoy!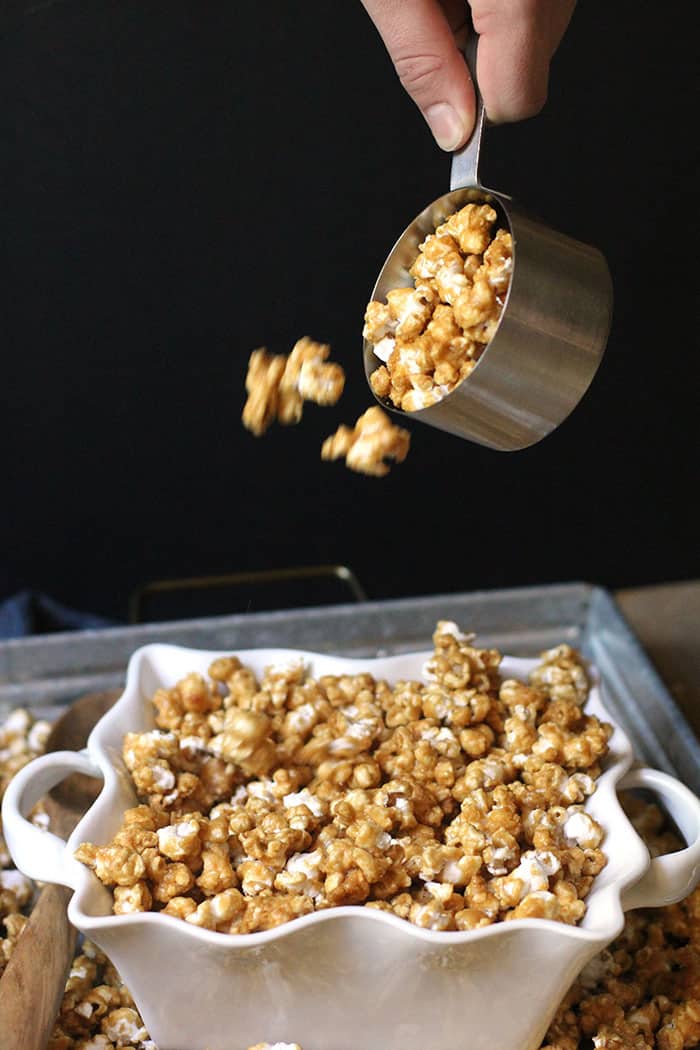 Please let me know if you try this Easy Caramel Popcorn, and how you like it!
You can stay up-to-date with SueBee Homemaker by:
signing up for post updates (top right-hand corner of my blog)
liking my Facebook Page
and following me on Pinterest
I'm also sharing tidbits of my life on Instagram. ????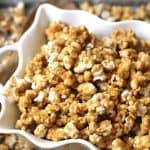 Easy Caramel Popcorn
Ingredients
6

quarts

popped popcorn (un-popped seeds removed)

- 24 cups

1

cup

unsalted butter

2

cups

brown sugar

1/2

cup

corn syrup

1

teaspoon

vanilla

1

teaspoon

salt

1

teaspoon

baking soda
Instructions
Pop 6 quarts of popcorn, removing any un-popped seeds. Pour into large bowl and set aside.

In a large stock pan, combine butter, brown sugar, and corn syrup. Bring to a boil, and cook for two minutes.

Add vanilla, salt and baking soda, and mix well. Stir for a couple of minutes until it starts to "grow". You will know it when you see it.

Pour mixture over popcorn, and stir until popcorn is well coated.

Spread on baking sheets and bake at 200 degrees for one hour, stirring every 20 minutes.

Cool, and store in an airtight container.

SHARE THIS POST TO YOUR FRIENDS: