When I think of pot pie, I think of pure comfort. The buttery flaky crust, the moist chicken, the tender vegetables, and the "glue" that makes it all stick together…a perfectly cooked roux made out of butter, flour, chicken broth, and half & half. I feel great comfort already.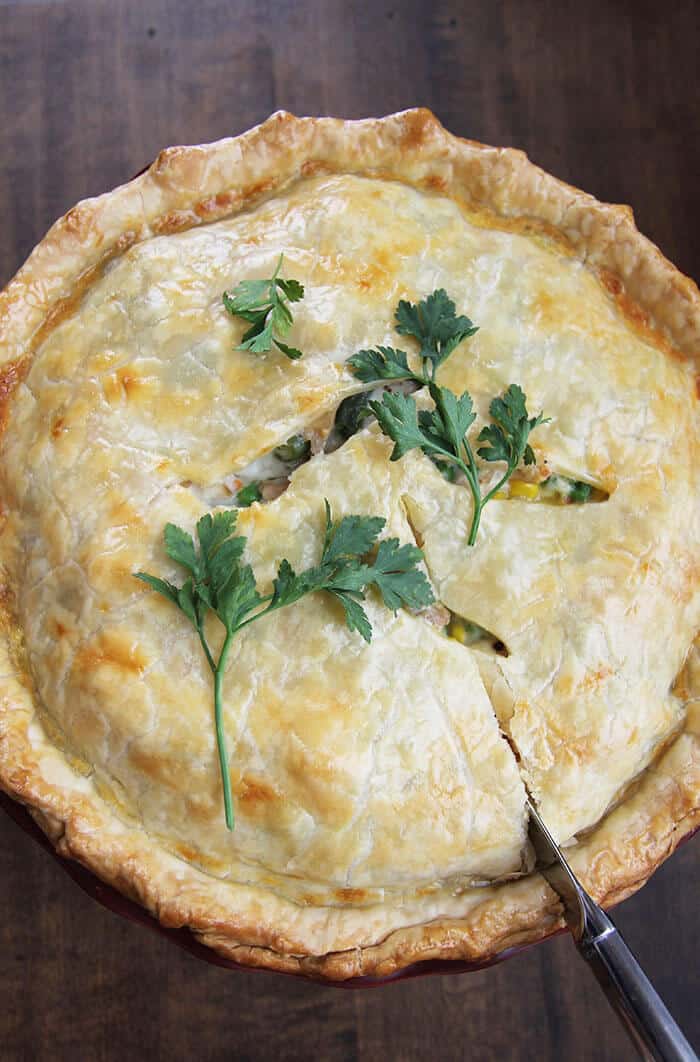 I used to buy those mini Marie Callander Pot Pies for Zach for a time period, because he would come home from school starving. But after looking at the nutrition info (eek), I stopped. Now I make my own slightly healthier version. It's definitely not a light recipe but if you make it yourself, you can control the fat, sodium, and calorie content. So if you want to use less butter or make your own crust or use skim milk, go for it. YOU are in control.
The first picture below is the roux I made for this pot pie. Make sure you simmer it for 10-15 minutes in order to get it nice and thick. The second picture shows the pie filling. I always stuff it as full as I can and use as many veggies as possible. See…the more veggies you eat, the fuller you'll be, and one piece of pot pie will (hopefully) be enough.
The second crust goes on top, along with an egg wash, to get a nice golden color. Be sure to cut a few slits on the top crust to allow for steam to escape during the cooking process.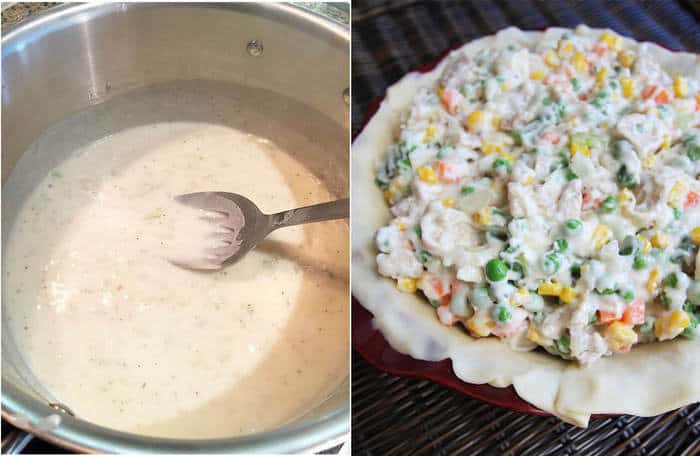 This recipe comes at a perfect time because we are approaching the holidays and you can easily turn your leftover turkey or chicken into a lovely pot pie. I baked chicken thighs for this recipe because that's what I had. I've also used rotisserie chicken, which saves a lot of time. The possibilities are endless.
By the way, (Pillsbury) store-bought crusts are what I usually use, even though I have high hopes of creating my own crust recipe to use instead. Some day soon.
Pair this pot pie with my Spinach Salad with Honey Dijon Dressing and you have a well rounded meal.
Chicken Dinner Pot Pie
a thick and creamy chicken pot pie that is perfect for a weeknight meal
Ingredients
1/3

cup

unsalted butter

1/2

cup

celery

chopped

1/2

cup

onion

chopped

1/3

cup

all-purpose flour

1

teaspoon

salt

1/2

teaspoon

pepper

1/4

teaspoon

poultry seasoning

2/3

cup

half and half

1 1/2

cups

chicken broth

3

cups

chicken thighs/breast

cooked and chopped

16

oz.

frozen mixed vegetables

5

oz.

frozen peas

2

9"

pie crusts (like Pillsbury)

or use homemade

1

egg
Instructions
Lay chicken thighs/breasts on sheet pan and drizzle lightly with olive oil. Season with salt and pepper (to taste). Bake on 400 degree oven for approximately 40 minutes or until done.

Chop chicken into bite sized pieces. You can also use rotisserie chicken instead of baking your own, or just use leftover chicken or turkey.

Prepare bottom crust by spraying a 10-inch pie pan and pressing crust into pan.

Melt butter in large saucepan. Add celery and onion and cook until tender.

Add flour and spices and stir until well mixed and flour lumps have dissolved.

Stir in milk and chicken broth and heat to boiling, stirring constantly. Reduce heat and simmer over medium-low heat until thick, approximately 10 - 15 minutes. Remove from heat.

Add chicken and frozen vegetables to saucepan and combine. Pour into prepared pie pan and top with second crust. Seal together with your fingers, careful to crimp the edges.

Using a sharp knife, cut a few slits on top crust to allow steam to escape during baking process. Then brush beaten egg on top crust.

Bake on 400 degrees for 40 to 45 minutes, or until top is nice and golden brown.