The Whole Shebang – My Foot Story and more
This post may contain affiliate links which won't change your price but will share a commission.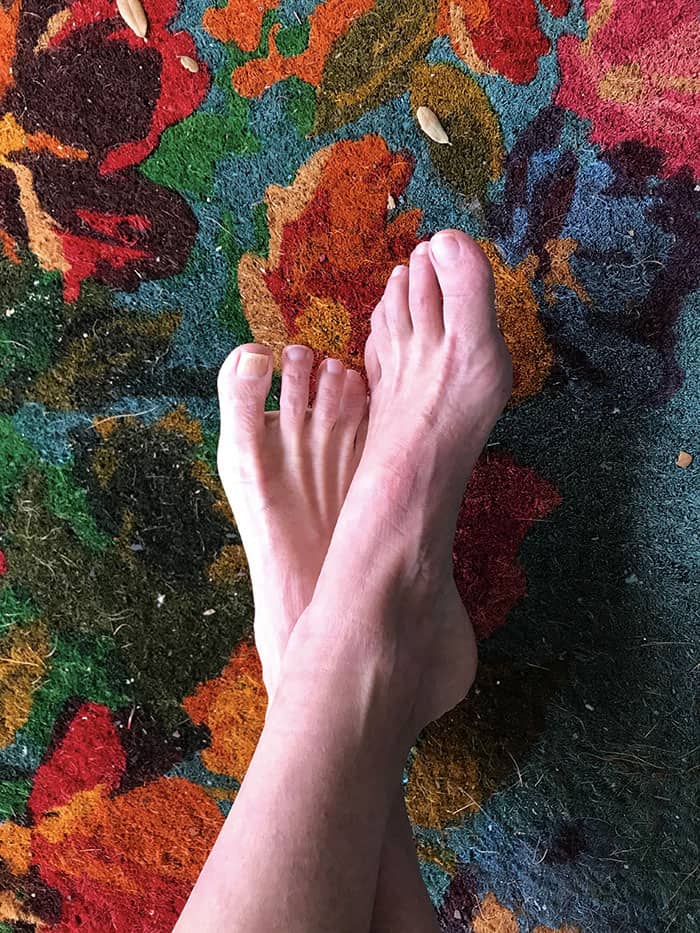 This post has been on my mind for the past several weeks. I've been hesitant, because it's a lot, and I dislike talking about my feet. In fact, I'd rather walk over hot coals than to admit that my current circumstances have completely overwhelmed me. But I've decided that if I can help anyone going through any kind of pain or depression, it's worth it.
My Foot History
When I was 23, newly married and an avid runner, I suddenly developed terrible foot pain. I was super focused on staying fit and trim, and my acute pain led to a panic like no other, and a search for relief. I went from foot doctor to orthopedic to physical therapy. I bought numerous shoes, orthotics, foot wraps and cushions. Fortunately, my diagnosis of plantar fasciitis was most likely correct, and my pain slowly got better. However, I was never able to go back to running and instead stuck to biking and other low-impact exercise.
I began speed walking after the boys were born, and I was beyond happy with a kid in the jog stroller, pounding the pavement and burning calories. When Zach was one (and I was 33), I had another severe injury to my feet. This time was different. Both feet were not only throbbing, they were burning and tingling. Once again, I was sidelined in pain, and began searching for a remedy. I saw podiatrists, orthopedics, massage therapists, yoga and meditational experts, neurologists, acupuncture specialists, and pain management clinics. Looking back now, my symptoms were more nerve related than anything else.
While the pain slowly got less intense, I still suffered after several years, and finally decided to have a Plantar Fasciotomy on my right foot (the worst one at the time). The minimally invasive surgery ended up sidelining me again, and it took me months before I returned to pre-surgery health. I told myself that surgery was a mistake, but over time, I healed to some extent. I had good days and bad days, and adjusted my life accordingly.
About five years ago, I began to have tingling pain in both feet that traveled up to my toes. It was painful, and caused me to seek a neurologist for help. Fortunately, the pain became largely controlled with the help of medication, and I was able to resume my "normal" activities after a couple of months.
Over the last several years, I had gotten to a point of less pain than I'd experienced since the boys were small. I was running errands with less pain, I was able to wear a small heal for special occasions, normal housework was more comfortable, and I could exercise (still low-impact) with minimal pain. We traveled to Hawaii twice in 2017, and I did several hikes, and survived (with less pain), making several checkmarks in the bucket list.
My food blogging started in October of 2016, and I found a new love. My days had clear direction, and while I shared recipe after recipe with my followers, I created new recipes for my family to try. I was most comfortable in my socks, standing in my kitchen on a padded mat, rotating between cooking, cleaning up, photographing, and then creating blog posts. Life was grand. I'd found my why, and I was loving every moment (well, except the clean-up).
Just over a year after my blog was launched, I had my most recent foot set-back. Right before Thanksgiving of 2017, I began having intense heel pain in my left foot, and moderate pain in my right. I immediately began my regimen of icing, stretching, resting, and so on. Finally, I decided to go to a new podiatrist for new perspective, who diagnosed me with plantar fasciitis, prescribed conservative treatment, and told me to walk more. After close to three months of trying to walk more (in crippling pain), two shots of cortisone, and custom orthotics that I can't tolerate – the pain had worsened and I chose to use a knee scooter in the house, along with a rolling office chair in the kitchen.
What's wrong with my feet and how does it feel?
First off, I have very long, narrow feet with an extremely high arch. Mike likes to say I have kid feet, or that God ran out when he got to that part of my body. Haha. So although there are other people with these characteristics, I have had repetitive injuries to them at no fault of my own. I was a runner, a walker, and have always been active. I played sports in high school, but have never done anything crazy, like run a marathon or climb Mount Everest. From the research I've done, people with high arches have less shock absorption and are more prone to plantar fasciitis.
Many doctors have told me I have plantar fasciitis, a condition that causes pain on the bottom of the heel. It occurs when the band of tissue that supports the arch of the foot becomes inflamed. However, I feel that I have nerve damage or impingement as well. My pain is different than the average case, and what I'm experiencing today feels like a combination of intense plantar fasciitis along with neuropathy. I feel throbbing, numbing, pins and needles. Sometimes it feels like I'm walking with a piece of glass in my foot. No matter how much I stretch or ice, the pain intensifies as the day goes on.
During the first two months of this most recent flare-up, I've tried the conservative PF treatment of cortisone shots, icing, stretching, and resting. The custom orthotics the doc had made are unbearable. But after too many REALLY bad pain days, I've had to listen more to my own body and walk less, not more. I'm also doing warm foot soaks with epsom salts followed by Essential Oils, using a TENS unit for blood flow, some icing, and tons of praying. So far, my pain hasn't changed. In fact, I feel like it has worsened.
At my request, I recently had an MRI of both feet in search of some clarity. The results showed thickening in the plantar fascia, especially the left one which is the foot that hurts the most. There wasn't anything else remarkable. My interpretation is that I DO have inflammation like typical PF cases, but I know there is something else going on. It just makes no sense that I'm still suffering so much.
Chronic Pain and Depression
Chronic pain is no laughing matter. It follows me everywhere, and rears it's ugly head when I'm least expecting it. Over the years, I've had good days and bad days and everything in between. I've had to figure out ways to deal with the often times crippling pain, by planning ahead, asking for help, and often times, just saying no. Prayer is also a big part of my day.
When the kids were small, I dealt with terrible guilt about not being the kind of mom I wanted to be. Taking them to the park and not being able to chase them bothered me. Being unable to chaperone their school field trips killed me inside. Losing my patience over a silly matter that involved too much standing or walking kept me up at night. But do you know what? The only thing they remember about those times now is that I had a little red motorized scooter (for outside use only) that I used when pain was at it's high. I think they thought it was cool!
Today's chronic pain is still hard, but instead of me worrying about chasing them at the park, I'm asking them for help. Zach is my errand boy and stops at the grocery store whenever I ask him to. He's returned gifts, picked up contacts, and taken Theo to the vet for me, among other things. Josh is my college boy who helped me immensely over Christmas break, and is now calling me often just to chat. I have sweet sweet boys who I love dearly.
It's hard to admit to being depressed. That's what happens with pain and being homebound for three months. I haven't been to a store, shopped for my own groceries, or done anything beyond dinner out and doctor appointments. I've also made it to the gym to swim, and lately have relied on my knee scooter to get to the pool.
Coping
My family and friends have been unbelievable. Amidst the tears and sadness, the people in my life have really stepped up.
My guy. Mike really IS the best husband ever. He is by my side daily and helps me in SO many ways, including household chores, errands, and just everything and anything. But mostly, he is my rock. He's supportive when the tears come, but reminds me that there is a meaning in all of this. Suffering is part of life and he encourages me to make it count for something. I know it's hard on him too. Our dreams of traveling the world have been put on pause. The easy life routines have become difficult, and it's hard to watch someone you love suffer. I've bragged a lot about the amazing person Mike is. But he is passing the test of "for better or worse" with flying colors, and he is showing our boys what true love means. He has made the simple act of getting out of bed so worth it.
Our boys. Josh and Zach have both been amazingly sweet. They have had to step up their chore game to help me, and both have been generous with hugs and phone calls (now that Josh is back at TTU). It's never fun seeing your mom cry, and they really get it.
My siblings. I'm lucky to have three sisters and two brothers, and while their lives are busy and we are in six different states (yes, that's crazy), they've reached out often (well, maybe not the boys but I know they love me anyway). I've shed some serious long distance tears, and I'm glad that technology has allowed for virtual hugs and encouraging words.
My friends. I have the kindest, most generous girlfriends. I've had a swarm of visitors, bringing me coffee, lunch, dinner for the fam, and wine. These girls have seen me at my low, through tears of pain and tears for the unknown. The days have gotten long at times, and I'm grateful for every single amazing friend and every single prayer being offered up for me.
How to help someone struggling with chronic pain
Life is hectic, and everyone has their own crazy schedules. But if there is one thing I'd suggest to you, is to act. Instead of saying, "Please let me know what I can do for you," say "I'm bringing lunch to you tomorrow." When you are out shopping, call your friend and say, "I'm at the grocery store. What do you need?" If you sense that someone close to you is depressed, stop by and just be there for them.
Being a care giver isn't easy, that's for sure. But I'm an awful patient, and I'd much rather be the one helping instead of accepting help. I've had to swallow my pride, and say yes to help.
My Food Blog
One thing that hasn't really changed that much is that I'm still creating, cooking, styling, photographing, and blogging new recipes. I've slowed down my pace considerably and my days look much different, but I'm moving forward. The creativity is so important for my brain, and I CAN do it. I'm using a chair to assist me, and as long as my family needs to eat, I'll continue to create!
My recipes are made out of love. Nourishing and treating my family is my number one goal, and I really enjoy creating. This blog IS part of me now. I hope you will continue to follow along on my journey as it evolves, and I will keep you posted on my struggle to heal.