Hey, all you health-crazed peeps! Homemade Almond Butter should be on your list of GOOD foods to eat in the new year. Only one ingredient and a lot of pulsing in your food processor!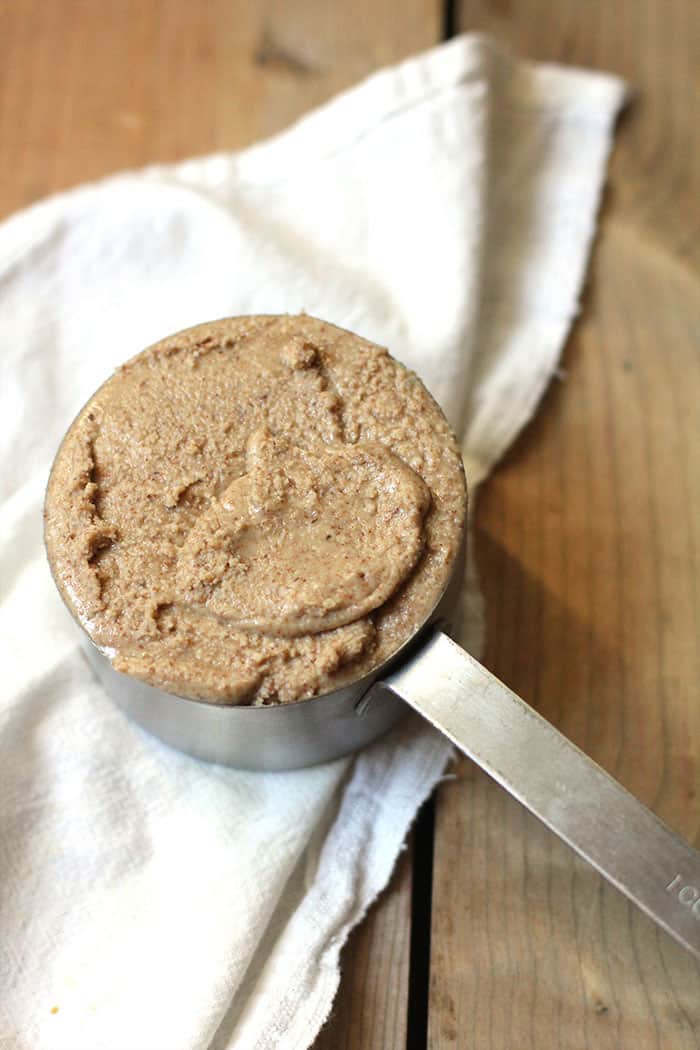 A ONE ingredient recipe? Yes. This "recipe" is more about the process than the ingredients.
You will need a food processor
to make Homemade Almond Butter. It will need to run for 15 to 20 minutes in order to turn almonds into creamy nut butter. Beware, because this gets noisy. You might want to send your dogs out to play, especially if they are afraid of loud noises.
Just sayin. 🙂
Tips:
As the food processor runs, stop it about every minute or so to scrape down the sides. The almond crumbs will climb up the sides until it starts to cream.
One option is to roast your almonds before processing. This will make it creamy quicker. I used regular un-roasted almonds.
Another option is to soak your almonds first. Let them dry, and then process.
Be patient, because the oils will eventually be released and the almonds WILL become a nut butter.
The longer your let the food processor run, the creamier it becomes.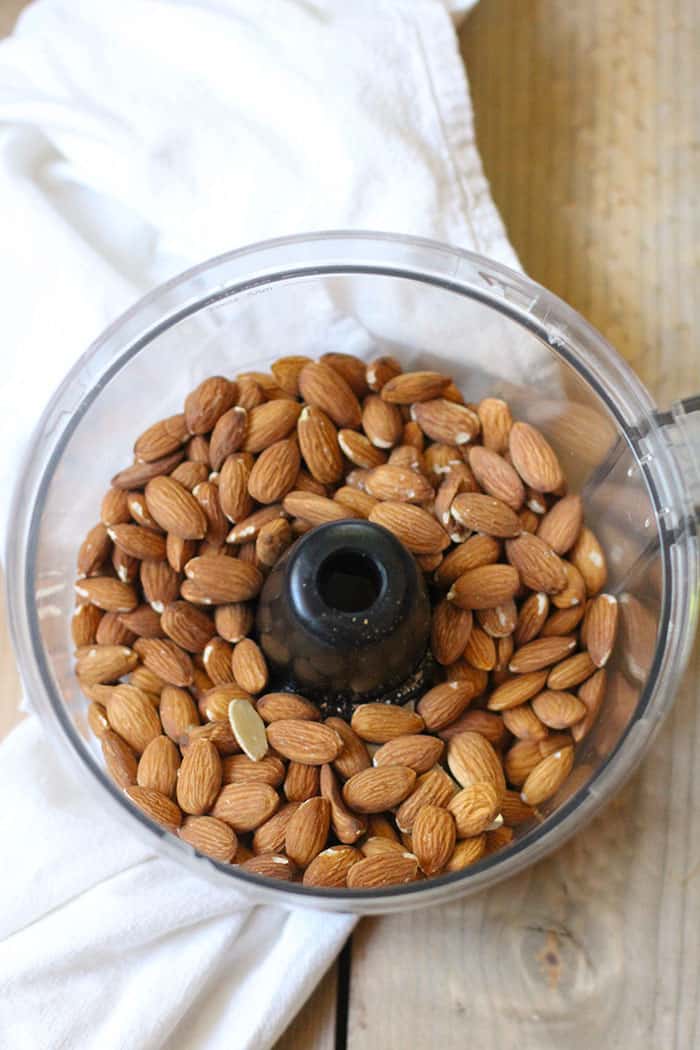 There are definite advantages of making homemade almond butter.
Almond butter has higher amounts of Vitamin E, magnesium, and iron than in peanut butter.
There are no added sugar or salt in my recipe.
Almond butter is higher in fiber and lower in calories than peanut butter.
Making your own almond butter is much cheaper than buying it in stores.
Both peanut butter and almond butter are excellent sources of protein. I use nut butters consistently in many of my recipes, including the following two "healthier" recipes.
Now that I've made this Homemade Almond Butter, stay tuned for more recipes!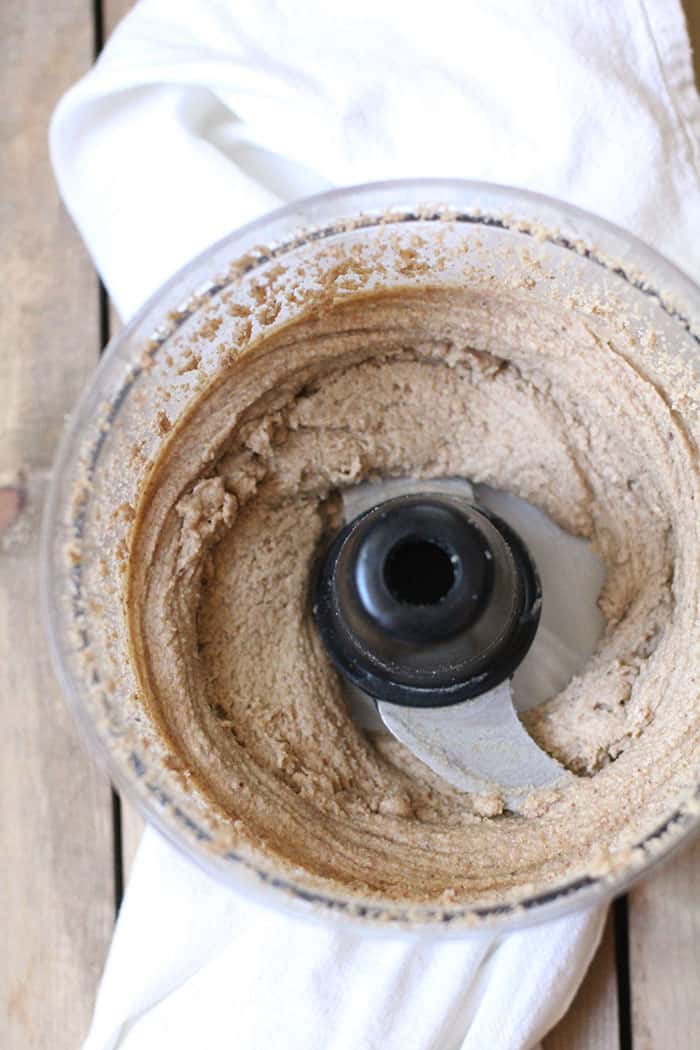 Please let me know if you try this Homemade Almond Butter, and how you like it!
You can stay up-to-date with SueBee Homemaker by:
signing up for post updates (top right-hand corner of my blog)
liking my Facebook Page
and following me on Pinterest
I'm also sharing tidbits of my life on Instagram.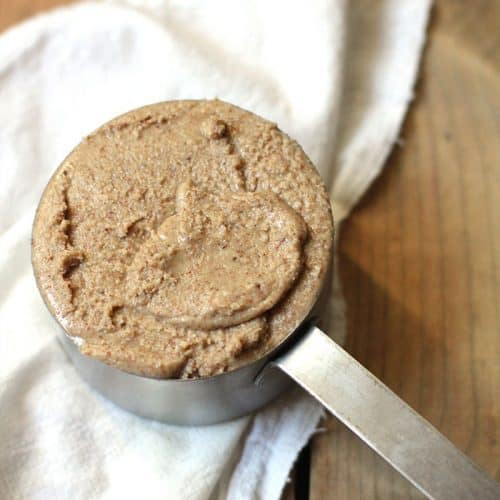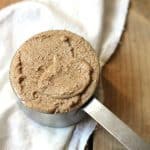 Homemade Almond Butter
Ingredients
2

cups

almonds

- I used unsalted
Instructions
Using a food processor, pulse almonds until smooth and creamy. This process will take 15-20 minutes. Stop the food processor every minute or so, and push almonds bits down the sides. Keep processing until smooth.

If you use unsalted nuts, you may want to add a smidgen of salt. Be patient. This takes some time to become creamy.
Did you make this recipe?
Tag @suebeehomemaker on Instagram and hashtag it #suebeehomemaker