Fall is complete with Pumpkin Spice Cinnamon Rolls! Oooey, gooey, and full of everything pumpkin, you're gonna LOVE this spin on my regular Cinnamon Rolls.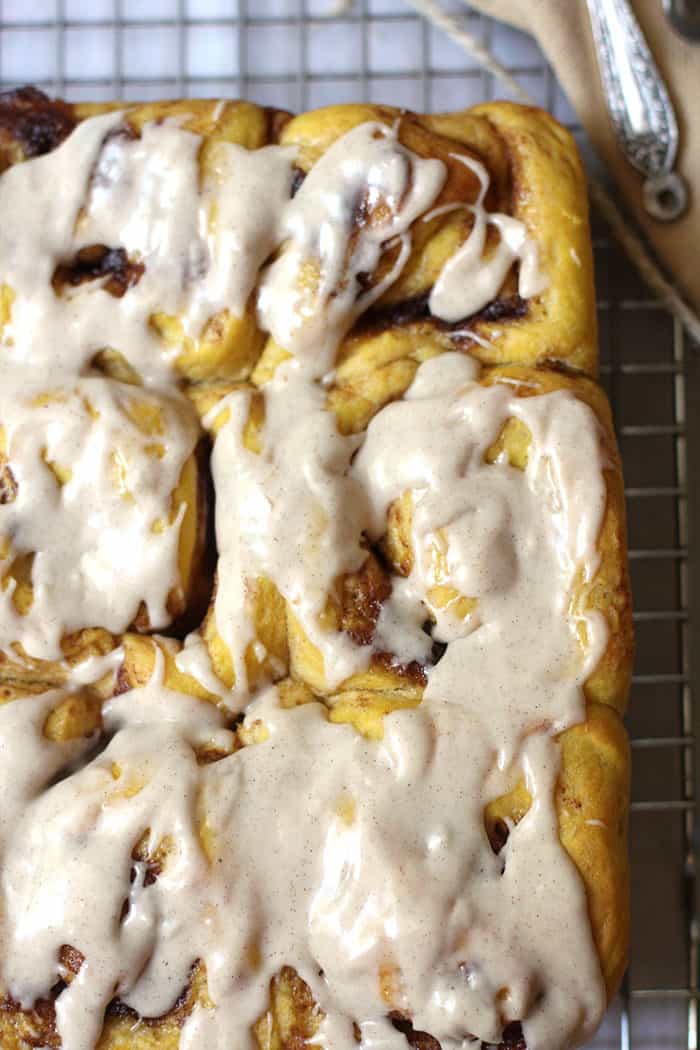 My mom gave me the baking gene, and if you've been following along with me, you know that she was pretty exceptional at her craft. I'm quite certain that she baked at least once a week, because she was active in her community and always seemed to be preparing for one church luncheon or another. Her gift of choice was a loaf of homemade bread or rolls, and a compliment was all the thanks she needed.
Baking is one of my favorite hobbies, especially when it involves yeast. I love making bread and rolls the best. So when I woke up yesterday, and thought PUMPKIN CINNAMON ROLLS, I started editing my regular recipe, and pulled my Bosch Mixer
 out of the pantry.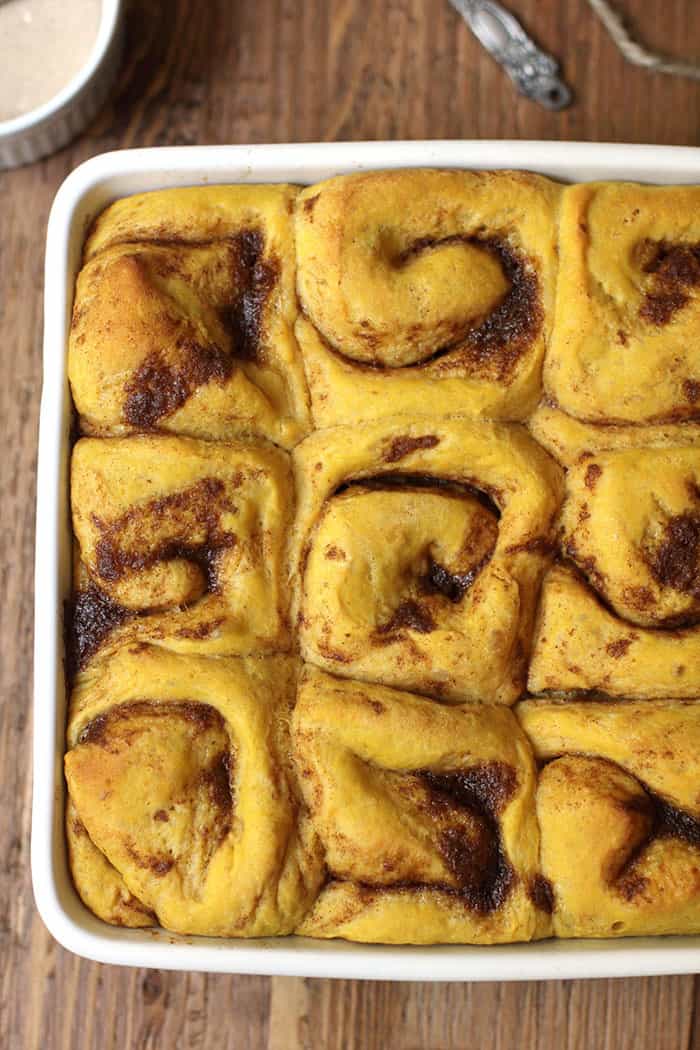 The changes I made for this recipe are the following:
I used brown sugar instead of granulated white sugar in the dough.
I subbed out oil for unsalted butter.
I added pumpkin to the dough.
For the sugar layer, I added pumpkin and pumpkin pie spice.
For the frosting, I added pumpkin pie spice.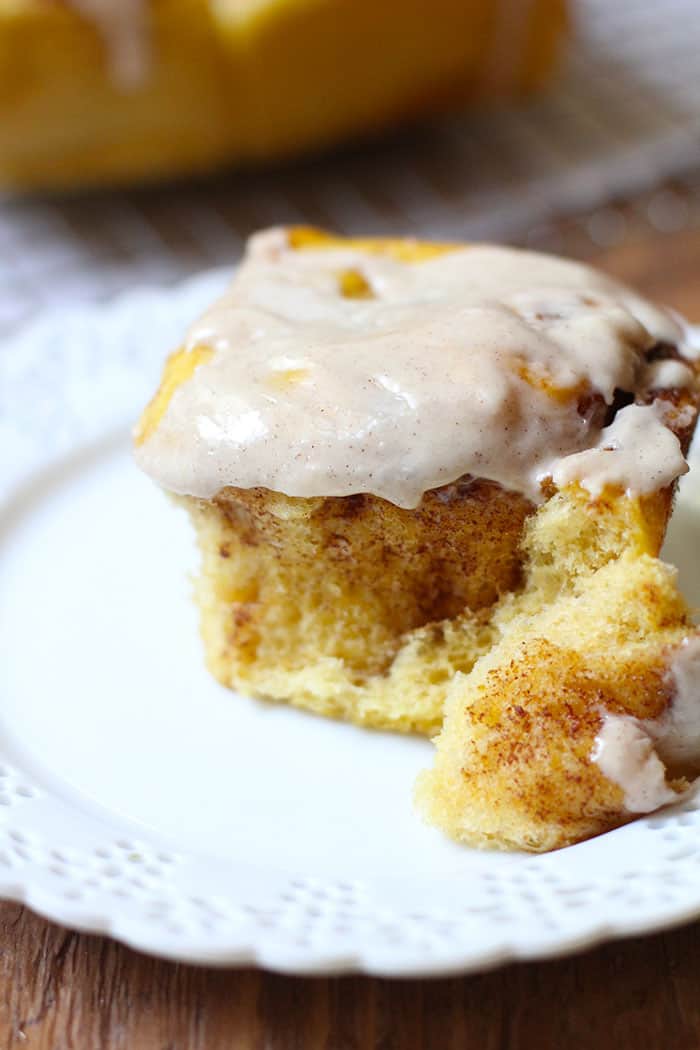 If you are new to bread making, these pictures are for you (in order from left to right).
The dough mixture before adding flour
After it pulls away from the edge of the mixer
The dough before it rises
After it rises
Half of the dough pressed out into a large rectangle
With the pumpkin sugar mixture spread on top
The dough rolled from the rectangle into a log
The rolls before baking, after rising
More tips for making rolls can be found in my post for Homemade Cinnamon Rolls.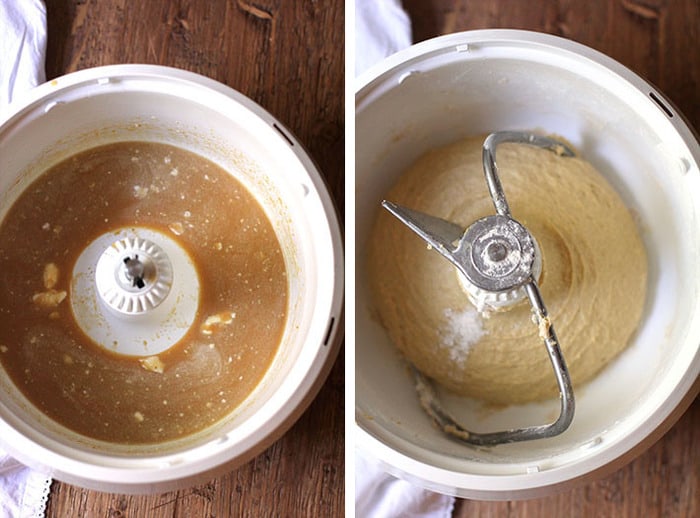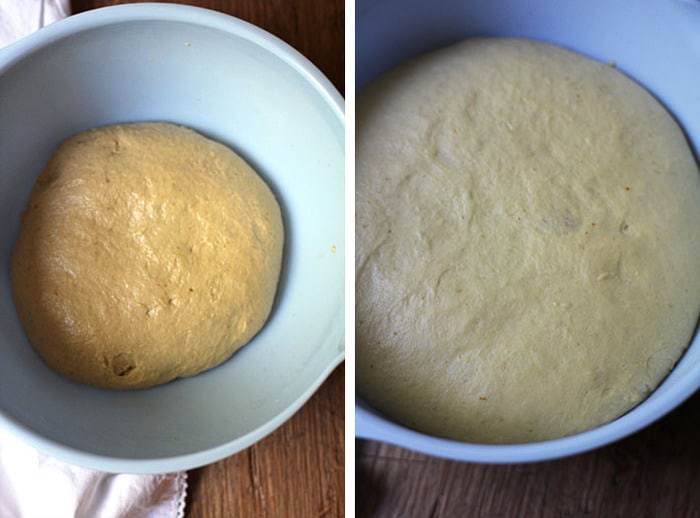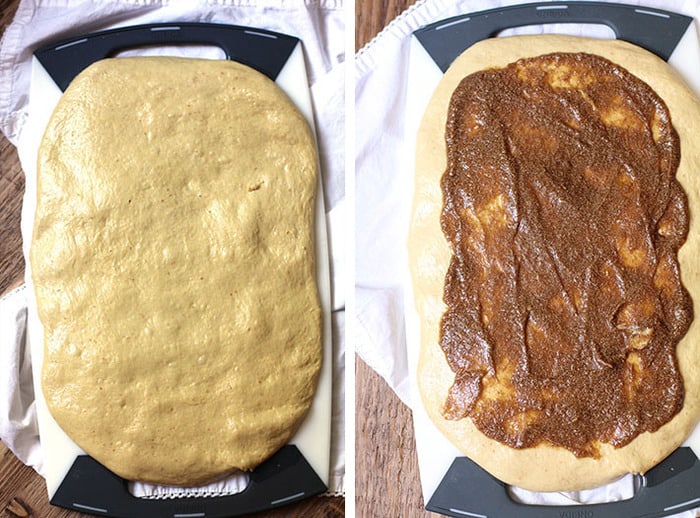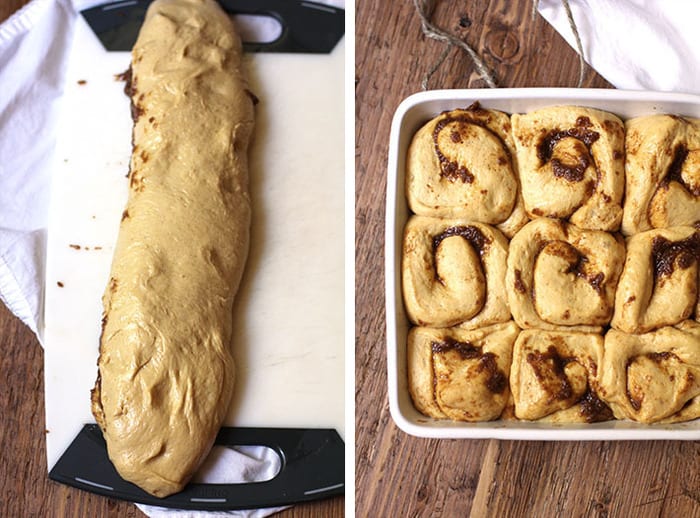 I've been hitting up Starbucks lately for their PSLs (Pumpkin Spice Lattes). But I'm one of "those" coffee drinkers, and my order goes like this…
Venti
Non-Fat
Extra-Hot
No-Whip
2-Pump
PSL
FYI, just in case ya'll want to buy me one..sometime. 🙂
Pair a PSL with these Pumpkin Spice Cinnamon Rolls. OR…
Baked Pumpkin Donuts (recipe coming soon!)
Ahhh, pumpkin.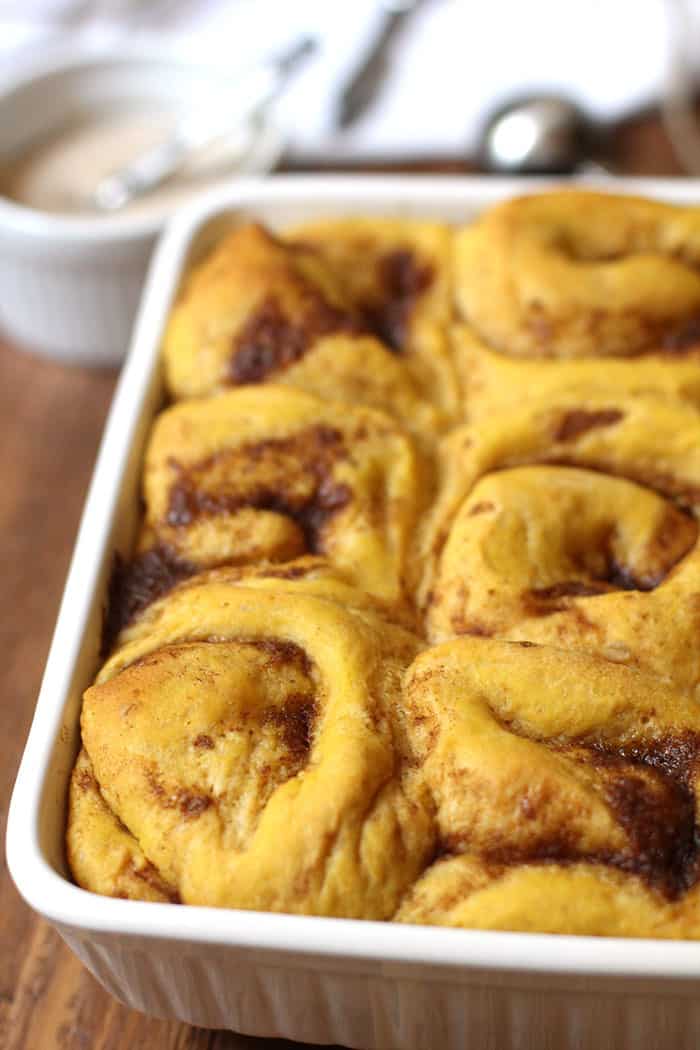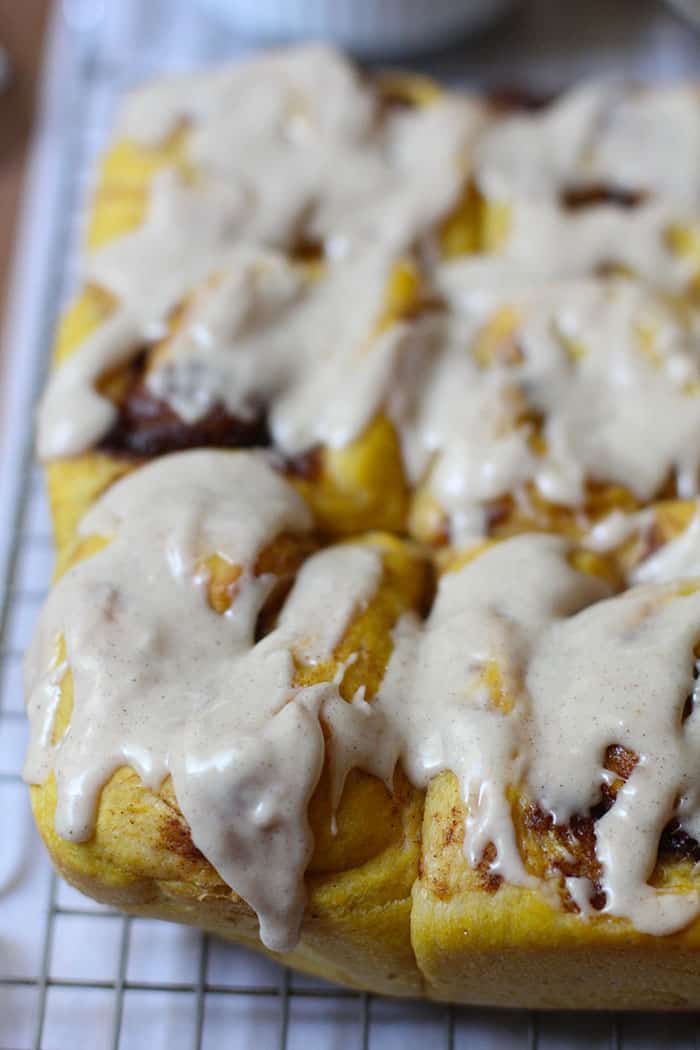 Please let me know if you try these Pumpkin Spice Cinnamon Rolls, and how you like them!
You can stay up-to-date with SueBee Homemaker by:
signing up for post updates (top right-hand corner of my blog)
liking my Facebook Page
and following me on Pinterest
I'm also sharing tidbits of my life on Instagram. ????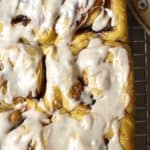 Pumpkin Spice Cinnamon Rolls
Servings
:
2
pans of nine rolls
Ingredients
For the dough:
2

Tablespoons

yeast

- I use Red Star

1/2

cup

brown sugar

2

cups

warm water

- not hot, not cold

1/2

cup

unsalted butter

- melted and slightly cooled

1

cup

pumpkin

2

teaspoons

salt

4

Tablespoons

powdered milk

5-6

cups

all-purpose flour
For the pumpkin sugar mixture:
1/4

cup

unsalted butter

- softened

1/4

cup

pumpkin puree

2/3

cup

brown sugar

2

Tablespoons

cinnamon

2

teaspoons

pumpkin pie spice
For the pumpkin spiced frosting:
2

Tablespoons

unsalted butter

melted

4

Tablespoons

heavy cream

2

teaspoons

vanilla

2

teaspoons

pumpkin pie spice

3

cups

powdered sugar

- more or less, depending on consistency
Instructions
For the dough:
In a large standing mixer, combine yeast, brown sugar, and warm water. Be careful to use WARM water, not hot. If the water is too hot, the yeast will disappear and you can't make bread without yeast. Mix and let sit for about 15 minutes to get the yeast working. You should see little bubbles in the water.

Add the melted butter, pumpkin, salt, and powdered milk. Stir with a spatula. Attach dough hook to mixer and add about half of the flour. Start the mixer and let the flour absorb.

Gradually add more flour, a little bit at a time until the dough is less sticky and pulls away from the sides of the mixer. You want the bread dough to be slightly sticky, but not too much. When you touch the dough, it should bounce back slightly. Be sure to leave the mixer on for several minutes after you get the right consistency.

Grease a large bowl with canola oil. Add dough to the bowl, making sure you smooth it into a ball, by punching it down - starting in the center of the dough. Place dough with smooth side up and cover with a clean towel. Let the dough double (approximately) in size.

Once doubled, punch down the dough again - by pushing down with your fists in the middle of the dough, pulling the outer edges in towards the middle. Re-grease the bowl with oil and place the dough with smooth side up. Let rise until doubled in size again.
Adding the pumpkin sugar mixture:
In a small mixing bowl, combine the butter, pumpkin, brown sugar, cinnamon, and pumpkin pie spice. Stir until well combined.

Take about 1/2 of the dough, and press it on a well-greased surface, into a rectangle. (See pictures above.) Using your hands, spread half of the pumpkin sugar mixture on the dough.


Gently roll the dough up into a long log. (See pictures above.) Using a serrated edge knife, cut dough log into about 1 inch sections. Place sections into greased pans, and press down slightly, so that the cinnamon sugar is visible on top.

Continue with the other 1/2 of the dough. This recipe should make about two pans of rolls, depending on how big you make them.

Cover the pans with a clean dishtowel, and let rise again until dough is almost doubled. This dough rises fast in Texas, and only takes about 20-30 minutes to be ready to bake.

Bake rolls in 350 oven, for about 20-22 minutes, or until rolls are nice and golden on the top, and slightly golden on the bottom. Remove rolls to cooling racks.
For the pumpkin spiced frosting:
Combine the melted butter, cream, vanilla, and pumpkin pie spice. Then add powdered sugar to get your desired consistency. If it's too dry, add more cream. If too runny, add more powdered sugar.

Drizzle the frosting all over the rolls, and serve.
Recipe Notes
These rolls freeze well, unfrosted, using freezer bags.

SHARE THIS POST TO YOUR FRIENDS: