Oatmeal Chocolate Chip Cookies are the perfect thick and chewy cookies. Loaded with oatmeal and chocolate chips, you will definitely want more than one!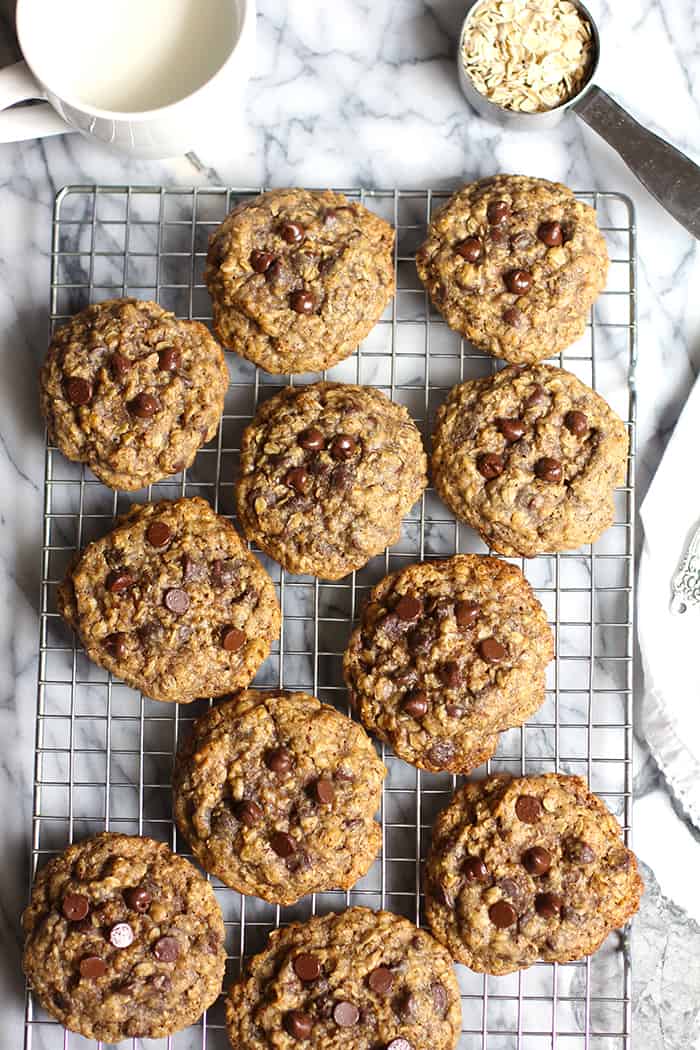 Mike has THE biggest sweet tooth I've ever seen. I probably haven't helped matters with my love of baking. But we are a pretty great pair, (and oh hey, today is our 28th wedding anniversary!) because I love to bake and he loves to eat cookies, cupcakes, pies, ice cream, and just any SWEETS he can get his hands on.
It's a great thing that he also loves to sweat. He's big into working out, especially over the past four years or so, when he lost 40 pounds by counting calories (myfitnesspal.com rocks!) and burning at least 1,000 calories a day. He gets up before 5am each day and goes to the gym at work to run, bike, and lift weights. And often times, he's training for a half marathon or sprint triathlon.
Mike is a well-oiled machine, that is for certain.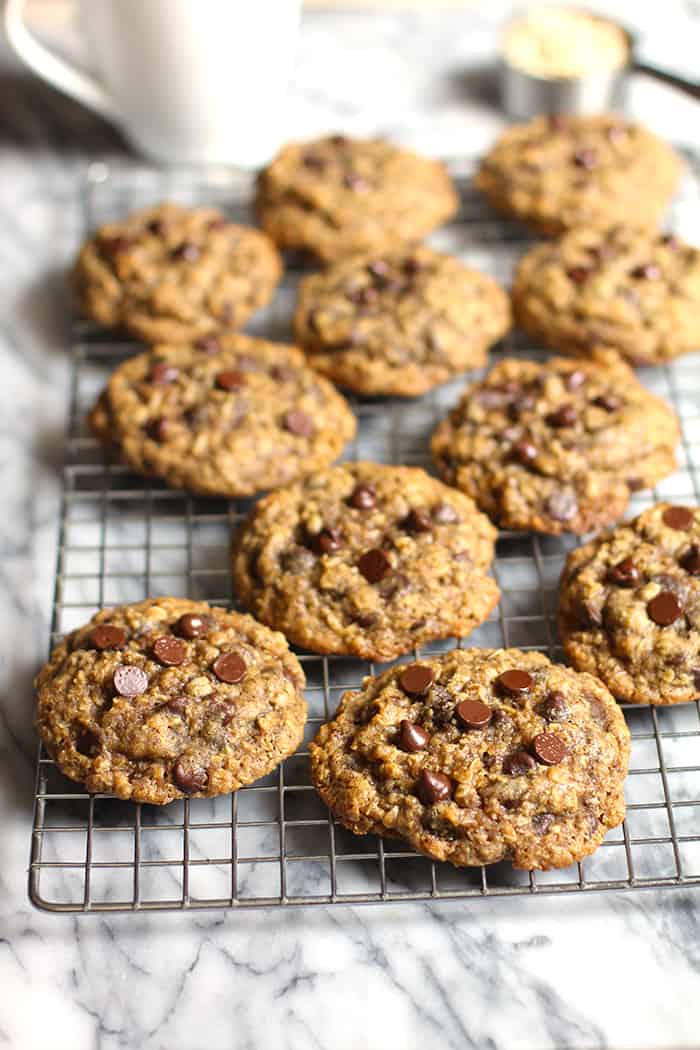 There is rarely a day when Mike refuses dessert. I keep A LOT in the freezer so there is always a treat for him if he wants it. And he usually does.
Me on the other hand…I prefer to BAKE the sweets, and then give them to others. My mom taught me that well and I thank her for teaching me about generosity. She was, and still is, the most giving person, always putting herself last behind her husband and six children. I don't think I can rival that, but I do know that I love to make my family and friends happy. 🙂
These Oatmeal Chocolate Chip Cookies, ya'll. They are SO GOOD. I know I say that a lot. Because duh, I like food! But THESE cookies are undeniably thick, chewy, and full of oatmeal and chocolate! You actually might even be fooled to think they are healthy because of the texture. But well, there is butter and sugar and chocolate. AND loads of old fashioned oatmeal that IS really good for you.
Don't forget to add oatmeal and chocolate chips to your grocery list this week! (<– write it down!)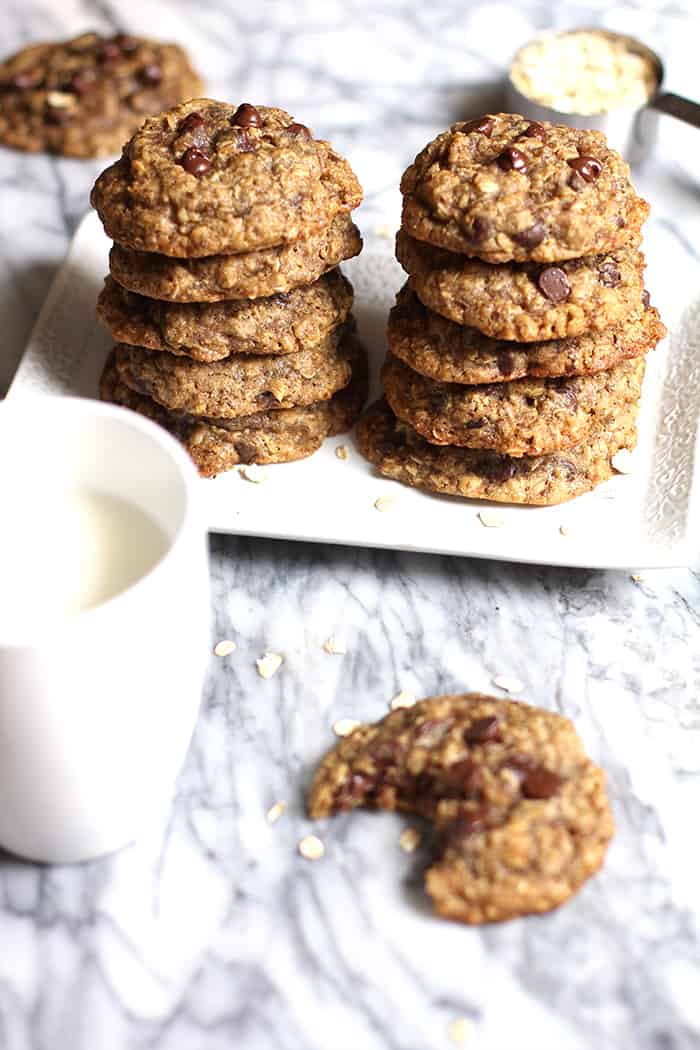 When we were kids, we always dunked our cookies in milk. I love that memory. As you can see, my sweet boy, Josh, dunked for my pictures and then took the most gigantic bites, like any grown boy would do. I didn't have to ask him twice to help me.
BTW, both of my boys got the SWEET gene from their dad (and grandpas). But they got there sweetness from me.
Perhaps. 🙂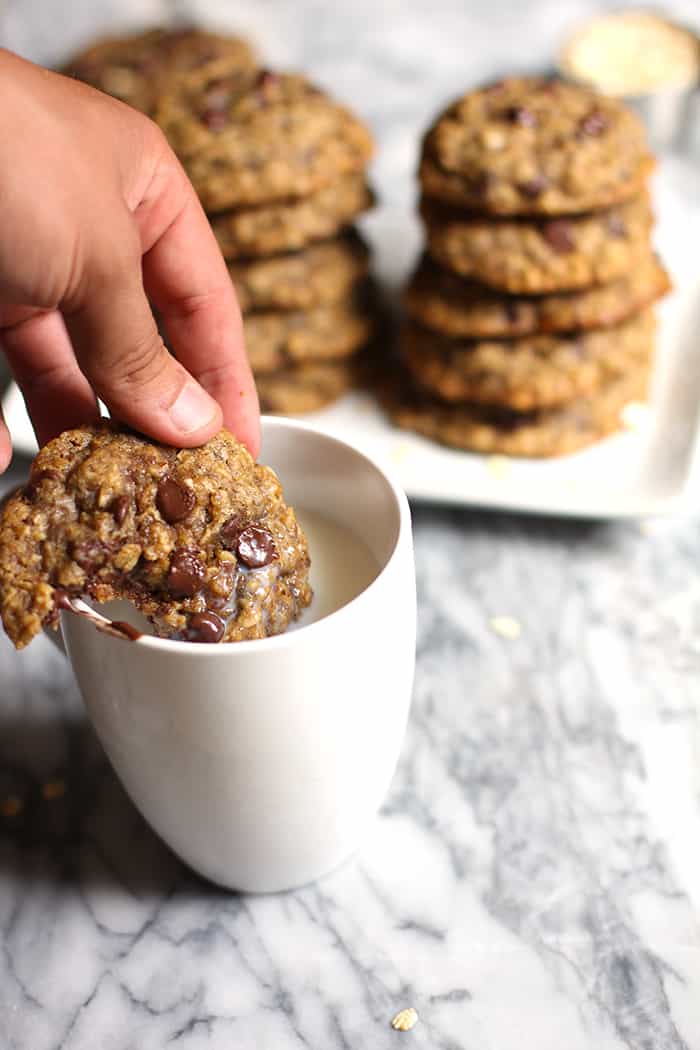 My cookie sheets and cooling racks can be found in MY KITCHEN TOOLS under BAKEWARE.
If you LOVE making these cookies, or looking at them, please leave me a comment below!! You can also LIKE MY FACEBOOK PAGE to get all the latest stuff. 🙂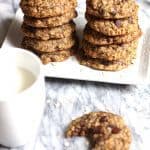 Oatmeal Chocolate Chip Cookies
Ingredients
1

cup

unsalted butter

- 2 sticks at room temperature

3/4

cup

sugar

3/4

cup

brown sugar

2

large

eggs

1

Tablespoon

vanilla

- I use Watkins vanilla

3

cups

old-fashioned oatmeal

1 1/2

cup

all-purpose flour

1/2

cup

flaxseed meal

1

teaspoon

baking soda

1/2

teaspoon

salt

1

teaspoon

cinnamon

2

cups

semi-sweet chocolate chips
Instructions
Preheat oven to 350 degrees.

In a large standing mixer, cream the butter and sugars together until creamy. Add eggs and vanilla and mix.

In a separate bowl, combine all dry ingredients - oatmeal, flour, flaxseed meal, baking soda, salt, and cinnamon.

Pour dry ingredients with wet ingredients, and mix until just combined. Gently add chocolate chips. (I mix chips in by hand.)

Place dough in refrigerator for two hours or overnight. The purpose for this step is to keep the cookies from getting too flat.

Using a 1/4 cup measuring scoop, roll cookie dough into balls and place on cookie sheets. Press down slightly.

Bake for 12 - 13 minutes, or until cookies are very slightly browned on top. Remove to cooling racks.


SHARE THIS POST TO YOUR FRIENDS: