I had my first Italian Wedding Soup at a restaurant MANY years ago. It was SO good that I started searching for a good recipe for it. This was before the era of Pinterest and the large scale of blogging sites that exist today. So this recipe is a combination of a couple of recipes I found at a bookstore and then several tweaks I've made along the way. I've been making it for years and it's definitely one of my favorite soups of ALL TIME.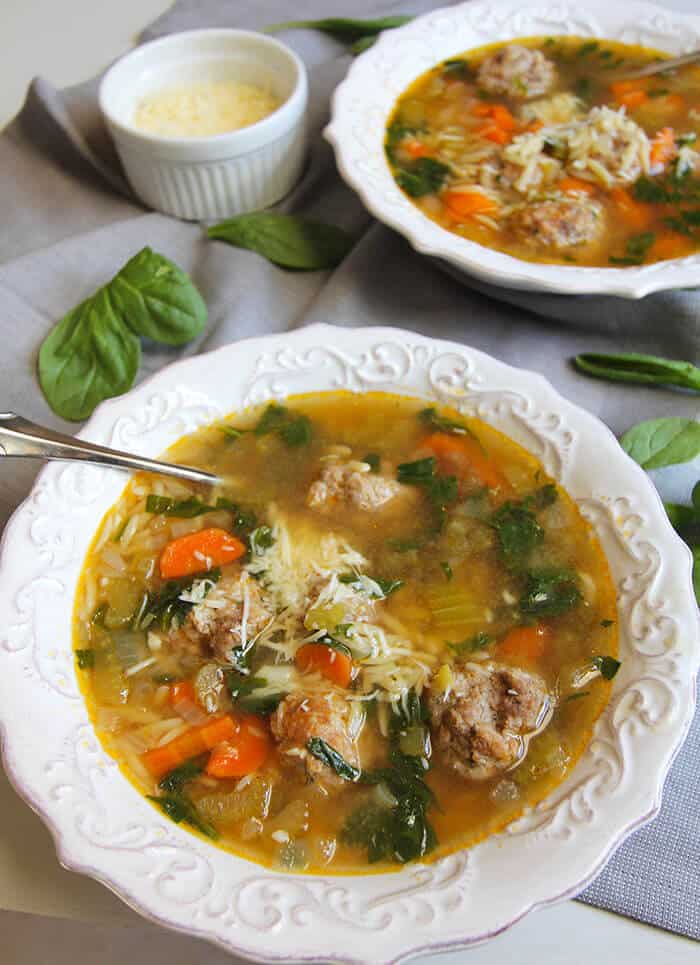 Confession…my family gets tired of all the soup I make. Mike is warming up to it (no pun intended) but the boys are done with soup by mid-January. I just get so dang excited when the temps cool under 80 (yes, crazy!) that I start making soups and stews and breads to dip in the soups… It's just so exciting! And how many times can I say "soup" in one paragraph??!!
One of the things I like to do frequently, is to make up a bunch of mini meatballs and freeze them for when I make this recipe, or for meatball subs. It's a super quick meal to make when the meatballs are ready to go. I used a combination of lean ground beef and hot turkey sausage in this batch, but you could use a combination of beef, turkey, chicken, or whatever you prefer for your meatballs.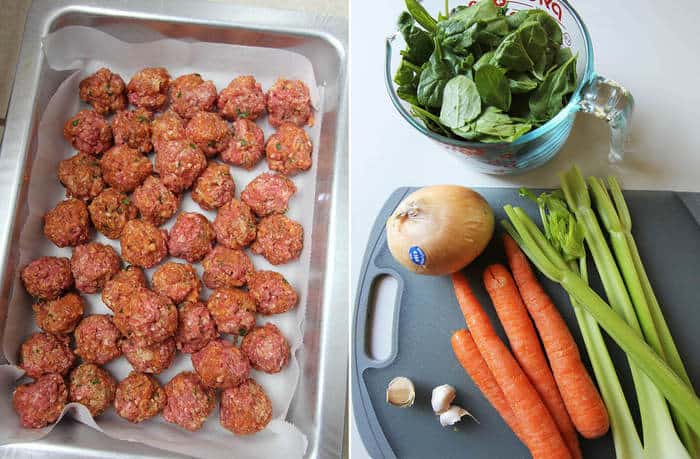 Do you know why this soup is called "Italian Wedding Soup"? I'm going to tell you why. Even if you don't really care.
Many people believe that it was a soup served to a bride and groom at their wedding – to give them extra strength and vigor to get them through their wedding night. Hmmm…
Not true. The meaning has to do with the "marriage" of the meat and the vegetables in the soup. One ingredient is very different from the other, but they go well together. (Kind of like most couples I know!)
And there you have it. The true meaning of Italian Wedding Soup. Now we can all go forward in peace and prosperity.Don't forget to whip up a batch of Norma Jean's French Bread for dipping in the soup. THAT, my friends, is a marriage made in heaven.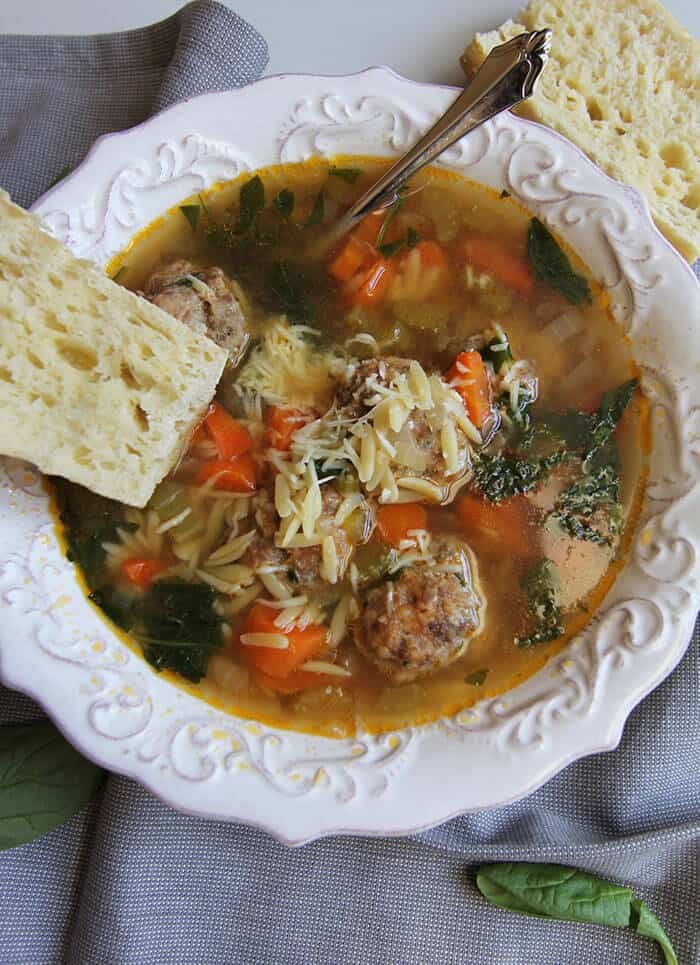 Please let me know if you try this Italian Wedding Soup, and how you like it!
You can stay up-to-date with SueBee Homemaker by:
signing up for post updates (top right-hand corner of my blog)
liking my Facebook Page
and following me on Pinterest
I'm also sharing tidbits of my life on Instagram. 🙂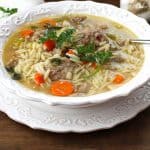 Italian Wedding Soup
a hearty Italian-American soup with mini meatballs, veggies, and parmesan cheese
Ingredients
For the mini meatballs:
1

pound

lean ground beef

1 1/4

pound

hot turkey sausage

or use mild or any type of sausage

1

large

egg

3

Tablespoons

milk

3/4

cup

Panko bread crumbs

1/4

cup

Parmesan cheese

grated

3

Tablespoons

fresh parsley

chopped

1

teaspoon

dried basil

1

teaspoon

Italian Seasoning

salt & pepper

to taste
For the soup:
4

large

carrots

peeled and diced

4

stalks

celery

diced

1

large

onion

diced

3

whole

garlic cloves

minced

2

Tablespoons

olive oil

8

cups

chicken broth

6

cups

beef broth

2

bay leaves

optional

1 1/3

cups

dried orzo pasta

4

cups

fresh spinach

diced into strips

salt & pepper

to taste

Parmesan cheese

for serving
Instructions
For the meatballs:
In a large mixing bowl, combine ground beef, turkey sausage, egg, milk, bread crumbs, parmesan cheese, and spices for meatballs. Gently combine, being careful to not over-mix.

Refrigerate meatballs until ready to add to soup. (You can also freeze these meatballs ahead of time.)
For the soup:
In a large stock pan, sauté the carrots, celery, onion, and garlic in olive oil, until the veggies begin to soften. Add chicken broth and beef broth and bring to a boil.

Add meatballs and bay leaves. Reduce heat to a slow boil, and stir gently to keep the meatballs from breaking apart. Season with salt and pepper to taste.

After the meatballs have simmered for about 10 minutes, add the orzo pasta. Simmer until al dente, approximately 15 minutes.

Add the spinach during the last five minutes of cooking. Serve with parmesan cheese on top.

You can also bake the meatballs in the oven and add them later in the cooking process. You may also need to add more broth to this soup as it sits.

SHARE THIS POST TO YOUR FRIENDS: