Chocolate Scotcheroo Pinwheels
This post may contain affiliate links which won't change your price but will share a commission.
Norma Jean took the standard Scotcheroo recipe and made it her own. Using a jelly roll pan to make them thinner, she rolled the Scotcheroos up into a log and then sliced them into pinwheels. Chocolate Scotcheroo Pinwheels! Genius!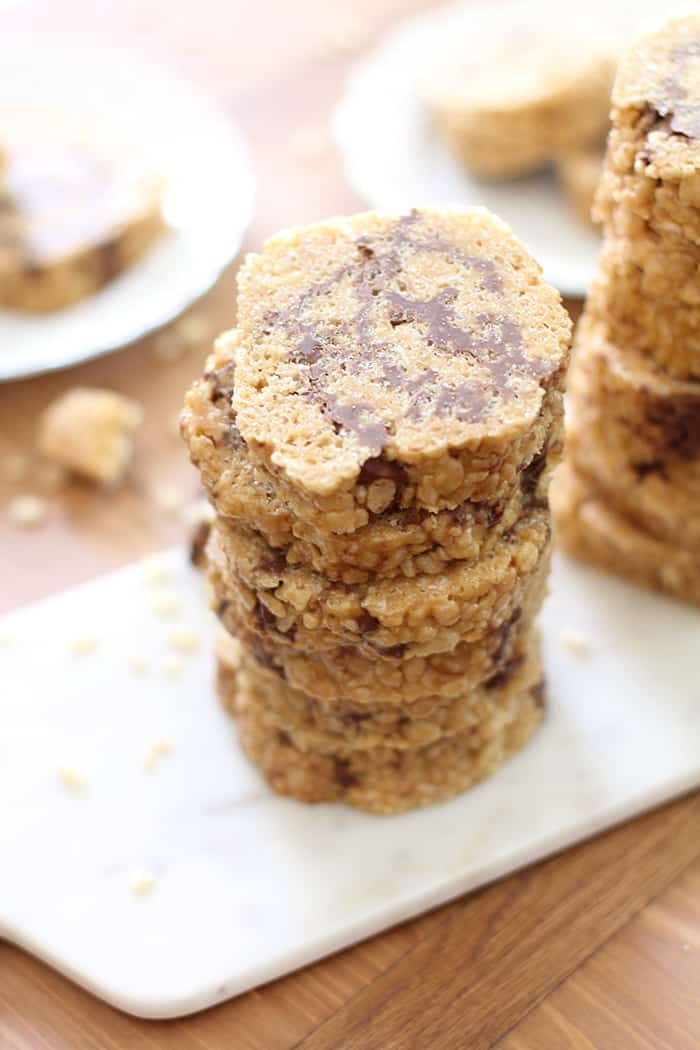 I bet 90% of y'all have already had a Scotcheroo in your lifetime, especially if you are from the Midwest. They are in every cookbook that I have from all the little churches around my hometown of St. Joe, Iowa. If you look at Pinterest, you will see lots and lots of pictures of these yummy Rice Krispie treats with thick chocolate and butterscotch frosting.
Mom made these for us numerous times when we were growing up. We took them to cook-outs with cousins, to church outings, and to Lake Okoboji (our summertime vacation spot). Later on in life, Mom starting getting fancy and rolling them into pinwheels, like this recipe details. She even brought them to Texas when her and Dad were still able to visit us.
The standard ingredients are the same for the scotcheroo bars and pinwheels. But the quantities are adjusted for the pinwheels if you are comparing this recipe to one you might already have.
Rice Krispies
sugar
white syrup
peanut butter
chocolate chips and butterscotch chips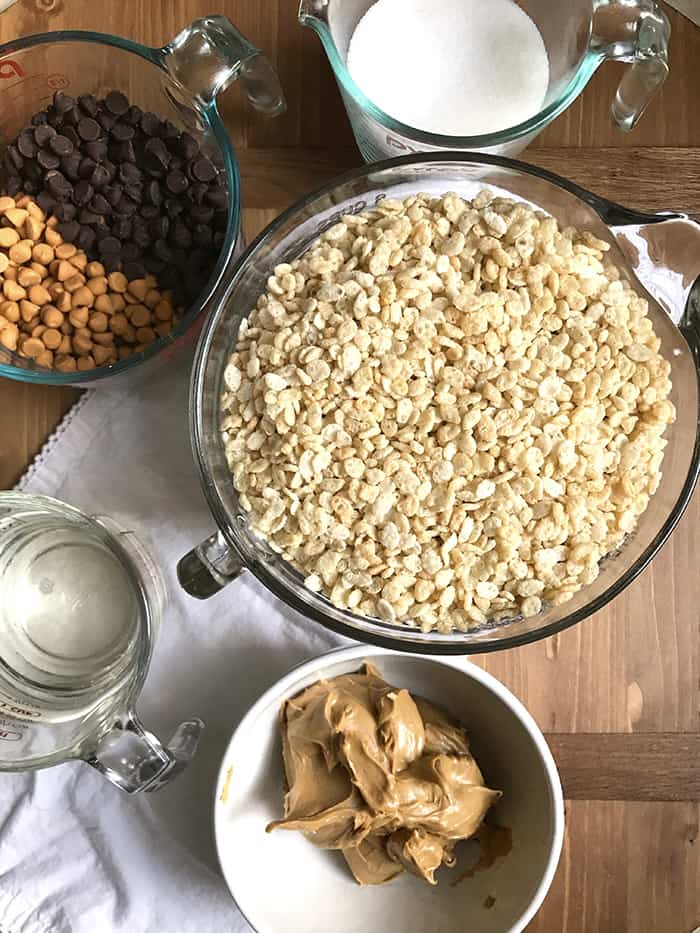 The actual bars come together in just 15 minutes or so. To make them into pinwheels, there are a few extra steps.
Make the recipe in a jelly roll pan.
Let them set up on your countertop – approximately 20-30 minutes.
Gently roll them, as detailed below.
As you roll, squeeze them together with your hands.
Once you finish rolling, let them set up again.
Slice the roll into at least 20 pinwheels.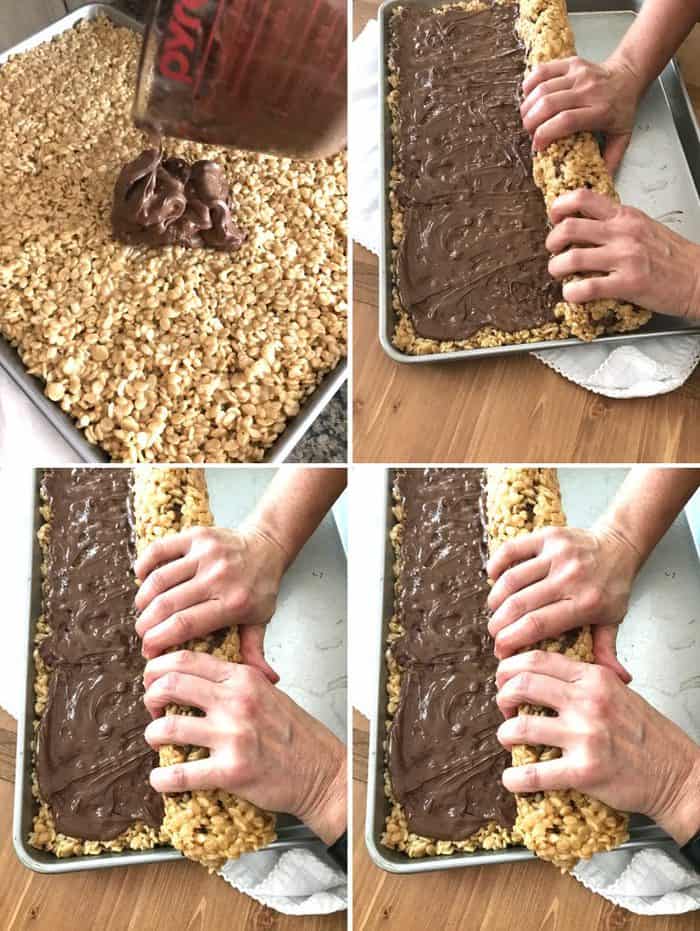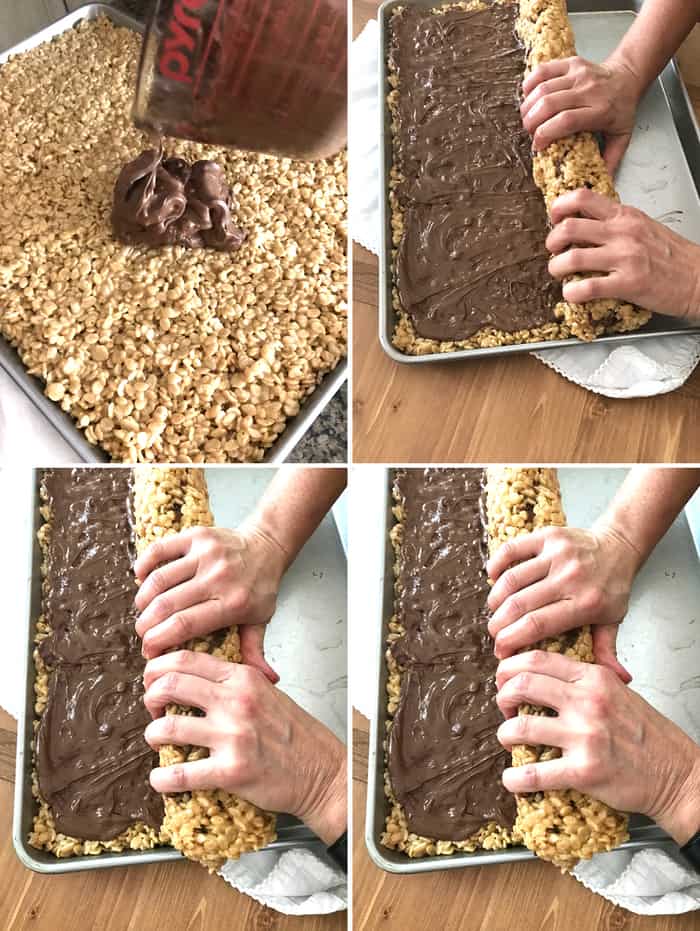 My kids were tickled pink that I made Grandma's recipe. It had been a long time! And this was the first time that I did Mom's pinwheel trick, with the help of my sis who makes these a lot for her kids and grandkids. I actually made them twice because Zach told me that Grandma's had a more defined "swirl" in the middle. The second time I made them, I added more frosting and let them sit a little longer before rolling them. I would say that the swirl was slightly better, but maybe not that noticeable. Grandma obviously had a secret she wasn't sharing.
If you have little ones at home, making these Chocolate Scotcheroo Pinwheels is genius because there is less mess.
These bars are best at room temperature. You can store them in the refrigerator, but they will be REALLY hard to bite into, so be sure to let them adjust to room temp before serving.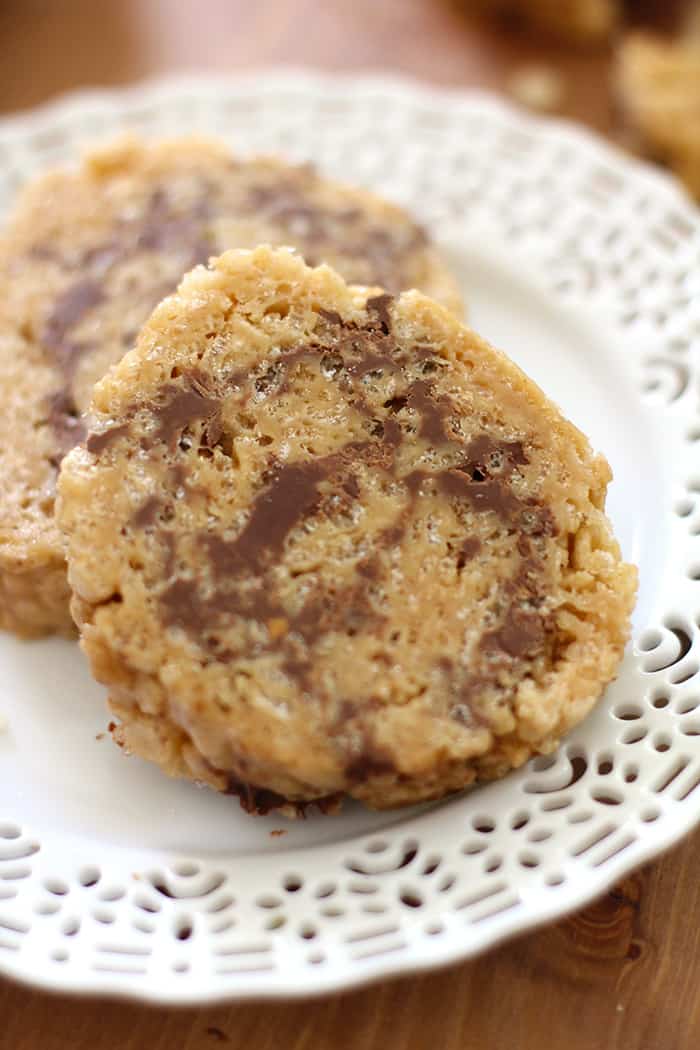 Try these cookies next: M&M Monster Cookies
xoxo ~Sue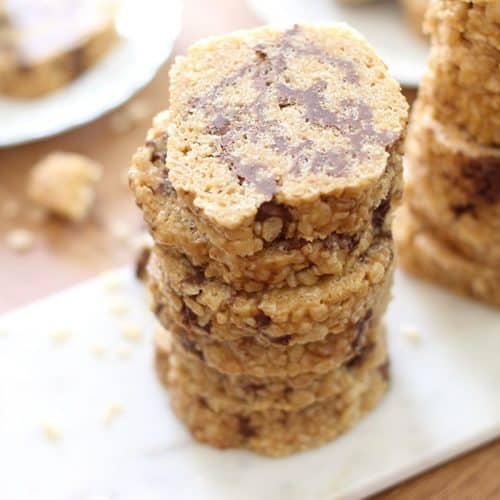 Chocolate Scotcheroo Pinwheels
Using just six ingredients and a new method, Chocolate Scotcheroos are taken to a new level with the pinwheel technique. Less mess for little hands!
Print
Pin
Rate
Ingredients
9

cups

Rice Krispies

1.5

cups

sugar

1.5

cups

light corn syrup

1.5

cups

peanut butter

12

oz.

semi-sweet chocolate chips

12

oz.

butterscotch chips
Instructions
Bring sugar and syrup to a boil in medium sauce pan. Remove from heat and stir in peanut butter.

Measure out Rice Krispies in large mixing bowl. Pour mixture over top and stir to combine.

Grease a large jelly roll pan, and spread Rice Krispie mixture evenly, pressing down firmly with your hands. Make sure your hands have oil or butter on them to prevent sticking.

Melt chocolate chips and butterscotch chips together. You can use double boiler or microwave on 50 percent power, stirring frequently to prevent burning.

Spread chocolate over Rice Krispie mixture. Let pan sit for approximately 30 minutes.

To roll into pinwheels, make sure your hands have plenty of oil/butter on them. Starting at one side of pan, roll scotcheroos up into a large log, pressing as you roll. There may be some chocolate that seeps out, but that is ok.

Let pan sit again to set up. You can also place in refrigerator for 15-20 minutes until they are ready to slice.

Once the log is set, slice into approximately 15 pieces. Place in airtight container, layering with parchment paper. Store in refrigerator to fully set up. Remove for 30 minutes before serving or they will be too firm to eat.
Nutrition
Calories:
457
kcal
|
Carbohydrates:
73
g
|
Protein:
6
g
|
Fat:
17
g
|
Saturated Fat:
6
g
|
Cholesterol:
2
mg
|
Sodium:
239
mg
|
Potassium:
237
mg
|
Fiber:
2
g
|
Sugar:
57
g
|
Vitamin A:
865
IU
|
Vitamin C:
8
mg
|
Calcium:
24
mg
|
Iron:
5.3
mg