Sometimes we need a one-pot wonder. I'm not talking about Mary Poppins here. Just a healthy and filling home-cooked meal that you can get on the table quickly, with minimal dishes and time involved. I've got one for ya.
Why hello, Broccoli Pasta with Bacon.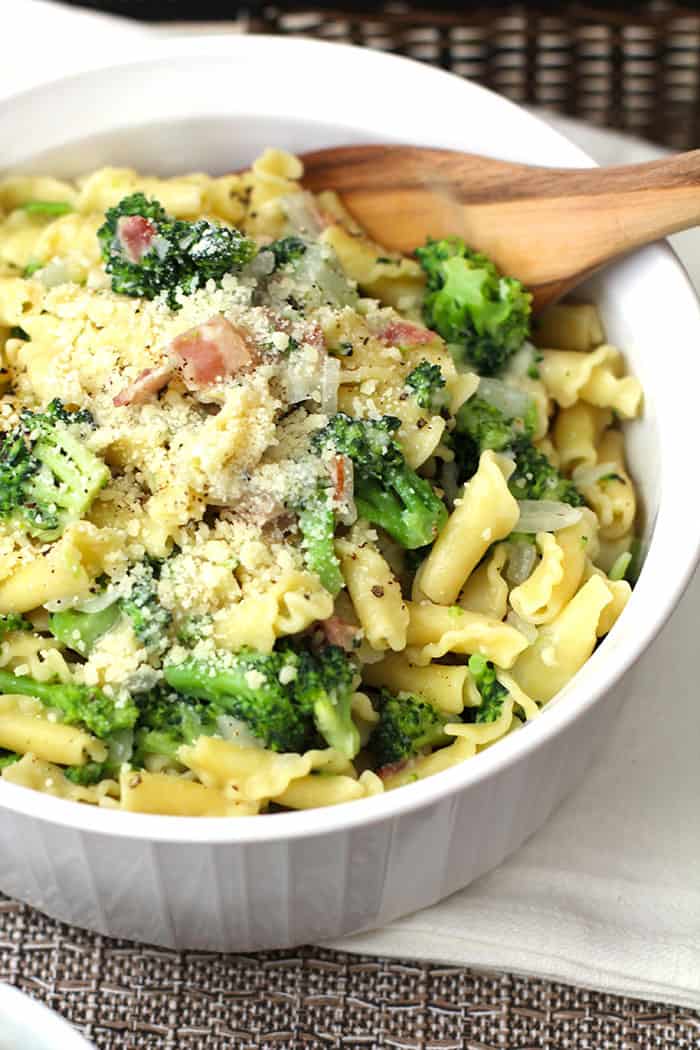 One of the really great things about this dish – well besides the fact that it's yummy and beautiful to look at – is that it's so interchangeable. You can use…
any pasta (I've used shells, rotini, bowtie)
another protein (I've used lean spicy sausage and chicken)
a roux to make it creamy (like in my Spaghetti Squash and Cheese recipe)
I change it up almost every time I make it. But I REALLY prefer the broccoli because it cooks fast in only a few minutes (along with the pasta). And it tastes great every single time. I've tried to use other veggies but it's never as good as using broccoli.
Broccoli —> BEST!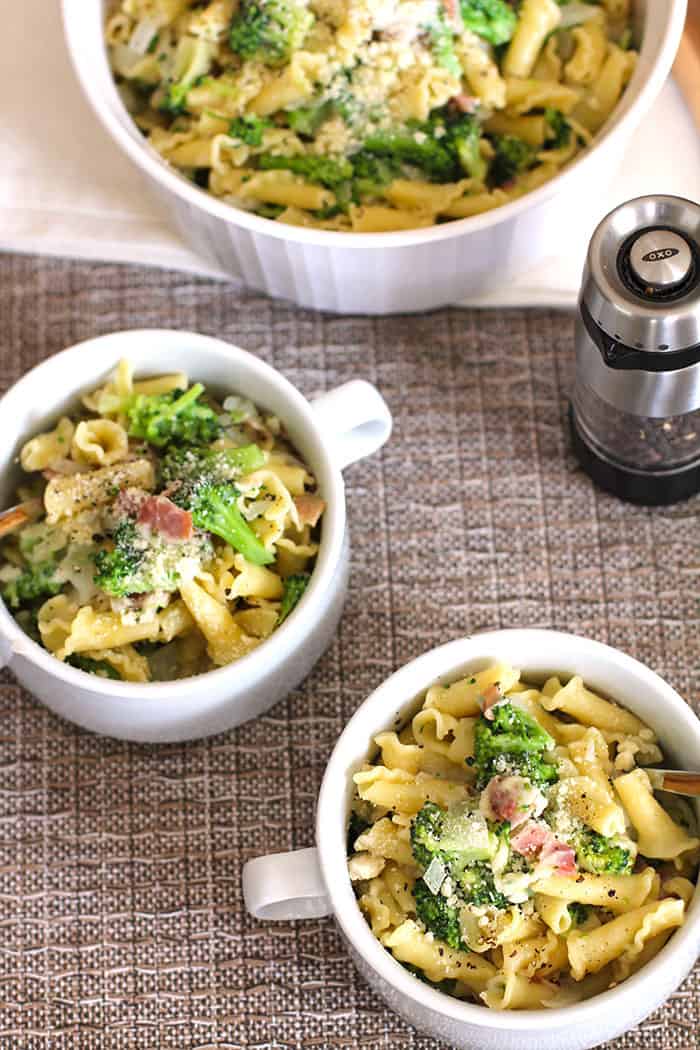 One of the most important steps in making Broccoli Pasta with Bacon is to SAVE SOME PASTA WATER. Don't forget. I always put a bowl under the strainer right away because it's so easy to just dump the water down the drain. The pasta water is what makes everything stick together since there isn't a lot of oil or butter in this recipe.
Don't forget —> keep some pasta water!
Using pre-cooked bacon is also a huge short-cut when trying to get dinner on the table in a hurry. Just dice it up and throw it in the pot, cooking it for a few minutes to get a crunch. It goes great with the parmesan in this dish.
If you want to make this a meatless meal, just simply skip the bacon.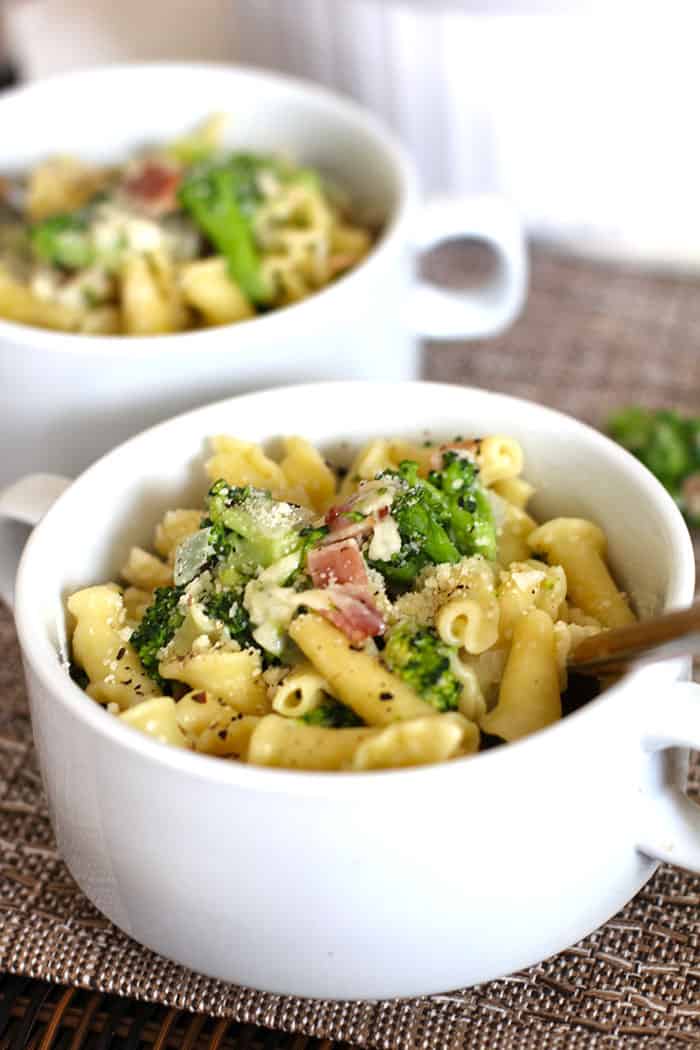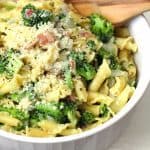 Broccoli Pasta with Bacon
an easy, one-pot pasta, with Campanelle noodles, broccoli, bacon, and parmesan cheese
Ingredients
16

oz

campanelle pasta

10

cups

broccoli florettes

stems trimmed and cut into pieces

salt and pepper

to taste

2

Tablespoons

olive oil

1/2

medium

onion

diced

3

cloves

garlic

diced

10

slices

pre-cooked bacon

1

Tablespoons

unsalted butter

1

cup

shredded parmesan cheese

plus extra for serving
Instructions
Fill a large pot (about 2/3 full) with water, and bring to a boil. Add pasta and salt generously. Let boil for approximately 3-4 minutes, and then add broccoli to pot and stir again.

Let pasta and broccoli simmer until pasta is el dente, soft but firm to the bite. Place a medium bowl in the sink with a strainer on top. Drain the pasta and broccoli mixture, while catching a couple of cups of the pasta water in the bowl.

Return the empty pot to the burner. Add olive oil and onion - saute until soft. Add pre-cooked bacon and garlic - stir for another minute.

Add pasta and broccoli back to the pan, along with the butter and parmesan cheese. Stir and gradually add some of the pasta water (approximately one cup or enough to get everything nicely combined and smooth), to add moisture to the ingredients. Stir and serve with extra parmesan and freshly ground black pepper.
Recipe Notes
This is a lighter recipe. If desired, add a roux by adding flour to the sautéed onion, along with chicken broth and milk. Refer to my spaghetti squash and cheese recipe for the directions for a roux.

SHARE THIS POST TO YOUR FRIENDS: