This post may contain affiliate links which won't change your price but will share a commission.
We just returned from a BIG celebratory trip to honor my parents for their 60th wedding anniversary, and my mom for her 80th birthday. Both are huge milestones! My siblings, their spouses, the grandchildren, great-children, and significant others, gathered together for a weekend in Iowa. We were missing just six members of our family (including our Josh).
We were fortunate (ha!) to get a perfectly warm and 100% humid day (no joke!) for our celebration! Luckily, we could stay indoors most of the day, but first —-> pictures! 🙂 We decided to take our pictures on the deck at the nursing home, and luckily, caught a break with some morning clouds. Getting 35 people to smile at the same time was no easy feat, but we did it! (Thanks to Jan Thompson Photography!) Here's a few photos from our photo shoot.
Dad and Mom – the reason we are all here!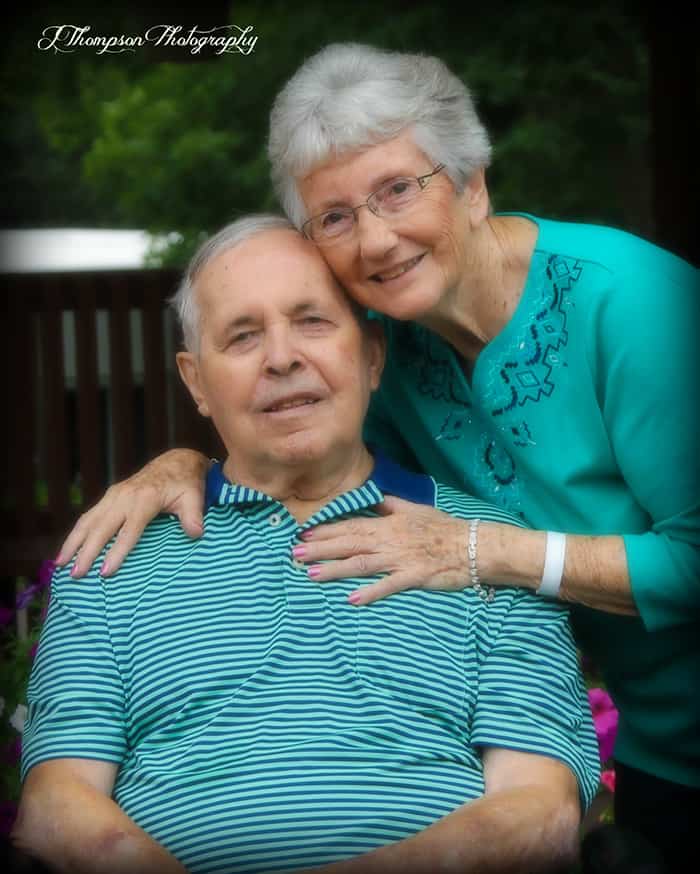 Mom and Dad and their six children – Lauri, Jackie, Dave, Shari, Sue, and Rob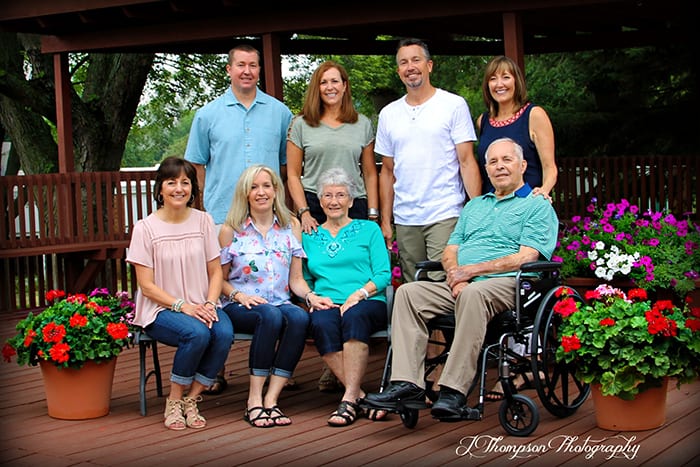 Mom and Dad, six children, 11 grandchildren (3 missing and one deceased), 5 great-grandchildren (and 2 more on the way), and 11 in-laws/significant others (2 missing)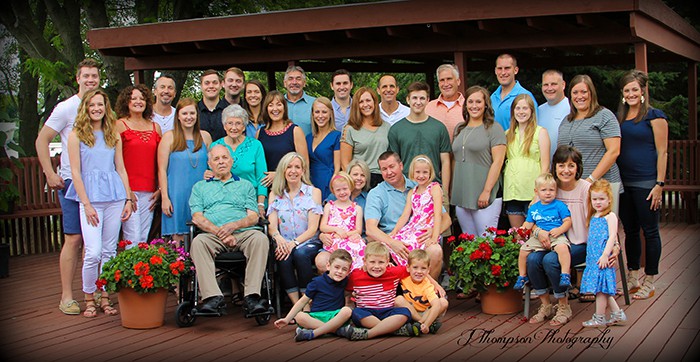 Dad and his sons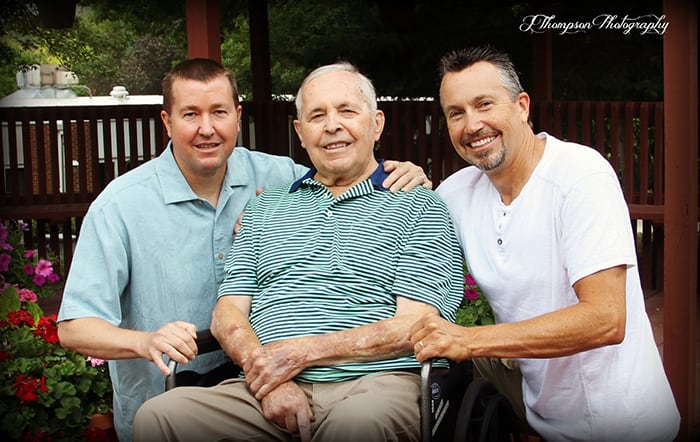 Mom and her daughters
All six of us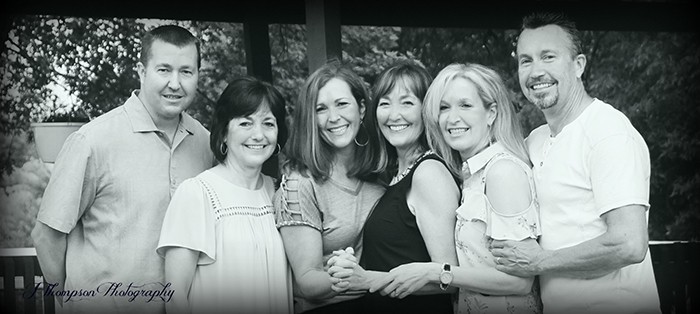 Sunglasses pics, of course!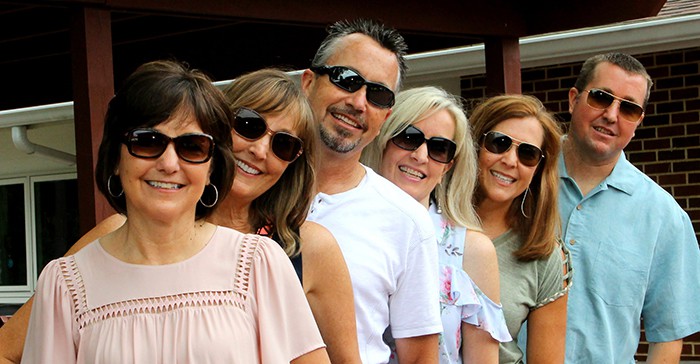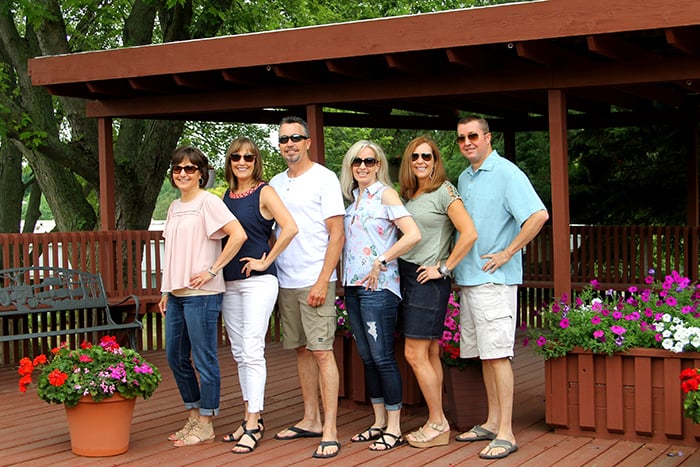 And we always have to get a little bit silly! BTW, my oldest sis is NOT pregnant, but the wind cooperated with the silliness of the pose and puffed her shirt out at just the right moment! 🙂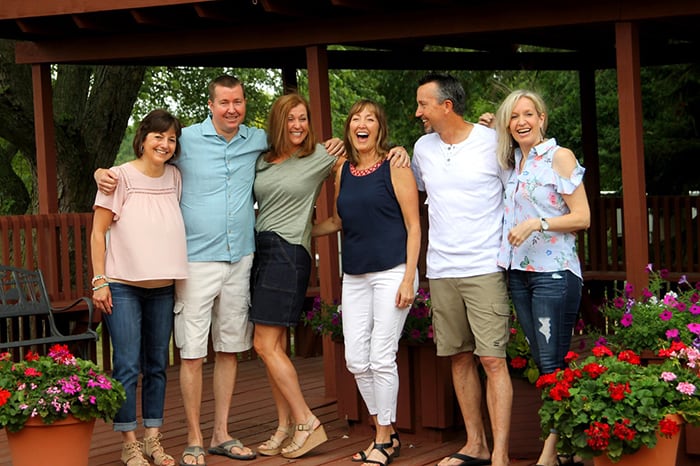 Dad, Mom, their six children and spouses (except for Jonathan, Shari's husband). As you can see, Mike was all about the silly face. Everyone was laughing – and they couldn't even see him!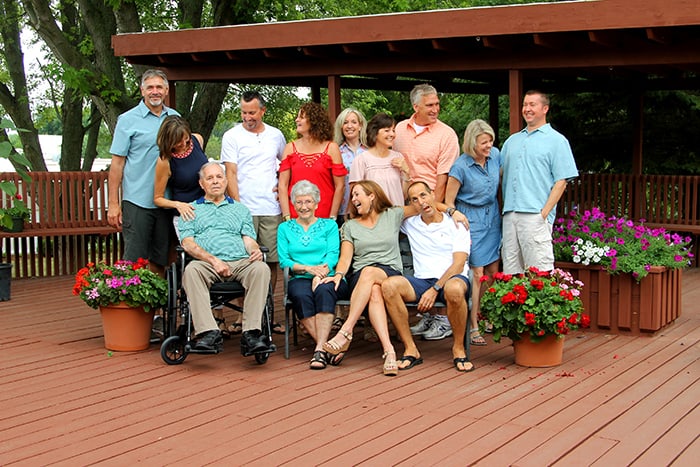 After pictures, and a little bit of sweating, we headed to St. Joseph's Church in Wesley (the church that Mom and Dad were married in!) and had lunch in the church basement. We all pitched in and made an awesome meal of pulled pork, potato salad (Norma's recipe, of course!), pasta salad, fruit, Dave's famous baked beans, a few appetizers, and two kinds of trifle for dessert. If you know the Reding family, you know it's ALL ABOUT the food. Because we kinda adore food! 🙂
We spent more time together at Lauri and Dana's farm. And btw, it cooled off the following day so we could sit (kiddie) pool-side for some great entertainment by all the little ones.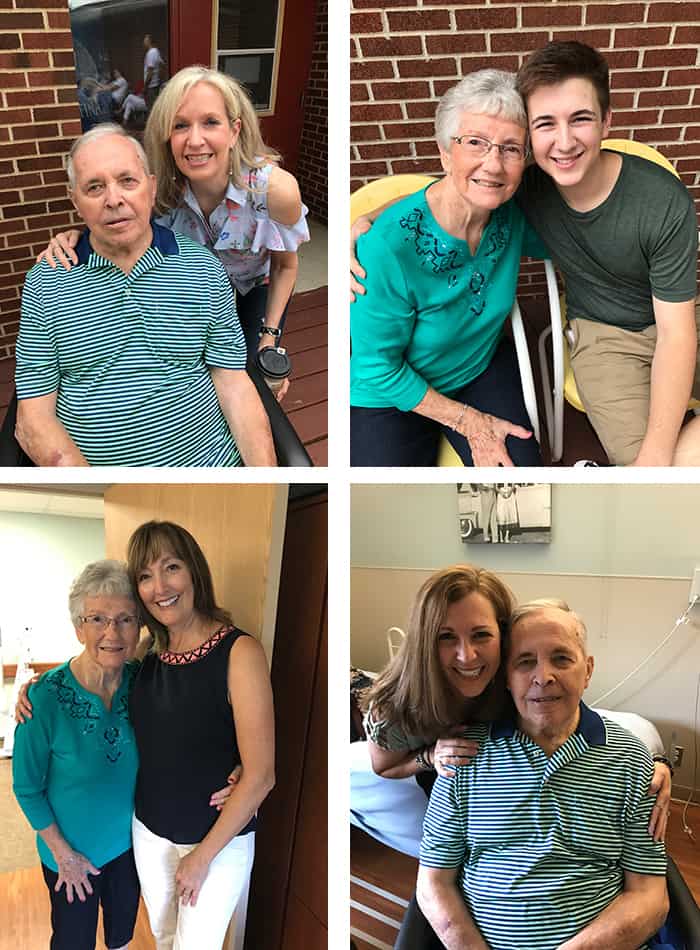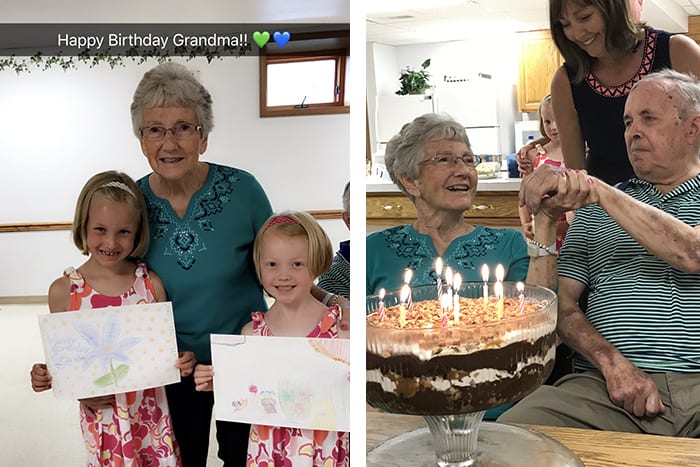 It was SO nice to get together in the summertime for a change. No snowstorms or flu bugs, and the beer always tastes better when it's hot outside (which it was)! 🙂 Our next big gatherings will most likely be next summer, for a wedding or two – we think! Plans are still being made, but we are super excited! There are also a couple of babes coming this fall and winter, so Mom and Dad will have seven great-grandchildren (great nieces/nephews for me).
If you are lucky enough to watch your parents celebrate 60 years of marriage, count your blessings. I'm a pretty proud daughter, and I love my great big family. 🙂
Counting today, they've been married 21,986 days…and counting.