Vacation in Bar Harbor, Maine
This post may contain affiliate links which won't change your price but will share a commission.
Our trip to Bar Harbor, Maine, was part one of our 30th wedding anniversary vacation. We flew in to Boston, rented a car, and drove up the coast to Mount Desert Island. We spent four nights there and it was a great start to our three part anniversary celebration.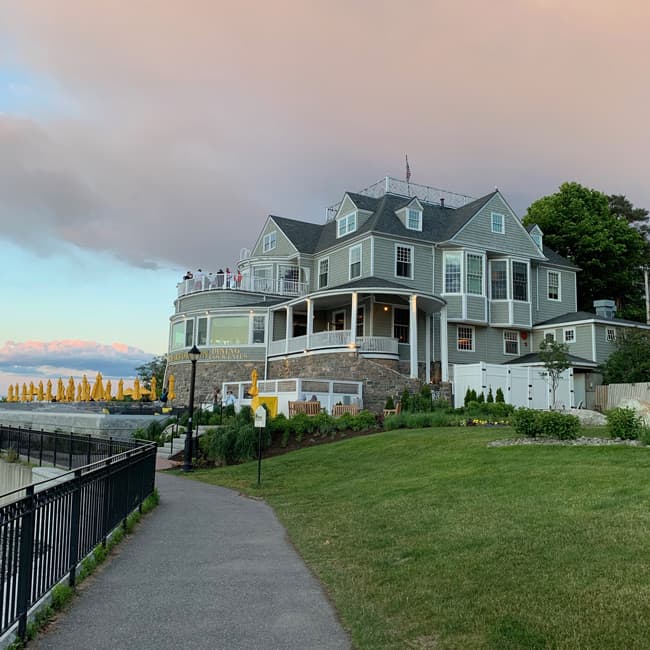 Mike and I stayed at the iconic and historic Bar Harbor Inn, overlooking Frenchman Bay and the Porcupine Islands. This hotel is located on eight beautifully landscaped acres, and was a short walk to downtown Bar Harbor, where we enjoyed the shops, restaurants, bars, and other activities. Our room was overlooking the harbor, and it was so nice to wake up to the beautiful views and peaceful sounds. There were cruise ships in the harbor for a couple of the days during our stay, but the influx of tourists didn't slow us down one bit.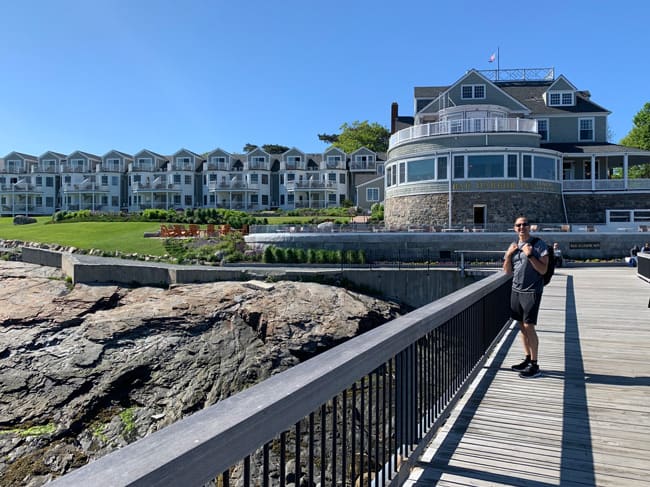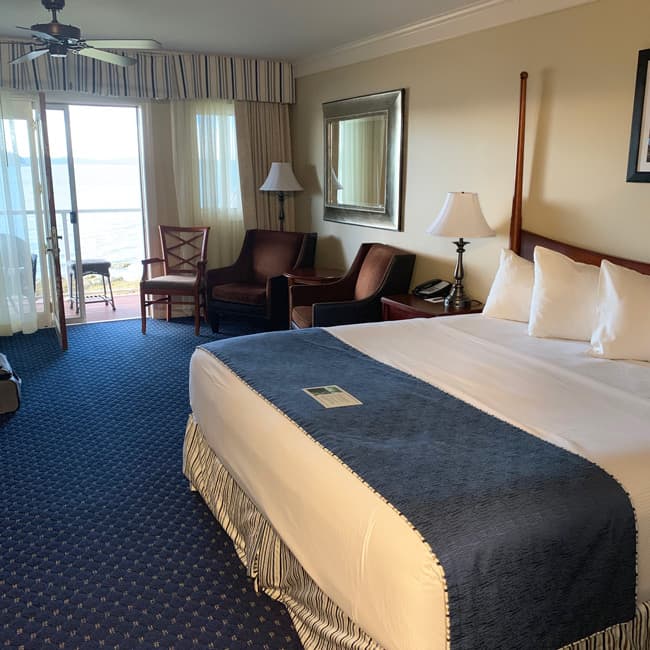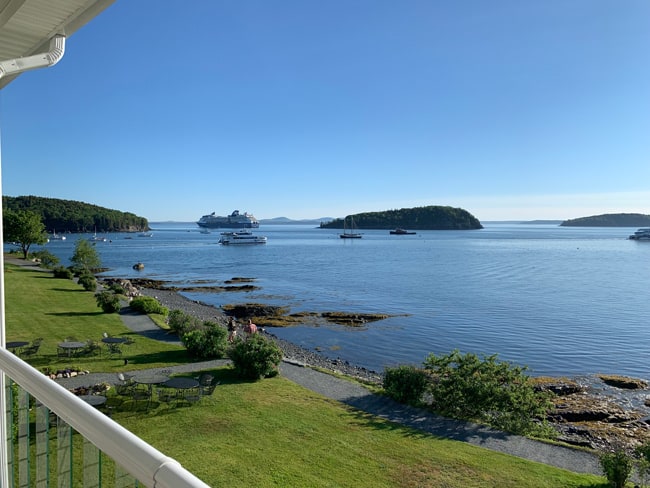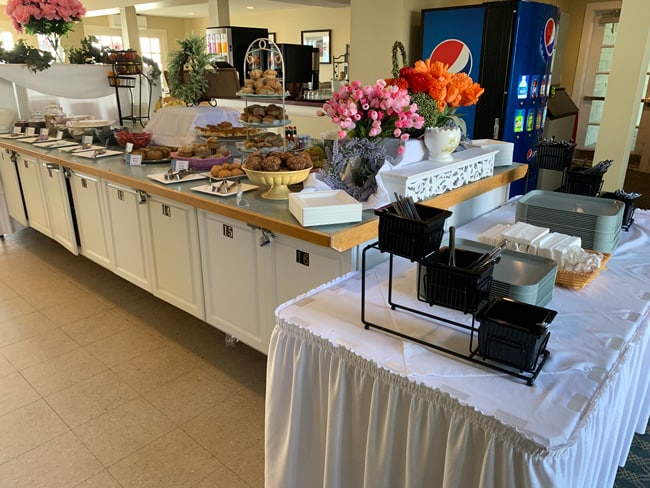 One of the reasons Mike and I chose to visit Bar Harbor is because of it's close proximity to Acadia National Park. We wanted to continue our biking adventures, and knew that the park offered wonderful opportunities, along with a cooler climate in the summer. We were blessed with perfect biking weather, and took off to ride the Carriage Roads at our first opportunity.
During the early 1900's, John D. Rockefeller, Jr., financed and oversaw the construction of 59 miles of carriage roads to be used for hikers, bikers, horse riders, and horse-drawn carriages. The roads were made from "broken-stones" and are off limits to motor vehicles.
We thoroughly enjoyed our trek along the carriage roads, and stopped frequently for pics by Eagle Lake, Jordan Pond, Bubble Pond, and other landmarks. Our route is detailed in the map below.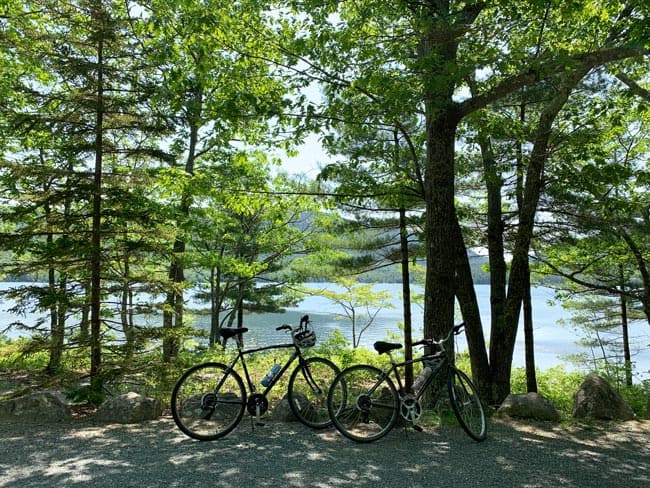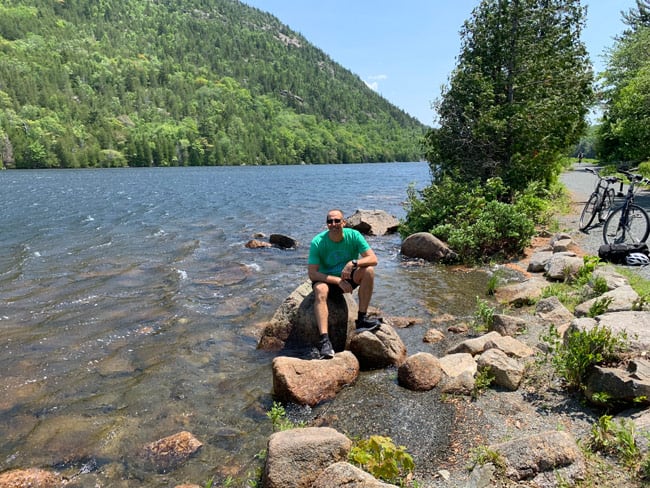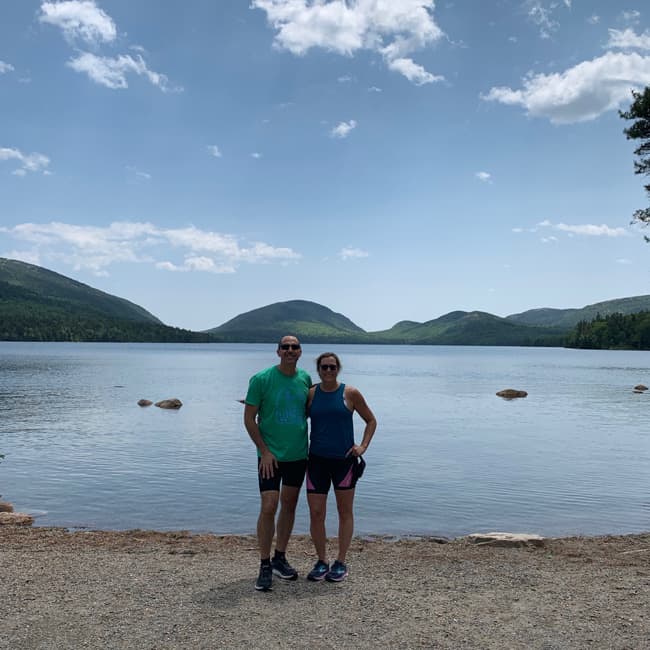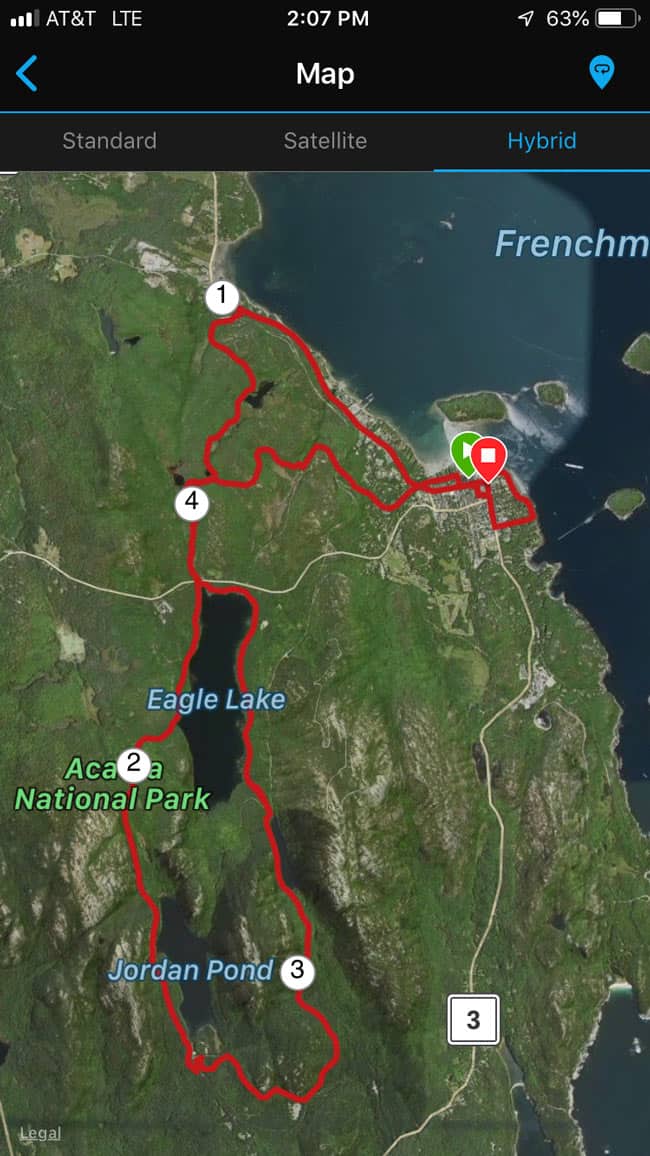 Being the romantic that he is, Mike planned our actual anniversary from start to finish. We began our special day on another biking trek, but this time, we rented e-bikes (electric bikes) and rode Park Loop Road. Don't be fooled by the "electric" part. We only used the "gas" when we needed it. In other words, Mike used his in an emergency – or when he realized that we were going to be late for our lunch reservation at Jordan Pond – that he had planned months in advance. Oh, and I used mine when my legs got exceptionally tired going up the gigantic hills along that route. 😀
Park Loop Road is a 27 mile road (see our route in the map below) and is the primary avenue for navigating through Acadia National Park by vehicle. Much of the road is one way, but there is also a section of two way traffic. The road overlooks the ocean during part of the route, and there are several overlooks to stop and admire God's beauty. We especially enjoyed Sand Beach, and decided we'll bring our swimsuits "next time".
Good news. We made our lunch reservation in the nick of time, as Mike put the e-bike in full gear while I lagged behind. Motorcycles aren't my thing! Jordan Pond House is a lovely restaurant that sits directly beside Jordan Pond, and tea on the lawn has been an uninterrupted summer tradition from back in the day. We enjoyed popovers, lobster rolls, lobster stew, and beer, of course.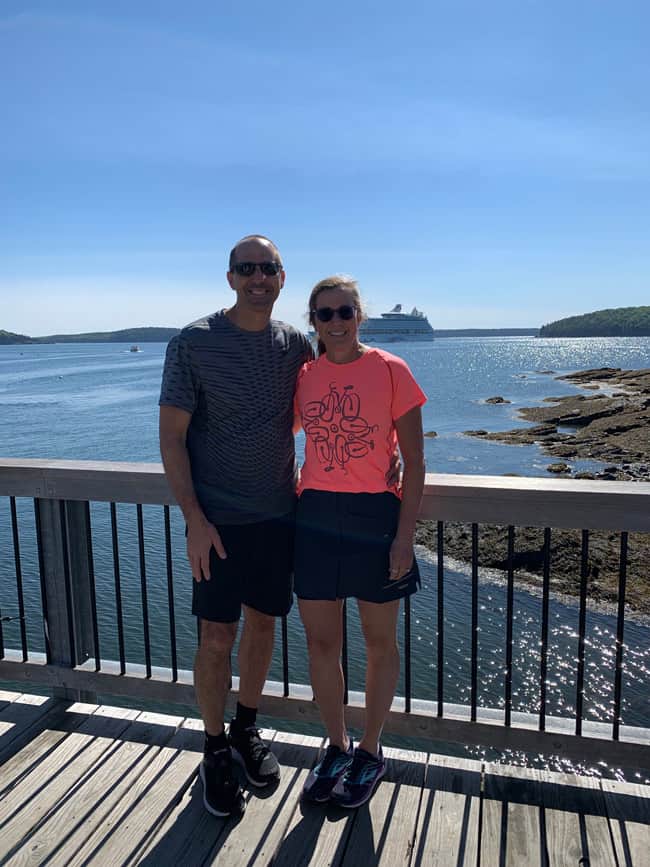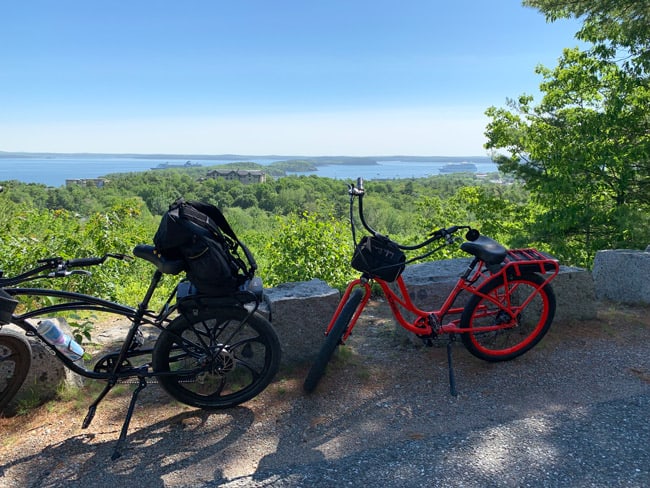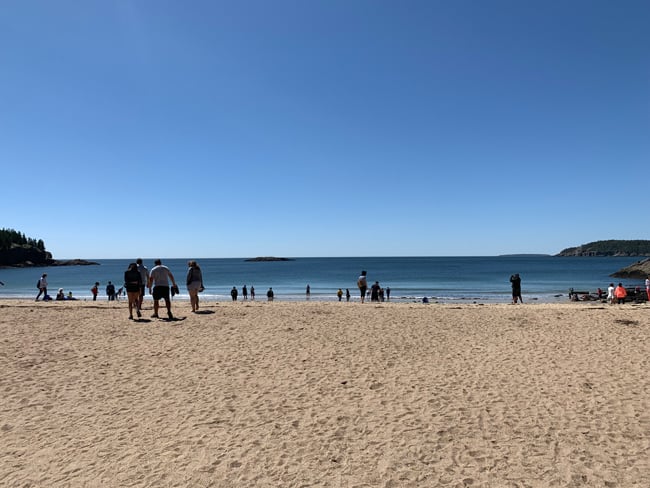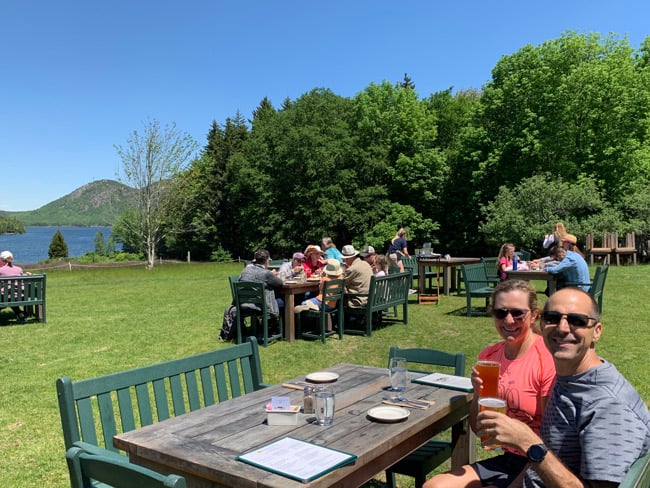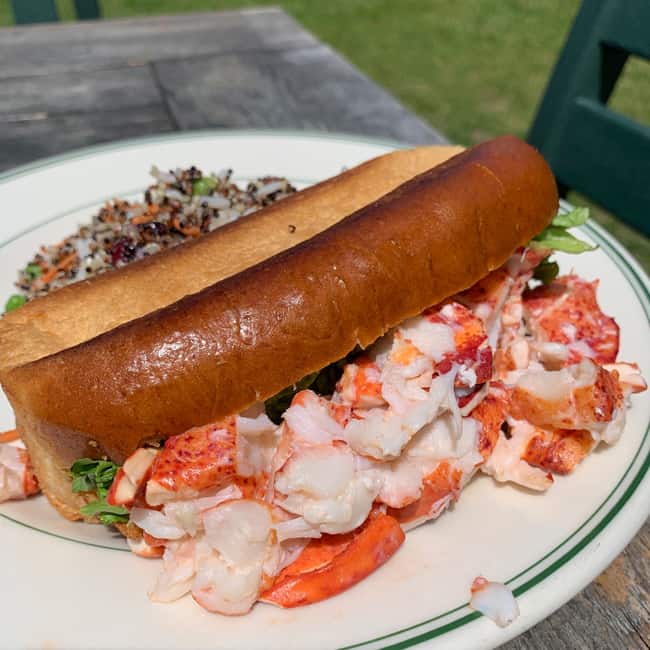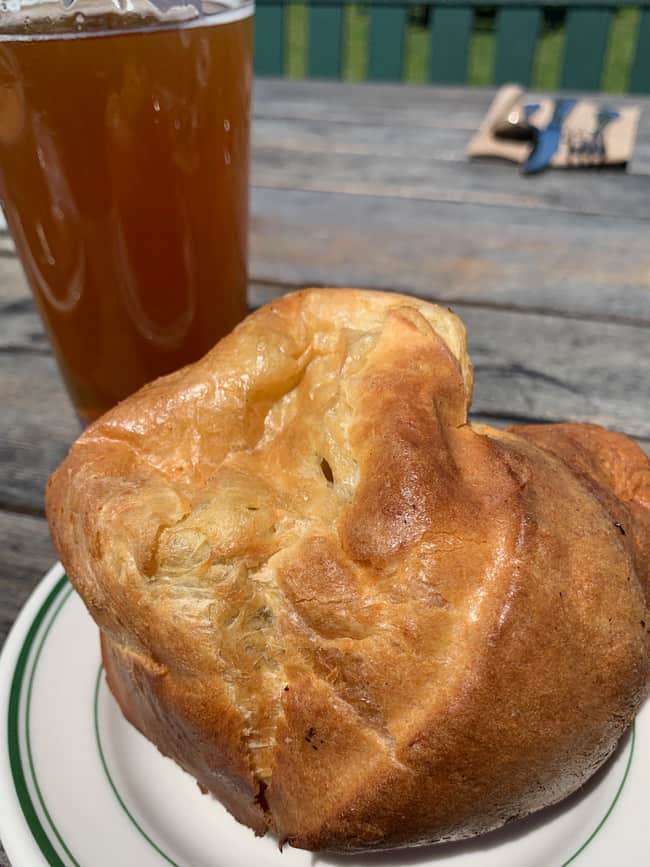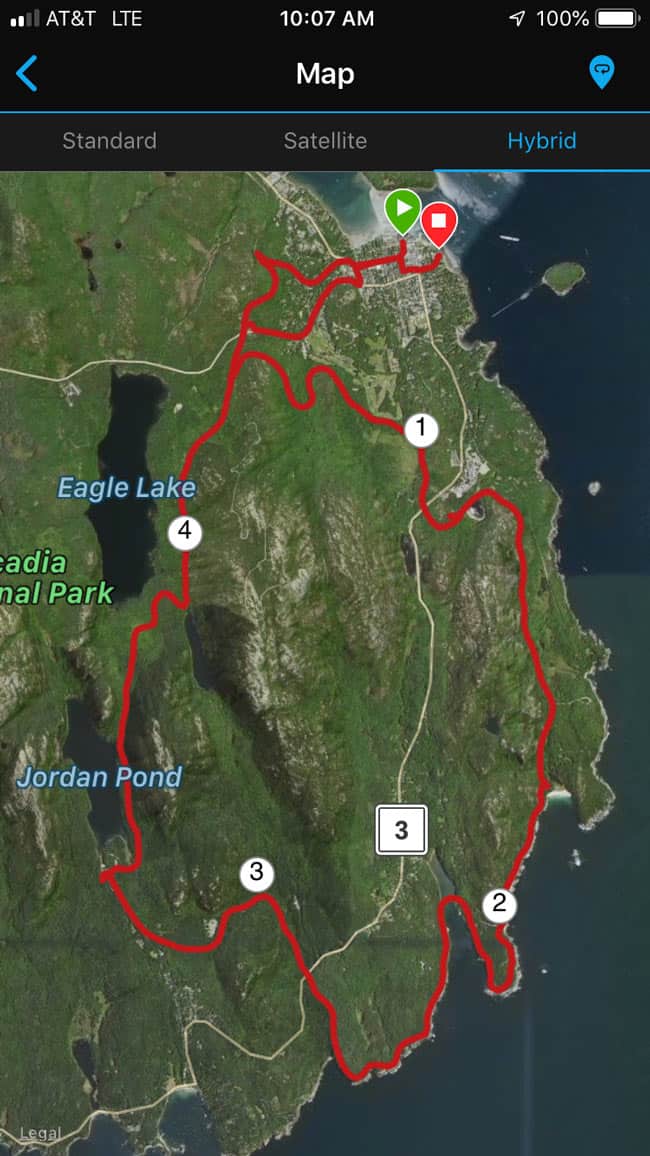 After all the biking and the beautiful views, we headed back to our hotel to get ready for part two of our day. Mike booked massages at a local spa, and we got all those shoulder kinks out from our bike ride. SO nice! My guy sure knows how to spoil a lady. 😀 We also enjoyed happy hour and a couple of blueberry mules. THOSE will be coming to the blog eventually.
We ended our day with a wonderful, romantic dinner in the Reading Room, which is located in Bar Harbor Inn, where we stayed. Mike scored the best table in the house, and I'm definitely keeping him for at least another 30 years. We enjoyed rack of lamb (for him) and salmon (for me), and then ended the night with a slice of fresh blueberry pie. We devoured every single bite, because hello…we rode 27 miles earlier that day!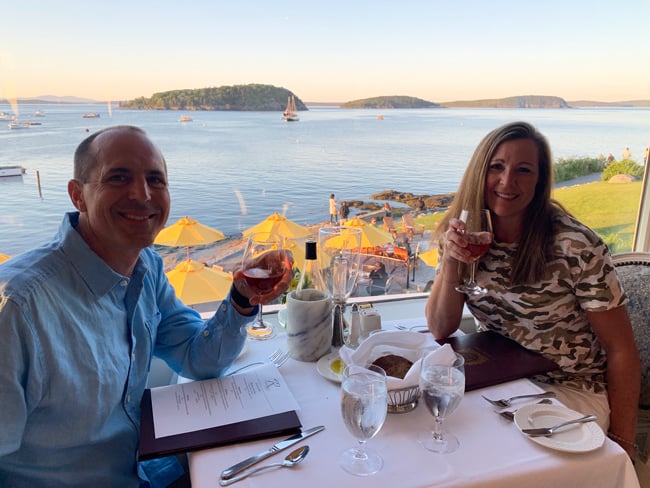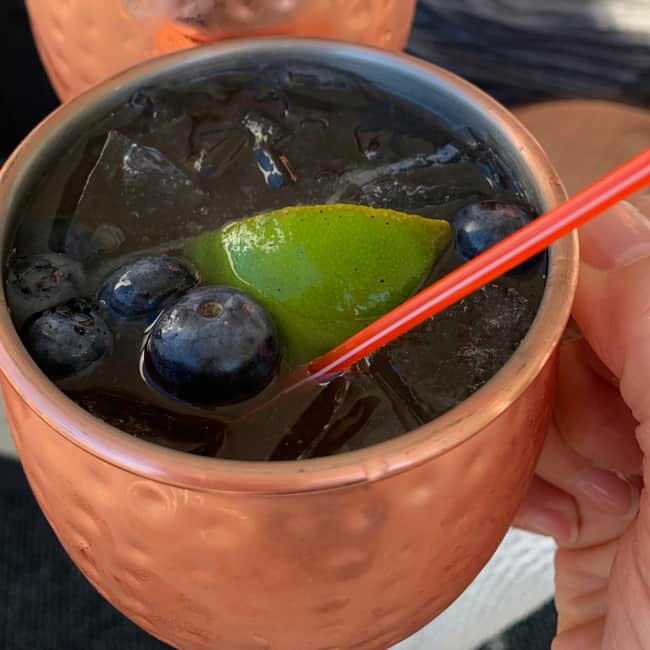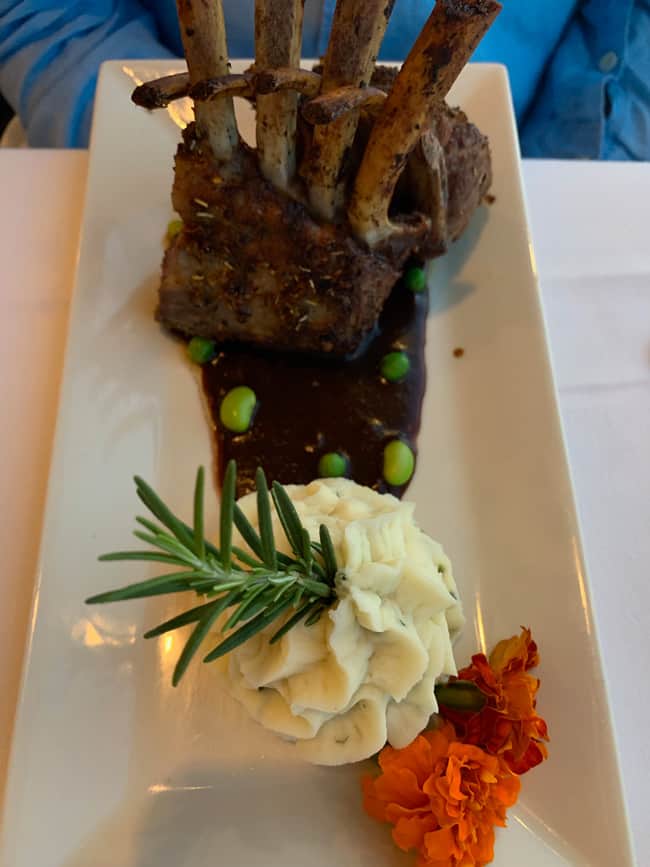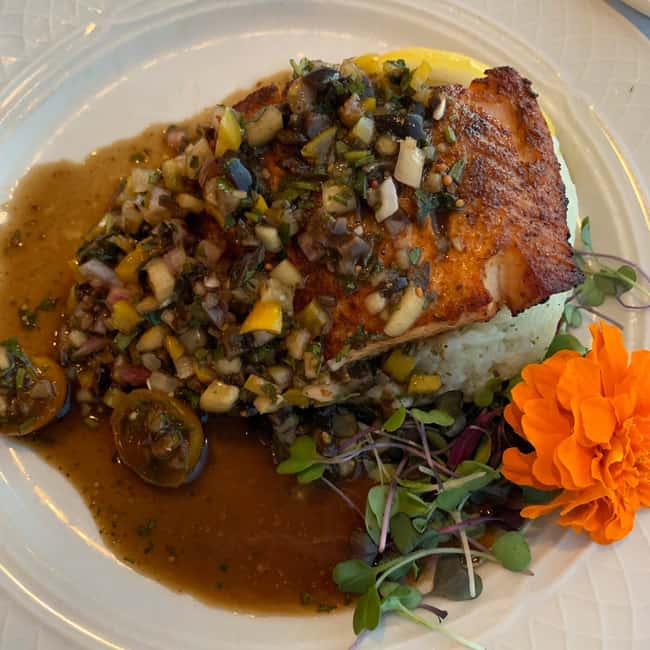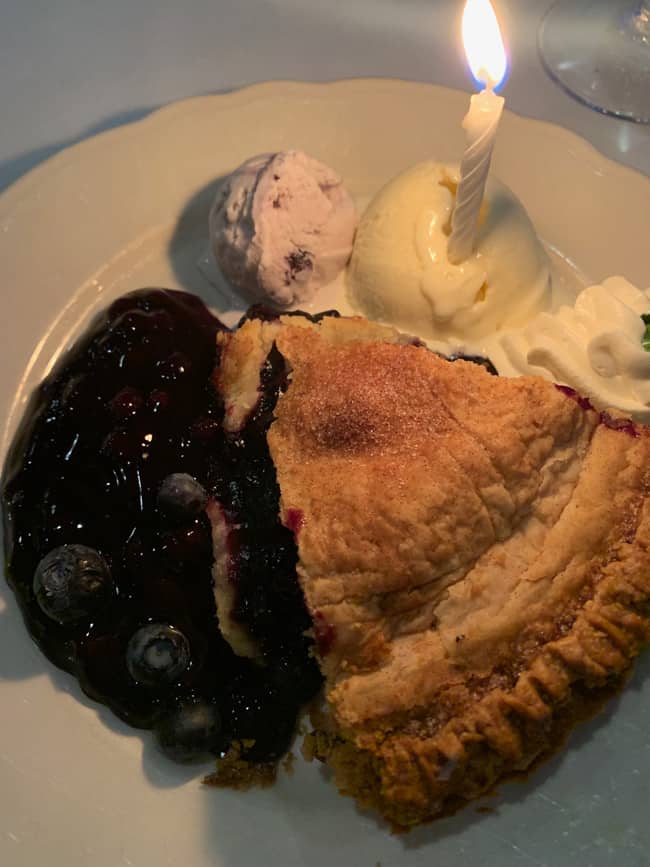 Can we talk about blueberries for a minute? Maine is known for their sizable crop, and we just happened to love them. You can't really see the blueberries in the beer pictured below, but they are in there, and it was SO good. Maine's craft beer game was strong, and I'm still thinking we need to special order some of it. Fruity, but not too fruity, and I know I'm not a pro, but it was the best beer I've EVER had.
Also, the blueberry ice cream is to die for. We stopped at a little shop close to our hotel two days straight, and I'd have stopped more if we hadn't also enjoyed blueberry pie on a couple of occasions.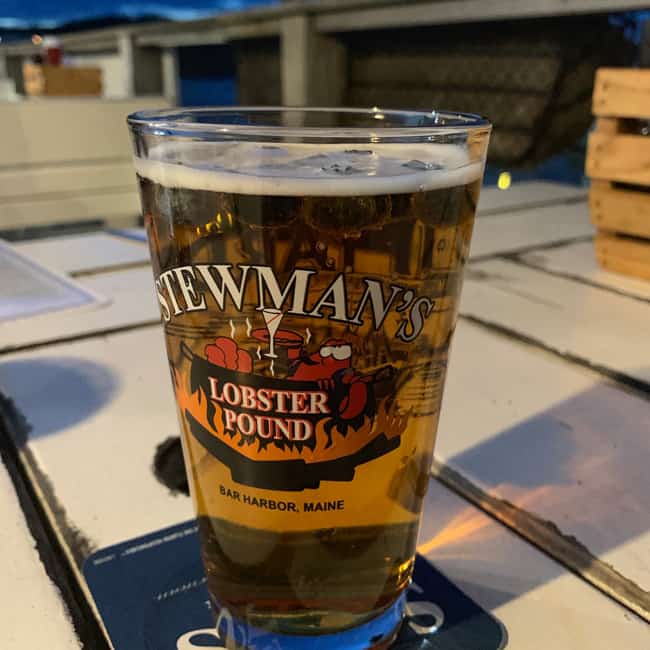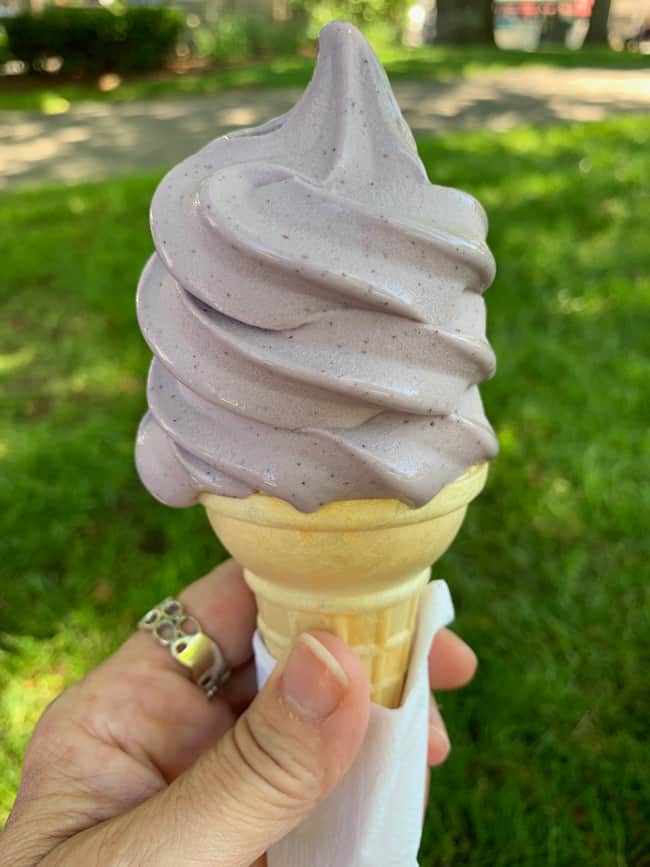 Our final day in Bar Harbor was enjoyed sans bike riding. My legs were tired and Mike was up for his #bravelikegabe run, remembering Gabe Grunewald after she passed from rare cancer.
We decided to spend the day touring some other parts of Mount Dessert Island. We found the most beautiful lighthouse (and there are lot of them in Maine), drank a beer (or two) at another fresh lobster place along the water, watched the lobster fisherman come in and out of the harbor, found a delicious pizza place in a cute little town (#24 is OUR lucky number), and then enjoyed a quiet night of wine and cheese on our deck while chasing off a particularly hungry seagull.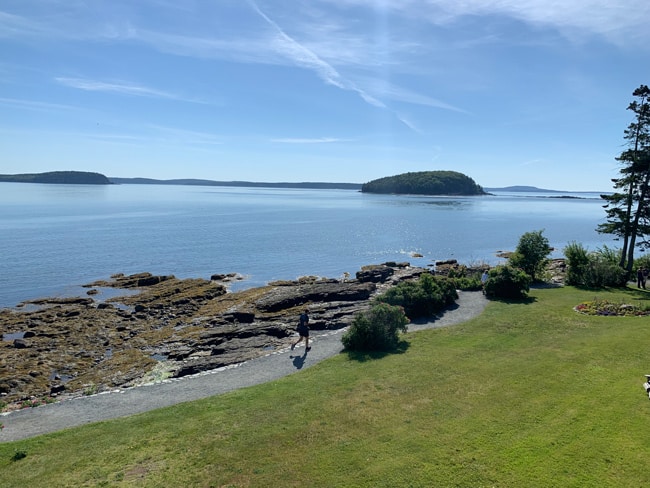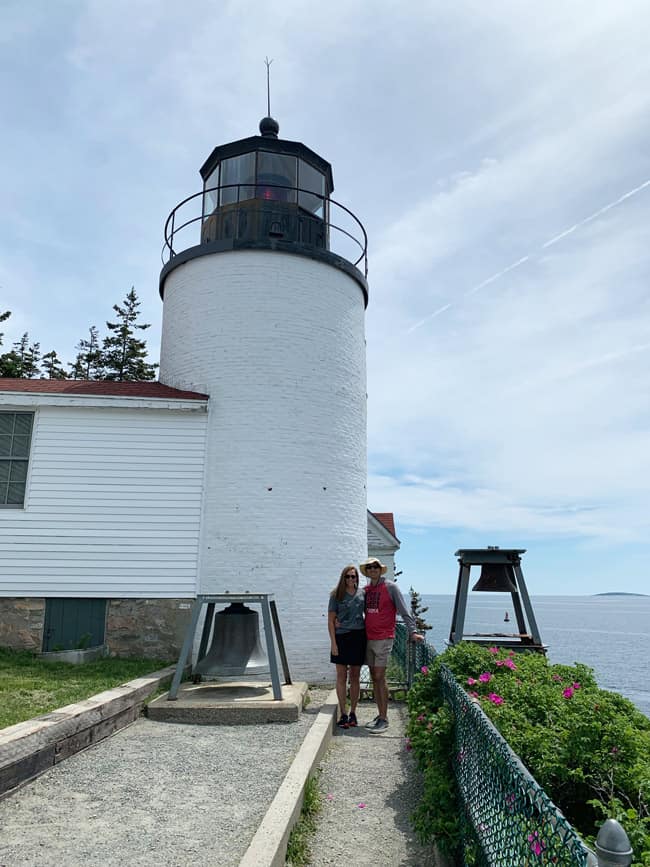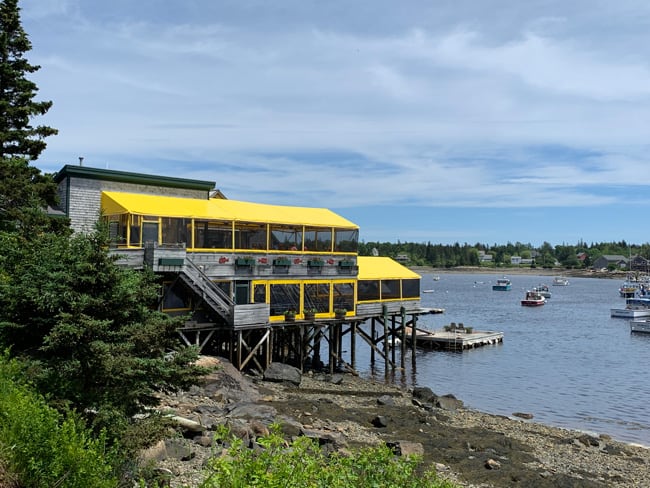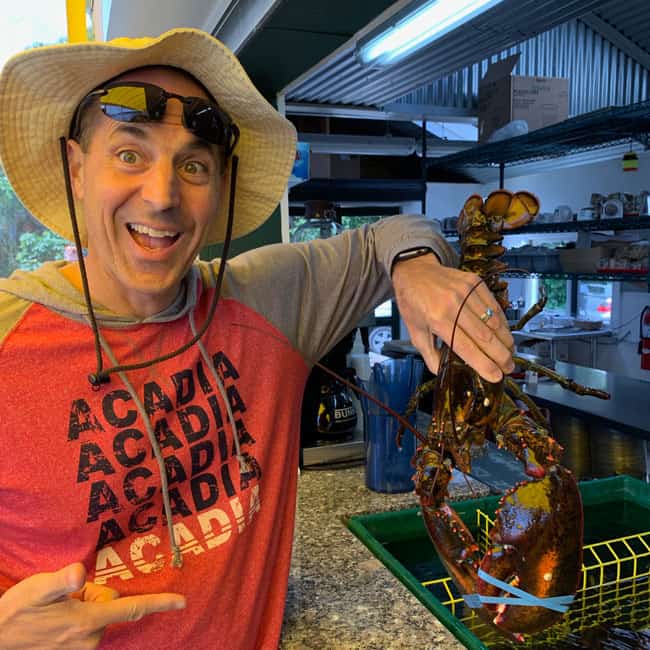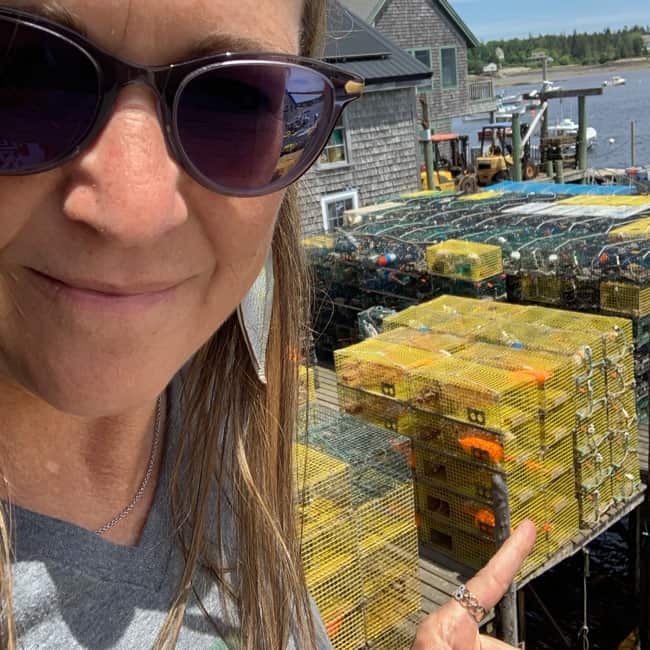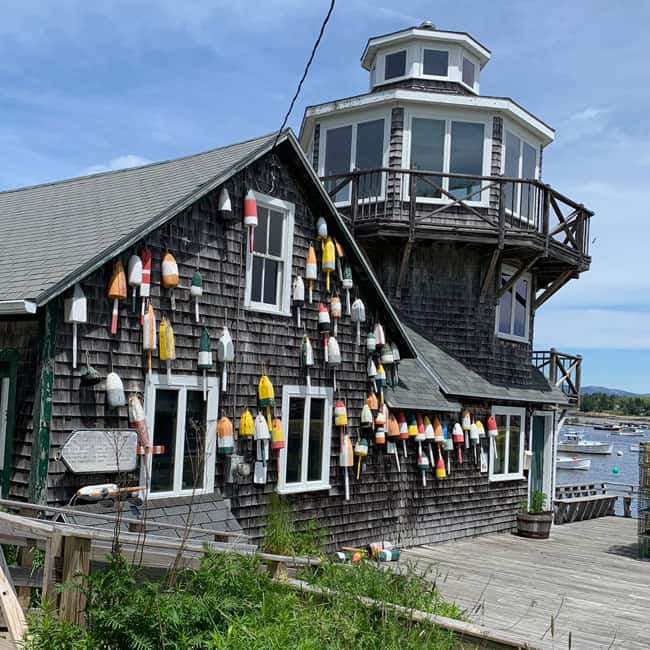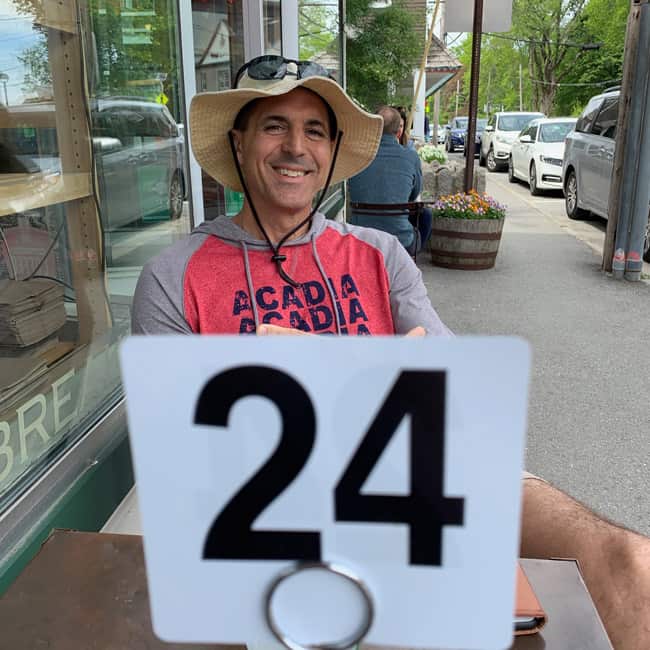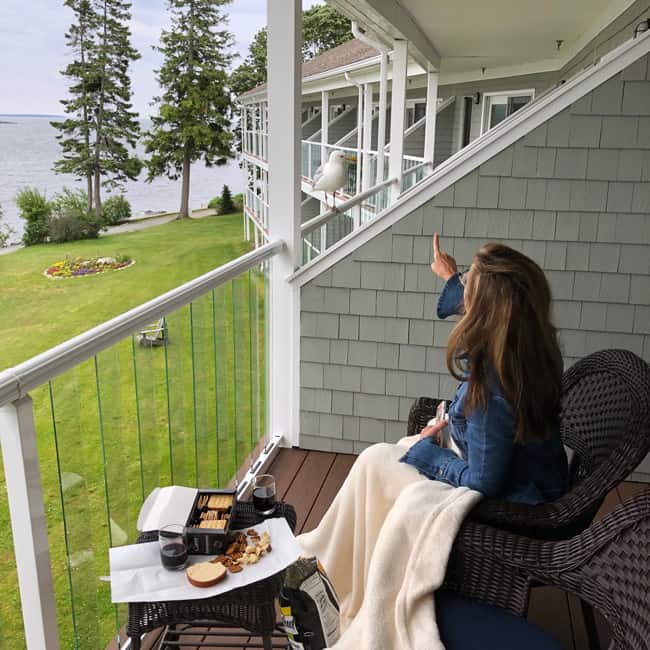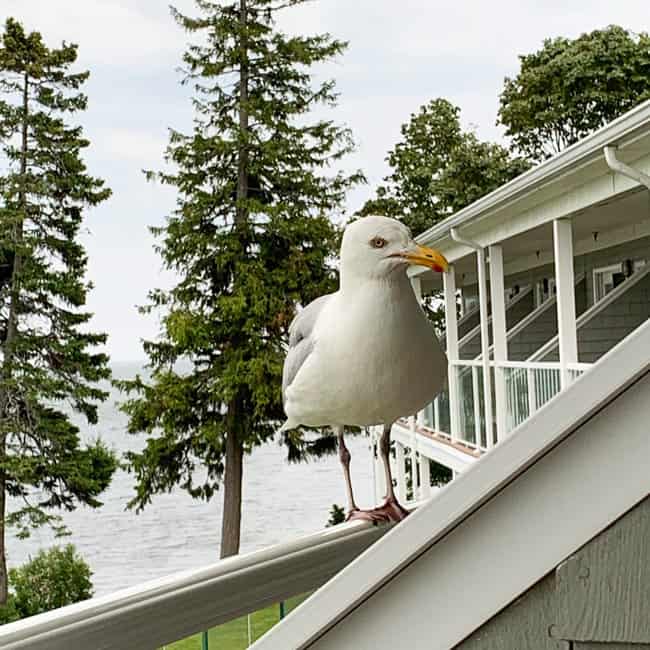 After four nights in Bar Harbor, we headed to Portland, Maine, a food-lover's (and beer-lover's!) fantasyland.