Top 15 Gifts for the Chef in your life!
This post may contain affiliate links which won't change your price but will share a commission.
Oh, baby. It's cold outside! I'm going to put my cozy sweats on and SHOP SHOP SHOP – from my cozy home, filled with twinkling lights and coffee in hand. The following 15 gift ideas can be easily ordered on-line, so no need to put real clothes on! 😀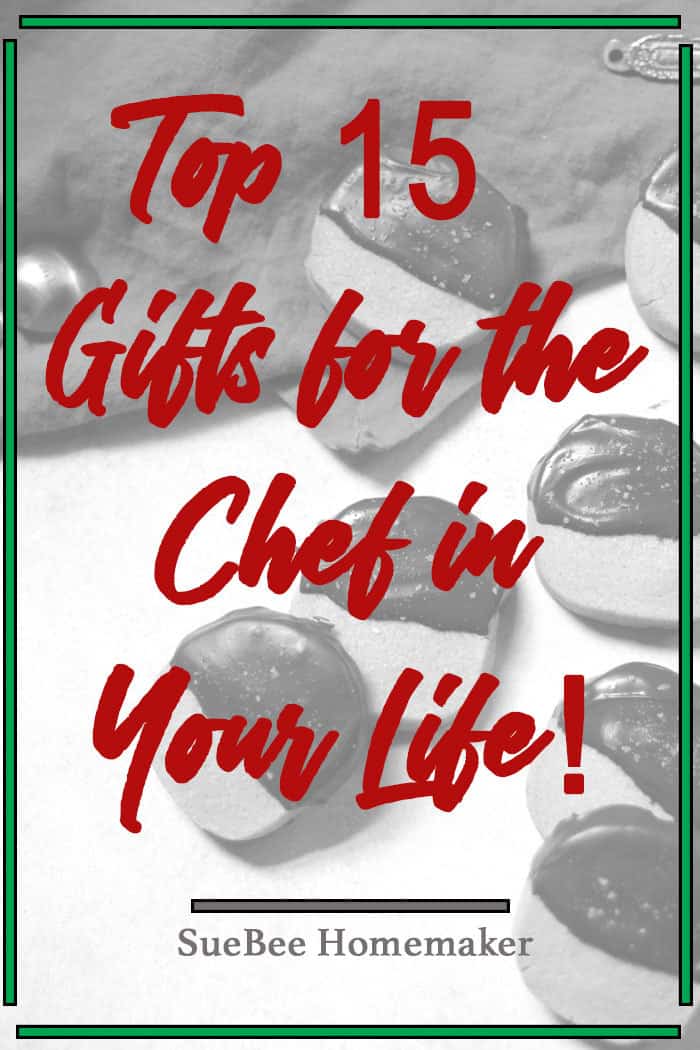 It's that time of year when we say "I LOVE YOU" in so many ways. Cards, gifts, parties, special gatherings and meals. If you know someone who loves to cook, or maybe is interested in learning to cook, what better way than to start them out with something for their kitchen? I've rounded up 15 of my favorite items for you to browse from the comfort of your home. Give them a look and read the reviews too. All of these are already in my kitchen!
Happy shopping! 😀 (Links are below!)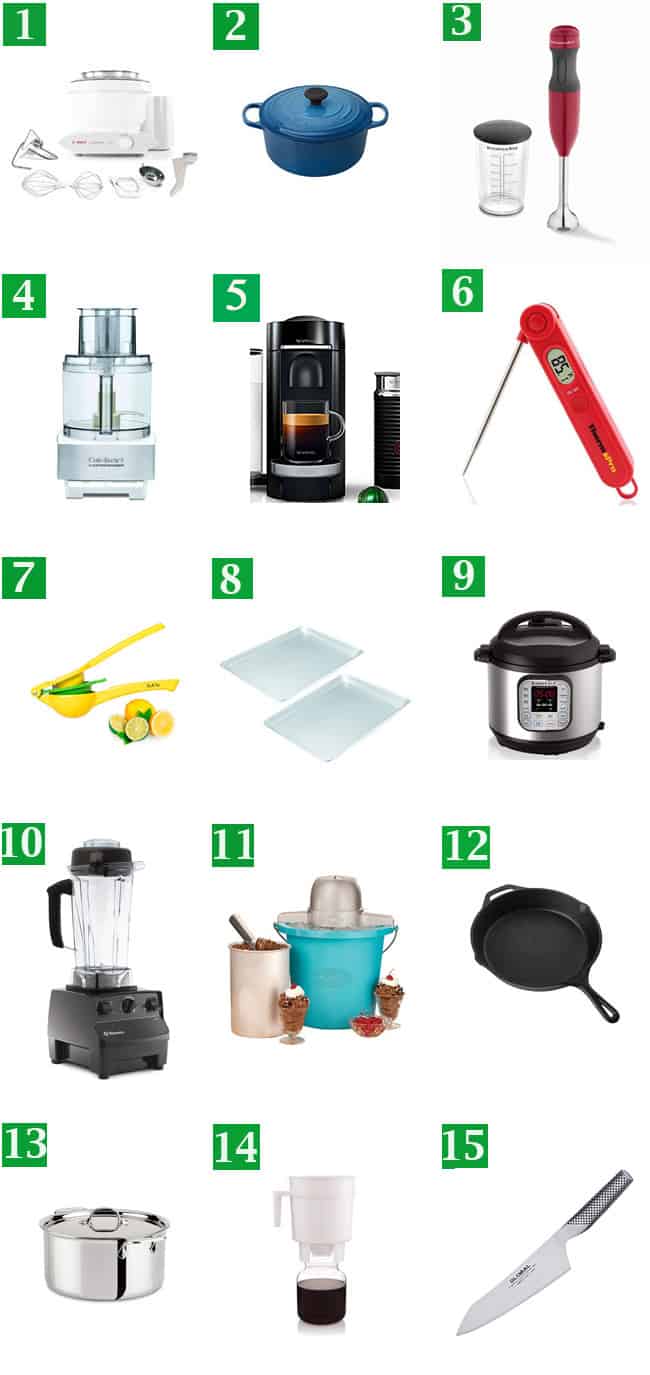 Bosch Universal Mixer – This is a must-have if you are into making bread and rolls and bread and rolls. SO much easier than using a KitchenAid because it has a secure lid and a larger capacity.
Le Creuset Cast-Iron French (Dutch) Oven – Big news! I FINALLY received this gift last year after many hints! 😀
KitchenAid Immersion Blender – I have this one in red and use it all the time. Great for soups!
Cuisinart 14-Cup Food Processor – My 10-cup food processor is getting too small (because helloooo Peanut Butter Power Balls!) so I'm planning on stepping up to THIS baby real soon.
Nespresso VertuoPlus Coffee and Espresso Maker – You don't actually cook with this, but all cooks need coffee. We live and die by this espresso maker.
Instant Read Meat Thermometer – Small and mighty, this thermometer is life when it comes to cooking chicken and pork to perfection. Stocking stuffer?
Zulay Lemon Lime Squeezer – My hands got tired from squeezing aaaalllll the lemons and limes, so THIS saves me. Because how YOU doin' margaritas and slushies?!
Chicago Metallic Jelly-Roll Pan, Set of 2 – The most-used pans in my kitchen. I use them for baking, roasting, and EVERYthing else.
Instant Pot – All the cool kids have an Instant Pot, including ME, thanks to my guys for Christmas a few years ago!
Vitamix Blender – My sweet boys surprised me with a Vitamix for Mother's Day several years ago, and I've been mixing up different smoothies like a smoothie factory ever since. You can use it for so many other things, but I love it for smoothies, shakes, and frozen cocktails best! GET ONE!
Nostalgia Electric Ice Cream Maker – THIS is a game changer when it comes to ice cream. SO many varieties to choose from, and while I've got three great recipes on the blog, I need to get to churning some NEW ideas.
Pre-Seasoned Cast Iron Skillet (12-Inch) – We have a variety of cast iron skillets that we've picked up at antique stores/flea markets over the years. I recently purchased THIS one because it's really large and perfect for certain recipes.
All-Clad Stockpot – While this is on the pricier side, it's 100% worth the investment. Professional grade cookware, and I use it almost daily.
Toddy Cold Brew Coffee Maker System – This is my best friend in the warmer months, because cold brew equals LIFE in "hot" Texas. My entire family uses this, and it's inexpensive AND works like a charm.
Global 7-inch Knife – The kitchen knife I swear by! Keep it sharpened, ya'll, for best results!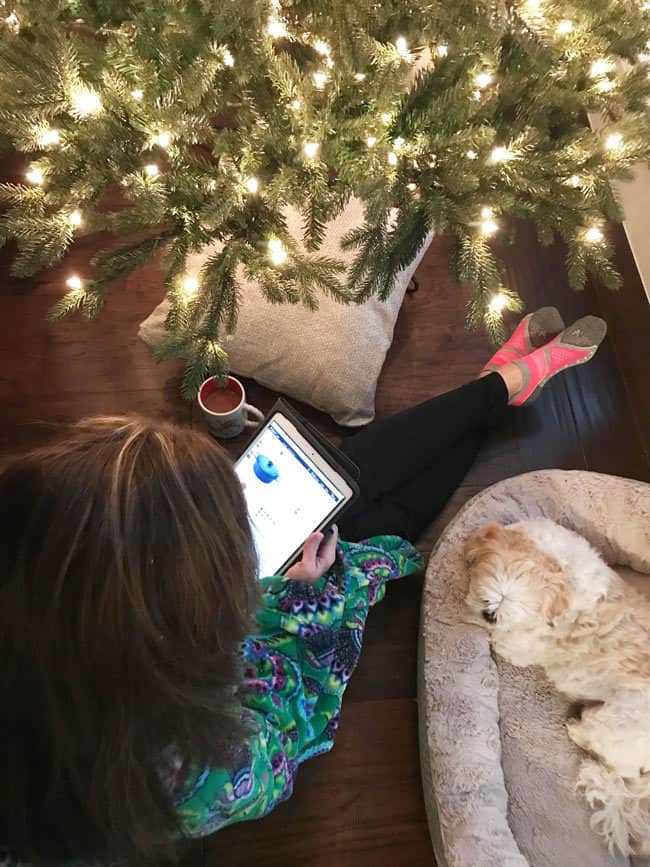 Christmas shopping from home is the BEST! 🙂