Fall is the perfect time for pumpkin treats, and this Pumpkin Cream Cheese Bread is the BEST. Packed with pumpkin flavors and the sweetest cream cheese surprise in the middle, you'll say YES to pumpkin every time!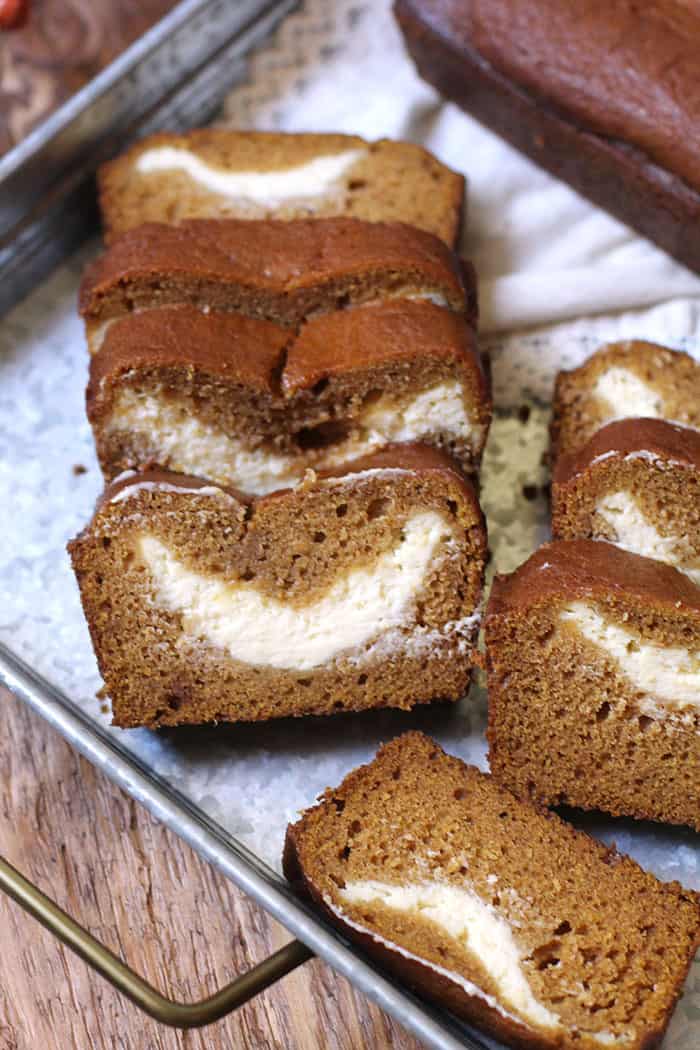 I look forward to Fall every year for so many reasons, but PUMPKIN is a big one. I'm constantly brainstorming recipes and while most of them are sweet, I'm starting to ponder how I could cook with it. Because after all, pumpkin makes everything moist and just like zucchini, pumpkin is an extremely versatile ingredient.
So far, I've used the canned pumpkin exclusively. But I'm actually seeing people making their own. Honestly, I'm not sure if I'm up for that challenge YET. I keep thinking of how frustrating it can be to even carve a smiley face in a pumpkin at Halloween. Crafty and me do NOT go hand-in-hand.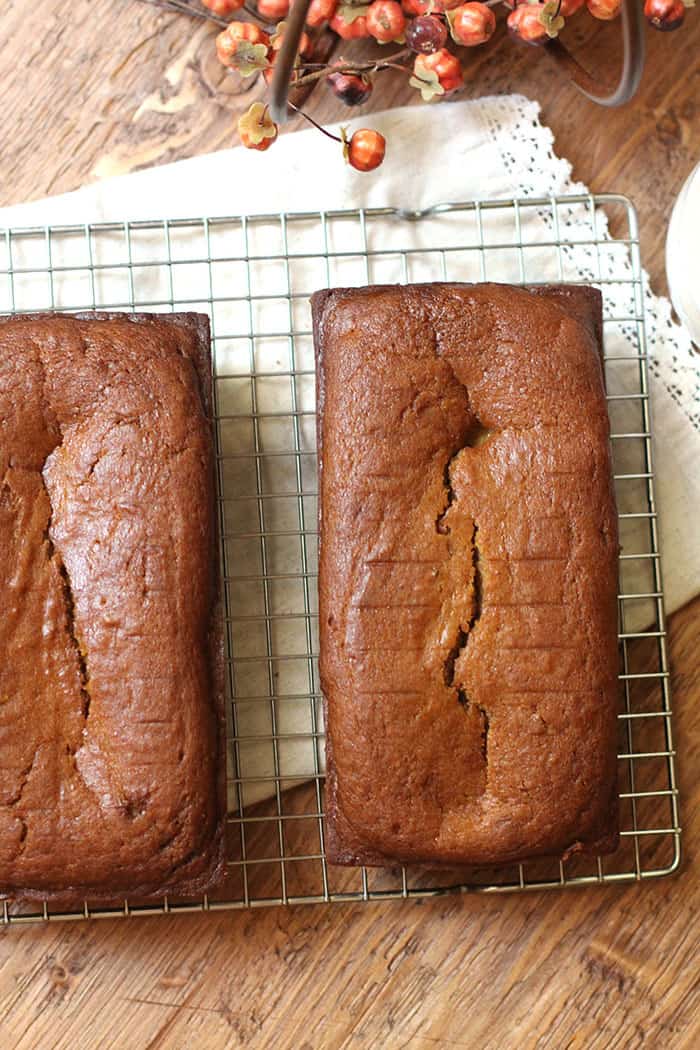 This Pumpkin Cream Cheese Bread recipe is a re-do (i.e. needed a make-over stat!) and makes three loafs. No need for a standing mixer – you just combine the wet ingredients with the dry ingredients. However, you will need a hand mixer
to make the cream cheese layer. You can see the white layer below (to the right), and I made sure to completely cover that layer with the pumpkin mixture.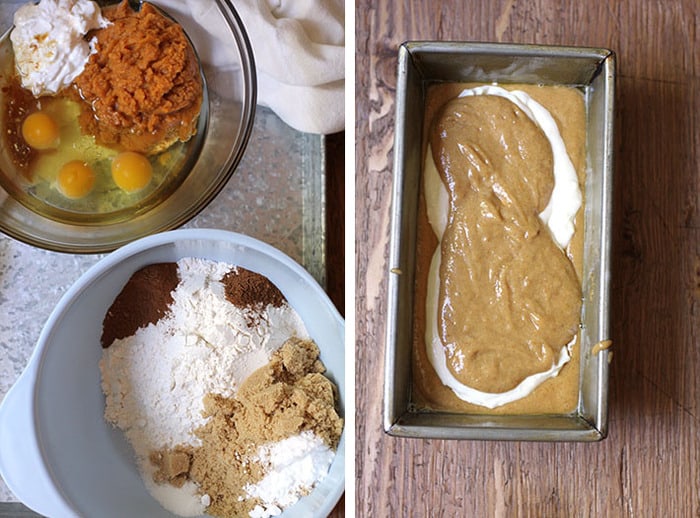 You can see below that the center of the bread is slightly sunken inward. We (especially Mike!) happen to like our breads just a wee bit on the undercooked side. It's a fine balancing act however, because you don't want a mushy raw bread. All ovens cook differently, so definitely be careful to cook it all the way through without overcooking. Mine took approximately 55 minutes in the oven.
The Holidays are coming, and this is an excellent bread to give as gifts.
Make the bread.
Freeze it till you need it.
Remove from freezer and wrap with pretty paper.
GIVE!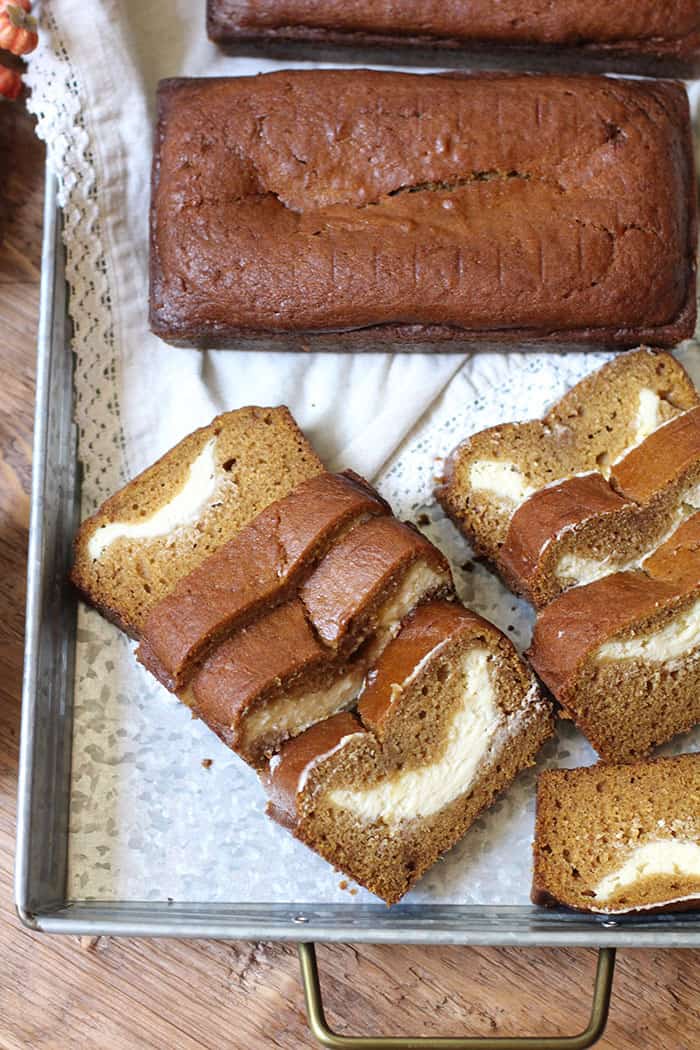 For other great pumpkin recipes, no worries, I've gotcha covered!
Mini Glazed Pumpkin Scones – recipe coming! 🙂
Enjoy this pumpkin time of year!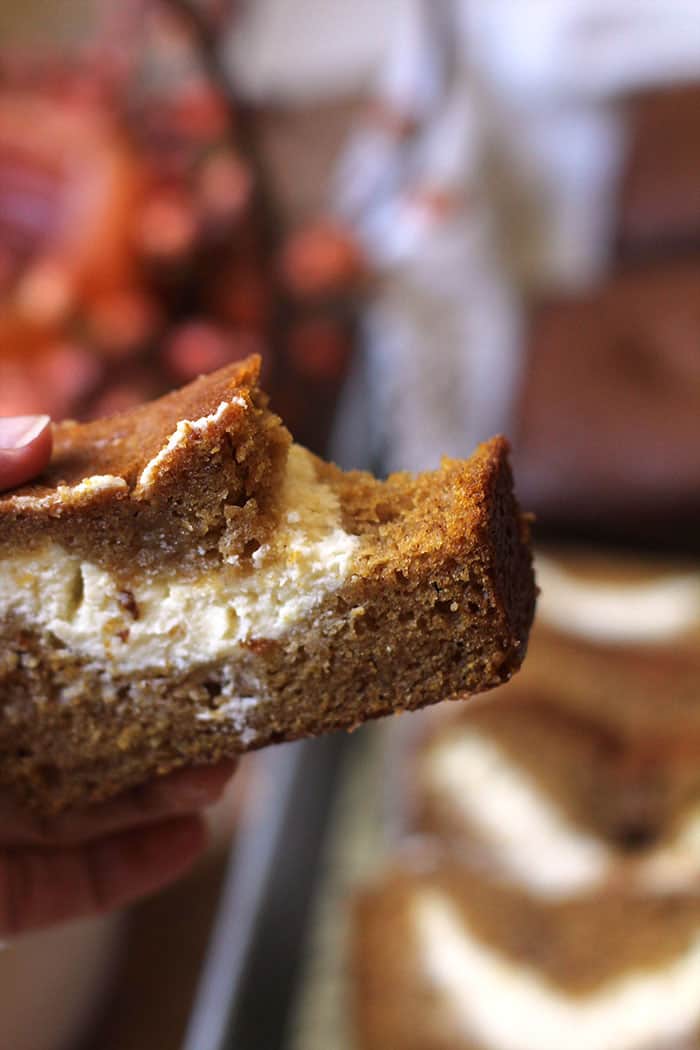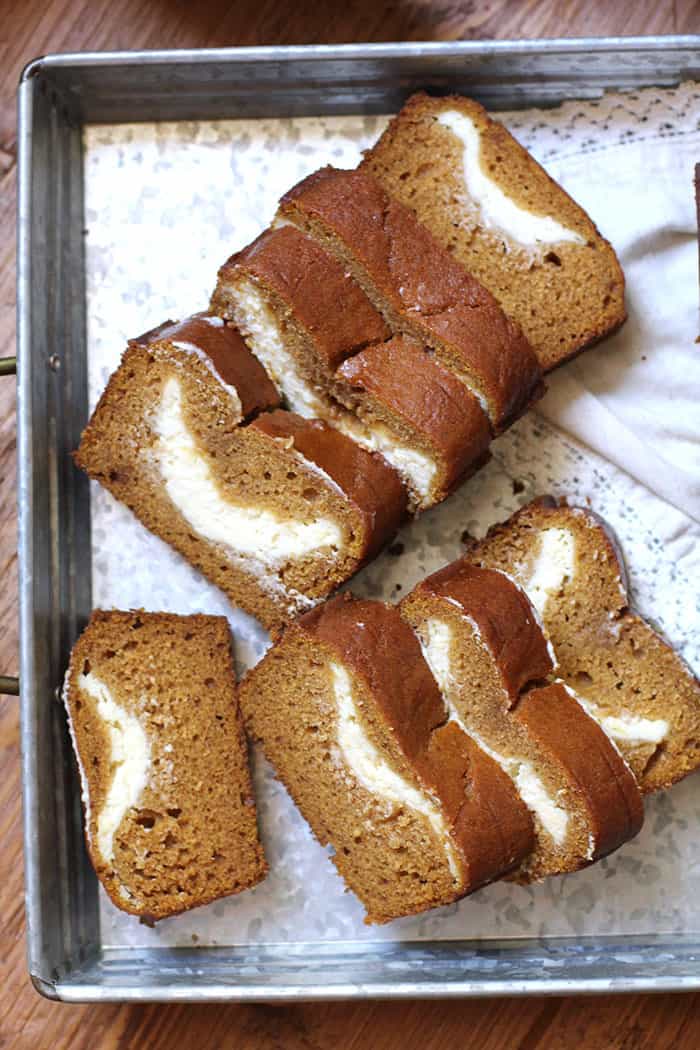 Please let me know if you try this Pumpkin Cream Cheese Bread, and how you like it!
You can stay up-to-date with SueBee Homemaker by:
signing up for post updates (top right-hand corner of my blog)
liking my Facebook Page
and following me on Pinterest
I'm also sharing tidbits of my life on Instagram. 🙂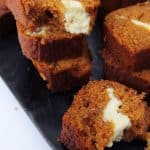 Pumpkin Cream Cheese Bread
a moist pumpkin bread with a cream cheese layer in the center
Ingredients
For the Pumpkin Bread:
3

cups

all-purpose flour

1/2

cup

granulated sugar

1 1/2

cups

brown sugar

2

teaspoons

baking soda

1

teaspoon

salt

2

teaspoons

cinnamon

1

teaspoon

pumpkin pie spice

1

cup

oil

3

large

eggs

1

15 oz.

can pumpkin

1/2

cup

sour cream

2

teaspoon

vanilla
For the cream cheese layer:
16

oz.

cream cheese

1/2

cup

granulated sugar

1

large

egg

1

teaspoon

vanilla
Instructions
Mix together the dry ingredients - flour, sugars, baking soda, salt, cinnamon, and pumpkin pie spice. Set aside.

To standing mixer, add oil, pumpkin, sour cream, vanilla, and eggs. Mix well.

Add dry ingredients to wet ingredients and mix until just combined.

Beat the cream cheese filling together until well mixed.

To assemble bread, spread half of pumpkin mixture to bread pans that have been sprayed with baking spray. Next add the cream cheese mixture. Then add the rest of the pumpkin mixture.

Try to completely cover the cream cheese layer with the pumpkin mixture on top.

Bake the pumpkin bread on 350 degree oven for 40 - 50 minutes, or until done.

SHARE THIS POST TO YOUR FRIENDS: