Magnolia and Brave Like Gabe
This post may contain affiliate links which won't change your price but will share a commission.
When your husband mentions using the half marathon at the Silos as part of his training regimen, you wholeheartedly say YES. Because Silos means Magnolia Market, the NEW Magnolia Table, a possible Chip and Jo sighting, and a night away to stay somewhere new with your best guy.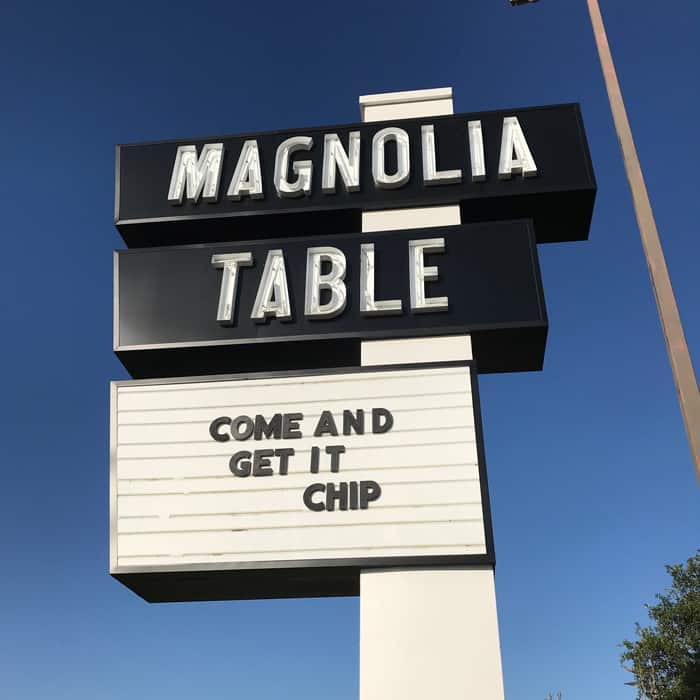 We got up early the morning of our adventure, hoping to score a seat for brunch at the new Magnolia Table. I'm a HUGE Fixer-Upper fan(ATIC), and have watched all the episodes, including the remodel of the old Elite Cafe into the current beauty, the Magnolia Table.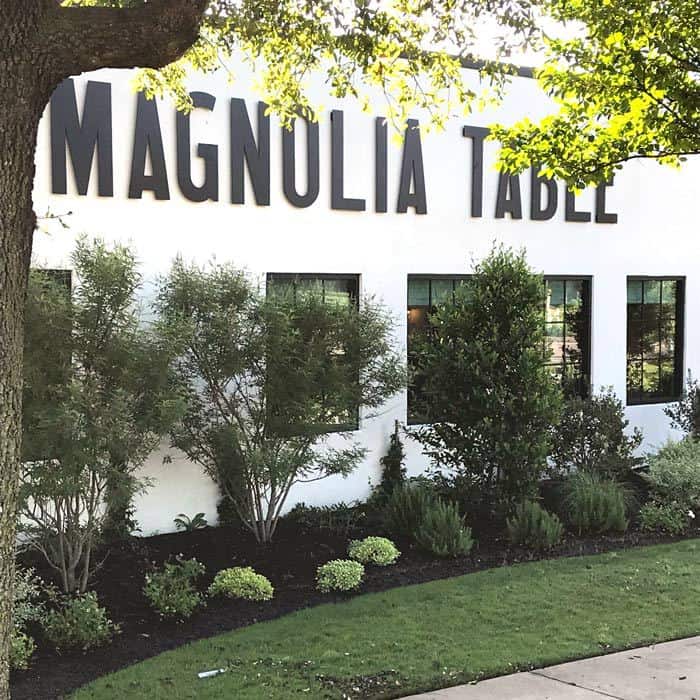 It's a good thing we got an early start, because whoa! The line below was just to get signed in for a table. Not kidding.
I'm sure the extra visitors for the marathon had a lot to do with the influx of people, but also, Saturdays in general are super busy there. Mike waited in line for at least an hour, and then there was at least another hour wait to get inside.
Word to the wise. Go on a Tuesday or Wednesday. I'm guessing those days are less busy.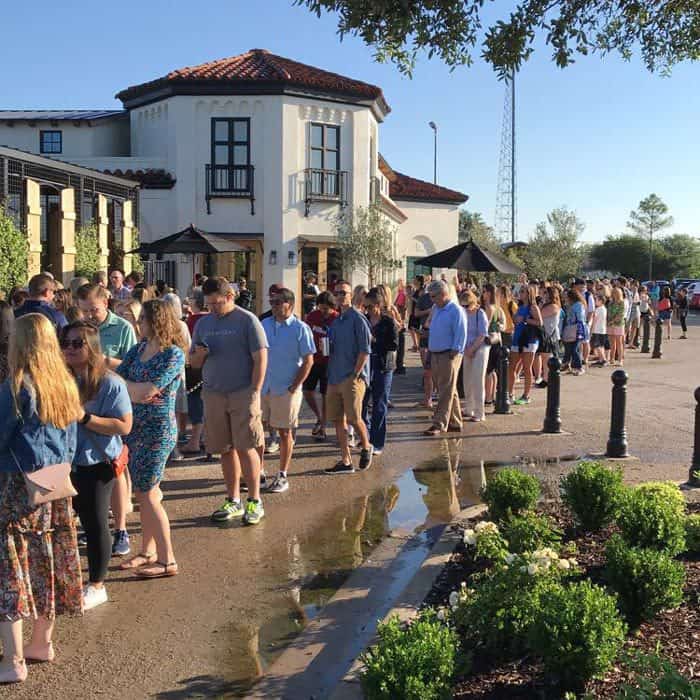 The good news? They have an amazing "waiting area" after your name is in the queue. A beautiful outdoor coffee shop with a pergola for coverage from the elements, and plenty of seating. The landscaping is amazing, and every detail carefully planned out. We EACH had a coffee and a chocolate croissant while we sat. Waiting is hard work!
Since my foot is still not healed up, I used a scooter to get around, and my AMAZING husband did all the standing in line. He's a keeper, that's for sure.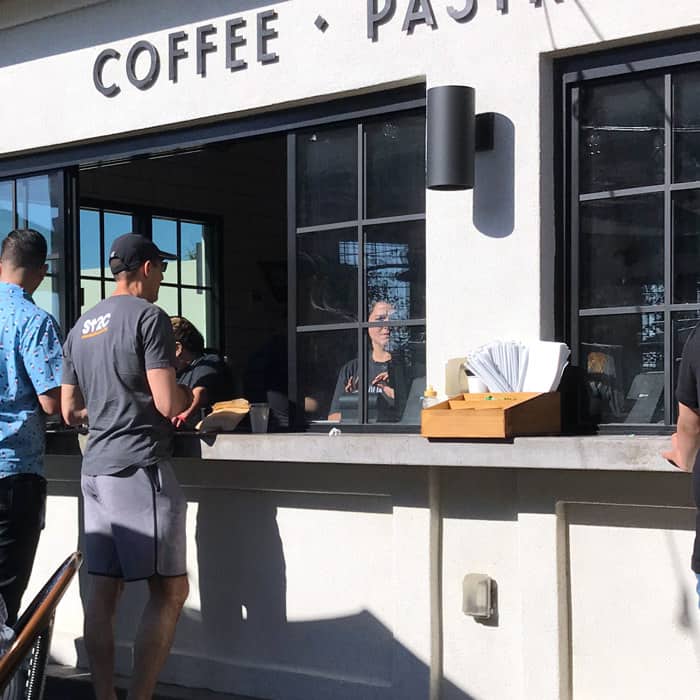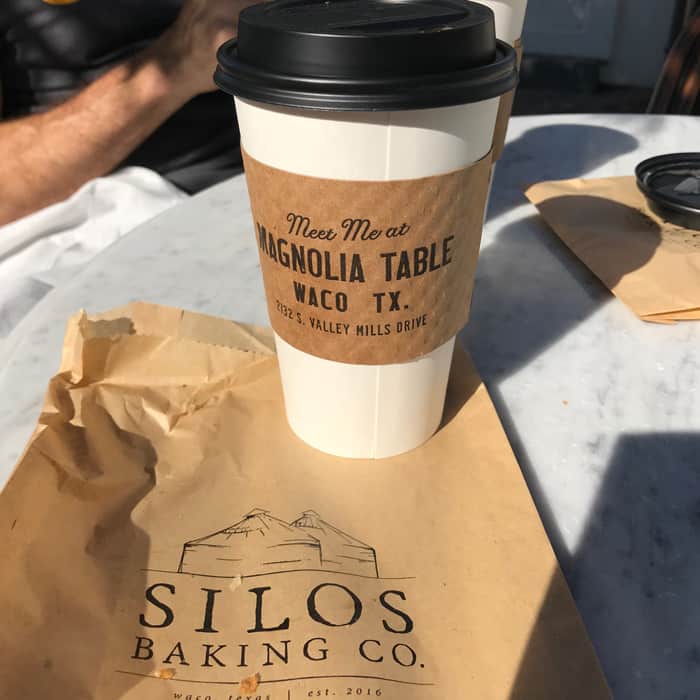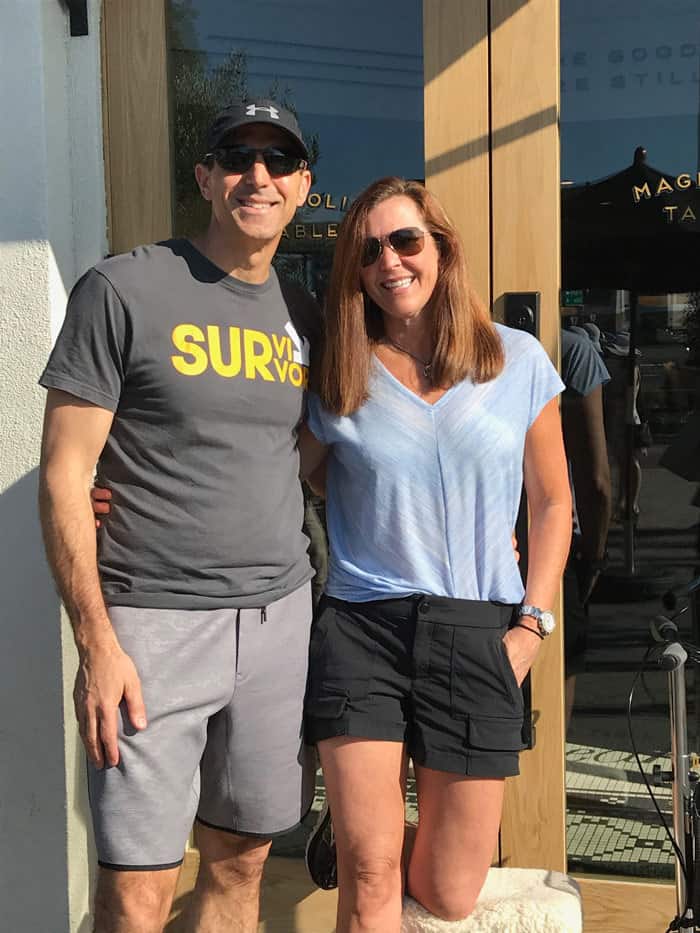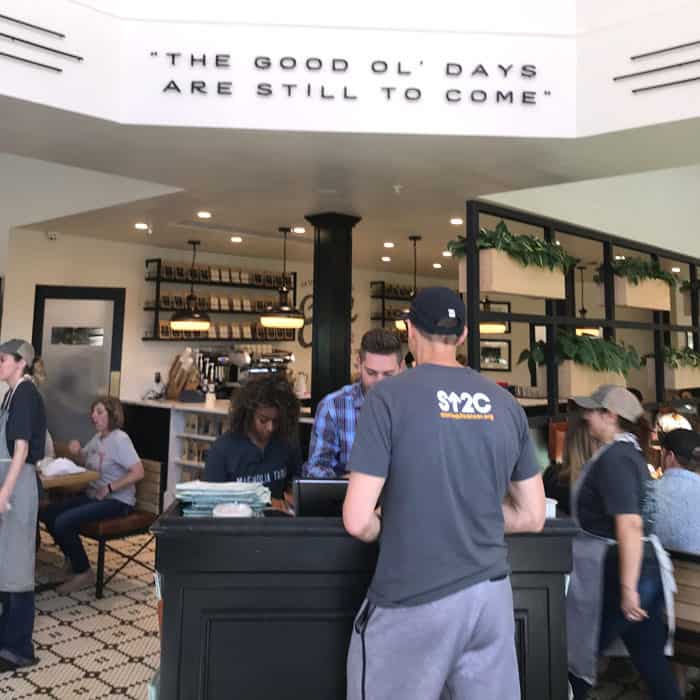 Let's talk about the FOOD! (We split everything, not evenly. ha.)
We had to have the Pancake Breakfast – because pancakes are Mike's favorite. They were the fluffiest ever, and it came with bacon, eggs, and some amazing homemade tater tots. My fav.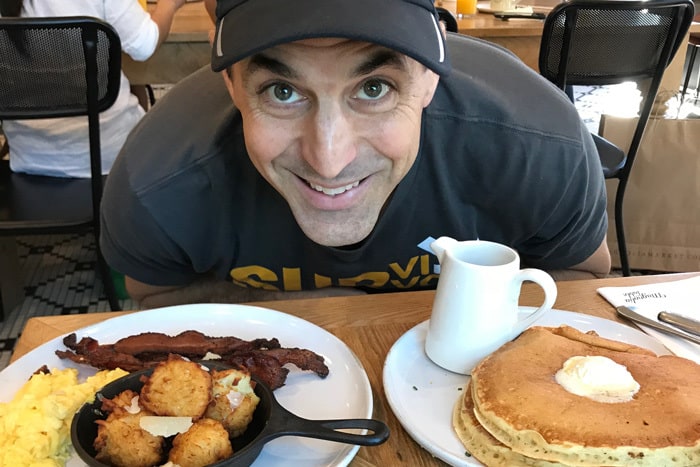 If you watched the renovation show, you'll know why we ordered the avocado toast. Chips favorite…haha! We ordered two poached eggs to put on top because ummmm, really good.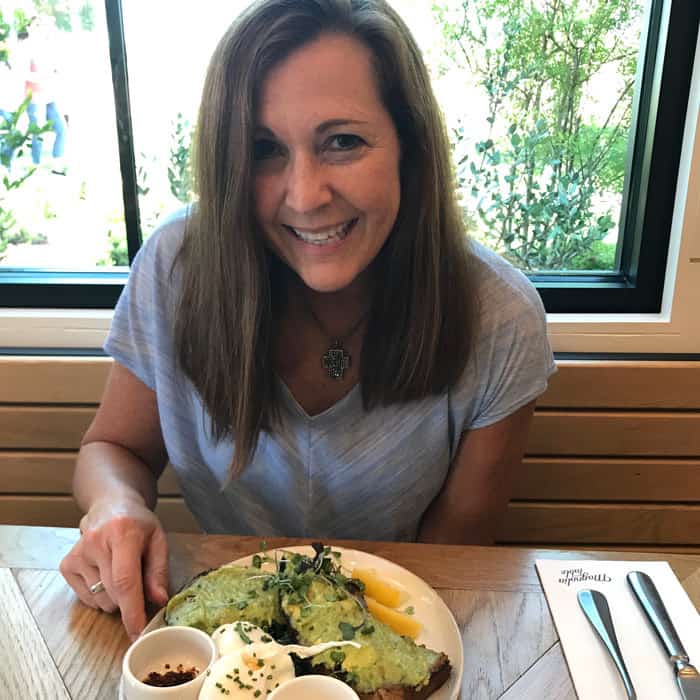 And then…Jo's buttermilk biscuits with strawberry butter. TO DIE FOR. I'm not kidding. I've never tasted biscuits this great. GET THIS when you go.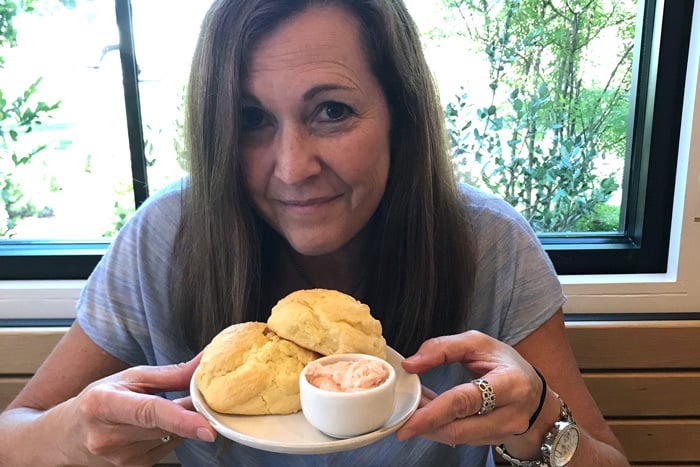 I remembered the lavender latte after we had started eating, so we quickly ordered one to share. It was interesting. Maybe not my favorite kind of latte, but I remember Jo talking about it. My third coffee of the day. 🙂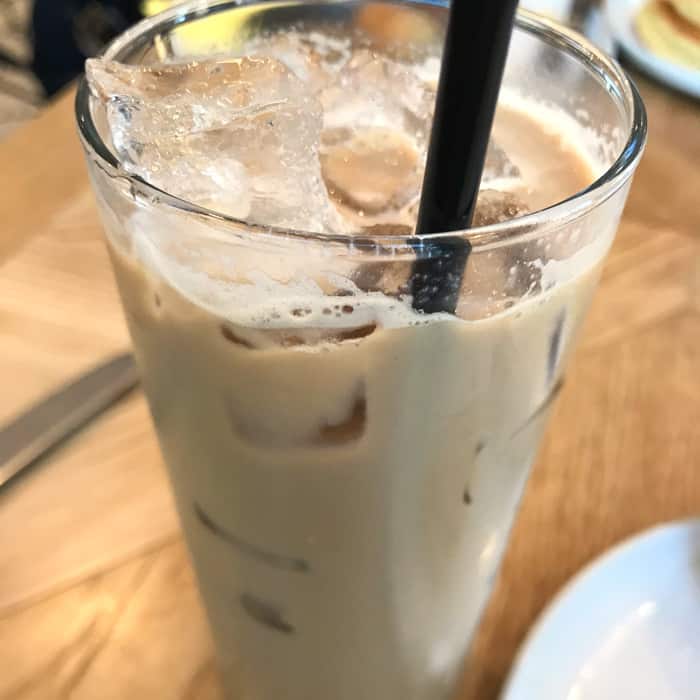 This was my second trip to Magnolia Market. I went with my friend Holly two years ago, and that was fun too.
Magnolia does an awesome business from the looks of the crowds and the lines of people. But I'd never seen so many people trying to get in the market. You literally had to wait in line for people to leave before you entered. Again, my guy waited in line, and then I scootered in. He carried my purchases because my little scooter basket isn't big enough for Magnolia shopping.
There is a lot of open space at Magnolia, and I especially love the big open green space for games or just hanging out in beanbag chairs. You won't go hungry either, because along with the very popular bakery, there are plenty of food trucks in the back of the lot.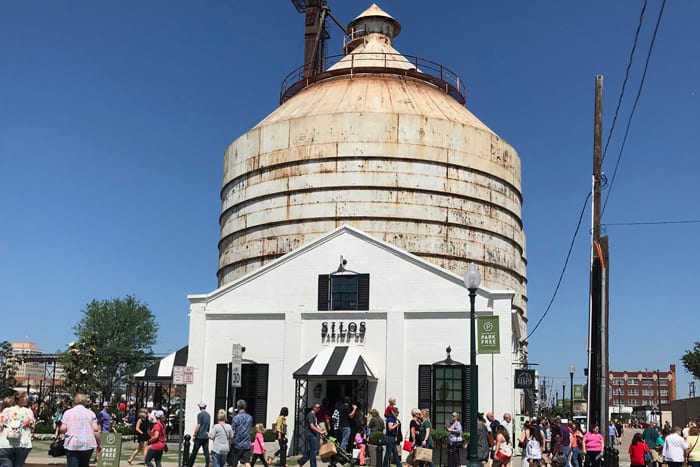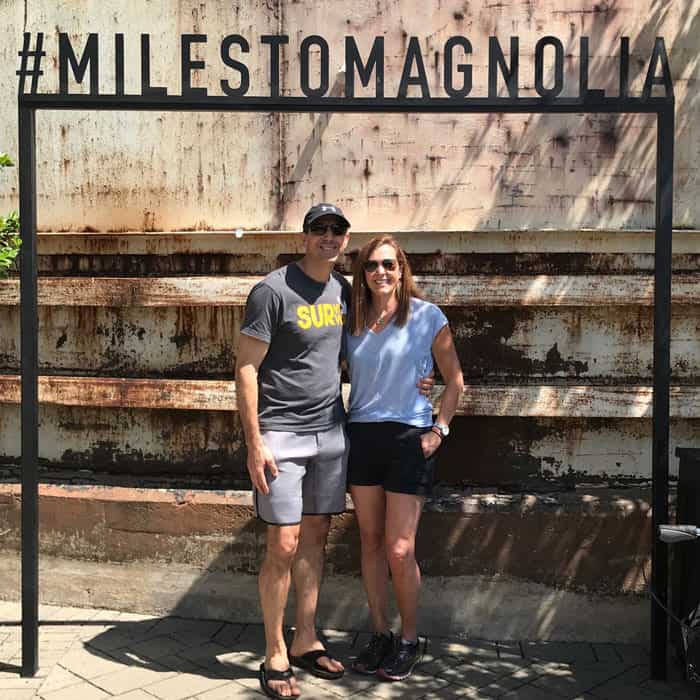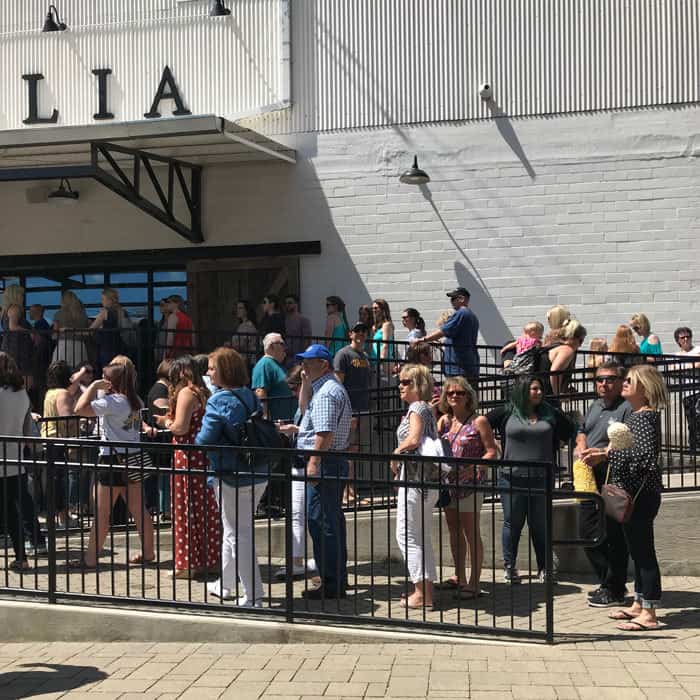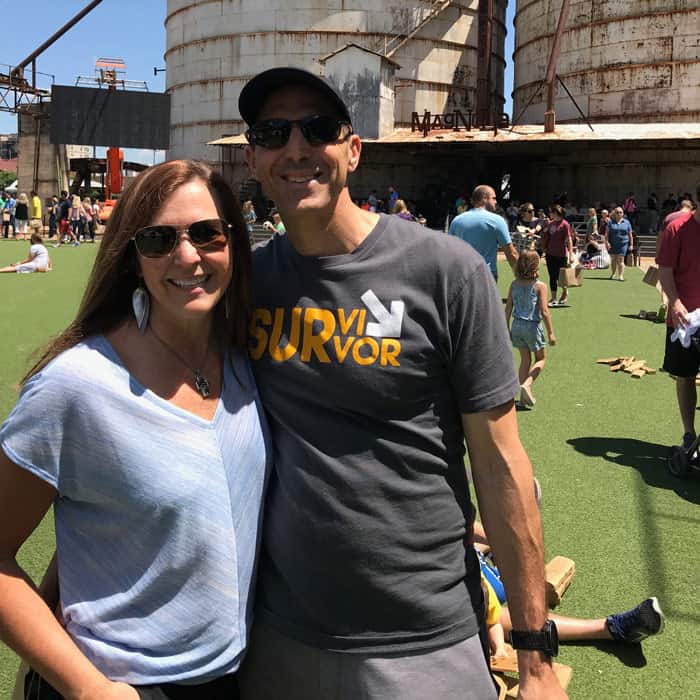 Mike has been having hamstring issues, on and off during his marathon training. (BTW, he's running Grandma's Marathon in Duluth, MN, over Father's Day weekend.) So when he pulled his hamstring again the week before the Silos run, he canceled our hotel. Then suddenly, he decided he could do it, and boom – everything was full. So he did a ton of searching and finally came across this cute little Airbnb, about three miles from Magnolia. The price fluctuates with the day of the week and events in Waco, so needless to say, we paid more than the average price.
The guesthouse was actually a converted garage in a family's backyard. It was a separate space, and really nicely done. We enjoyed the peace and quiet, a very comfortable bed, and it even had a Keurig for coffee addicts like ourselves. WIN.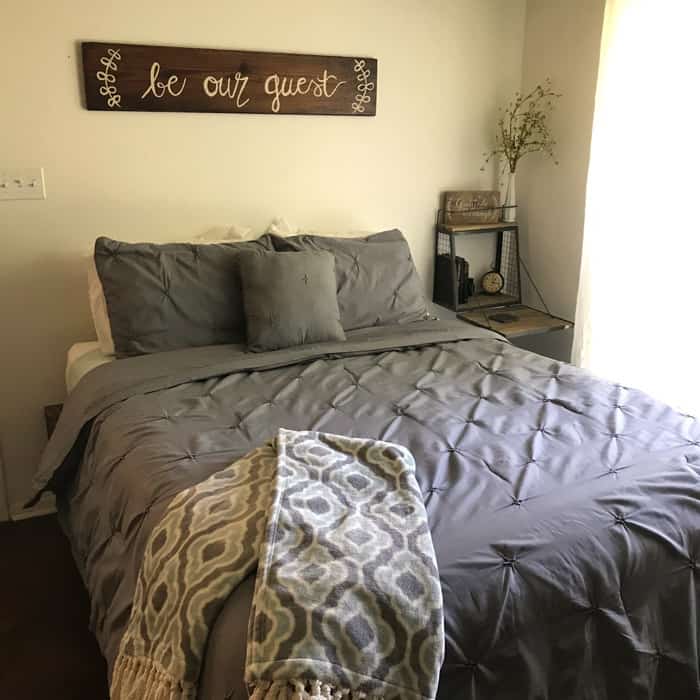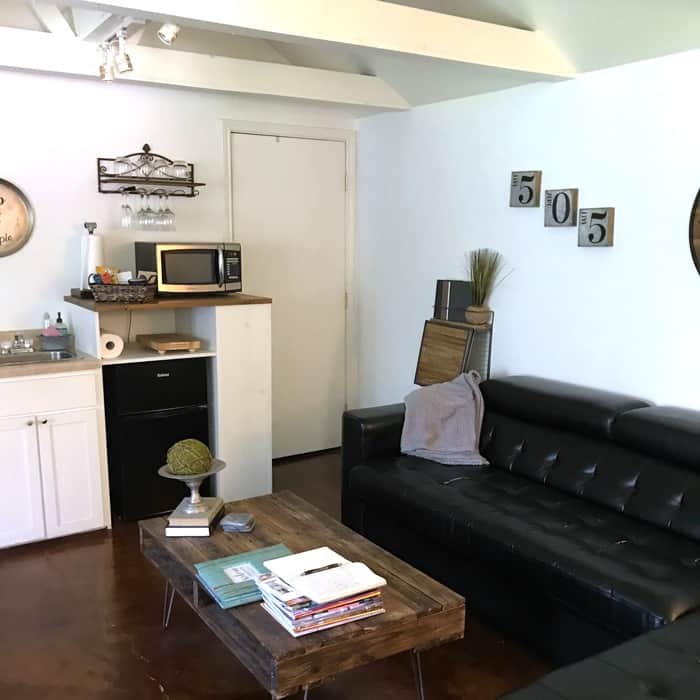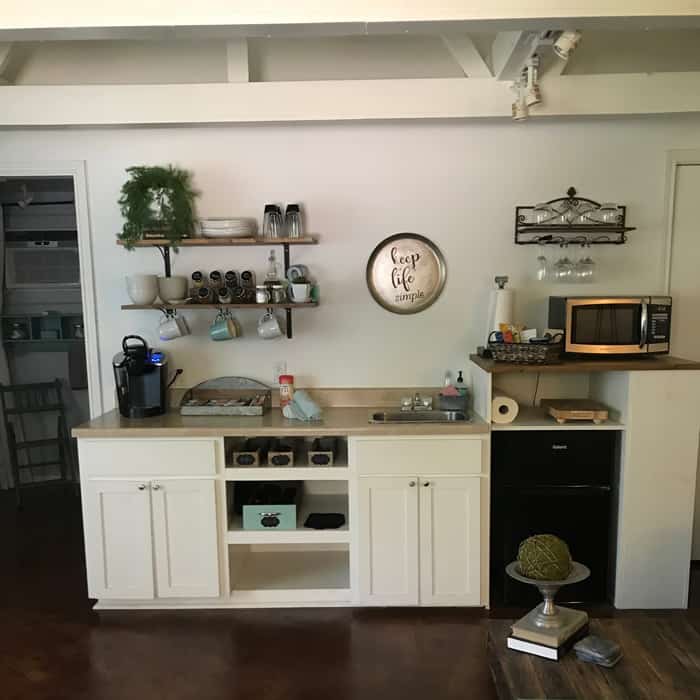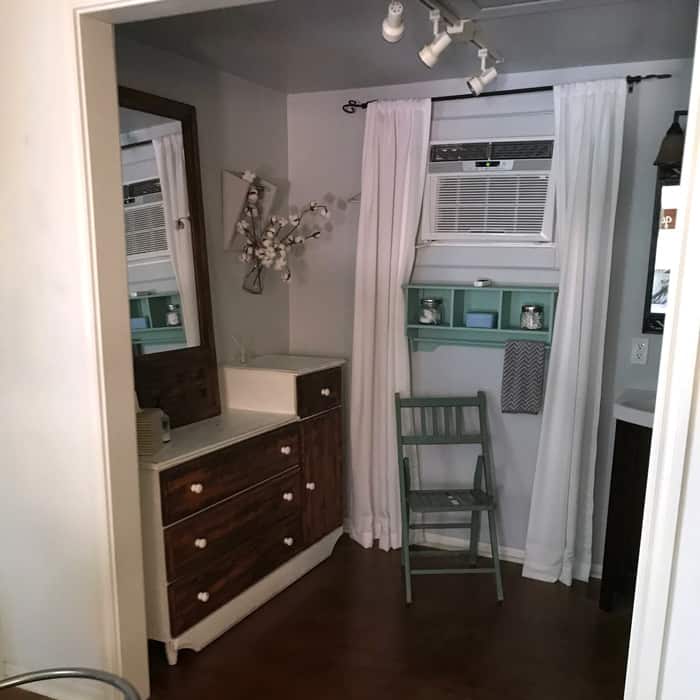 Now let's talk about Gabe (pictured below with Mike).
Gabriele (Gabe) Grunewald is a professional runner, who has fought four rounds of (rare) cancer and is still fighting. She has continued to pursue her goals on the track and believes that an active lifestyle should be part of cancer treatment. Gabe started the Brave Like Gabe organization (bravelikegabe.org), and is on a mission to raise money for rare cancer research.
Mike met Gabe on social media, and had a "twitter conversation" with her after following her story. He too is a rare cancer survivor, after battling Carcinoid Cancer that started in his colon in 2007. Mike has been in remission since his last surgery in 2009.
The cause of the Silos District Marathon was to raise money for the Brave Like Gabe Foundation. Chip and Gabe met in Central Park, NYC, last fall, and hit it off. Chip decided to host AND run a full marathon (giving 100% of the proceeds to her foundation), and Gabe was Chip's coach.
In the end, the Silos Marathon raised $250,000 for Gabe's foundation, to further research on rare cancers.
Thank you Gabe, Chip and Jo, and all of Magnolia! This directly impacts people like Mike.
The marathon was on Sunday, so we got up early and headed to the shuttle pick-up, several hours away from the Silos start line. Traffic was crazy, so we were super glad they offered this option, and the shuttle got us there quickly.
I have to say being on a shuttle bus with a hundred runners was a bit odd for me. Mike helped me load my scooter on board, and let's just say I felt awkward. But just for a little while. When you have the support of a guy like Mike, anything is possible.
If Gabe and Mike (and so many others) can fight cancer, surely I can ride my scooter among athletes, and be brave.
#bravelikegabe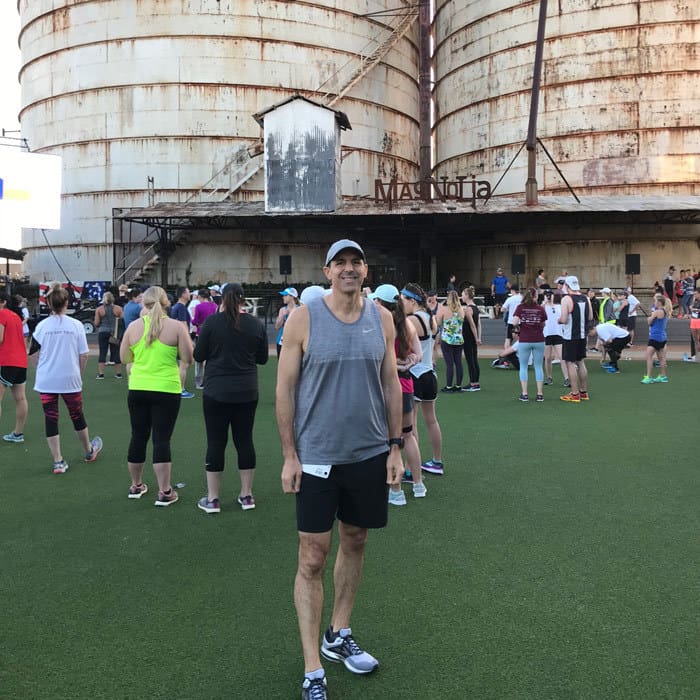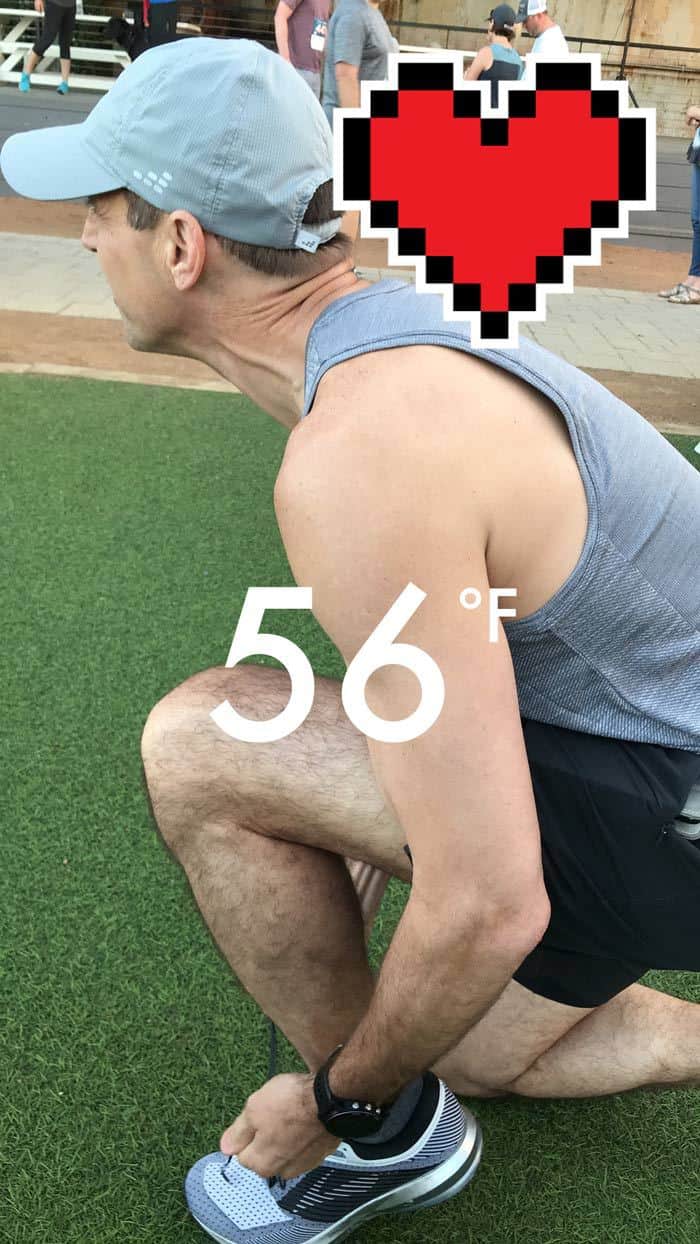 The Chip Cam was in full gear as we watched the start of the full marathon from the green area at the Silos. The crowd went crazy when Chip came out in his pants and a tool belt. This was total Chip style, but the meaning behind it is far greater. He was honoring a local soldier that couldn't make it for the marathon as intended, but instead decided to run it overseas, in full gear.
Chip is THAT guy. I'm continually impressed by him and his family.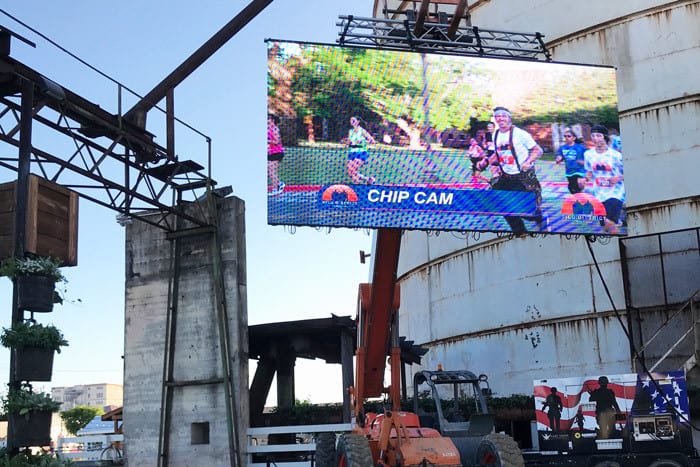 After Mike headed to the start of his half marathon, I headed to mine. BACK to Magnolia Market for round two, this time with about 1/1000 of the crowd. I basically scootered right in, got a shopping bag, and went to work. Haha. I bought a few things, all of them for my kitchen. Surprise.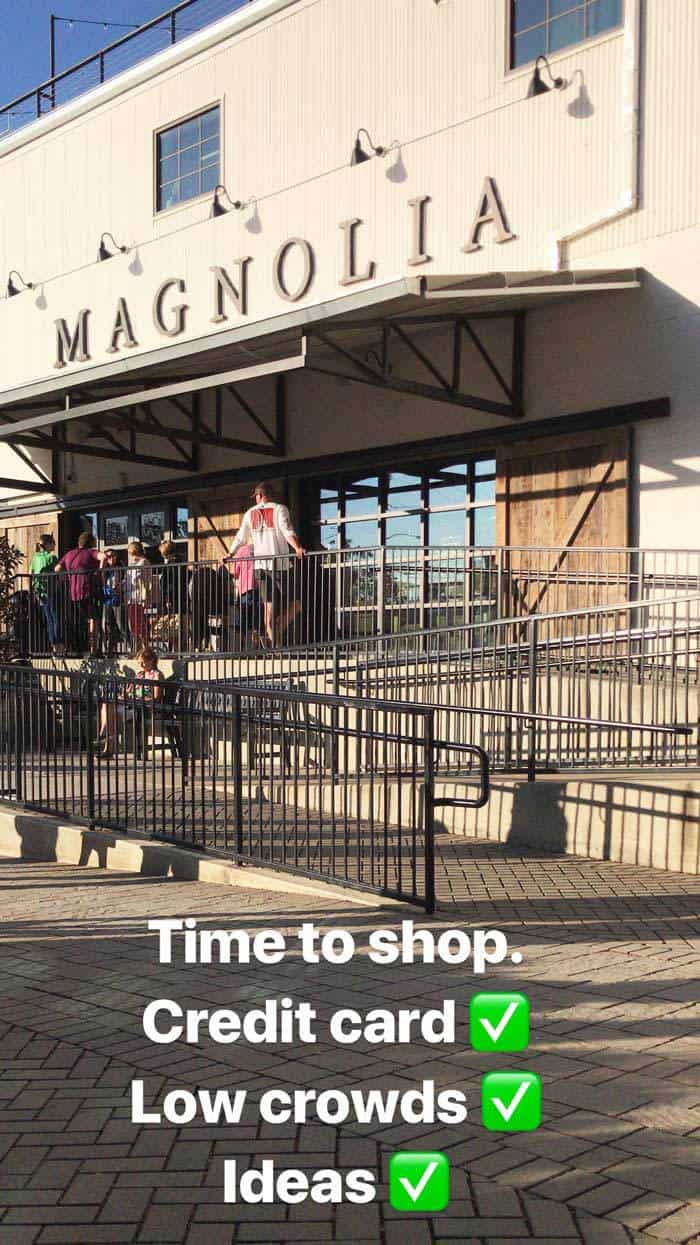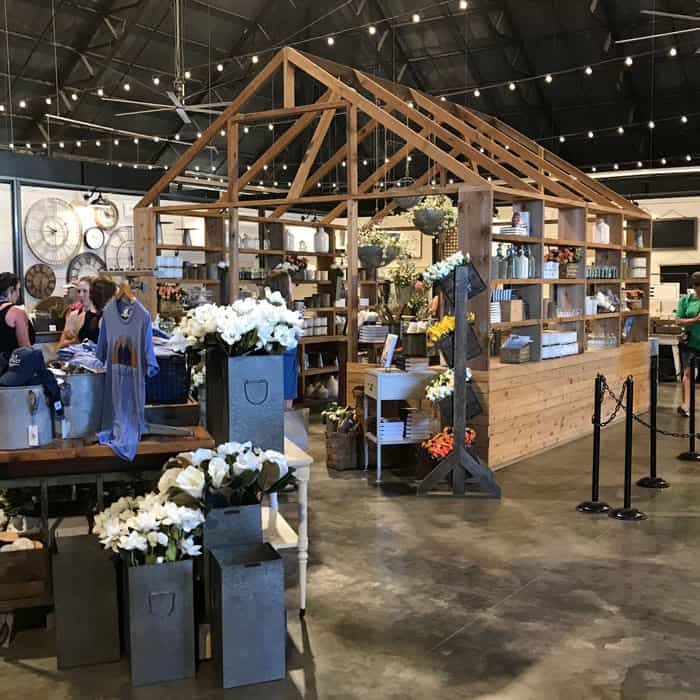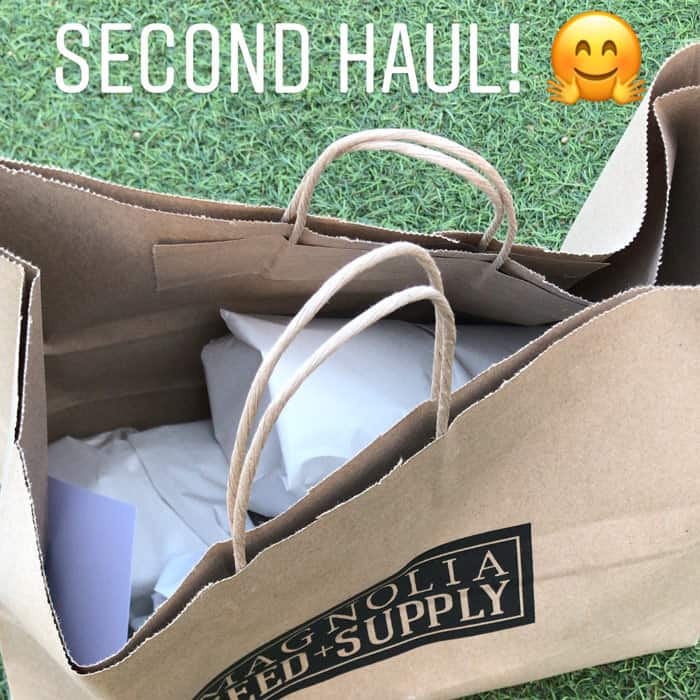 Mike told me what his half marathon range should be, so I headed to the finish line in plenty of time to watch him run his last 50 steps. I was very proud of him, as always, and while he didn't make his personal best, he came in 69th out of almost 2,000 half marathon runners.
Running for Brave Like Gabe. The hope to a cure for rare cancers.
He's THAT guy.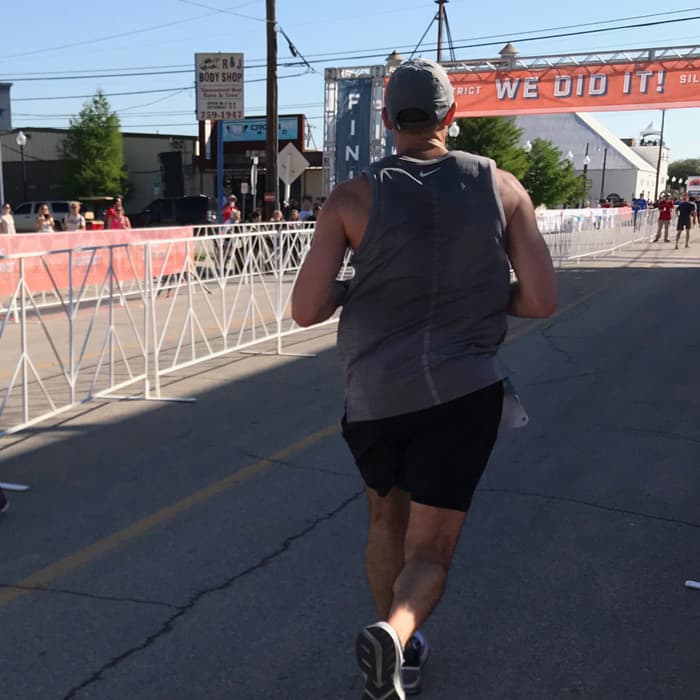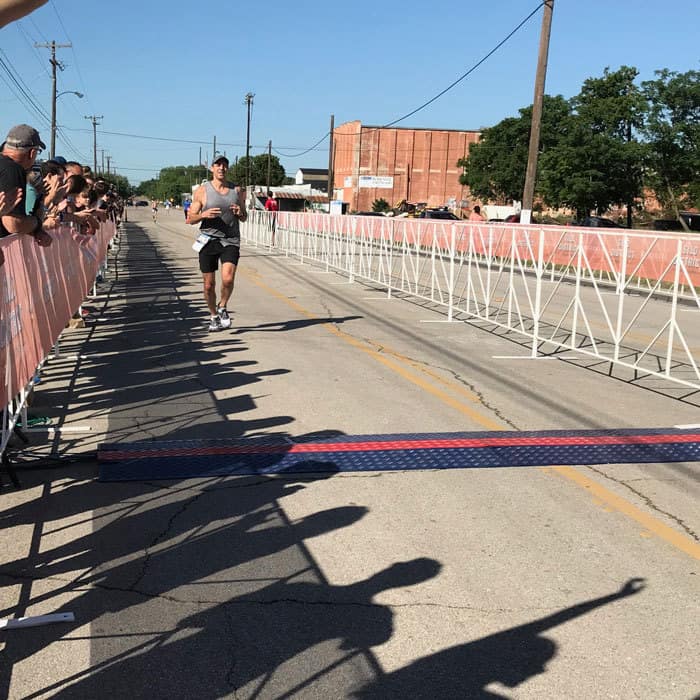 At the finish line, Chip parked his big black truck, with the opportunity to post your dream on a sticky note. He says "It all starts with .2".
Mike and I both posted our dreams. We didn't share them with each other, but I'm betting that they were very similar.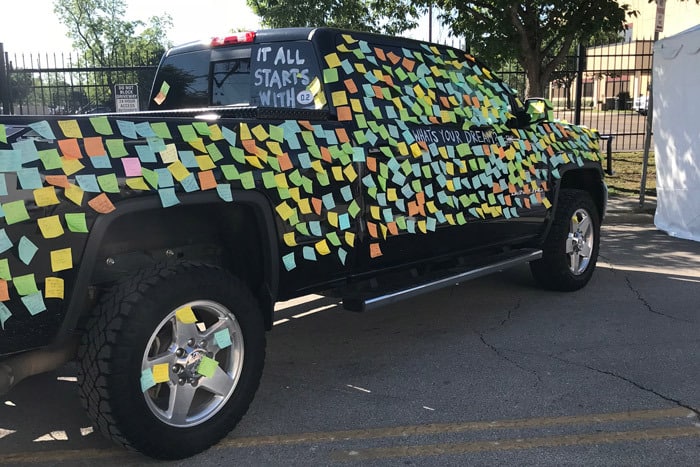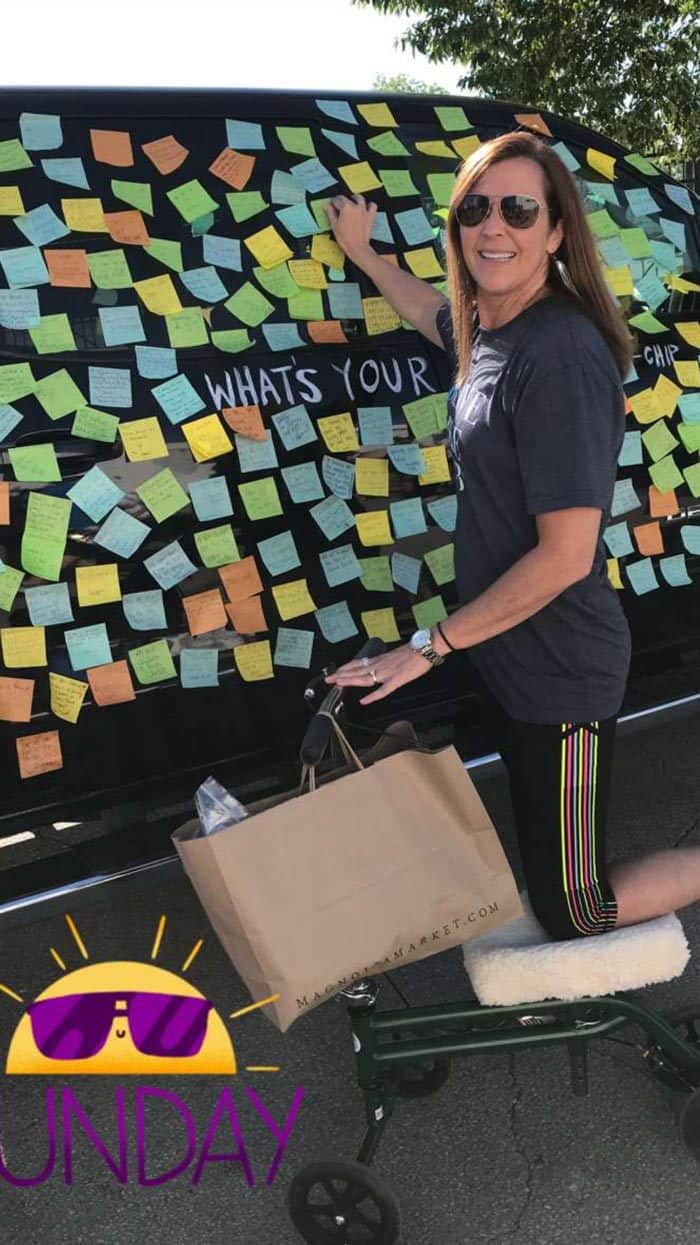 If so inclined, please donate to the Brave Like Gabe Foundation, by texting GABE to 51555.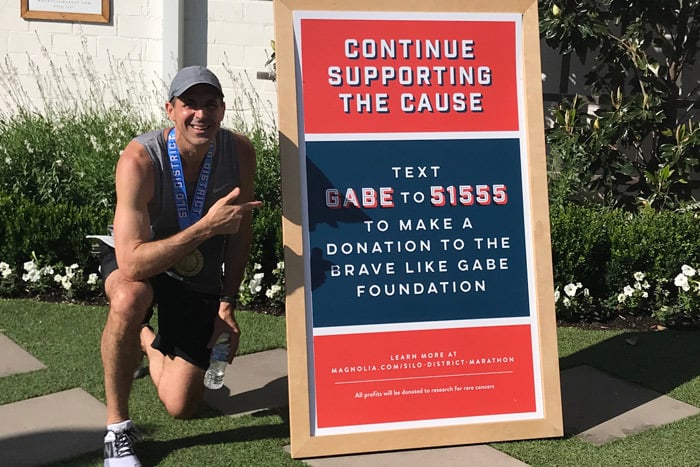 Back home again, unpacking my Magnolia treasures, and dreaming about so many things.