This post may contain affiliate links which won't change your price but will share a commission.
WARNING: This post is overloaded with pictures. I couldn't decide which to include, so just went with all of my favorites!!
________________________________________________________________________________________
After our first trip to Kauai in January, Mike and I decided to take the kids (plus one!) to visit for one last summer hurrah. We spent eight nights there and loved our summer island time.
Since there were five of us this time, instead of two, we booked an Airbnb townhouse at Poipu Kapili. It was oceanside and we loved waking up to the sound of the waves each morning.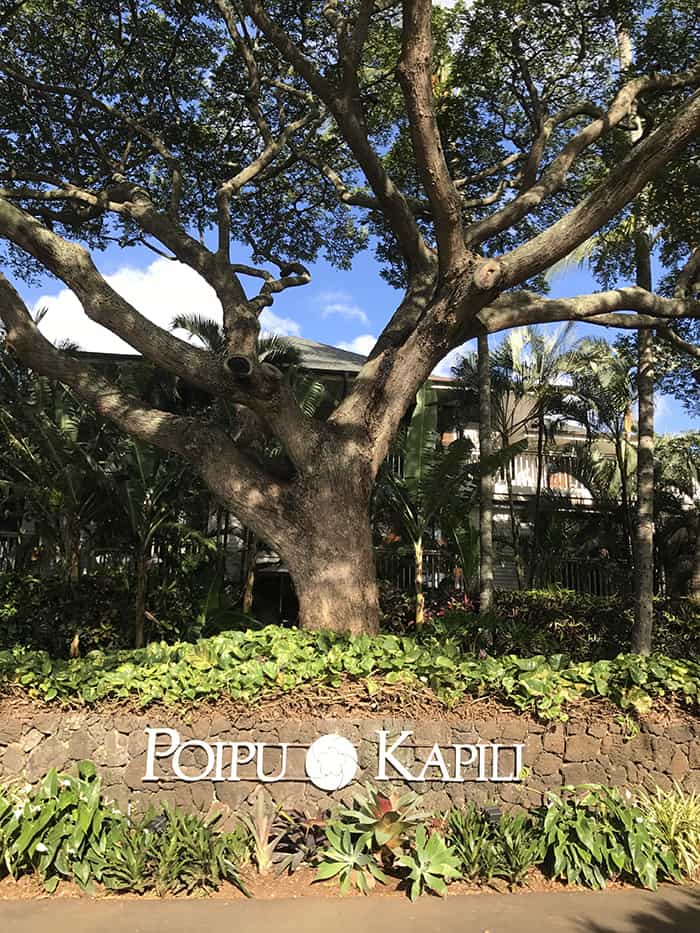 Captain Andy's Sailing Adventure
Our catamaran tour with Captain Andy's was a repeat adventure that I'd do again in a heartbeat. We were definitely excited to show the kids the views of the Na Pali Coast, THE prettiest coast I've ever seen. Our five and half hour trip was filled with wonderful (and very WET) memories.
The breathtaking views of the Na Pali coast include the sea caves, waterfalls, and hard-to-get-to beaches.
Dolphin pods swam with the catamaran, almost playing with us as we sailed along.
Snorkeling on a reef along the coast, and chasing the sea turtle (see below) to get a picture. THAT was amazing.
A barbecue lunch along with Longboard beers and fresh macadamia nut cookies.
Hitting rough waters and getting DRENCHED on our return voyage.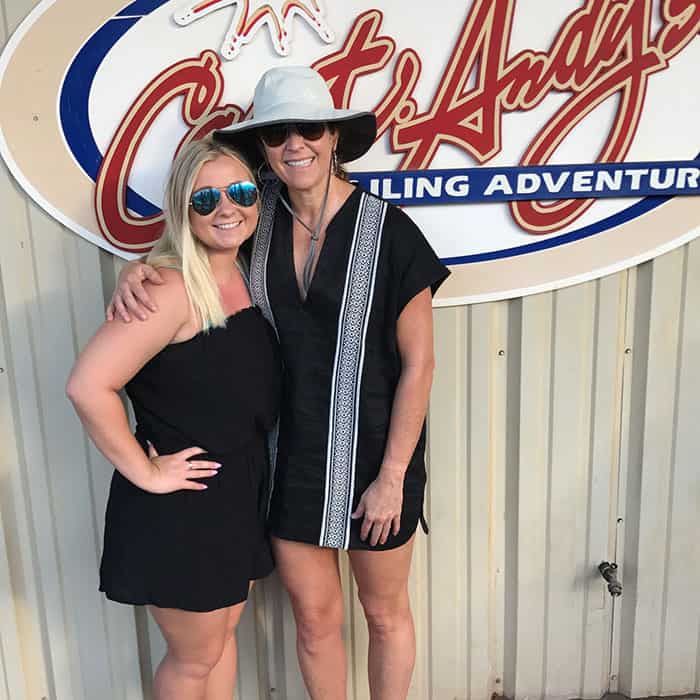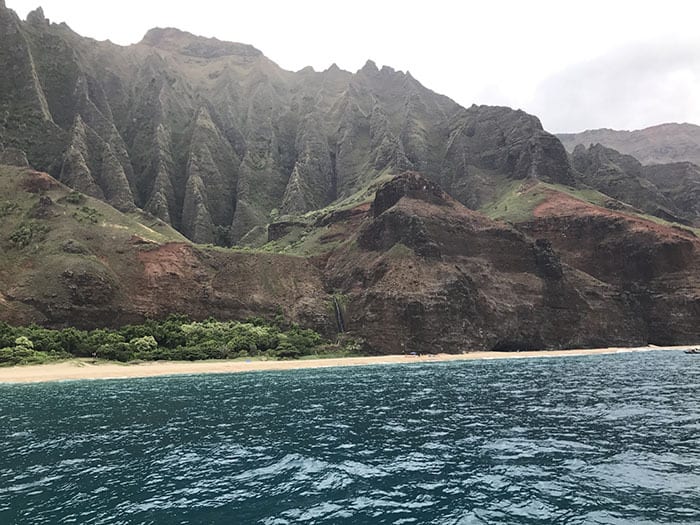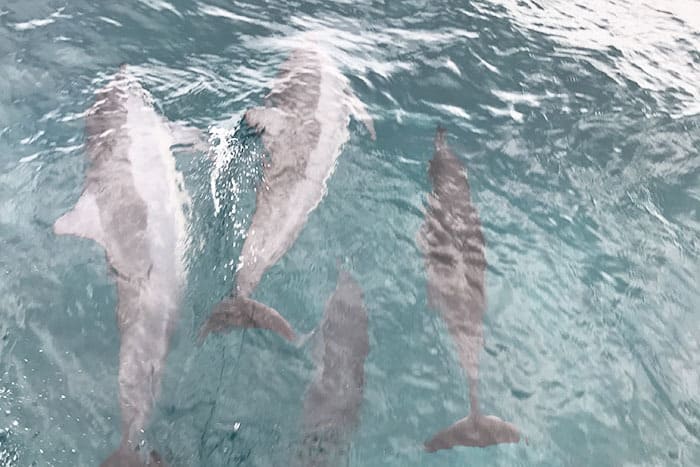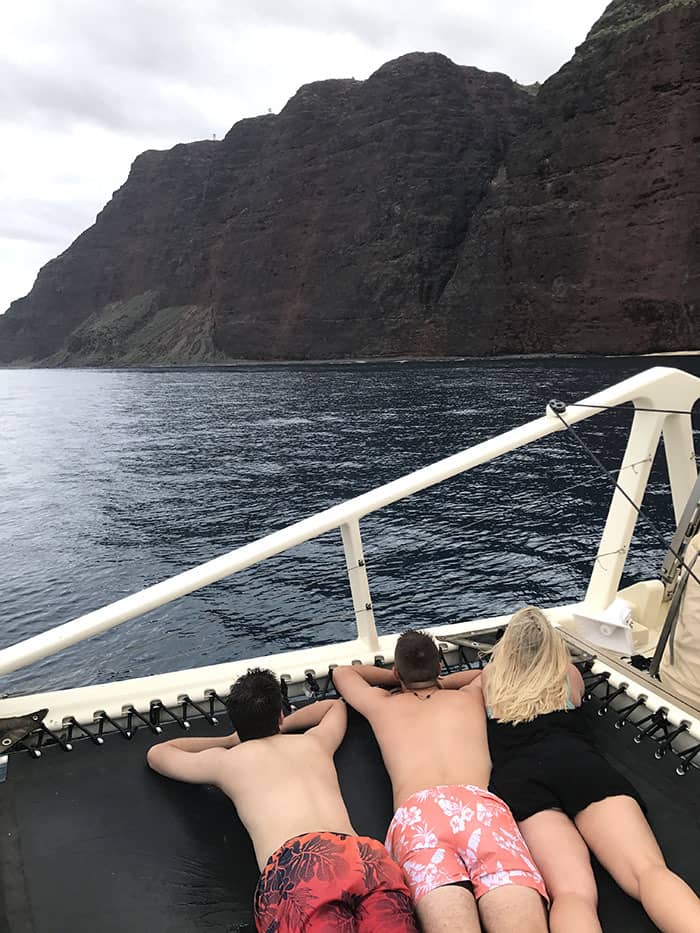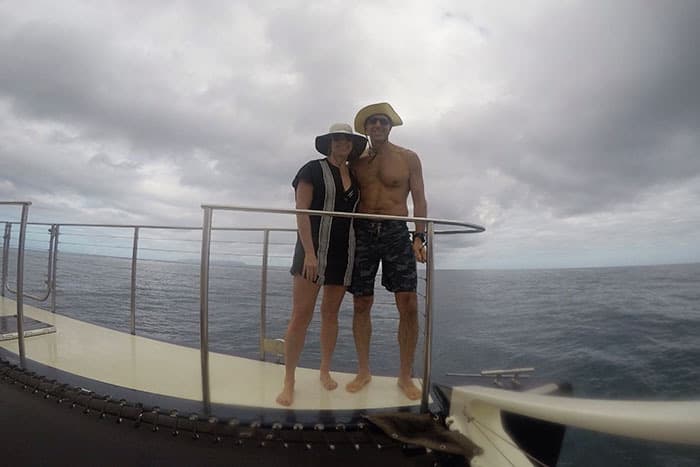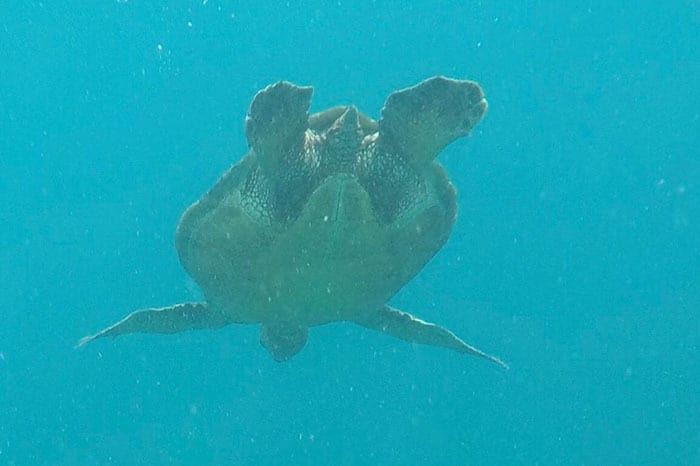 Hiking the Kalalua Trail
One of my top two days in Kauai was spent doing (part of) the Kalalau Trail on the Na Pali Coast. The actual trail is 11 miles one way, and a lot of hikers camp out along the way. We did the first two miles of the trail to Hanakapi'ai Beach. It was UNBELIEVABLY beautiful, and I couldn't stop taking pictures. Parts of the hike were extremely rocky and steep, but other parts were easier. We crossed a stream to get to the beach, and it was a little bit tricky as we hopped from rock to rock.
Once we were at the beach, we waded out to a small cave and pretended to be cavemen. 🙂 Since we didn't pack snacks for our hike (oops!), we were pretty hungry and so the hike back was more like a gallop. We made it back, Zach bee-lined for fresh coconut water, and then we headed to Hanalei for a well-deserved lunch and shopping.
The following pictures are only a handful of the ones we took on our hike. There was beauty everywhere!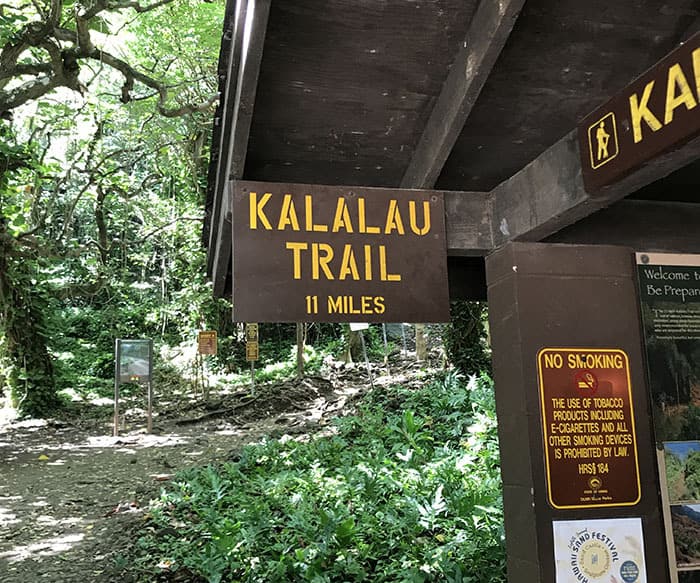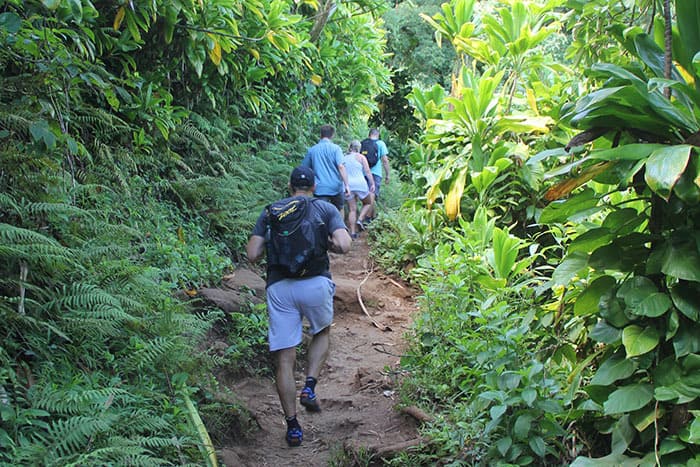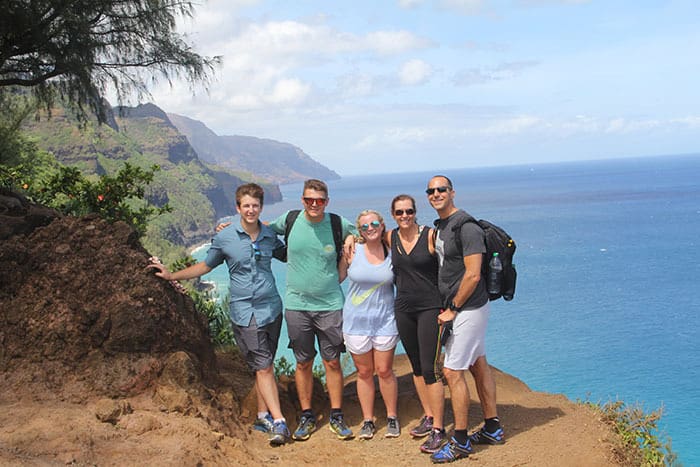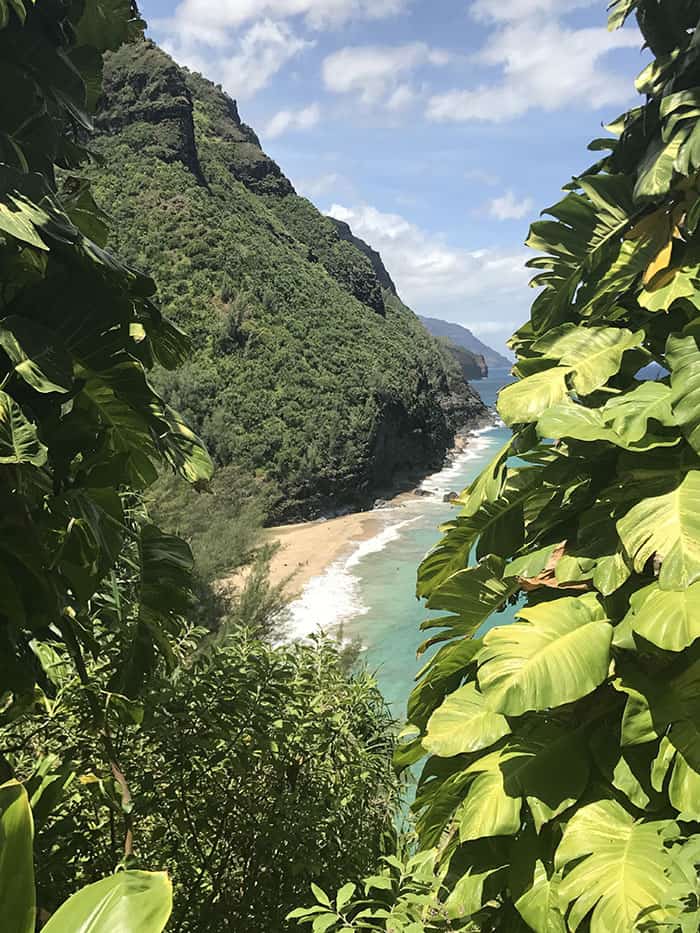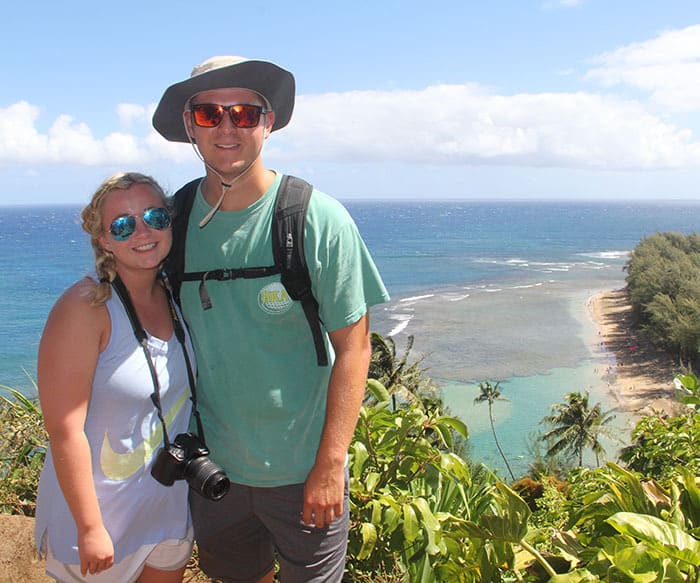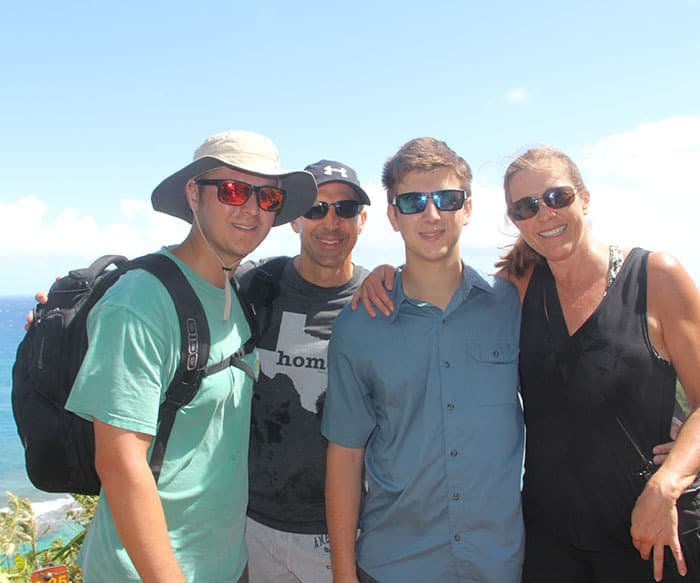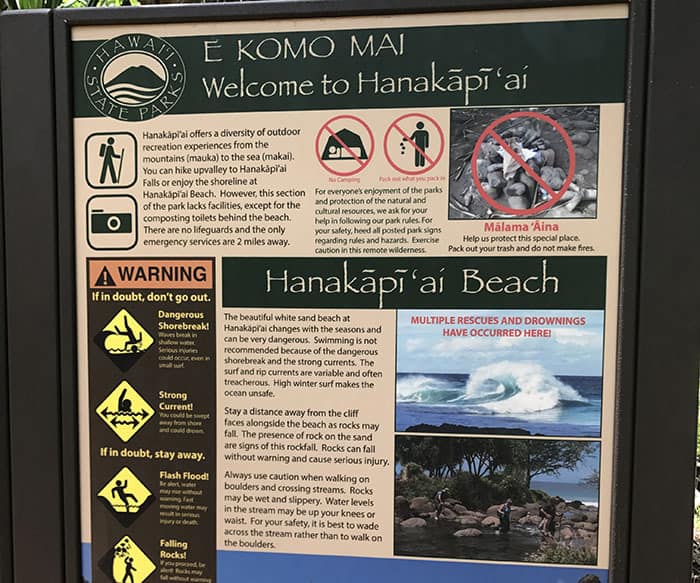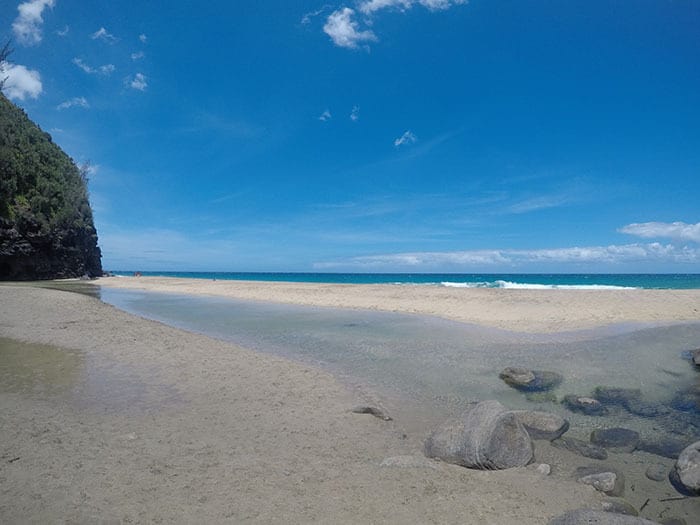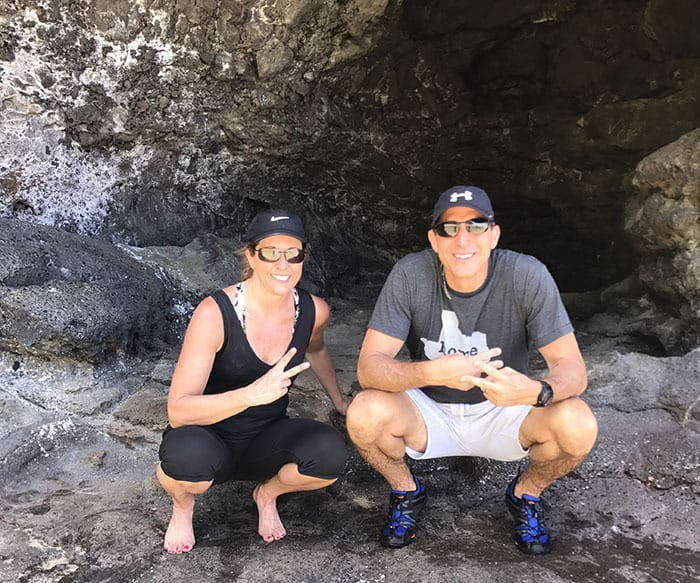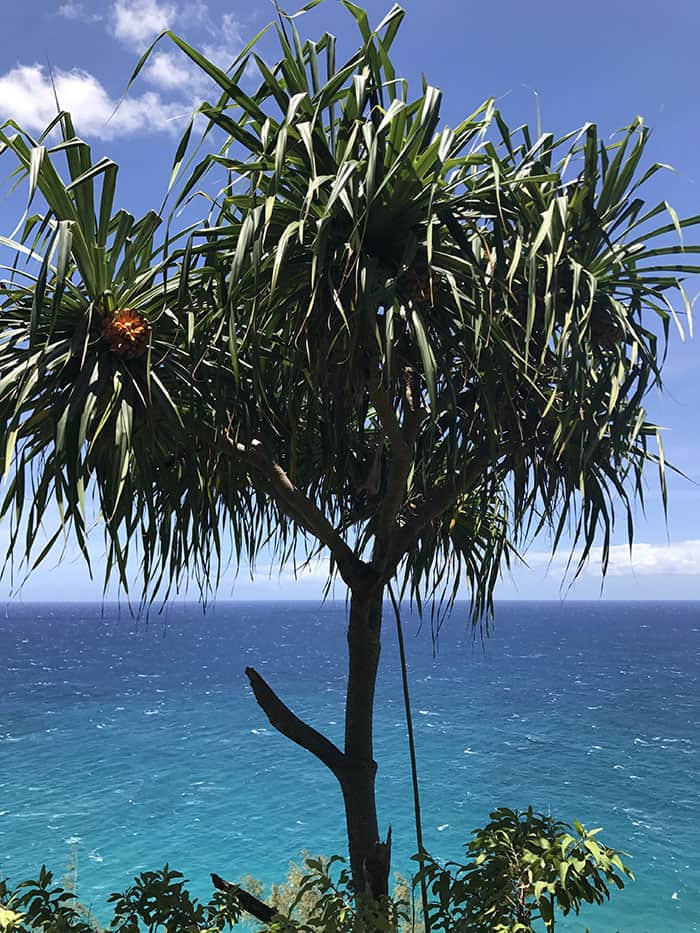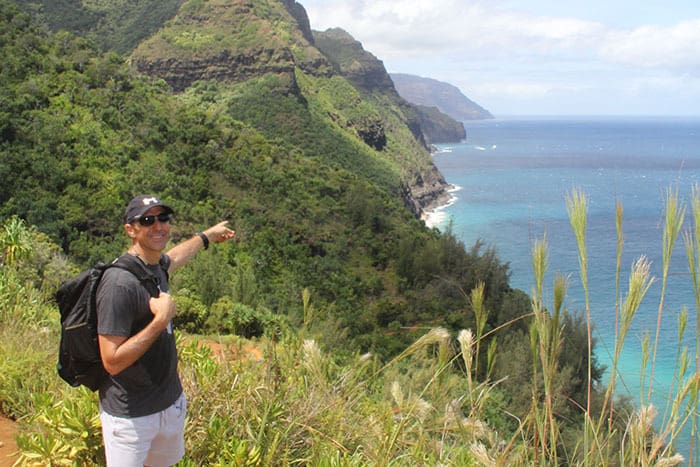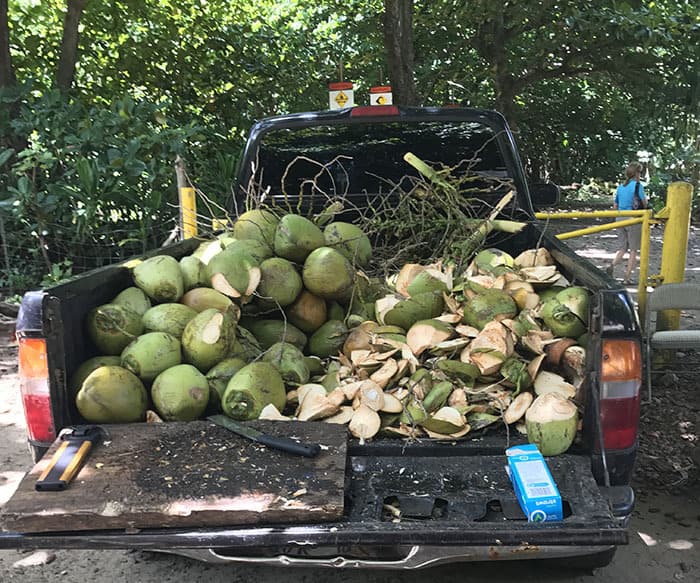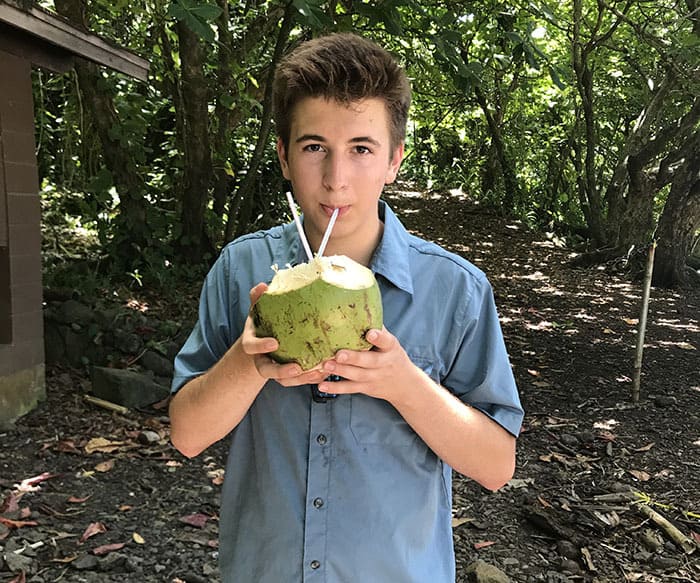 Kayaking the Wailua River
Another favorite day of mine was our five-hour tour with Kayak Kauai. We enjoyed the quiet, peaceful nature of the trip which started off in the kayak, followed by a hike to a remote waterfall, called Secret Falls.
Swimming in the pools at the base of the waterfall was serene (and a bit chilly!). We soaked it all in and then took turns standing under the VERY powerful waterfall. There were signs to stay away from the base of the waterfall, in case of falling rocks, but we didn't see them until AFTER we did it. OOPS.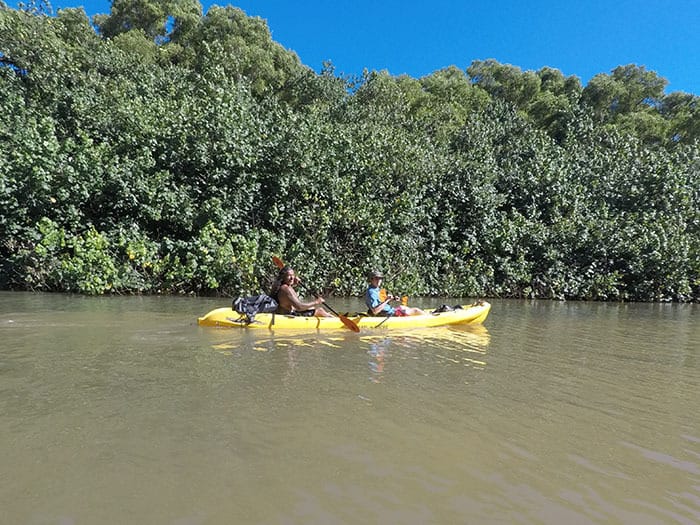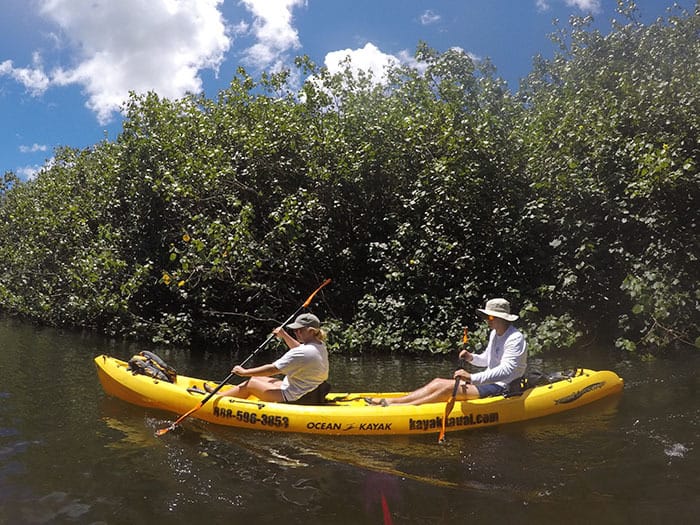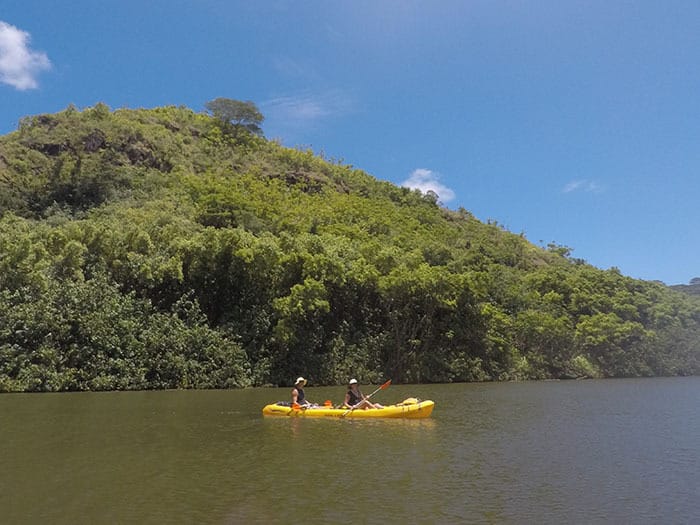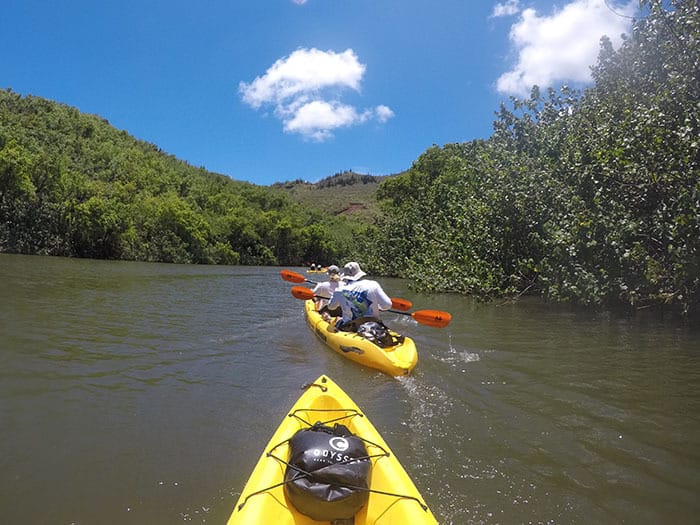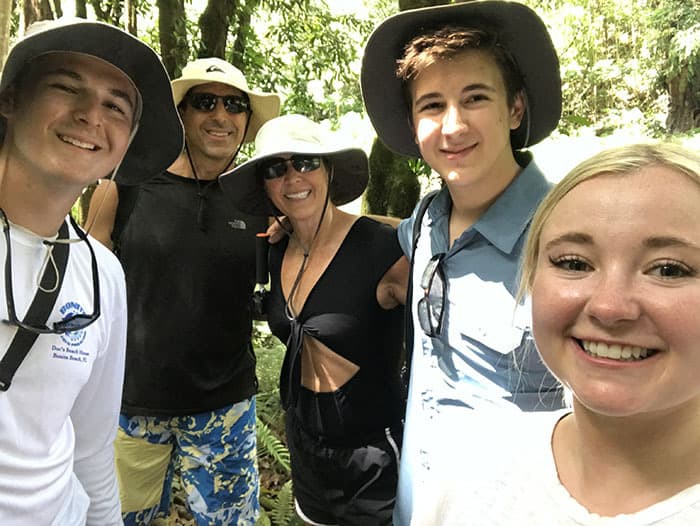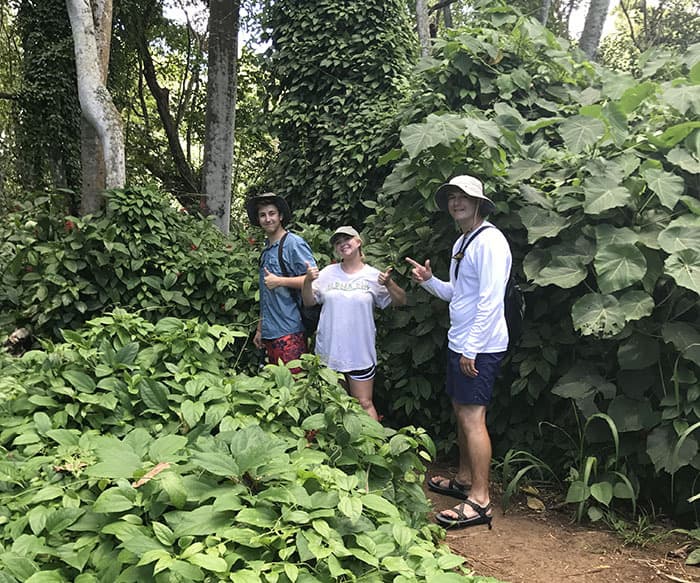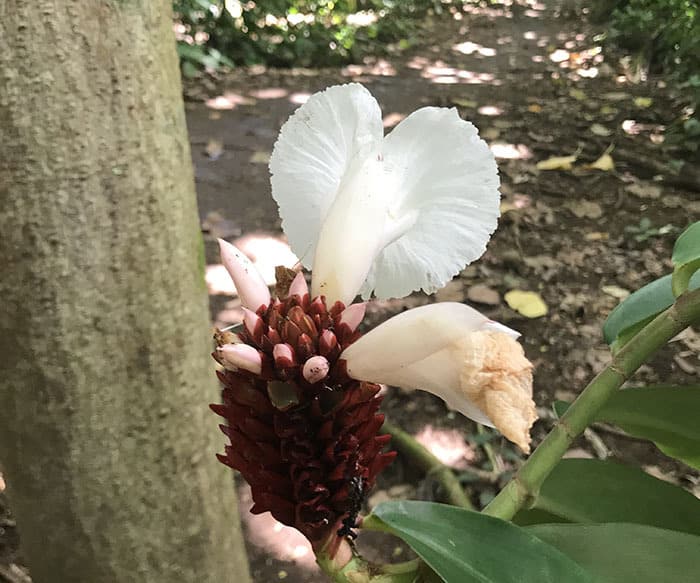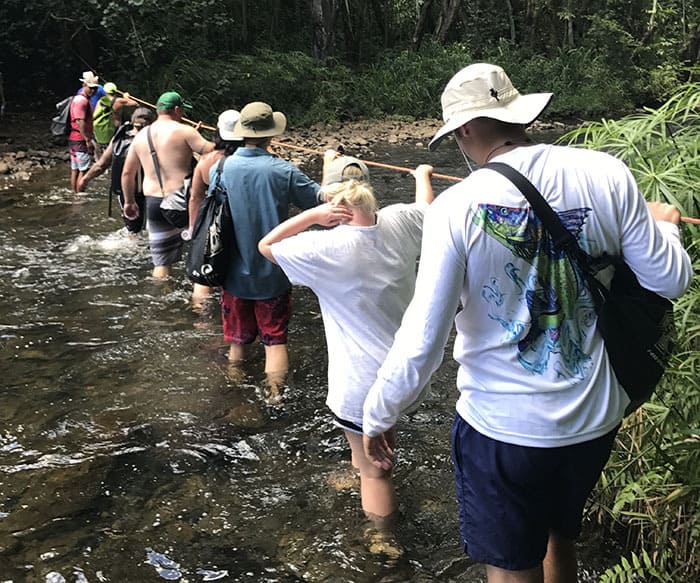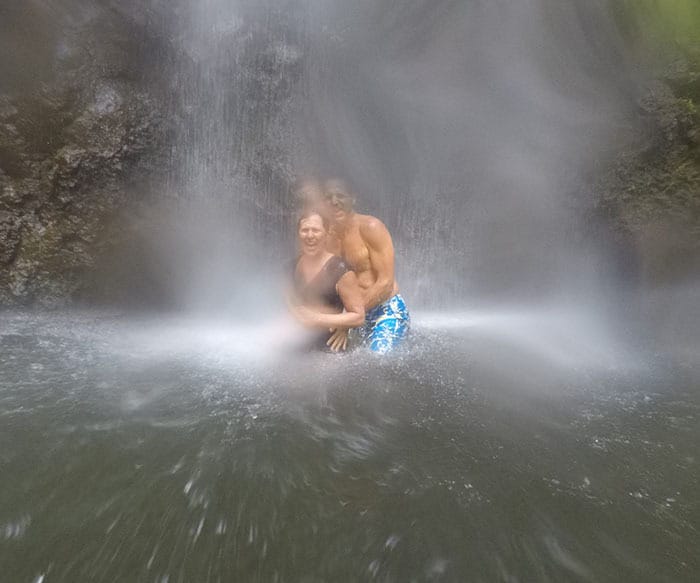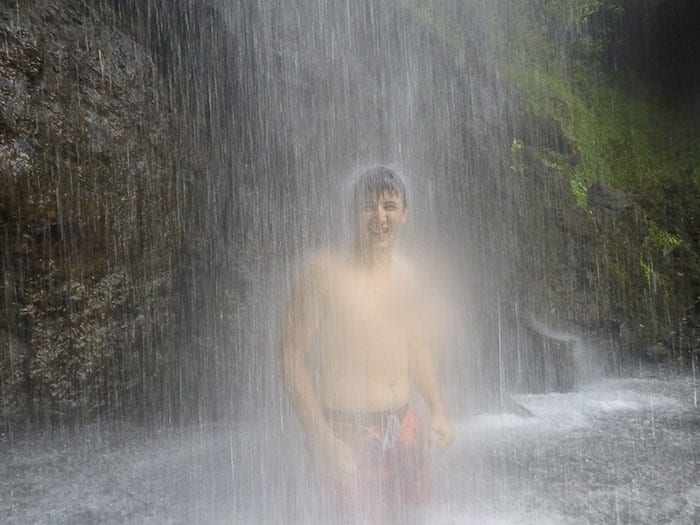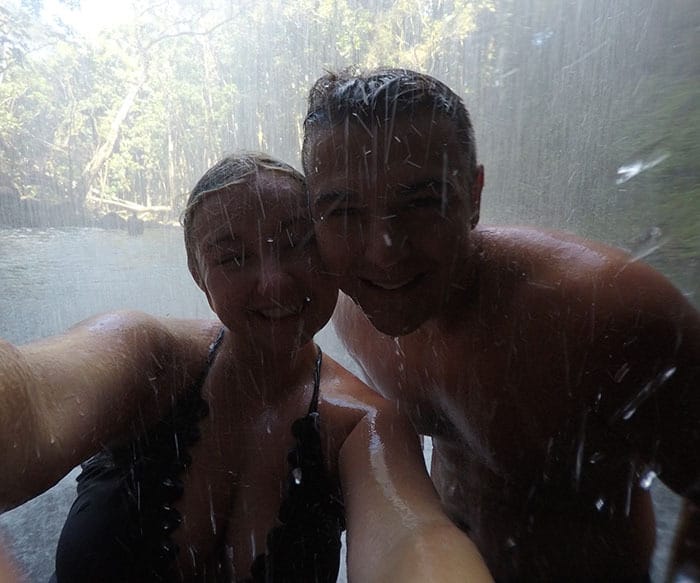 Only the strongest survive the Na Pali Coast Adventure Kayak 🙂
My two BIG guys took on the BIG ocean kayaking adventure – 18 miles of kayaking along the beautiful Na Pali Coast. When I booked this trip for them, the tour company made sure I was aware that this was no casual kayak tour. It was a tough-as-nails tour, only for the fittest. I assured them that my men were more than capable.
Their kayaking adventure started off at Kéé Beach, paddling beyond the valley of Kalalau, past the arches of Honopu, and into the azure waters of a volcanic sea cave. They had a lunch break on the quiet beach of Milolii, before continuing on to Polihale State Park, where the cliffs meet the sand dunes.
Doesn't that all sound wonderful and serene? Well, if you look below, you will see their faces at dinner that night. Mike and Josh were beyond exhaustion, and Josh claimed that he couldn't lift his arms. The sea was rough, and after flipping their kayak approximately 13 times (claimed Josh), they gritted it out, "slapping" the waves, and rowing rowing rowing all 18 miles. When Mike texted me upon their completion, he said, "One-time deal." There was no FUN in his response, and while it was more difficult than they dreamed, they did it, and it's a checkmark in the bucket list box.
We bought a GoPro before our trip, and while the guys had difficulty taking pictures without tipping over, they managed to get a few good ones. See below.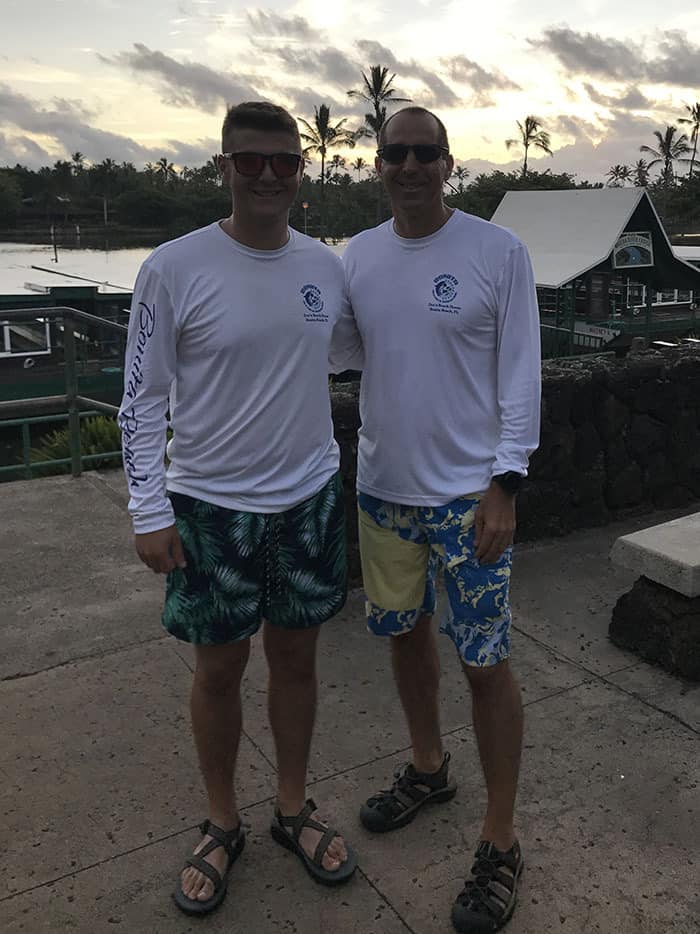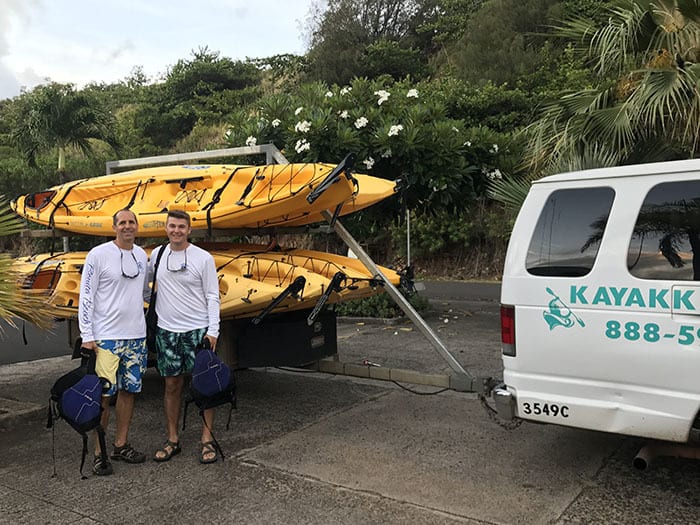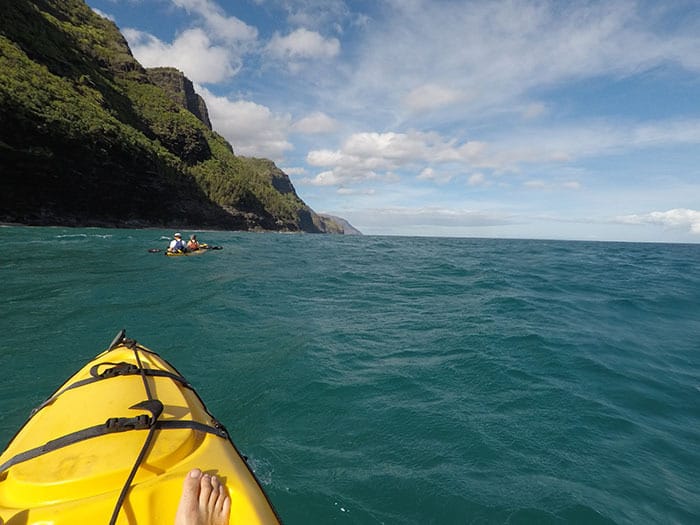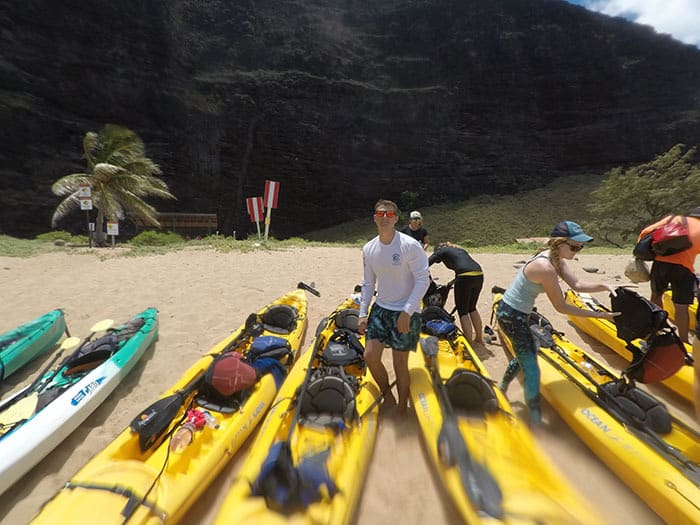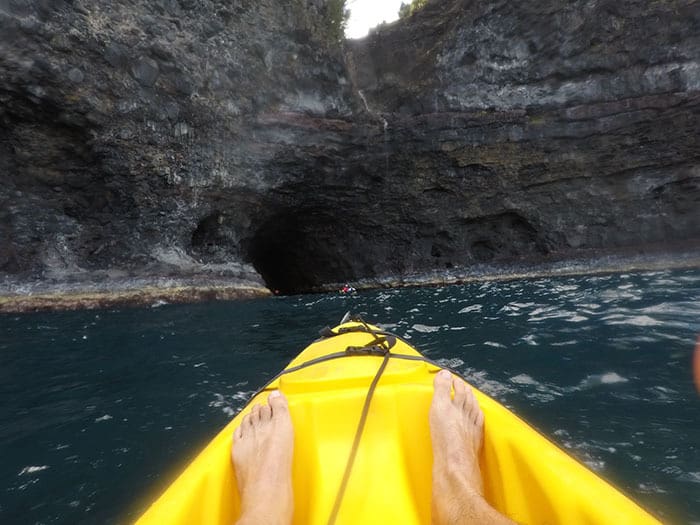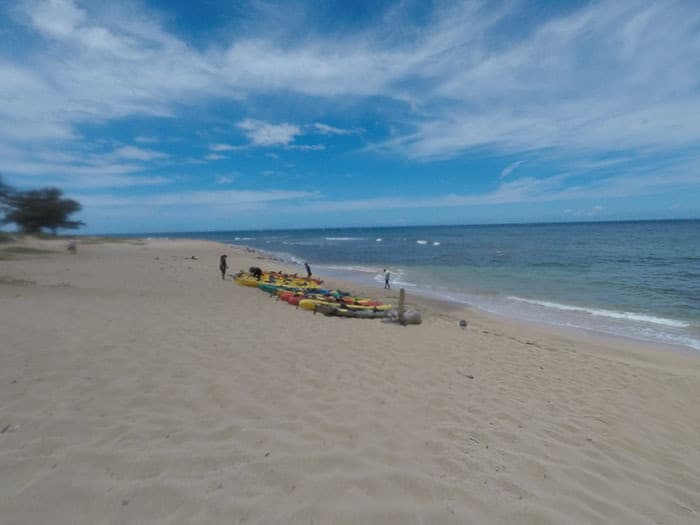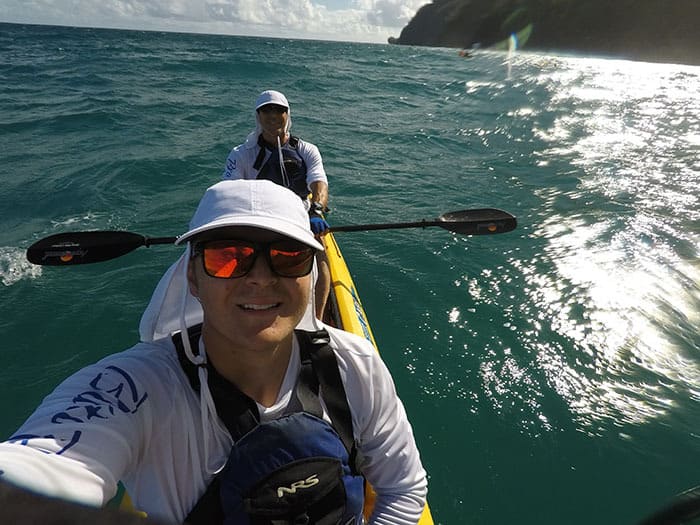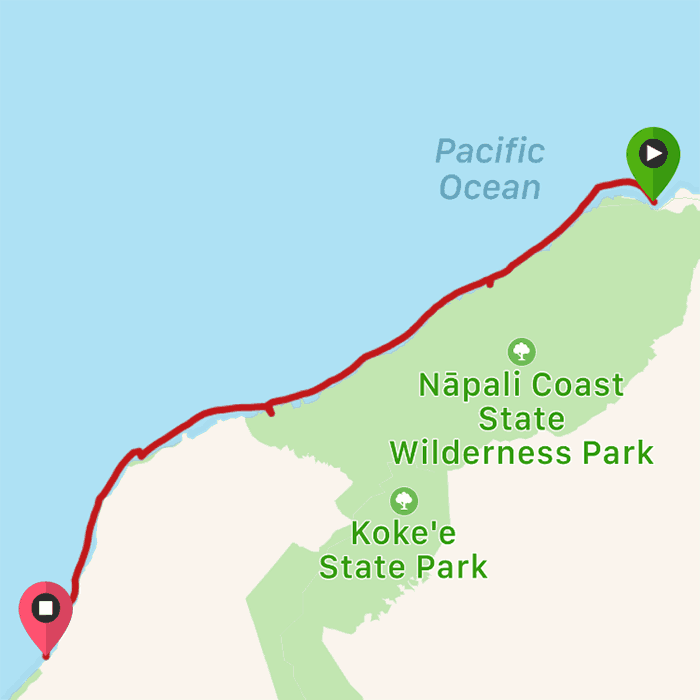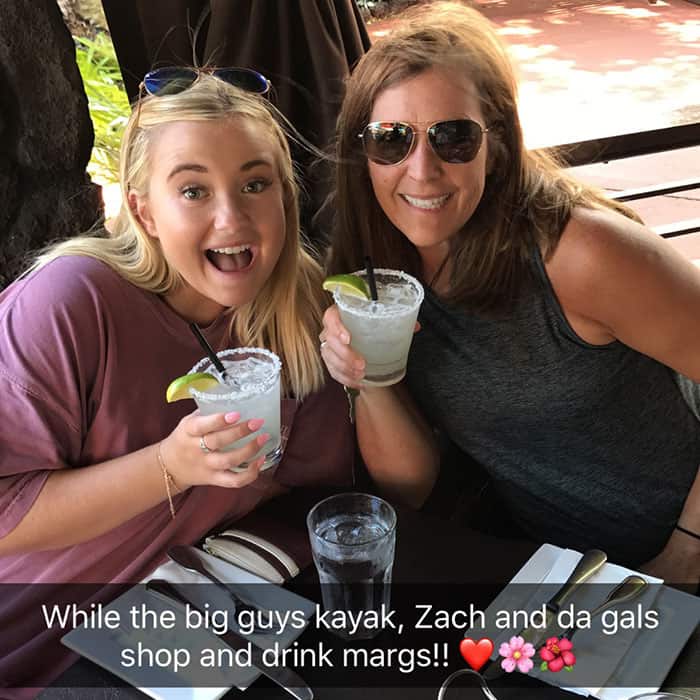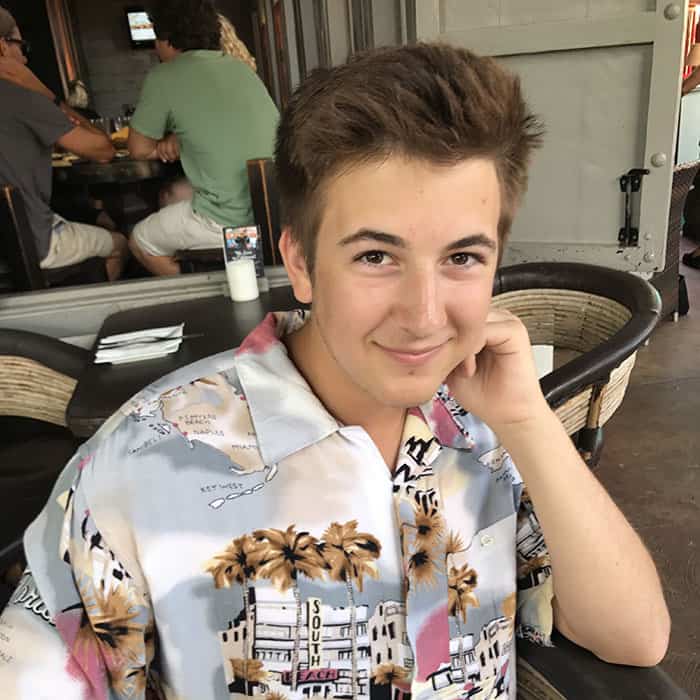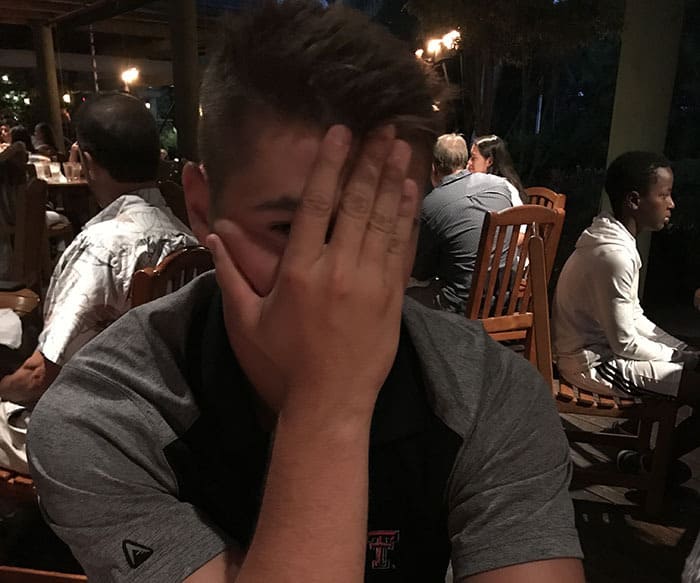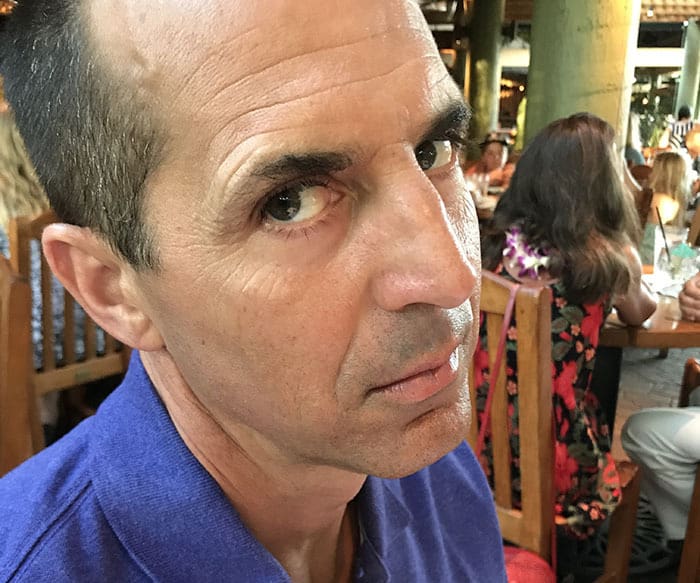 Snorkeling Kauai
One of the reasons I wanted to return to Hawaii was to snorkel. Mike and I loved snorkeling in Maui and couldn't wait to do it again. The problem was that the snorkeling in Kauai wasn't nearly as good. Maybe it was the beaches we went to, or the sea conditions at the time – but the waters weren't very clear and the sea life wasn't as plentiful. I was disappointed, but as you can see, we had so many other fun things to do together.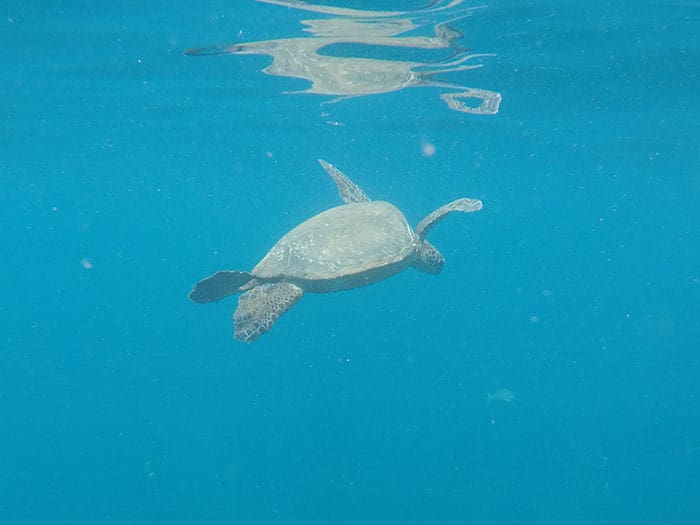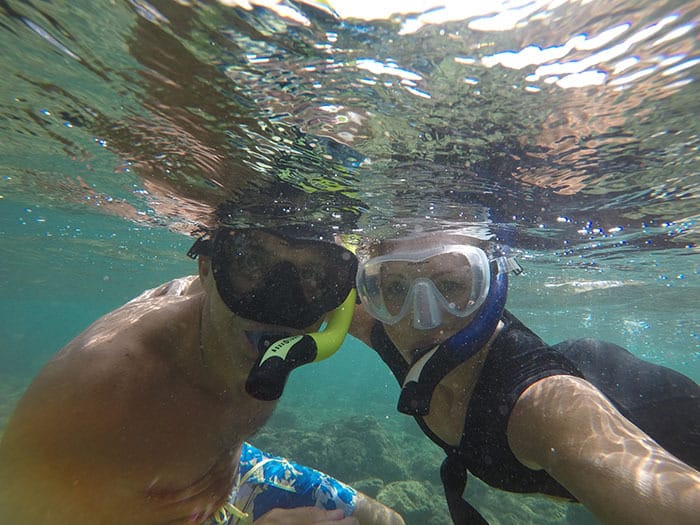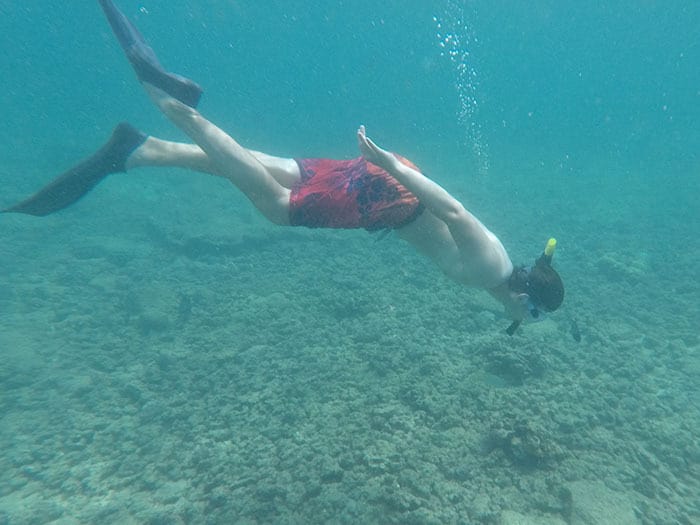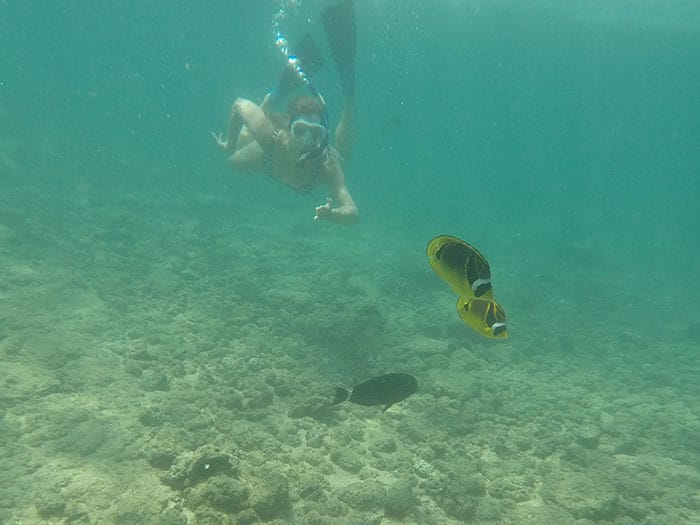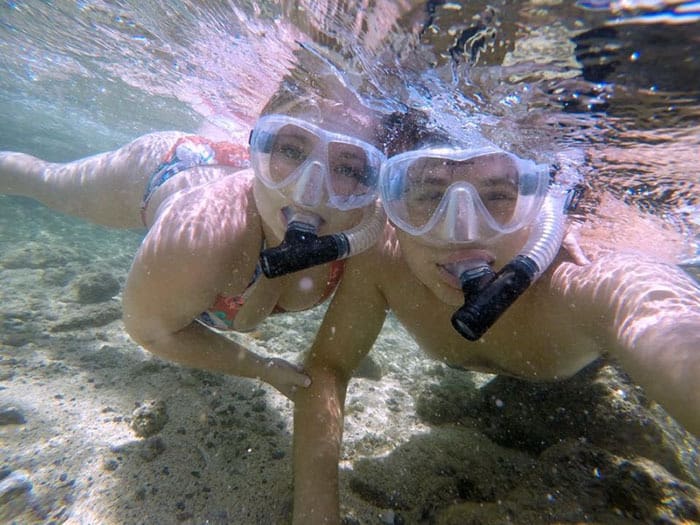 Our return to Waimea Canyon
Mike and I saw Waimea Canyon during our January trip to Kauai. We wanted the kids to see this "Mini Grand Canyon" too, so we did a repeat trip. It was a quicker trip this time, especially since everyone was wiped out from our big catamaran tour earlier that day. The views were stunning, and we were even able to see billy goats in the canyon this time.
We rewarded ourselves after an adventurous day with JoJo's Shaved Ice, which was absolutely fabulous. We were also impressed that all of JoJo's profits go to disadvantaged children on the island.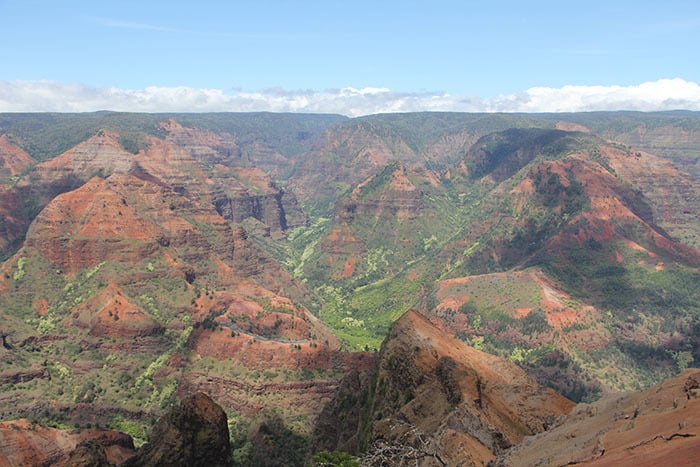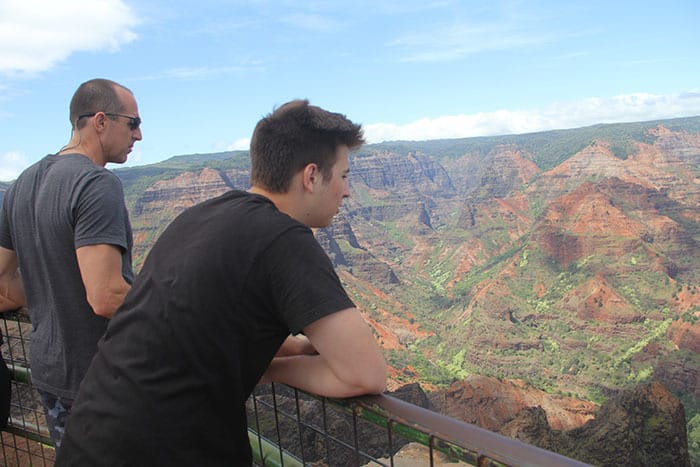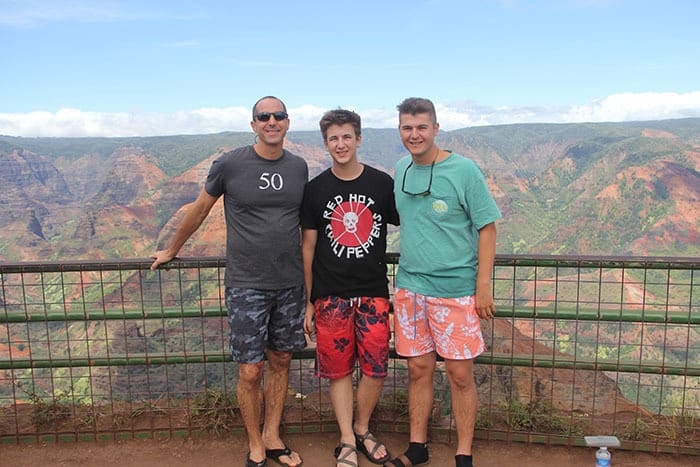 Visit from our Hawaiian friends, The Toppings – Lauri, Jordan, and Kailey (and their friends)
I worked with sweet Lauri (and her husband, Scott) at Southwest Airlines back in the day (which seems like an eternity ago). Their family moved to Oahu several years ago, and we've kept in touch.
I was tickled pink that Lauri and her kids "island hopped" over to Kauai one day, to see us and several other friends that were on the island. We had brunch at Ānuenue Cafe and then went to Brennecke Beach to hang out while the kids body-boarded. It was SO nice catching up, and I'm anxious to visit Lauri and fam in Oahu one day too.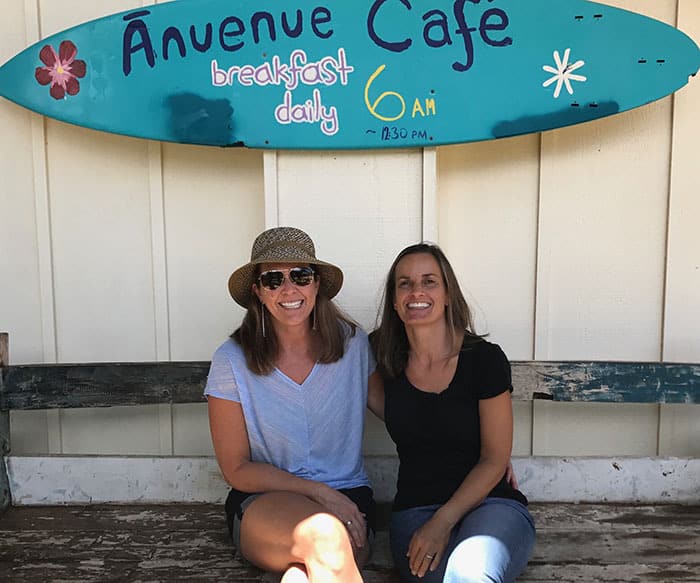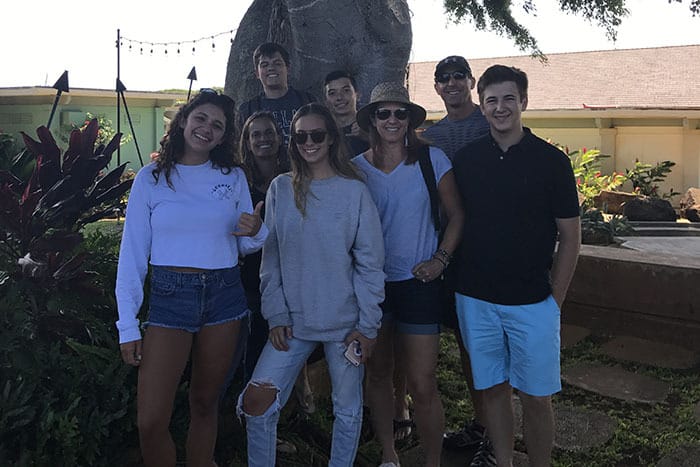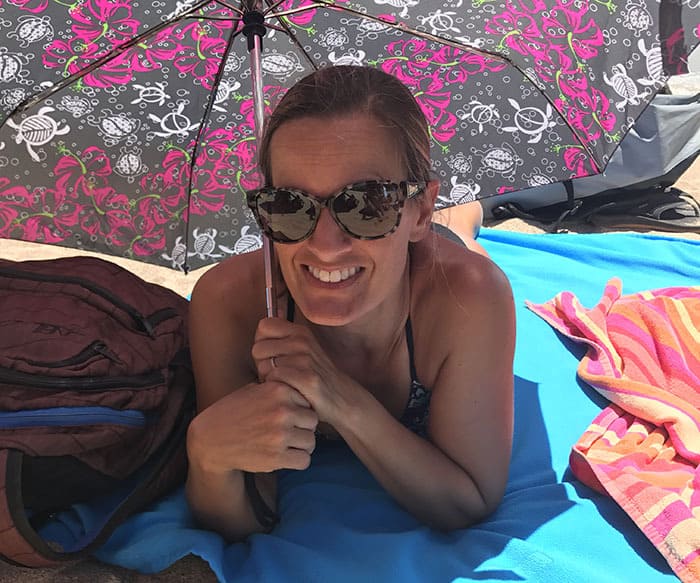 Sweet Tiffany turned 21 on our Hawaiian Adventure
How lucky to turn 21 on the beautiful island of Kauai?! Well, Josh's girlfriend came along with us, and happened to turn 21 on day three of our trip. Josh planned a special day for her, hanging out on the beach, snorkeling, having her fav Acai Bowl, and then a special dinner out at the amazing Beach House Restaurant. I suppose she had a cocktail or two, as well. 🙂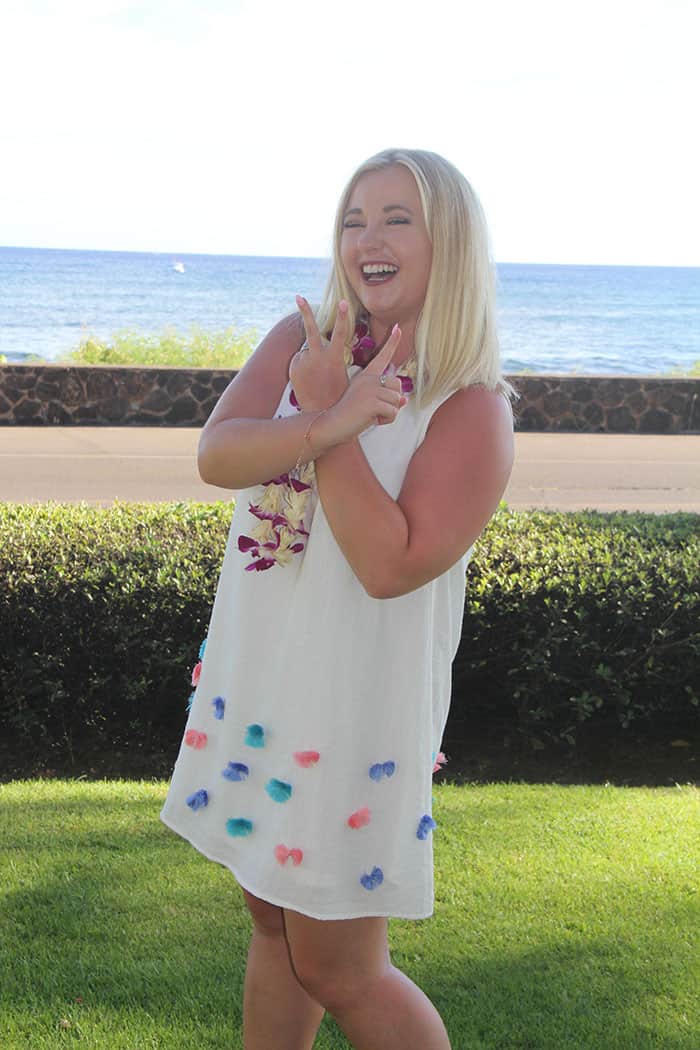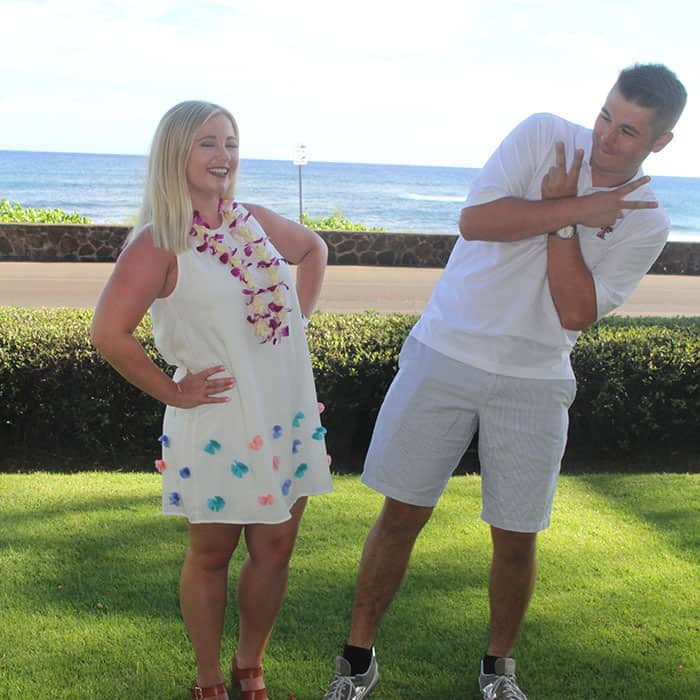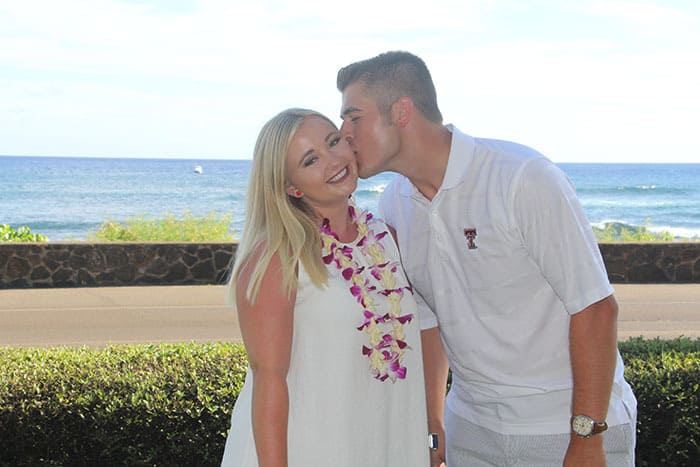 Josh's new sport – GOLF!
Josh's new love is golf. He retired his baseball bat and glove after high school and went straight to golf. He was pretty pumped to golf in Hawaii, as he knew the courses would be pristine. His favorite course was the Po'ipu Bay Golf Course, pictured below. Tiffany was his caddy for the day. 🙂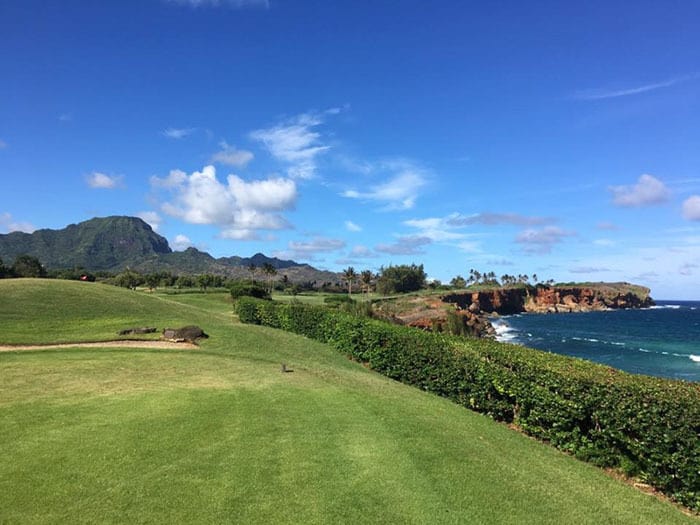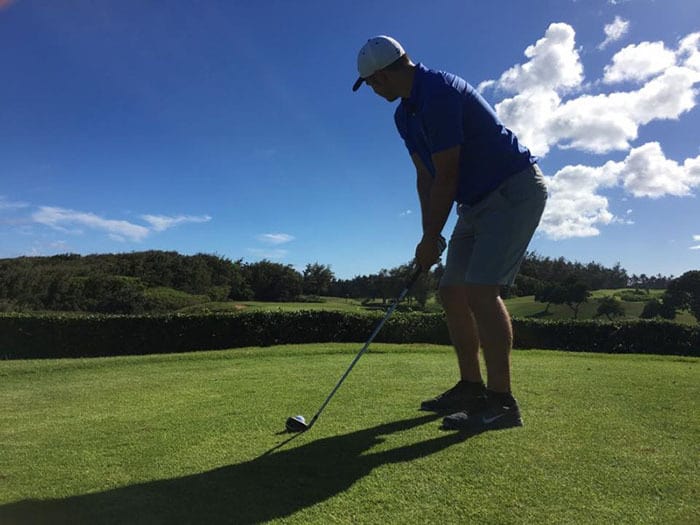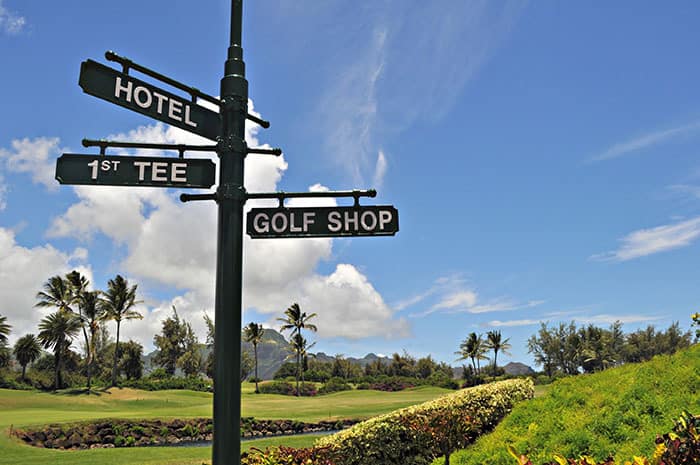 Hawaiian Food and Drinks
Y'all know I'm ALL ABOUT the food and drinks. Mike and I definitely plan out our meals on vacation, making sure we hit all the hot spots. On this trip, we did less planning because 1) we had kids with us with a variety of opinions, 2) we were so busy all day hiking, boating, kayaking, snorkeling, etc. that we were too tired to go out as much, and 3) we'd been to Kauai and knew the places we wanted to return to.
We ate Acai Bowls almost every day. Our favorite place was Little Fish Coffee just a mile or so away from our condo. But we also had bowls at several other places, including the juice bar below – in Hanalei Bay on the northern shore of Kauai.
The other things we loved were Mai Tais, shaved ice, Mai Tais, Longboard beer, Mai Tais, and did I mention Mai Tais?
Yes, please.
Here's a quick list of some of the dinner restaurants we enjoyed in Kauai:
The Dolphin
The Beach House Restaurant
For brunch/lunch, we enjoyed these restaurants:
Anuenue Cafe
Da Crack
Koloa Fish Market
For sweets and treats: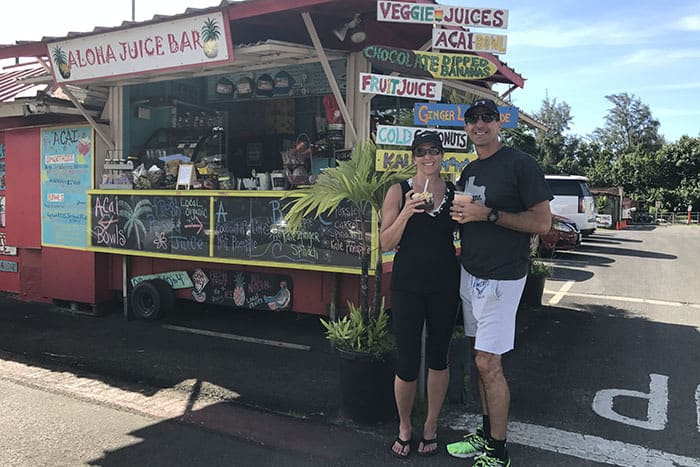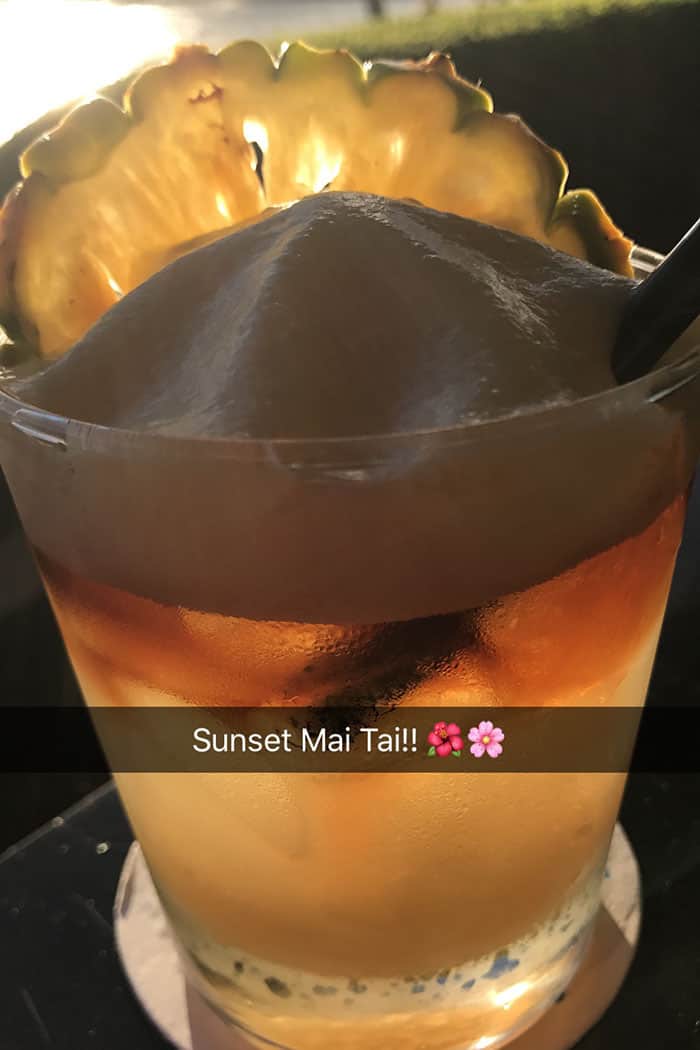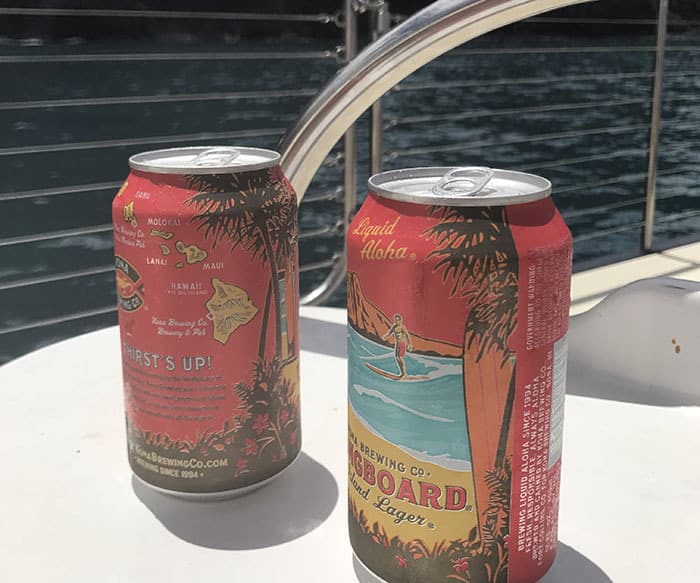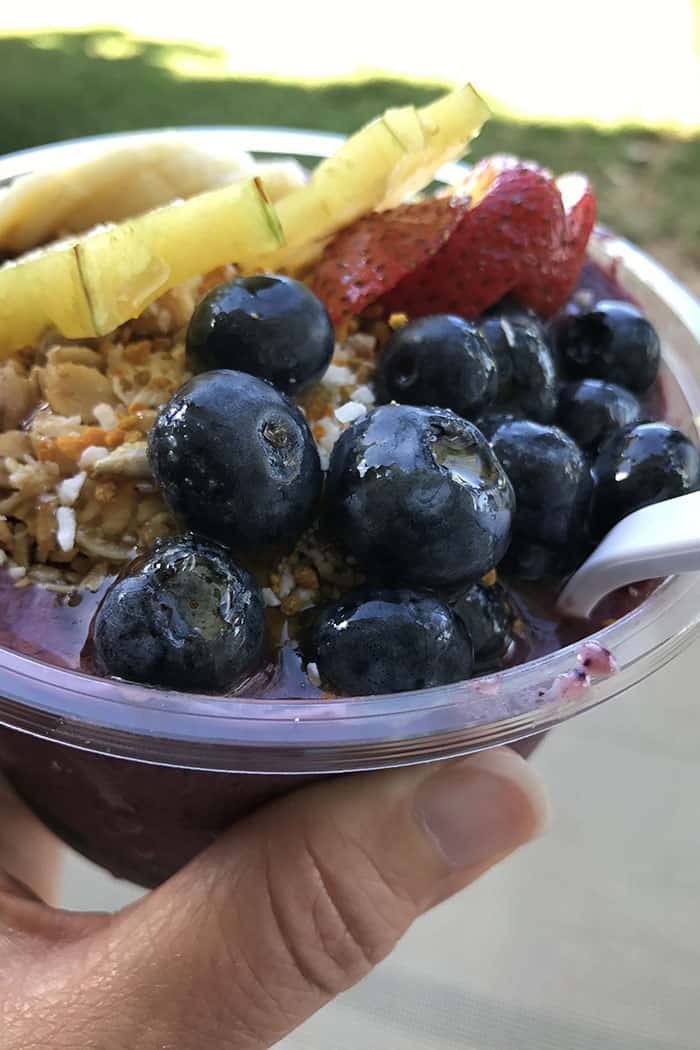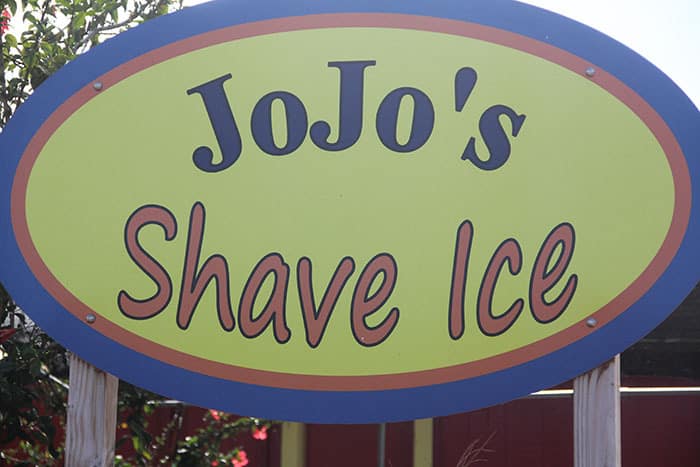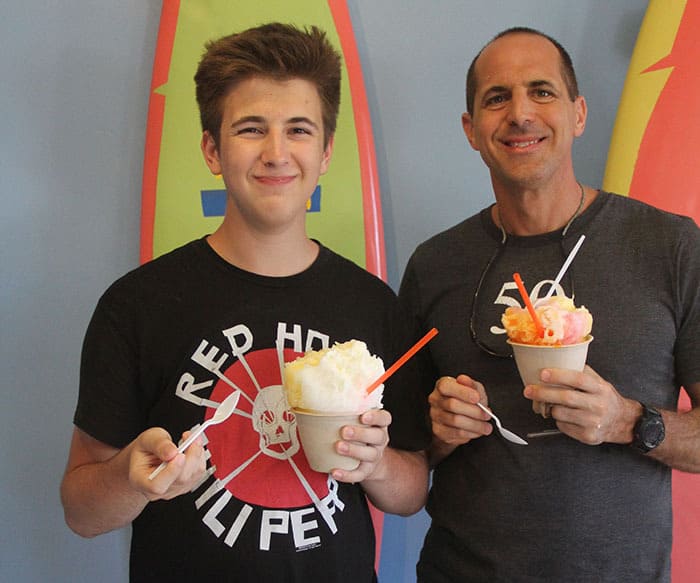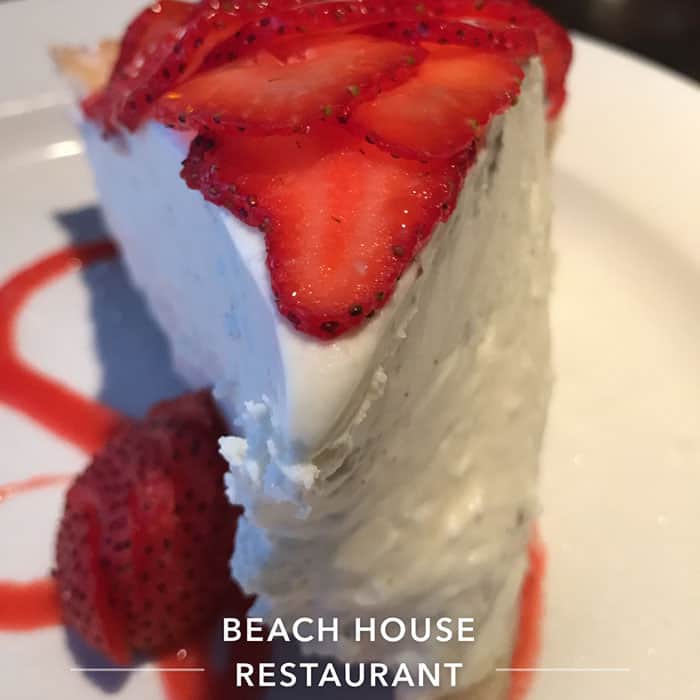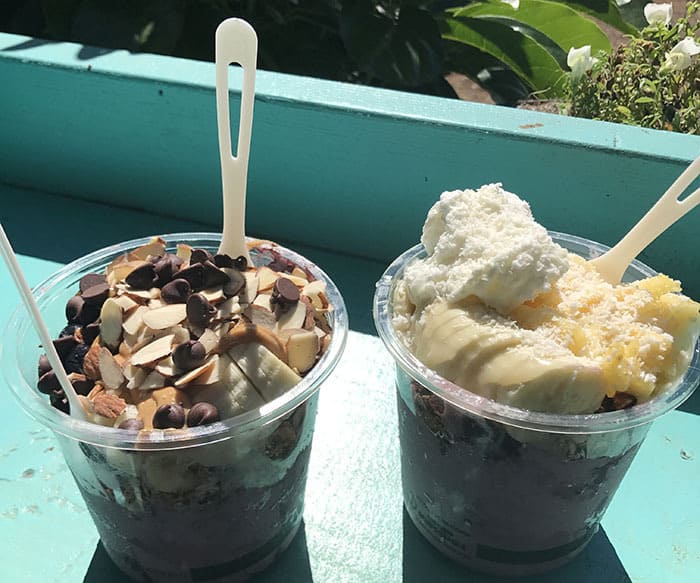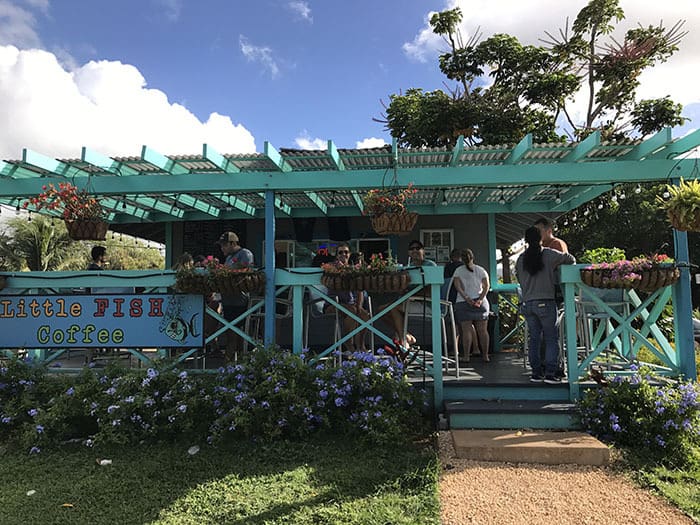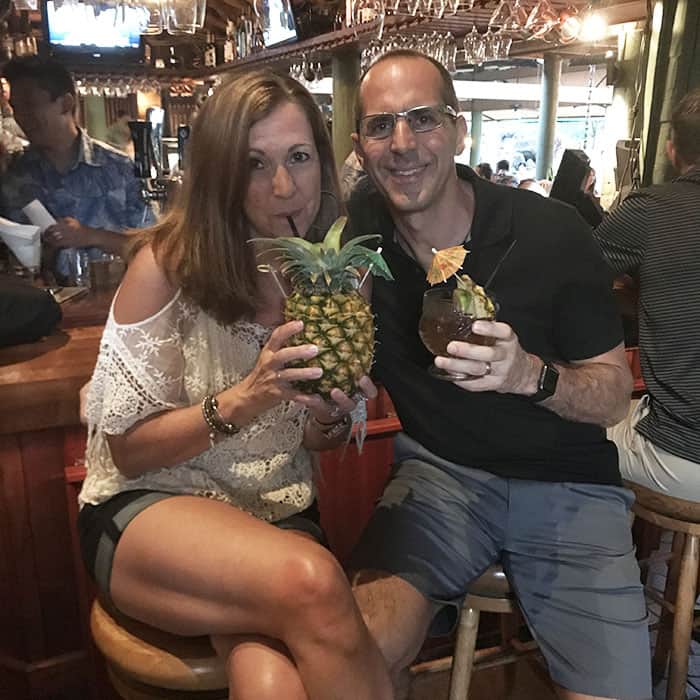 Miscellaneous Adventures
Mike and I took off several other times to hike, bike, and explore the area. We hiked the Poipu Shoreline Sandstone Hikes, and found some off-the-beaten-path areas to explore. One hike started at the end of a very crater-laden road, that Mike maneuvered with skill. You can tell he's a farm boy at heart! The locals obviously hang out in these areas, but we joined them on more than one occasion.
On the final day of our trip, Mike and I decided we needed to take a biking adventure. We pedaled around the residential areas of Poipu, and then took a busier road to Koloa for lunch at Koloa Fish Market and shaved ice at a local stand. That day was pretty windy, so we had enough after a couple of hours.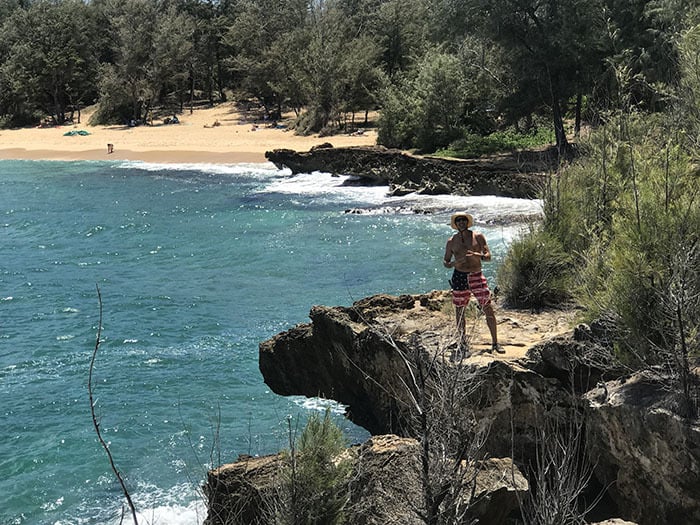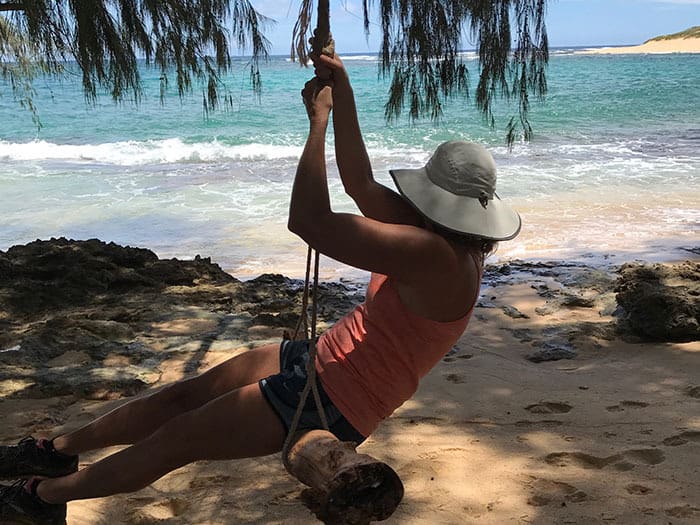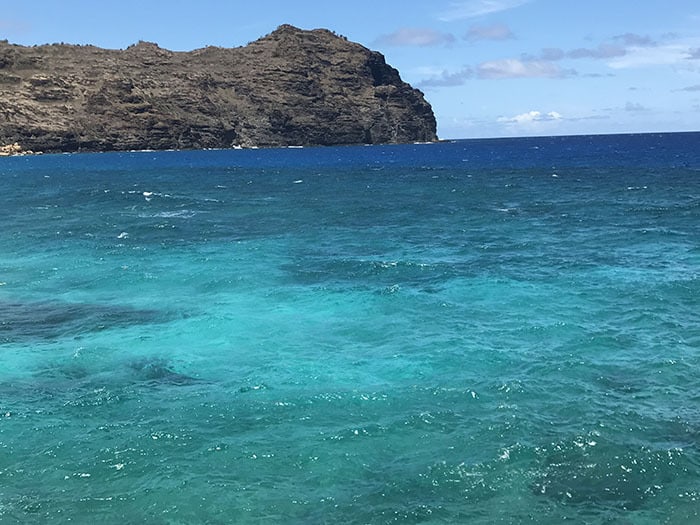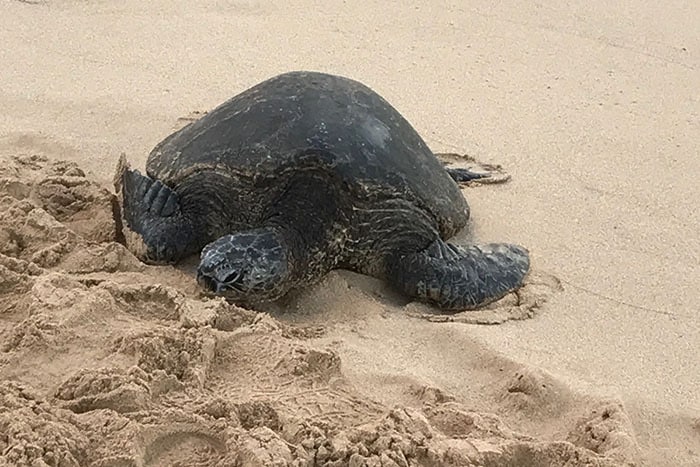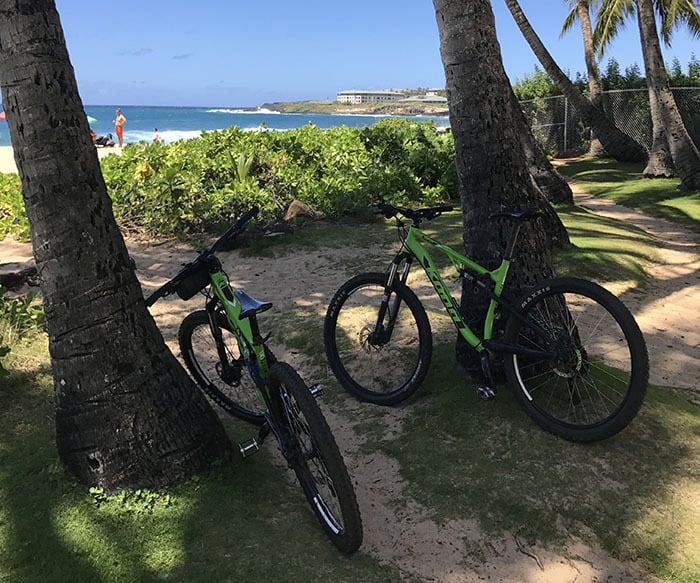 Date Night at The Beach House
At the end of our eight days, the kids became restless with vacation (how does that happen?) and maybe a little bit moody, 🙁 so we decided it was time for Date Night.
If you ever get to Kauai, splurge on dinner at the Beach House. We had amazing seafood at an oceanside table and watched the sunset while drinking Mai Tais. Pure heaven. (I wanna go back!)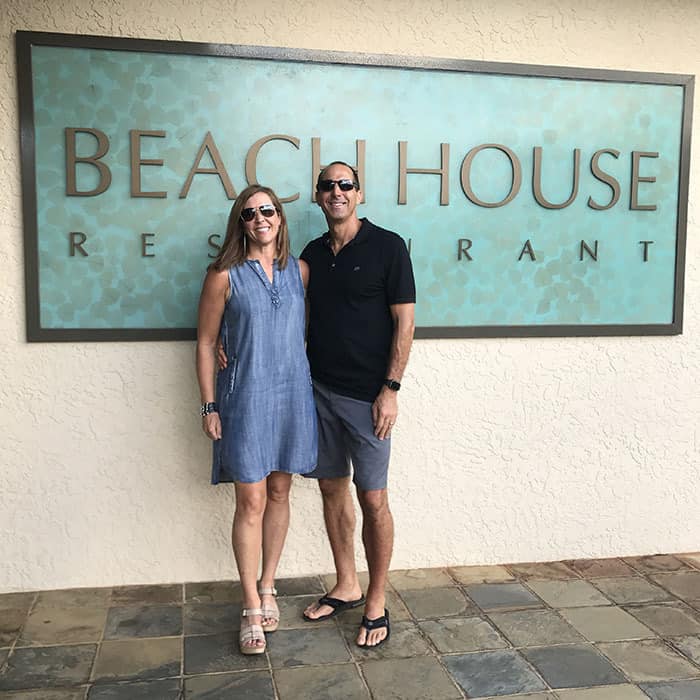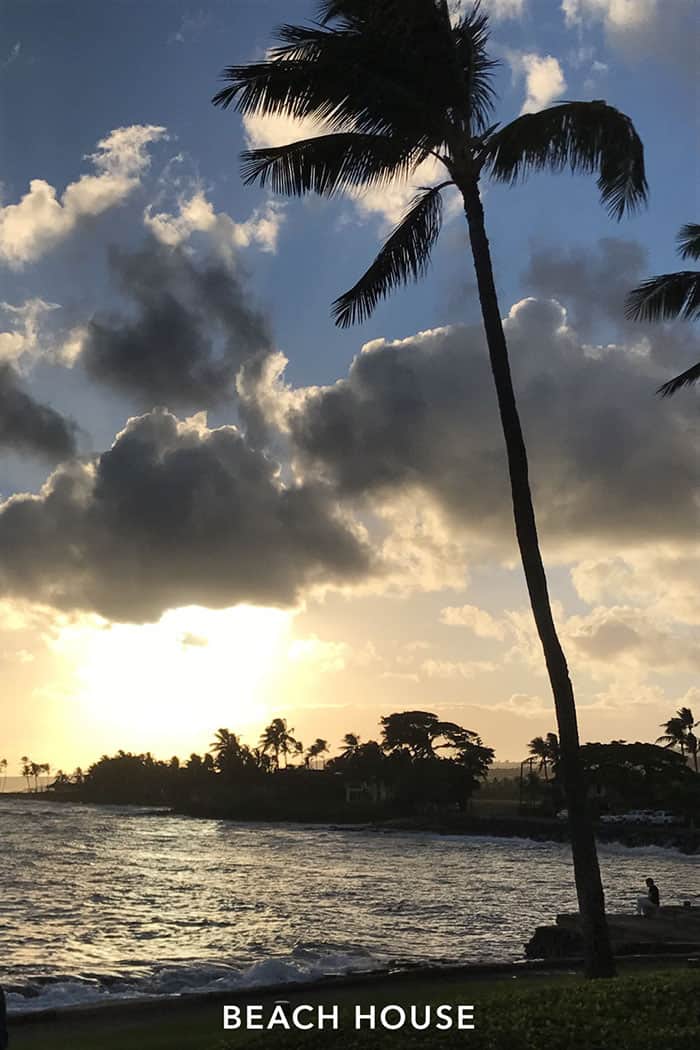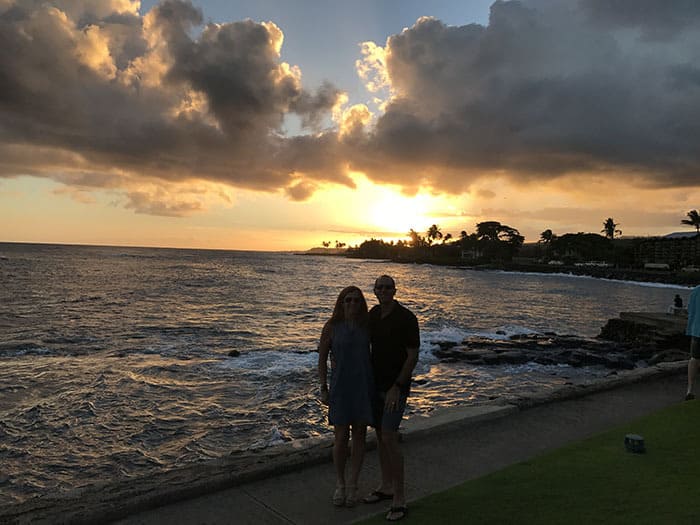 We love the Aloha Islands!
Tiffany spotted this Aloha sign carved out of bushes one day, so we hit it up one evening before dinner. Mike chased down another tourist and asked him to take some pics while we posed and giggled. Yup, we're crazy tourists!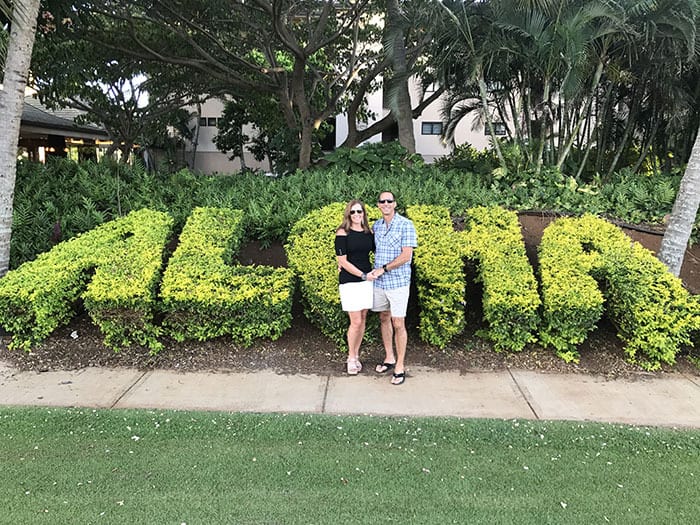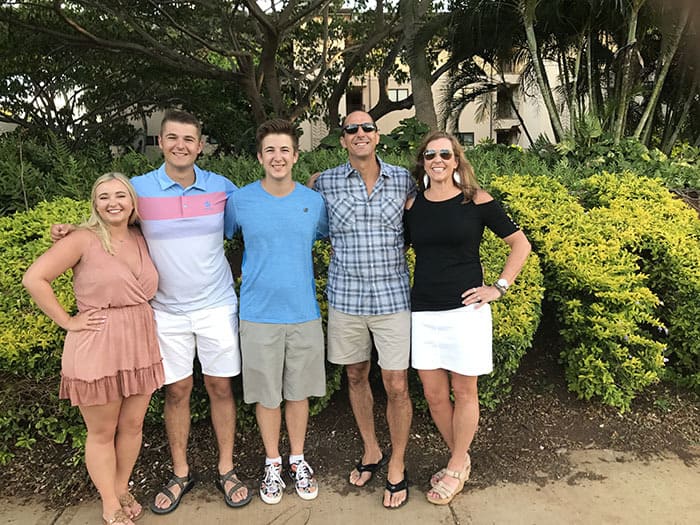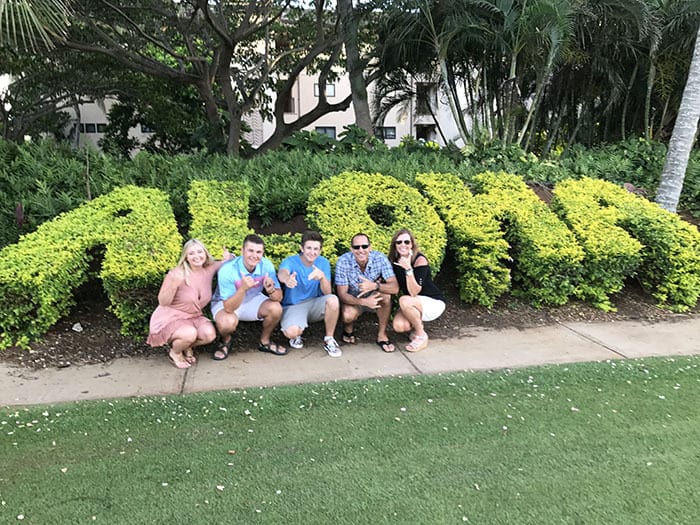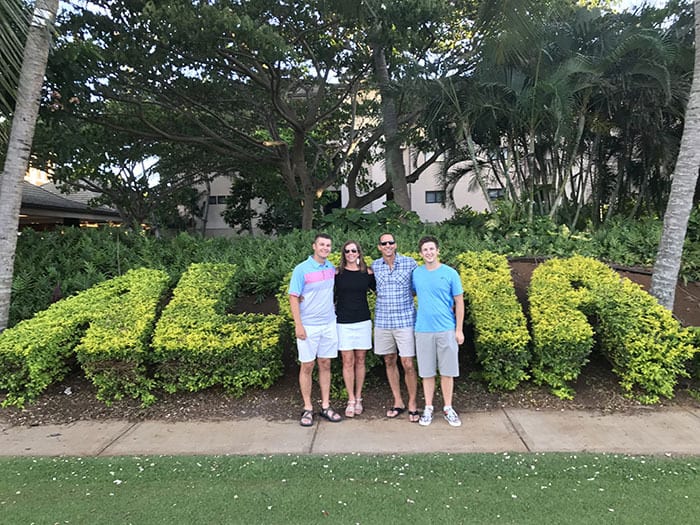 Mahalo, Kauai! We'll be back. 🙂